When writing my first post about the vintage pieces and collections that I mix into our home decor, I was walking around the cabin and jotting down a list of the antique and vintage pieces I use for entertaining, wall art, in vignettes, atop books or on a mantle. As the list became longer and longer I realized a series was being born where I could share with you on a weekly basis a few of these favorite items.
So welcome to Volume II in the series of Vintage Must Haves. Though I call it lake house style, many of these pieces have been with me since high school and in the many styles of homes we have lived in, colonial, tudor, even my first apartment. I will share ideas for how to take what I use and tailor it to your own styles.
(Affiliate Links are shared for your convenience, read my full disclosure here.)
Wooden Caddy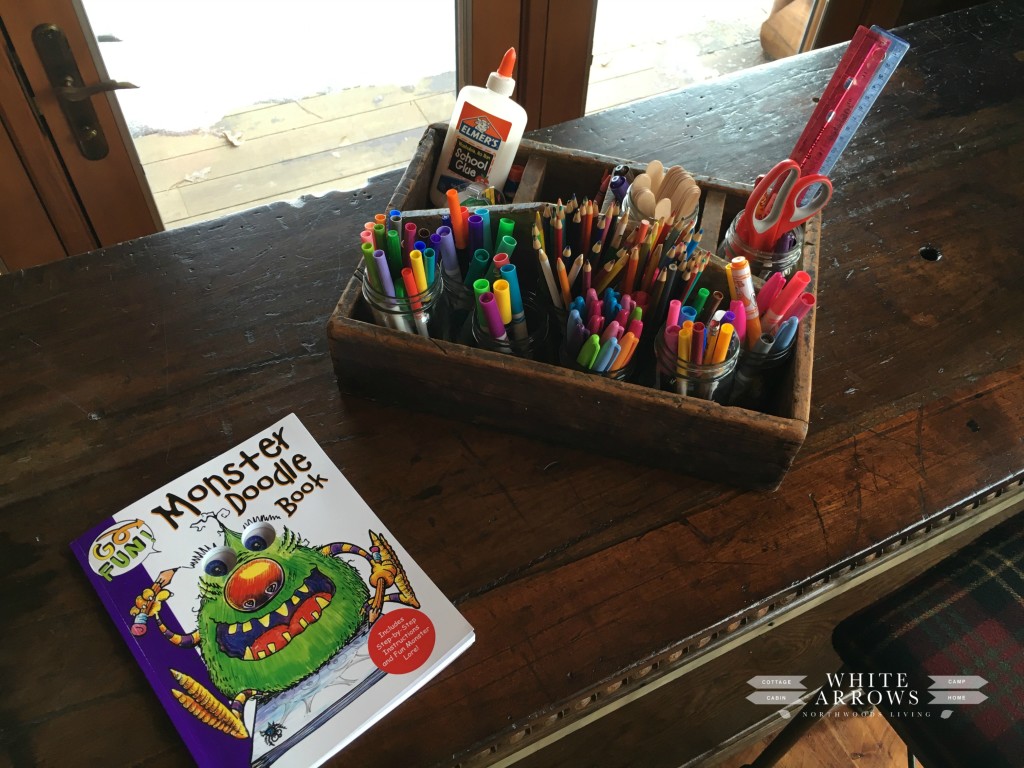 Old wooden caddies  were used to hold nails, screws and items that a handyman would need. They can be found in  a variety of sizes and shapes, with different widths and amounts of compartments. This caddy is one of my favorites to use. I use it to hold the kids crayons and markers and other craft supplies. Different sized mason jars fit in the holes to keep everything organized and in its place.
I have also used this same caddy as a veggie tray when going to a potluck with carrots, cherry tomatoes and other vegetables and dips in the mason jars. It was so simple and such a hit! The caddy works great as a vase for flowers or in a guest bath to hold supplies. The ideas are endless for this versatile tote.
Outdoor Titled Books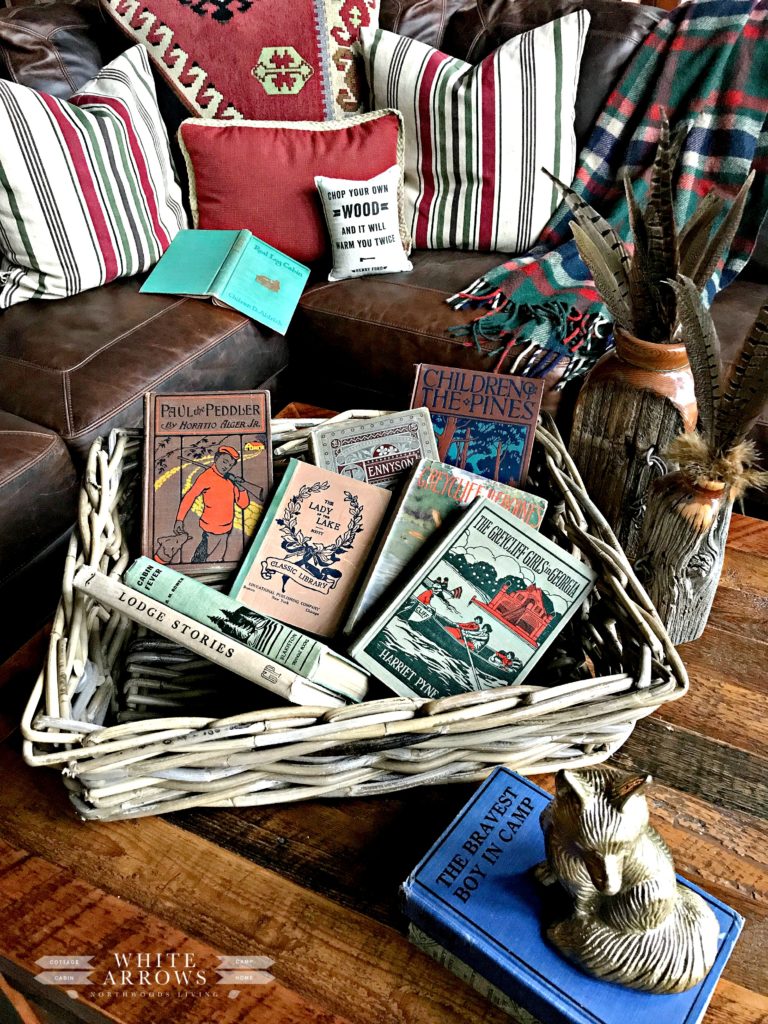 Collections of hard back books can be one of the most fun vintage treasure hunts. Scanning rows and stacks of books looking for fun titles to fit any theme that matches your collections or hobbies is an easy way to bring home something special each time you shop. I have a friend who collects books with an aviation theme because her husband is a pilot. Another collects titles around plants and gardening. I have several with sports titles in my boys' rooms.
I usually spend less than $10 on all my books, often under $5! Sometimes it's even the pattern or picture on the cover that draws me to it, especially if its in a plaid. Collecting books in a certain color can also look attractive on a shelf all together no matter what the title is.
Vintage books also make great gifts and many of my favorites were given to me by my friends.
Log Cabin Style Syrup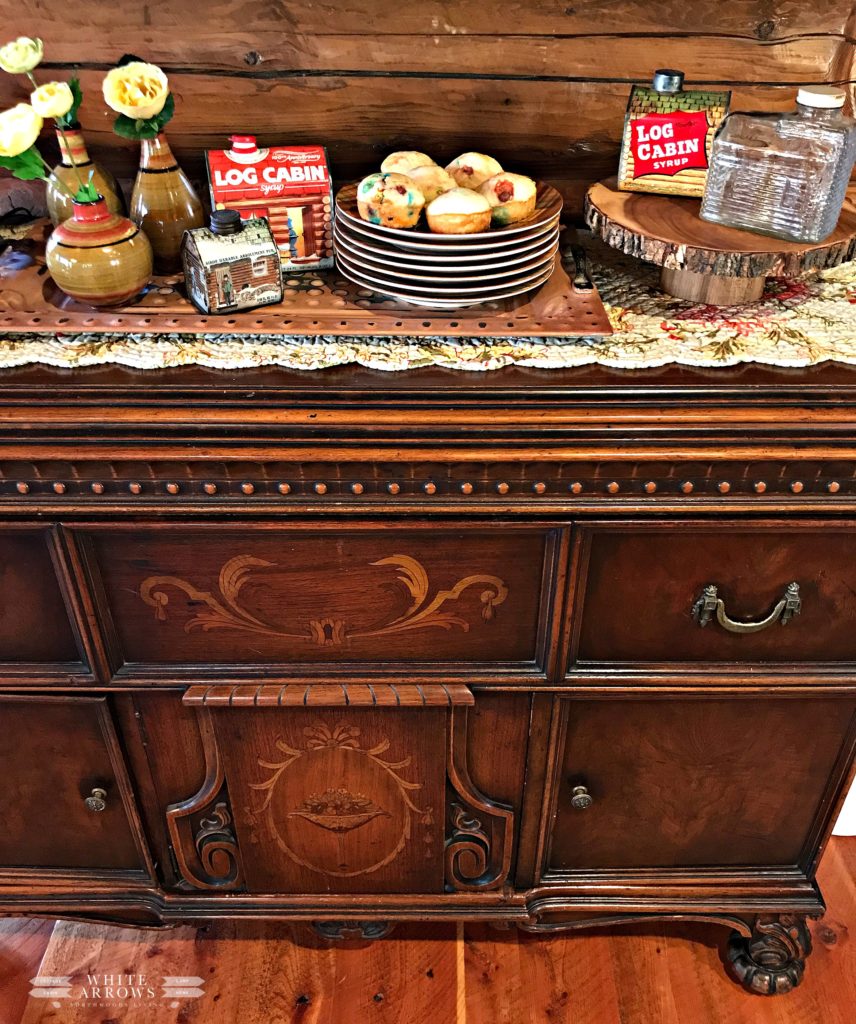 Not only do we live in a log cabin, but we also eat pancakes most every weekend. A collection of these cute little vintage log cabin syrup containers are so fun to look for and put on display. They come in different styles and sizes and at very reasonable prices.
When we have guests come stay I always set out a pancake bar. Sometimes I have traditional pancakes, sometimes I make pancake muffins like in the photo above or pancakes in a casserole dish.
Green Glass Vases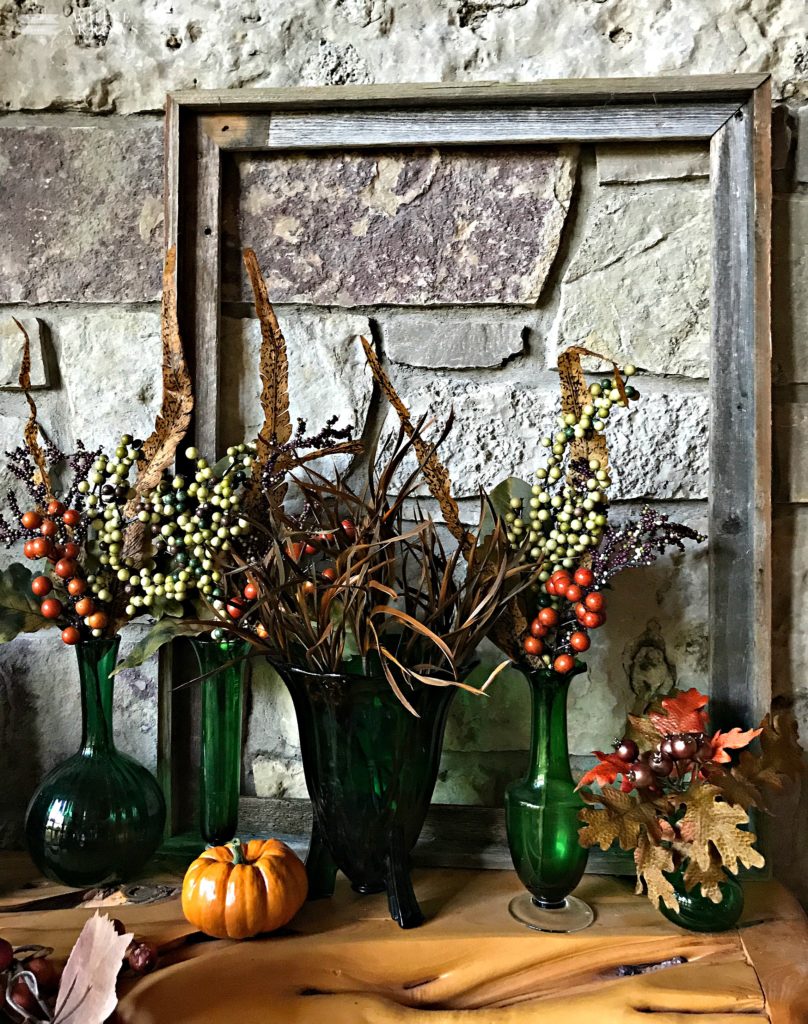 I started collecting green glass vases in high school. I found a small fluted vase that enchanted me right away. These vases come in so many sizes and shapes and are often inexpensive. When my grandmother handed one down to me that had always been in her kitchen window, the collection gained even more meaning.
I use them in so many ways. They are beautiful empty or full of flowers, feathers or sprigs of leaves and berries. This fall I have had them on my mantle.
Paul Bunyan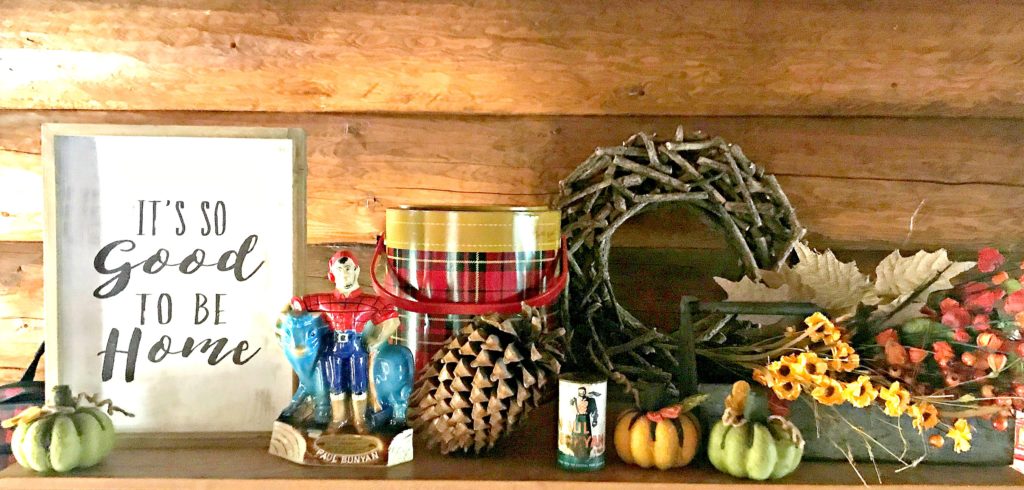 Living in The Northwoods of Wisconsin with our rich history in Lumberjacking,  Paul Bunyan memorabilia is a fun collection. Here in Minocqua the Paul Bunyan restaurant is a landmark and busy stop for tourists and locals alike.
Enamelware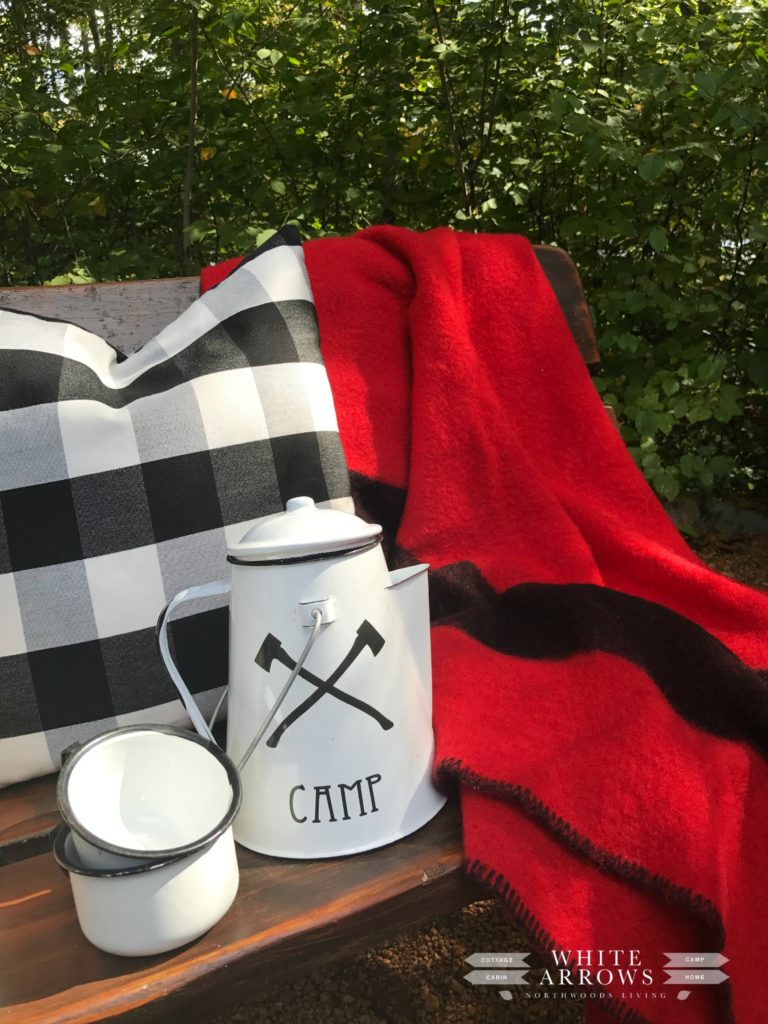 Enamelware bowls, pots, camp mugs or coffee pots are not only nostalgic and cute, but practical too. Pots make great flower buckets and a bowl full of collected pine cones looks great on the coffee table. This coffee pot and stack of mugs is perfect by our campfire. Red or black rimmed, I'm drawn to both.
Minnow Buckets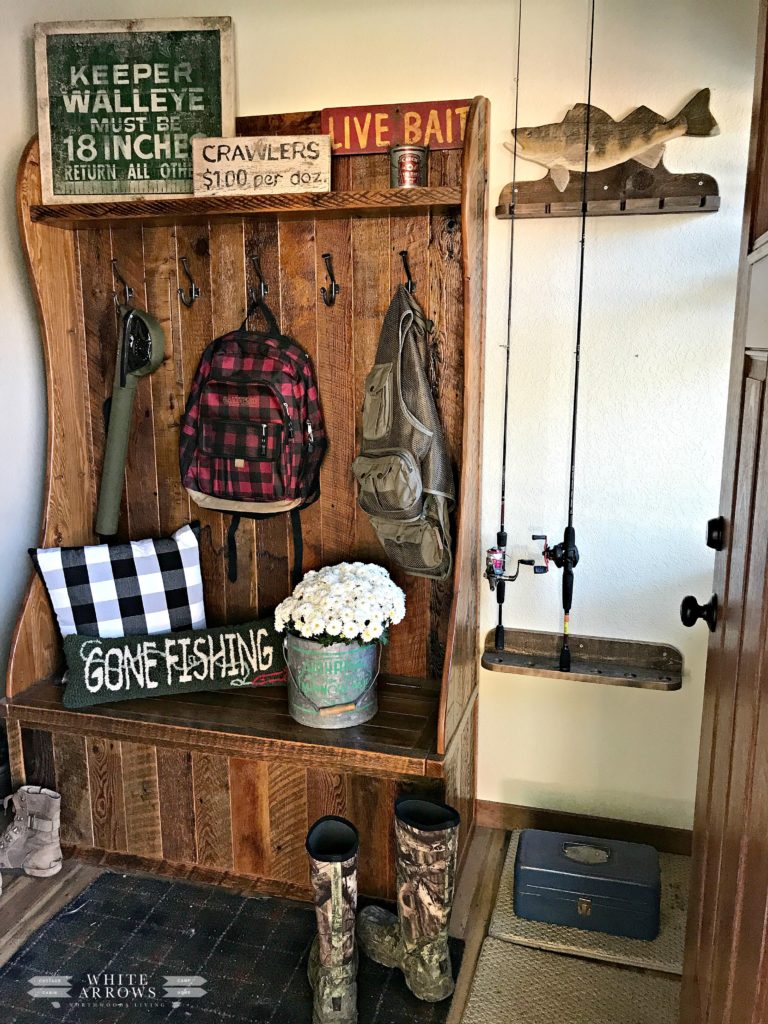 Minnow buckets look great on their own anywhere or stacked together in a tower. They are my new favorite pot, like above used for fall mums. One of my friends uses one to hold extra toilet paper in her guest bathroom- such a fun idea Genea!
Ladder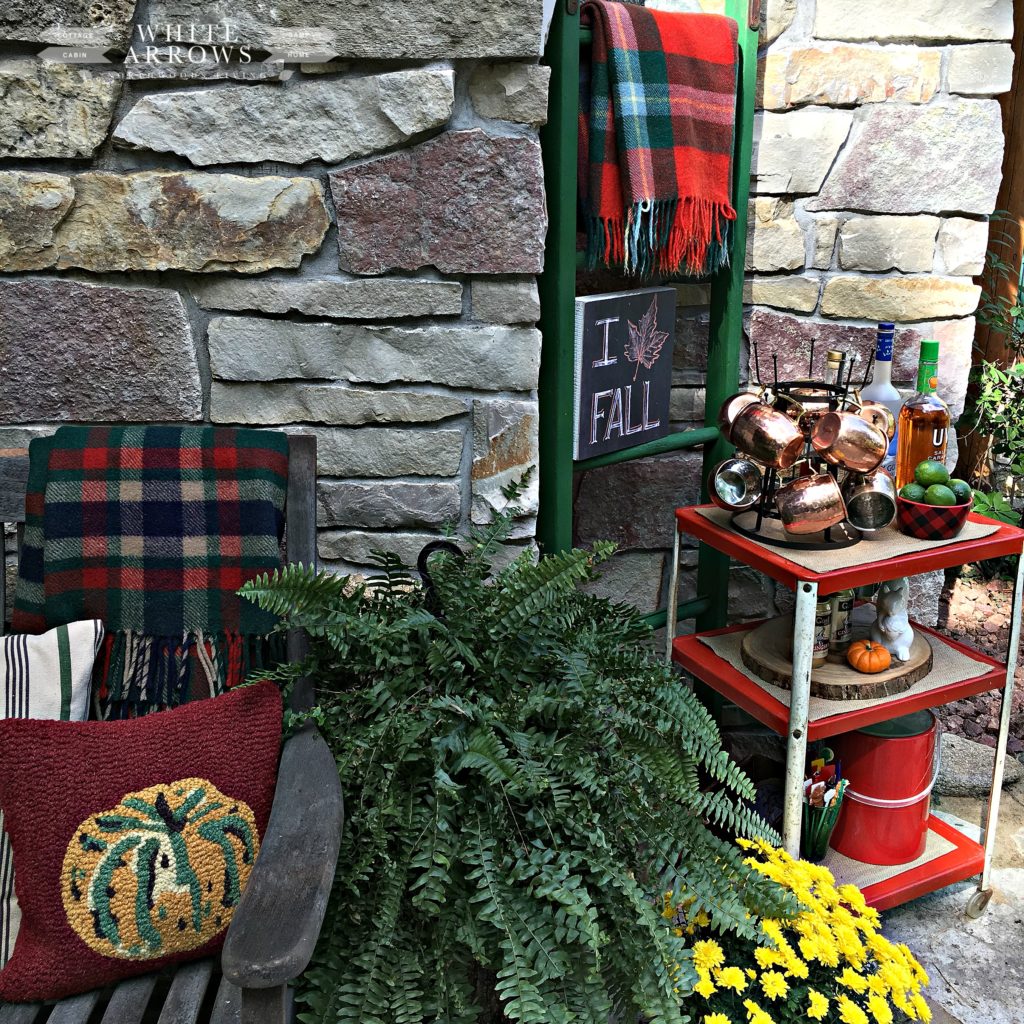 I had been keeping my eye out for the perfect ladder for our home for quite sometime when I found this green one at a favorite local spot. The color was perfect for me and I have used it inside and outside to hold wreaths, blankets or garlands. It adds great height in any space I am decorating. I now have my eye out for the perfect red step stool!
Vintage Swim Suits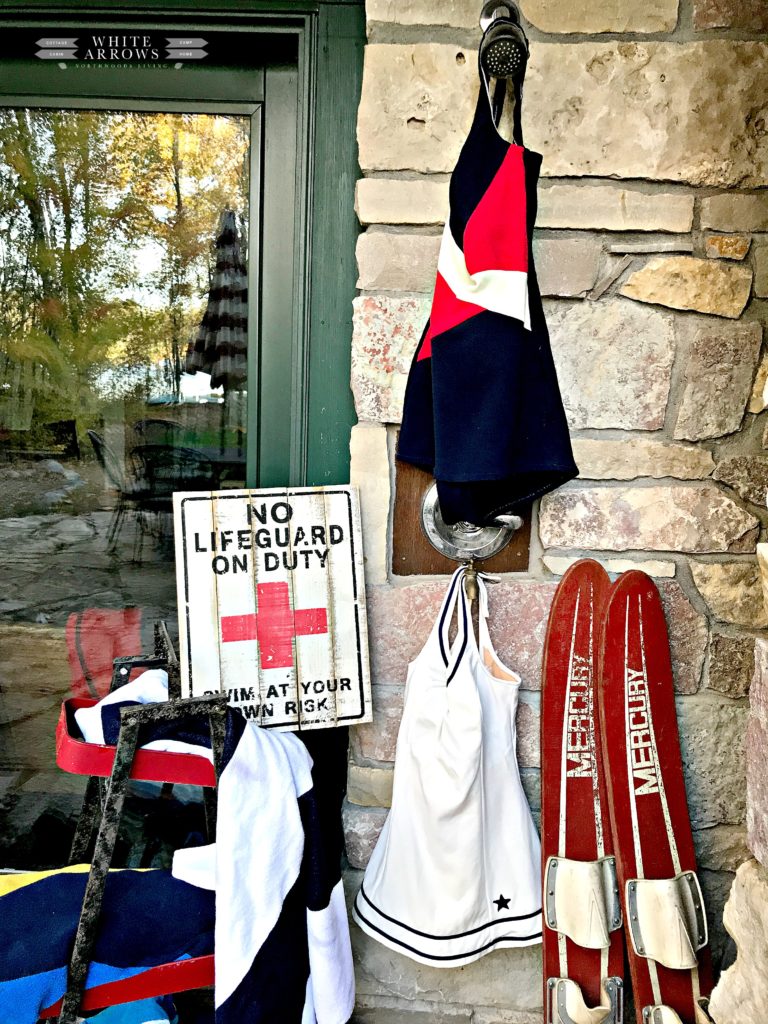 I started collecting vintage swim suits when we moved to our lake home and am drawn to the styles in red, whites and blues. I have a friend that collects them in bright colors and they are wonderful too. Angie's swim cap is my favorite part of her collection! The suits are cute shadowboxed on the wall or hanging loosely from hooks in our lakeside mudroom.
To keep finding where these vintage pieces are used in my home and to receive more posts in this series to your email box, be sure to sign up for my newsletter at the bottom or right side of this page. I'll look forward to continuing to share with you!
Get the Look
(Affiliate Links are shared for your convenience, read my full disclosure here.)


Shared at: