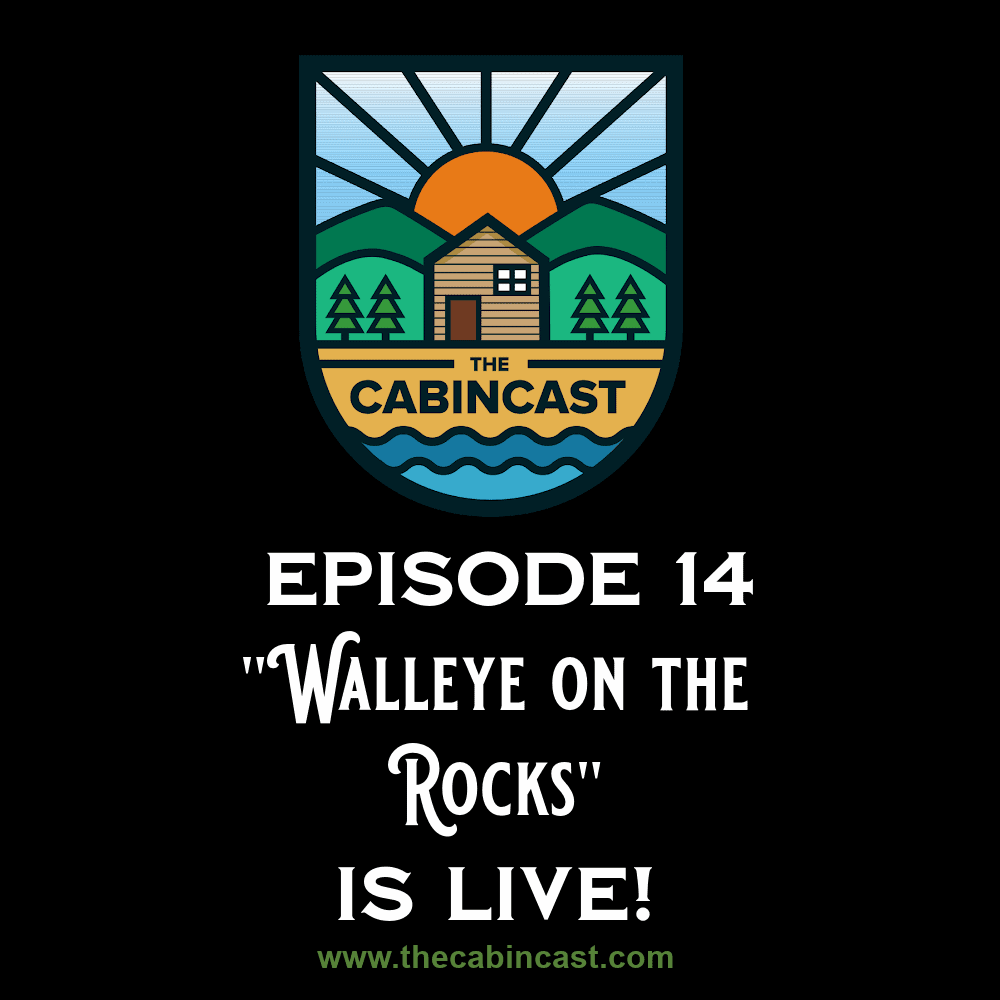 Episode 14 is LIVE! This episode, "Walleyes on the Rocks", is the Cabincast's first on location recording! In this episode we join two ice fisherman, Jed Lechleitner and Matt Kluetz, on the ice to chat. We hear all about their ice fishing stories, advice and more!
(Affiliate links are used for your convenience. Read my full disclosure here.)
We start off by catching up with Erik and me talking about our own ice fishing experiences. I share about my son and daughter who have both participated on the local high school's ice fishing team. Erik shares some stories as well about ice fishing and snowmobiling. 
"Ice fishing, I think, is all about hanging out with your friends, it's not just catching the big fish. It's about time spent together hanging out." -Kristin

Thank you to our sponsor Roughing it in Style. 
Let's hop into the interview! Jed and Matt are neighbors and longtime friends who first began their friendship through ice fishing. This duo has gone on to spend every winter on the ice and making maple syrup in the spring. (We meet Jed and Matt on location again in the Spring to talk about maple syrup in Episode 19, "The Sweetest Science").
Jed and Matt start off the interview sharing their favorite ice fishing tales. From trucks on the ice to ice skating and more, you will love the way this pair tell their stories. 
Up next, Jed and Matt share their tips to catching fish. We hear from them on the importance of depth. They also share what equipment they find to be very useful as well as what equipment is not necessary. They also provide their insight on how to find a good fishing spot that you can rely on.
The group also touches on the importance of staying warm on the ice. I share a great trick from my father-in-law and Jed and Matt share their best ways to stay comfortable in the unforgiving cold.
Matt and Jed also share about their lives off the ice in the northwoods.
"It is such a great place to live and to raise a family." -Erik

Lastly we discuss what it takes to get started as a beginner in ice fishing and how to keep it low cost but still fun. A couple tip ups and a hand auger will be a great start to have a great time on the ice.
"You gotta make sure you make enough for about twice as many people as you have eating because you'll want some when you are playing cribbage later." -Matt

To conclude the episode, Matt and Jed share their perfect Northwoods day from starting the day out on the ice, to coming home with a bucket full of fish ready for dinner.
"The truth is, there is not a bad day when it comes to being on the lake." – Jed

Thank you so much for tuning in for this fun episode of the Cabincast.
FOLLOW ALONG
Instagram ~ Facebook ~ Pinterest ~ Twitter ~ YouTube ~ Liketoknow.it ~ Tik Tok ~ LinkedIn