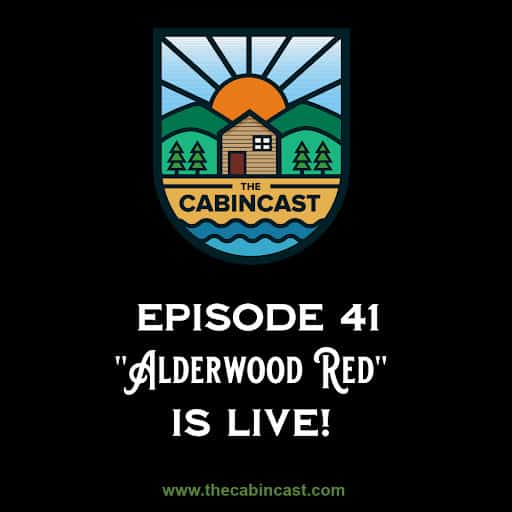 Welcome back to The Cabincast for another fantastic interview. This week, in Episode #041: Alderwood Red, we are joined by Becca Bartling from Alderwood Resort, located on the Manitowish Waters Chain of Lakes.

Before hopping into the interview, Erik and I share a quick Cabin Chat. Summer has ended in the Northwoods with the Labor Day sendoff. Erik shares his end-of-summer traditions including ice cream from The Windmill in Tomahawk, Wisconsin. We chat about the tradition of waving goodbye to the tourists on Highway 51 at Witman's.
Our interview today with Becca is all about running a resort, which got me thinking about the history of resorts. I found a great article all about the history of The Northwoods in our Cabin Chat. 
Up next, Erik gives us a refresh on the rules of Kick the Can, a classic children's (or adult!) game that we reference in the episode.
Thank you to our sponsor White Arrows Home.
Now for the interview with Becca! We begin our chat by diving into family traditions people bring to Alderwood Resort. From wood signs to custom tee shirts to newsletters, Alderwood has been a part of it all!

Honoring family traditions is their mission, so cabins get booked up quickly. However, they do have a waiting list for new visitors after current guests have had their pick of cabins!
Becca shares the typical day of their many guests. Some spend their entire vacation at the resort and others use Alderwood as their outpost as they explore the surrounding Northwoods.
We also hear from Becca her vision for Alderwood, keeping the nostalgic feel with modern amenities. Becca also shares her vision behind the resort's dreamy Instagram.
"I want my Instagram to feel like the warmth and nostalgia our cabins have." -Becca Bartling

Becca shares how she began at Alderwood with her parents-in-law owning it and beginning to manage the resort about seven years ago. She shares the best part of her job.
"The best part of the job is when a guest becomes a friend, and then they return year after year and they are almost like family in the end." -Becca Bartling

Becca also lets us know what she wishes every guest would know when vacationing in the Northwoods at Alderwood.
Thank you to our sponsor Roughing it in Style.
Becca's husband's family also owns a cranberry farm so stayed tuned for an upcoming interview on that.
In this episode, we also hear about the history of Alderwood beginning in the 1930s.

Becca has a 1.5-year-old daughter and has great tips for traveling with kids. This leads to a discussion about kids who get to grow up in the Northwoods.
"The Northwoods is a place where you run into way more kids that get to spend way more time outside, not just an activity thing but more a state of mind." -Erik

And to conclude the episode, we get to hear about Becca's perfect Northwoods day.
Thank you so much for tuning in to this episode of The Cabincast, see you next week!
FOLLOW WHITE ARROWS HOME


Instagram ~ Facebook ~ Pinterest ~ Twitter ~ YouTube ~ Tik Tok ~ Liketoknow.it