Ten tiny cabin getaways to give you unique lodging and a home away from home. Whether traveling to the city or in search of a quiet spot in the woods, these cabins are sure to fit your needs.
Ok, haven't we all dreamed of living in our own tiny house? Isn't there even something termed the Tiny Home Revolution. Well my big family can't live every day in a tiny cabin, but we can stay in one when we travel. There are some big enough for our family and some perfect for a romantic getaway with Brian.
Even if you don't plan to book a stay, all these tiny cabins are worth visiting virtually for decor inspiration inside and out. Modern, rustic, Scandinavian, cottage, farmhouse- these cabins will inspire all styles. From bathrooms, bedrooms and kitchens, each of the ten cabins I'm sharing are designed to make guests feel special. And isn't that just how we should decorate our own homes? We can take hints from rental properties for how our own properties can welcome us home every time we pull in the drive and walk through the front door.
Québec, Canada
This little cabin has all the perfect touches for a getaway for two or by yourself. I love the tin roof and the red accents. With the string lights and porch you have the perfect place to sit and take in the peace and quiet. See more of the cabin insides on the AirB&B listing.
Texas
Heading to Waco any time soon? This precious tiny cabin joins six matching cabins with a pavilion in the middle. Each cabin sleeps two to four people with a King size Murphy bed and a double bed in the loft. This would make a great place for a family reunion, girls getaway or retreat! See more of the inside here at Deerfield Cabins.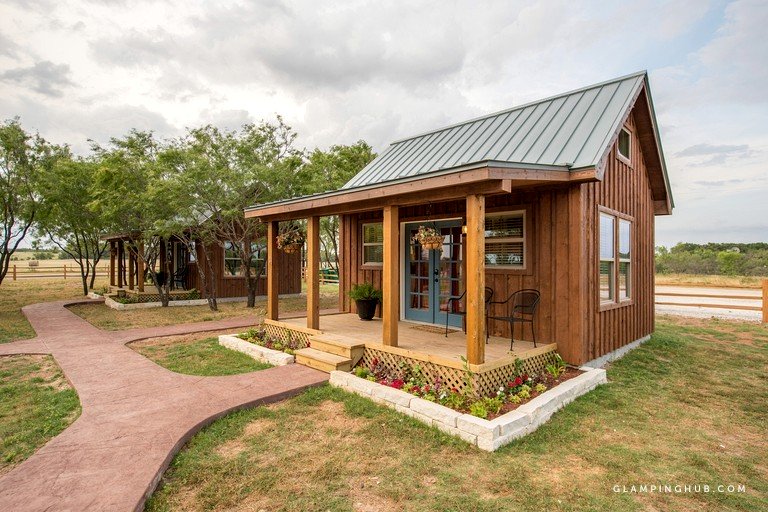 Washington
In the middle of wine country in Walla Walla is The Potter's Retreat. Only 432 sq. ft., this board and batten cabin holds a lot of comfort. There's sleeping for four with a queen bed on the main floor bedroom and another queen in the loft. There's also a pull out sofa, a full bathroom and full size appliances in the kitchen. See more here.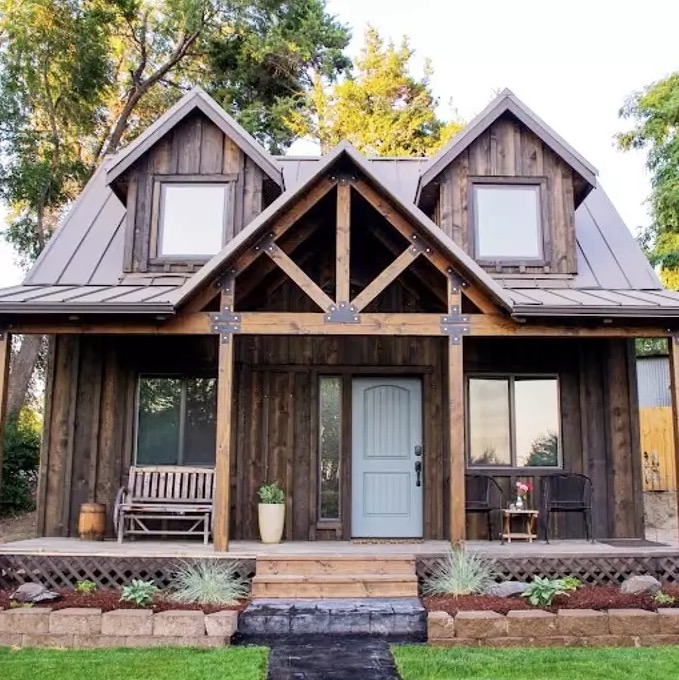 Oregon
This tiny house village near Portland and Mt. Hood is the perfect retreat space and vacation getaway. With names like Atticus, Zoe and Ingrid, each tiny cabin in the village has the cutest write up to explain their "personality!" It's worth the trip to their website just to read! The cabins come in various sizes, but all have kitchens and bathrooms.
Maryland
One of fourteen quaint cabins at the Deep Creek Lake Cabin Rentals, the Moonshadow, sleeps two in a cozy queen sized bed, a gathering space and a bathroom with a claw foot tub. All the cabins at Deep Creek are unique in style within their 250-300 sq. ft. floor plans. They provide a special retreat to return to after your outdoor adventures.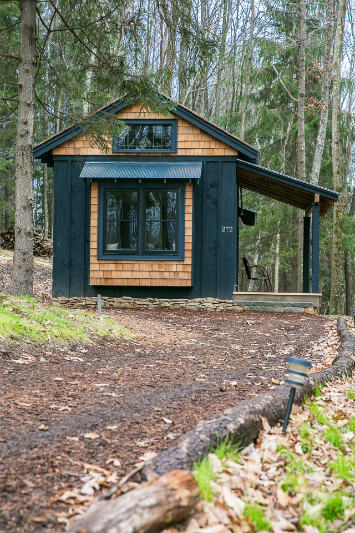 Georgia
This Atlanta tiny cabin is absolutely precious inside. See it here. Modern charm and farmhouse style come together to sleep up to four guests. I love the outdoor spaces to enjoy as well. There's even a ping pong table!
Ontario, Canada
This tiny cabin offers big living, starting with the big, beautiful windows. Surrounded by 75 wooded acres and only five minutes from the shores of Lake Huron, sits the Dashi Cabin by Cabinscape. Able to sleep four you are able to relax inside or outside on the deck with a grill. A window from the interior kitchen opens up to a bar on the other side to make relaxing outdoors easy.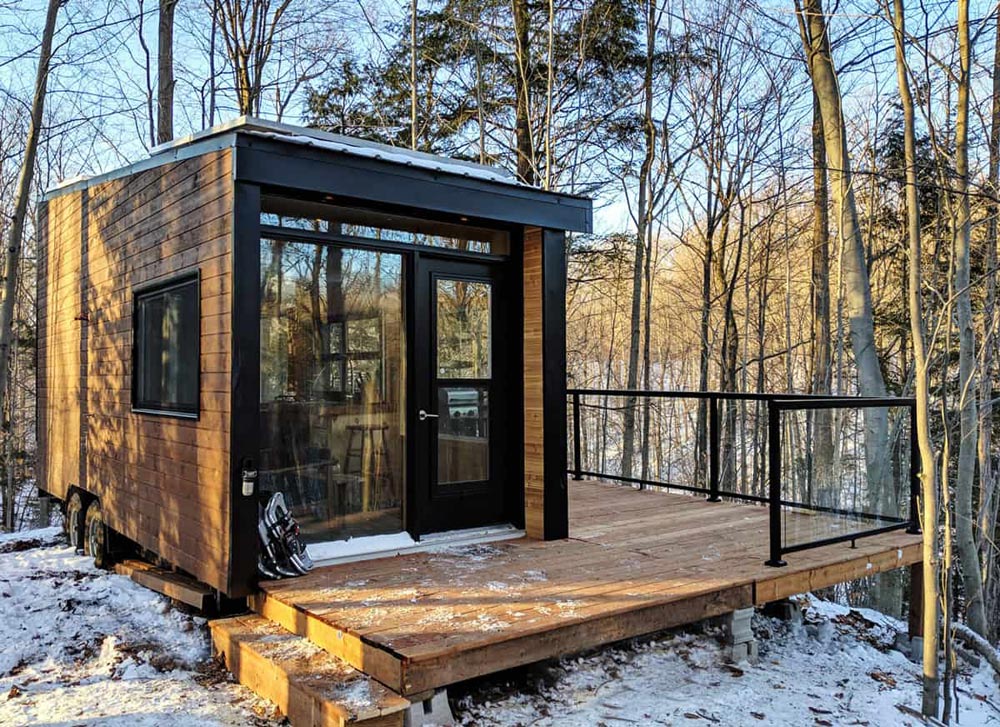 Colorado
This pretty blue A-frame cabin an hour from Denver sleeps up to four guests. Known as the Hygge Chalet and Sauna, this getaway is perched 9,000 feet up in the Rocky Mountains on 3.5 acres. Built in the 1970s, the cabin has been renovated with a modern Scandinavian style interior.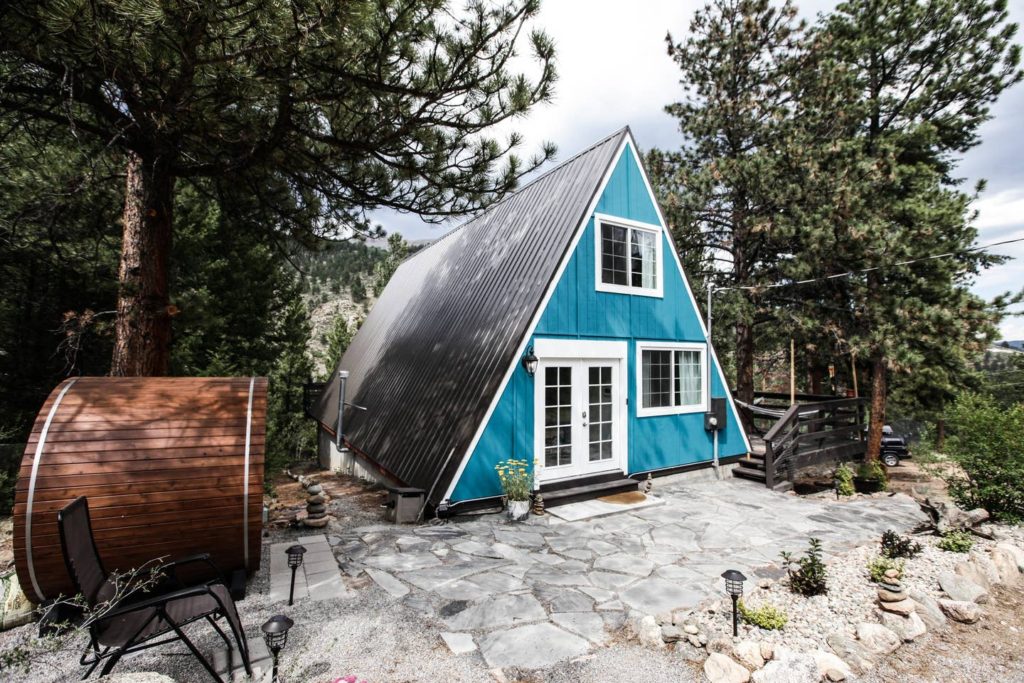 Montana
Stay in one of the Snow Bear Chalet tree houses on the ski hill in Whitefish, Montana. My parent's live here, on the slopes of Whitefish Mountain, and I had fun watching these tree houses be built as I rode up Chair 3. Two tree houses sleep six and one sleeps up to 10 in cozy, luxury. The Ponderosa, Cedar and Tamarack are amazing places to stay in any season. You could even rent all three for an amazing family reunion!
Wisconsin
The Candlewood Cabins are in the Driftless Area of Wisconsin amid rolling hills and trout streams. All five cabins are unique and charming and designed to embrace the beauty of the area. This cabin below is the Meadow House and it's floor to ceiling windows give you panoramic views while enjoying the Prairie style decor inside.
So which cabin do you want to visit most? What made you choose it? Was it location, style or amenities? Share in the comments below which is your favorite tiny cabin. I can't wait to hear!
FOLLOW ALONG
Instagram ~ Facebook ~ Pinterest ~ Twitter ~ YouTube