Autumn by the lake is a special place to be this time of year as the season inspires my decorating inside and out.
(Affiliate links are used for your convenience. Read my full disclosure here.)
I'm excited to once again be participating with a talented group of ladies for a Fall themed blog hop.
Thanks so much to my friend Kelly of The Tattered Pew for organizing.
Her Bloggers Best Seasonal Hops are so inspiring, full of posts by top home decor bloggers.

You can find links to all the participants at the bottom of this post.
Yesterday, you ended your tours at Our Crafty Mom and her cozy home. Today I'm excited to kick off Friday's tours.
Meet Kristin
For those of you new to White Arrows Home, I'm Kristin.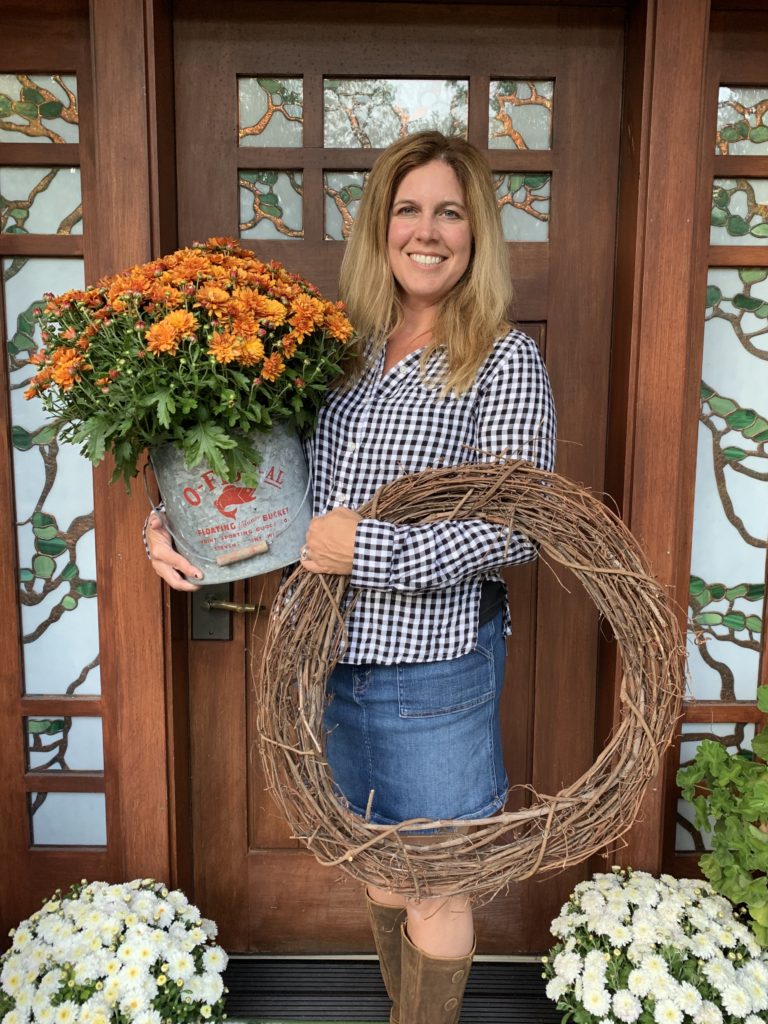 I'm the mom of five kids ages 15-23
I'm a shop owner, three years ago I opened my own own store full of antique, vintage and new home decor and accessories. You can visit our brick and mortar location or shop online.
I cohost a weekly podcast. After a Summer off, we will be back in the studio soon. You can listen to over 100 of our episodes HERE.
My passions are faith + family, friends, fitness + food, flowers + fashion
I love encouraging others, reading, learning new things, date nights, coffee shops, boutique hotels…
Fall in the Northwoods
Welcome to my lakeside log cabin home in the Northwoods of Wisconsin.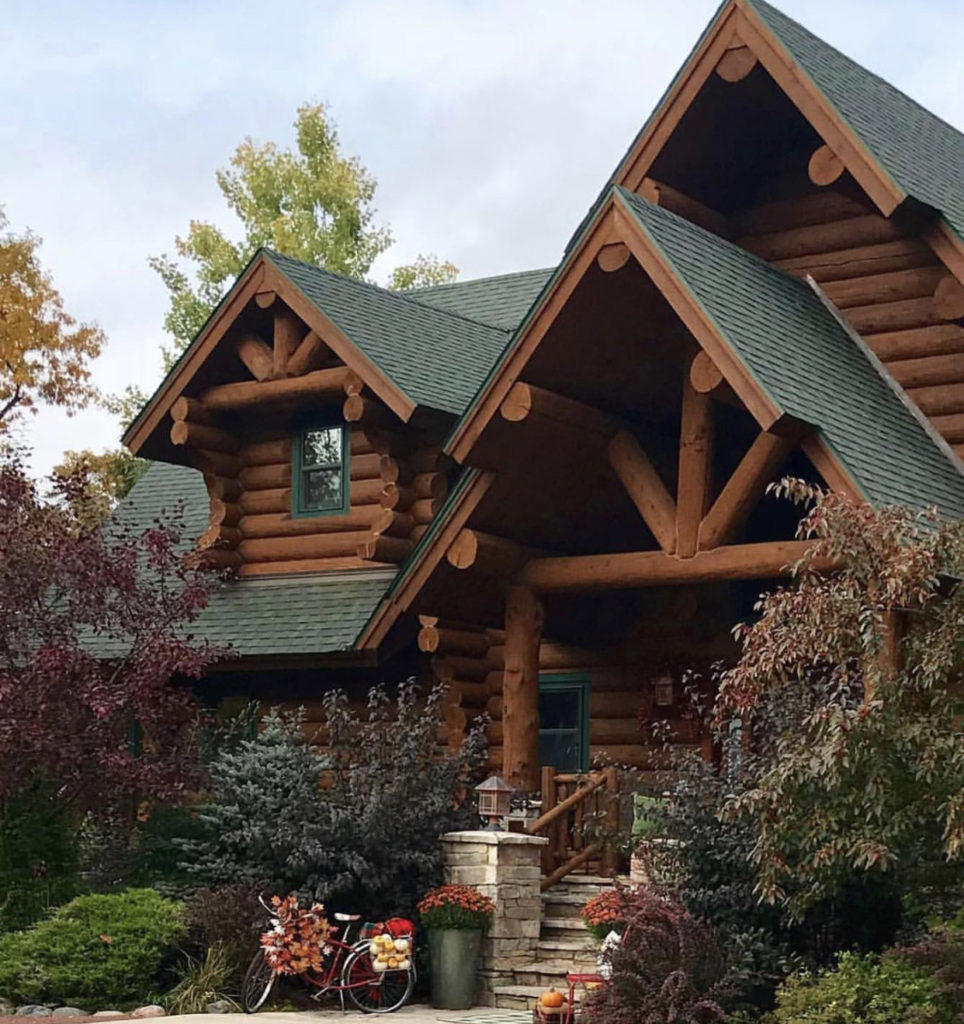 The Northwoods is such a beautiful place all throughout the year.
It's what makes the area such a popular tourist spot.
The beautiful Summers, Winters with snow flocked trees and several feet of powder, and Fall with Hallmark movie color.
And all of it by the lake.
Autumn by the Lake
Our area is full of lakes
Almost everyone I know lives on a lake here and it makes for a special way of life.
After a Summer of boating, swimming and fishing our forest lined waters begin to show their Autumn colors.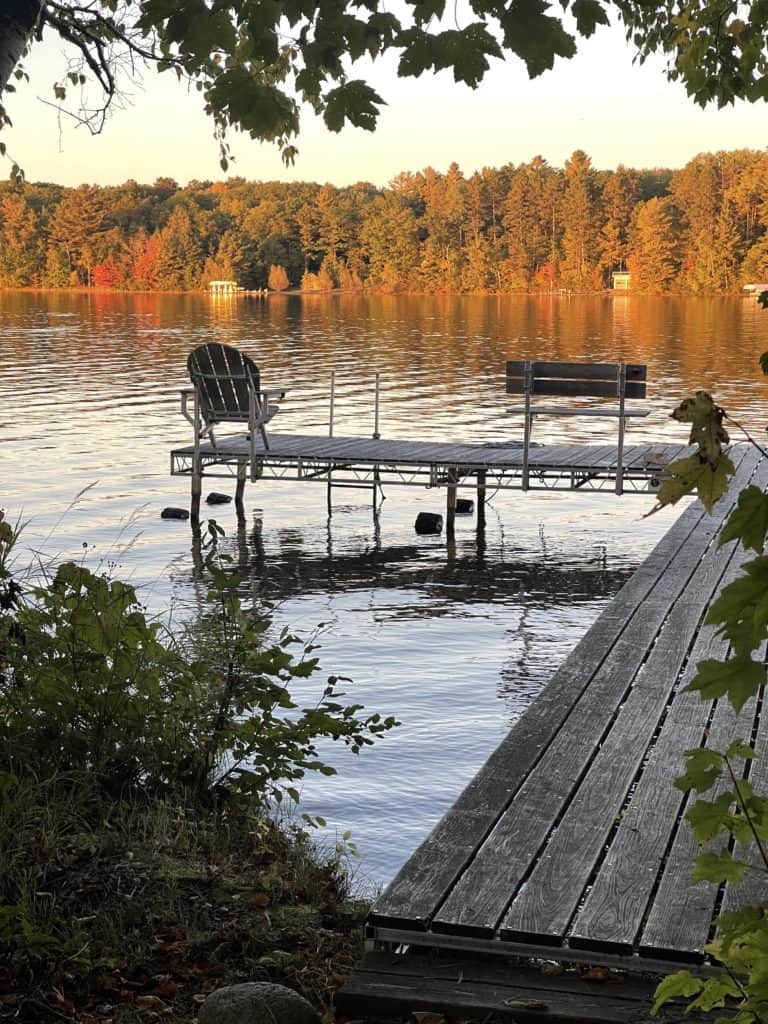 One of the big decisions is when to take the boats and dock out of the water.
We want to wait as long as possible.
There may still be some beautiful days to sit out on the dock and read or an evening to enjoy a glass of wine.
Homecoming photos look amazing out over the water too.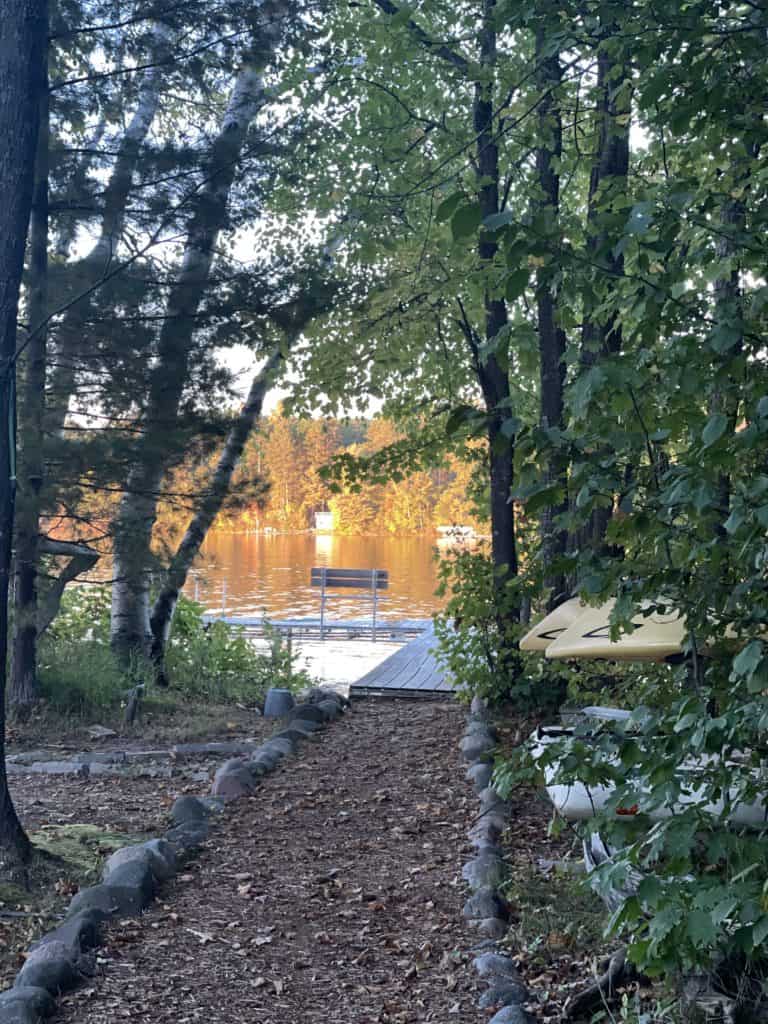 But we want to get everything out before it gets cold and the lake freezes.
Our Cabin in Fall
From Memorial Day to Labor Day I love decorating with red, whites and blues.
Give me all the Americana.
Then in the Fall I follow the inspiration of what surrounds me.
In the woods.
As the trees change color so does my decor.
My front door wreath is usually the first shift. Here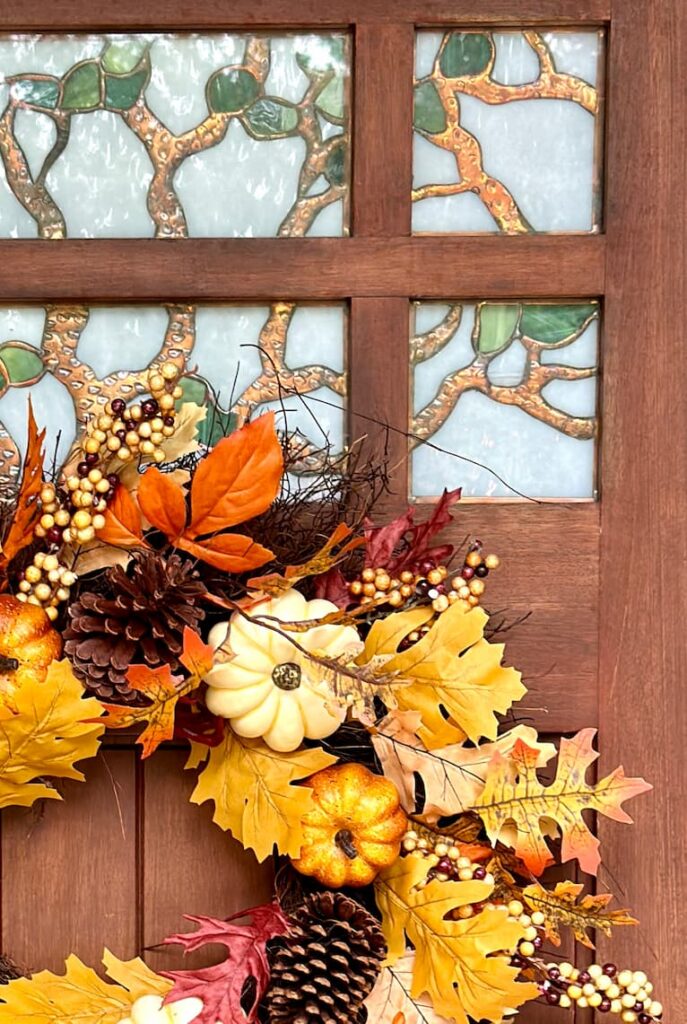 Here are some beautiful Fall wreaths to shop right from this post:
I also love adding quick and easy decor that includes natural elements.
So in Fall that includes lots of pumpkins and guards.

Here's my post about 3 FALL CENTERPIECES IN VINTAGE TOTES to see more ideas.
Mixing those natural elements with antique and vintage pieces that give a nod to the lake and Northwoods is my style.
Some green oars, a vintage travel poster and some shocks of wheat grace the mantel.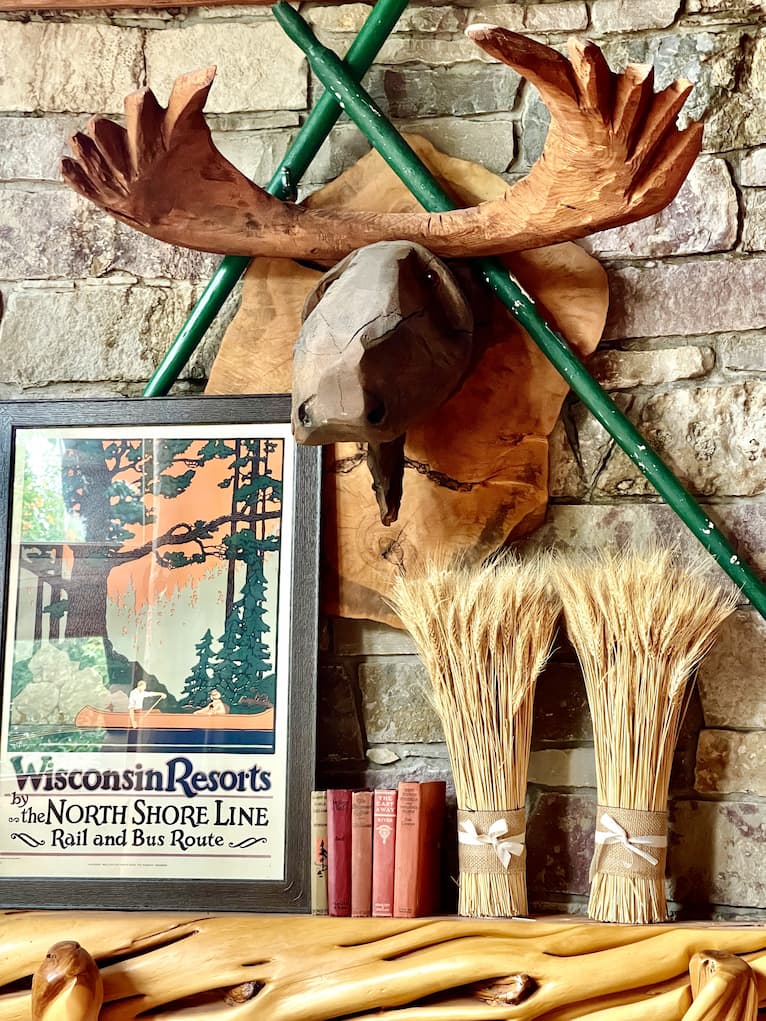 Fall Fun Lakeside
In the Northwoods we not only love how beautiful this time of the year is, but we love to still enjoy nature and the lake no matter the time of year.
An Autumn picnic down by the lake is a fun way to take in the color.
Kayaking is still fun and a great way to enjoy being on the water longer.

Lake themed items add great layers to gatherings like this antique paddle.
It looks so pretty with the pops of copper and vintage finds like my picnic tin holding a mum and camp blanket as a tablecloth.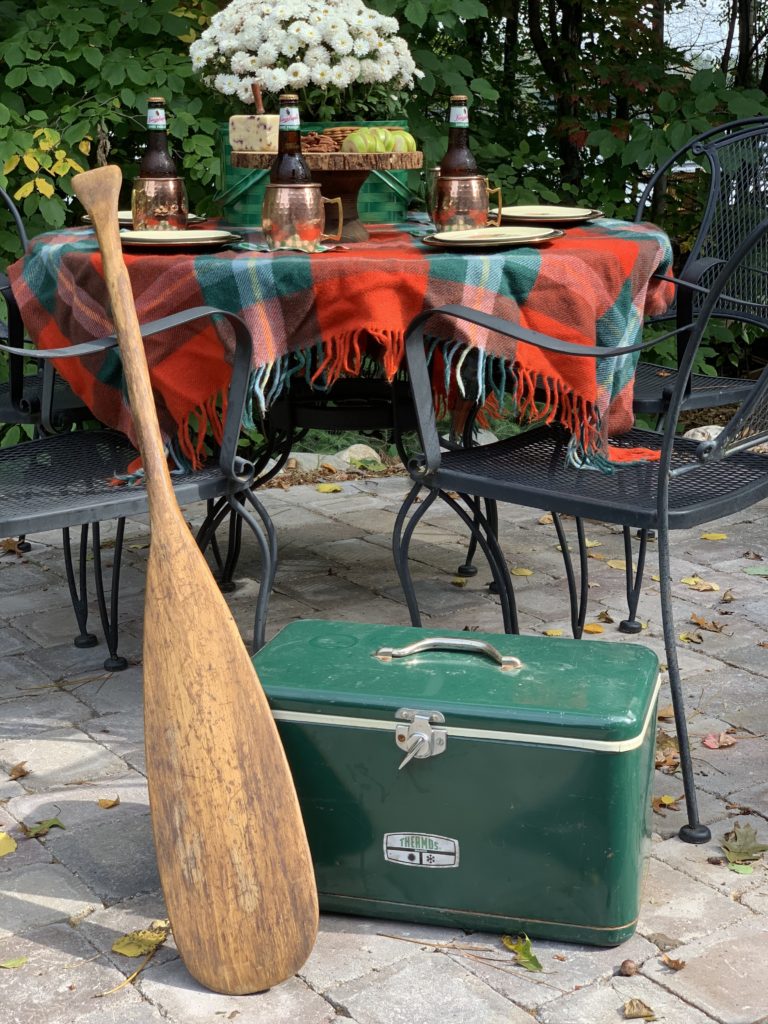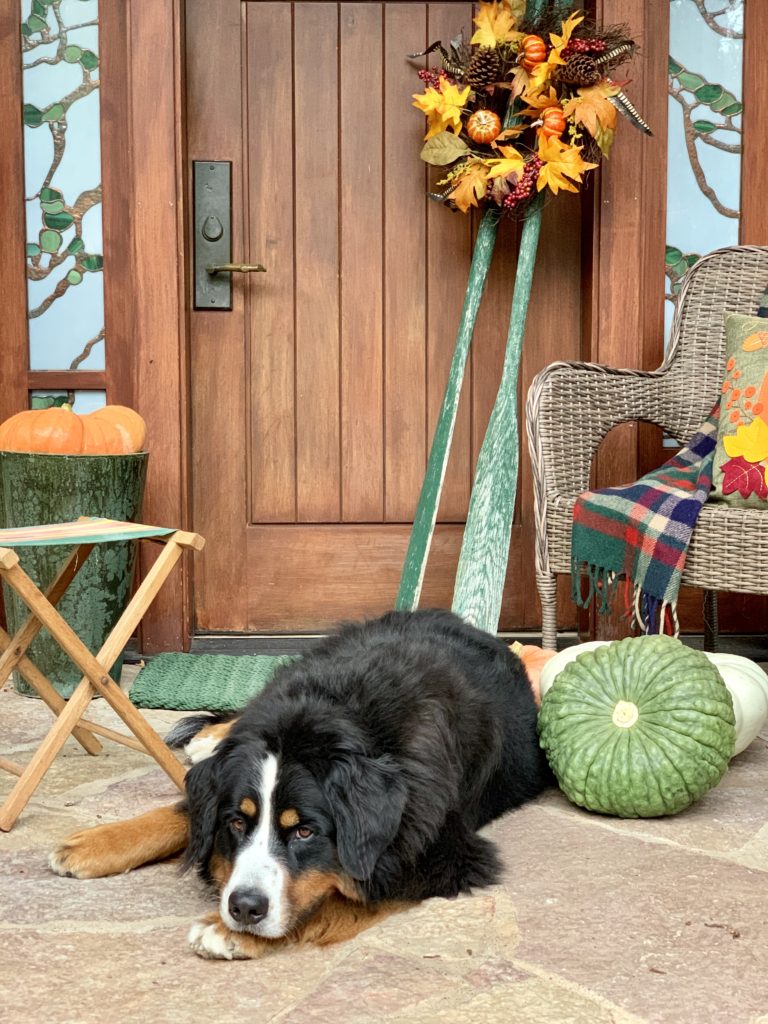 The vintage ducks I tuck around are another lakeside touch for Fall.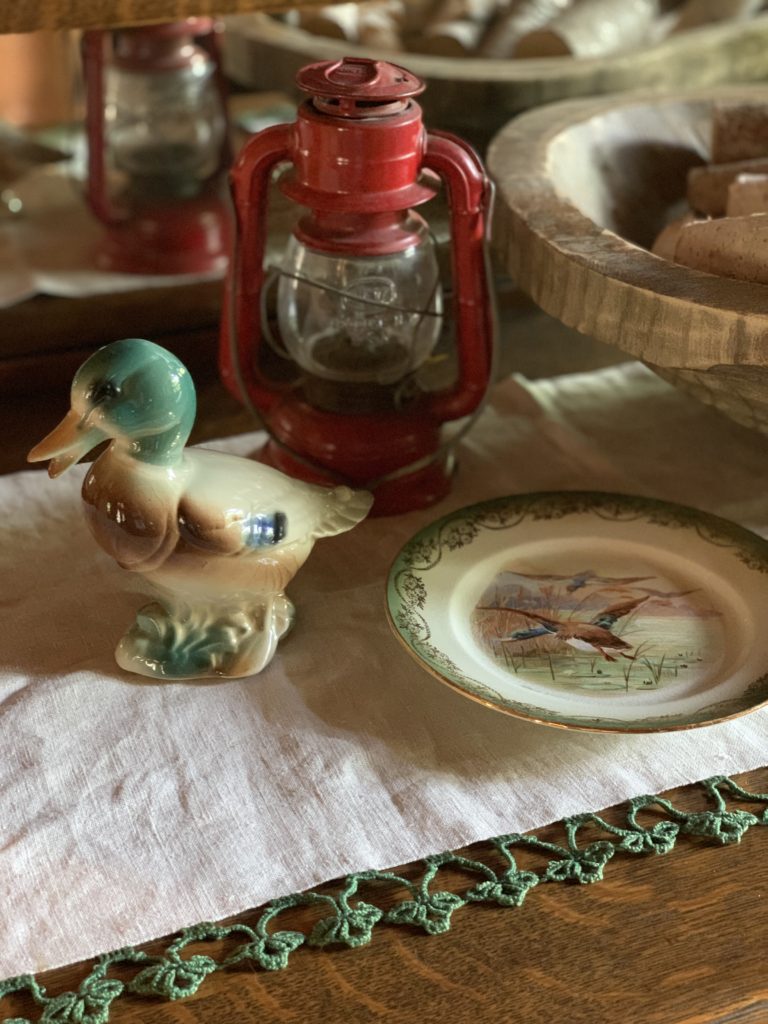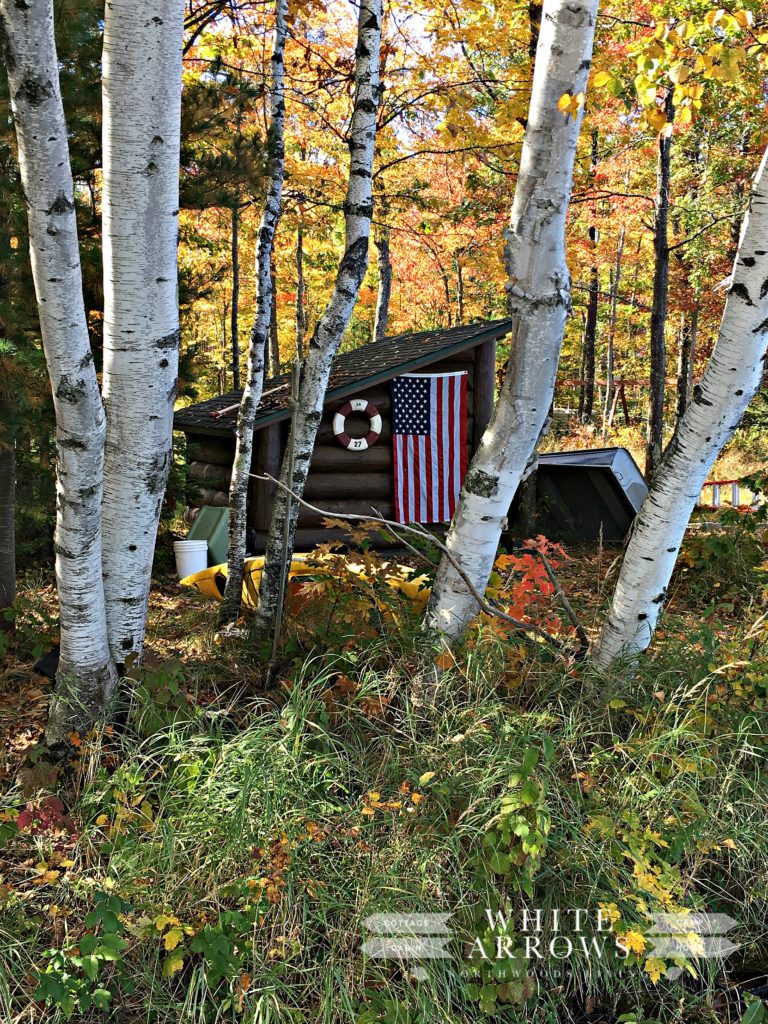 Thanks so much for joining me at Camp Paradise! Next up you are heading to my friend Libbie's at A Life Unfolding for her beautiful Fall at the Cottage tour.
Bloggers' Best Fall Home Tours
This week I am joining some of my blogging friends for the Bloggers' Best Fall Home Tours. Thirty talented and creative women will be opening their homes up for you to tour all week long. You can visit each Fall home tour by clicking the links below.
Monday's Tours


The Tattered Pew // StoneGable // My Wee Abode
Cottage On Bunker Hill // Bricks n' Blooms // My Thrift Store Addiction
Tuesday's Tours


She Gave It A Go // Midwest Life and Style // Open Doors Open Hearts
Peacock Ridge Farm // Cottage In The Mitten
Wednesday's Tours


White Lilac Farmhouse // Shiplap and Shells // The Ponds Farmhouse
WM Design House // DIY Beautify // This Is Simplicite
Thursday's Tours


Eleanor Rose Home // Robyn's French Nest // Worthing Court
Southern Home and Hospitality // Amy Sadler Designs // Our Crafty Mom
Friday's Tours


White Arrows Home // A Life Unfolding // County Road 407
Thistle Key Lane // Pasha Is Home // My Family Thyme
FOLLOW ALONG
Instagram ~ Facebook ~ Pinterest ~ Twitter ~ YouTube ~ Tik Tok ~ Liketoknow.it