An old hymnal inspires several book page decor craft ideas around our home.
I have an old hymnal that I saved knowing I would love to do something creative with the song sheets. While I've had extra time at home to pull out projects, I decided to add some Spring and Easter touches with the old hymns. These projects could be done using an old book, magazine, or children's book pages too. It would be fun to do them again using pages of Christmas carols this Winter.
(Affiliate links are used for your convience. Read my full disclosure here.)
Find a link to watch my video tutorial at the end of the post.

I folded pages over three books and stacked them together on the coffee table. I tied a ribbon around them. You could use jute twine, rope or any favorite ribbon around your stack. The books were too wide for the hymnal pages so I used two per book. It didn't matter if they didn't cover the entire bottom of the books because no one will see that side. Little pieces of washi tape were used to hold the pages onto the books until I had the ribbon wrapped around them. I didn't want to use anything that would hurt the books. The washi table easily removed, without harm, after the ribbon was tied on and the music sheets stayed in place.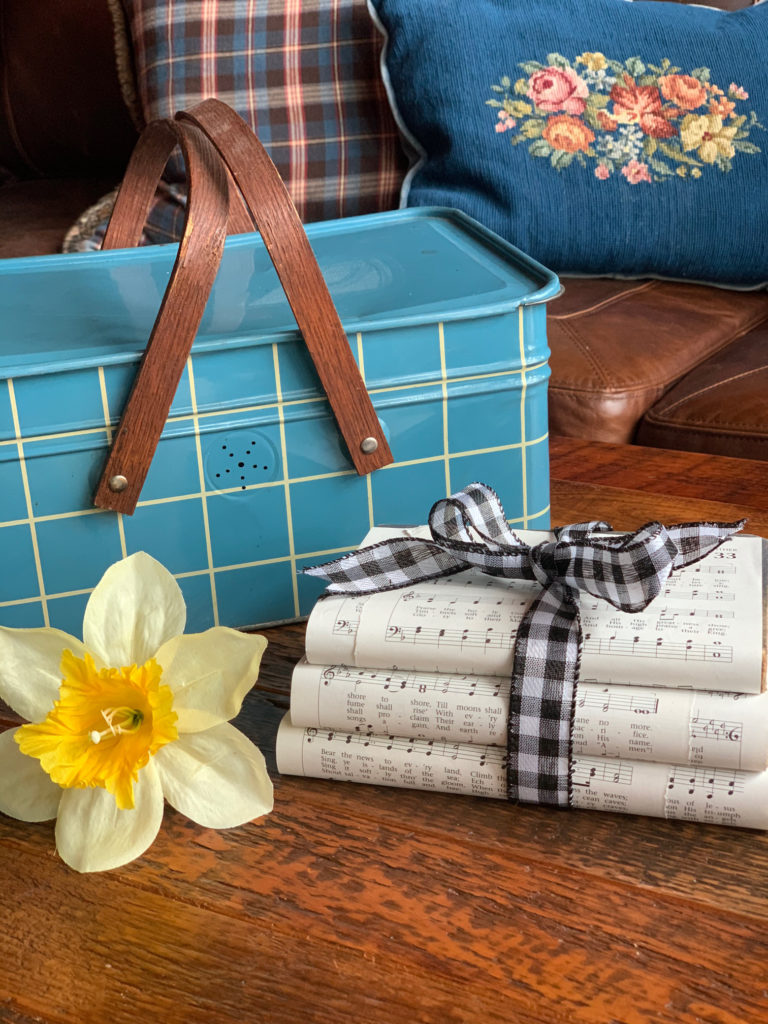 I have been wanting to find something to do with these old rusty springs. Making cones from pages from the hymnal, I filled them with Easter Grass and set them inside the Springs.
For any of these projects you can use favorite hymns that you want to words and notes to show or just choose pages randomly.

One of the challenges is to use only items from around the house, so I have been digging through my storage room, craft buckets and even searching outdoors. To make a simple rustic frame, I used two sticks. I hot glued one to the top and one to the bottom of the music sheet. Then, I tied an end of jute twine to each end of the top to make a hanger.

To make my own Easter grass for this vignette, I cut strips of the music pages and crinkled them up. I love how they look in my footed jadeite bowl filled with colorful eggs.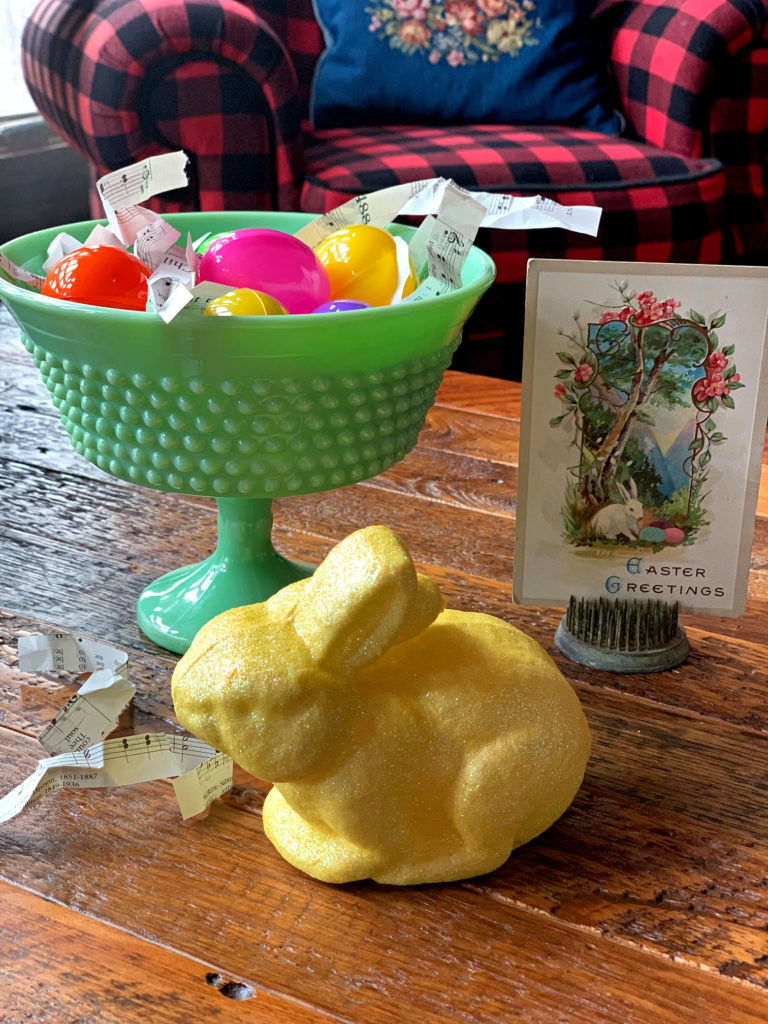 Another easy decor project was to simply roll up hymnal pages and tie them with twine. Then I added them into a green vase on the bookshelf.

A book page banner is a simple way to show off a favorite book or songs. After tearing the pages from the book, I cut a triangle out of the bottom of each page. Using a hole puncher, I added two holes to the top corners then used baker twine to lace them together. This would be really cute to add above a bed, above the mantel or in the entry way with seasonal pages.
If you have a favorite book or magazine and don't want to take it apart, photocopy the pages and use the copies. You can find pages on line to print off as well.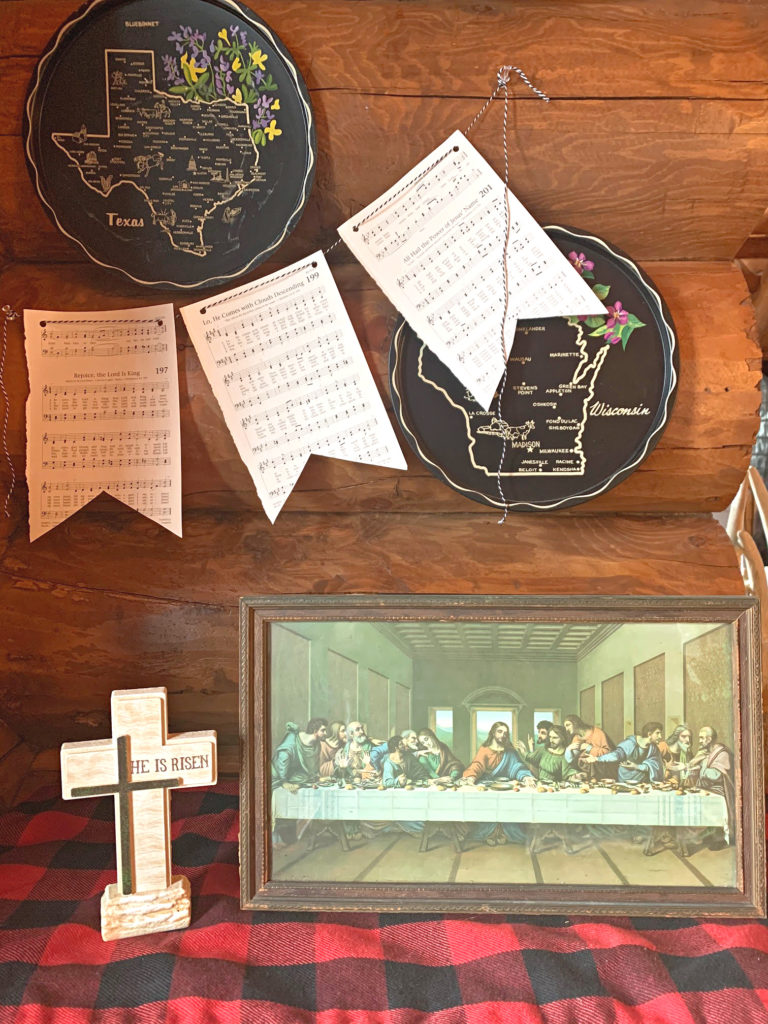 Another simple way to frame a favorite hymn is with an open frame. I hot glued a bit of twine on the back and attached the sheet with a tiny clothes pin. You could hot glue flowers or other decor pieces to the frame. I added birds nests.

Supplies


FOLLOW WHITE ARROWS HOME


Instagram ~ Facebook ~ Pinterest ~ Twitter ~ YouTube