Come take a tour of our cozy cabin in the woods and see our great room mantel.
(Affiliate links are used for your convenience. Read my full disclosure here.)
I'm so excited to be joining the Bloggers Best Holiday Home Tours hosted by Kelly of The Tattered Pew and Mansa of This Is Simplicite. You can find links and a full list of all those participating at the bottom of this post.
If you are coming over from First Day Of Home, welcome! Weren't you so inspired by Crissy's post! I always love the inspiration I find on her blog and YouTube videos.
If you are new to White Arrows Home it's my pleasure to welcome you to The Northwoods of Wisconsin where I live with my husband and four kids in the woods in a lakeside log cabin.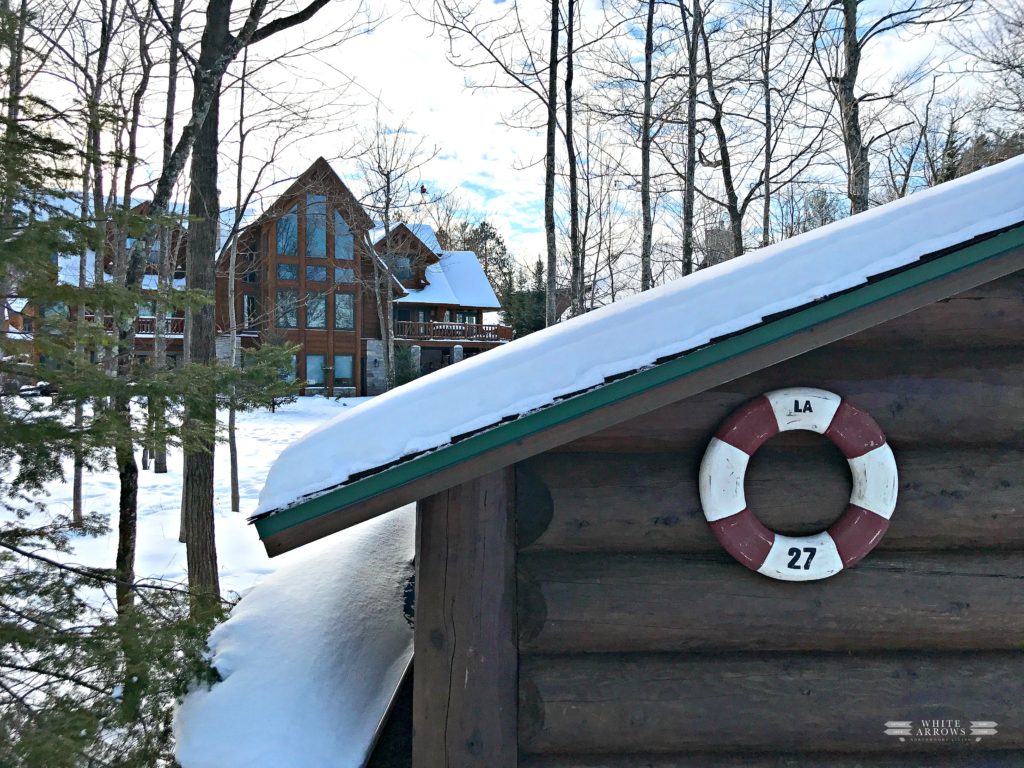 With our backdrop of snow, the cabin gets extra cozy inside. And one of the biggest features of coziness is our fireplace in the great room.
And our great room mantel is one of my favorite things to decorate. Each year I style it a little differently for the Christmas Holidays. I don't really have a plan when I start. There is usually one piece that inspires it all.
Last year it was these amazing shutters off an old cottage. Greens and whites were the main colors with touches of red from the stockings.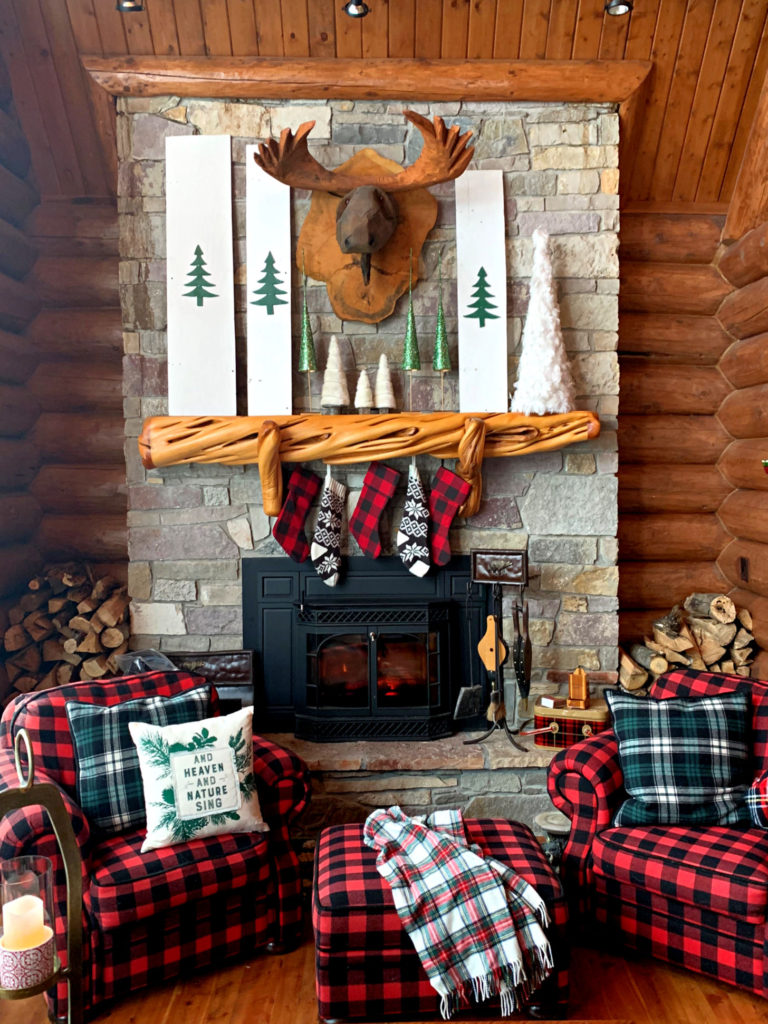 One year I used a mix of my trees with empty gold frames. I did a mix of buffalo plaid and sweater stockings.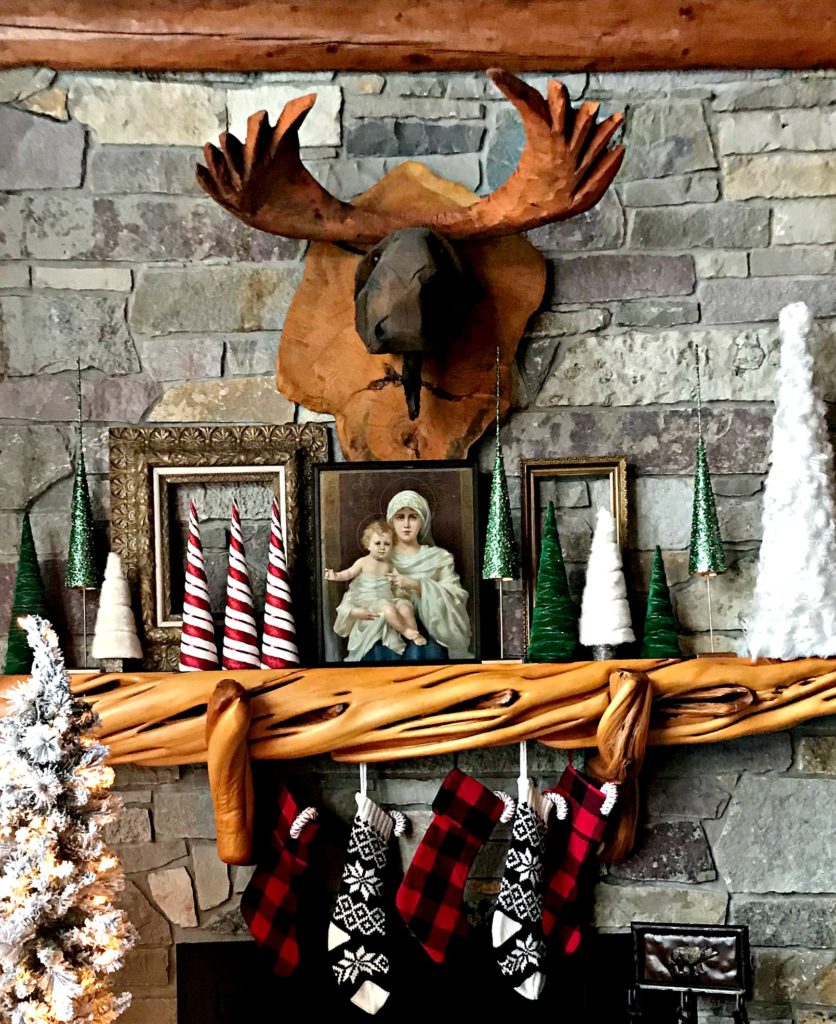 One year I did all buffalo plaid stockings and put them on the outside edges of the mantel and hung snowflake ornaments in the middle. A swag of feathers hung above the snowflakes. The snowflakes sparked this styling.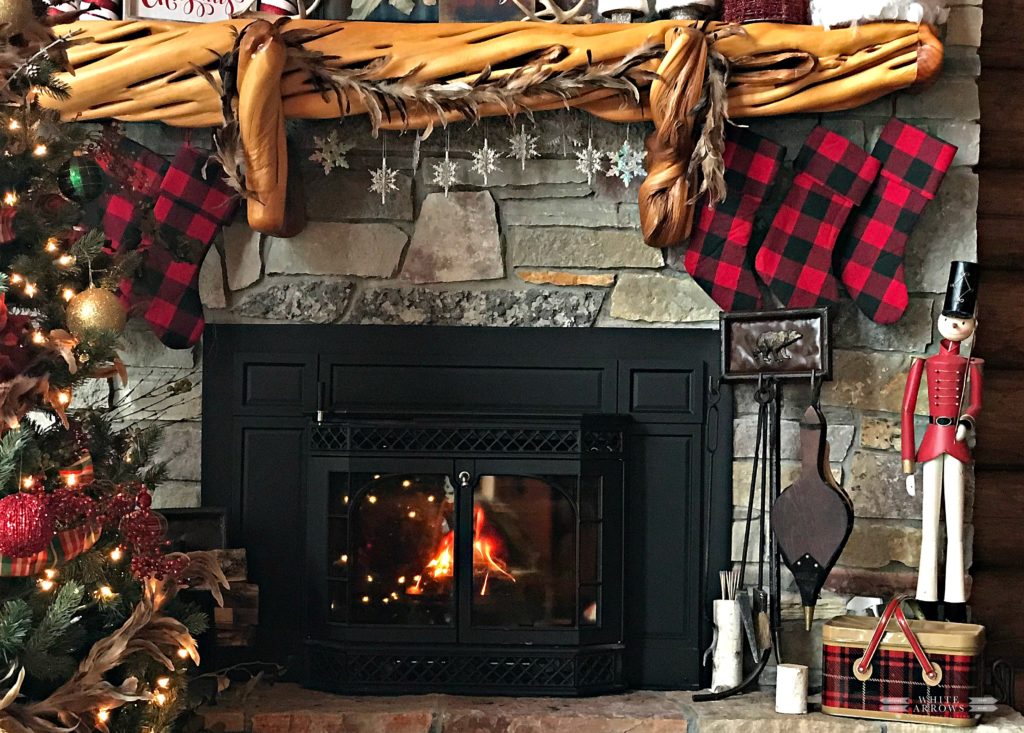 For this year I decided I wanted to use my red skis. I always like to add something tall to the mantel and then add other elements of varying heights.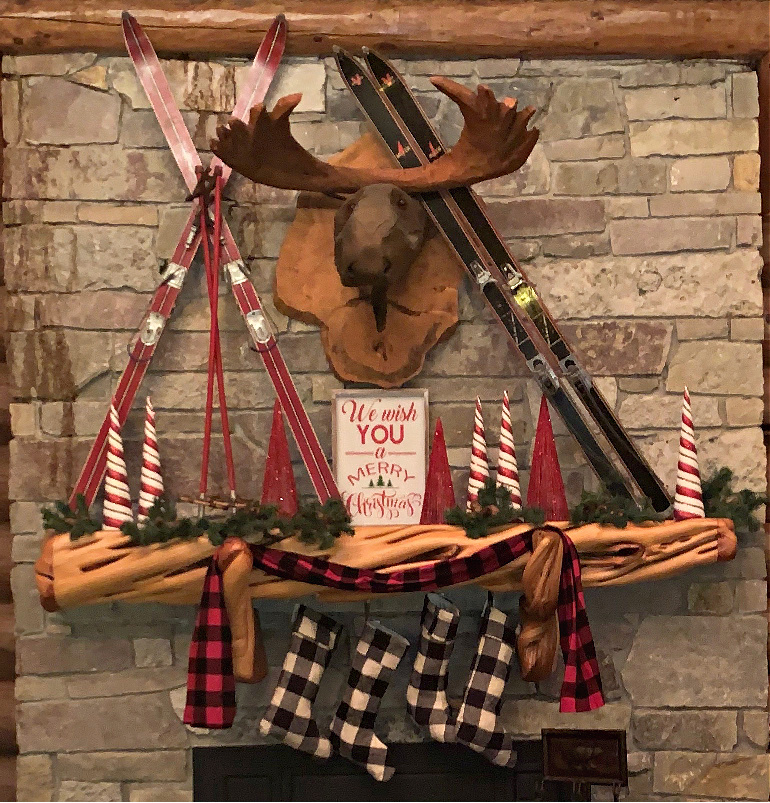 For the stockings this year I did black and white buffalo plaid. These are from the collection I sell in The Shop. The red and black buffalo plaid swag above the stockings is actually the top sheet from a set. I used only the fitted sheets in a bedroom project. So I cut the top sheets into thirds and used it as Christmas swag around the house this year.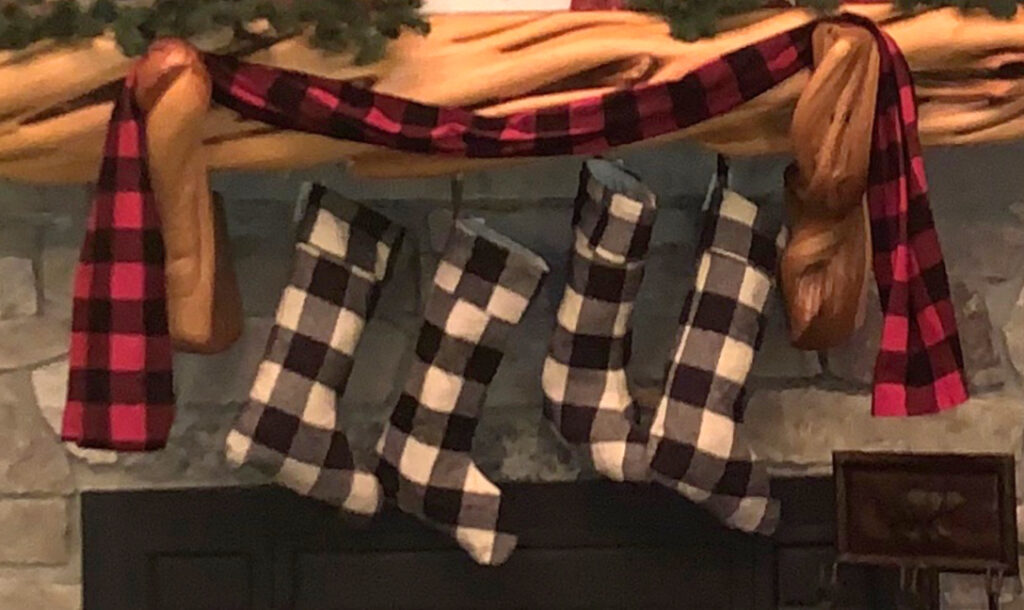 Then I decided to add in my black vintage skis.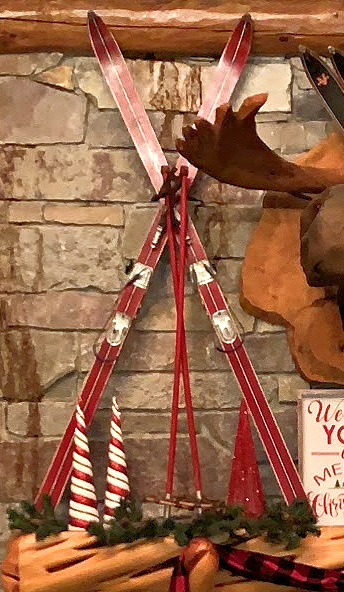 I used just my red and white striped trees.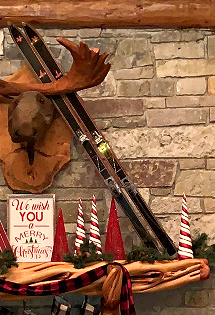 I keep things cozy too by throwing throw blankets all over on ottomans, arms of the chairs, across the back of the sofas.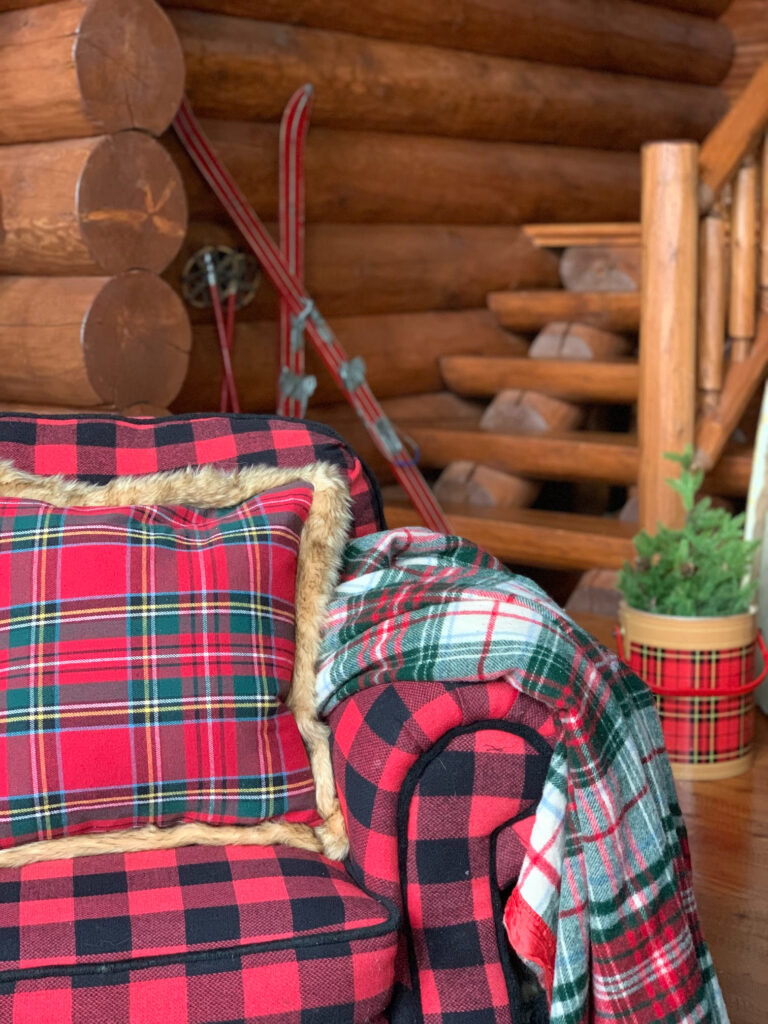 Get the Look
Thanks so much for stopping by!! I hope you will become a regular to my neck of the woods! Next up on the tour is Lindsay of Aratari At Home. You will love reading her blog! She is so inspiring!
Take the Tour


Monday's Tours


The Tattered Pew // My Thrift Store Addiction // Simply 2 Moms
Worthing Court // Bricks N' Blooms // Open Doors Open Hearts
Tuesday's Tours


Lora B Create and Ponder // This Is Simplicite
Shiplap and Shells // The Ponds Farmhouse //
Wednesday Tour's


Stone Gable // Midwest Life And Style // Follow The Yellow Brick Home
Noting Grace // My Wee Abode // The Farmhouse Life
Thursday's Tours


Aratari At Home // Caitlin Marie Design // Sweet Pea
Fiddle Leaf Blog // First Day Of Home // White Arrows Home
Friday's Tours


Cottage On Bunker Hill // The Aspiring Home // Lantern Lane Designs
DIY Beautify // Cassie Bustamante // The Flowering Farmhouse
Follow White Arrows Home
Instagram ~ Facebook ~ Pinterest ~ Twitter ~ YouTube