Fall decor, inspired by nature, brings rustic elegance to the Northwoods log cabin home of decorator Kristin Lenz.
I am so honored to be participating again in a blog tour organized by Marty of A Stroll Thru Life. Marty's blog was one of the first ones I started reading years ago when my dream to write about my love of decor was first blooming! She is such an inspiration! Thank you Marty for all your time gathering this amazing group of talented bloggers. You can find the full line up with links at the bottom of this post.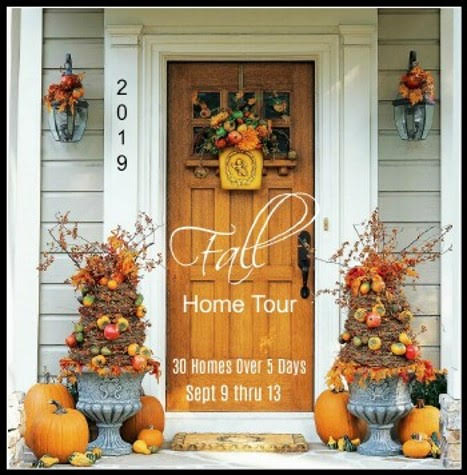 If you are coming over from Modern Glam, aren't you in awe of her Fall decor! I love her style!
I'm so glad you are finishing the week of inspiration here at Camp Paradise, our rustic lakeside, log cabin home in The Northwoods of Wisconsin! I hope you will feel like you get a mini vacation at a grand old hunting lodge for the few minutes you are here.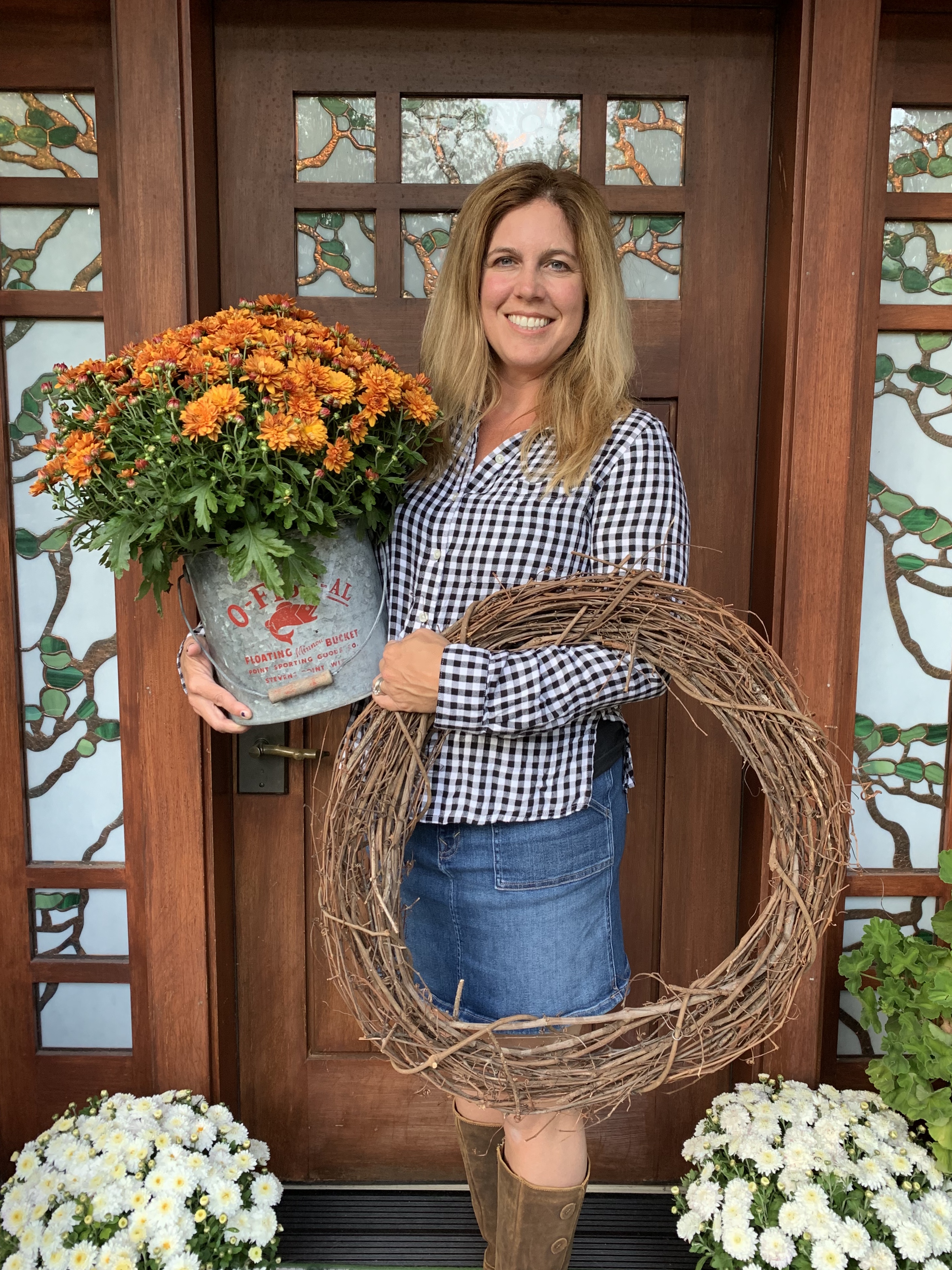 And then, I hope you will give me a follow so you can come and visit often!! My goals are always to make my guests, and readers, feel at home, welcome, encouraged and relaxed after visits!


This Fall, I have been inspired by two things, the red of the changing maple leaves and duck hunting season in The Northwoods of Wisconsin.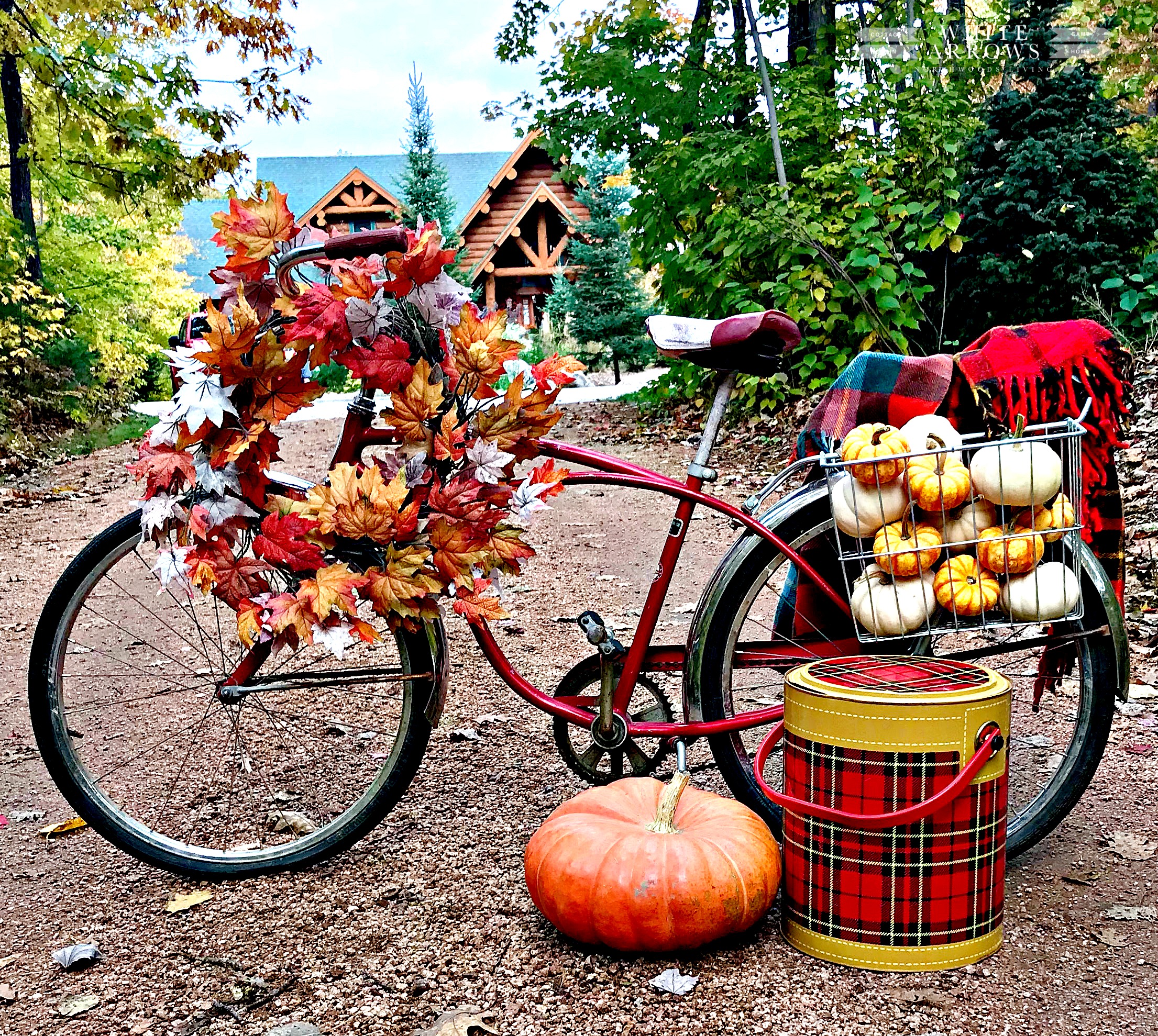 It all started when our weather quickly turned cool and the tops of our maple trees started to show bright red leaves even before Labor Day this year. I collect vintage thermos and coolers and most anything plaid. And being inspired to decorate inside by what is outside, I decided to pull out my red vintage pieces and give them the spotlight this season.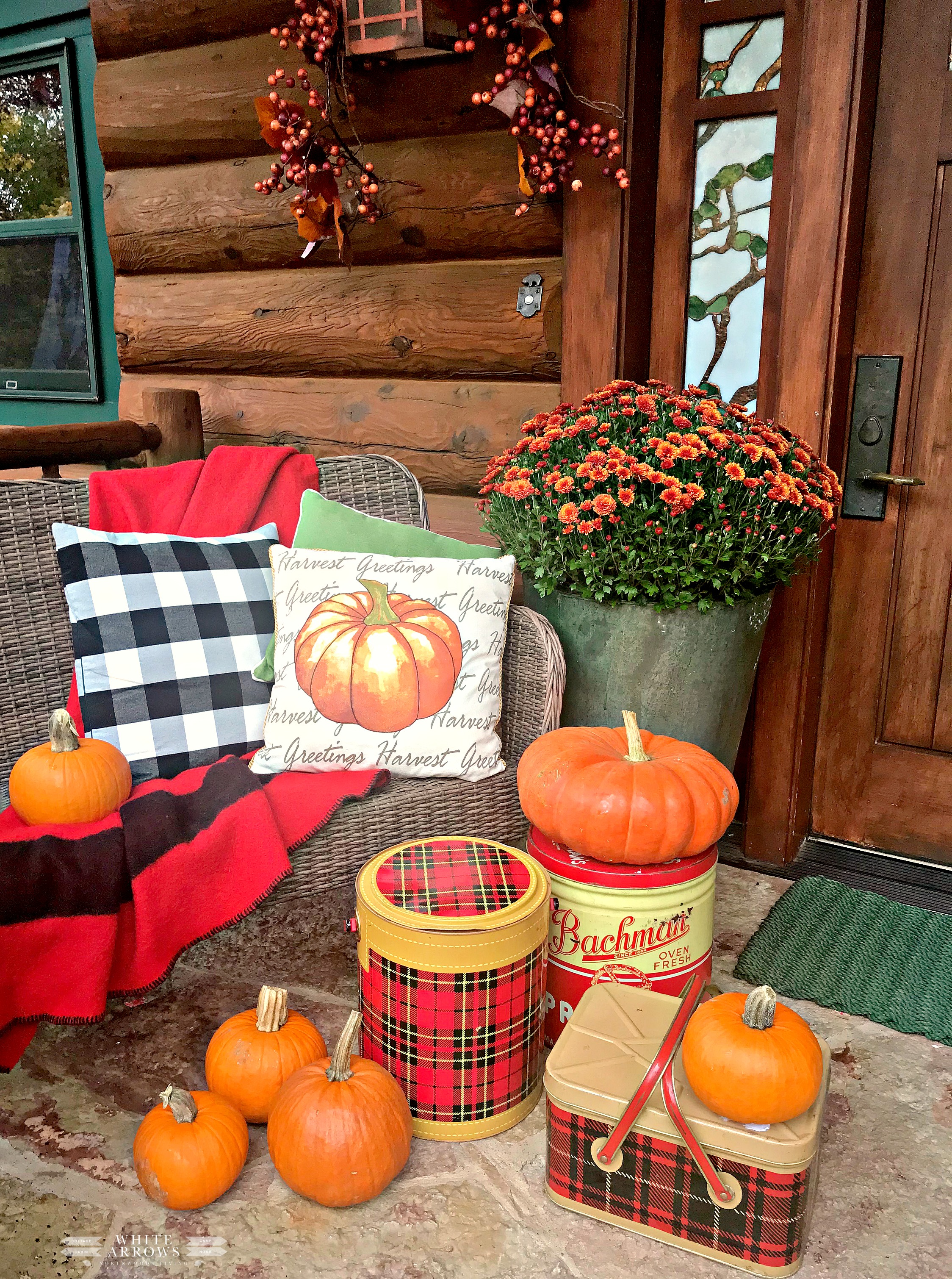 Last Spring I fell in love with these little ceramic ducks I found at The Duluth Junk Hunt. This time of the year is duck hunting season so I decided to add in ducks with my red plaid. Here's a peek at how this came together in our entryway.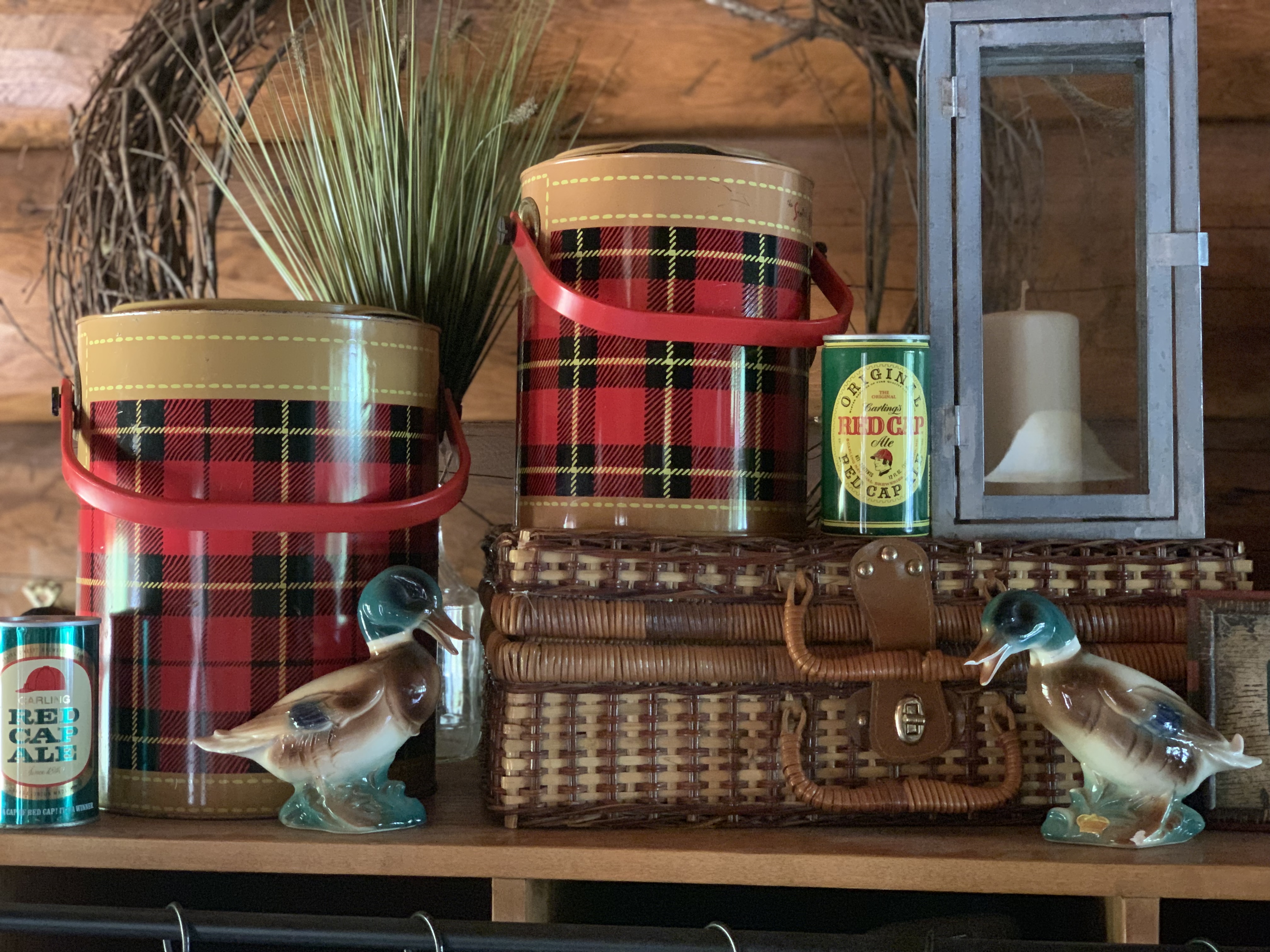 I carried the theme into the Great Room.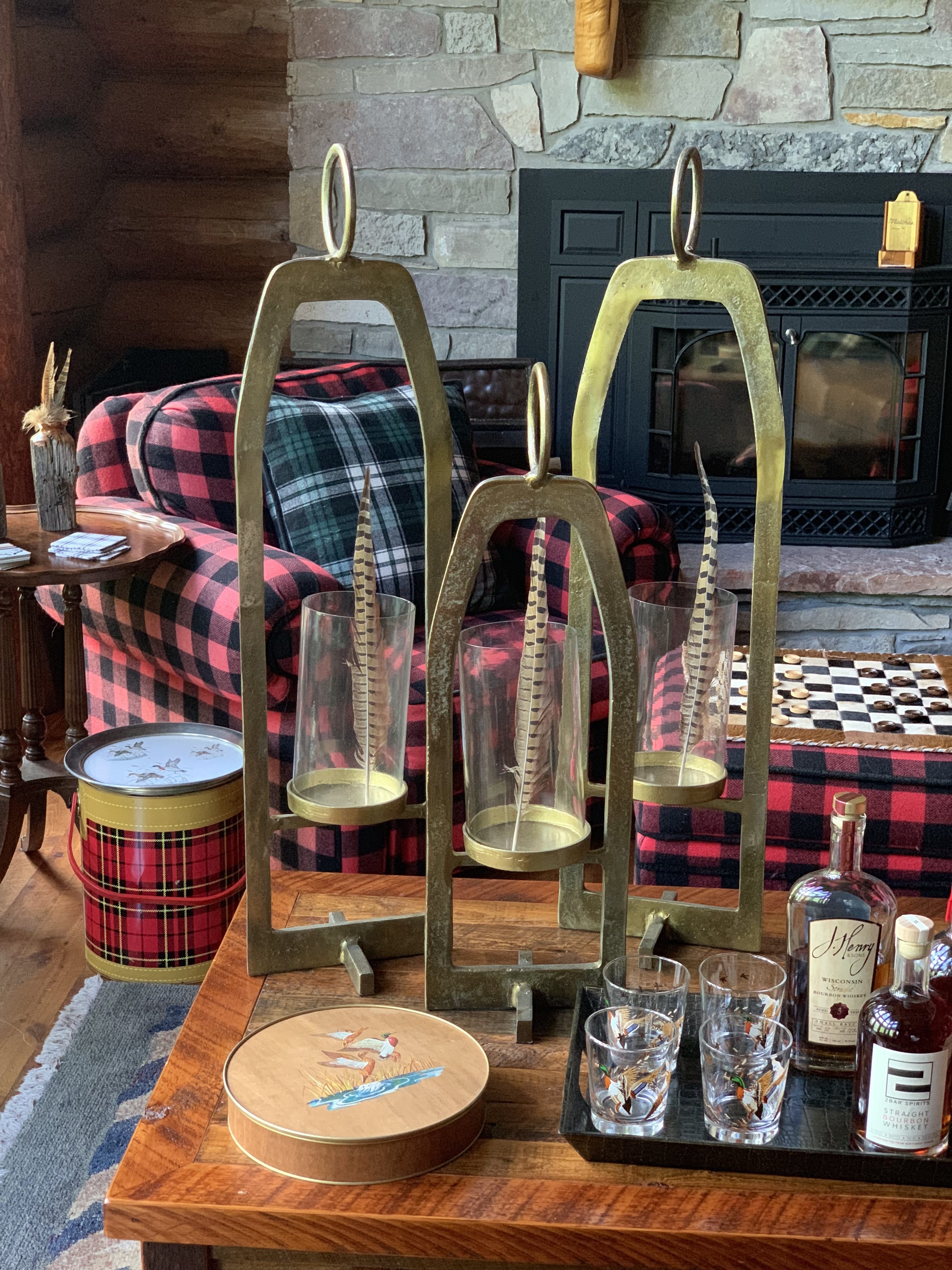 You can see more of our entry way and great room for Fall in this post.
At first, I was really struggling with how to decorate my mantel, and my mantel is my favorite thing to decorate! I knew I wanted to incorporate the red plaid and the mallard ducks but wasn't sure how I wanted to get the height and balance I needed for the space. Here's how it looked this Summer.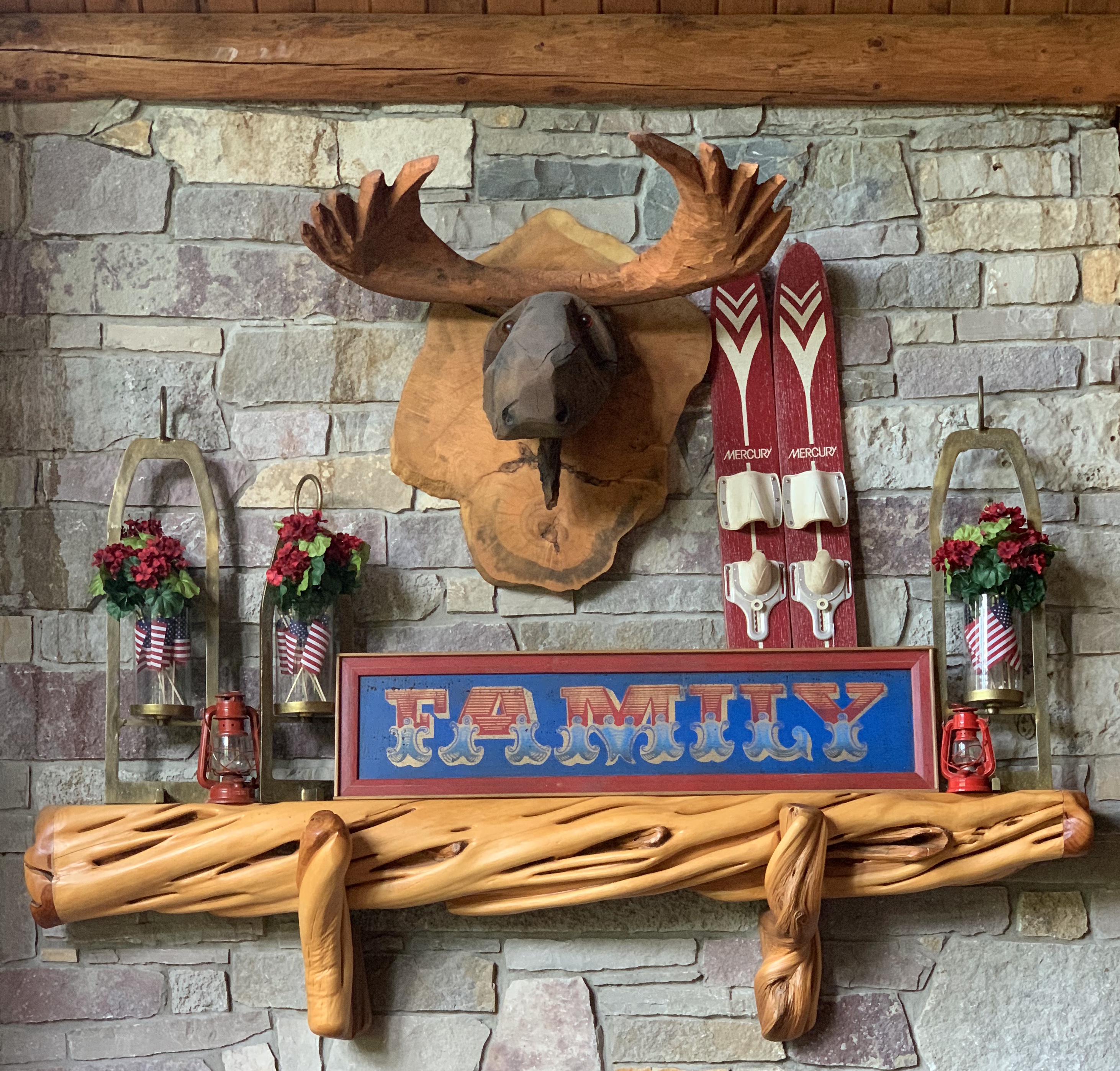 I had a few extra ducks and three more thermos to use, but what else would work? I found these metal cattail sculptures at Roughing it in Style. I knew they would be the perfect "book ends" to give height and interest.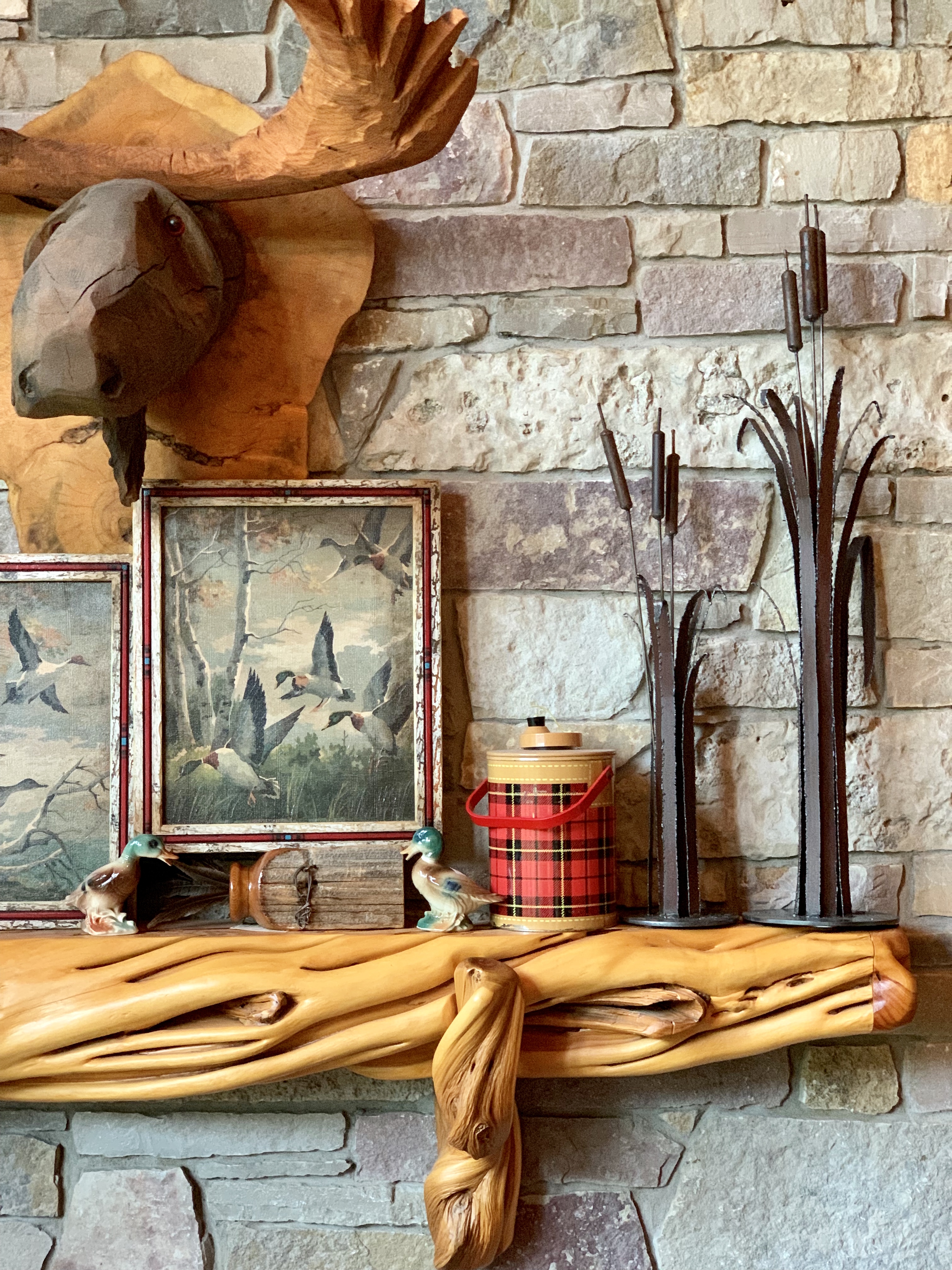 I also used two of my vintage paddles. You can find balance by using an odd number. So on the left side of the carved moose head I have two paddles and one cattail. And I have three cattails in all.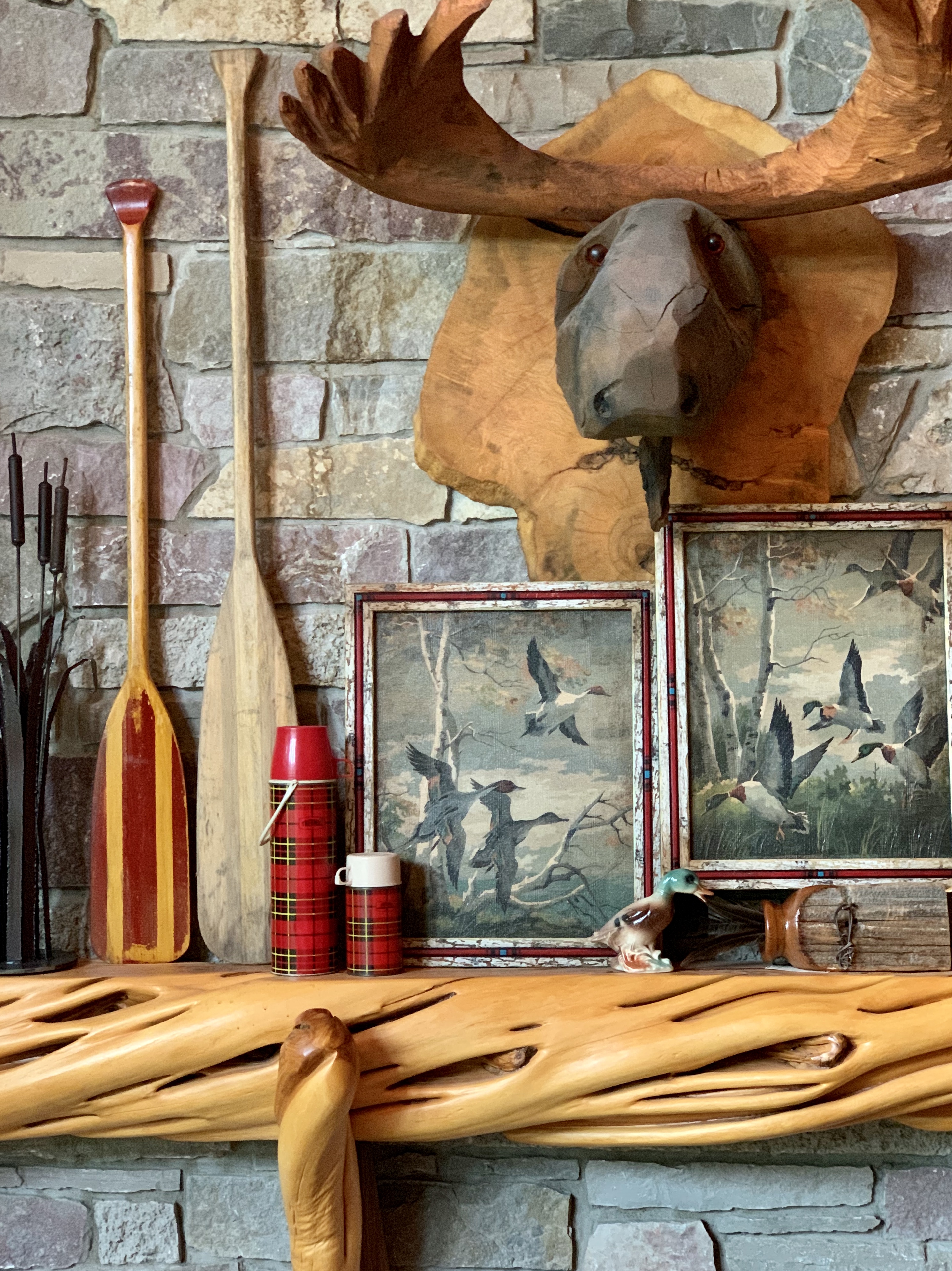 One of my paddles has red stripes so that worked great too!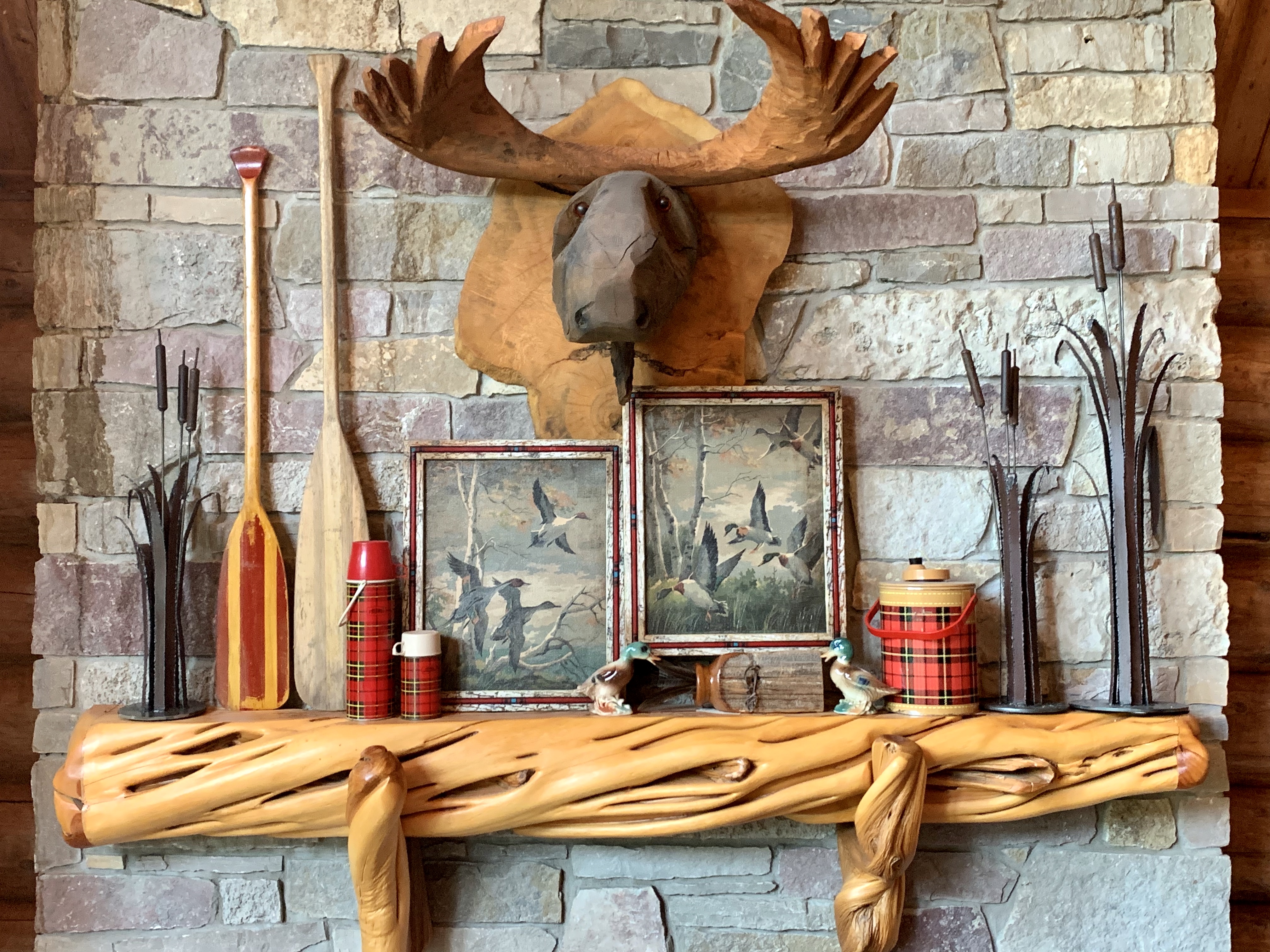 The vintage inspired paint by number duck prints were the perfect finishing touch. They are part of my Vintage Cabin Signs line in my online store. If you are interested in pre -ordering these prints please email me! They will be available soon. Their painted frames look like birch. I gave them balance by leaning one on top of my fence post vase turned on its side.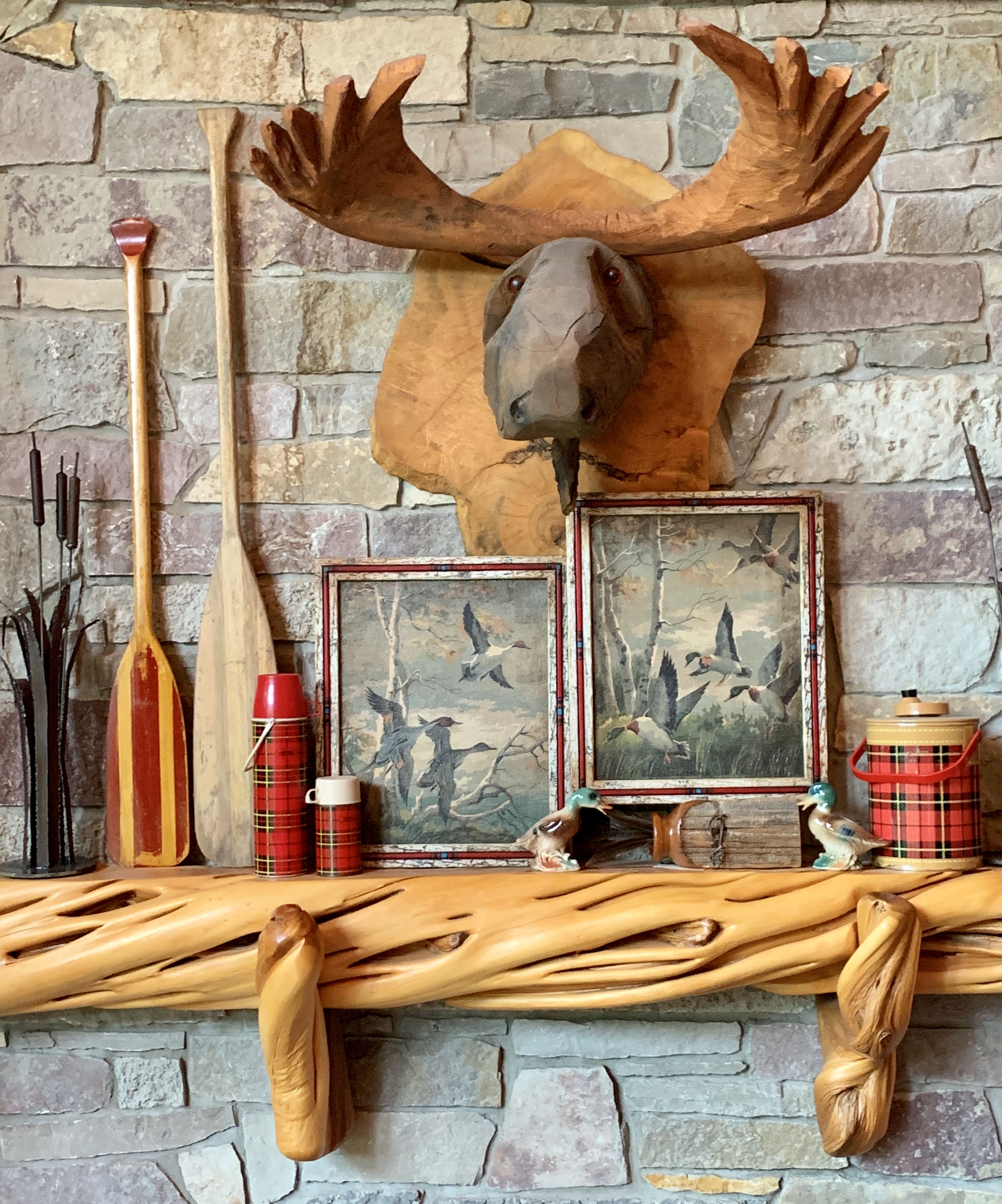 Thank you for visiting Camp Paradise! I hope you come visit often!!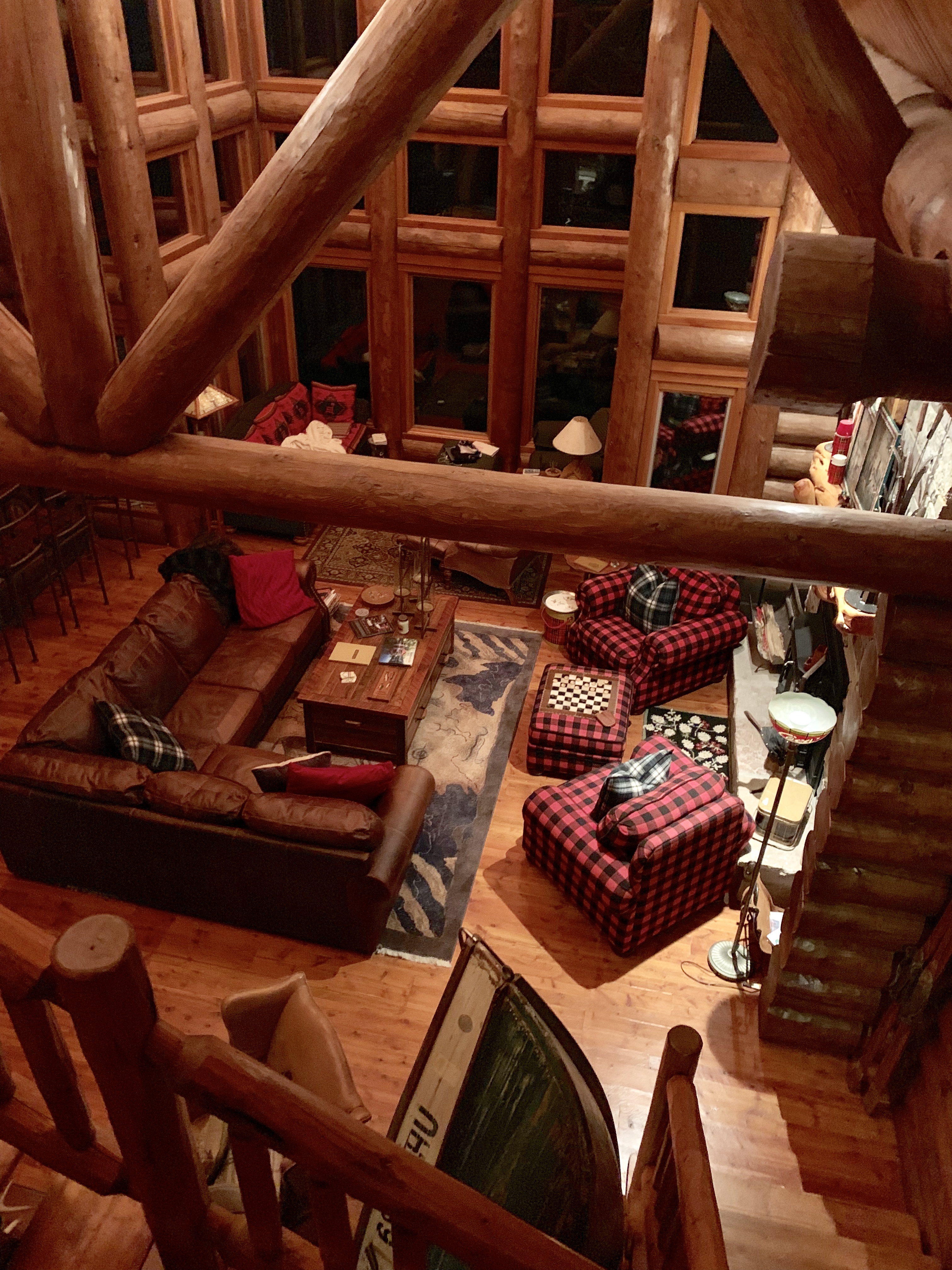 Join Me as I share more inspiration with you each day on:
Instagram ~ Pinterest ~ Twitter ~ Facebook




 Friday 


Life On Cedar Lane, Designing Vibes, TheWoodgrain Cottage,
ThistlewoodFarm, Modern Glam, White Arrows Home