I am mom to five children and three of them are teenagers, two are boys and one is a girl. Finding gifts for them at Christmas that will still give them the Christmas Spirit and Excitement is no easy task.
For this post I asked their advice on what gifts they have loved getting, would like to get or items they couldn't live without that they think other teens would enjoy. Here are the top ten.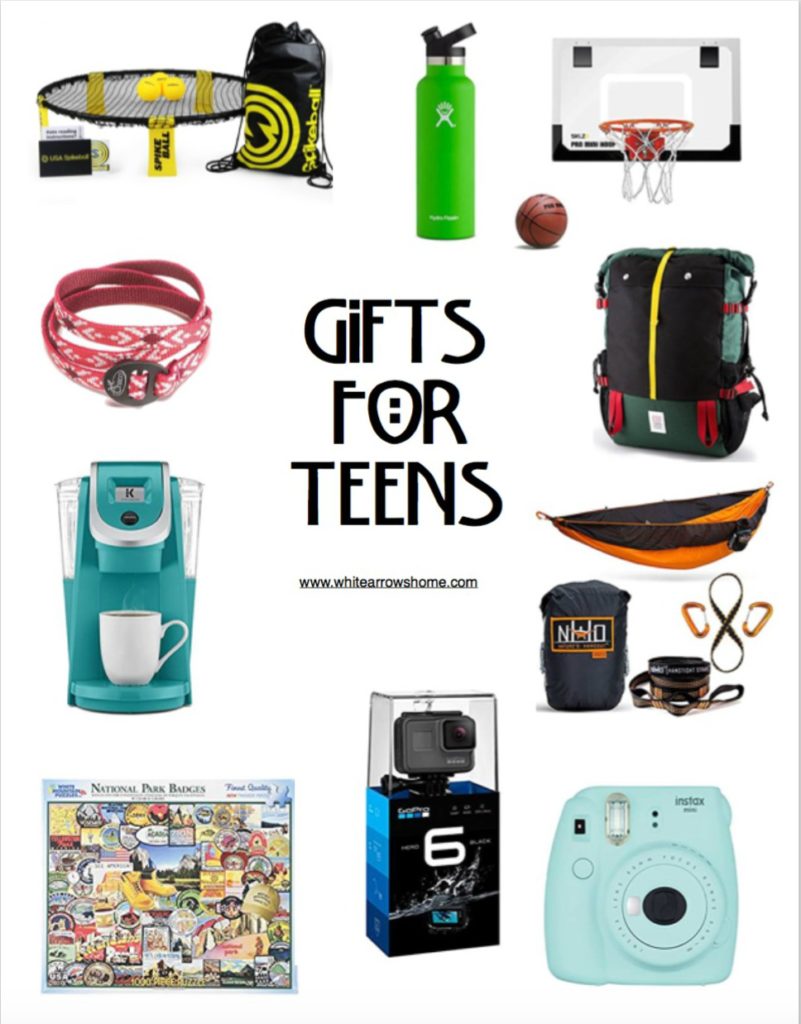 (Affiliate Links are shared for your convenience, read my full disclosure here.) 
I discovered Hydro Flasks when I was planning for a trip to Eastern Europe and wanted to find a bottle that would keep my coffee hot all day or my water ice cold. The Hydro Flask was worth every penny! Ice stays frozen all day long!
These bottles come in so many color options and there are also a variety of sizes and styles that make them perfect for hanging on a backpack or at a hydrating at sports practice. My high school daughter has one in her school colors and one of her friends in her signature color of sky blue.
Hydro Flask Stainless Steel Sports Bottle
This fun game can be played with a couple of friends and is easy to take along to any gathering in it's drawstring tote.
If your teen is not yet 'mocking then it's time to get them a hammock. Relaxing and just hanging out as they swing between the trees, this trend is a great way for teens to spend time outdoors. (I'm thinking my girlfriends and I need these too!)
My boys have always had one of these hoops over the doors in their rooms. I think the sound of the balls hitting the small backboards is a constant in our house. Sometimes there are full games going on with a whole group of boys spending the night! Every guy is Lebron with one of these in their room.
Whether skiing down the slopes, biking a trail through the woods or trying to jump the wake on their wakeboard, teens love to watch their exploits from their Go Pros!
My teenage daughter loves doing puzzles and she loves the outdoors. Exploring and the National Parks are a passion making this puzzle the perfect holiday gift. It's great fun to have a puzzle left out for a group of kids to sit around when they're hanging out.
National Park Badges 1000 Piece Puzzle
One of my suggestions when my kids have a lot of homework that has them feeling discouraged, is to make them a cup of hot chocolate or something special to sip on while they work. It helps them relax and makes the work seem a bit more fun. It's a mind trick we grown ups use, raise your hand if you've ever gone to the coffee shop to get some work done.
These bracelets made of the same straps the popular footwear use come in many colors and patterns. They are cute to mix and match and collect. And they are the perfect size for a holiday stocking stuffer!
My daughter first introduced me to Topo after she came back from a trip to Colorado with a wish list of bags and clothes from this fun company. Colorful, hip and oh so practical, you're wish list will be just as big as her's when you start shopping Topo's products.
Topo Designs Mountain Backpack
Though way cooler than mine was, this instant camera still brings its users just as much fun. Teens can have photos printed out on the spot, giving them fun memories to hang in their room or attach to projects. Add in a roll of washi tape, and a few fun Instax photos can be attached around their mirror.
Fujifilm Instax Mini
I hope these suggestions help your shopping go a little quicker and easier as you find the perfect gift for your teens!