A fun afternoon with a friend scrapbooking started with a delicious brunch dish this week. I got the lucky end of the deal. I hosted and set the table. She brought the brunch! Yummy! Lucky me! In the past we've done soup, sandwiches in the panini maker or take out, but this time she brought a baked oatmeal and yogurt with berries.
I set the table the night before not knowing what she was bringing yet, so I just decided to set out layers of dishes on a twig charger. The chargers are from Pier 1. The red and white placemats and napkins set my color palette. They are from World Market. I pulled out my pretty vintage rose colored water goblets I found eons ago at an antique store and a sweet hand painted pitcher from Tiffany & Co. we got as a wedding gift to showcase a bouquet of flowers.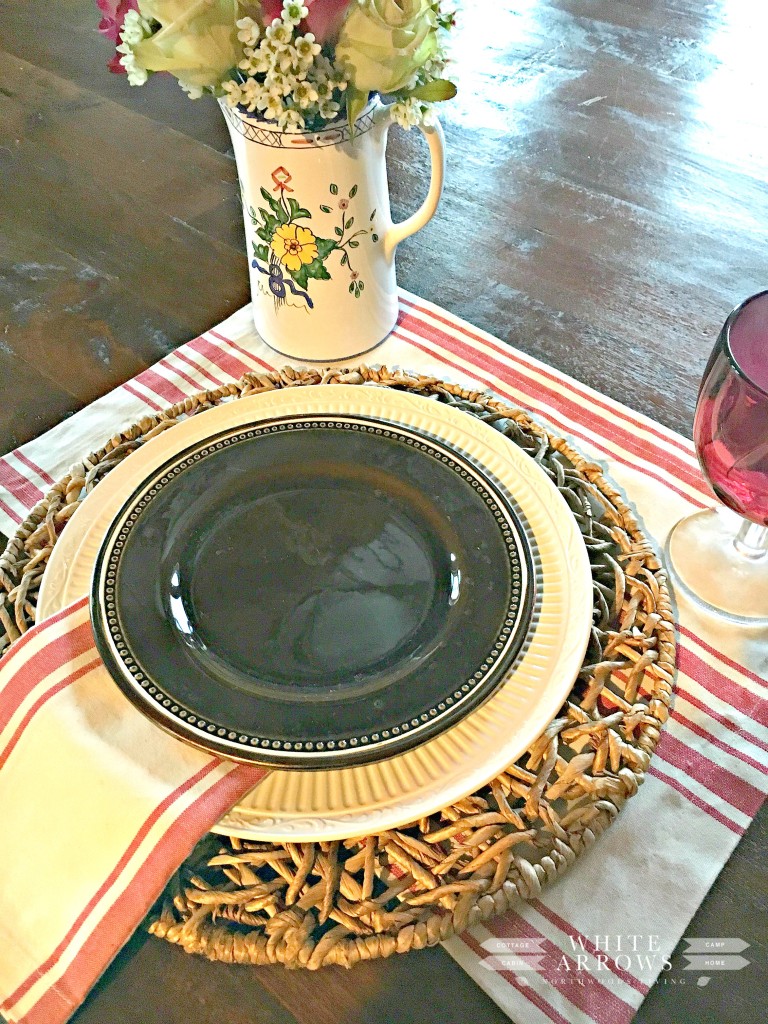 My cream dishes are my wedding china, Mikasa's Italian Countryside. The black and gold dishes are a Pottery Barn pattern I found on clearance at TJ Maxx a few years ago before Thanksgiving. I was excited to add them to my Holiday table then and have continued to love layering them in my tablescapes.

I often grab flowers at the grocery store. They usually have a great variety at a great price. But the other day it was a white out snow storm and I was passing a flower shop and pretty flowers called out to me. I found beautiful colors of roses to add to my pitcher.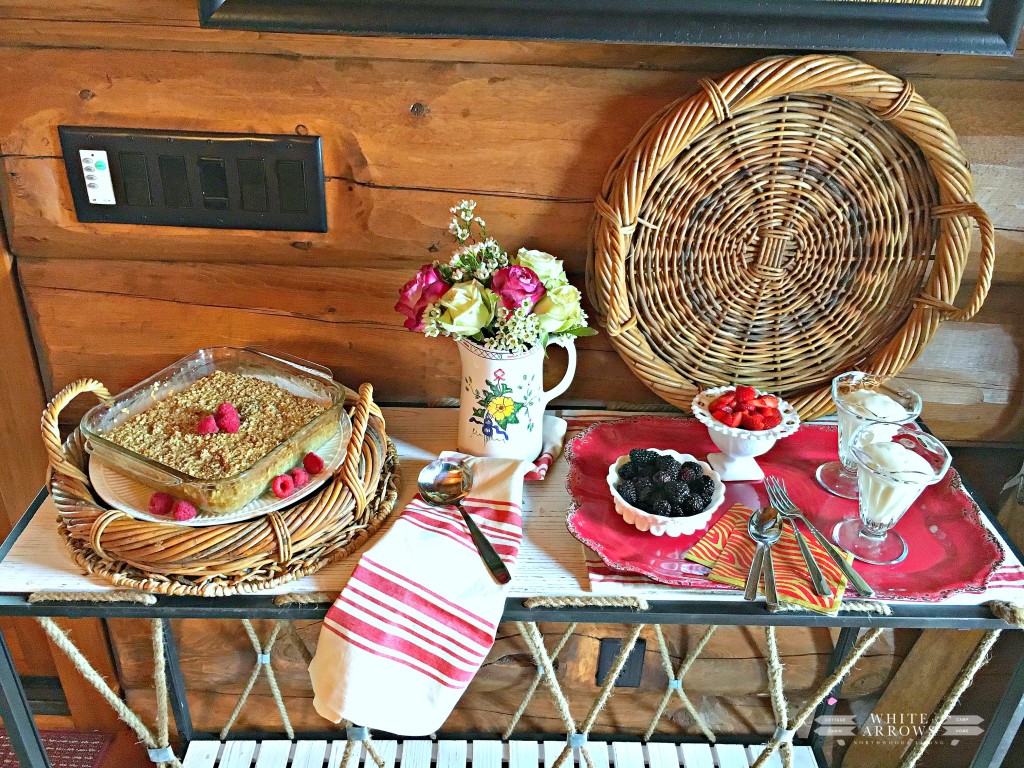 My new console table will move outside to the back patio when the snow is finally gone to stack towels and coolers of water for the summer, but for now this nautical piece with distressed white wood, jute roping and on wheels is happy where it's landed in the dining room.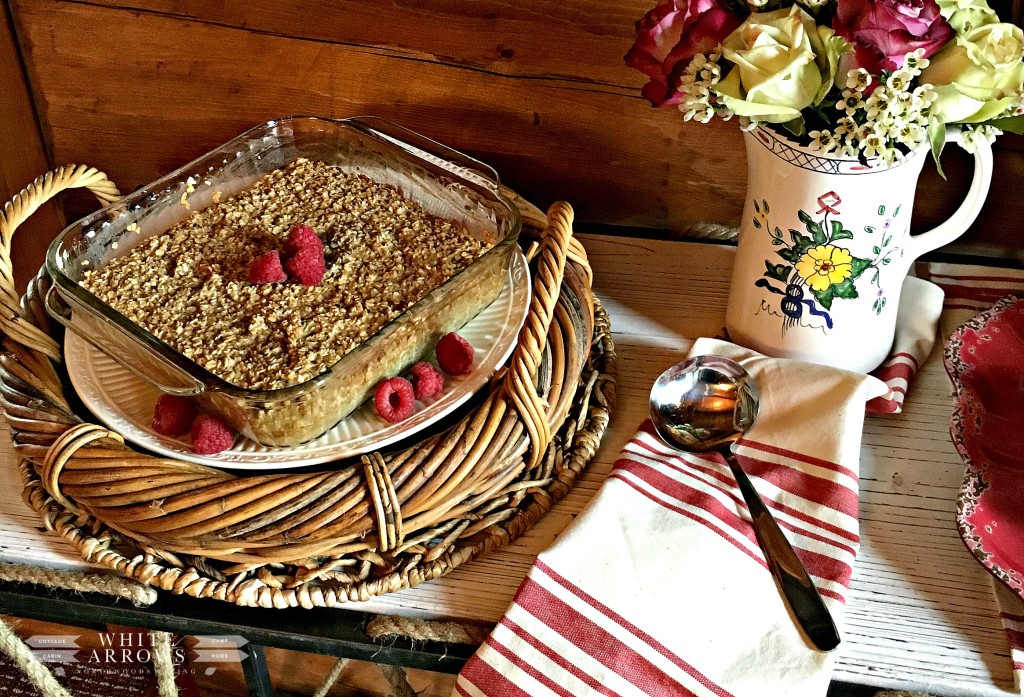 The best part of the baked oatmeal, besides how delicious it was, was that Jenny mixed it together, covered it and then brought it over to bake at my house. That meant MY house got to smell wonderful!!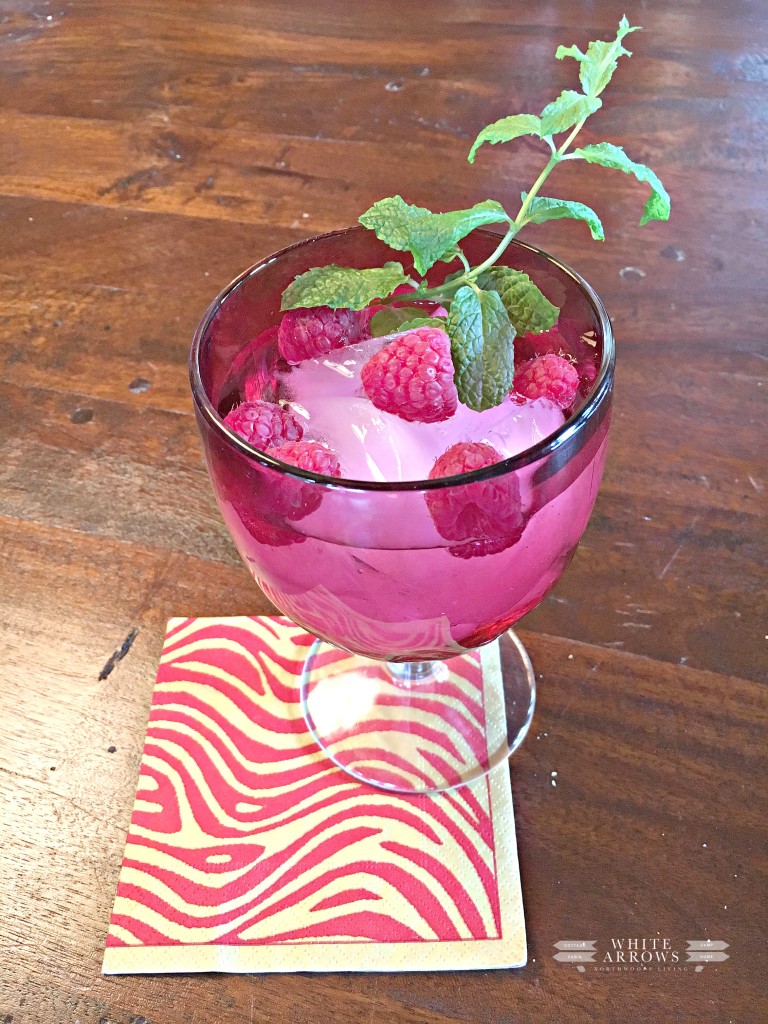 Water truly is my favorite drink and yet I still have to work at drinking more of it. The easiest way to encourage myself to drink more is to drink it from a pretty glass and to add garnishes. Fresh mint from my kitchen plant, berries, sometimes cucumbers, lemons or limes. It's so refreshing! It also makes a beautiful way to serve a girlfriend a drink. I keep pretty paper napkins around at all times in many styles and colors and use them to add personality to the water as well.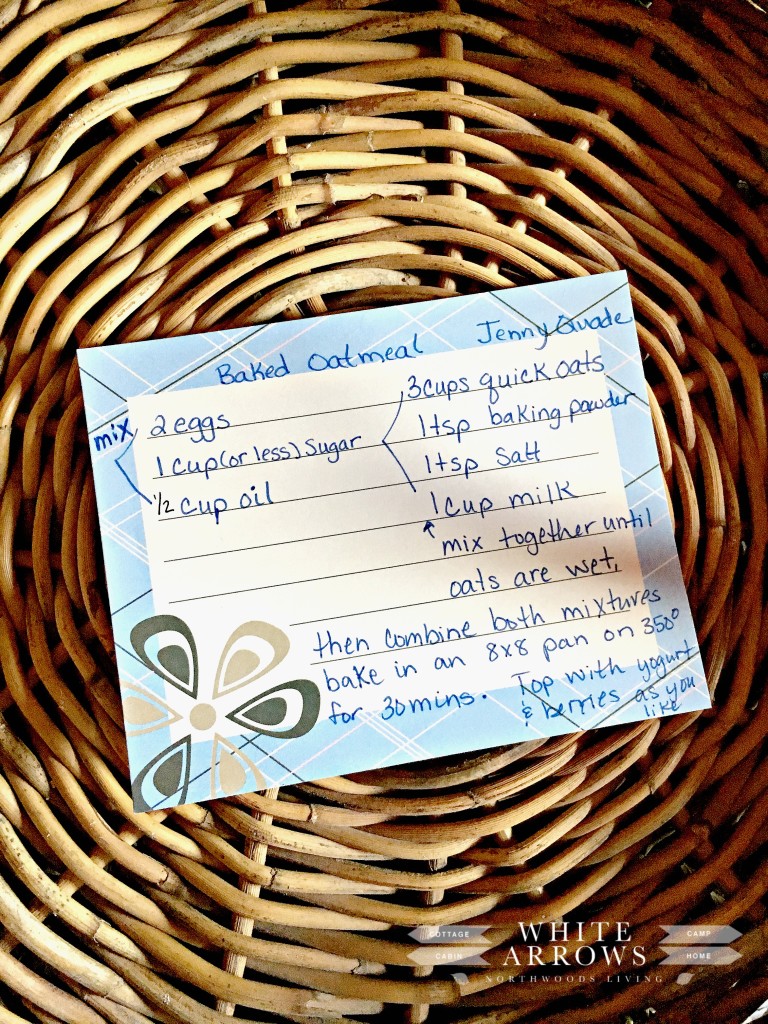 This is my friend's yummy recipe. She swapped one pureed banana for the oil. You could also swap in applesauce for the oil. Jenny used 1 teaspoon of stevia for the sugar. Feel free to have fun with the recipe and doctor it: add berries, nuts, pumpkin… Try it lots of ways and find your favorite.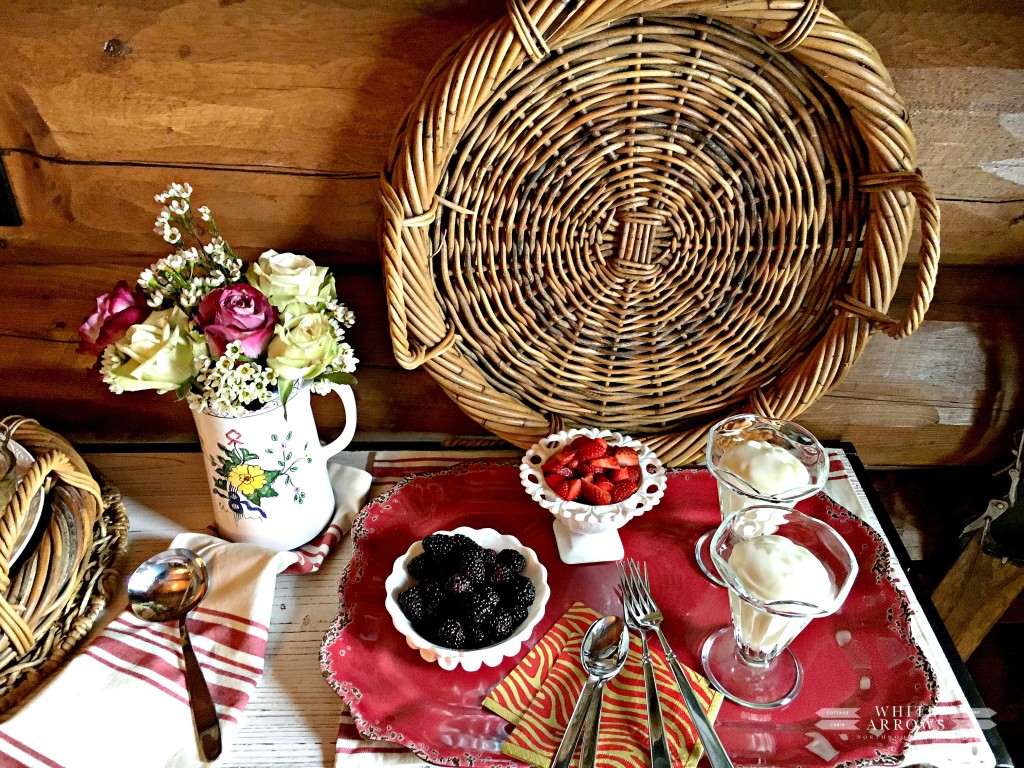 You can serve many sides along with the oatmeal, eggs, bacon or yogurt parfaits. These parfait glasses I found a few years ago in the Dollar section at Target. (Don't you love those aisles! You can find real treasures there!) Jenny brought the tub of yogurt and tupperware full of berries. She did the hard part, I just poured the deliciousness into my milk glass bowls and parfait glasses on top of a tray on the sideboard. Simple.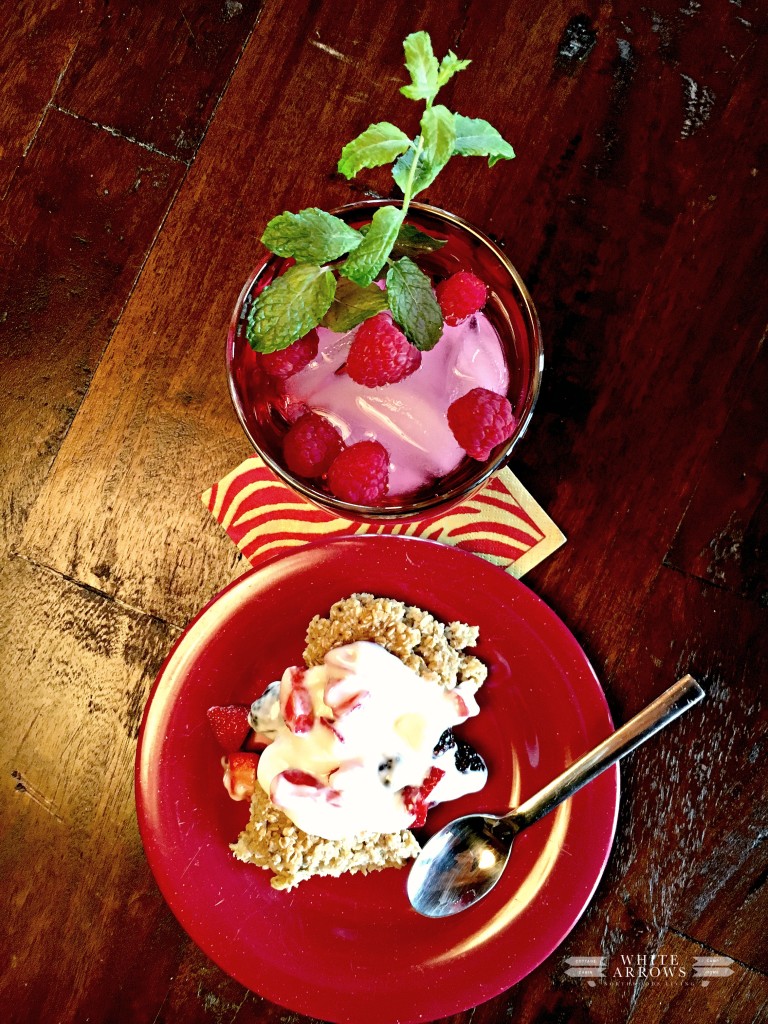 The yogurt and berries served right on top of the baked oatmeal is 100% goodness! A delicious brunch+ scrapbooking + girl time= a wonderful afternoon!
Linked to: Love of Home, Home Stories A to Z, Cedar Hill Farmhouse, Design, Dining, and Diapers, The Cottage Market