Christmas in July is a wonderful time to start thinking ahead and planning for the little holiday touches that spread Christmas cheer.
(Affiliate links are used for your convenience. Read my full disclosure here.)
I'm so excited today to be joining my friend Rachel of The Ponds Farmhouse for her annual Christmas in July Blog Hop. There are of us sharing together so that you can find an abundance of inspiration to get you thinking ahead to the most special Holiday season yet!

Find links to all the other bloggers sharing today at the bottom of my post.
If you are coming over from my friend Kelly's Colorado home welcome to Wisconsin. I love keeping up with Kelly's blog The Tattered Pew and all the inspiration she shares throughout the week! Her Christmas is especially beautiful!
Welcome to Camp Paradise
Our lakeside log cabin home in The Northwoods of Wisconsin is a Winter Wonderland, Christmas straight out of a Hallmark Channel movie.
With snow flocked trees and our cozy cabin life, we embrace every moment of the holiday season.
The twinkle lights bring bright joy to the dark nights, the decor brings back out treasured memories and spending time focused on the birth of our Savior brings celebration.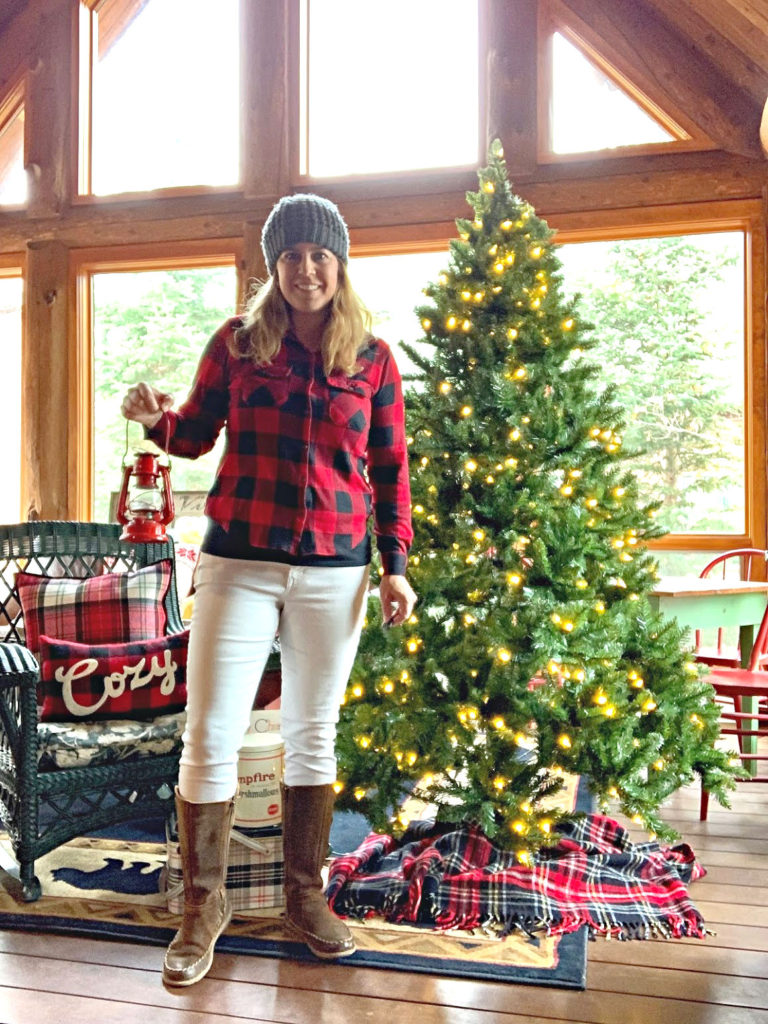 It's All In the Details
Little holiday touches that bring Christmas cheer is essential and such an easy way to bring in cherished decor from the past as well as add in a few new pieces each year.
You can layer the items into your current decor or completely change an area to make vignettes that tell the story of the season.
Above our entryway cubbies I display a collection of vintage plaid suitcases. The addition of an old toy car topped with a tree makes a special scene amidst evergreen.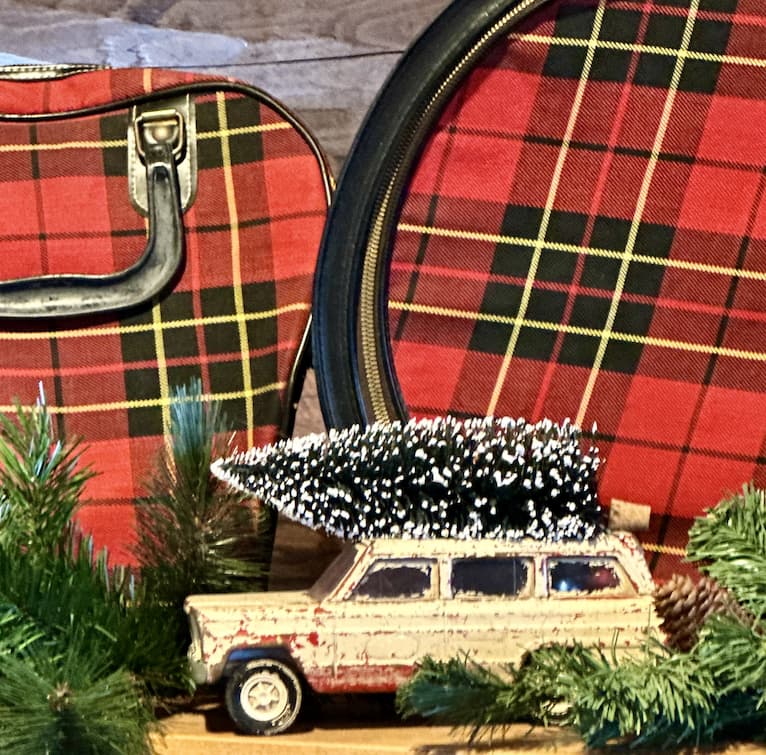 Mugs
There are a few items I switch in and out this time of year, like my throw pillows and my coffee mugs. I love to add some favorite Holiday mugs to our cup holder setting up a self serve station for warm cups of hot cocoa to take over by the fire in the evenings.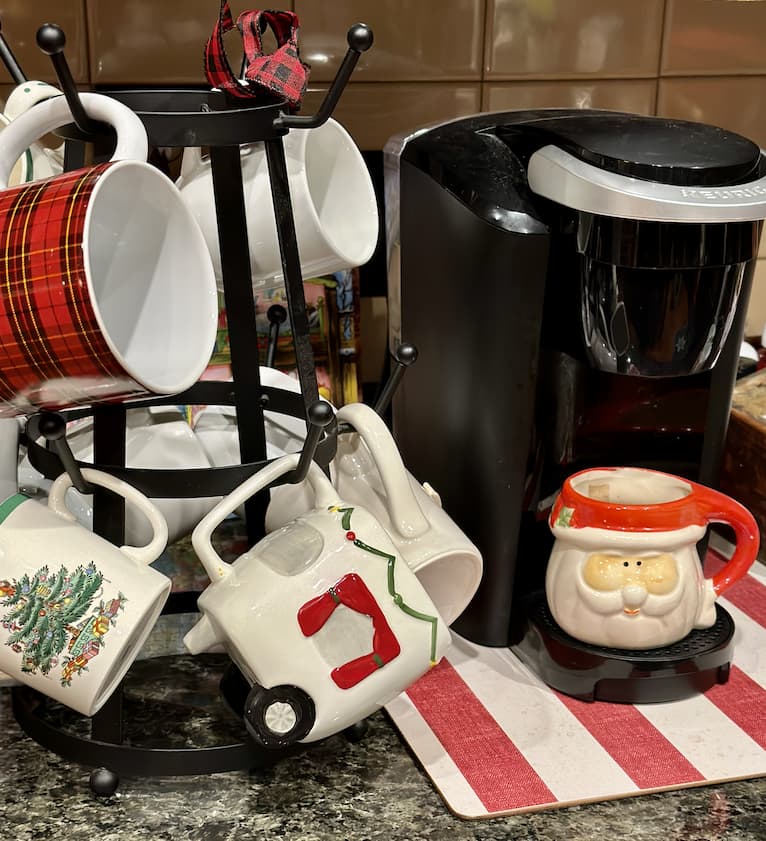 Pillows
The easy install of Christmas pillows throughout the house gives a quick, simple, yet festive view all around.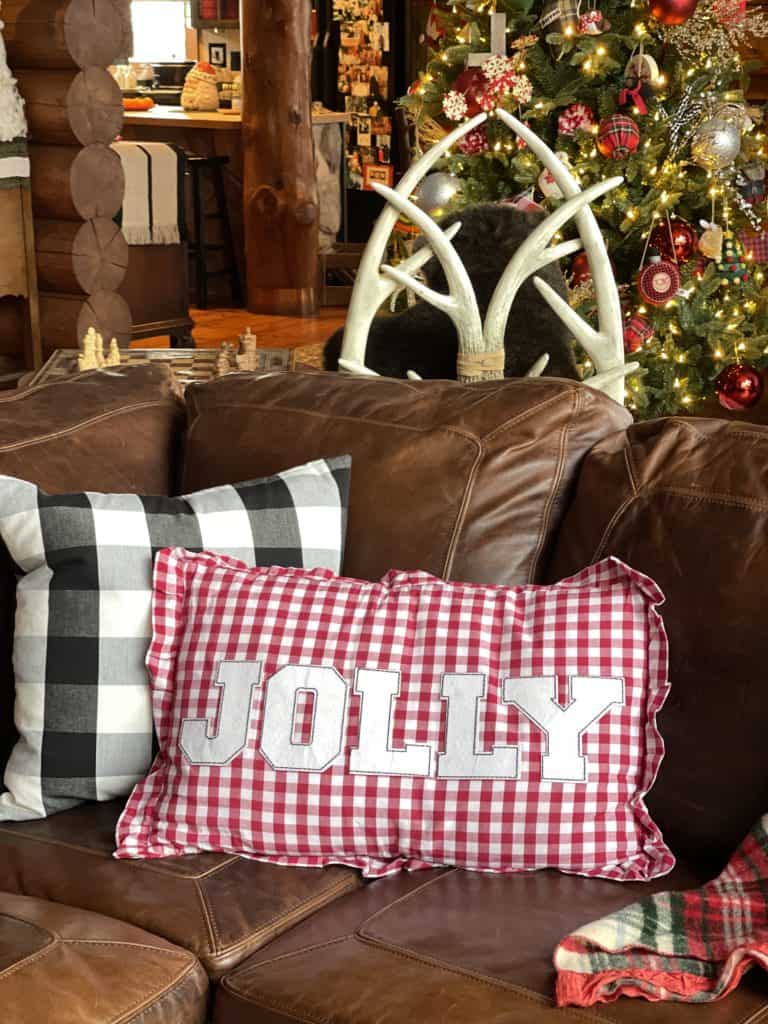 I love adding in lots of plaid layers all year long, but especially at Christmas. I collect old plaid camp blankets and this red, green and white is a favorite for this time of year.
A set of vintage red skis leaning against the log walls is one of my favorite accessories. And a simple small, faux Christmas tree in my Skotch Kohler took seconds to add more spirit.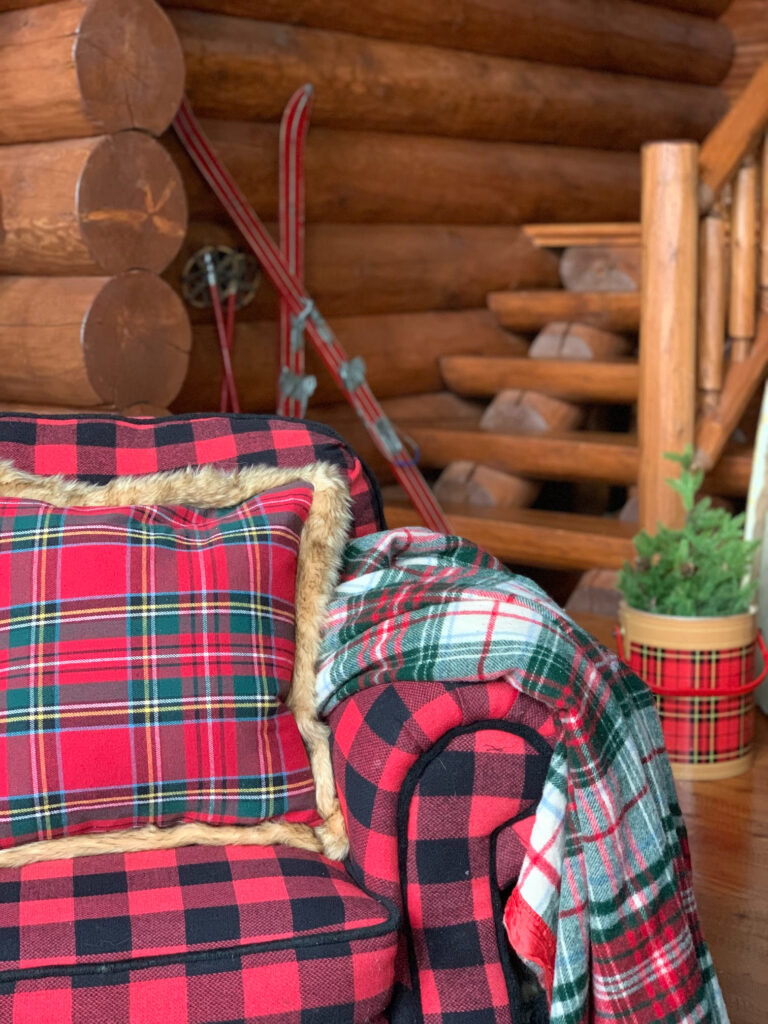 Candles
Pine scented candles and other scents for the season are another great layer. When I can include elements that engage all the scenes, it builds on the memory making.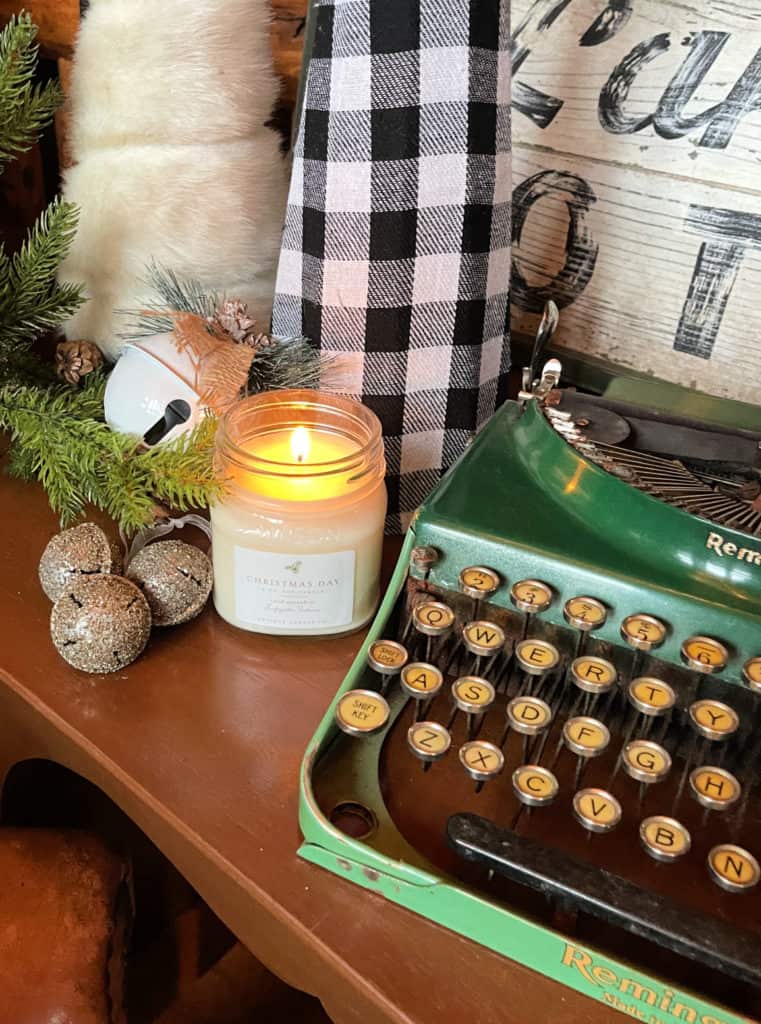 Bunting
A few years ago I started adding a plaid bunting to the stairs and loft railings. It was one of my kids favorite elements to add a little extra during this extra special time.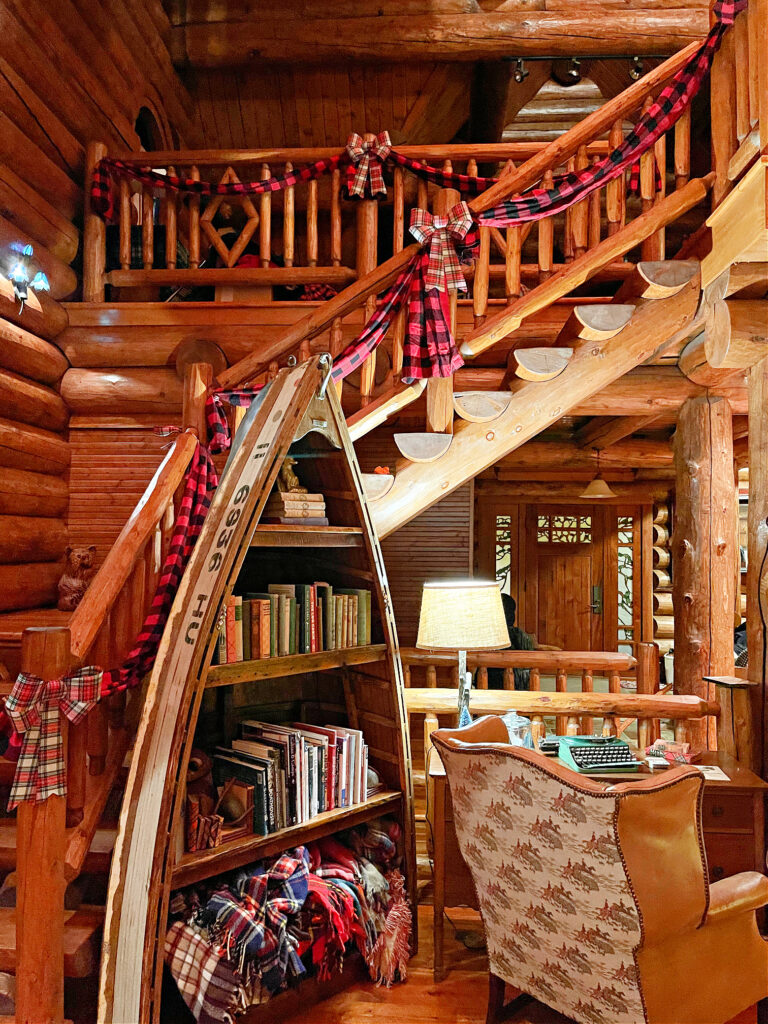 Stockings
Special stockings matter. Even as a grown up I love seeing my childhood stocking still hanging up at my parents' house. These quilted ones are my daughters' and the plaid belong to my boys.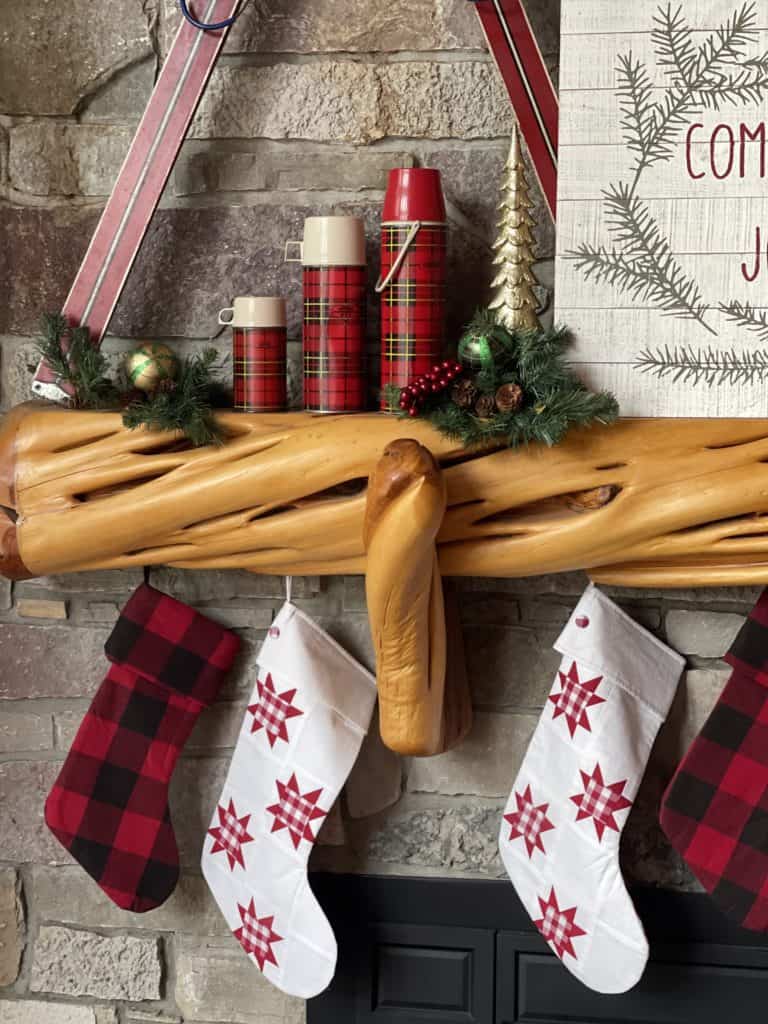 Thanks so much for taking the tour. I can't wait to share with you my holiday decor this year. I hope you will continue to follow along to see the fun we have all year and in the Christmas season ahead!
Next up, you are headed over to Midwest Life & Style where my friend Jen's beautiful blog is full of Christmas centerpiece ideas to inspire you!
Take the Tour
Join the Christmas In July Blog Hop for more holiday inspiration. To follow along, click the highlighted blog name below.

The Ponds Farmhouse / Cottage on Bunker Hill / Chas Crazy Creations /
Design Morsels / The Tattered Pew / White Arrows Home

Midwest Life & Style / Bricks N Blooms / Simply 2 Moms /
Shiplap & Shells / Down Shiloh Road / Country Road 407

Celebrate & Decorate / WM Design House / Peacock Ridge Farm
/ Robyn's French Nest / Life At Bella Terra
FOLLOW ALONG
Instagram ~ Facebook ~ Pinterest ~ Twitter ~ YouTube ~ Tik Tok ~ Liketoknow.it