I'm sharing our multi-tasking closet ideas for the front entry closet to accommodate many needs- coats, pantry and cleaning.
I'm so excited to be participating in another DIY Blog Hop organized by Chas of Chas Crazy Creations and Tarah of Grandma's House DIY. This month our focus is on organizing. I sharing multi-tasking closet ideas.
You will find lots of inspiration in this hop! The full line up and links to all the participating blogs are at the bottom of this post.

Our front closet in the entryway to our cabin serves many purposes, but has never felt organized. The cabin was built as a vacation home and when we moved there full time the storage options were the first thing I noticed were going to be a challenge.
If I could I would love to have a walk in pantry in the cabin. I'd love to have a closet to hold all the cleaning supplies and a coat closet. We don't. But my philosophy is that there is a way to make the best of everything so I tackled the front closet and tried to see how I could get the most out of it.
This closet had just become like a "junk drawer" where everything was thrown in when you didn't know where else to go with it.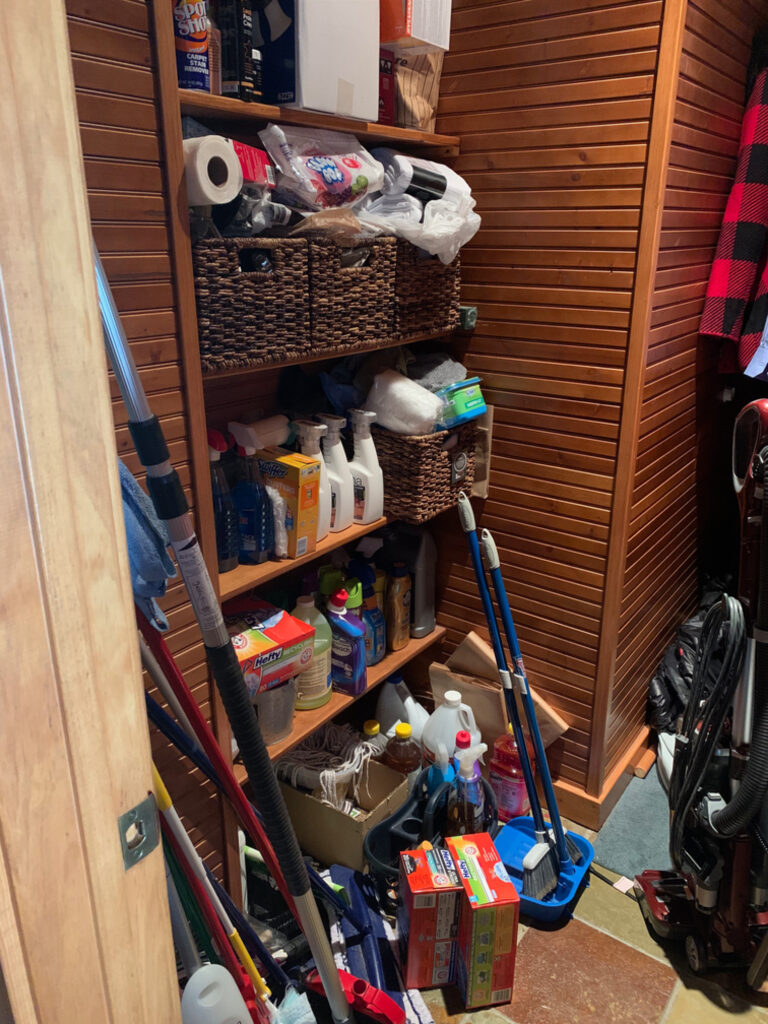 The Pantry
One of my favorite things at our hunting house is the walk in pantry where I have room to store my big appliances. I wish I had one at the cabin, but since I don't I had to improvise. I decided to use part of the entry closet for these pieces that I don't use everyday and am tired of stuffing in a cupboard. So the mixer, air fryer and crock pot are now easy to access here.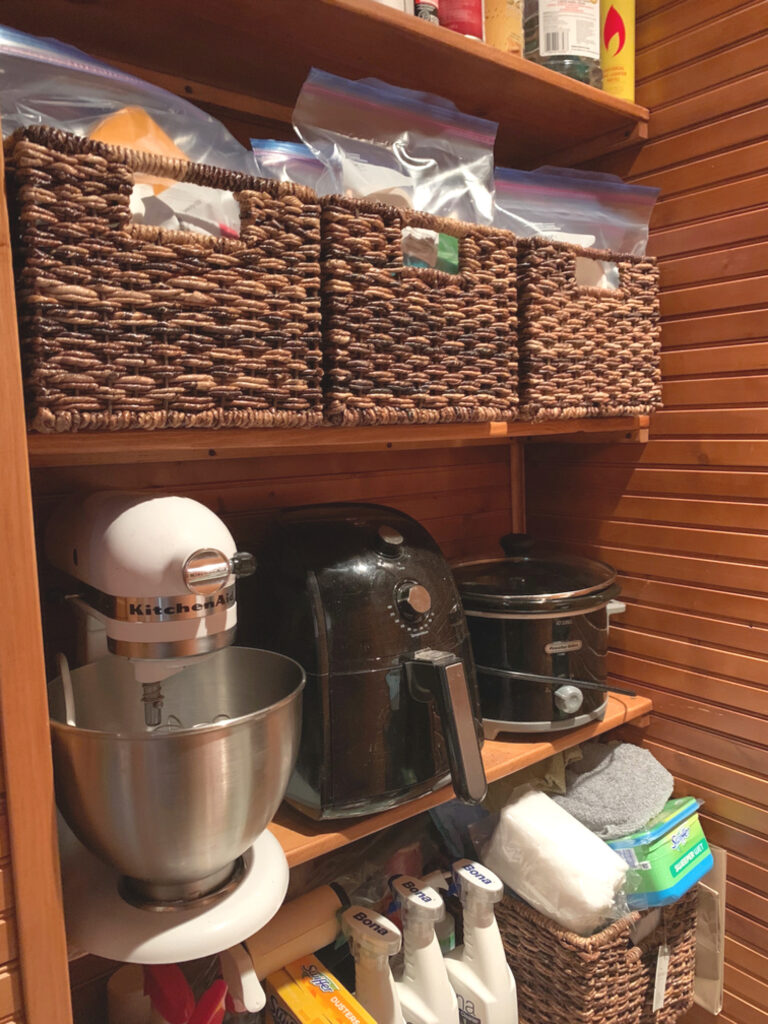 I also needed a space to store my daily nutrition packs so I used three woven baskets to hold them.
The Cleaning Products
To help organize the cleaning products on the shelves I picked up some plastic bins at Walmart.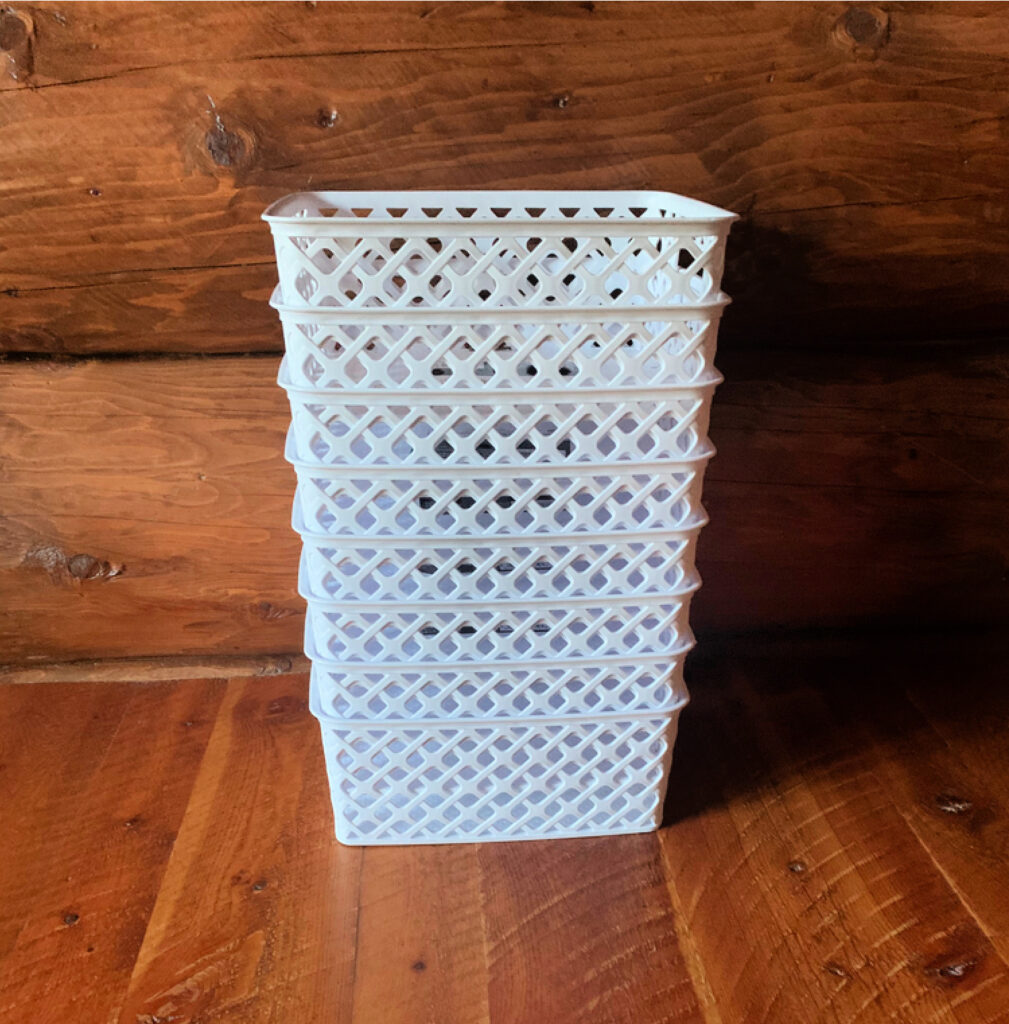 Then I organized like products together so they are easier to find. If I ask one of the kids to grab the lint brush and clean the Honey hair off our buffalo plaid chairs, they now don't have to dig through everything. They are right in one bin.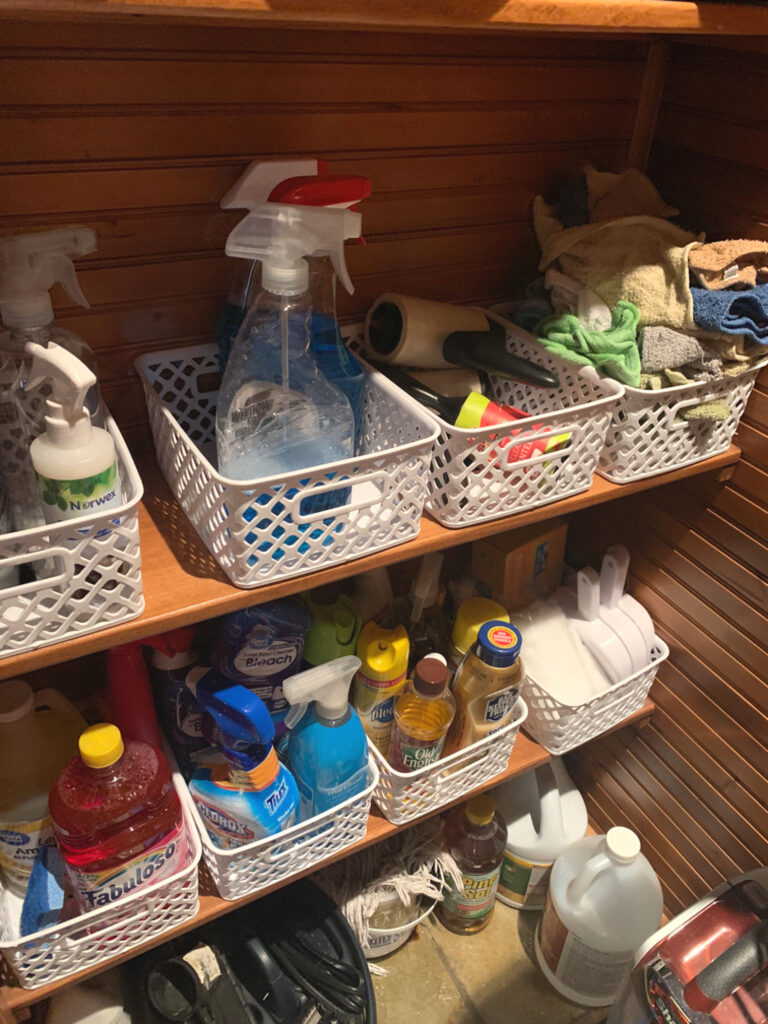 And Honey's a Great Pyrenees, she sheds a lot!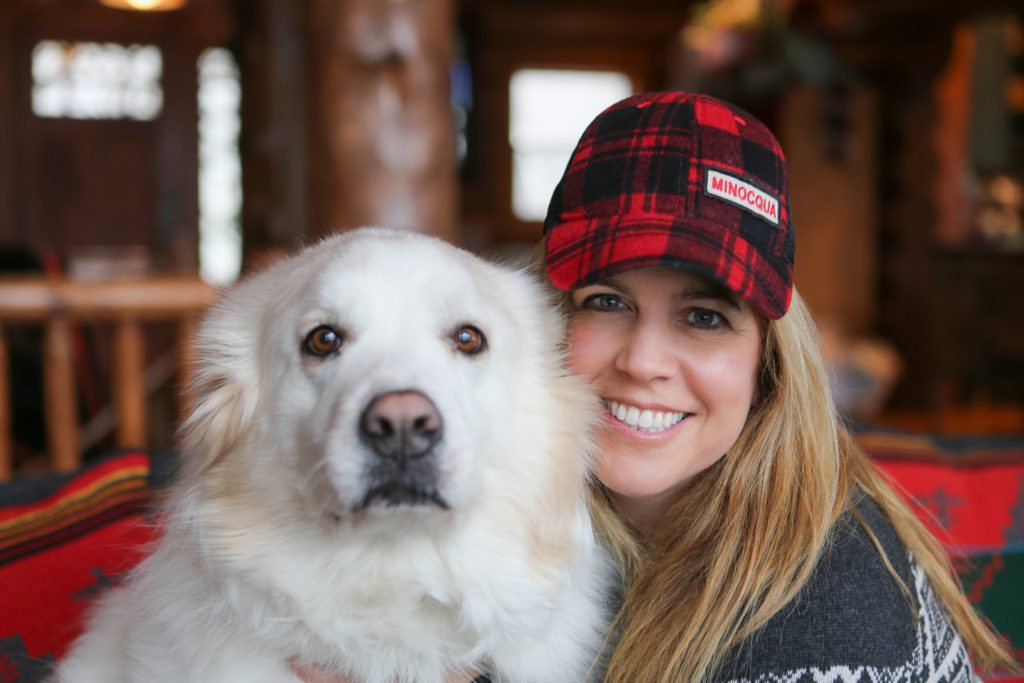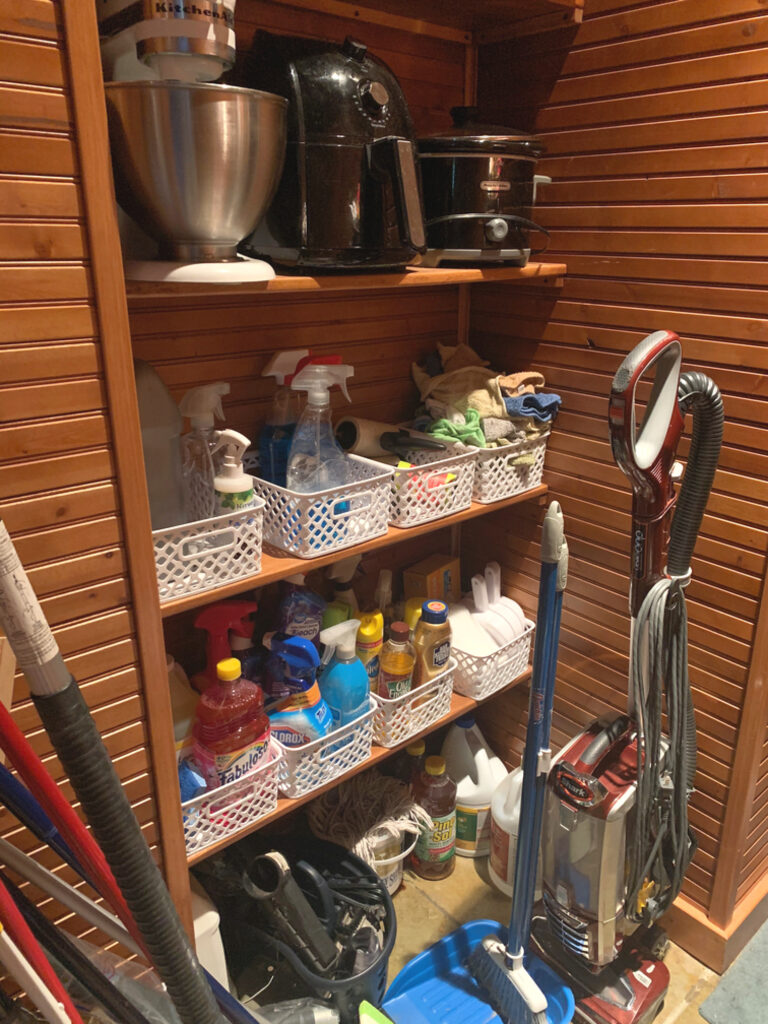 The Coats
Our entry area is large and divided into two separate areas only by how I arranged the furniture. The entry is covered in 12 x 12 slate tile. I defined the areas by putting an antique church pew in the middle facing the tile to give guests a place to come in and sit down and take off their shoes.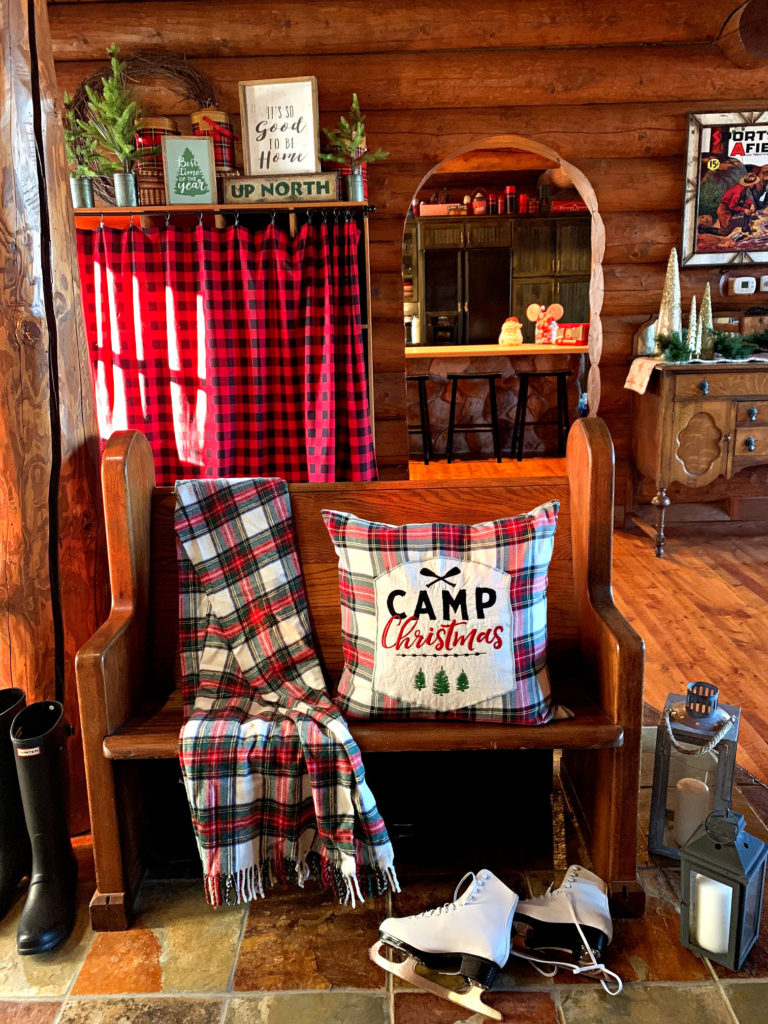 Buddy Bear greets guests in this area too.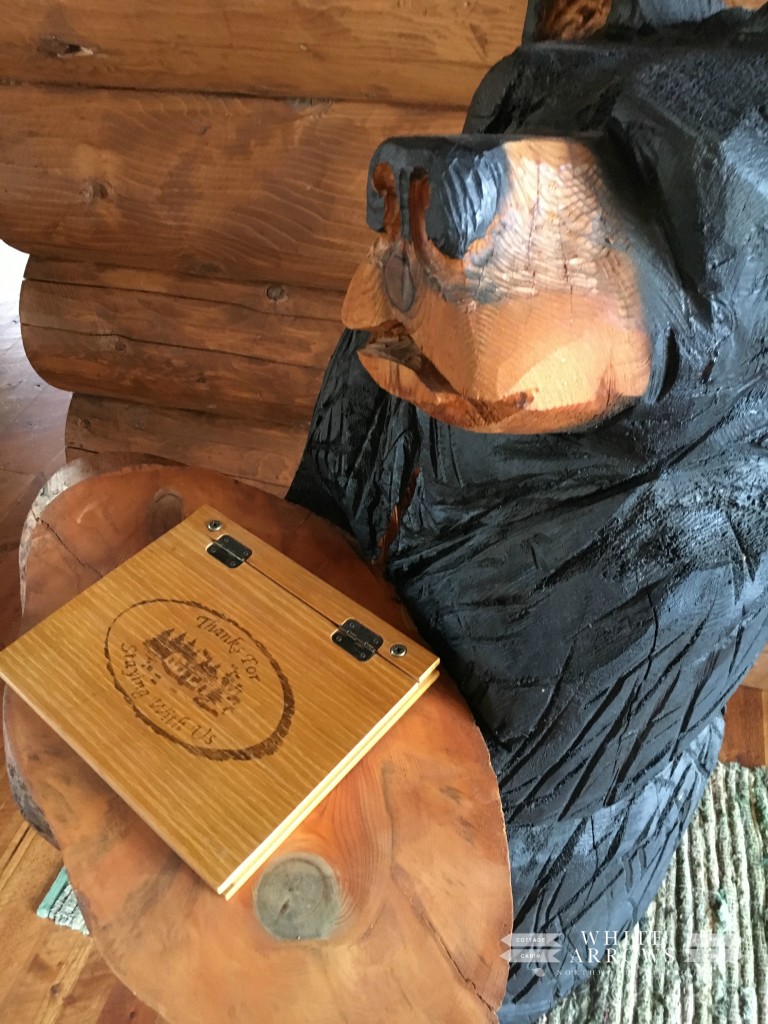 On the other side we made a drop zone for the kids. I designed cubbies and had them built by our handyman. There's a second bench under a mirror and a coat rack for their backpacks and coats. An old trunk holds extra hats, mittens and handwarmers in winter.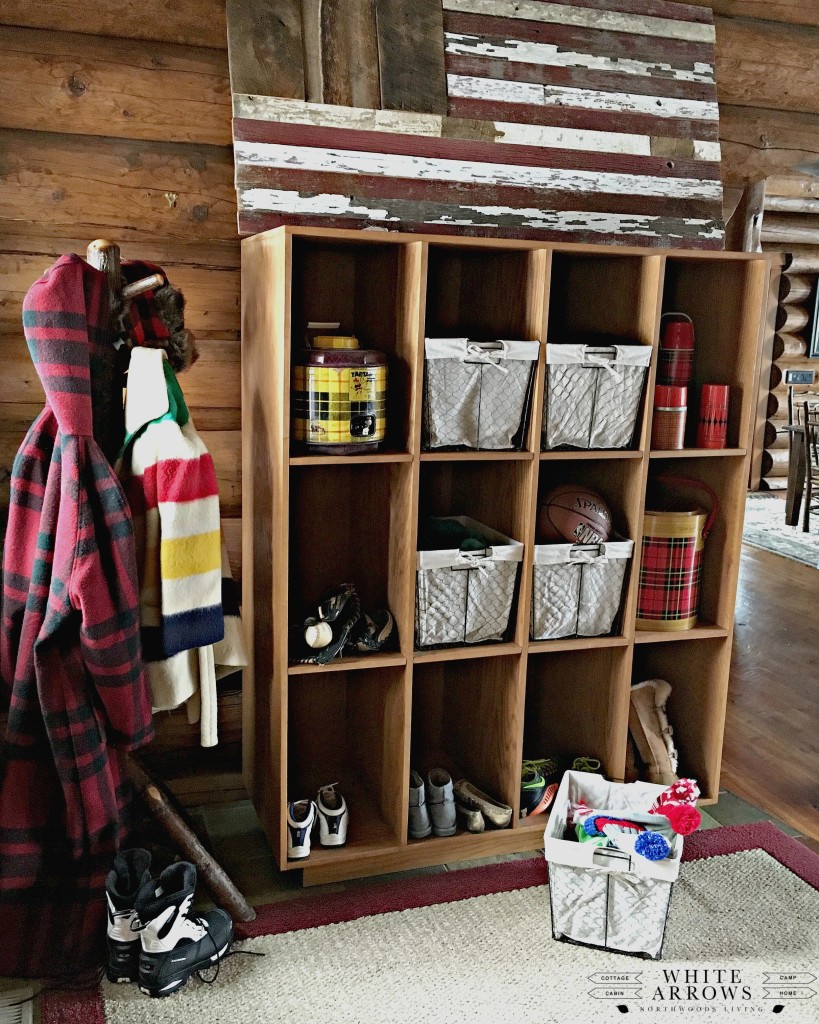 To hide the clutter in the cubbies, My husband attached a curtain rod to the top and I bought a set of buffalo plaid sheets at Walmart. I used the flat sheet as a curtain over the cubbies, hanging it with drapery clips.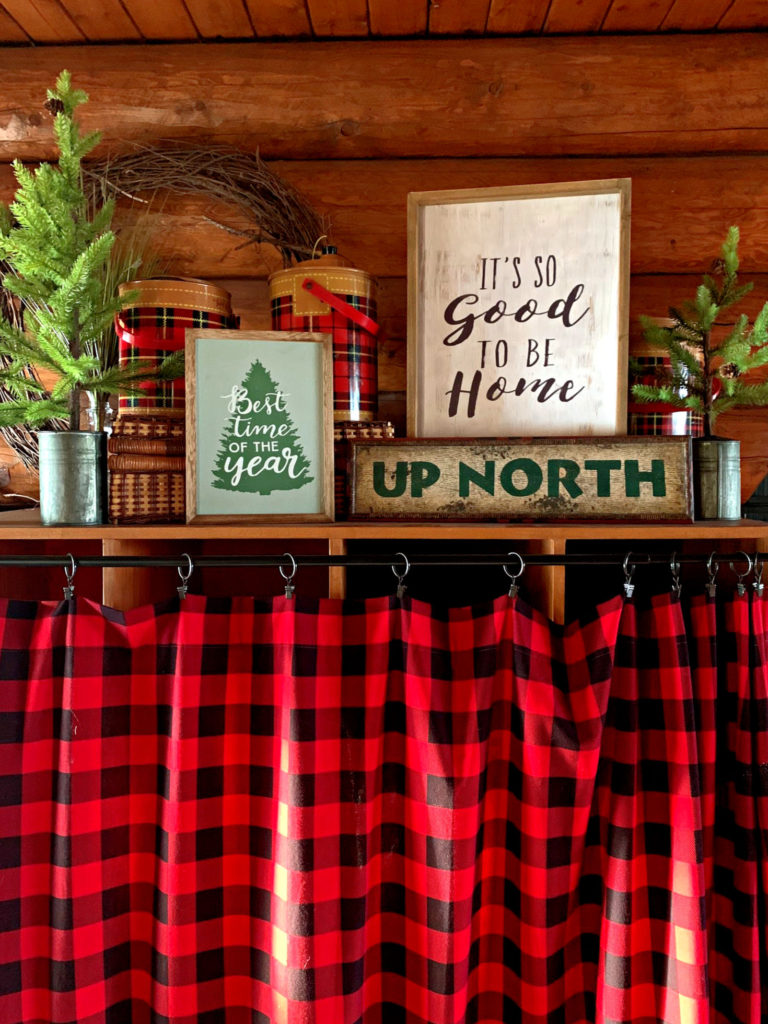 Now, back to the closet. We needed space to hang the extra coats. We have a long, cold winter and I enjoy wearing a few different coats depending on the temperature and what I'm wearing underneath. I have long coats, short coats, parkas, vintage hunting jackets and peacoats.
By the end of last winter we were just throwing coats in the closet in a pile.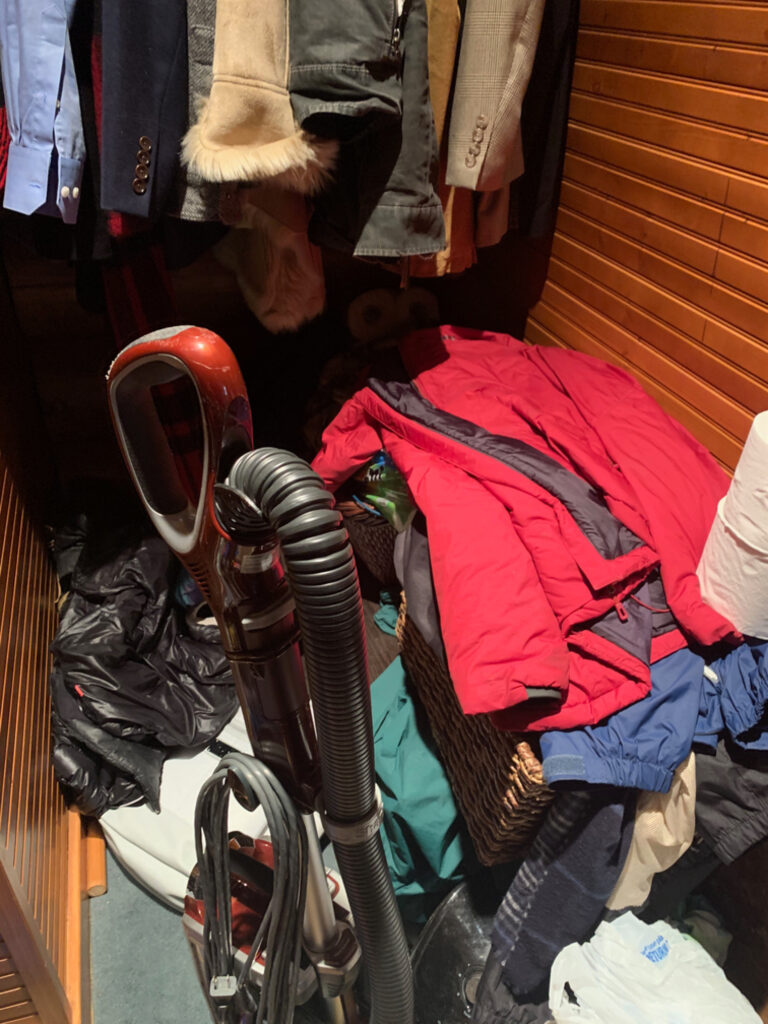 I went through and reorganized and hung them up.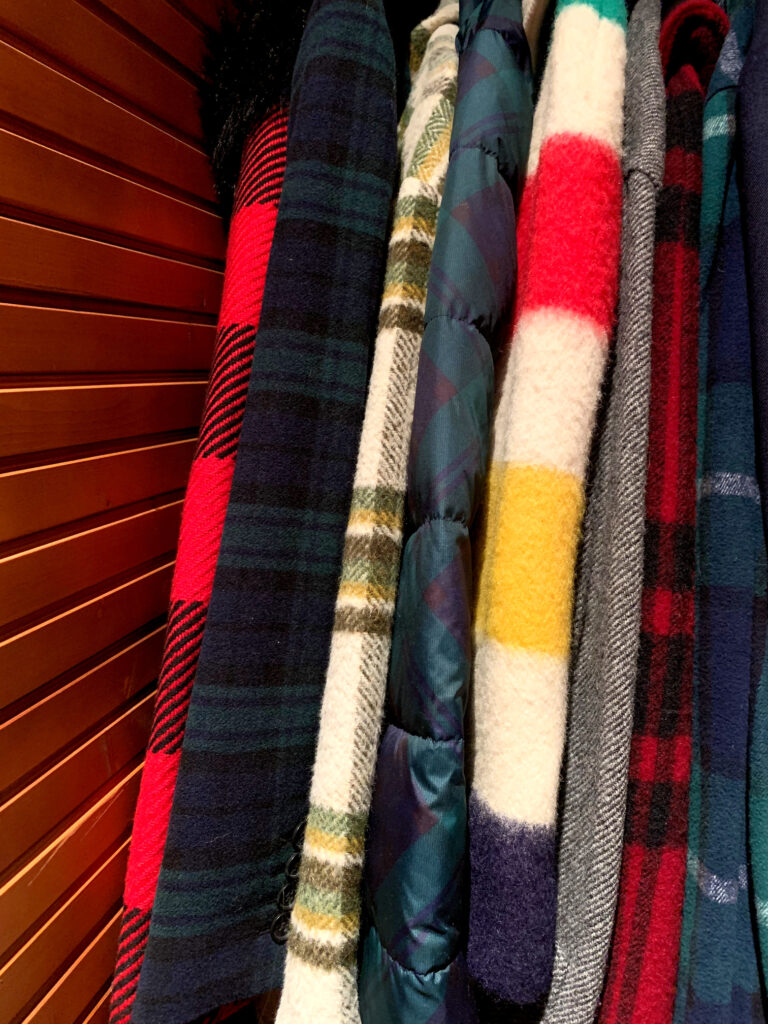 You'll be so inspired by the other blogs on the tour and their storage organization ideas. Thanks for spending time here with me! I hope you'll become a regular visitor! Find all the ways to follow along at the end of the post.
Take the Tour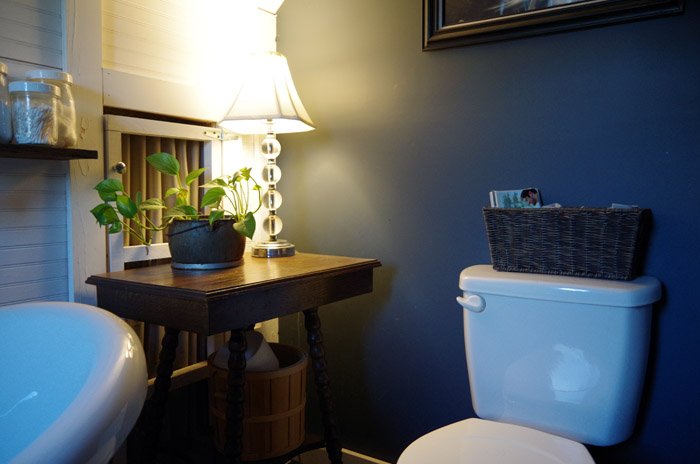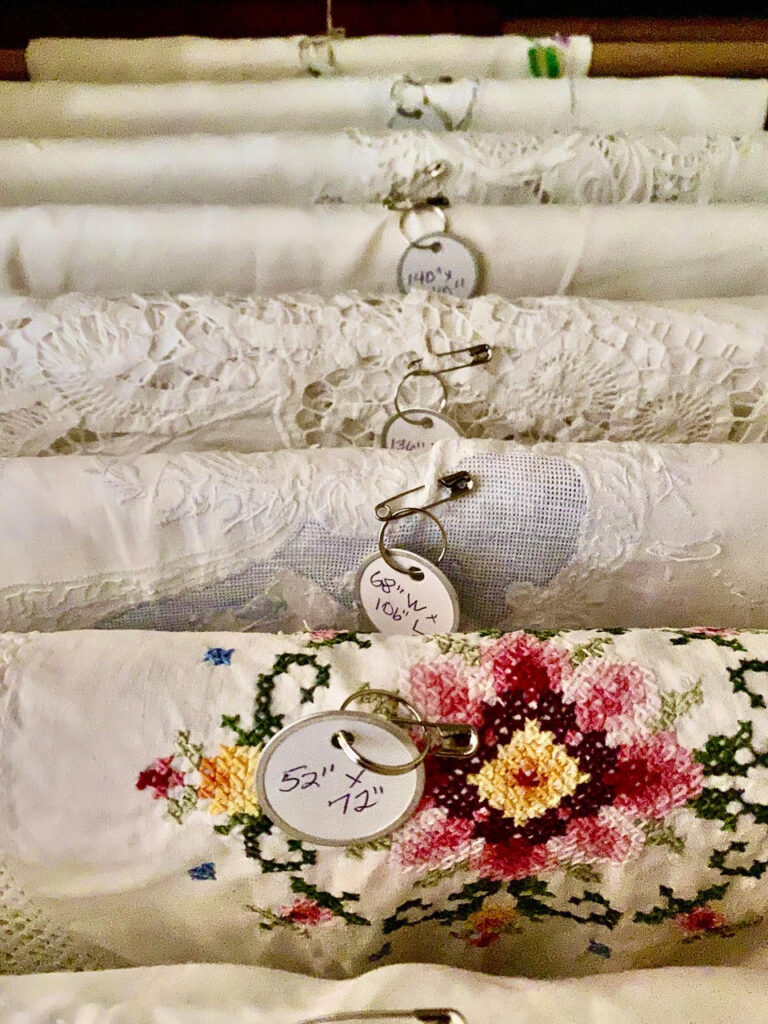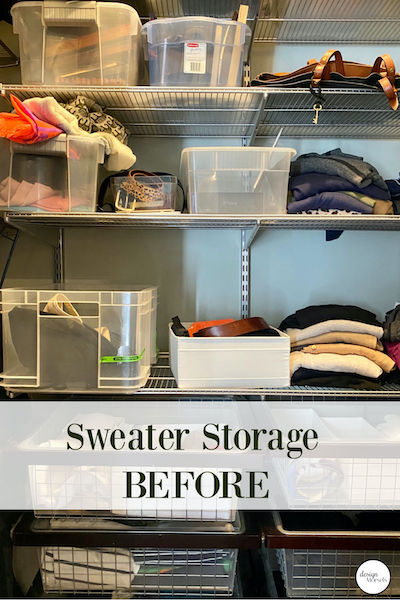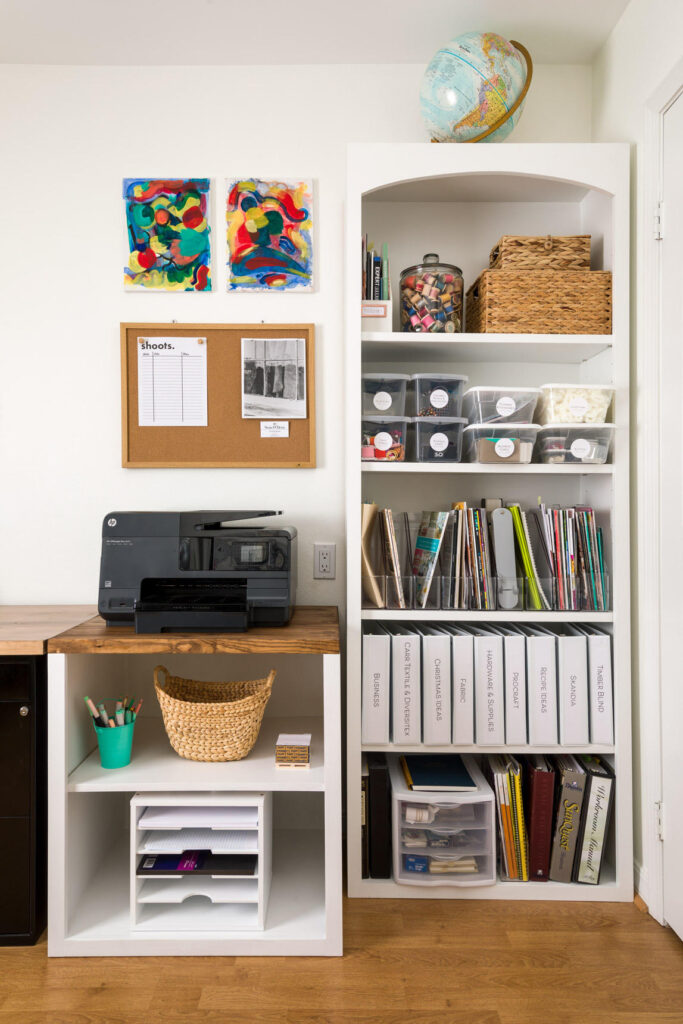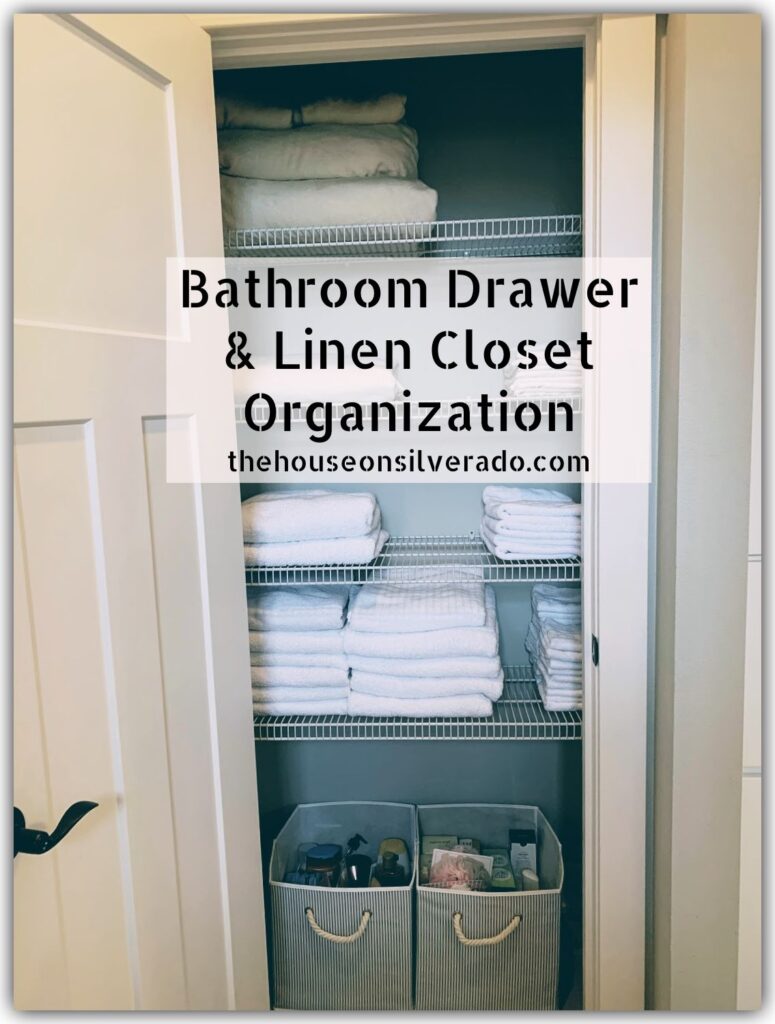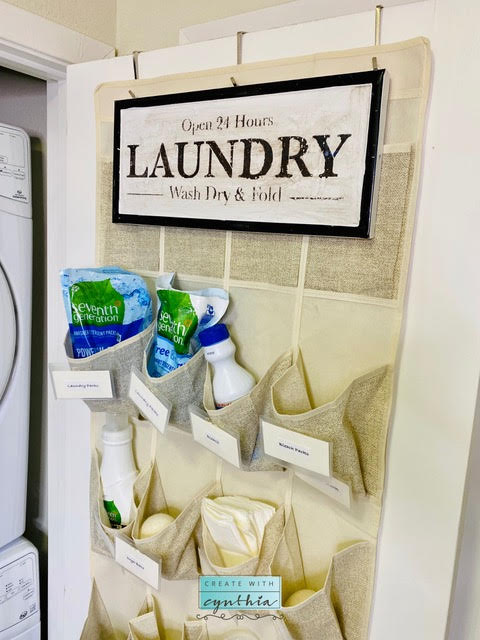 FOLLOW WHITE ARROWS HOME


Instagram ~ Facebook ~ Pinterest ~ Twitter ~ YouTube ~ Podcast