A repost of an interview I had with author, KariAnne Wood of the blog Thistlewood Farms.
(Affiliate links are used for your convenience. Read my full disclosure here.)
Several years ago, back in 2019, I wrote a post with an interview with one of my favorite bloggers, KariAnne Wood.
She had published a book that I couldn't wait to share with all of you.
Since that time, I've gotten to know KariAnne and that she's not only amazing on the pages of her blog and books, but in real life.
I attended her Inspire Workshop at her home in McKinney, Texas.

I was a member of her Mastermind Group where I learned so much.
Recently, I saw her on my trip to Texas at the Dallas Market where she spoke at the Harvest House booth.

She has published many books since this post was first published and I knew you'd want to keep up and grab copies of the ones you've missed!
Her newest release, Ten-Minute Decorating Ideas, comes out soon.
You can pre-order your copy HERE.
Q & A with KariAnne Wood
Enjoy my republished post from before and the inspiration from my Q & A with KariAnne.
When I first started reading blogs, one of the things that stuck out most to me was how personal they were.
These talented ladies could make you feel like you had been their friend forever and were sitting down having coffee with them while you learned new things and found inspiration.
One of my favorites has always been Thistlewood Farms.
The voice behind the blog, KariAnne Wood, is the perfect example of this.
Not only is she creative, fun and a DIY guru, she's beautiful inside and out and just being in her virtual presence leaves you feeling like you are too.
If you are like me, you will feel like you've got a mentor and best girlfriend encouraging you each step of the way.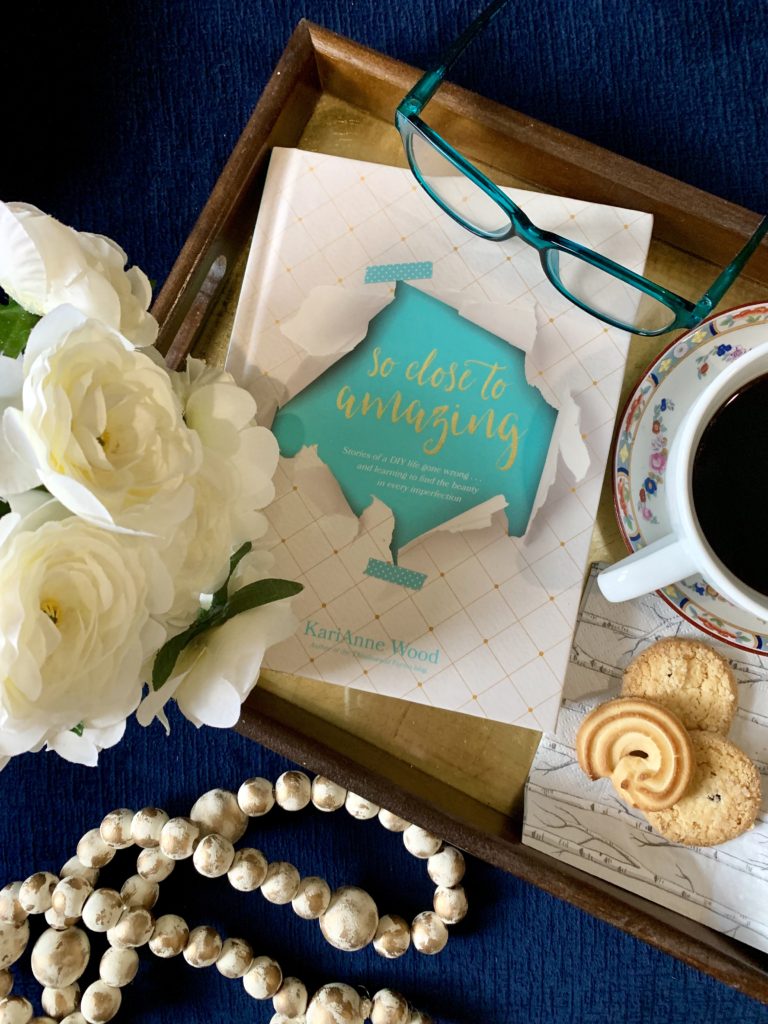 When I chose KariAnne's book,So Close to Amazing for my book club this month, I had the crazy idea to email and ask her if she would answer a few questions for me.
I wanted to share more about her with my readers.
SHE SAID YES! I am so honored to share with you below our conversation through Q & A.
I readSo Close to Amazing cover to cover in one sitting and LOVED it!
If you didn't get a chance to read it with us this month, you'll want to grab a copy for yourself!
Consider gifting it to your mother, mother-in-law, sister or a sweet friend this Mother's Day.
It would make a great gift!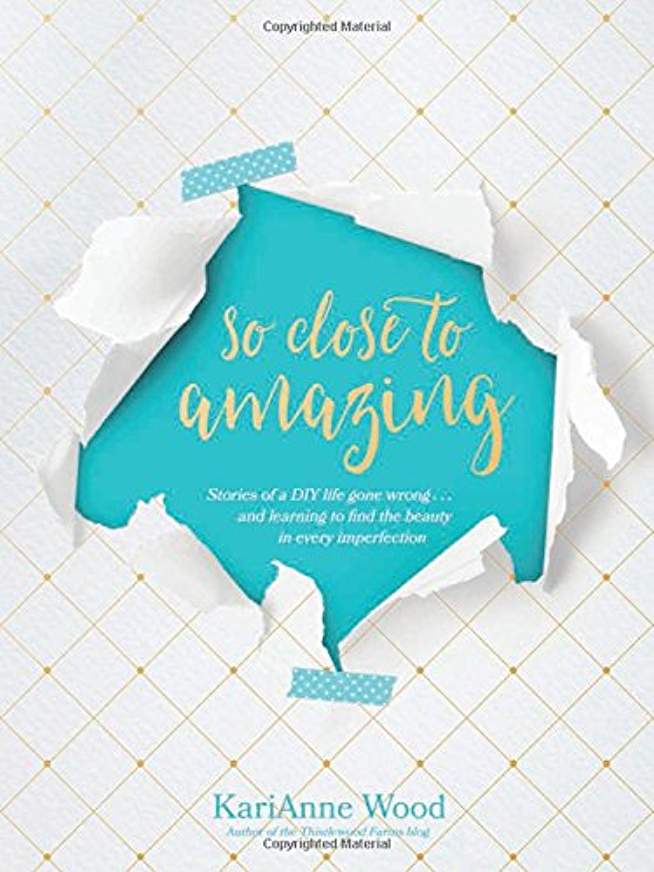 So grab your favorite beverage, head to your coziest spot to curl up and enjoy my conversation with KariAnne!
Intro
What were you like as a little girl?
I was exactly like I am now—full of sass and ready to take on the world. I had so much confidence that I took on any challenge. Here's a post I wrote that describes me perfectly: https://thistlewoodfarms.com/confidence-is-a-good-thing/
Melissa Michaels of The Inspired Room blog, uses the term, "So Close to Amazing Sisterhood". What has been most surprising for you about how much the book is resonating with readers?
I wrote the book to encourage others to embrace the amazingness that is within all of us—if only we look. I'm surprised at how many people e-mail and tell me stories of how they stepped out on faith or jumped or faced down a T-Rex. I think we all need a little encouragement sometimes.
You gave a beautiful dedication to your Dad. What influence has he left most in your life?
He never let me quit. Ever. I still remember when I came home from my first job at Dairy Queen and wanted to quit—he told me no. And when I stuck it out for the entire summer? He gave me a plaque with my name on it!
Writing the Book
What was the journey from blog to book? What sparked your idea to write it?
It started with that pancake story. That was the first story I ever shared in the blog. I loved how people "got" the story and celebrated imperfection with me.
How long did it take to write So Close to Amazing? How did you fit time to write it into your already busy schedule?
It took me about 4 months. I would write 1000 words a day and then I'd stop. The next day I'd look at the words I'd written and kept some of them and discarded some and write another 1000. I just kept going until I had 40,000 words and I was finished.
It is such a beautiful book. The cover, the layout, the colors… How much input did you get to have in it's design?
Tyndale (the publisher) was AMAZING through the process. They showed me ideas and then we kept tweaking until we had a cover that we both loved.
Were the DIYs in the book ones you had previously done or did you come up with them for the book?
Some of them I'd done before–but some are original to the book!
What's your favorite DIY of all time?
The recipe wall!
You are so honest and share your stories with so much humor. Was this always your personality or a confidence you have grown into?
I learned a long time ago that if you are authentic and keep it real there are always people who see themselves in the story. It's like I say in the book–let me go first.
Your total asides in the book are classic!! I haven't had the pleasure of meeting you in person (yet!), do you talk the way you write?
LOL! EXACTLY. It's always focus KARIANNE FOCUS.
Faith
The lessons God has taught you along the way are one of my favorite parts of the book. What message would you give to your younger self?
Don't worry.
Live every minute.
Let the small stuff go.
You are skinnier than you think you are.
What's your favorite Bible Verse?
Philippians 4:13
I love when you said, "farmhouses can be testimony" on page 145. Can you unpack that? What does that mean to you?
I think every house is part of our testimony. The family stories and the love and laughter we share in every room builds a foundation for the next generation.
Family
The love for you kids stands out so much in this book, what's your favorite advice to give fellow parents?
Just try.
The journey isn't easy. It's challenging and full of mountains and valleys. God doesn't call us to be perfect. He calls us to wake up every morning and pour our selves and our love and his word into our family.
You and Denton come across as having such a deep friendship and love, what do you think gives your marriage so much strength?
And you are right! We are best friends. I think the most important thing we do is to focus on the other person in the relationship. When everyone is ego-centric it makes compromise so much harder.
On page 162, you remind us that "you don't have to always add sugar to the guest list". I struggle with this too. What are a few of your favorite healthy snacks?
Celery
Almonds
Rice cakes
Sugar free yogurt
I love the "Parable of the French Fry." What is your go to thought to keep you grounded in the "joy of the journey".
Life is short. I don't want to miss a minute. I don't want to live with regrets. I want my family to know that I love them.
Home Decor
I love that you have a "BA in Decorating Shows"! What is your favorite show currently?
I really like Fixer Upper—just like everyone else on the planet. I went to Baylor and lived in Waco–so it's like going home when I watch it.
Who is your design hero?
Bunny Williams
What is a project you have yet to tackle, that's on your bucket list?
I want to pull up the carpet in our bedroom and paint the wood floors.
You have received many well deserved honors for your blog. What has meant the most to you personally?
Awards are great and I really am honored–but truly? The comments and e-mails I get about the blog impacting their life and their journey are what I treasure the most!
Thank You! Where can my readers find you?
I have Pinterest, Facebook, Instagram and Twitter
You'll want to check out KariAnne's new book, The Style Finder!
Where to Purchase Thistlewood Products
Since this post KariAnne has shared and published so much more so be sure to give her a follow on her social media like Instagram, Facebook, YouTube, Pinterest and her blog to catch up.
I hope you will continue to follow me! Sign up below to receive my emails and follow along on your favorite social media site!
Join Me as I share more inspiration with you each day on:
FOLLOW ALONG
Instagram ~ Facebook ~ Pinterest ~ Twitter ~ YouTube ~ Tik Tok ~ Liketoknow.it