Three ideas for your Thanksgiving table you can do yourself quickly and easily.
A few quick easy DIY Thanksgiving table ideas can give your dinner the special touches it needs to be beautiful and meaningful.
(Affiliate links are used for your convinence. Read my full disclosure here.)
I'm so excited to being joining some creative friends for a DIY blog hop hosted by my friend Andrea of Design Morsels. Find a full list and links of all those participating at the end of the post.
Welcome to our home surrounded by the birch and pine forests of The Northwoods of Wisconsin, the perfect backdrop for a Thanksgiving meal.
I've pulled together a tablesetting with DIYs that are so simple, yet look classy and beautiful and can be done even the night before your holiday meal.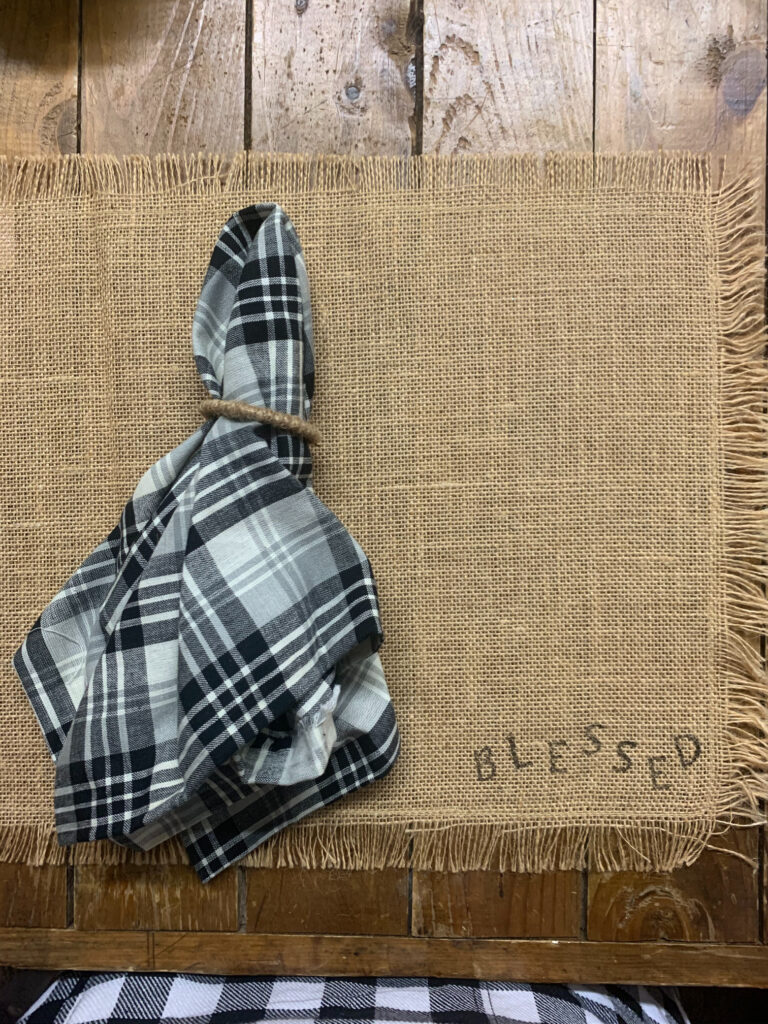 Napkins
I often can't find the pattern I'd love to have in ready made napkins. It can also be hard to find the exact number I need. So I will buy fabric and make my own.
Plaids are often my go to. (Plaid is my favorite color.) This year I loved this black and white pattern. I found it on sale at Hobby Lobby.
With several kids and lots of projects going on all the time, I try to make sure we keep one pair of scissors dedicated for fabric. It sure makes a difference when cutting! I write FABRIC in a sharpie down one side of the blade to keep them straight.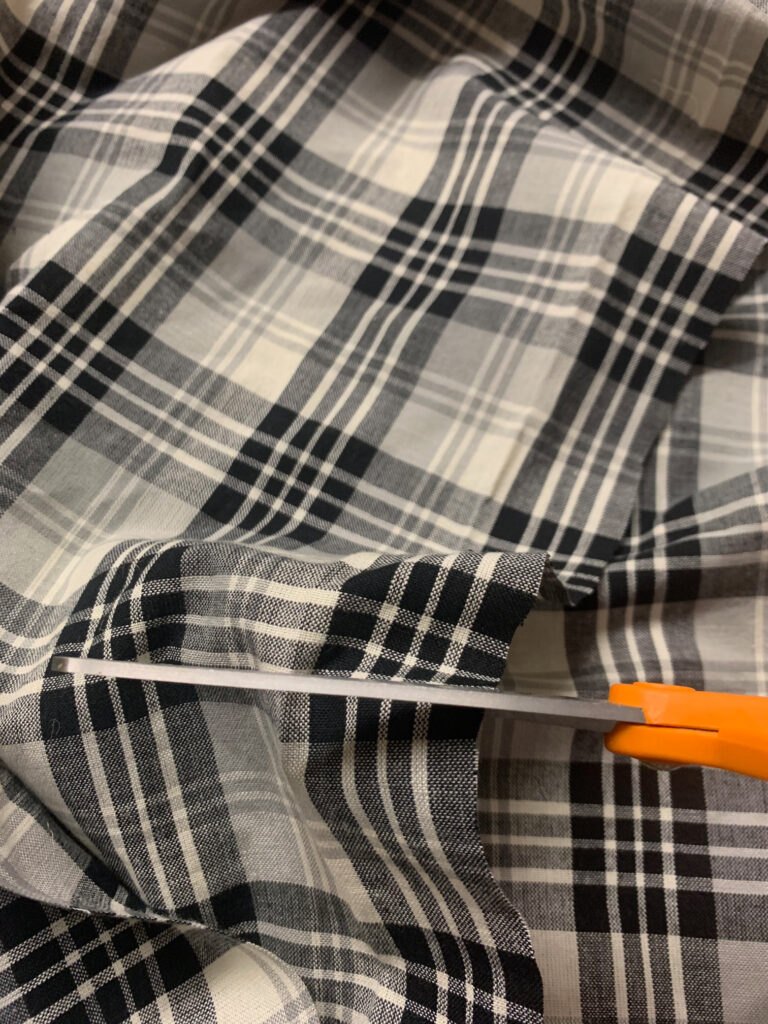 A typical dinner napkin is 20″ x 20″. The Plaid fabric is really easy to cut straight lines on after measuring because there are already line on the fabric to keep you straight.
If you like to sew, you can sew the hems. If you don't sew you can simply fold over each edge with a fabric glue.

Then simply let it dry. It will give you a beautiful edge.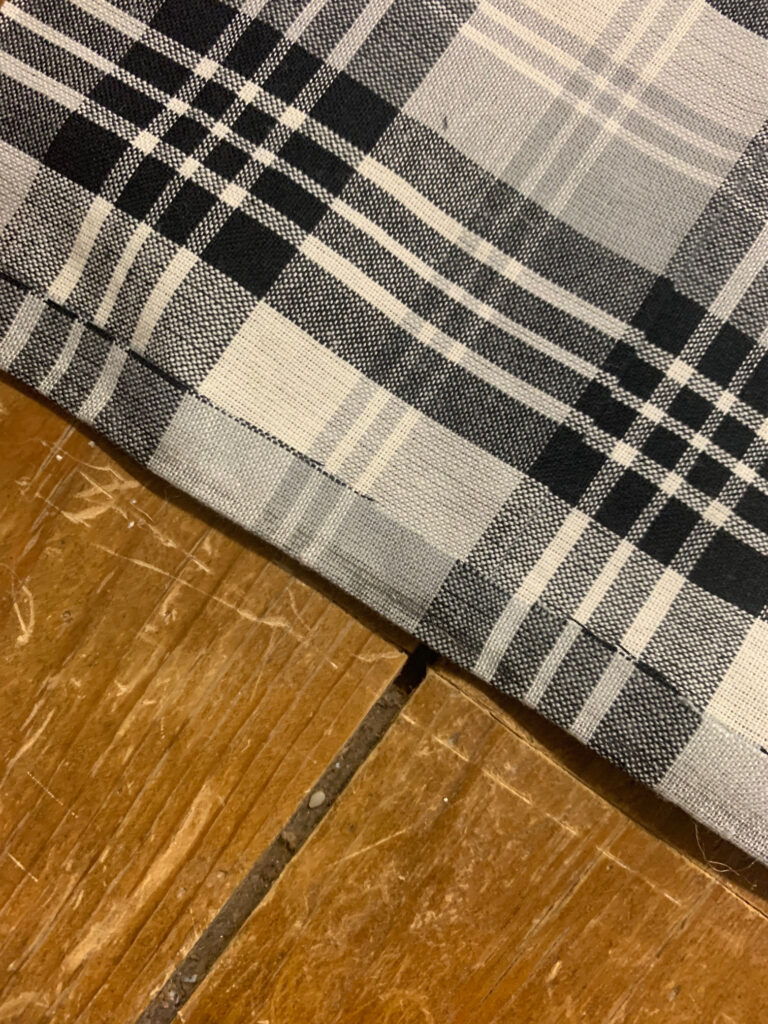 Napkin Rings
Like napkins, its often hard to find a style of napkin rings I like and in the amount I need. So I will make my own. I wanted a natural look for my Thanksgiving table so chose to use jute twine.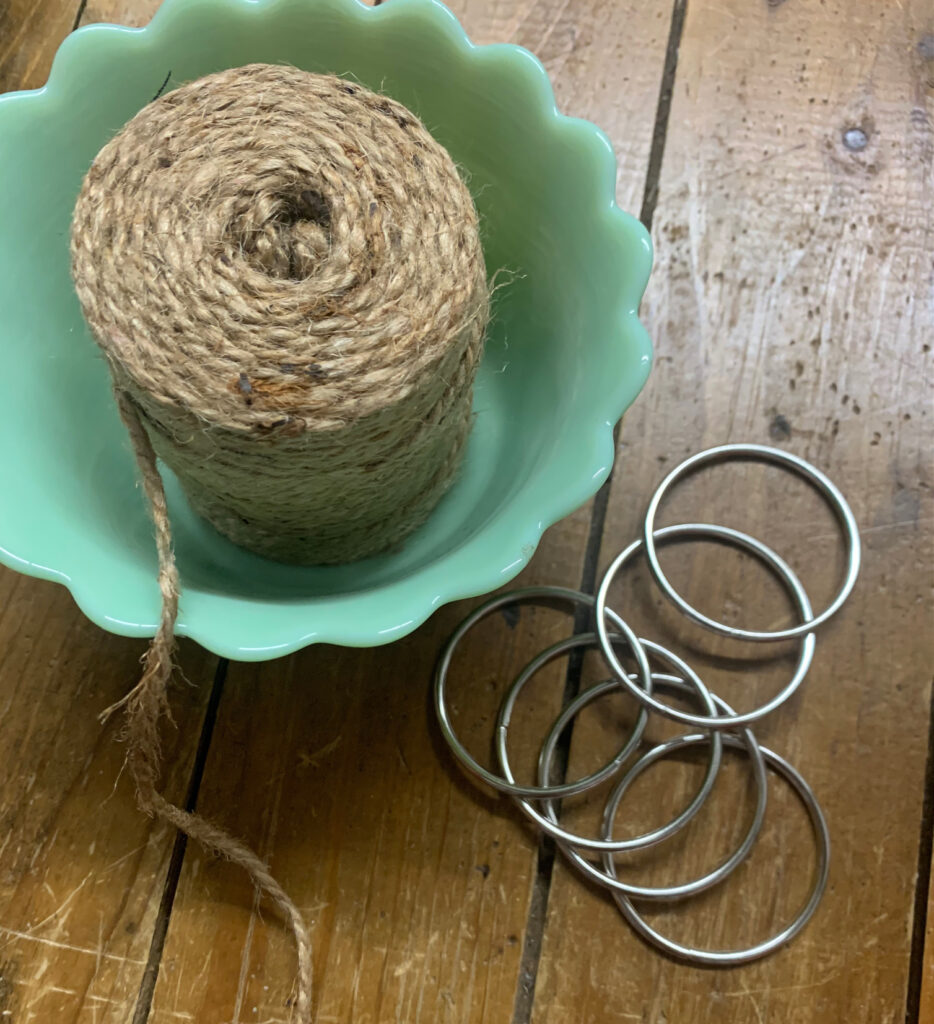 You can find different widths and sizes of craft rings or drapery rings. I used 2″ craft rings and measured out 2′ of twine. I added two more inches just to be sure I'd have enough. So I cut 26″ per ring.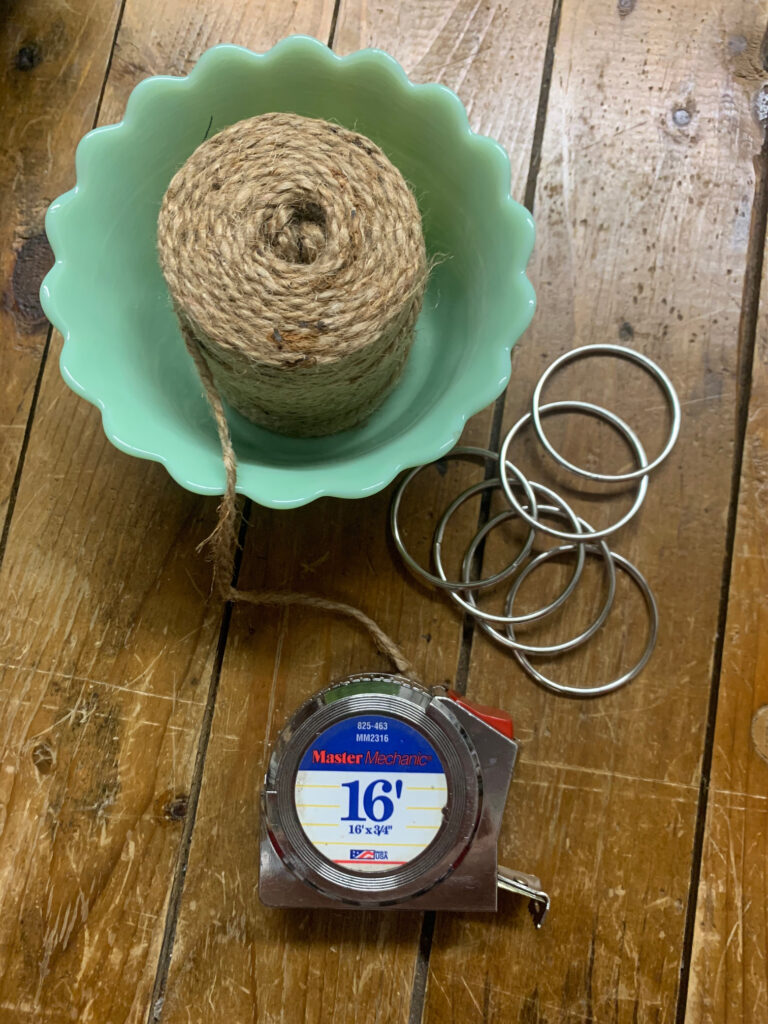 I use a dab of glue from a glue gun to hold down one end to the ring. Then wrap it around and around, then glue the other end down to the ring. Then, I stuck the napkin into the finished ring.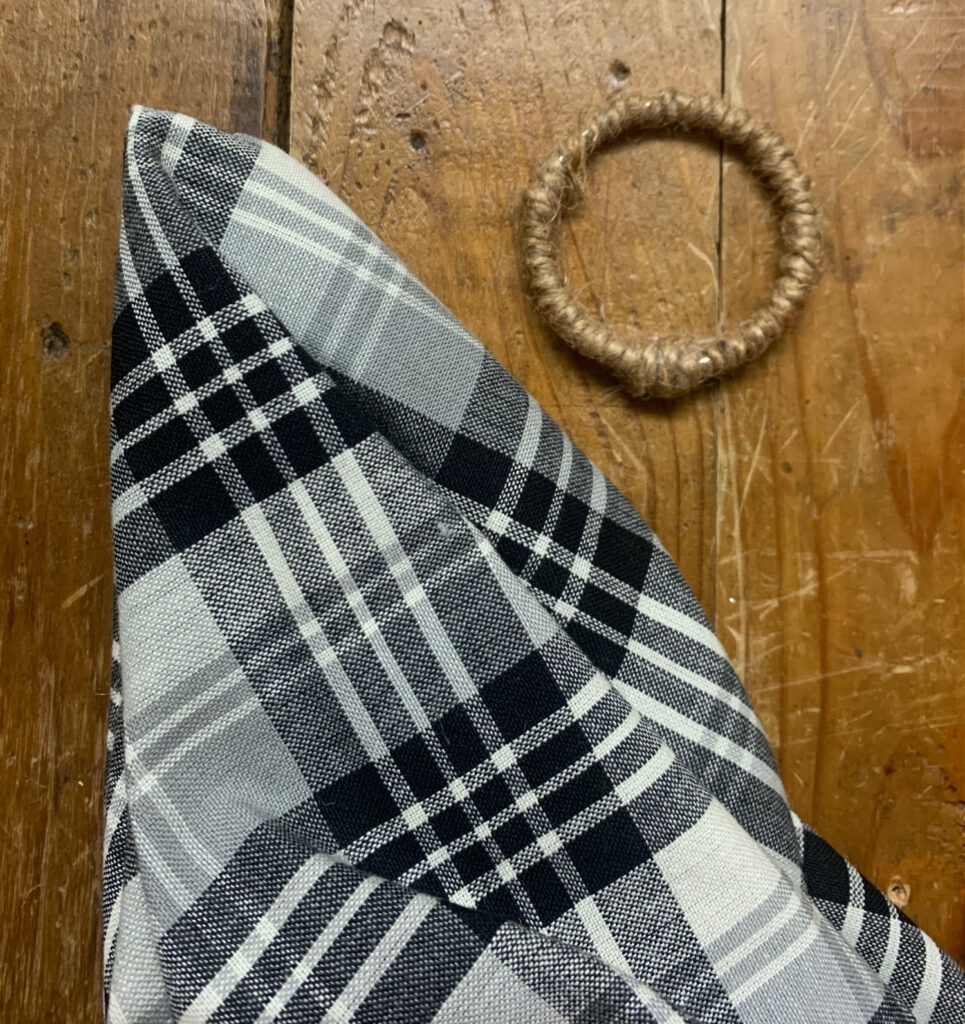 Placemats
To continue the natural look I wanted for the table I decided to use burlap placemats. I was able to find them in sets of four at Hobby Lobby. You can also buy them singly or in other varieties too.
Then I used letter stamps and black ink to type a Thanksgiving word in the bottom right hand corner.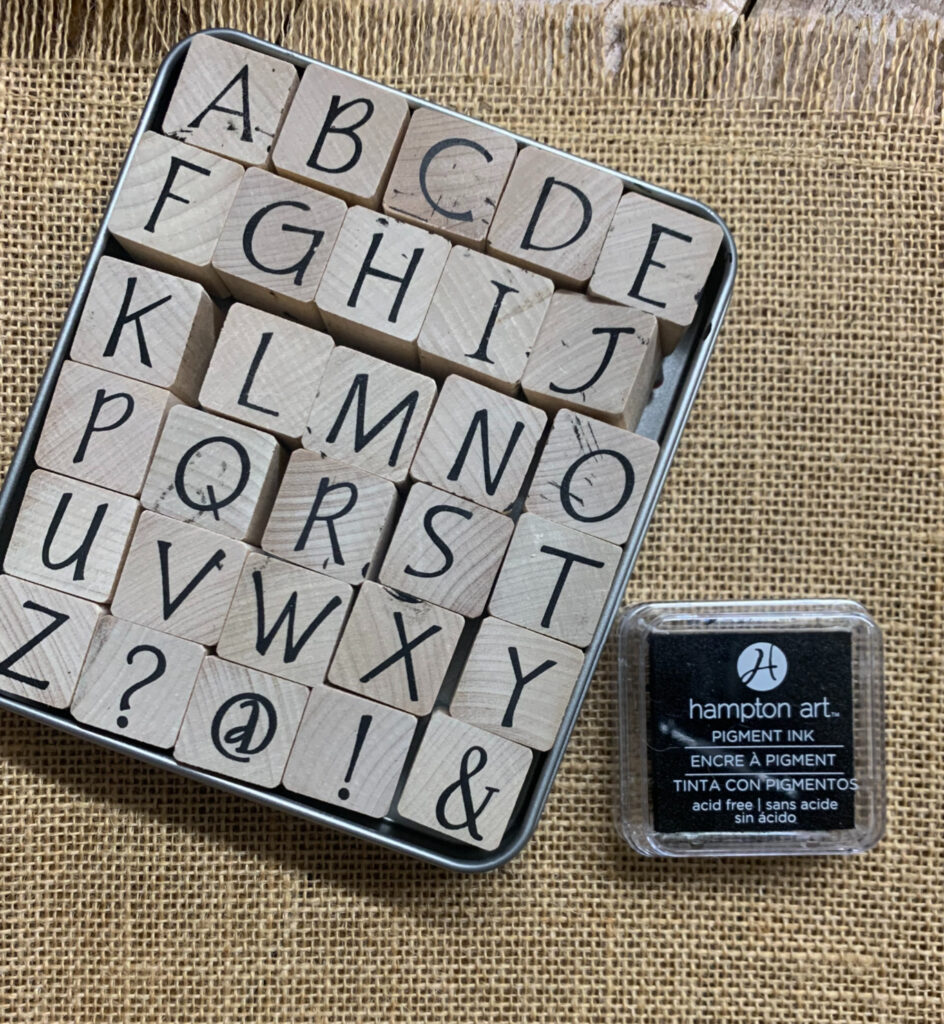 You could stamp blessed, thankful, blessings, Happy Thanksgiving or even people's names as a placecard.
I don't worry about lining up the letters, even doing them crooked on purpose.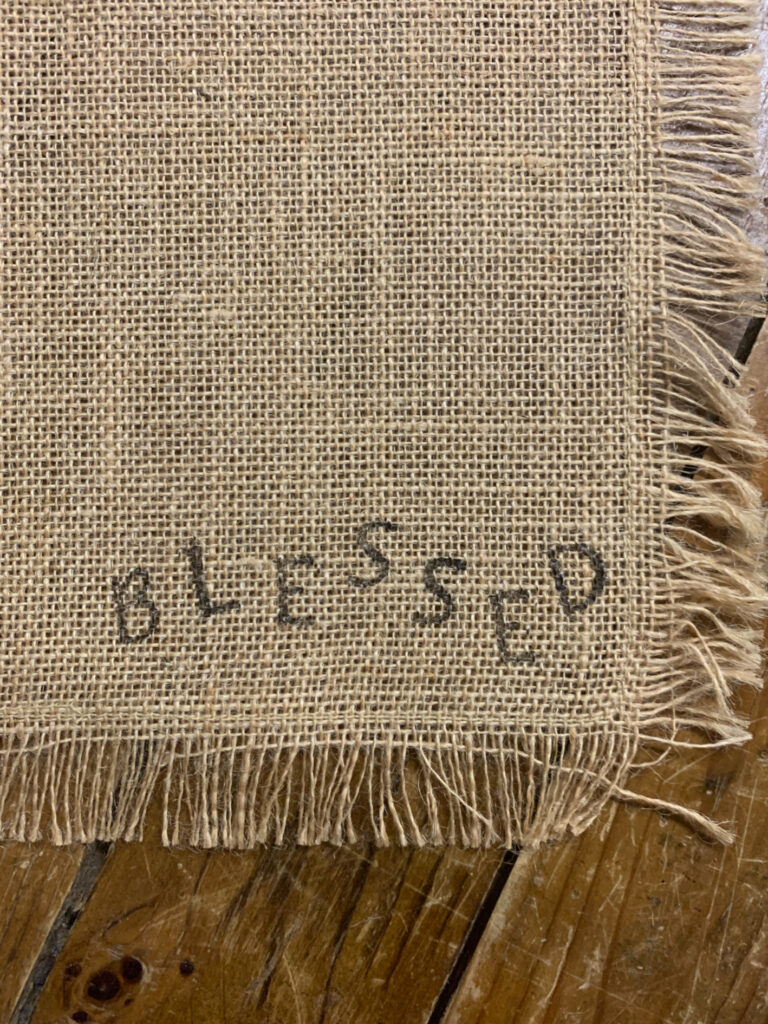 I love how the black and white plaid looks with the natural browns of the jute and burlap. This project came together so quickly and so easily and no one gathered around the table would know I made it all myself!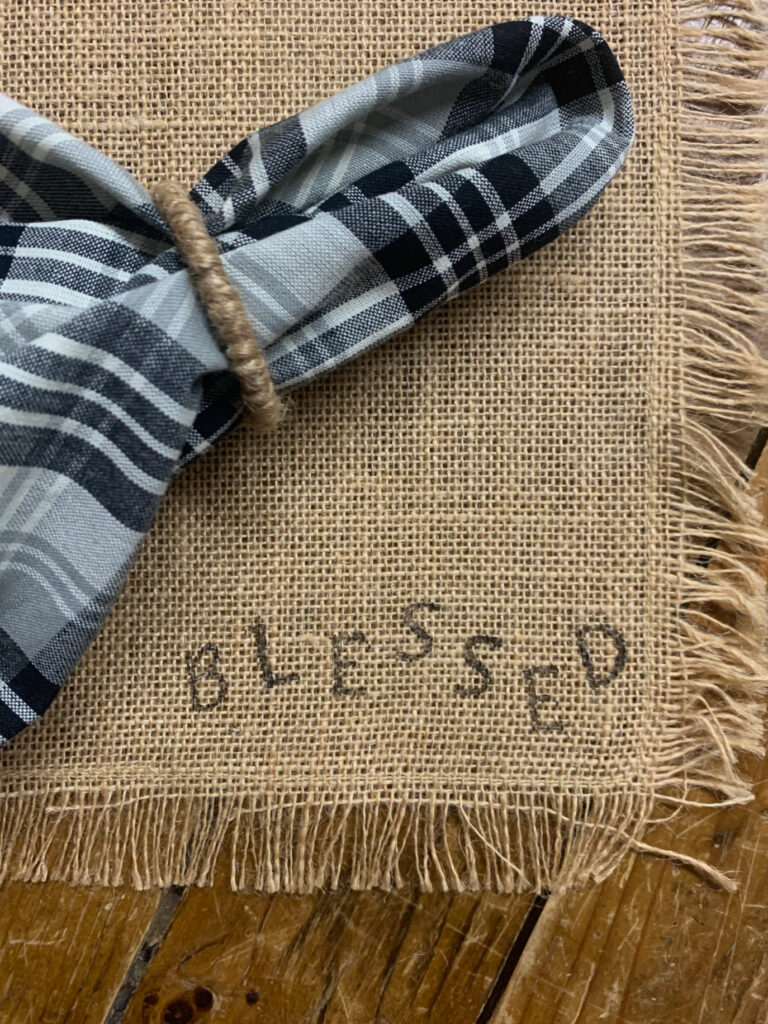 Supplies
Take the Tour
Make An Centerpiece for a Narrow Table
Chocolate Covered Snowman Pretzels
Create Festive Frosted Candle Holders in 2 Easy Steps
DIY Christmas Vintage Cutting Boards Vignette
5 Minute Mason Jar Candle Lamps
DIY Farmhouse Simple Joy Canvas 
Quick and Easy DIY Thanksgiving Table Ideas
FOLLOW ALONG
Instagram ~ Facebook ~ Pinterest ~ Twitter ~ YouTube