I'm so excited to be joining a group of my talented blogging friends to share our Fall porches. Ten blogs full of inspiration for you! Thanks so much to Stacy of Bricks n' Blooms for organizing the tour!
You can find the full line up and links of all the blogs participating at the bottom of this post.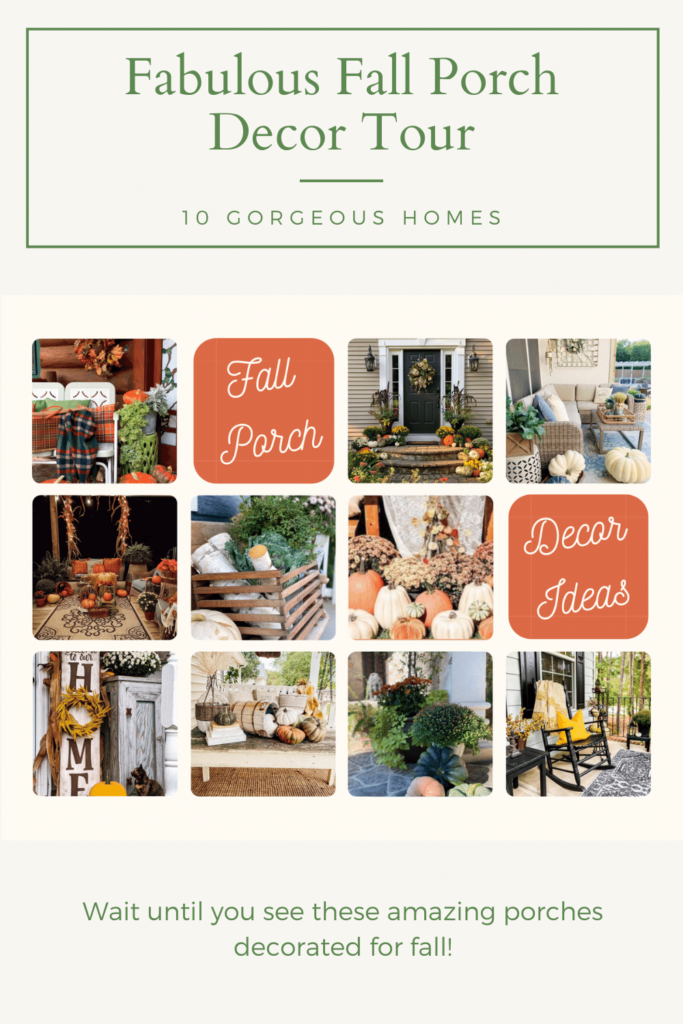 (Affiliate links are used for your convience. Read my full disclosure here.)
If you are joining me from Stacy's home over at Bricks n' Bloom, welcome! I am always so inspired by her home inside and out. She has the most gorgeous gardens!
Stacy's home is in New Jersey, now you have traveled west to Wisconsin where our lakeside log cabin is located way Up North in Minocqua, Wisconsin.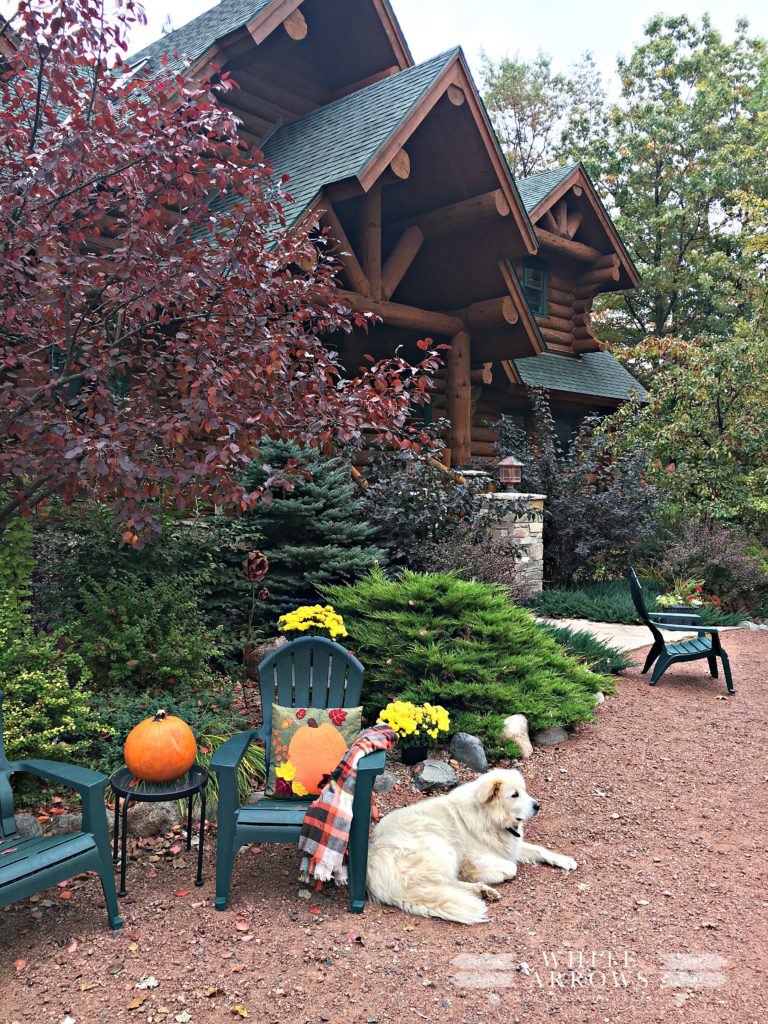 I have so much fun decorating my porches for the seasons. Here are some of the ways I've styled it the past several years.
You may be getting a sense of my style.
Traditional Fall Colors
Touches of Plaid
Vintage
Reusing Favorite Decor
Pumpkins and Mums
Pumpkins and Mums
This year for our front porch I had been thinking I would go with white pumpkins, but when my mother in law brought me these fun orange and green ones from her garden, I went in a different direction. I loved them and so began incorporating tones of orange and green.
I decided to do something that may seem shocking! I'm not doing mums this year. I love them, but I'm busy with my store opening and podcast starting and watering flowers is not my greatest talent (yet.) So I decided to not spend the money or add the extra this year. I'd just do the pumpkins.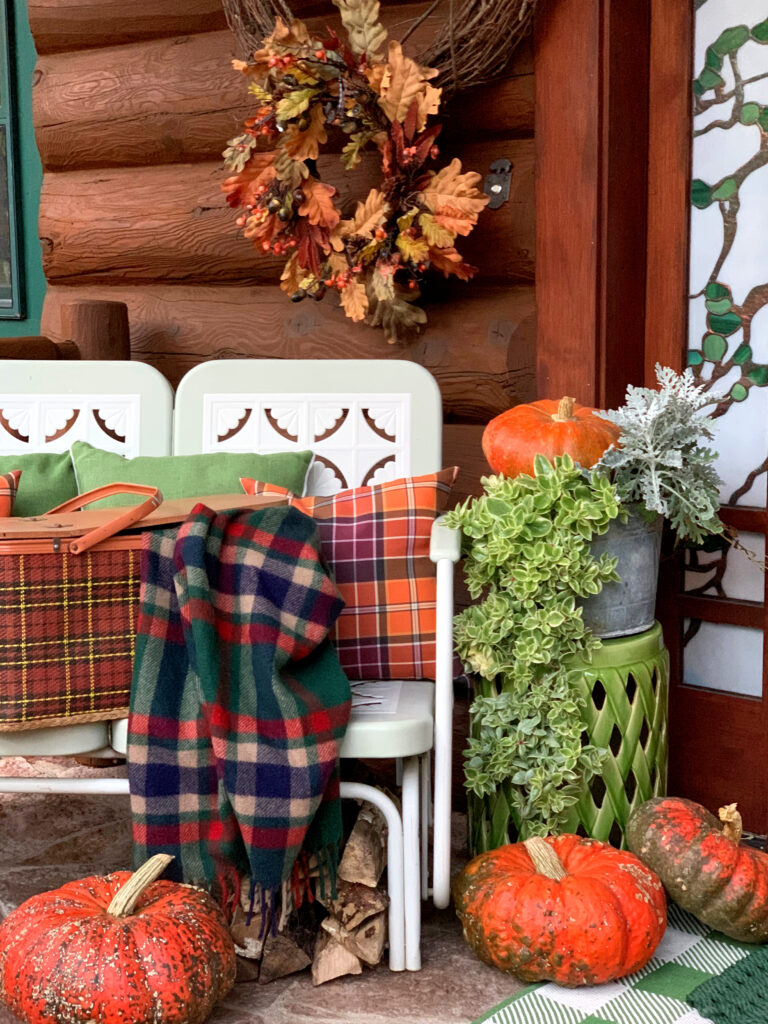 I did have several Summer plants that did really well this year. My oldest daughter is the green thumb in the family and she put together some beautiful pots that are still looking gorgeous. So I decided to leave them out as long as they last and just add my pumpkins to them like this one on top of the green garden stool.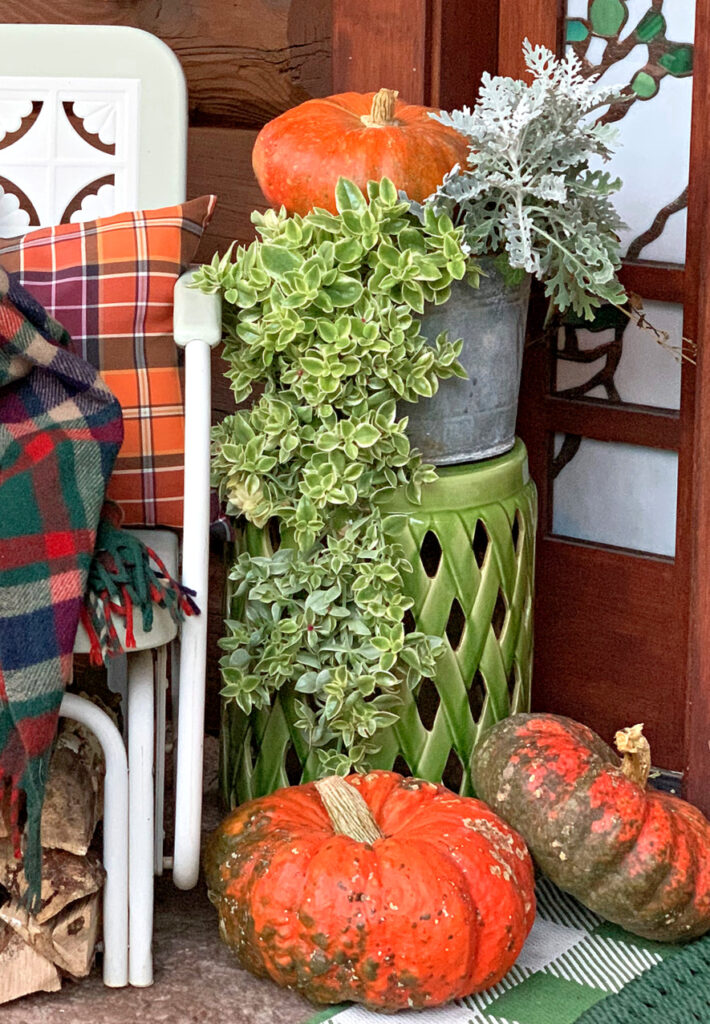 Plaids
This year I brought out my plaid vintage picnic basket and added a vintage plaid camp blanket to the top. I also added these plaid outdoor pillows I got last year at Walmart for $5 each.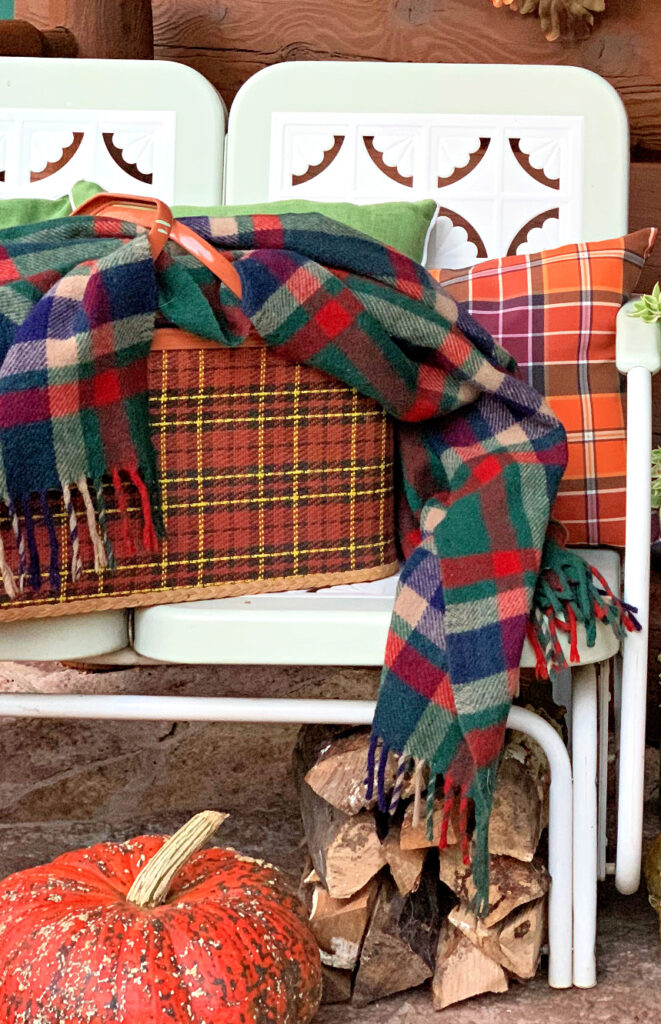 Traditional Fall Colors
The oranges and greens of the pumpkins led to the colors I stuck to while pulling together which pillows and accessories to use.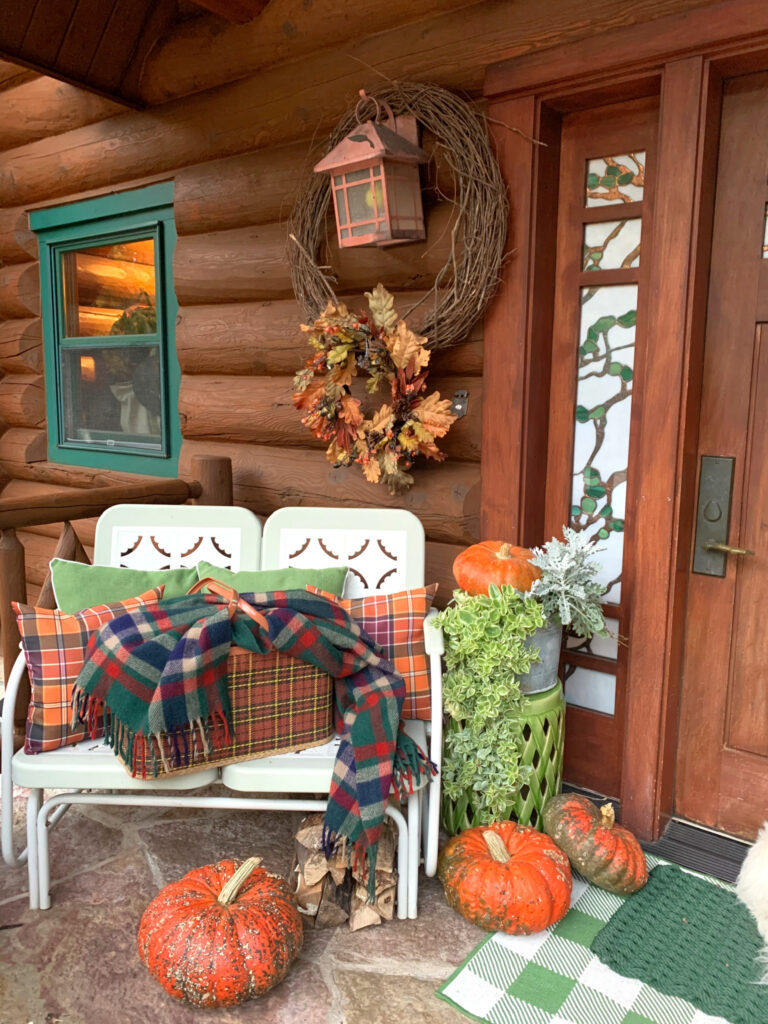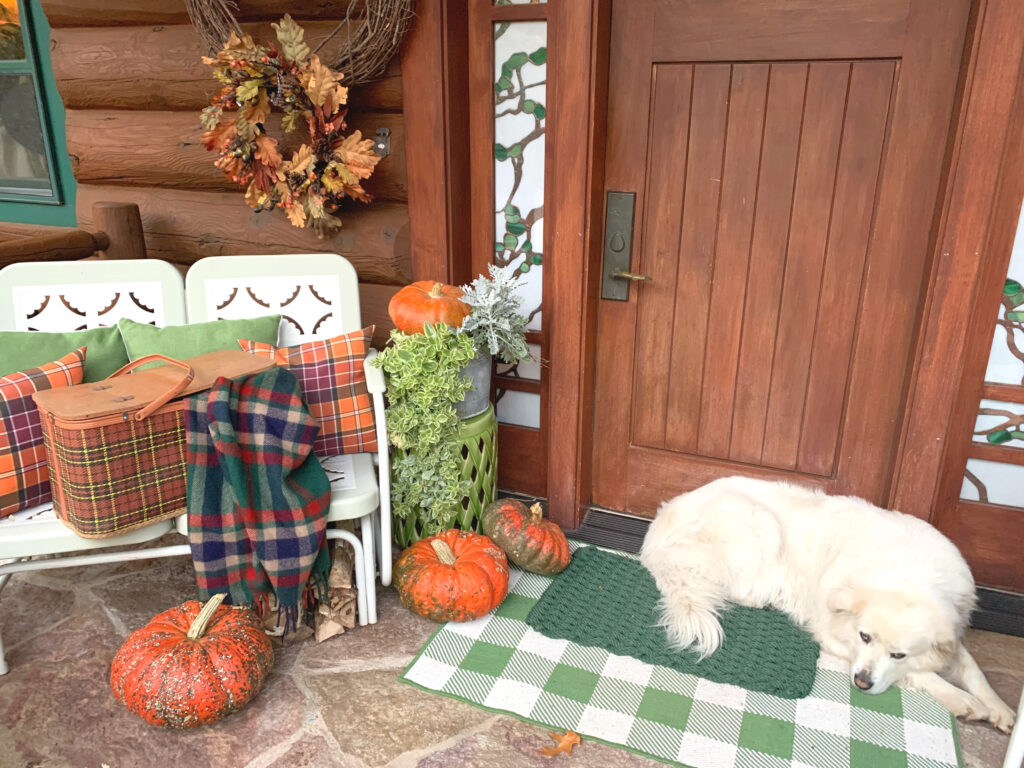 Reusing Favorite Decor
I kept out the same rugs I used this Summer and for the past several seasons. I believe in reusing decor and often buy things that I love for a lifetime. The gingham rug is from Target and the braided rug is from Cape Cod Doormat.
Honey loves sitting by the door on these rugs and waiting for me to get done!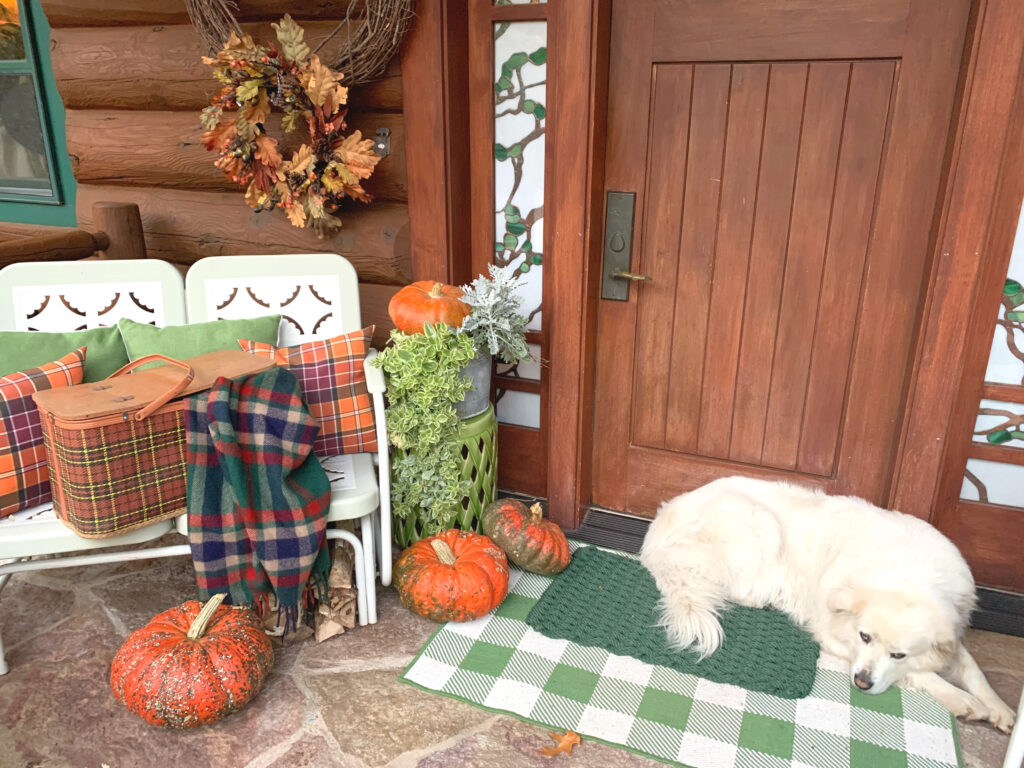 Wreath
I'm so excited about how my wreath idea turned out this year. I hung large grapevine wreaths around our front porch sconces and then tied a decorative Fall wreath underneath it.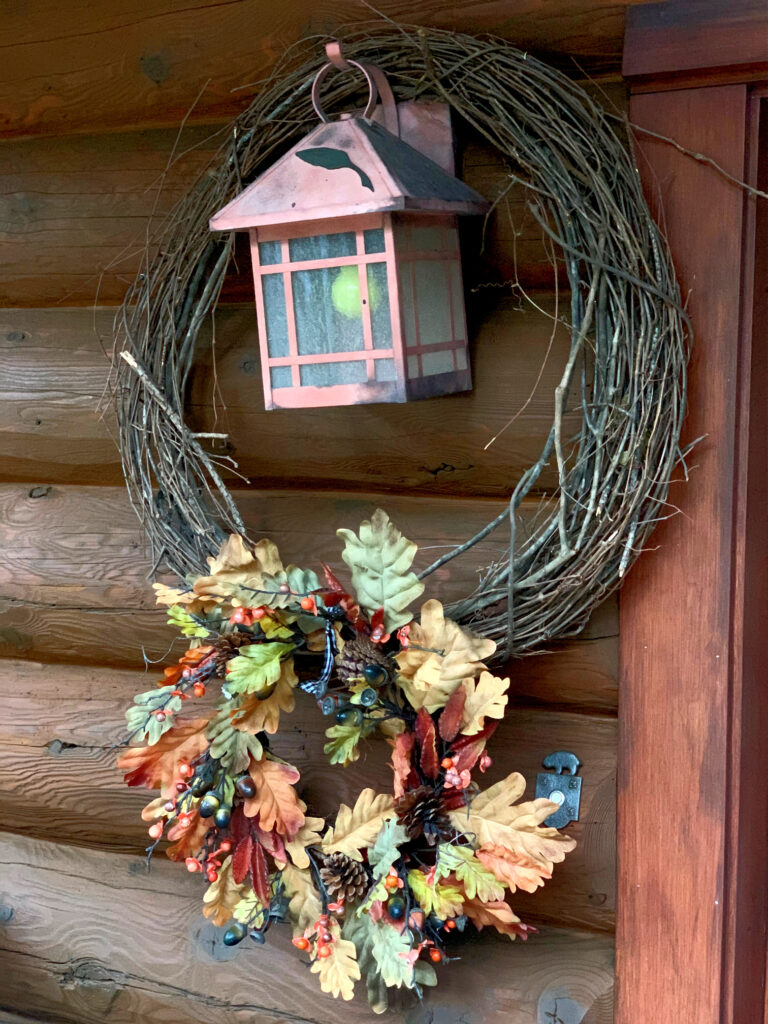 Get the Look


Next up on the tour you are heading to my friend Rachel's house at The Ponds Farmhouse, another one of my favorite homes!
Take the Tour

Wait Until You See These Amazing Fall Porch Decor Ideas!

Bricks 'n Blooms // White Arrows Home // The Ponds Farmhouse
The Curated Farmhouse // Down Shiloh Road
Cuter Tudor // The Tattered Pew // J Dub By Design
Simply2Moms // Itty Bitty Farmhouse
FOLLOW WHITE ARROWS HOME


Instagram ~ Facebook ~ Pinterest ~ Twitter ~ YouTube