There are so many fun ways I've been styling patriotic decor inside and outside my home. Find inspiration for you home all Summer long.
(Affiliate links are used for your convenience. Read my full disclosure here.)
I'm so excited to be joining my friends of the Thrifty Style Team for our monthly blog hop hosted by Redhead Can Decorate. This month we are showcasing our patriotic decor. I've been busy styling patriotic decor inside and outside my home.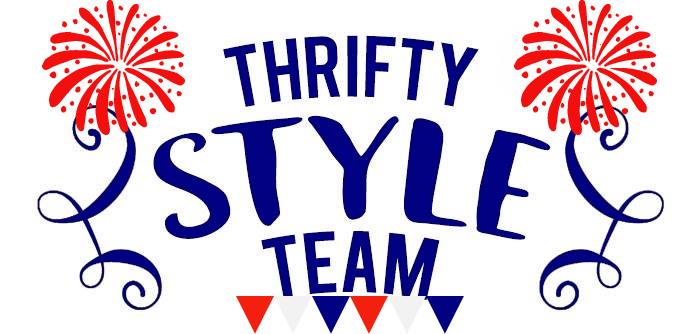 If you are coming over from Cottage at the Crossroads, welcome! Weren't you inspired by her cute placecards!
I have fun decorating my home with red, whites and blues and patriotic touches all Summer long. Living on the lake it is the perfect decor from Memorial Day through Labor Day. And actually a lot of the decor I use all year long!
We live in a lakeside log cabin in The Northwoods of Wisconsin.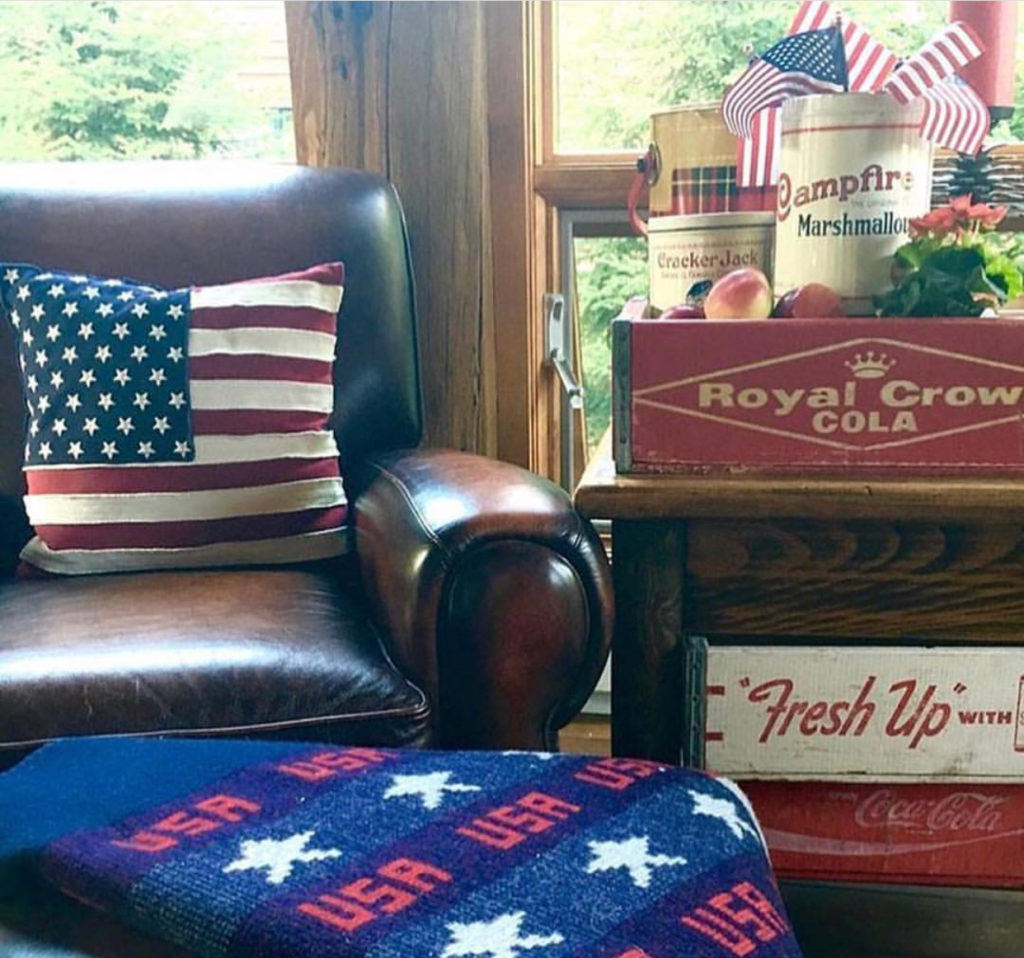 Inside and outside my home gets patriotic treatment. This year I had a lot of fun decorating my lakeside shed.
Outside
One of my favorite spots to decorate outside is our little boat shed right on the shores of the lake. The first time I decorated it I hung a flag and a wooden buoy.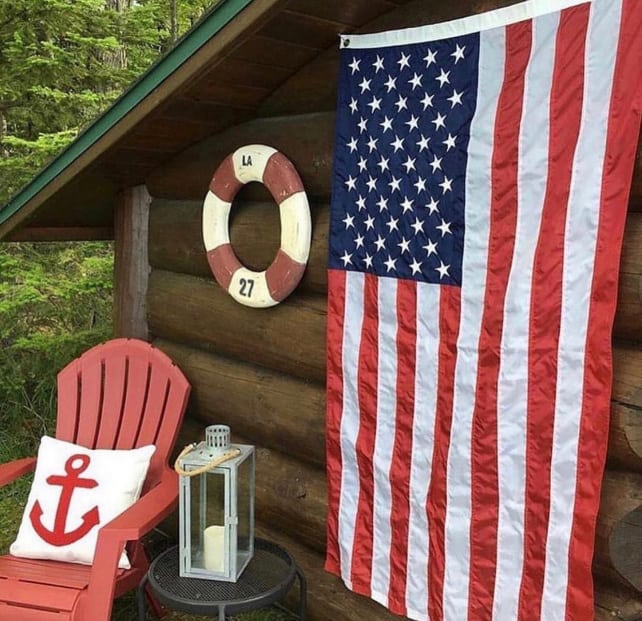 Last Summer I decorated it with a campy style hanging my red lanterns and incorporating lots of vintage treasures.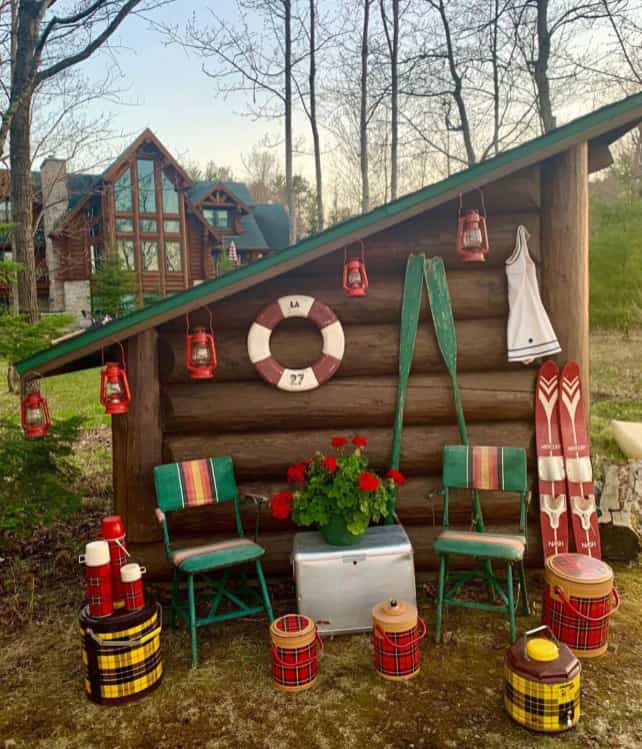 It even got some special treatment this Winter when I turned it into our warming hut with giant wooden snowflakes and some vintage sports equipment perfect for snow.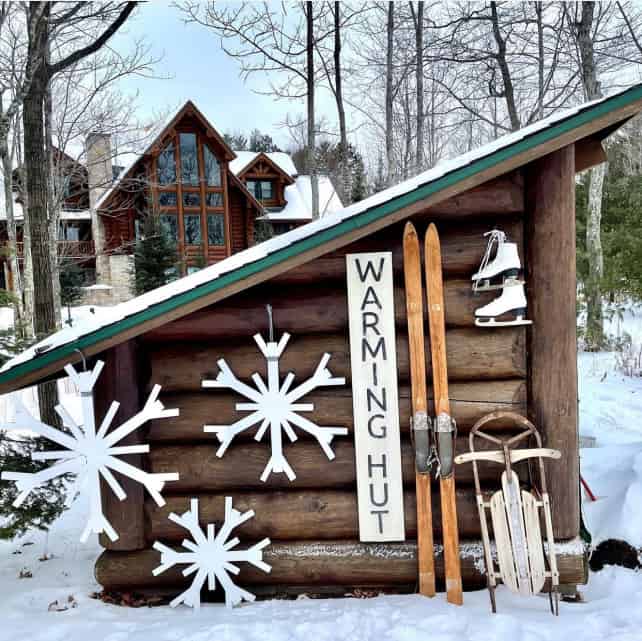 This Summer the shed went patriotic. I had a wicker couch I hadn't found a place for yet that finally found a home here. It's a great spot to sit down by the water.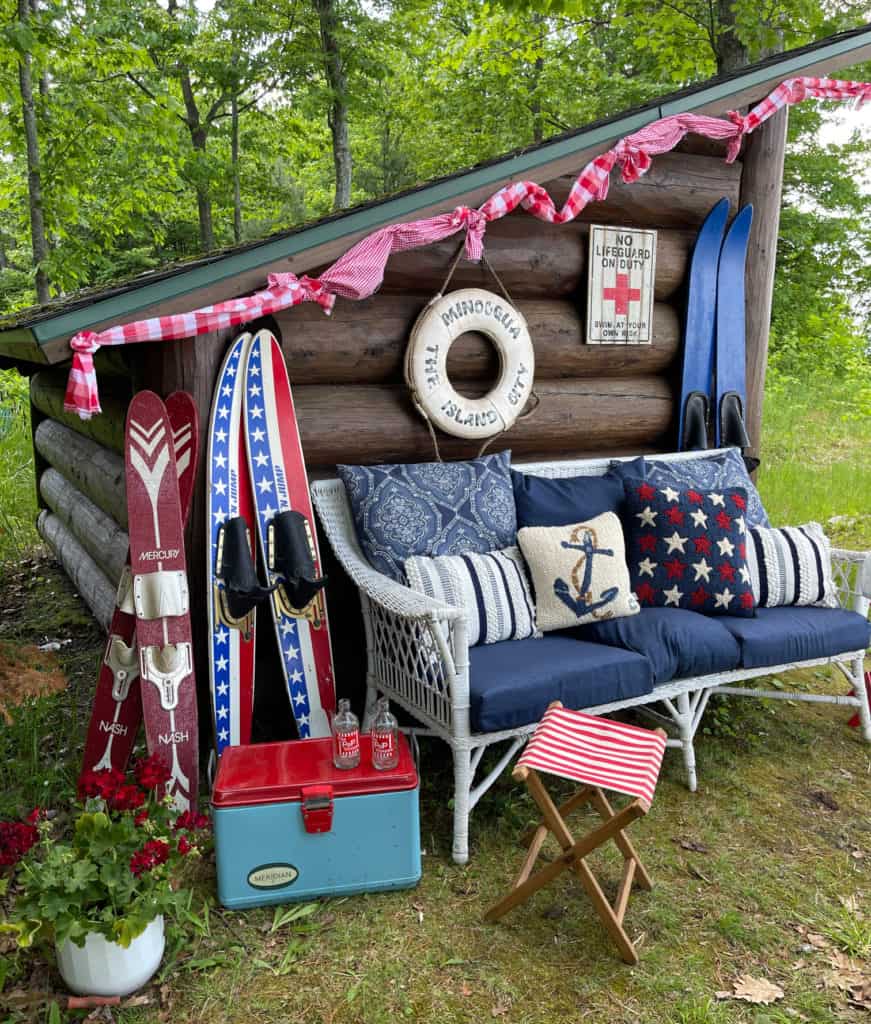 I hung a few fun signs, like the No Lifeguard on Duty and the Minocqua buoy.
My Chandler 4 Corners pillows with the stars and anchor are the only ones that don't stay outside.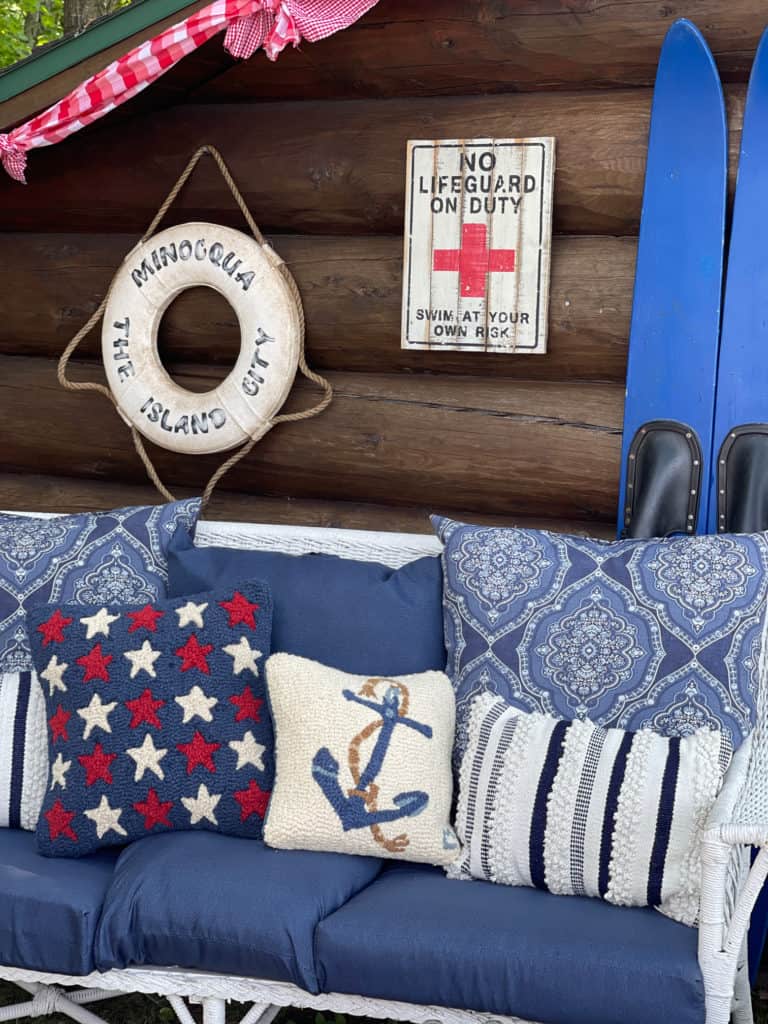 I leaned a few pair of my vintage water skis against the logs. And brought down a cooler full of refreshments.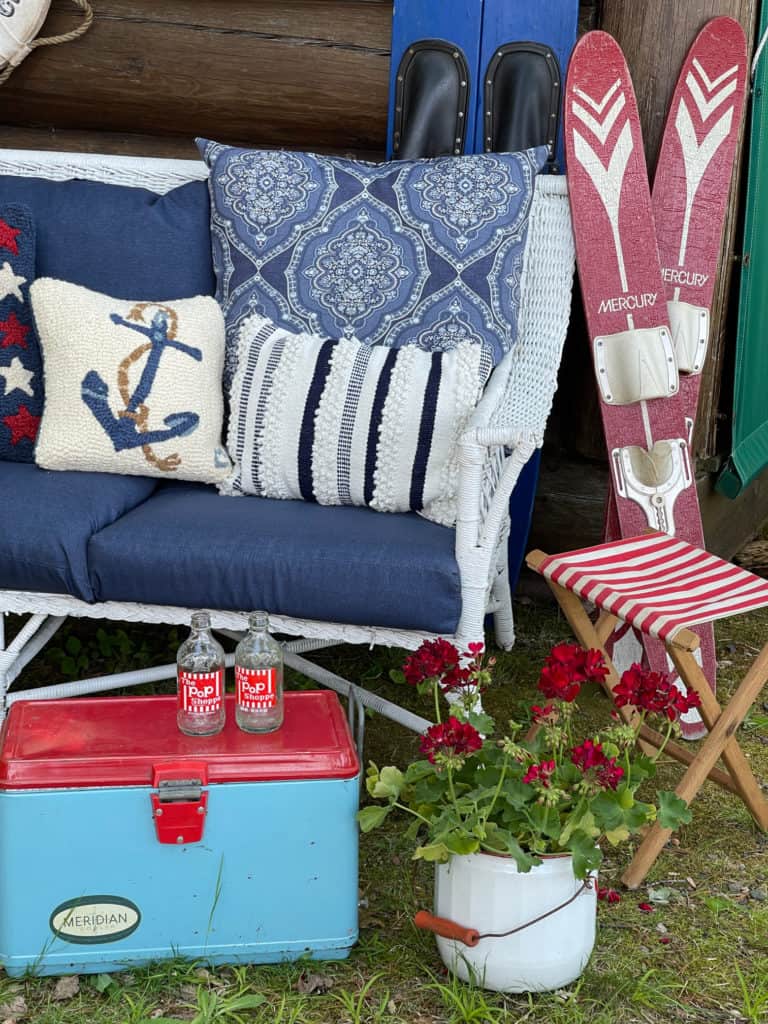 Get the Look
Inside
I love to add patriotic touches throughout the inside of my home too. I use lots of red, white and blue accents with pillows and blankets.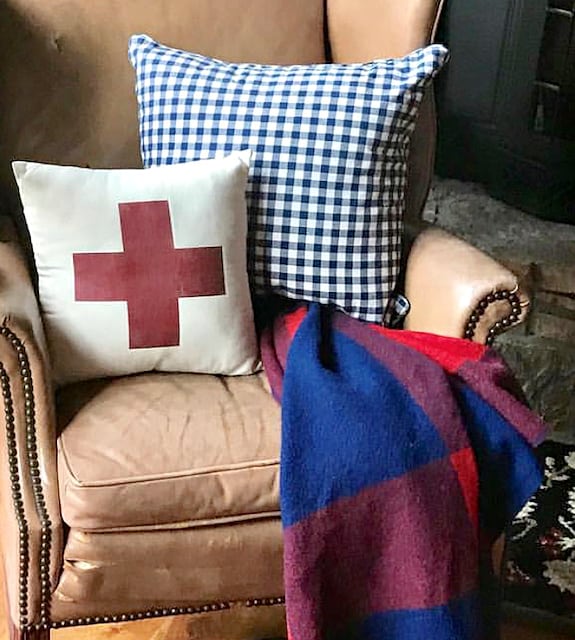 Nautical features like anchors give a seasonal feel as well. And I always love to add geraniums inside and outside too for Summer.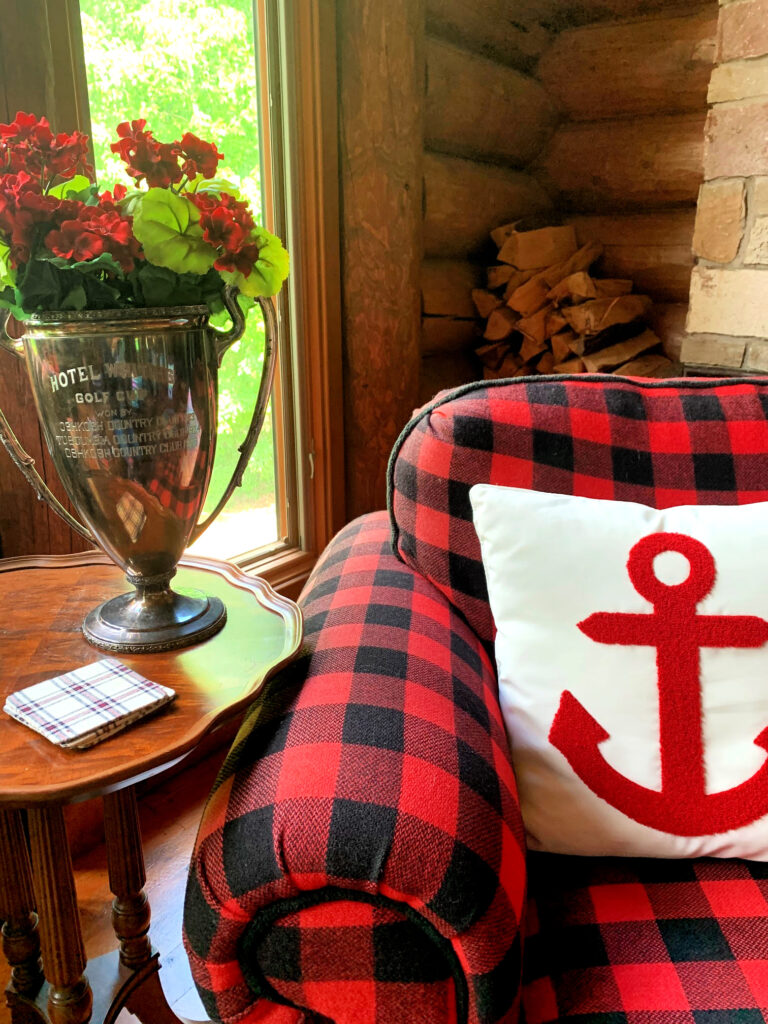 Vignettes around the house are filled with flags and the colors of the season.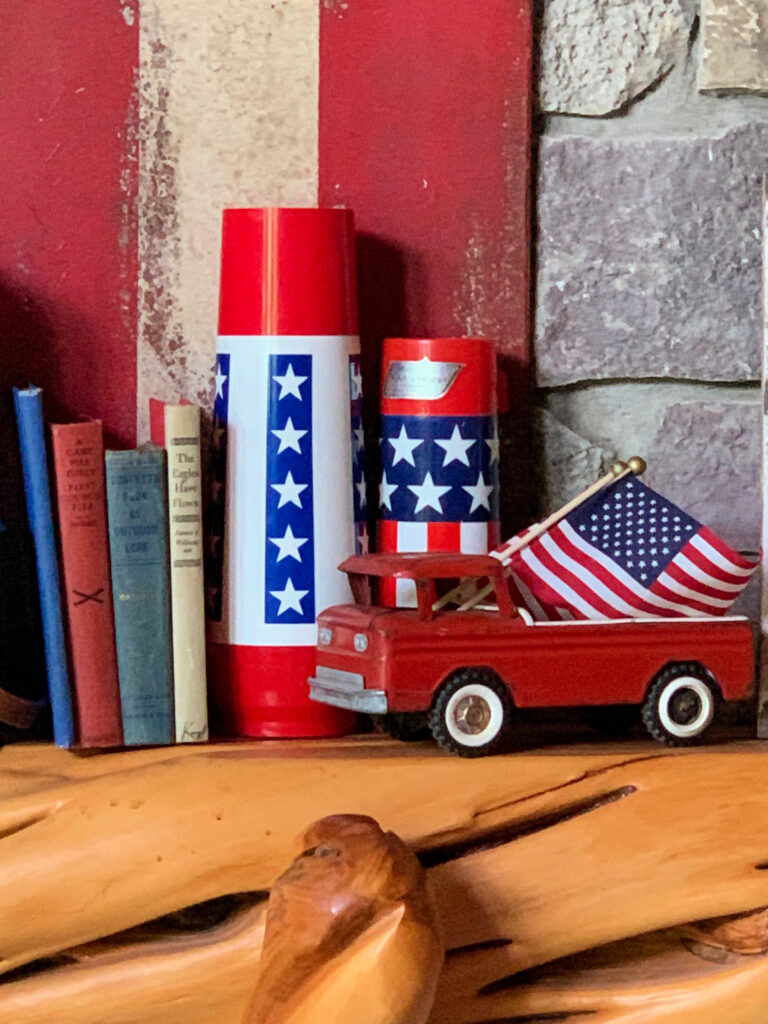 It's a fun change to quickly switch out pillows and throws to match the holidays and time of year.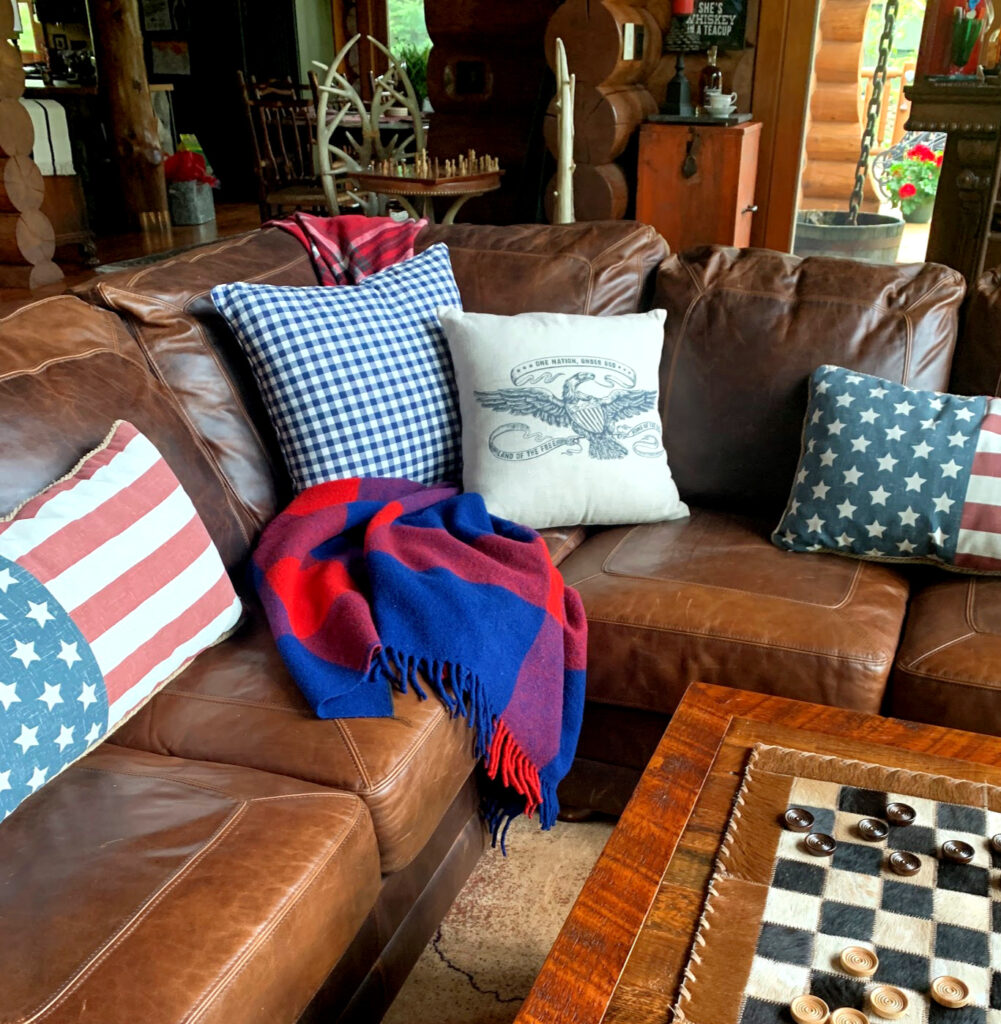 Get the Look


Thanks so much for coming on the tour! Be sure to follow the links below so you don't miss any of the inspiration! You can start from the very beginning with Redhead Can Decorate and then hop from post to post.
Take the Tour
Redhead Can Decorate ~ DIY Beautify ~ Chas' Crazy Creations ~ The How To Home ~ The Tattered Pew ~ Cottage on Bunker Hill ~ What Meeghan Makes ~ 2 Bees in a Pod~ Postcards From the Ridge ~ Lora B. Create and Ponder ~ Vinyet Etc. ~ Sweet Pea ~ Our Crafty Mom ~ I Should Be Mopping the Floor ~ Cottage at the Crossroads ~ White Arrows Home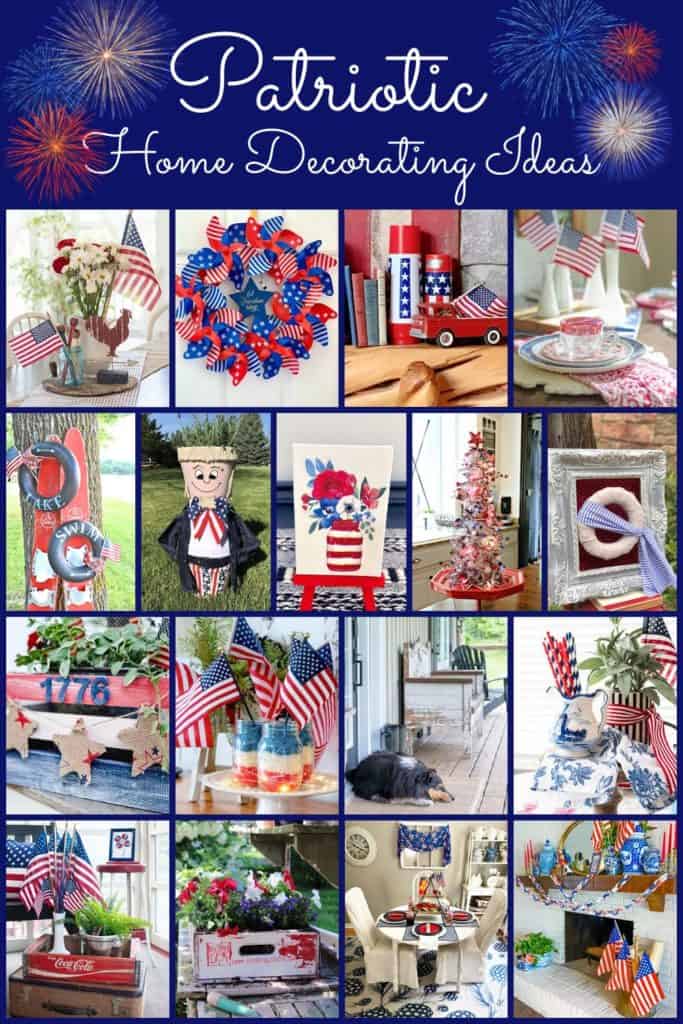 FOLLOW WHITE ARROWS HOME

Instagram ~ Facebook ~ Pinterest ~ Twitter ~ YouTube ~ Tik Tok