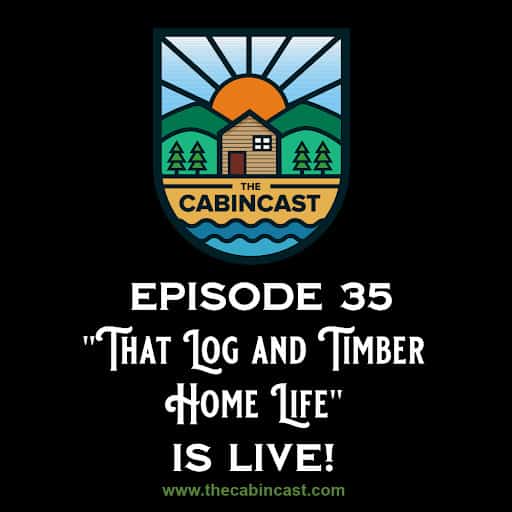 (Affiliate links are used for your convenience. Read my full disclosure here.)
Episode 35: That Log and Timber Home Life is LIVE! In this episode, we had the pleasure of interviewing Donna Peak, the Editor-in-Chief of Log and Timber Home Living Magazine, loghome.com, timberhomeliving.com and cabinlife.com.
This chat is far-ranging about her role as editor, her love of the cabin and timber home life, the difference is between the two, and much more.
We kick off this episode by catching up with Erik and me as we chat about the recent intense weather that swept through The Northwoods! 
Thank you to our sponsorRoughing it in Style.
To begin the interview with Donna Peak, Donna shares how her love for cabins grew. From a young age she had a deep appreciation for interior design and architecture. Donna also shares the story of her family cabin. From the sounds, to the smells, to the feelings you have when you return to the cabin, Donna poetically describes their small cabin on the river.
"There are these sensory experiences that a cabin provides that you just don't get anywhere else." -Donna Peak

We then dive into a discussion about the atmosphere and realness of a cabin living. Cabin living means imperfection, and through that imperfection comes a sense of authenticity and comfort. Donna and her team at the magazine do a wonderful job at capturing this authenticity and Donna shares how they achieve just that.
"There is something about cabins where there isn't perfection there…but that's not the things that scare you away, those are the things that make it such a wonderful experience." -Erik

Continuing on in the discussion, Donna, Erik and I discuss the uniquely wonderful family time that exists at the cabin. We talk about how with less distractions at the cabin, there's the opportunity for more togetherness. 

Photo: cabinlife.com
Following this, Donna discusses recent cabin trends in the U.S., and shares how there is a new shift to multi-generational homes. Donna shares her tips on how to create healthy boundaries when designing a home for multi-generations and expresses their importance. 
We also hear Donna's best tips for enjoying the magazine. She shares how many people may find the magazine's photos of cabins unattainable due to budget, location and more. She shares great insight as to using the magazine as a way to see what is possible rather than strive to replicate the photo. 
Beyond this, Donna shares what her workload is like as an Editor-in-Chief and the joys of being part of a close-knit company. 
To wrap up the episode, Donna shares her perfect cabin day from when she was a young child. The smell of coffee and bacon in the morning would start the day and it would end listening to her uncle play gospel songs on the cabin's orange piano.
Thank you so much for tuning in to this episode of The Cabincast, see you next week!
FOLLOW ALONG
Instagram ~ Facebook ~ Pinterest ~ Twitter ~ YouTube ~ Liketoknow.it ~ Tik Tok ~ LinkedIn