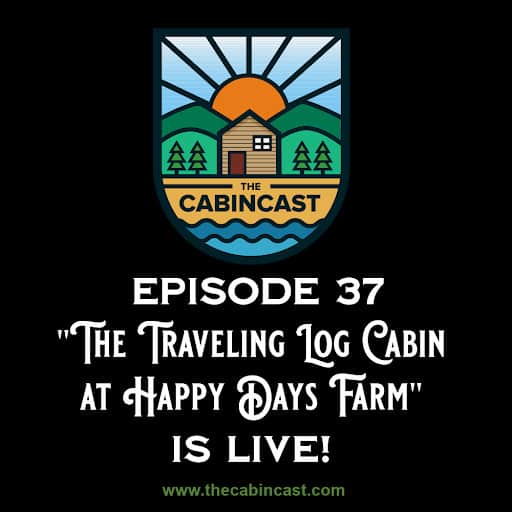 Episode 37: The Traveling Log Cabin at Happy Days Farm is LIVE! You are going to love this interview with Penny from Happy Days Farm all about herlittle log cabin on her property that has traveled with her throughout her moves. 

Photo: @happydaysfarm on Instagram
To begin this episode, Erik and I spend some time catching up on the crazy weather in the Northwoods. From the intense humidity to the crazy storms knocking out power, we chat about the reality of Northern Wisconsin weather.
Up next, I have a great cookbook recommendation titled Campfire Cookery: Adventuresome Recipes and Other Curiosities for the Great Outdoors by Sarah Huck. This cookbook is actually one of my college friend's sister's book! This cookbook is packed with mouth watering recipes and great stories. I love to read cookbooks, the stories in between are my favorite parts. Erik shares how his aunt and uncle pick a cookbook and cook every recipe in the book cover to cover. 
Thank you to our sponsor Roughing it in Style!
Hopping into the interview, Penny kicks off this chat by sharing the story of how she found her sweet old cabin. Penny had a dream to take this cabin and move it to her property, and she did just that. We hear the moving story of taking the cabin to its new home on Penny's property as well as it's second moving story 20 years later to Penny and her husband's new home.
"I just love my little cabin, I can see it right now while we are talking on the phone, when I go out to it during the day or in the evening, it immediately gives me a sense of peace and calm" -Penny

We hear the history of this 200 square foot cabin. Penny describes the structure and the awesome loft space!
Penny shares how she kept the cabin in its original condition adding only the bare minimum modern touches to make the space usable.

Photo: @happydaysfarm on Instagram
Penny also wrote a children's book which shares 5 stories from the Happy Days Farm. You can check out the book for purchase here.
As always to conclude the episode, Penny shares her perfect cabin day filled with relaxing in the cabin and decorating it for the seasons.
Thank you for tuning in to this week's episode!
FOLLOW WHITE ARROWS HOME


Instagram ~ Facebook ~ Pinterest ~ Twitter ~ YouTube ~ Tik Tok ~ Liketoknow.it