Graduate Hotels are a favorite place for Kristin Lenz to stay on her travels. The creative decor of these unique boutique hotels is inspired by regional history and the nearby university campus.
I am typically not a groupie. I don't jump on the bandwagon. I don't go gaga for the newest thing. But there is one thing I could easily be a groupie for, Graduate Hotels! I would love to go stay at all of them! I've been to Madison and Minneapolis so far.
The Graduate Hotel chain renovates buildings on or near University campuses. They decorate each hotel to celebrate the town, the school and what makes it unique. There is an overlying school theme as well.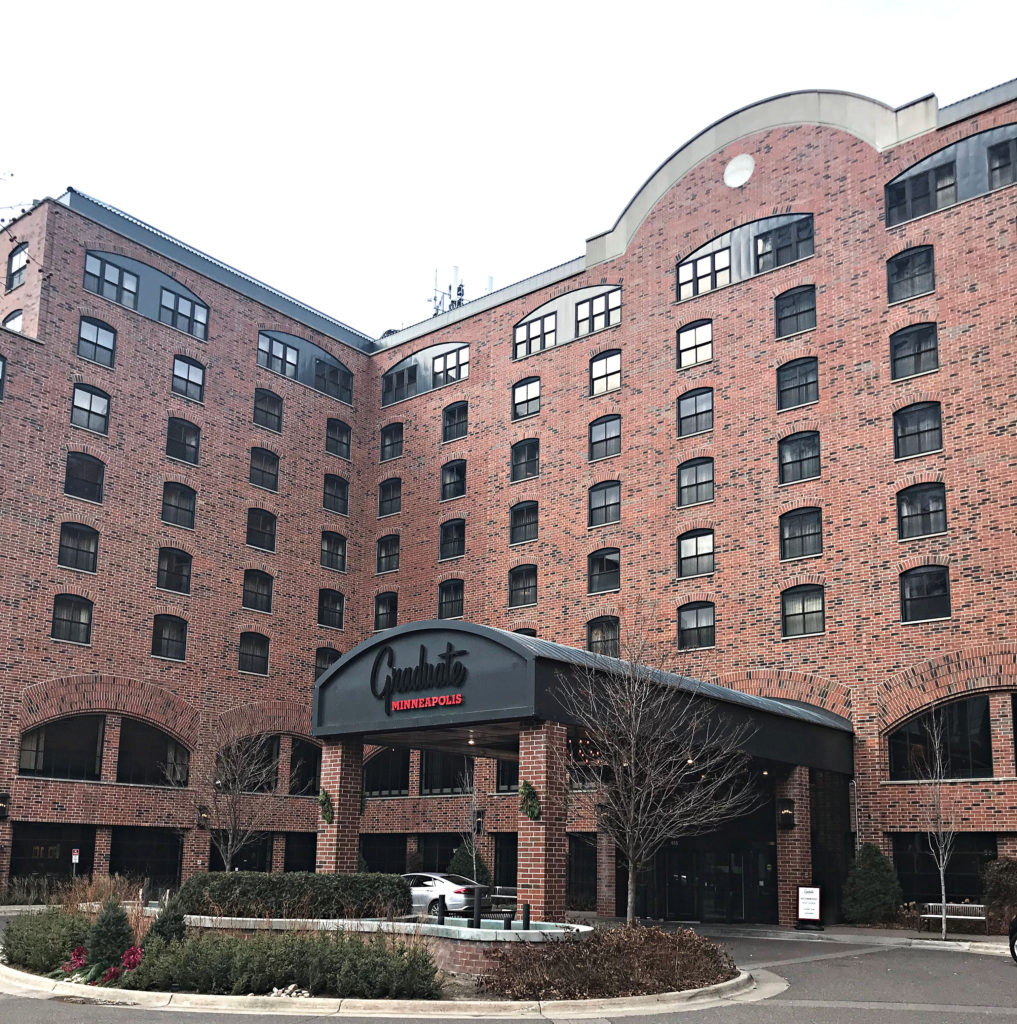 One of my favorite parts of traveling is the inspiration I get from hotel decor. I love unique, boutique hotels and The Graduate is the best I've seen!
I shared about our stay at The Ironhorse in Milwaukee.
I shared about our stay at Flathead Lake Lodge.
Last November, my husband and I met friends in Minneapolis for the Packer/Viking football game. I couldn't wait and reserved us room at The Graduate! It was everything I hoped it would be!! Just look at the check-in desk! Woods + Plaids = My Kind of Place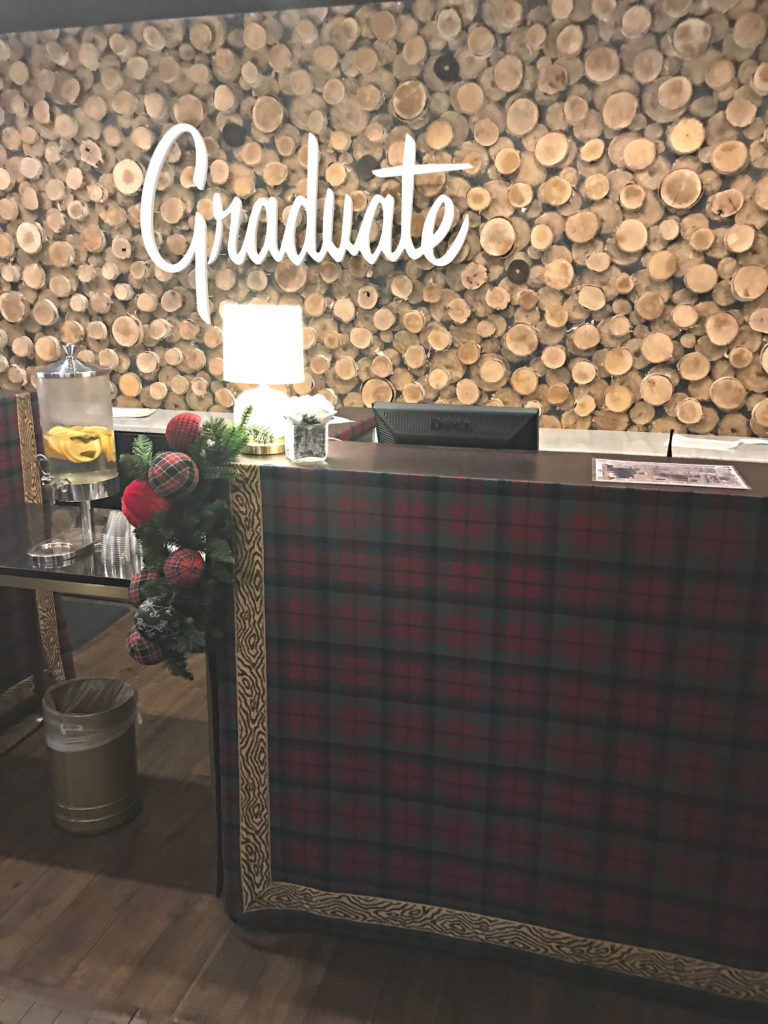 The Graduate Minneapolis uses an Up North theme with so many of my favorites: paint by numbers, snowshoes, fishing lures, Pendleton and plaids. It also incorporates Prince, Loni Anderson, Herb Brooks and Gopher Athletics.
I love the entrance with the snowshoes on the ceiling.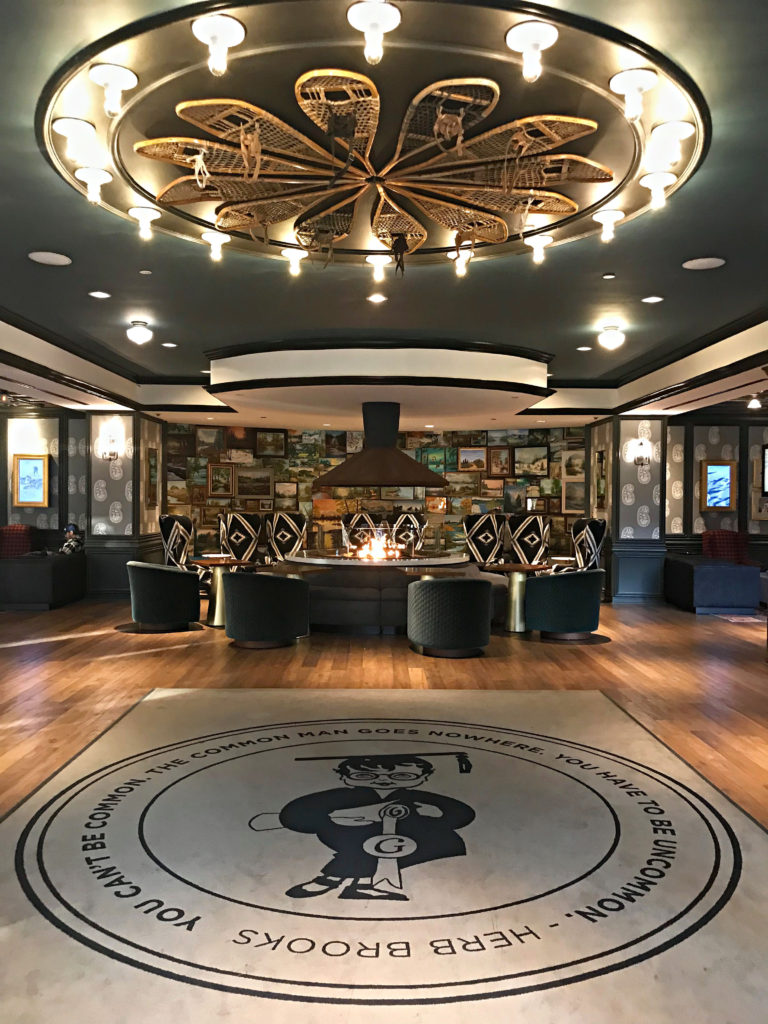 And this fireplace with Pendelton blanket style chairs and a wall of framed paint by numbers is such a warm welcome.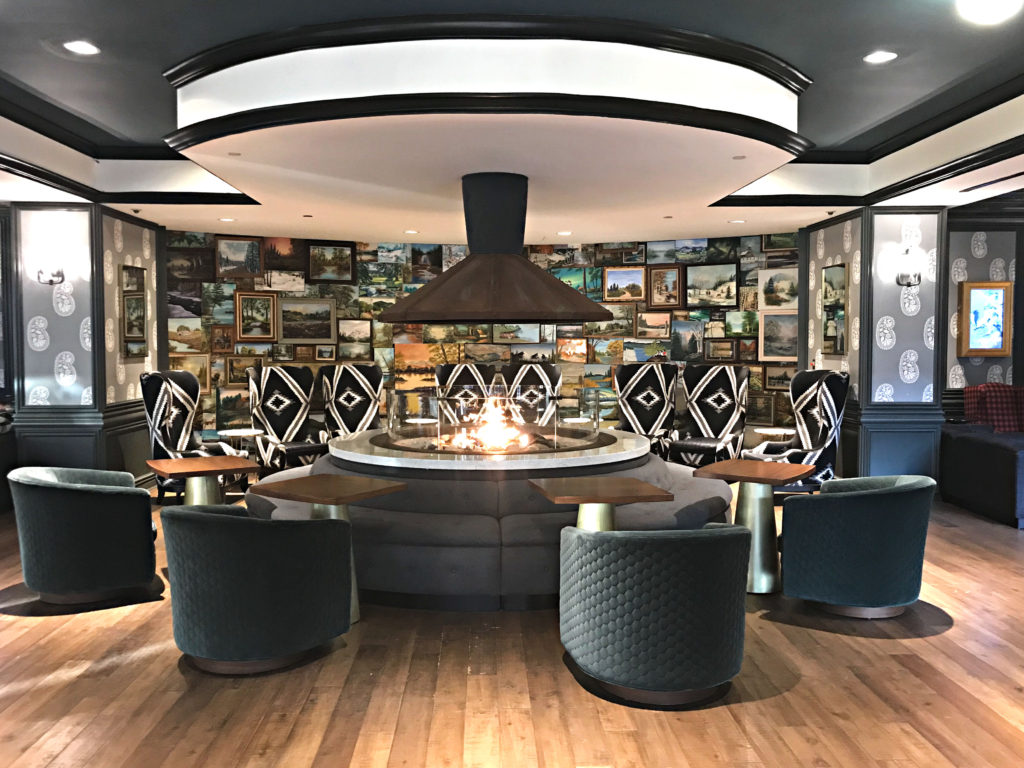 Above the long study table is a giant light covered in fishing lures. Most of the time we were there this table was full of students studying. Students on campus are welcome into the hotel lobby.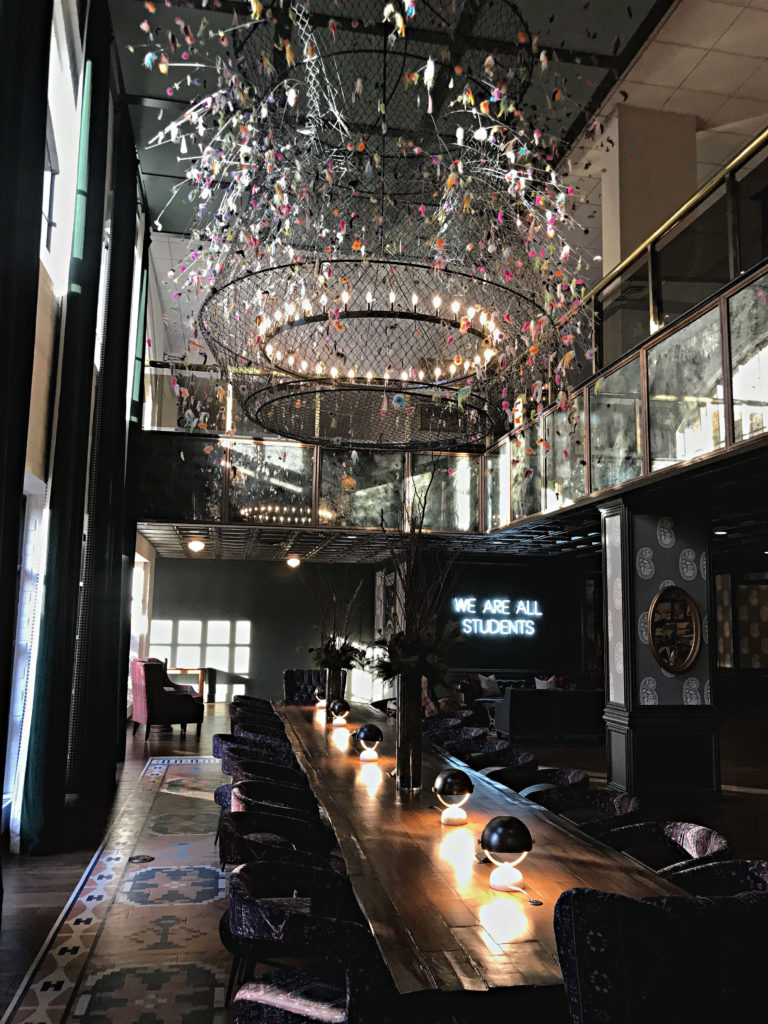 The location worked out great for going to the game. The rail stops right near the front of the hotel. If you are coming to campus for an event or game, it is right next to the athletic complexes.
Graduate Hotels have fun with the school theme. Your room key is a student ID with local celebs.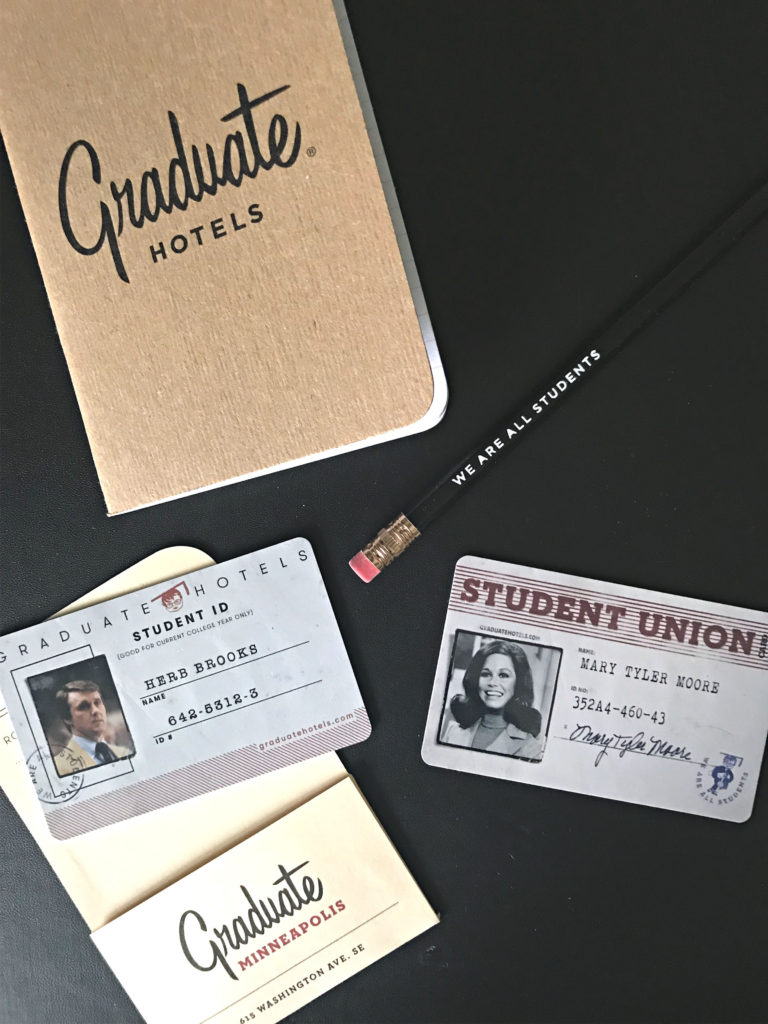 The do not disturb door hangers let others know you are "Studying".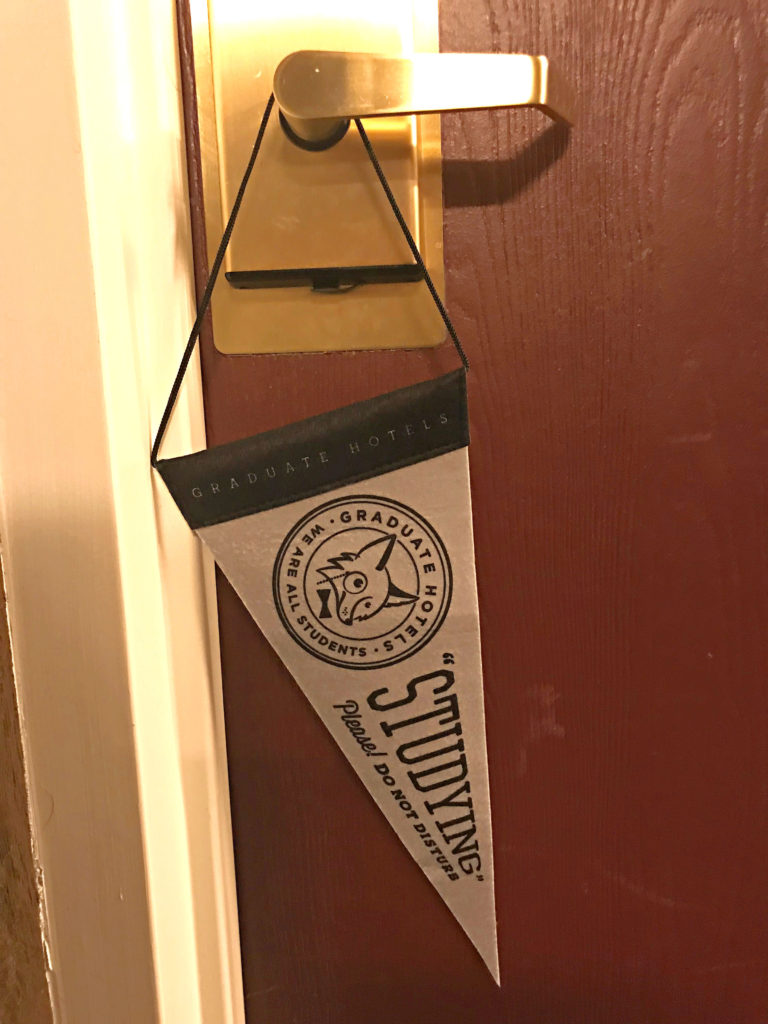 Their slogan "We Are All Students" is illuminated on the lobby wall.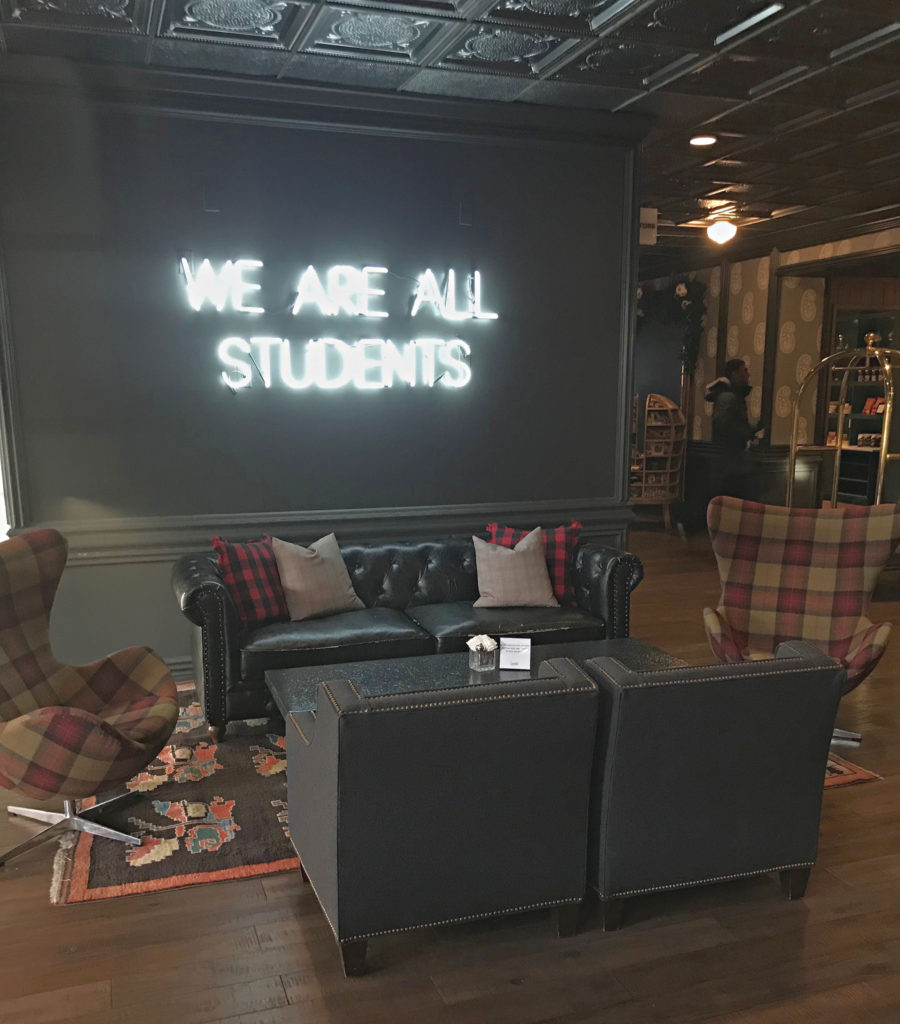 Gathering Spaces
There are so many areas to gather. It makes it a great place to stay with friends. We spent time playing shuffleboard and visiting in comfortable seating areas.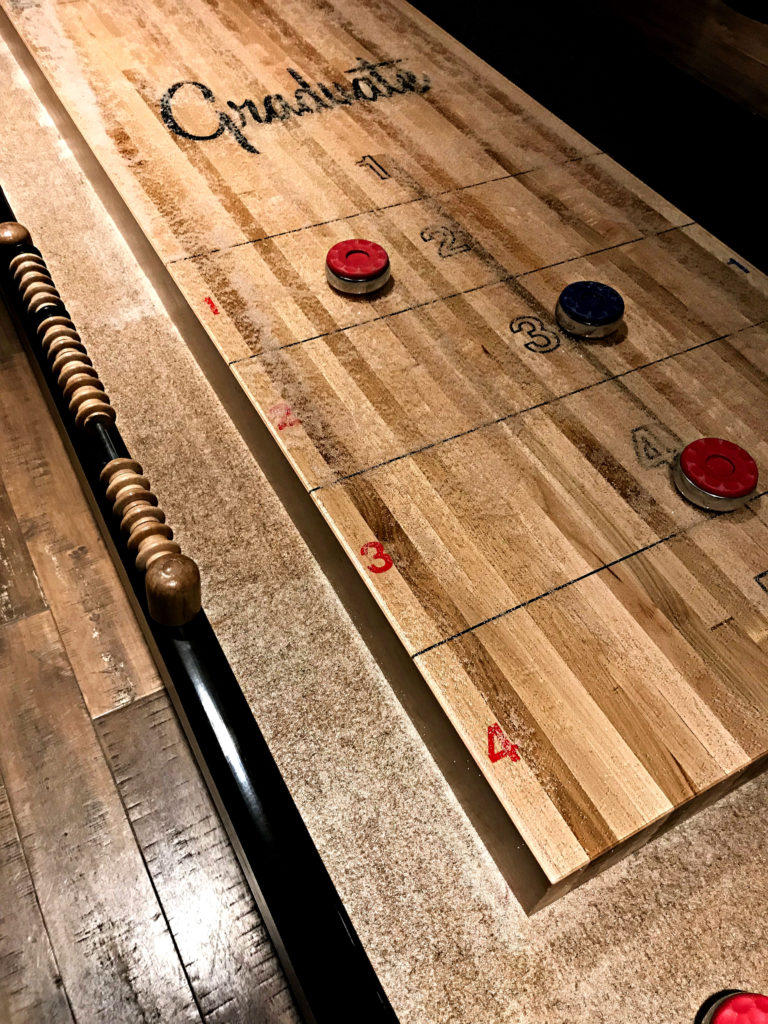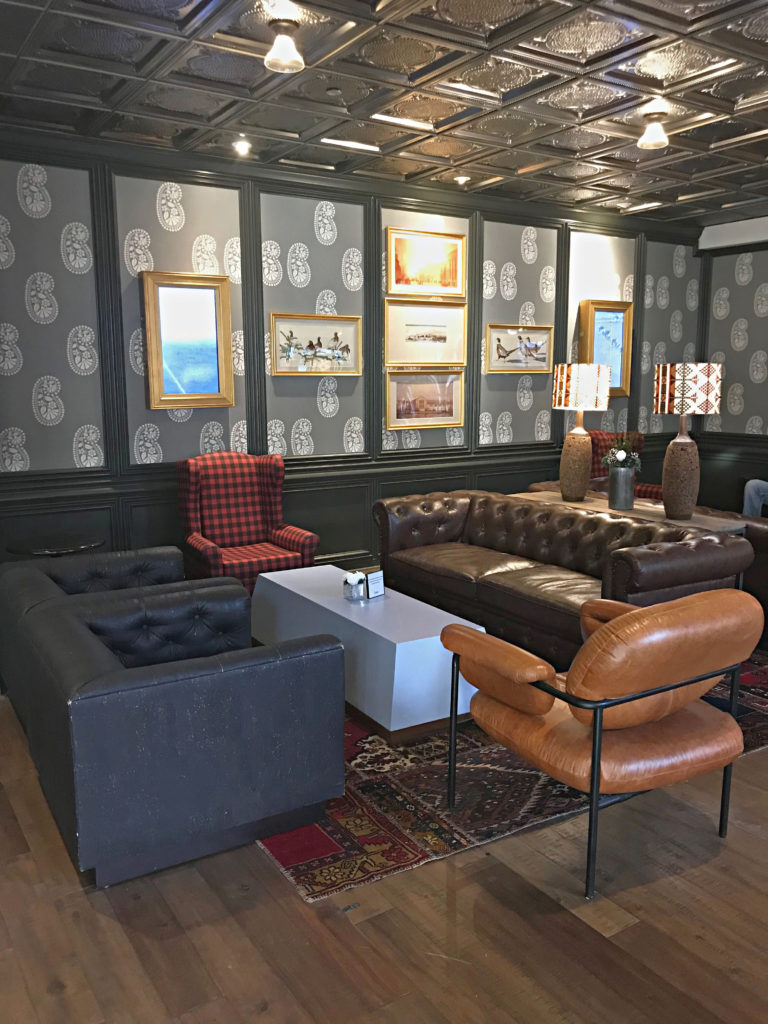 Guest Rooms
I loved the comfortable guest rooms with the Ralph Lauren style fishing and hunting fabric headboard. A hockey blanket was on the foot of the bed.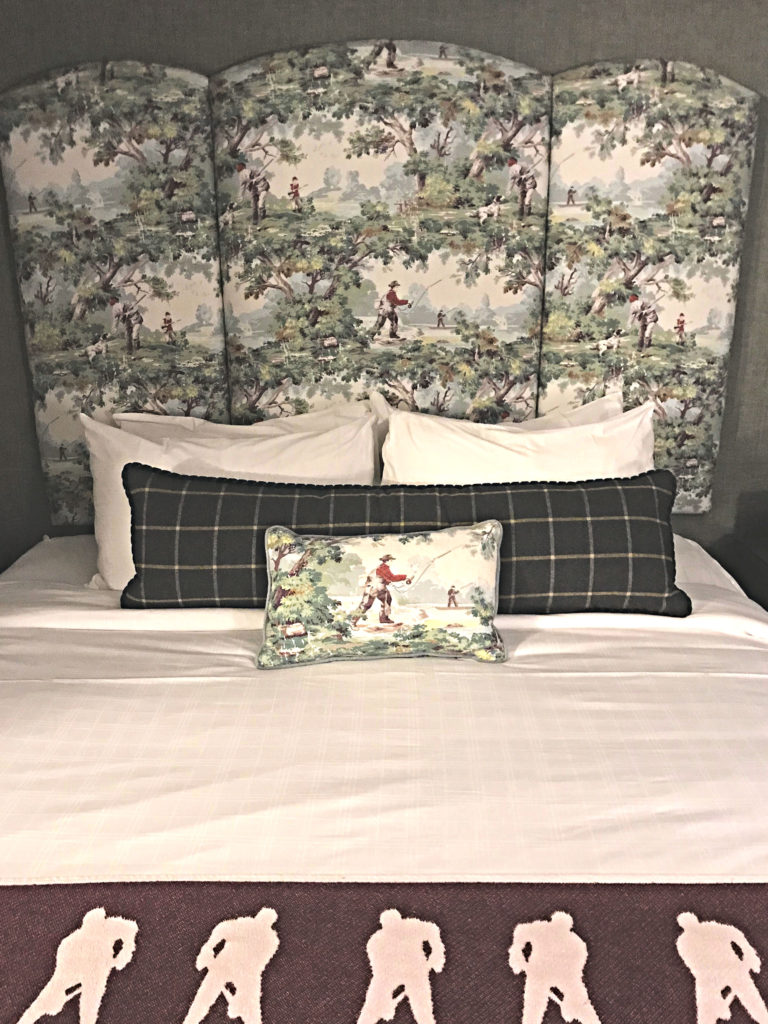 A plaid jacket from legendary hockey coach of the Miracle on Ice team, Herb Brooks, was framed on the wall. The plaque underneath holds one of his quotes: "Risk something or forever sit with your dreams."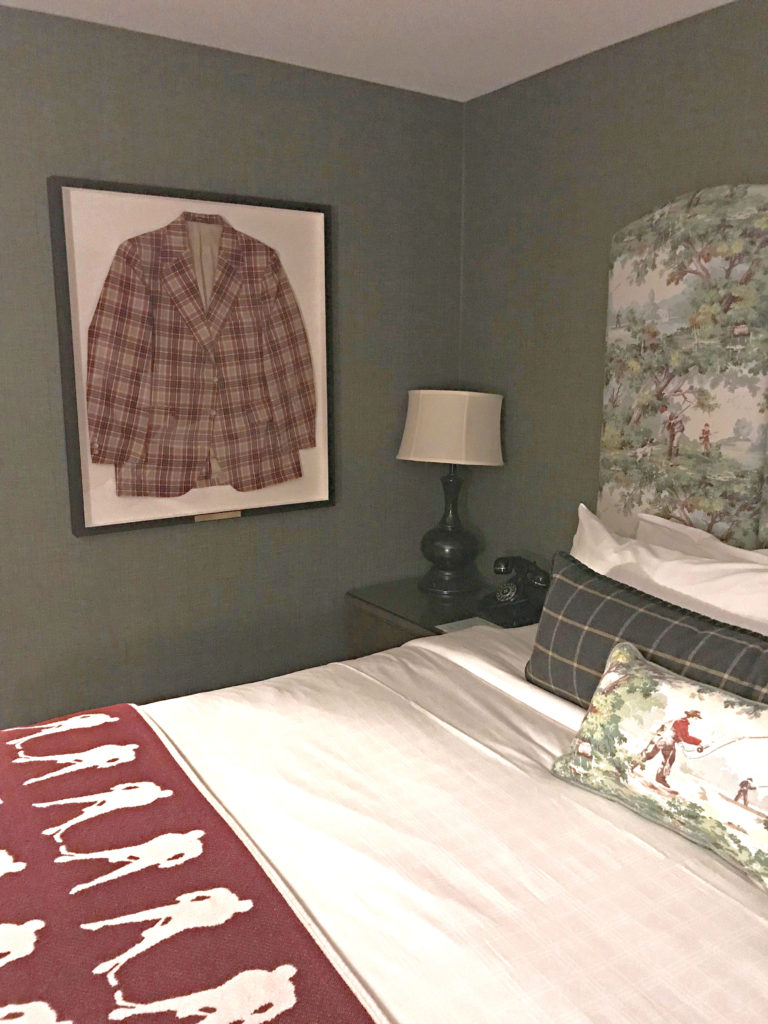 A framed painting of Loni Anderson, who is from St. Paul, hung in the room and the lamp over on the desk was a little red corvette, an ode to Prince's popular song.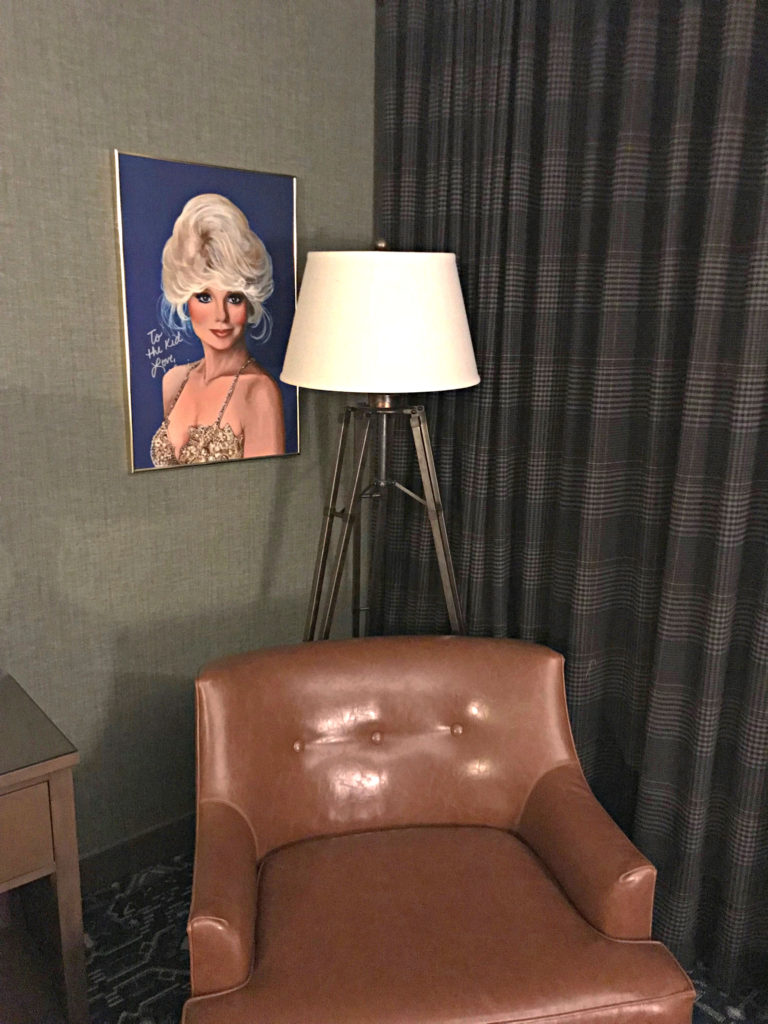 The guest room bathroom has walleye wallpaper!

Floors
The hallway carpet to the guest rooms.

Painted Rugs on Wood Floors

Restaurant
Walls
Walleye Wallpaper in the Guest Room Bathrooms

Paisley Wallpaper in honor of Prince's Paisley Park Home

Logs behind Check In Counter

Layers of Wood

Paint by Numbers
Fabrics
Bed Blanket

Chairs

Headboard
The Beacons Restaurant
There is a great restaurant inside the hotel. The Beacons Restaurant has great cocktails, good food and is decorated beautifully.
Christmas
It was a beautiful time of the year to visit because everything was decorated for Christmas.


If there was a Graduate Hotel in the area I was visiting, it would be my first choice for where to stay. Have you stayed at one before? What did you love about it? Visit their website to find all their locations and make your reservations!
Follow Along
Instagram ~ Facebook ~ Pinterest ~ Twitter