Have you been reading much this Summer?
Do you have intentions to read more and feel like you can't fit it into your busy days?
Do you consider yourself "not a reader" and wish you were?
Did you love reading when you were younger and wish you could find that joy in books again?
I have always loved to read and feel lost without a book, like something is missing if I don't have one I'm in the middle of. My days are full of activity though and I get asked how I can fit everything in, things like reading.
(Affiliate links are used for your convenience. Read my full disclosure here.)
HOW TO MAKE TIME TO READ
I realized a few years ago that I actually have a strategy that I had developed without even knowing it to fit in more reading time and extra books.
My my want to read book list is always long so this plan helps me read at least four books or more a month too.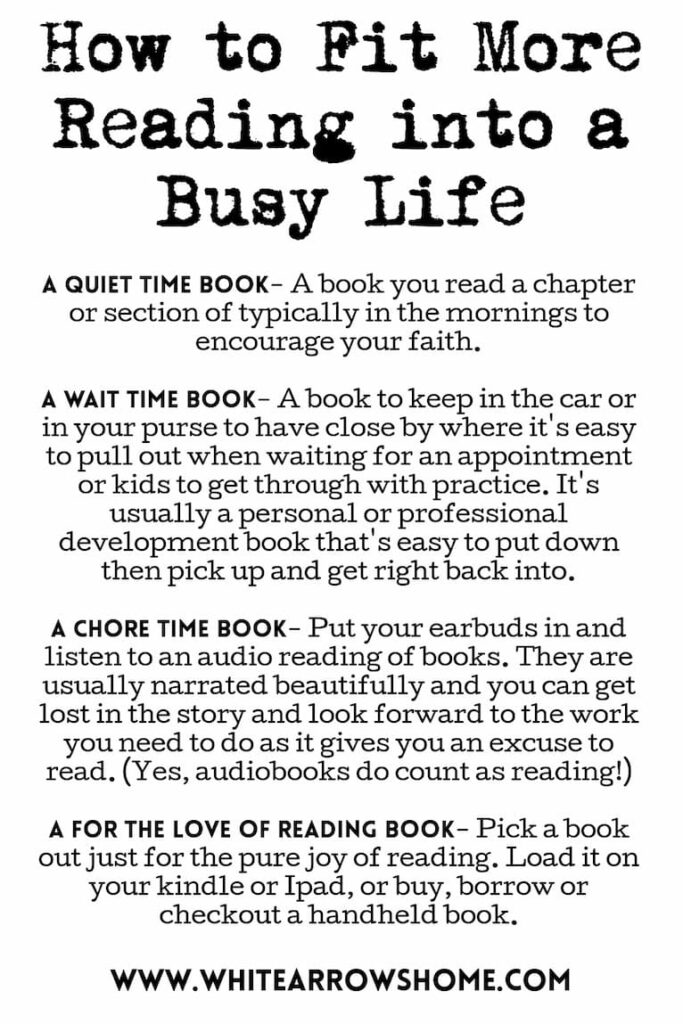 Each month I like to share with you what I'm reading. It might give you some ideas of books you'd like to read as well. You can read one of them, some of them or all of them or add them to your own lists for when you need ideas.
Want to get daily encouragement? SUBSCRIBE HERE so you don't miss any posts!
Quiet Time Book
Last month I read Undistracted by Bob Goff.
This month I'm reading Let's All Be Brave by Annie F. Downs. It's a book full of her personal stories tied to bible passages about living a life of bravery where we are willing to try hard things and chasing our dreams.
Often the books I choose have been books I've had in my Amazon cart or on a list for a long time. Let's All Be Brave is one of those books. I first read Annie's book Looking For Lovely a couple of years ago and then started listening to her Podcast, That Sounds Fun.
I really enjoy her podcast and the interviews she has on it. It's very encouraging and full of great wisdom from her guests.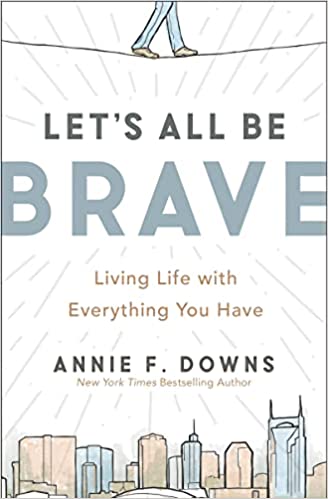 Read Let's All Be Brave with me!
Wait Time Book
Last month I read Brighter by the Day by Robin Roberts.
This month I'm reading The Power of One More by Ed Mylett. It's just coincidence that two of my books this month are from the hosts of two of my favorite podcasts. One of the podcasts I listen to most is Ed Mylett's. His interviews have been some of the most powerful influences in my life the past few years. He has experts on in the fields of health and nutrition, performance and so much more.
Ed just published another book The Power of One More and it's full of chapters about how doing just one more thing in many different areas of your life can make a profound difference.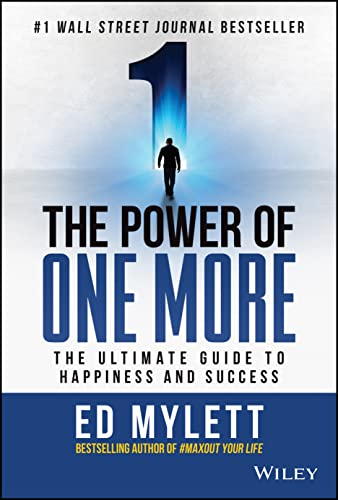 Read The Power of One More with me!
Join my Fireside Book Club over on Facebook. Request to join HERE.
For the Love of Reading
Last month I read Undiscovered Country by Kelly O'Connor McNees.
This month I'm reading When Stone Wings Fly by Karen Barnett. I have been so excited for this book to come out. I first became a fan of Karen Barnett when my daughter was reading her Vintage National Parks books and told me to read them too.
The first one I read was Where the Fire Falls and takes place in Yosemite National Park in the and I was hooked. Historical Fiction is my favorite genre and Karen's books are beautifully written and hard to put down.
When Stone Wings Fly just came out and I am excited to be part of the launch team! This story takes place in The Great Smokey Mountains during the 1930s and present day. Kieran's grandmother is battling dementia and Kieran is working to uncover a long lost family story of their home and life in Tennessee before her grandmother is unable to share more memories with her.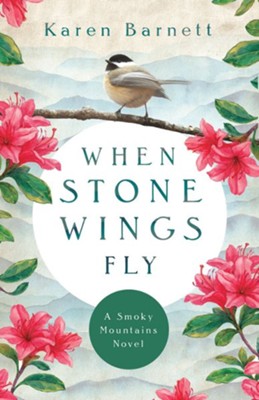 Read When Stone Wings Fly with me!


Chore Time Book
Last month I read People We Meet on Vacation by Emily Henry.
This month I'm listening to The Magnificent Lives of Marjorie Post by Allison Pataki.
I love learning about people, events and stories I never knew about and I knew nothing about the Post cereal heiress's life until I listened to this book. One of my friends recommended it to me and it didn't disappoint.
Marjorie's life spans decades and she was directly involved in so many parts or our country's history as she befriends presidents, marries an ambassador and uses her wealth to aid the War efforts in two great wars.
It's an amazing story of the American Dream where an idea and hard work begun by Marjorie's father built an empire.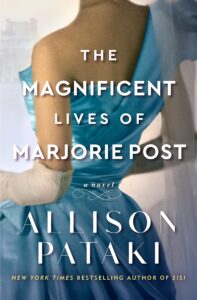 TIP: As you get used to listening to audiobooks you can speed up the sound by touching the 1X in the bottom left corner of your device. I usually listen at 1 1/2 and am able to get through books much quicker and make time for more!
Listen to or read The Magnificent Lives of Marjorie Post with Me!
Looking For More Ideas?
You can find links to other books I shared HERE. I keep a Pinterest Board called "What to Read Next". You can start one too pinning the photos from this post.
Books This Month


FOLLOW ALONG
Instagram ~ Facebook ~ Pinterest ~ Twitter ~ YouTube ~ Tik Tok ~ Liketoknow.it