The Books on my Reading List this Month include those that motivate, those that encourage and those that pull me in to other places and times, books I can't put down.

I love starting a new month, finishing reading from the weeks before and beginning to turn new pages, not just on the calendar, but in a stack of new books.
(Affiliate links are used for your convenience. Read my full disclosure here.)
HOW TO MAKE TIME TO READ
Do you want more time to read? All of us are so busy and those of us that love to read can still find it hard to make time. Here's how I fit more reading into my day.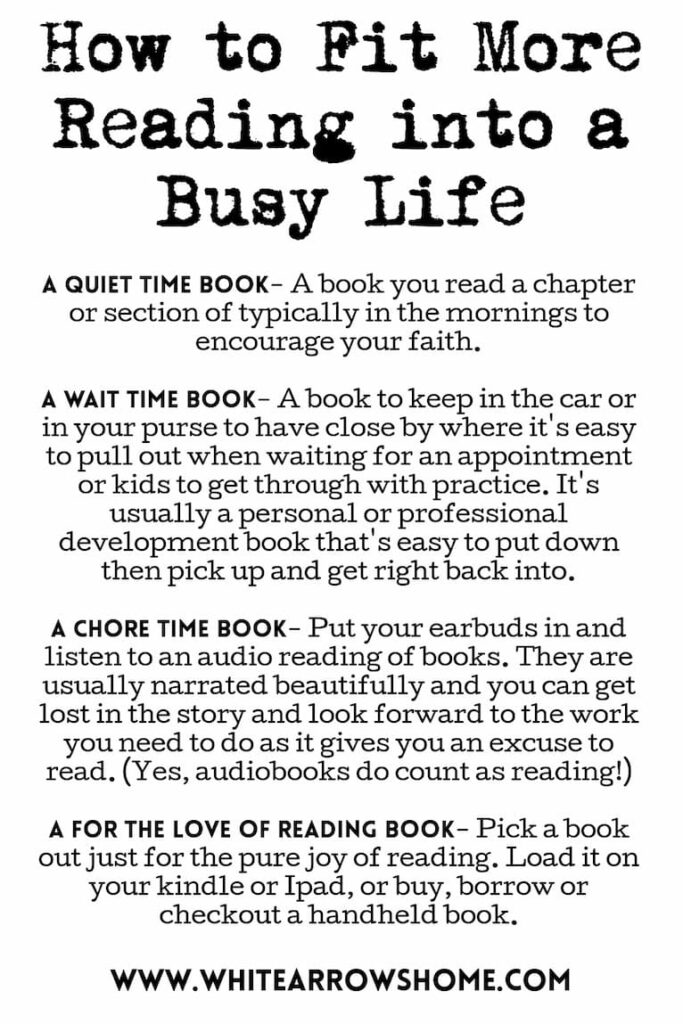 Want to get daily encouragement? SUBSCRIBE HERE so you don't miss any posts!
QUIET TIME BOOK
For my quiet time book last month I read Starved by Amy Sieffert.
This month I'm reading Power of a Praying Wife by Stormie Omartian.
There is so much great insight in this book for how to pray for our husband's and the power of God to work the impossible when we ask.
Reading a chapter each morning and praying for my husband as I start my day is a great habit I'm continuing to be encouraged by.

Read Power of a Praying Wife with me!
WAIT TIME BOOK
Last month I read The Anxious Teen by Brock Morgan.
It was full of insight on today's teenager and was recommended by our youth pastor who was doing some parenting workshops on the topic.
This month I'm reading Unreasonable Hospitality by Will Guidara.
I first heard Will talk about this on a TedTalk and I was captivated, because I finally had a term for how we conduct business at White Arrows Home.
The book is full of wisdom for business owners and managers who want to build strong teams and unforgettable customer experiences.

Read Unreasonable Hospitality with me!
Join my Fireside Book Club over on Facebook. Request to join HERE.
FOR THE LOVE OF READING
Last month I read The Vanishing at Castle Moreau by Jaimie Jo Wright.
I've really enjoyed all of her books I've read so far, the mysteries and the settings she puts them in. She writes characters you befriend and root for.
This month I'm reading a book I've been waiting for!
My favorite author is Kate Morton and her book Homecoming just released.
I love the settings and backdrops of the mysteries Kate Morton writes wrapped up in pieces of historical fiction often bouncing between decades.
Homecoming goes back and forth between current day and the 1950s Australia.

Read Homecoming with me!
CHORE TIME BOOK
Last month I listened to a few books, Lessons in Chemistry by Bonnie Grams and Five Little Indians by Michelle Good.
This month I'm listening to Tom Lake written by Ann Patchett.
It's another Reece's book club pick.
But, I chose it because the cover grabbed my attention looking like beautiful floral wallpaper.
I also chose to listen to it on audio because its narrated by Meryl Streep.
Ann Patchett's book, The Dutch House, I listened to a few years ago. I loved that it was narrated by Tom Hanks, but didn't particularly enjoy the story. So I'm excited to see how I feel about Tom Lake.
Her books though are winners for their covers and narrators! Will definitely be excited to see what she comes out with next!

Listen to or read Tom Lake with Me!
MORE TO READ THIS MONTH
This is a month I've been able to fit in more books. Here's the rest of what I'm reading:
My shop, White Arrows Home, hosts a monthly Book Club and Cookbook Club. Follow along HERE to keep up to date and information on what books we are doing and how to sign up.
I'm so excited for my friends' new books!
LOOKING FOR MORE IDEAS?
You can find links to past books I shared HERE.
BOOKS THIS MONTH


FOLLOW ALONG
Instagram ~ Facebook ~ Pinterest ~ Twitter ~ YouTube ~ Tik Tok ~ Liketoknow.it