(Affiliate links are used for your convenience. Read my full disclosure here.)
I have been looking forward to this hop full of Kitchen Update Inspiration hosted by my friend Pasha of Pasha is Home. Nine of us have joined together to share ideas and you are going to love these posts. Find links to all of them at the bottom of mine.

If you are coming over from my friend Robyn at Robyn's French Nest, I bet you are thinking islands right now. Have you been wanting to give yours an update? I'm sure you found lots of ideas in Robyn's wonderful post!
Now welcome to our lakeside log cabin home.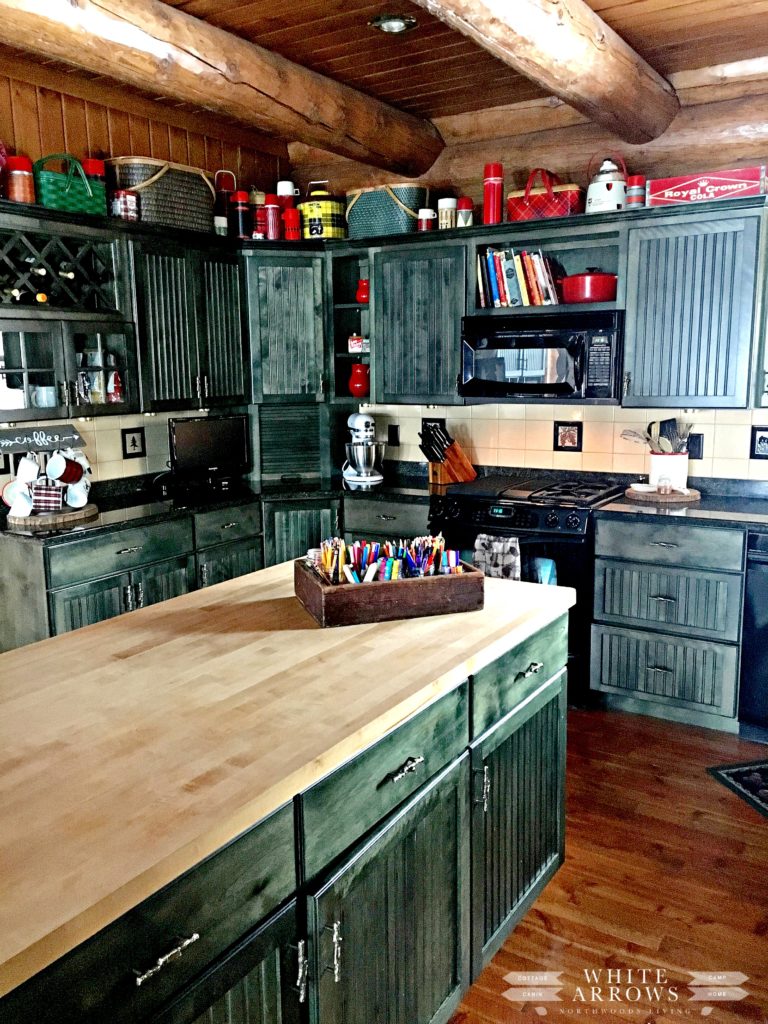 I'm sharing updates to a part of my kitchen that I consider essential-the coffee bar or coffee station.
Are you a coffee drinker or do you prefer tea? What is your favorite way to take your warm drink?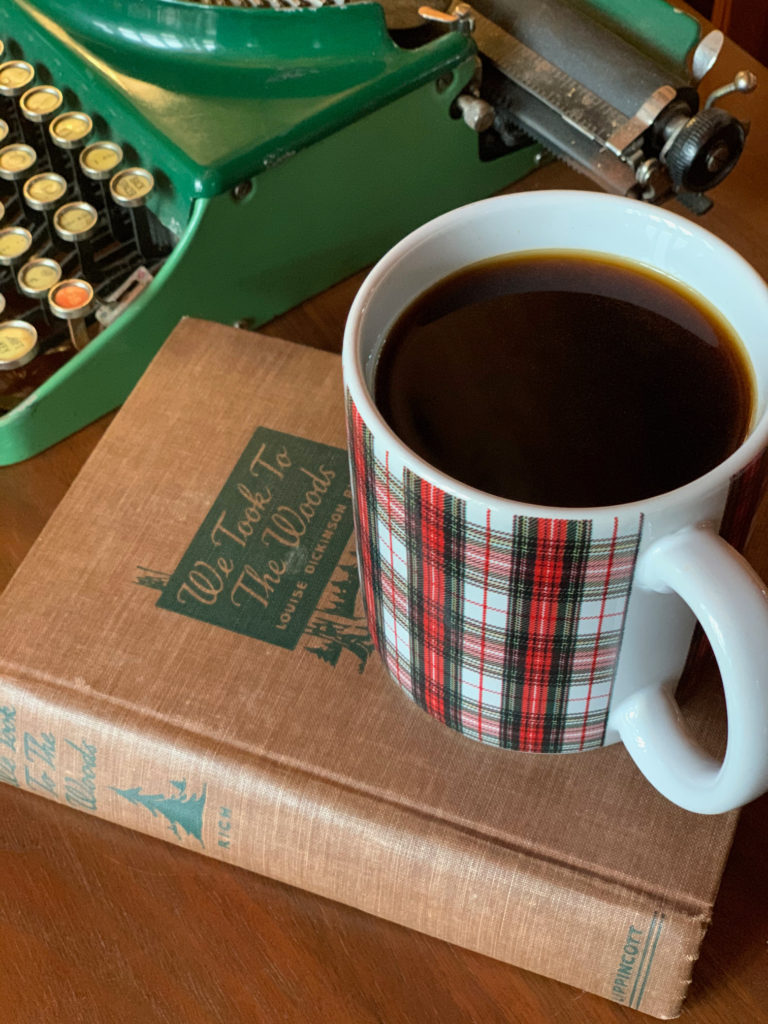 Do you "need" coffee in the mornings?
I love having coffee in the mornings, but it's because I enjoy the smell, taste and comfort of it. I drink decaf coffee and I take it black.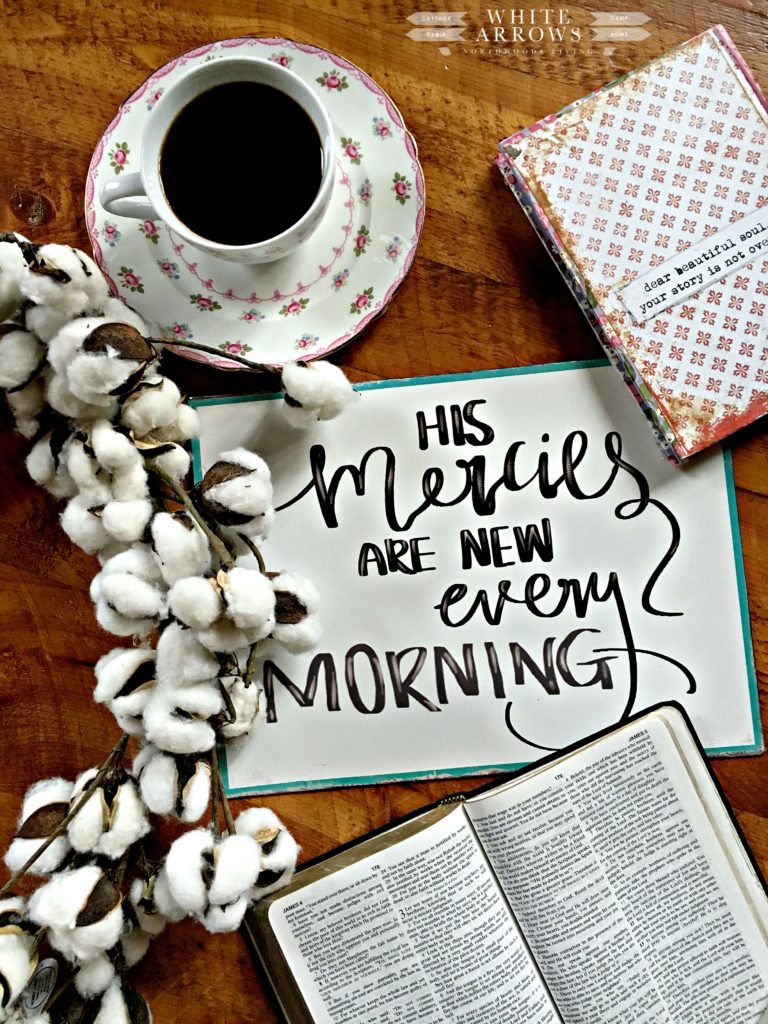 A few years ago I switched to decaf. For several months my eyes had been aching. I went to the eye doctor and an eye specialist thinking that it was due to my age and time spent reading and on the computer. I thought my eyes were probably tired and I would need to start wearing readers. But they found nothing wrong.
One day I thought, maybe it has something to do with caffeine. I don't drink sodas and don't have a lot of coffee, but still thought maybe that could be it. A few days after switching to decaf my symptoms went away. It's been one of the easiest health switches I've ever made. There are so many great options for decaf coffees that are still bold and rich in flavor so I have never felt like I was missing anything.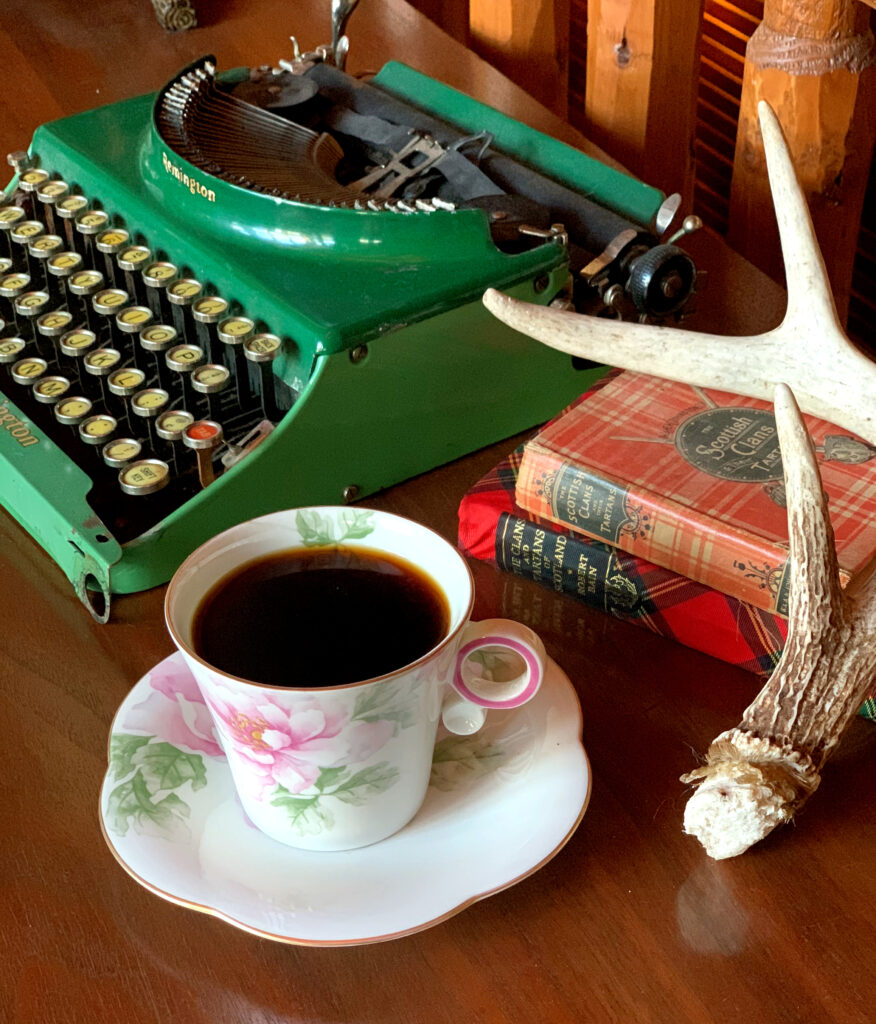 I love having a spot right when I come in the kitchen where I can make a cup of coffee each morning. It's such a cozy way to start the day!
It's great to have it self serve too so guests know right where to find everything and make their coffee or tea just how they like it. Nothing is more welcoming than feeling at home when you are guest and able to know things are set out and ready for you.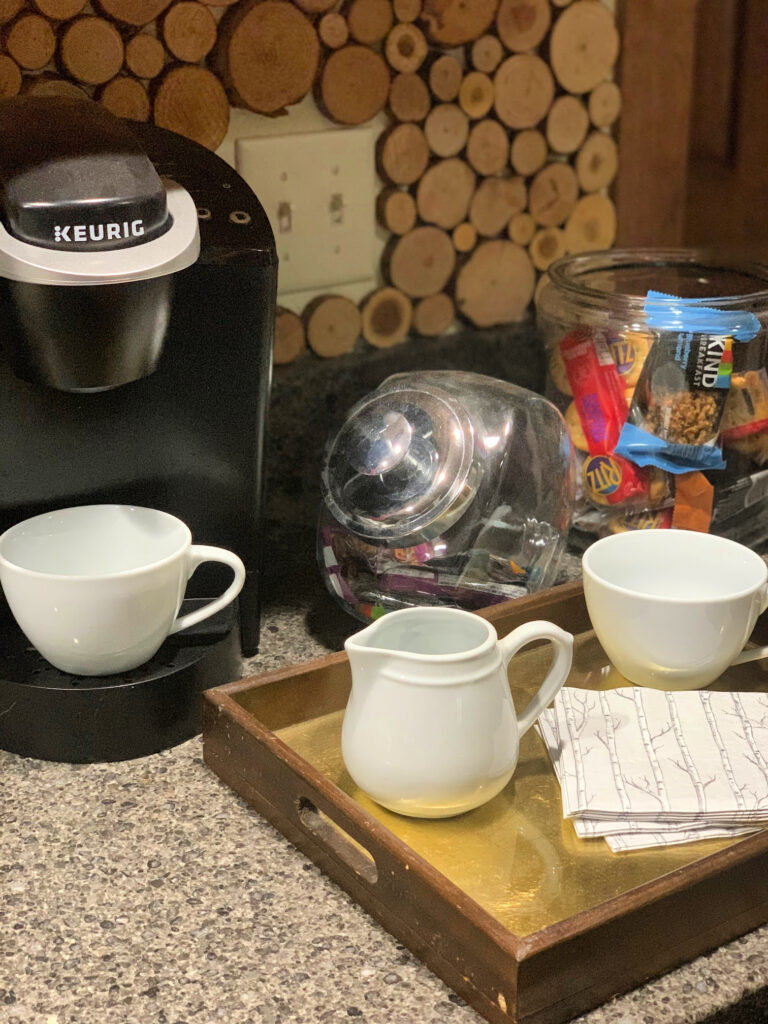 My kids love to fix something special at the coffee bar too. They have a special tea that my friend Diana's mom makes for them. My daughter loves to make some in a travel mug to take along to high school in the morning. Sometimes she'll fix one to take to her desk to do her homework.
Hot chocolate is always available too. As the days get cooler it will be in high demand.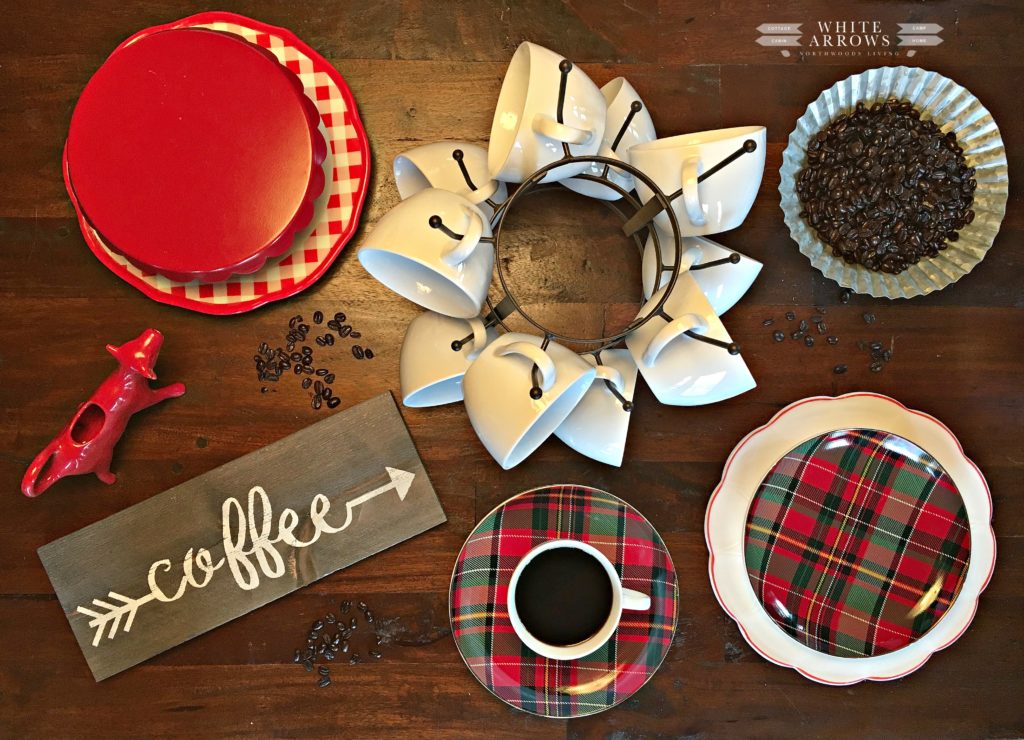 Essential Items For the Coffee Bar
Fun Extras For the Coffee Bar
I love to always have To Go Mugs available so they are ready for us to make a cup for work or for guests to take on the road when they leave.
It's easy to make things special by adding some selection on special occasions with flavored creamers, syrups and drizzles.

You can also keep your coffee station simple by just having a pot of coffee ready in the mornings, mugs where they are easy to reach and a pretty cream and sugar container.
Next up you are headed over to Pasha is Home. You will love her kitchen updates. They make a huge difference and I am so inspired!
Take the Tour
Inspiration for Kitchen Updates

How to Update a Kitchen with Cherry Cabinets // Simply 2 Moms
7 Custom Kitchen Island Ideas to Consider // Robyn's French Nest
Updated Coffee Bar For Cozy Mornings in the Kitchen // White Arrows Home

Kitchen Updates that Make a Huge Difference // Pasha is Home
Small Kitchen Updates to our New Construction Home // Truemans Treasures
A Beautiful Cottage Style Kitchen Makeover // Peacock Ridge Farm

How To Wallpaper A Backsplash // White Lilac Farmhouse
Designing a Tiny Cottage Kitchen // A Life Unfolding
A Tale of Two Kitchens // Dabbling and Decorating
Get the Look


FOLLOW ALONG
Instagram ~ Facebook ~ Pinterest ~ Twitter ~ YouTube ~ Tik Tok ~ Liketoknow.it