Have you ever participated in a Progressive Dinner? For several years a few other couples joined Brian and me for a "neighborhood" progressive dinner around the holidays. I have "neighborhood" in quotes because most of us here in The Northwoods of Wisconsin don't live in a traditional neighborhood.
We consider the people that live in the bay of our lake with us our neighborhood. We consider the people that live on our road our neighborhood. And we consider friends that live out our direction our neighbors too.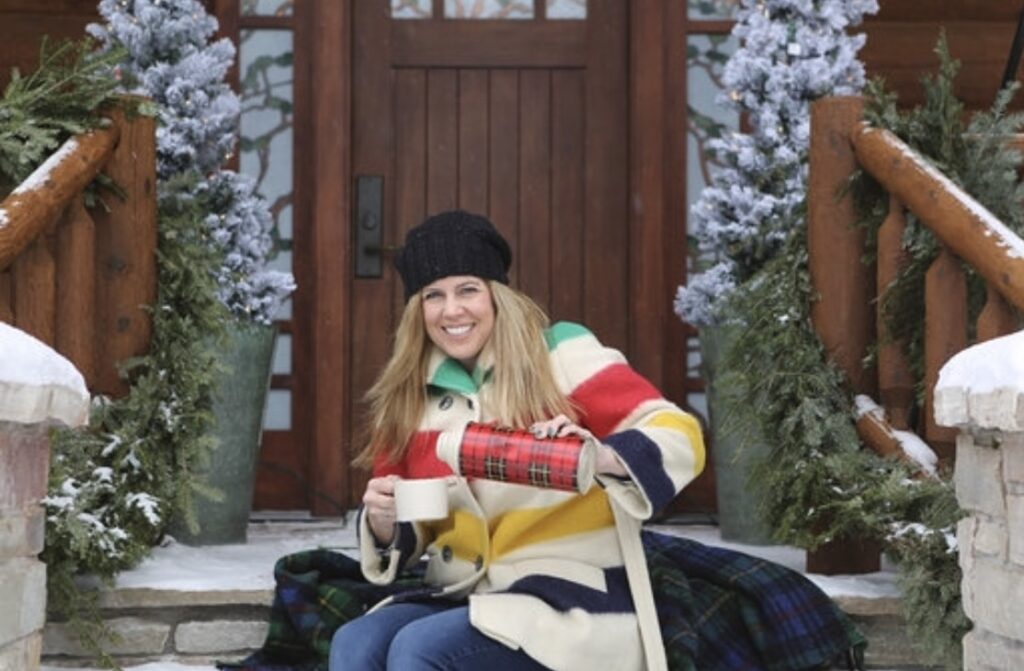 Consider these blog hops I participate in as a progressive dinner type of get together, just virtually where you take turns visiting each house on the hop.
(Affiliate links are used for your convenience. Read my full disclosure here.)
I'm excited to be sharing 3 Christmas Porches to Welcome Family and Friends This Holiday as part of The Celebrate Christmas Home Tours hosted by my friend Leen of Sand Dollar Lane.
Twenty Nine bloggers are sharing Christmas inspiration all week long, five or six bloggers each day. You can find links to all the participants at the bottom of this post.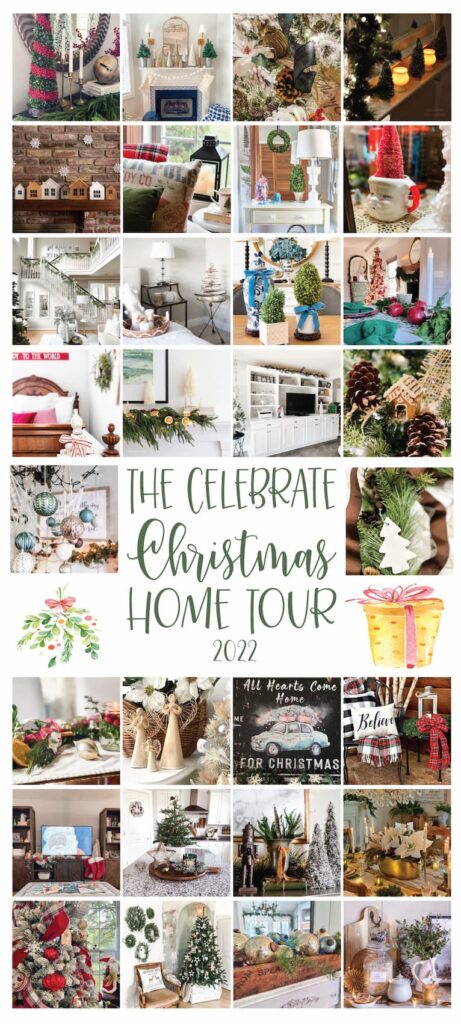 I am kicking off the Thursday posts in the series. You'll get a chance to visit several other homes from around the country today and end up at my friend Stacy's in New Jersey and her blog Bricks 'n Blooms. You will love Stacy's home and gardens! Her dining room is stunning!
Our lakeside log cabin home is wonderful in every season, but it sure is special at Christmas. With the snow falling outside and the trees of the forest flocked we are inspired to decorate indoors.
I'm also always excited to decorate my front porch to welcome family and friends. And now that three of my five kids don't live at home any more, the first sight they see of home matters even more to me.
Here are three ways I've loved decorating my porch. They are quick and easy ideas.
Porch No. One
This porch style was all about Christmas tradition. The colors I used were the traditional red, greens and whites.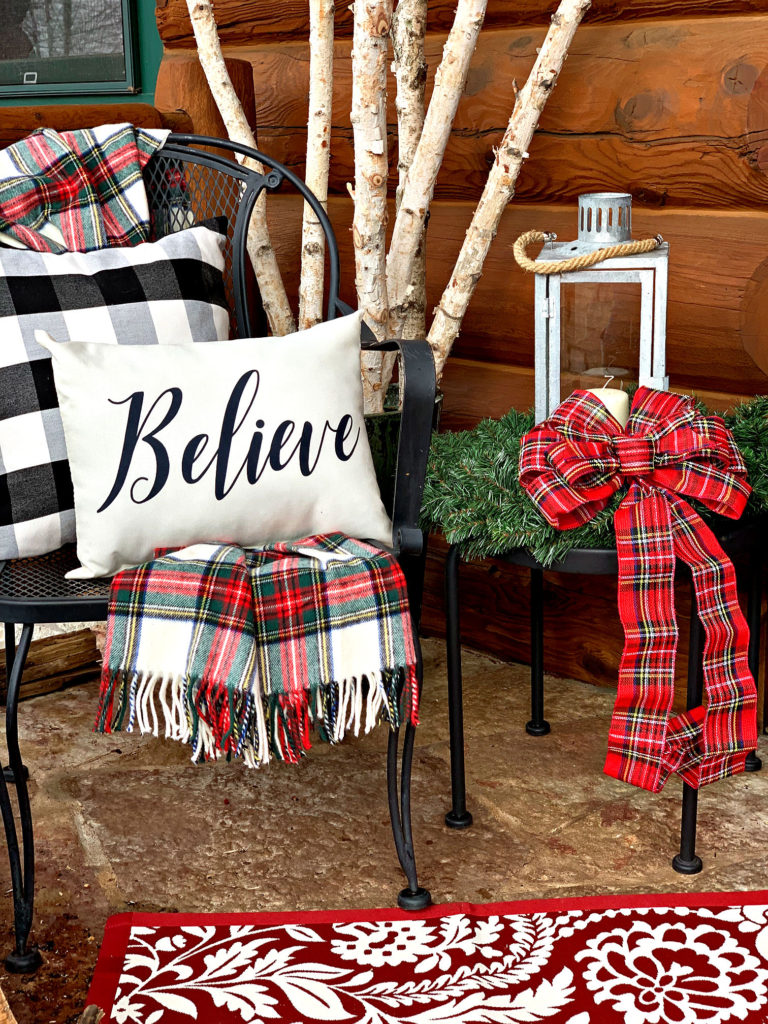 I used nostalgic pieces like an antique sled and a jolly Santa Clause.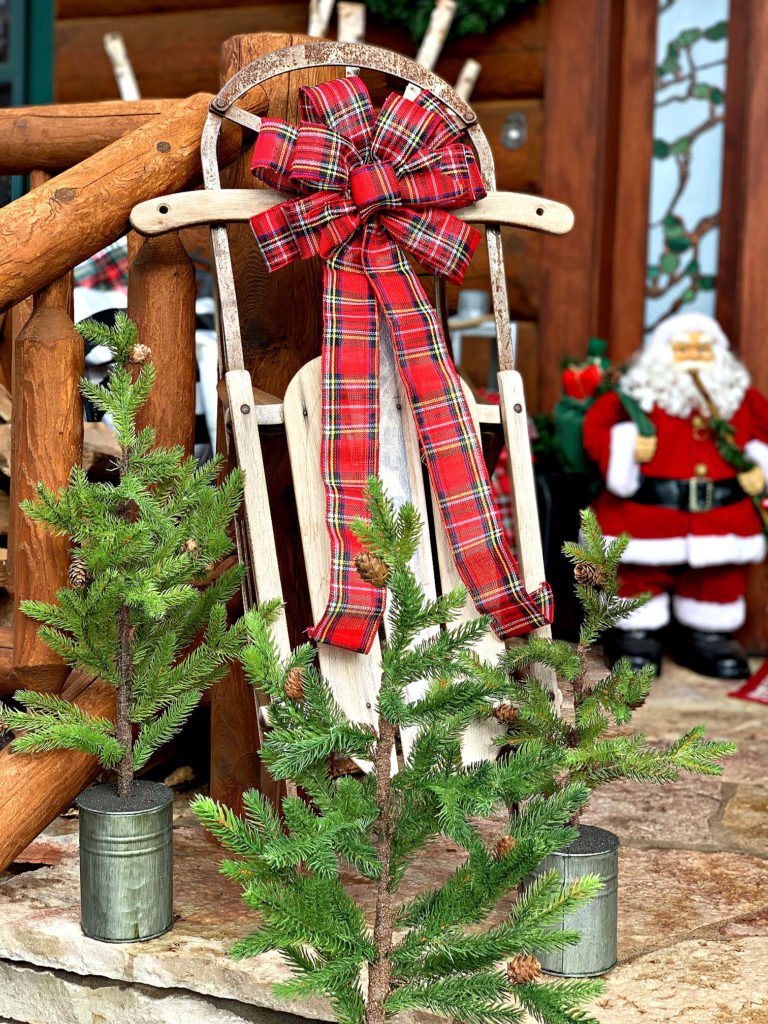 I also used lots of simple greenery, fresh and faux.
With the nights getting dark so early I love having the glow of the lantern candles in the evenings to greet everyone who comes by or family who comes home.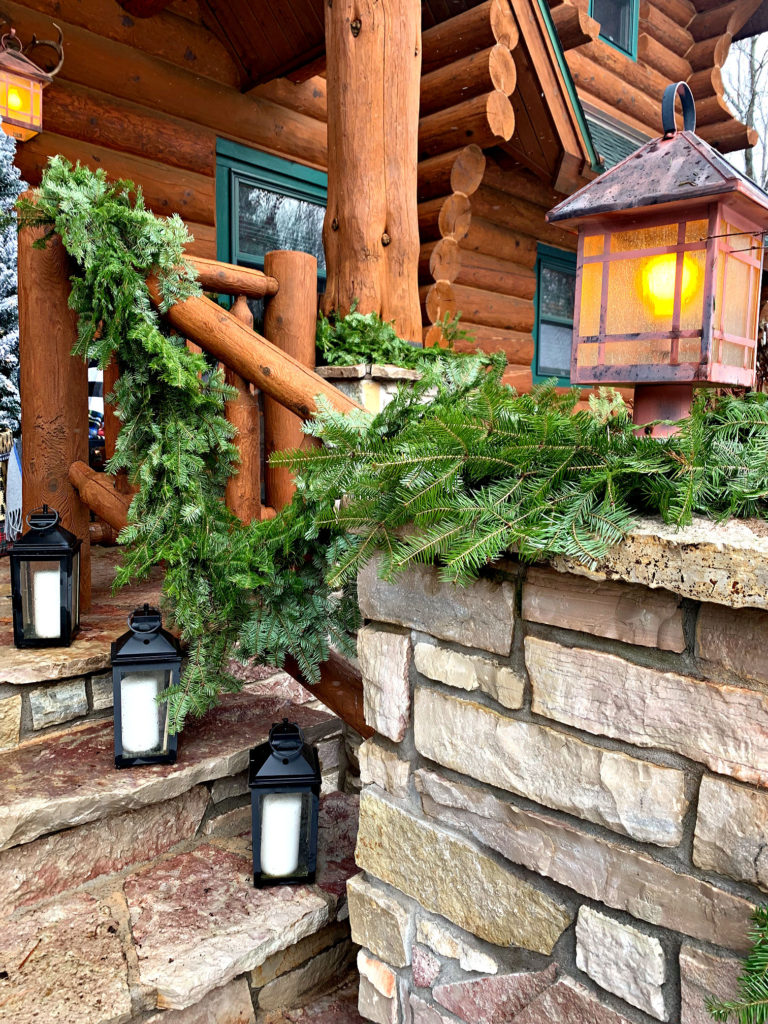 Porch No. Two
The second porch is all about giving. I usually have one thing that spring boards my ideas the whole area. For this porch styling it was the wrapped gifts held in antique favorites like my Hawkeye Basket and the North Star crate.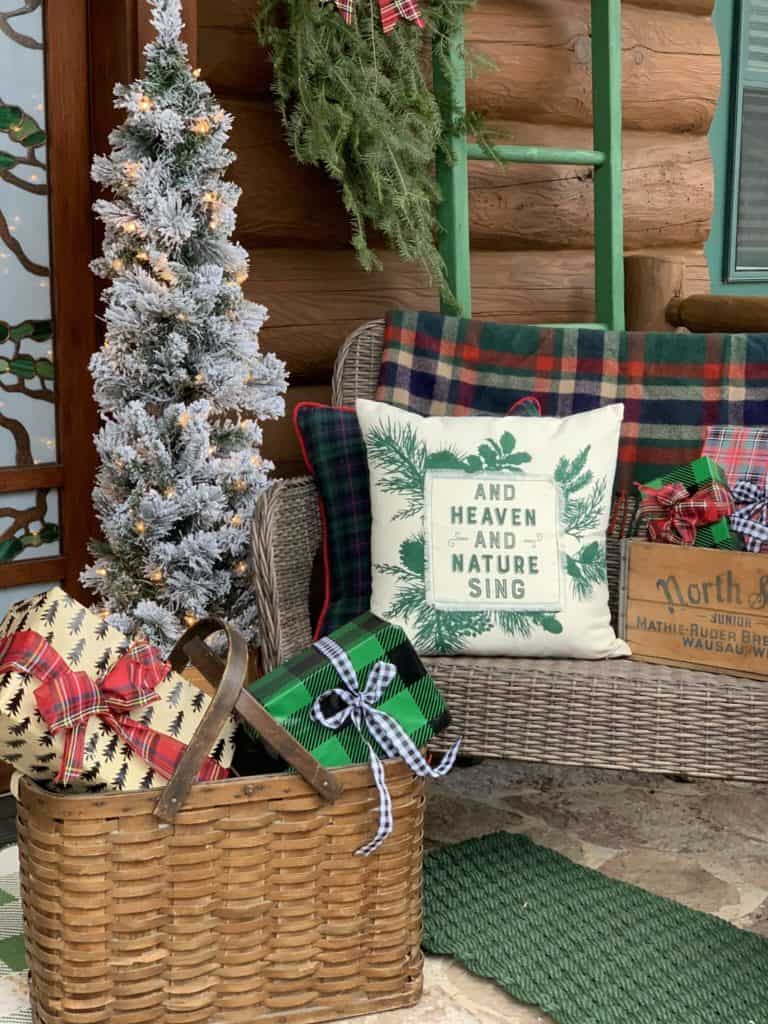 I saved some boxes during November and then at the beginning of December I wrapped them to add to the porch decor.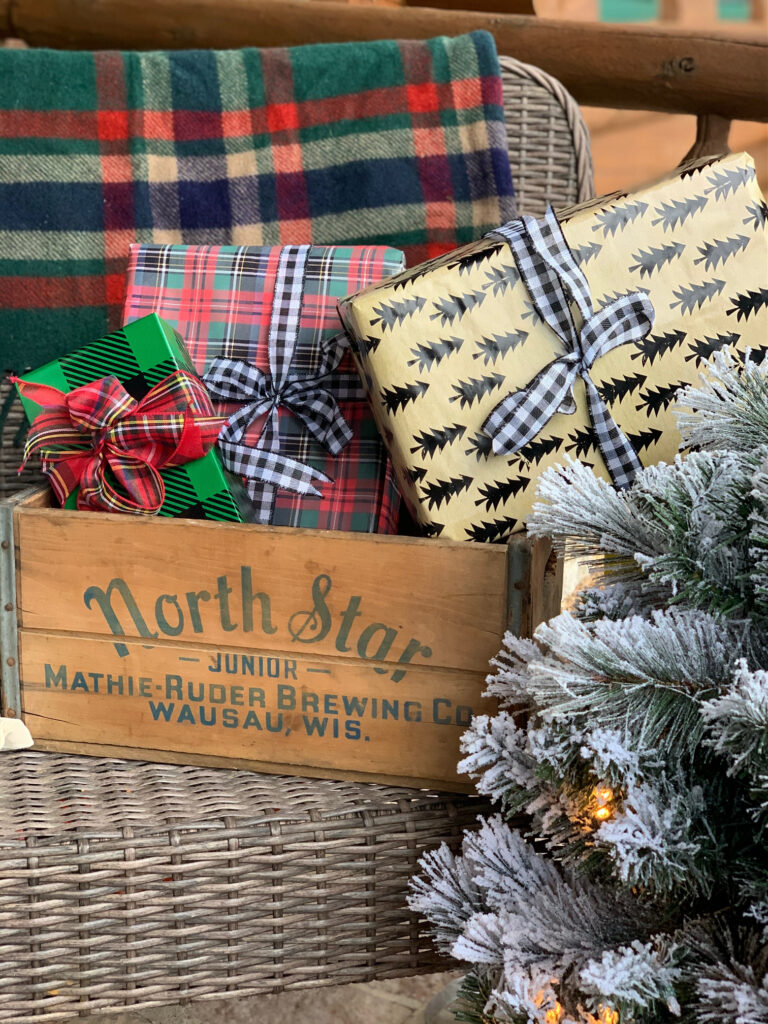 Porch No. Three
A few years ago I got the honor of decorating a house for a Holiday tour of homes. It was so much fun! I got to do the whole house (including the porch) and then welcome people in as they came to tour.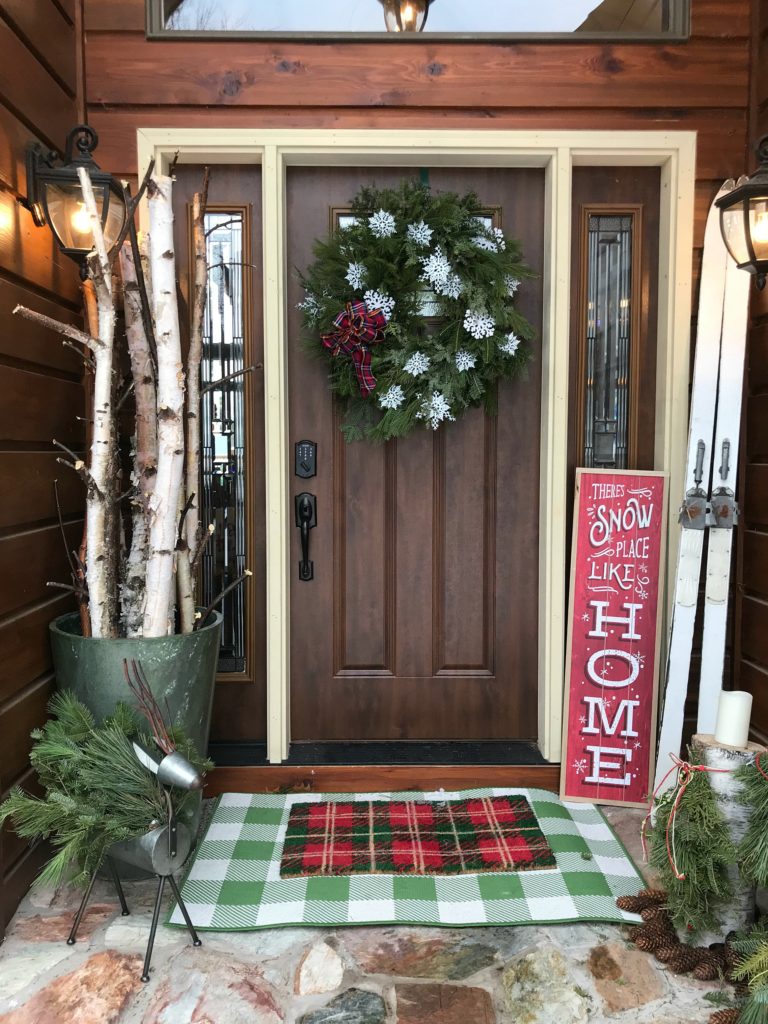 Even Christmas decor can fit in well during the Holidays. Pillows with red anchors on them become instantly festive when added to a seating area.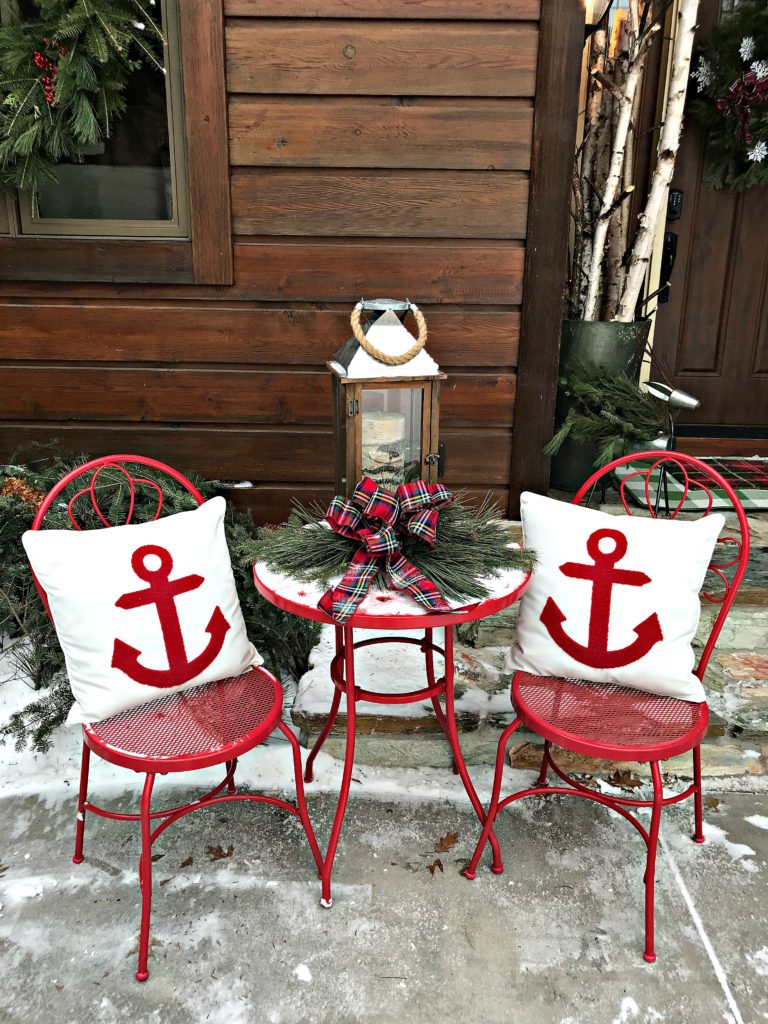 I kept the wreath simple with just the addition of some snowflakes and a small plaid bow.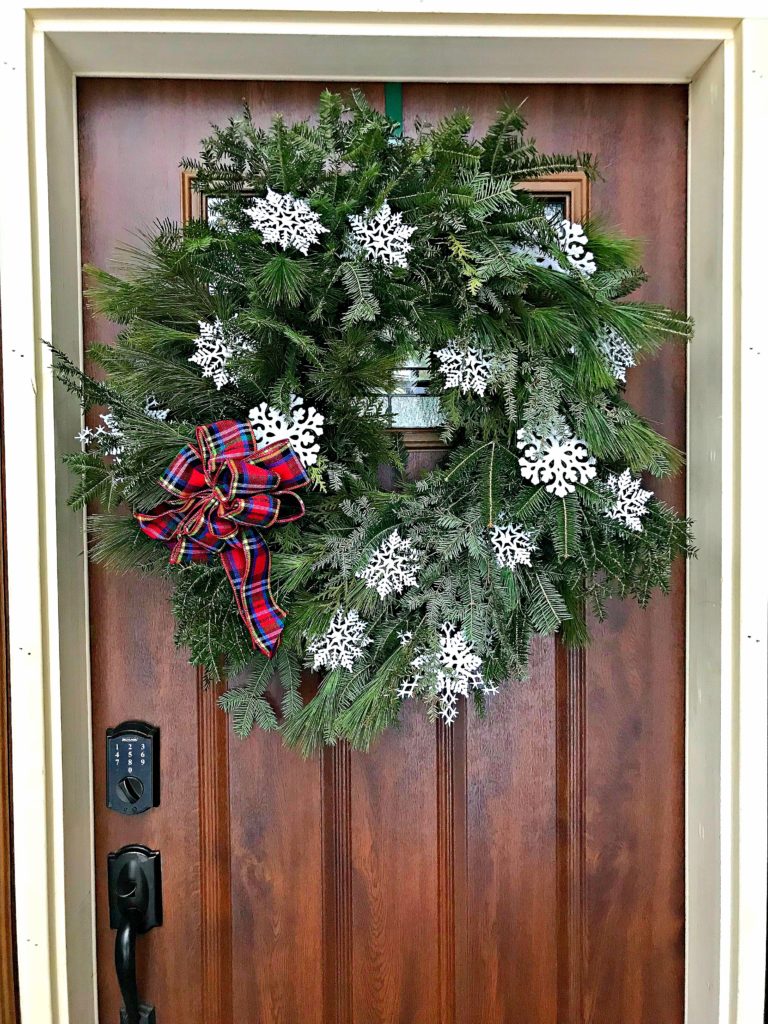 Favorite Elements
A few of my favorite elements I always love to include are birch branches and berries, plaids and nods to our area like the white arrow sign.

We sell the vintage styled white arrows in my shop and you can customize them to say your town, lake, family name, cabin name. Anything you want. Have them point left or right.
The white arrow signs point your way throughout The Northwoods.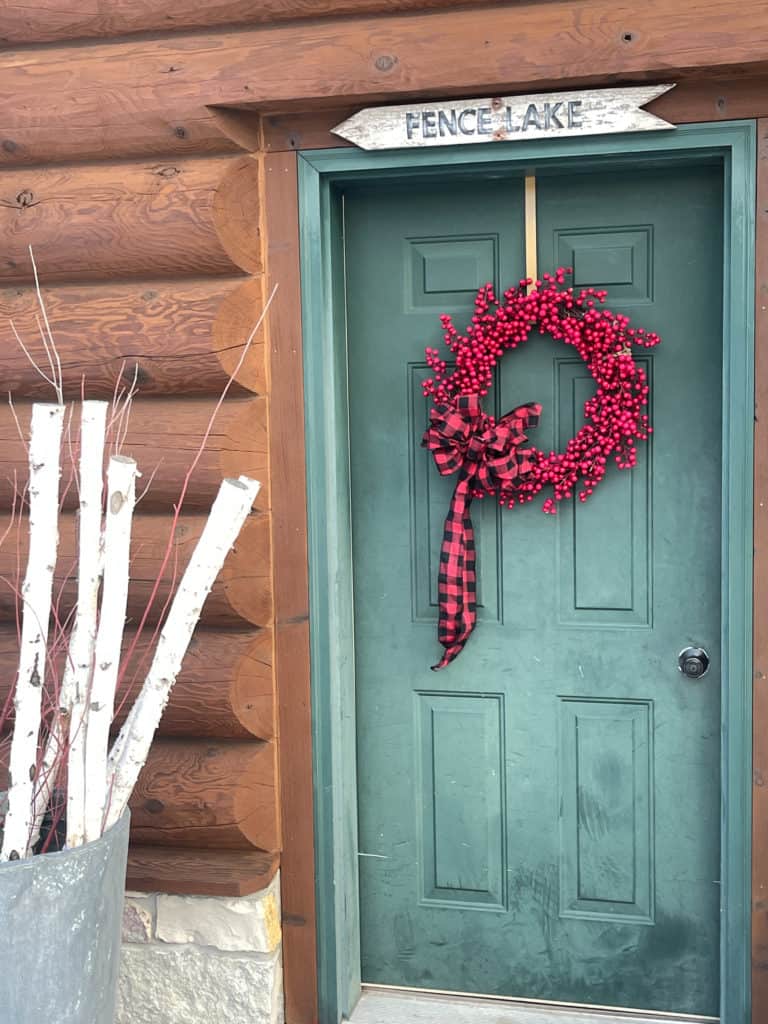 Vintage thermos in red plaids or the Holiday greens are one of my favorite things to incorporate into my decor. They are fun to keep an eye out for.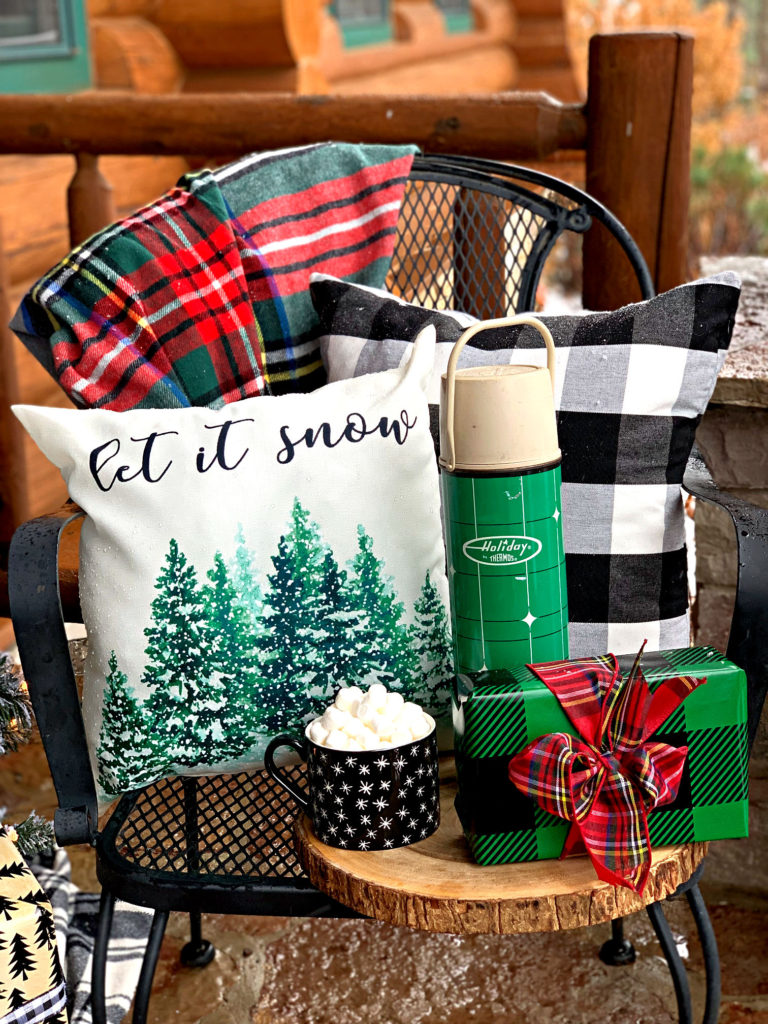 Next up you are headed over to Aratari at Home. I love the inspiring way she decorated her bookshelf for Christmas.
Thanks so much for visiting! I hope you find a lot of great ideas from my friends listed below and come back to visit me often! Enjoy the exciting beginning of the Season!
Take The Tour


Sand Dollar Lane  //  2 Bees in a Pod  //  At Home with Kristy  //  Exquisitely Unremarkable
  Our Crafty Mom  //  Hearth and Vine


Zucchini Sisters  //  Postcards from the Ridge  //  Southern Crush at Home  //  Amy Sadler Designs
 Pasha is Home  //  Simple Nature Decor


Worthing Court  //  The Tattered Pew  //  Cottage in the Mitten  //  DIY Beautify
Thistle Key Lane  //  At Lane and High  //  Feet Under My Table


White Arrows Home // Aratari at Home // White Lilac Farmhouse
Cottage on Bunker Hill // Bricks 'n Blooms


My Family Thyme  //  Southern Home and Hospitality  //  Songbird //  Shiplap and Shells
Chalking Up Success  //  Pure Happy Home
FOLLOW ALONG


Instagram ~ Facebook ~ Pinterest ~ Twitter ~ YouTube ~ Tik Tok ~ Liketoknow.it