7 Thanksgiving Table Place Setting Options with inspiration to bring your table together in a special way.
Setting a special table is something I have always loved to do. When I was growing up that was my favorite way to help. If my mom was entertaining, I'd be out helping get all the table styling done.
I'm excited to be sharing as part of A Thanksgiving Blog Hop hosted by Carol of Bluesky at Home.
(Affiliate links are used for your convenience. Read my full disclosure here.)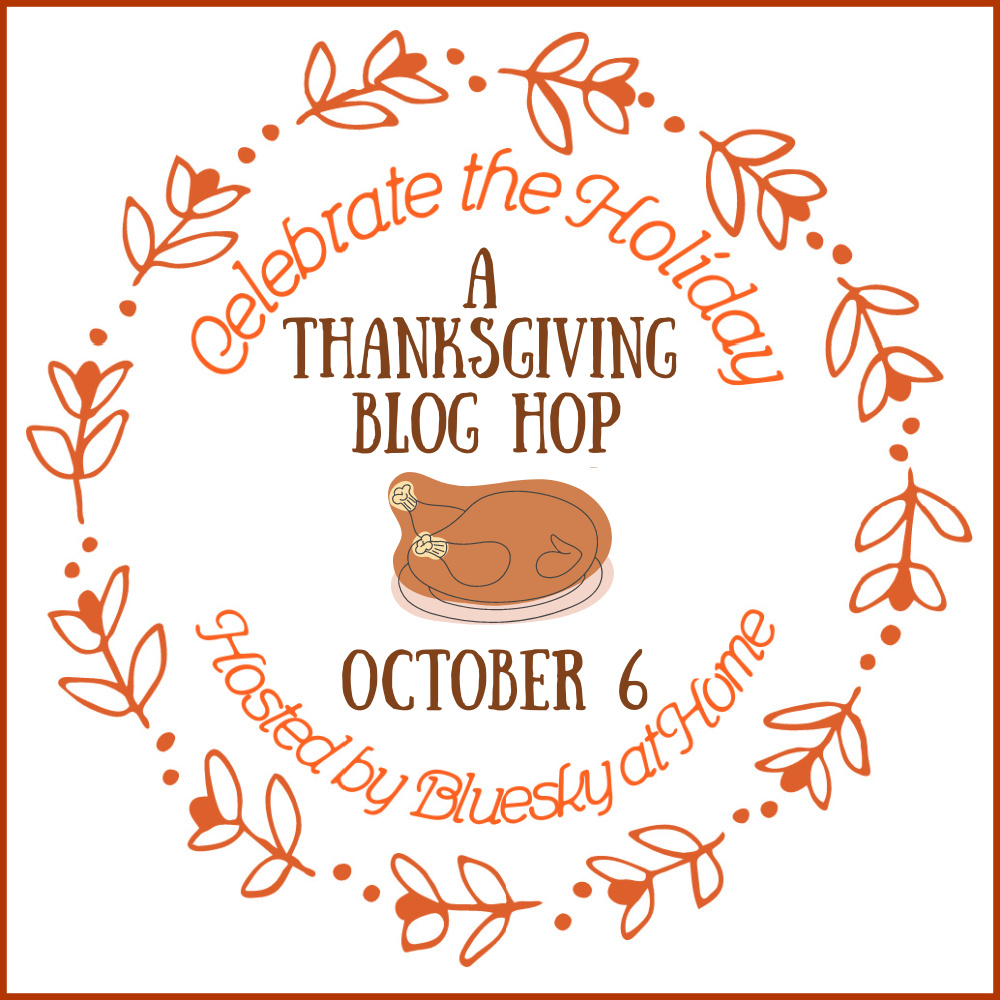 Carol has pulled together 11 bloggers to share ideas for Thanksgiving to help Celebrate the Holiday.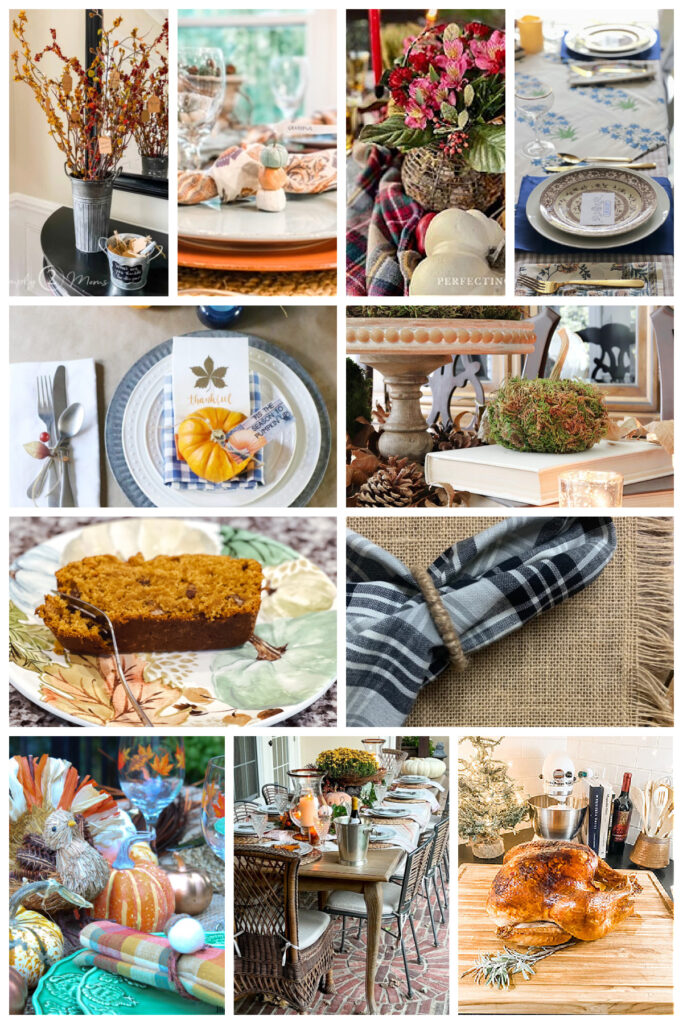 If you are coming over from White Lilac Farmhouse, welcome! I can't wait to try her pumpkin bread recipe! Pumpkin bread is my favorite, not only is it delicious, but it makes the house smell amazing!
In the Northwoods of Wisconsin where I live Fall is a beautiful time of year. The trees turn every color of majestic red, orange and yellow making the drives down our forest lined roads spectacular.
Docks are coming out of our lakes and the cranberry farms are ready for harvest.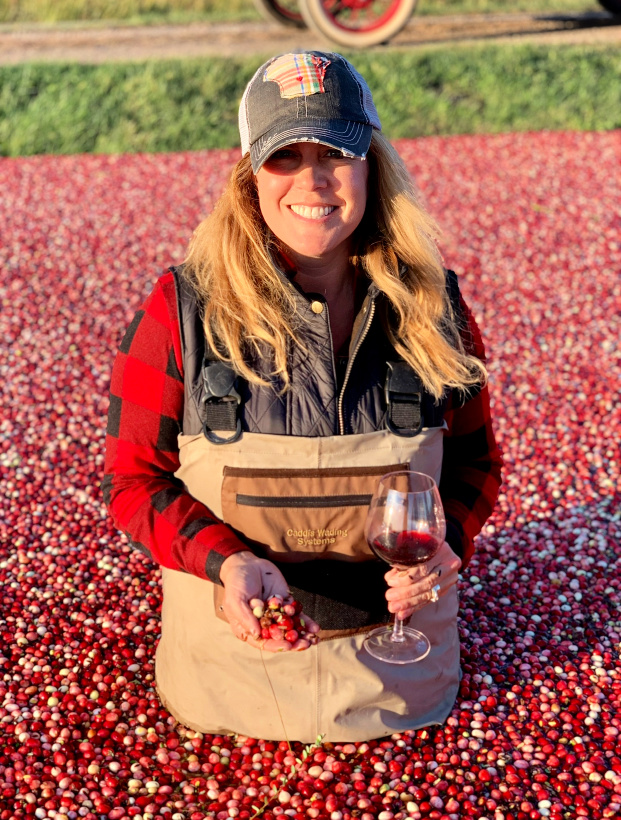 This time of year we are shifting to eating indoors for all our meals and planning ahead for Thanksgiving to come.
I'm in a new stage of life with three of my five kids now out of the house. Two working and one in college. Thanksgiving is starting to look different as I adjust to the possibility of not having them all home for the holiday anymore. It's been so encouraging to talk to so many moms already in this next phase and hear their mom wisdom.
One of my favorite things to do as a family is gather around the table so I love taking time to make it beautiful and special and I'm already thinking about how I want to set my table for Fall and for Thanksgiving. It's a simple way to show love to my family as we gather.
Today I'm sharing 7 Thanksgiving Dinner Place Setting Options that I may use throughout the week and on the day.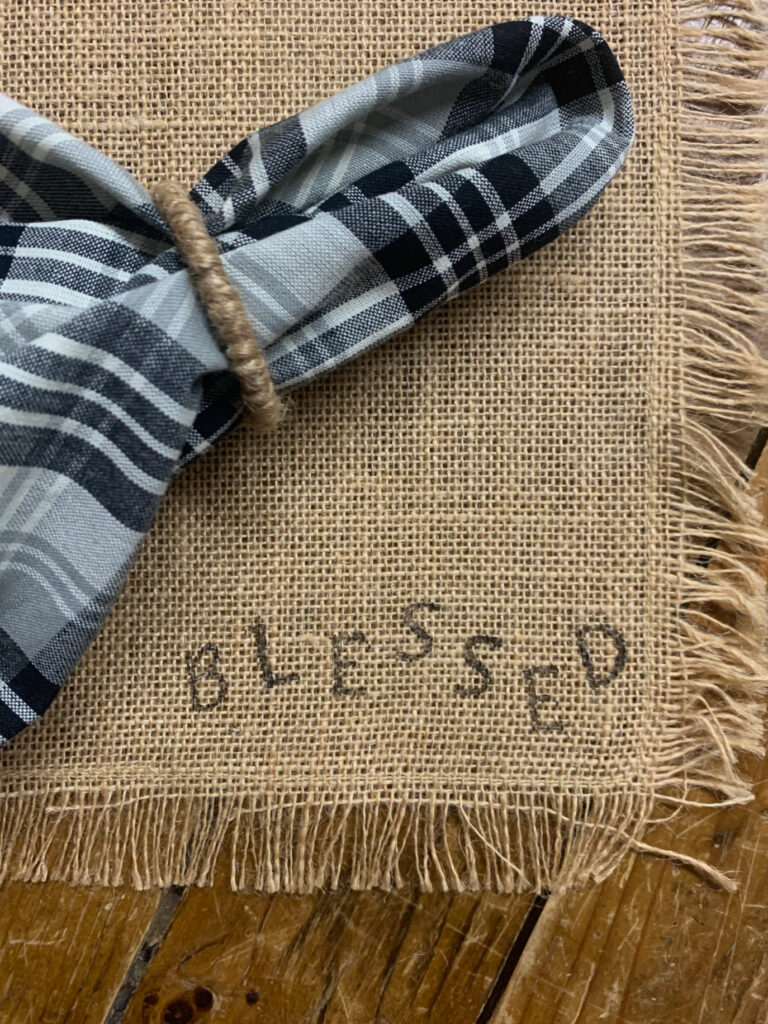 I've gathered together some elements of the pacesetting to see how they look together:
placemats
chargers
plates
napkins
glassware
The next step will be deciding on silverware, if I want to use a table cloth and the accessories, like gravy boats and cranberry relish bowls. I'll also work on ideas for name cards to place at each person's spot.
Here are seven mix and match place settings as I begin this first stage of planning.
Option 1
What I love about this one is the styling of the napkin knotted over the plates. The napkin is actually a dish towel. I often buy dish towels to use as napkins. Their size is good for a big meal like dinner and there are often patterns that I love.
I also love the galvanized charger and the bread plate. The bread plate is a restaurant ware pattern I fell in love with because it reminds me of Hudson Bay stripes.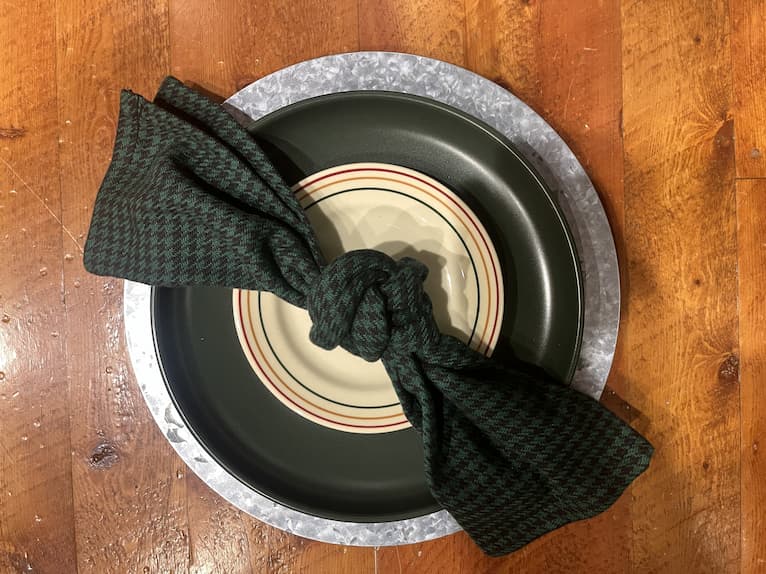 Hudson Bay striped blankets and patterns are something I love using throughout our rustic cabin.
Shop Favorite Chargers


Option 2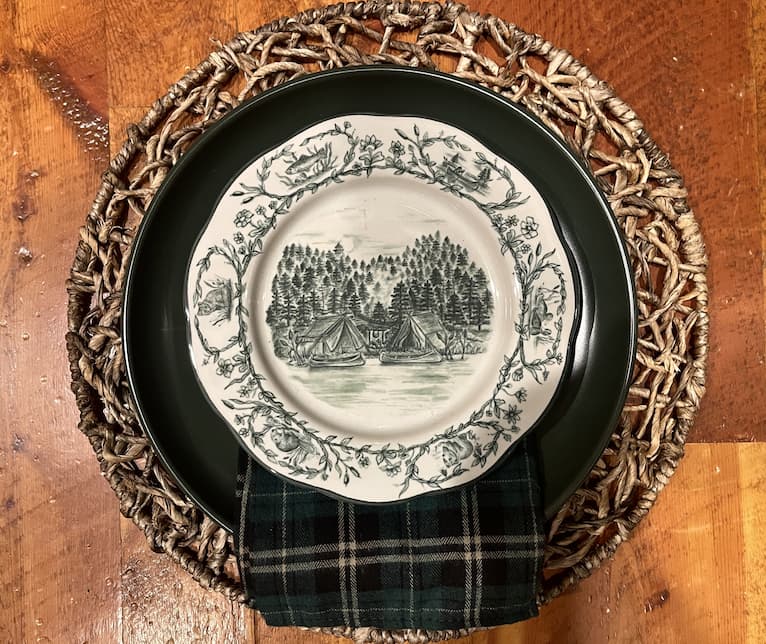 One of the things I'm dreaming up is a storage space for all my dishes, a dish pantry, where I can have all my dishes on shelves and see them clearly. This will make it easy to remember what I have and "shop" my inventory.
I have two areas of my house that I'm thinking of converting to this use. One would be my front hall walk in closet across from the kitchen. Right now it holds our cleaning supplies and my big appliances I don't use all the time like my crock pot and air fryer.
If I go with this option I would need to add more shelving and move the cleaning supplies somewhere else. The nice part is it would be close to the kitchen and dining room.
Option 3
What I love about this option is the amber goblet and styling the napkin popping out of it. The fun thing about mixing and matching and playing around with it ahead of time, is I could use this glassware/napkin option with any of the place settings.
Everything works well together in color and patterns so can all be interchanged.
When I set the table I will use a goblet like this one for water and then have wine glasses at each grown ups' place setting too.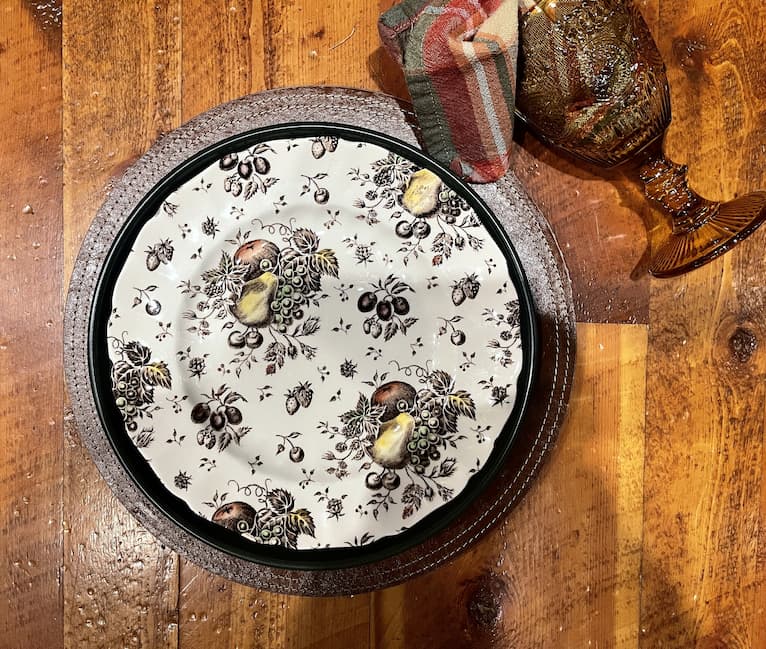 The second option for my dish pantry is my laundry room. That's where I store most of it now, on the counter and in the cupboards. But if I go with this space I would want to take out the cupboards and put in shelving.
Of the two options, this seems like a longer, harder and more expensive option. Keep following along to see where this idea takes me. I love having a vision in my head and then seeing how it comes to life!
Want to get daily encouragement? SUBSCRIBE HERE so you don't miss any posts!
Shop Favorite Napkins


Option 4
In this one I use a new set of placemats I just got from Hobby Lobby. I love the plaid! I've been using it on our little breakfast table so far this season.
I'm in love with this dish stack option too. It mixes antique dishes with newer ones. Another dose of plaid in the middle plate from some dishes I got a Pier One a few years ago.
Copper is another thing I love to add in Fall so using my copper mule glasses for water at the table is a fun idea. I also found mini mule mugs at Hobby Lobby, but have seen them at my local Walmart too. Each pacesetting could have its own cranberry relish in the mini mule glasses. I found the mini wooden spoons at Hobby Lobby.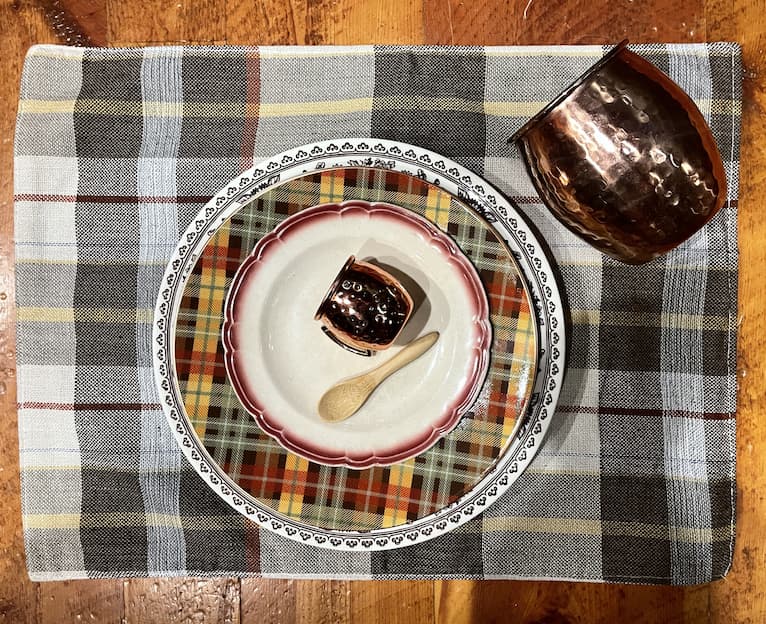 Shop Favorite Placemats


Option 5
Collecting dishes is one of my favorite hobbies, hence the need for a dish pantry! I'm drawn to the different patterns and colors. Sometimes I will just buy the dinner plates or just the dessert plates. Sometimes I'll just buy one plate and use it mix and matched around the table.
It's also fun to have individual dishes to use as platters. You can make a quick cake stand by turning a goblet upside down and setting a plate on top.
I also love the napkin in this option. Often if I don't have a napkin I'm wanting to use at the table I will simply buy fabric I love and make my own napkins. I've also used bandanas before as well.

Option 6
The way the orange napkin looks with the bark napkin ring is my favorite napkin option so far. and I love the idea of using my mini restaurant ware pitcher collection to give each pacesetting it's own gravy dispenser.
Antique goblets are another beautiful way to mix new and old onto the table too. I love the cranberry color of this pattern.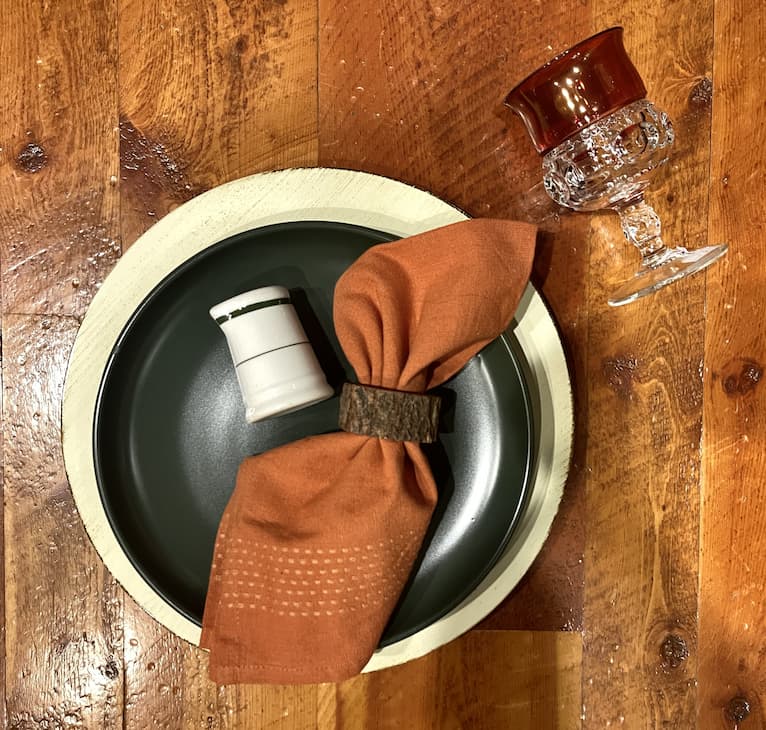 Option 7
My favorite part of this pacesetting is the little breadboard. It would be the perfect way to start Thanksgiving settled at the table before grabbing their turkey and other Thanksgiving staples off the buffet.
The mini board could be used as a charcuterie with some cheese and crackers. It could be used for the new butter board trend. It could even be used as their name card.
This place setting is another one where I used a dish towel as a napkin layering it on top of the plate. My antique place is a perfect match for it's Fall colors of browns, greens and yellows.
The cork placemat is something I use often throughout the year on my table. I have them in several patterns and love them because, not only are they beautiful, they are easy to wipe off and clean after each meal.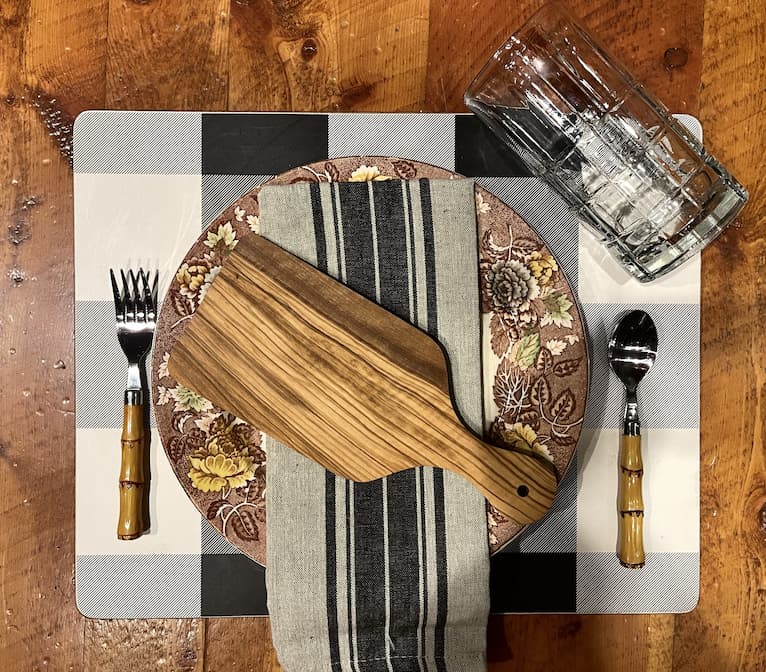 Now will be the hardest part, deciding which place setting I want to use. But the great part is, the ones I don't use for the actual Thanksgiving meal, I'll use throughout the rest of the week.
But it will all come together like one of my tables from past Thanksgivings.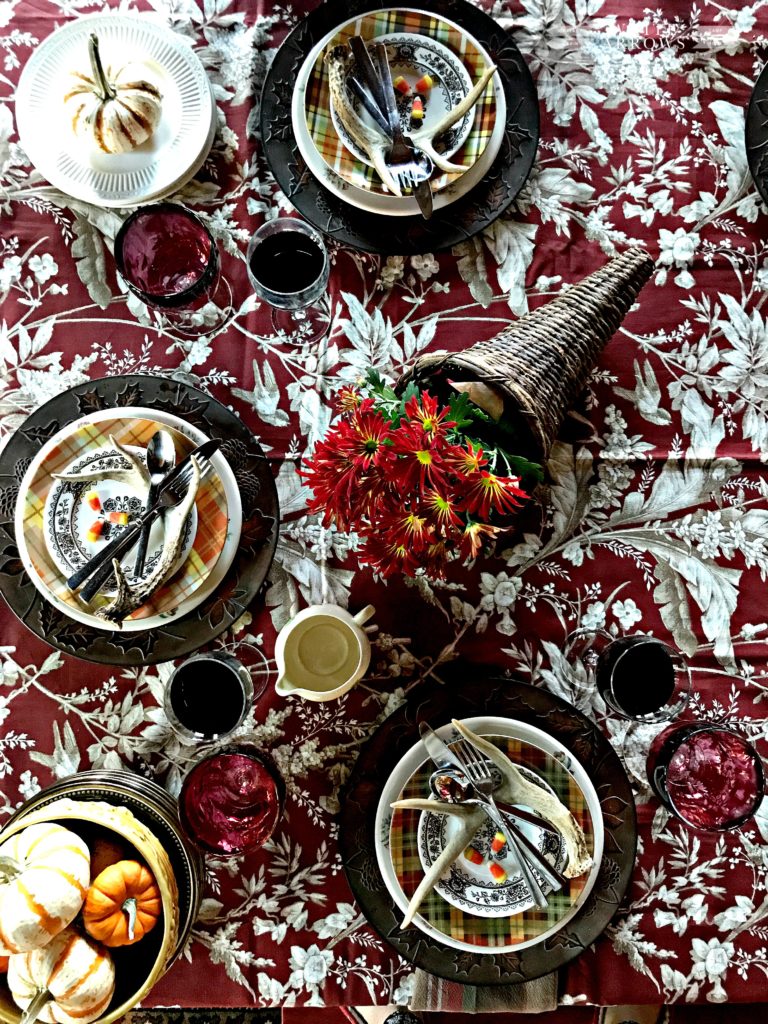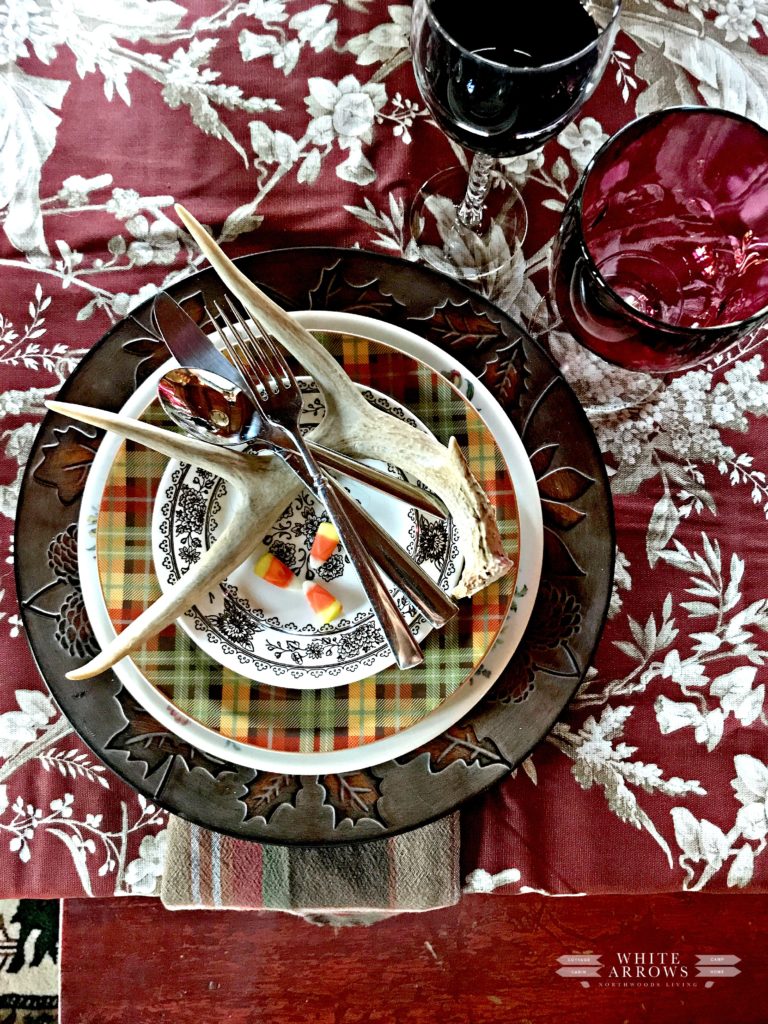 Next up you are headed over to my talented friend Michelle's blog Thistle Key Lane. She is so creative and I love her moss covered centerpiece! It's a beautiful DIY to add to a Thanksgiving table. She always inspires me!
Take the Tour
Get the Look


Thanks so much fo coming to visit! I hope you will become a regular!
FOLLOW ALONG
Instagram ~ Facebook ~ Pinterest ~ Twitter ~ YouTube ~ Tik Tok ~ Liketoknow.it