Here are 9 Easy Ways to Add Americana to your decor all year or for summer beauty all season long, Memorial Day to Labor Day.
Nothing feels more nostalgic and iconic than adding in timeless pieces, red, whites and blues and some stars and stripes for your Summer decorating. I'm sharing 9 easy ways to add Americana to your decor.
(Affiliate links are used for your convenience. Read my full disclosure here.)
My patriotic decor is joining seven other inspiring blogs for a Red, White & Blue Hop hosted by my friend Pasha of Pasha is Home. You'll find links to all the posts at the bottom of the page.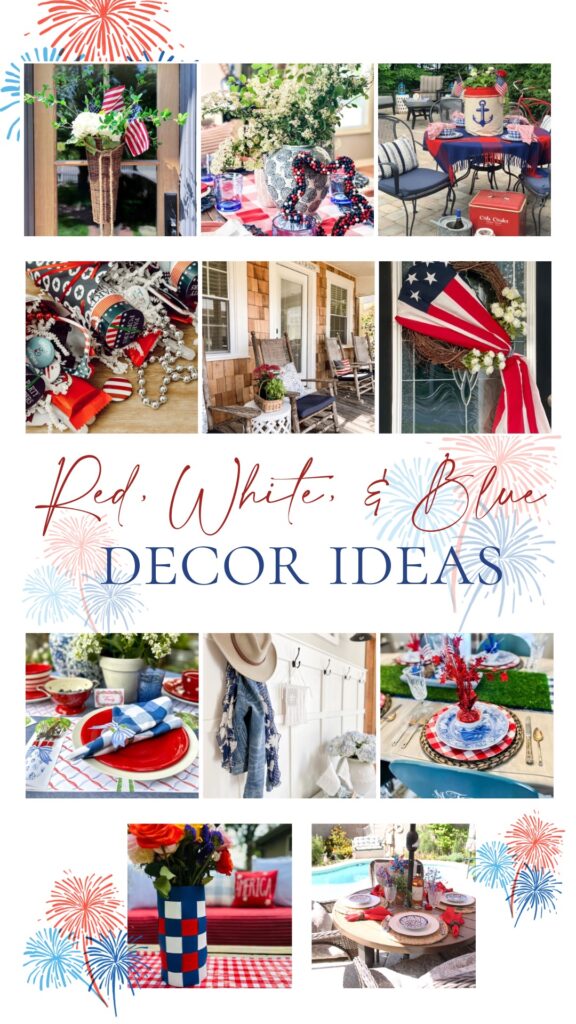 If you are coming over from my friend Kim's at Cottage in the Mitten, welcome to my Wisconsin home, Camp Paradise. Kim's my fellow Midwest girl and always an inspiration to me. Didn't you just love her patriotic table!
Camp Paradise is our lakeside log cabin nestled in the forests of The Northwoods. Our area, known as Lakeland, is a Summer tourist paradise. The little town of Minocqua we live in booms this time of year as part timers and vacationers come to their cabins, cottages and camps.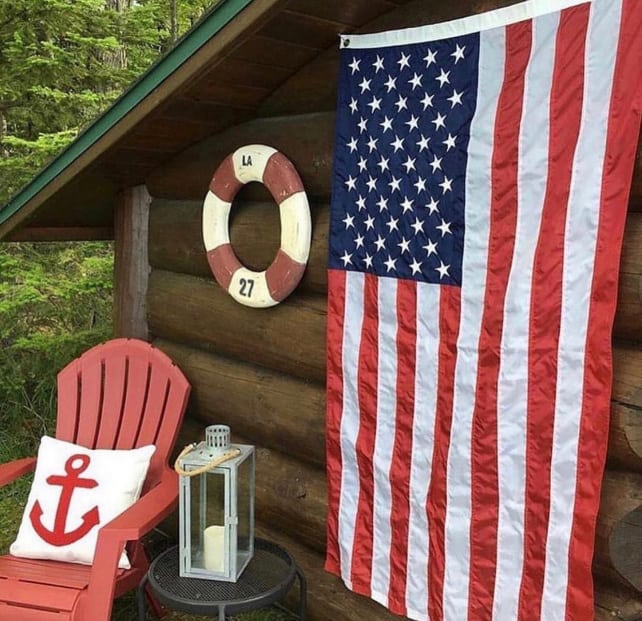 There are many kids' Summer camps in the area (think Parent Trap) where kids come for a week or two, but a great deal come for the whole Summer.
The amount of VRBOs, AirB&Bs and home rentals has skyrocketed while the charm of historic resorts is still a favorite choice for many.
I love hearing the stories of people who have had family cottages for generations and have been coming Up North since they were little. They stop in my shop and share their memories. It's one of my favorite things.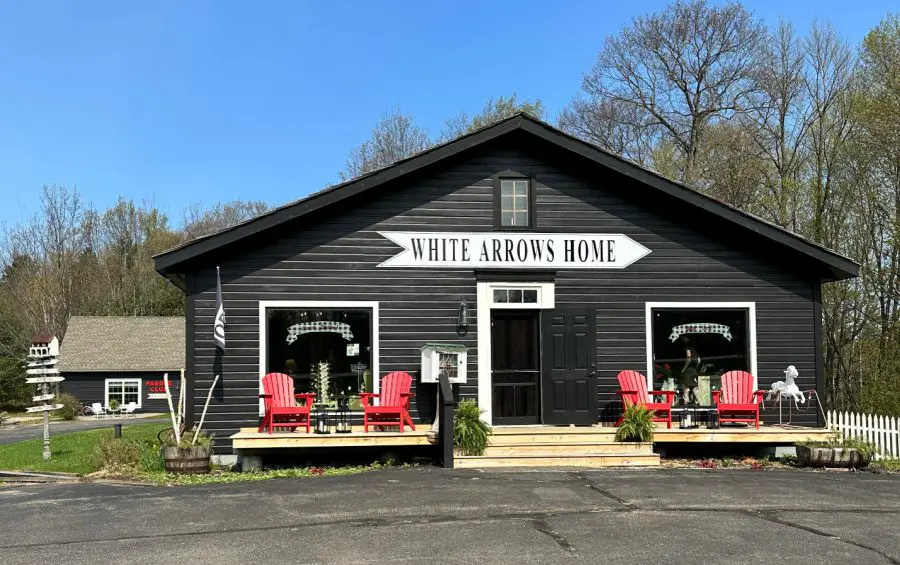 My shop, White Arrows Home, is full of antique, vintage and new home decor and accessories. Many of the things you'll see in the photos I share from our cabin are the types of items you can find there. You can come visit the brick and mortar shop or find everything online HERE.
What is Americana?
As I share my essential must haves for Americana style, it may help to hear how Americana is described.
Better Homes & Gardens says, "Americana is a decorating style long associated with rustic country charm, American flags, and plenty of red, white and blue."
Living Spaces says it is, "an embracement of American culture, a curation of the feelings and ideas that compromise its landscape."
Quilts
Adding quilts into your decor is a great way to add Americana style. Growing up my mom had several antique ones hanging on the walls of our Dallas farmhouse. They are are a special item to begin collecting or maybe you have some made by a relative and passed down to you.
They are beautiful
folded and stacked on a shelf
for summer bedding
laid over the arm of a chair
or as a table cloth
I love using this blue and white quilt pattern throw as a table cloth on our back patio.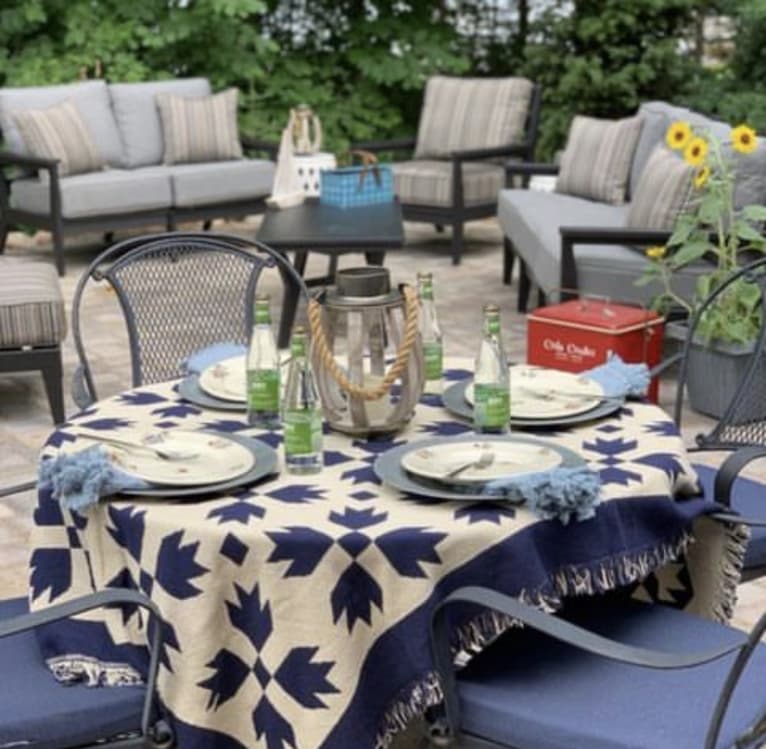 Flag
Adding a flag anywhere ups the patriotic level in your home. This big, old flag hangs proudly in our sunporch dining room.
Small flags I picked up in a pack from the grocery store are the perfect arrangement in old pop bottles.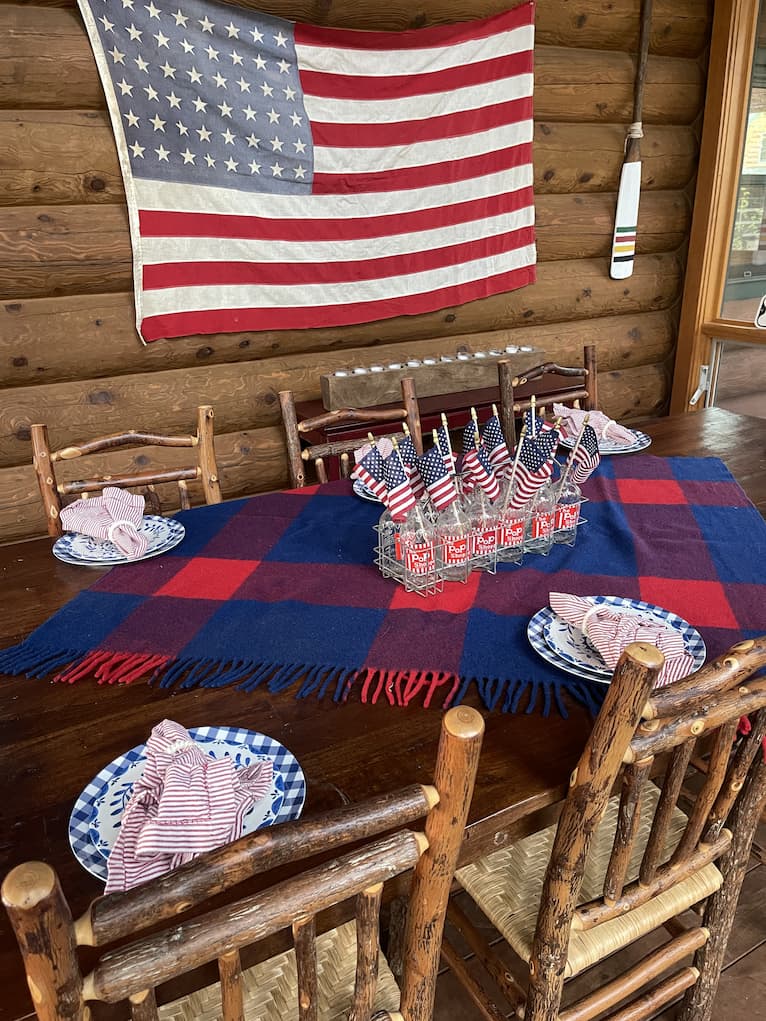 SUBSCRIBE HERE so you don't miss any inspiration!
Nautical
Nautical decor is the perfect nod to Americana and works so well in our lake home. Anything with anchors, rope, boating or nautical flags works beautifully.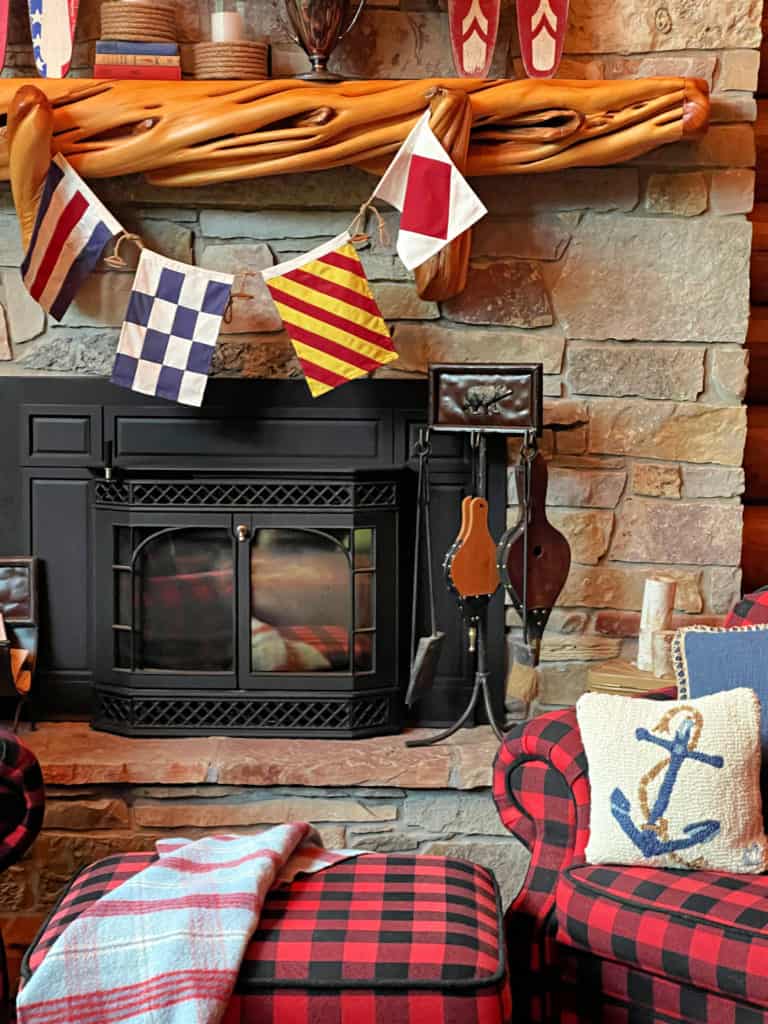 S'Mores
So many Summer memories are collected around the campfire eating s'mores, singing and telling stories. Watching the crackling fire, looking up at the stars and listening to the night sounds make for a peaceful setting for this end of the day ritual.
I keep red, white and blue old camp blankets on hand for cool Wisconsin Northwoods nights.
Pieces from my Campfire marshmallow tin and lantern collection find their way out to help with the entertaining.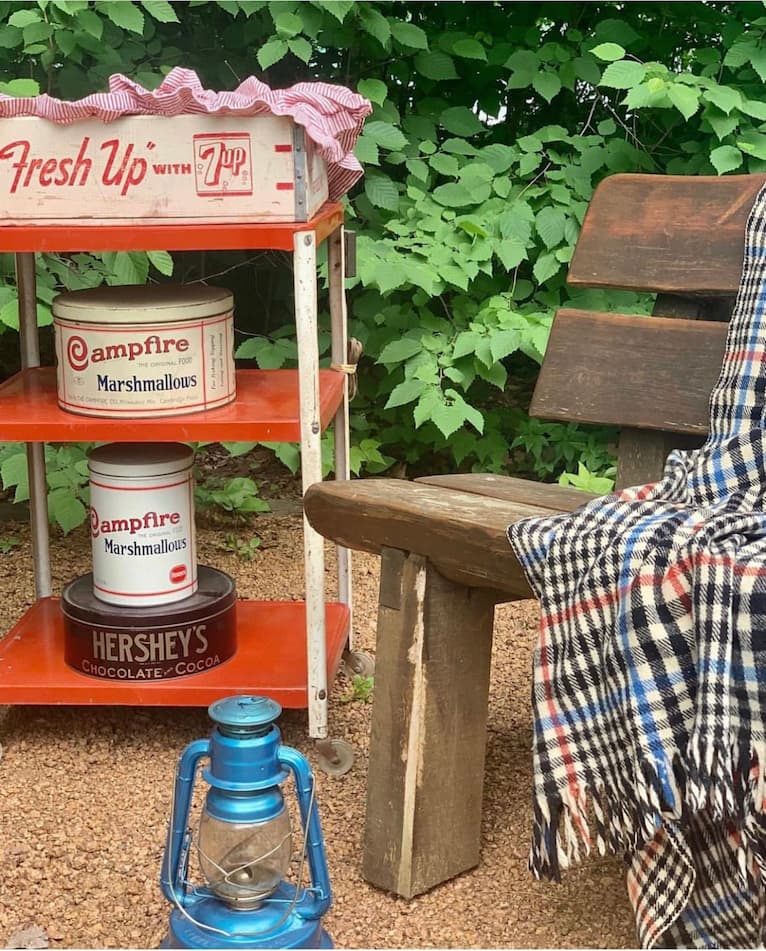 Nostalgia
Americana is all about timeless pieces that evoke memories of great Summers from the past, encourage you to enjoy the Summer of now and look with anticipation for Summers to come.
I love adding in antiques like old bikes that fit that fun of yesteryear theme.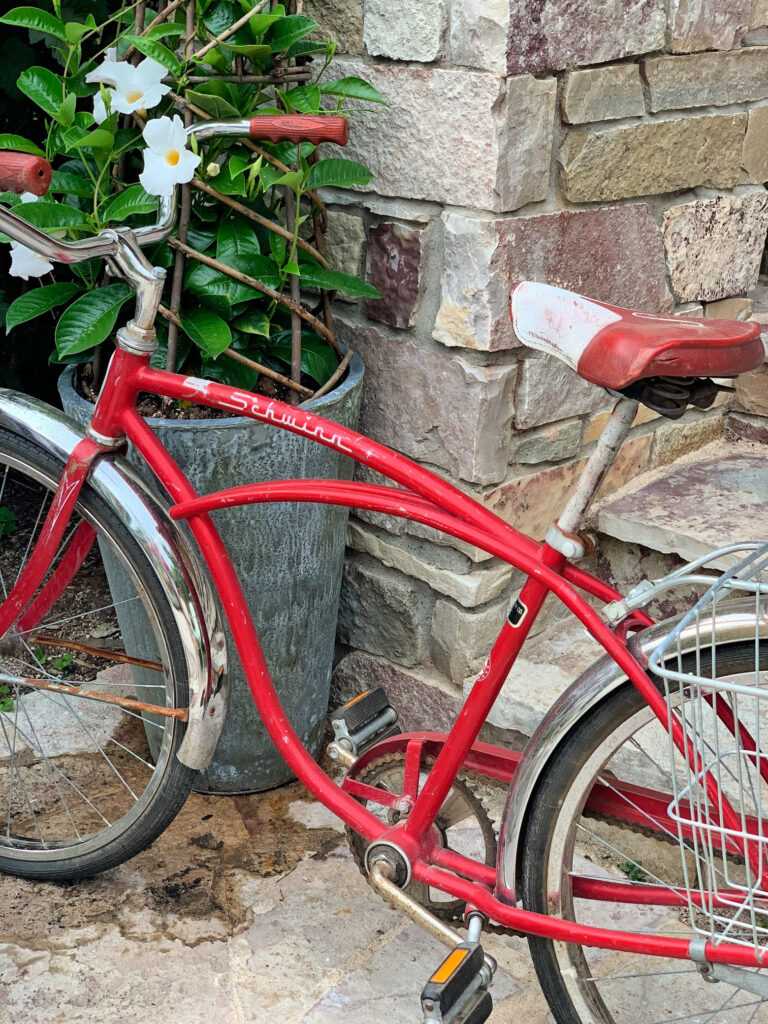 Pillows
We all love the quick and easy flip of decor when just adding in new pillows and throws. They are easy to pick up or recover for the seasons. For Summer ginghams, flags and patriotic pillows take the forefront.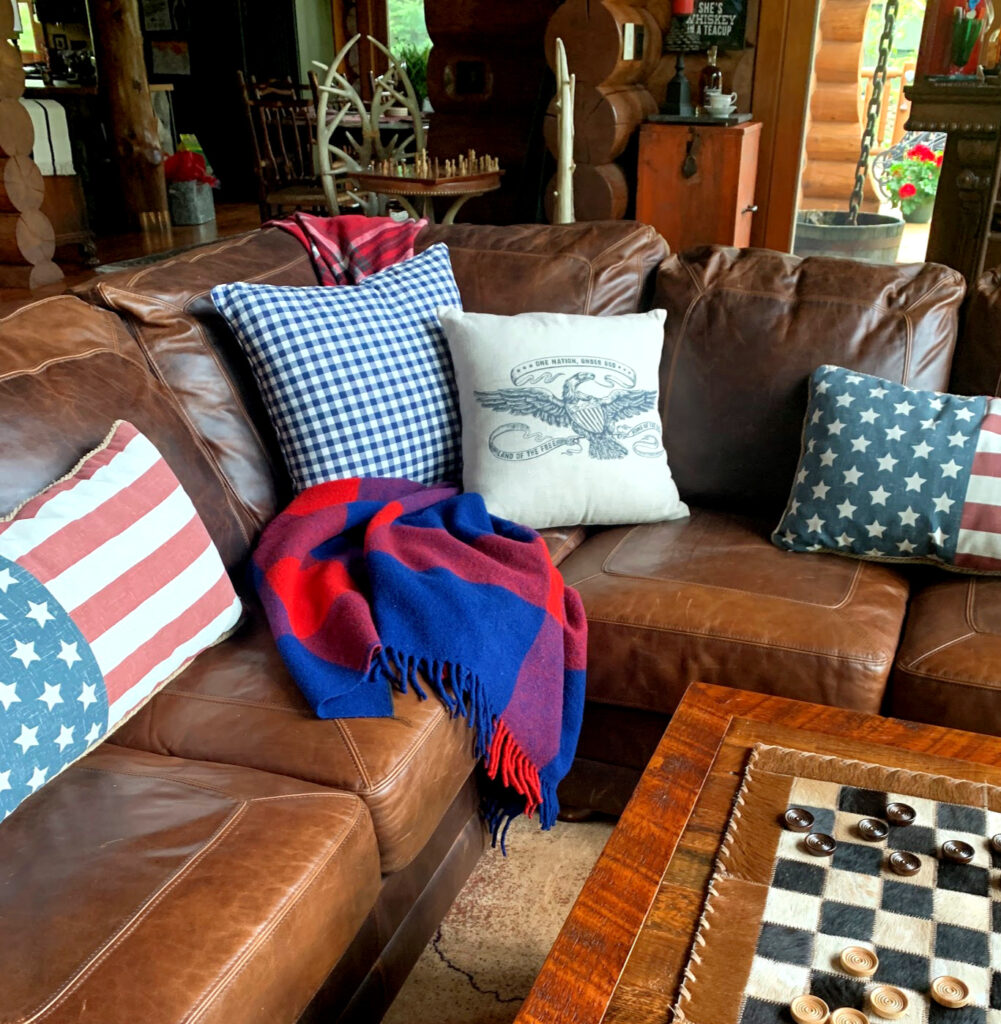 USA
I always keep my eyes open for interesting items representing the good 'ole USA. A copy of The Declaration of Independence and Constitution I found at Hobby Lobby sat on our mantel with an antique George Washington tobacco tin. A Liberty sign from my shop and a trophy full of flags join them.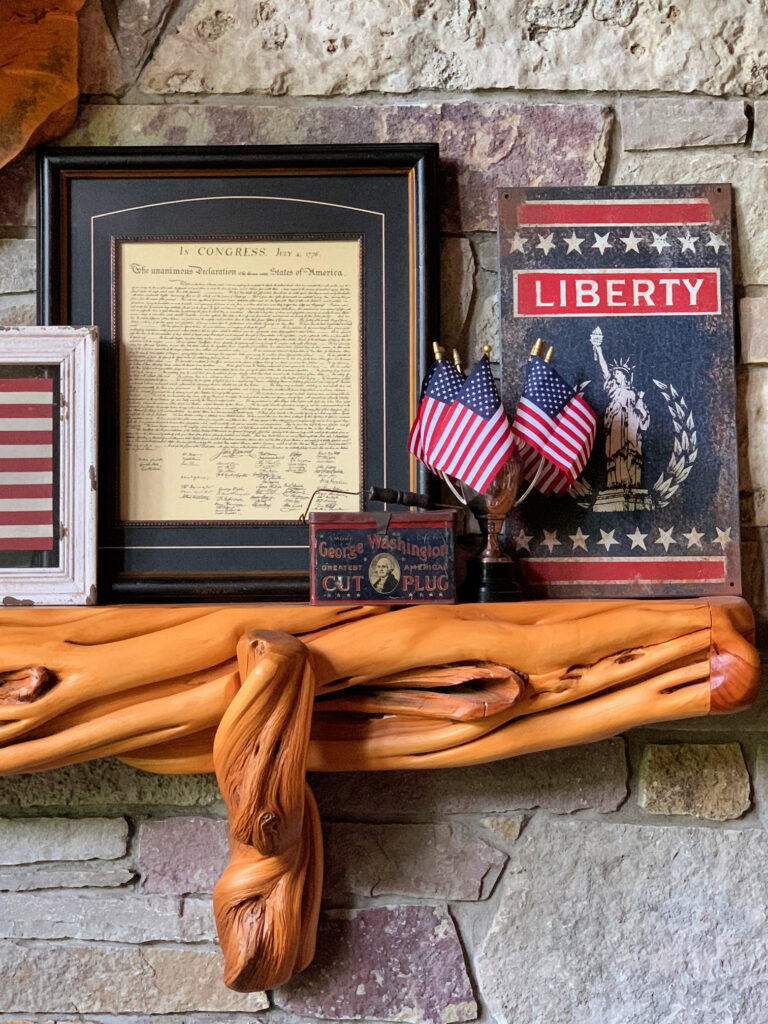 Red, White & Blue
Shopping my home and pulling together all the red, whites & blues is so much fun this time of year. I borrowed a pillow and Pendleton throw from my daughter's room to put on a favorite reading chair.
Stacks of old soda crates make a fun visual on the side table.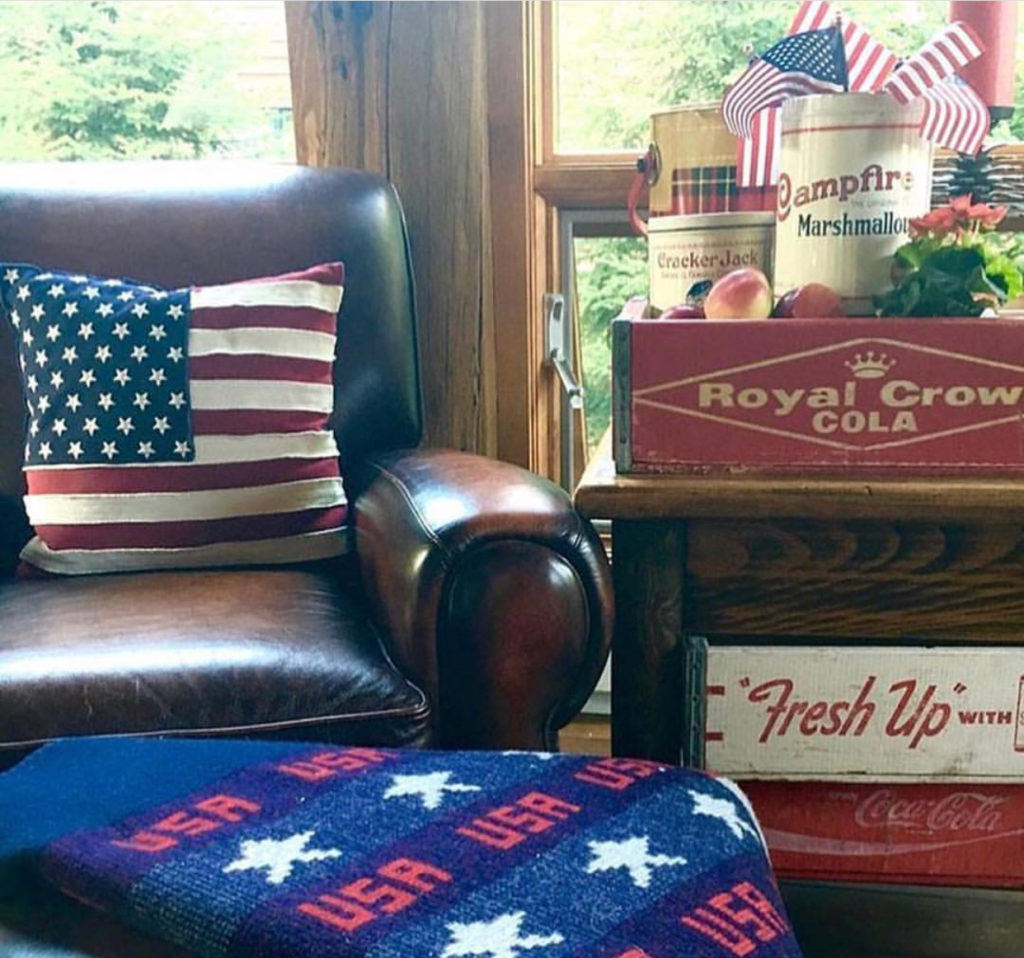 Flowers
Adding to the red, whites & blues, the nautical touches, flags and nostalgia flowers are a must for Summer decor. In the garden, in pots, in hanging baskets and on the table they are the perfect addition. The icing on the cake.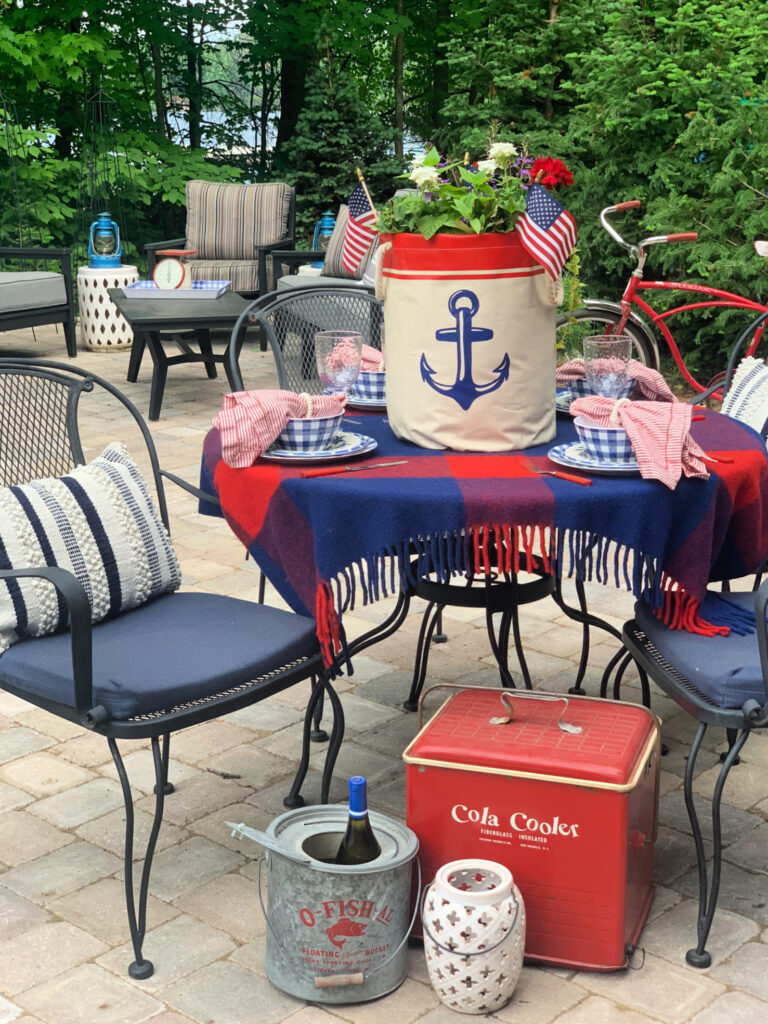 Thanks so much for visiting! Next up you are headed to Eleanor Rose Home and her beautiful post on 4th of July party favors.
Take the Tour
More Patriotic Inspiration from My Fellow Bloggers

DIY Patriotic Door Basket // The Tattered Pew
How to Set a Red, White, and Blue Table // Cottage in the Mitten
9 Easy Ways to Add Americana to Your Decor // White Arrows Home

4th of July Party Favors // Eleanor Rose Home
How To Decorate Your Coastal Cottage for the 4th of July // The Ponds Farmhouse
How To Make An American Flag Grapevine Wreath // White Lilac Farmhouse

7 FREE Dinner Party Printables – 4th of July Ideas // WM Design House
Easy and Effortless Americana Decor Ideas for the Entryway // Pasha is Home
Easy Red, White, and Blue Patriotic Table Setting for the Holidays // Southern Crush at Home

Red White and Blue Faux Leather Vase // Amy Sadler Designs
Patriotic Pool Party Ideas // A Stroll Through Life
FOLLOW ALONG
Instagram ~ Facebook ~ Pinterest ~ Twitter ~ YouTube ~ Tik Tok ~ Liketoknow.it