Summertime Cottage Decorating is full of seasonal details perfect for our lakeside retreat inside and out.
This week I am joining some of my blogging friends for the Bloggers' Best Summer Home Tours sharing my Summertime Cottage Decorating. Twenty eight talented and creative women will be opening their homes up for you to tour all week long.
Find your favorite chair, hunker down and enjoy the pleasure of reading each post filling yourself with inspiration to kick off the Summer season.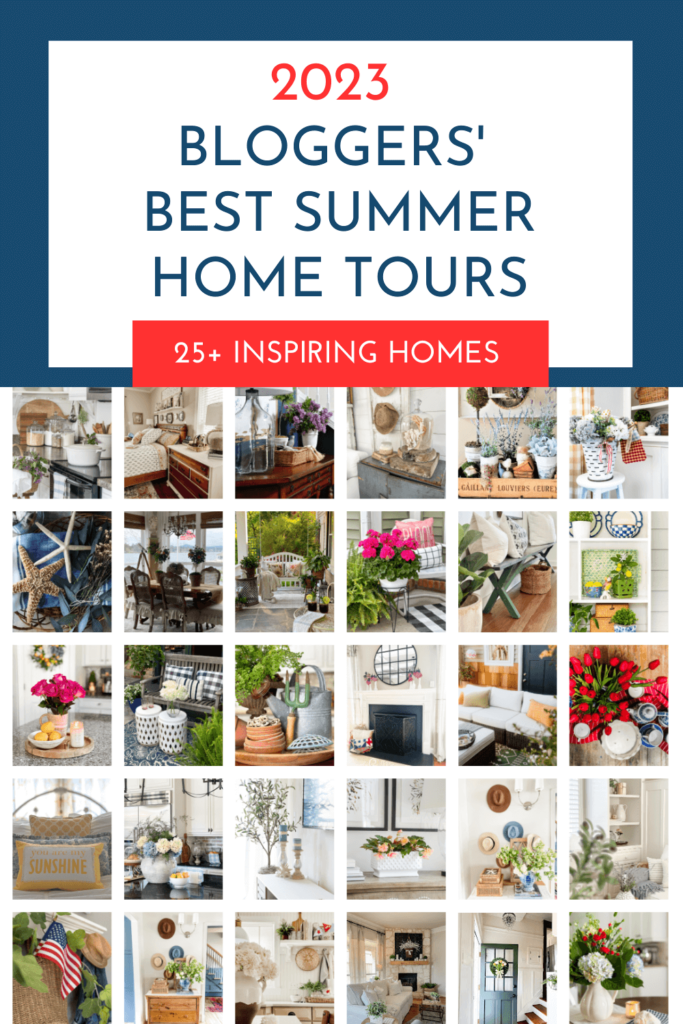 (Affiliate links are used for your convenience. Read my full disclosure here.)
Yesterday's tours ended with my friend Jennifer's beautiful tour from Cottage On Bunker Hill. I'm kicking off today's line up. If you are circling around today's tours you may have just been over at White Lilac Farmhouse's beautiful tour. You'll find links to the rest of today's bloggers as well as those from all week at the bottom of this post.
Want to get daily encouragement? SUBSCRIBE HERE so you don't miss any posts!
Welcome to Camp Paradise
One of the great things about these tours is the chance to travel all across the country! I'm excited to welcome you to Wisconsin and our lakeside home called Camp Paradise.
Summer is a special time Up North where we live and a vacation land for thousands as our small town numbers swell each year. The abundance of woods + water provide recreation activities to enjoy on the boat or the trails.
And Summertime cottage decorating always has a few essentials for me.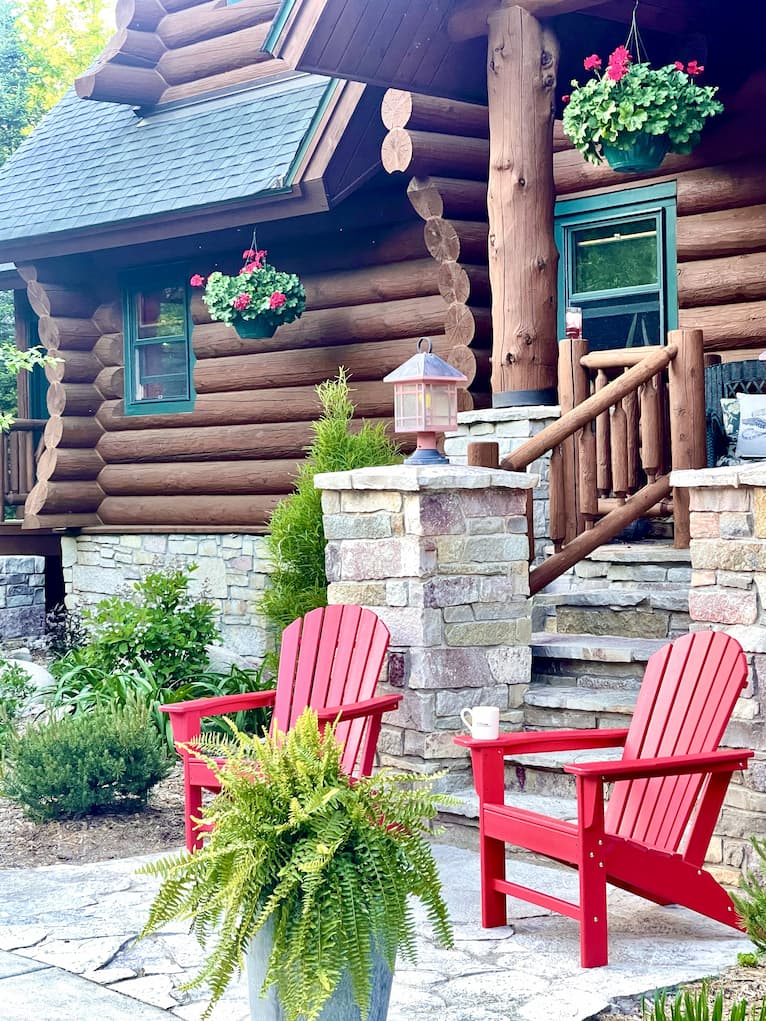 Adirondack Chairs
I love bringing out our red Adirondack chairs and setting them on the front path and out on the dock. They are not only pretty and cheerful, but so comfortable.
Sitting out by the lake is a always fun, whether I'm taking some quiet time to read, watch the kids swim or enjoy a glass of wine and wait for the sunset.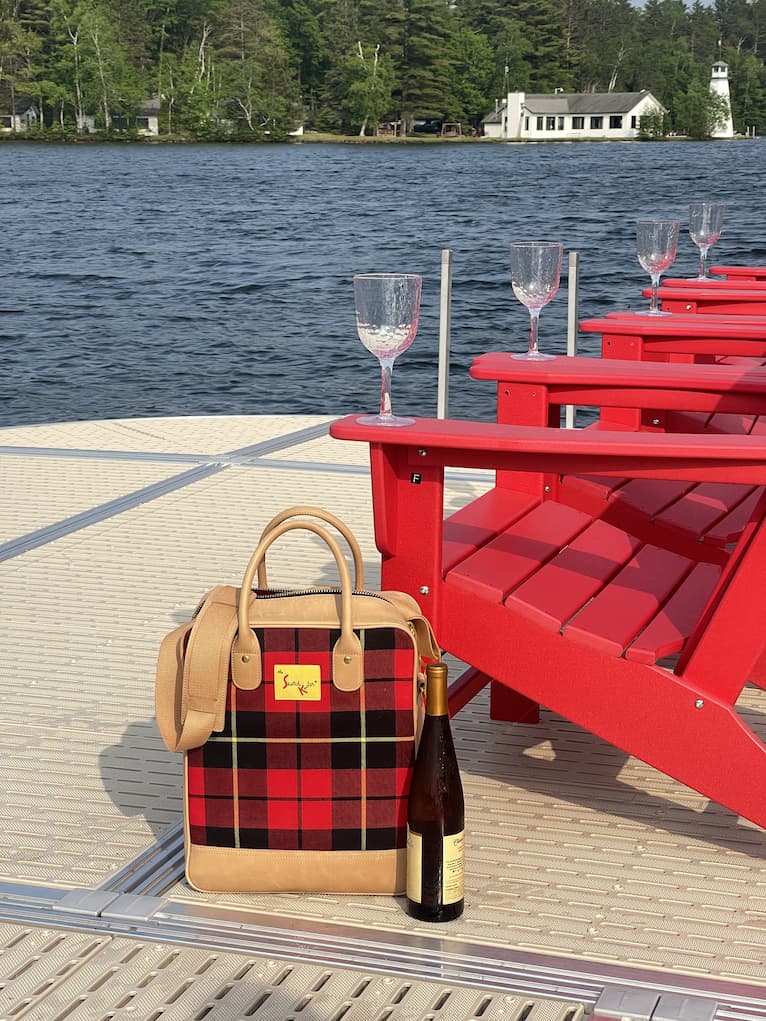 Wicker Seating
Wicker seating out on our back patio adds a great natural element reflected from the wood in the forest.
I love wicker of any kind in cottage decorating. A bright white set on a screen porch. A black end table. A red vanity. There are so many pretty pieces. If you find old pieces they can be easy to upcyle with a simple coat of paint.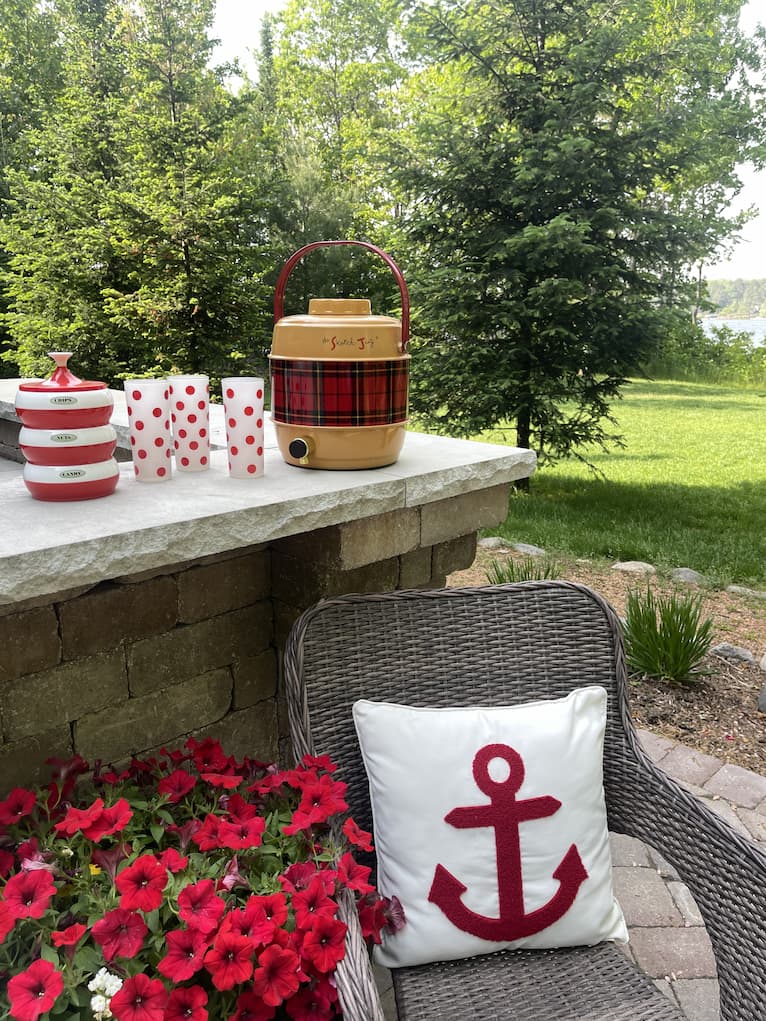 Fun Entertaining Pieces
Lots of entertaining happens at the cottage and pulling out fun serving pieces and glassware can make the moments special and memorable.
These polka dot glasses are a favorite. I fill my Skotch Jug with a favorite punch and set it out alongside some snacks for a self serve station.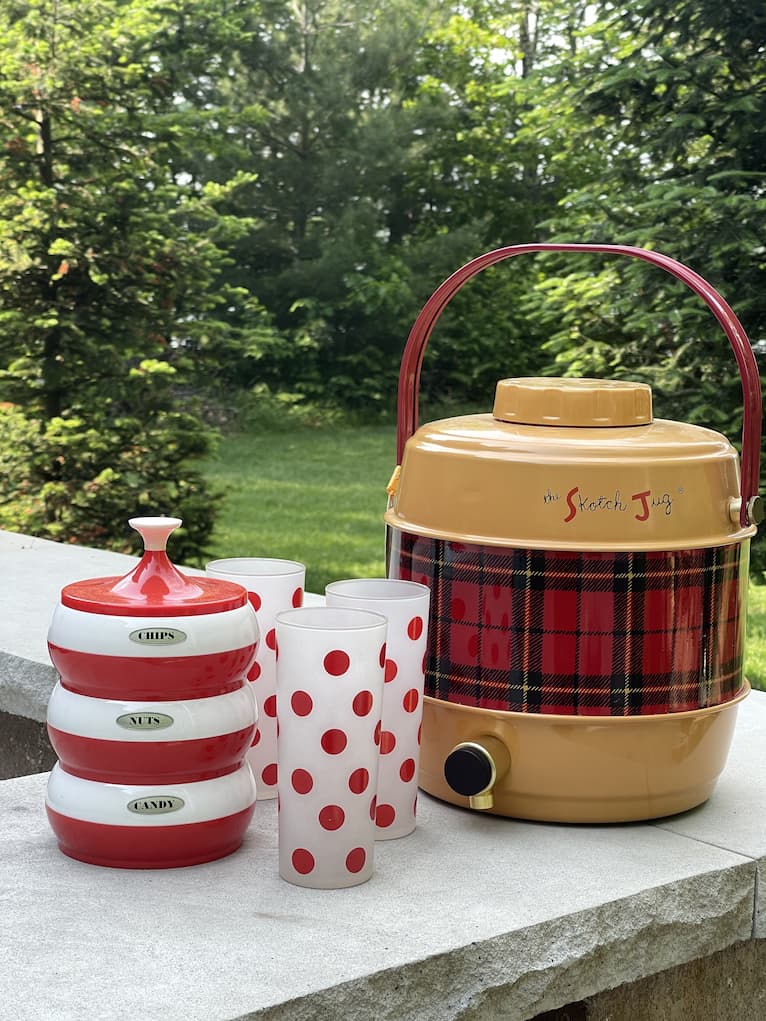 Ice Cream
Cottage Summers must include lots of ice cream! Enjoy as a:
a special treat for a hot afternoon
a Sundaes on Sunday tradition
a neighborhood ice cream social
an evening celebration after a favorite yard game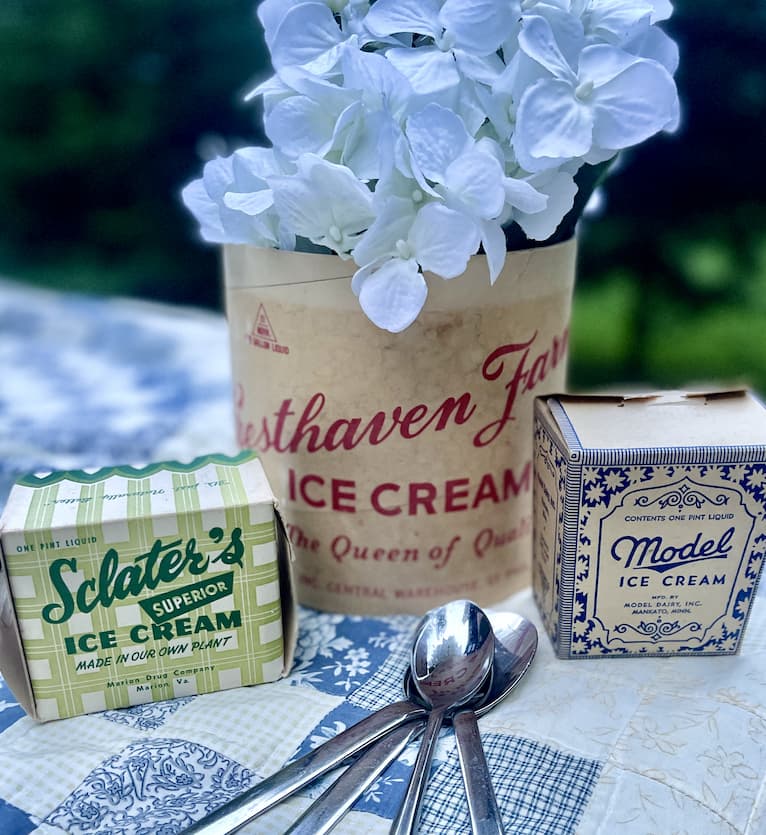 Gingham
Adding touches of gingham is a happy way to include a cottage look.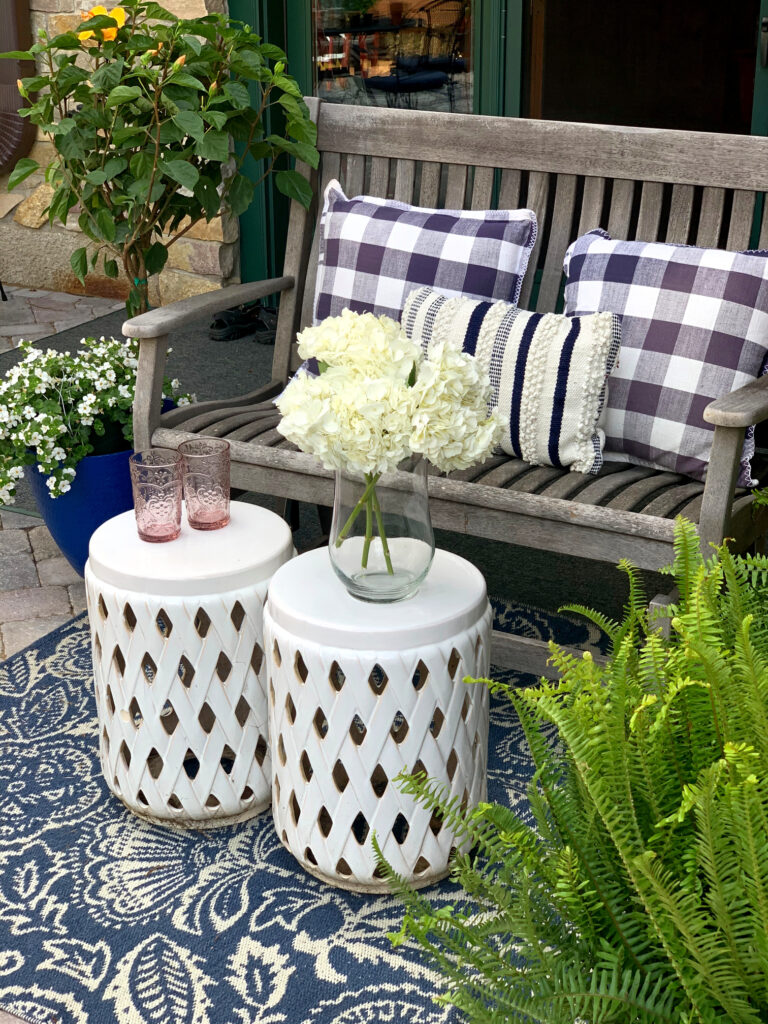 Hydrangeas
Big, bold hydrangeas are the perfect touch to centerpieces and the garden.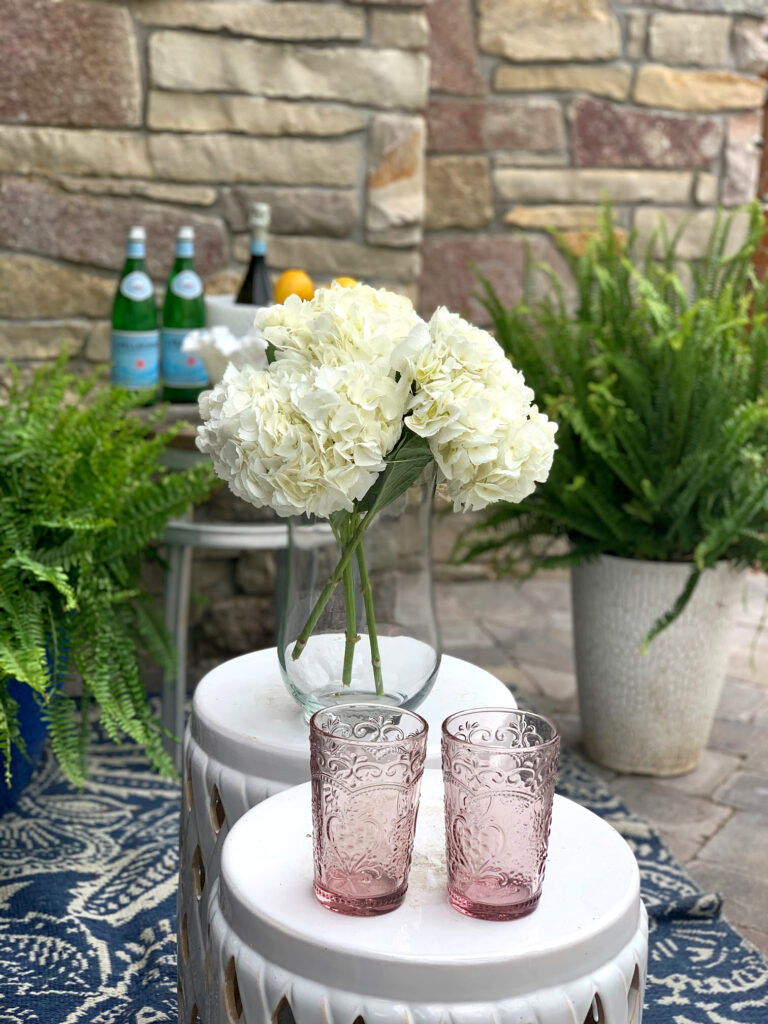 Outdoor Dining
As many meals as possible we eat outside or in our sunporch. Our fresh dinners don't have far to go from grill to table.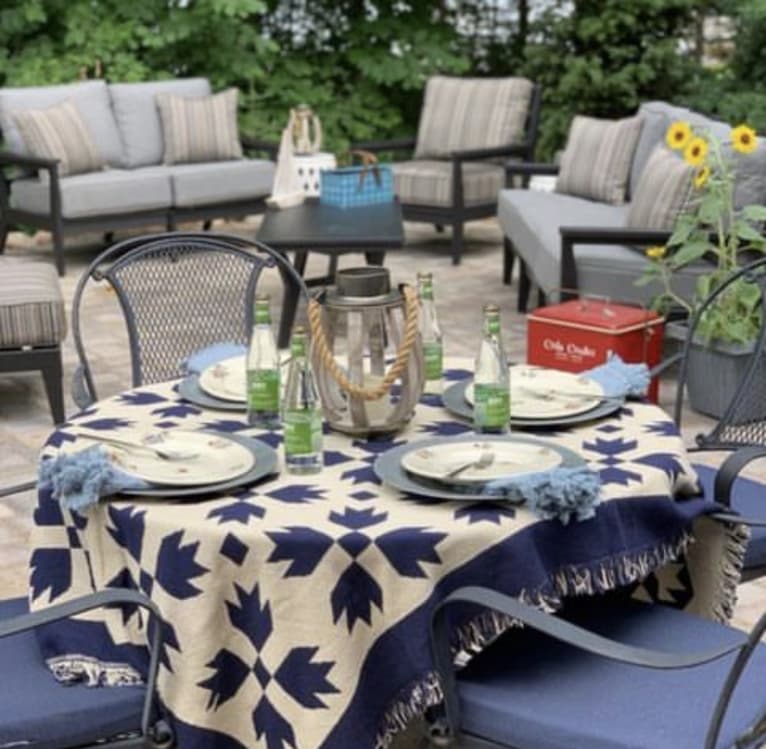 Lots of Vintage
My cottage decorating includes a lot of vintage treasures mixed in with new favorites. Vintage items like this picnic tin are always fun to hunt for.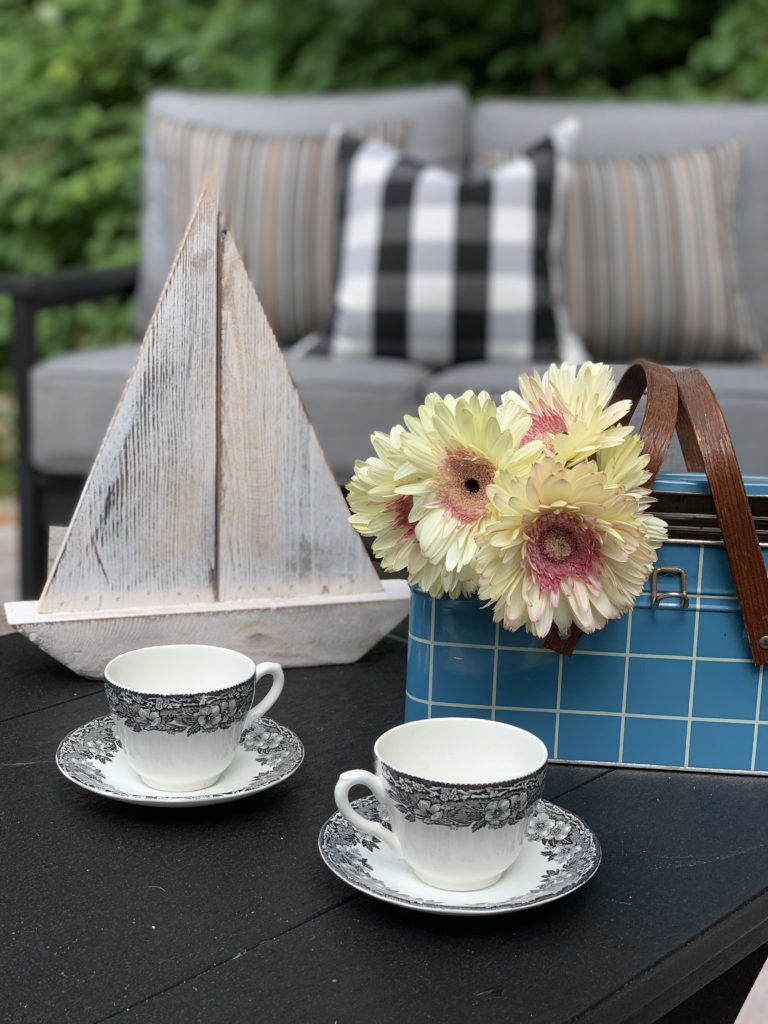 Nostalgia
Anything that throws back memories to the "good 'ole days" is perfect for the cottage. You'll see an old croquet set around (the kids still set it up out back.)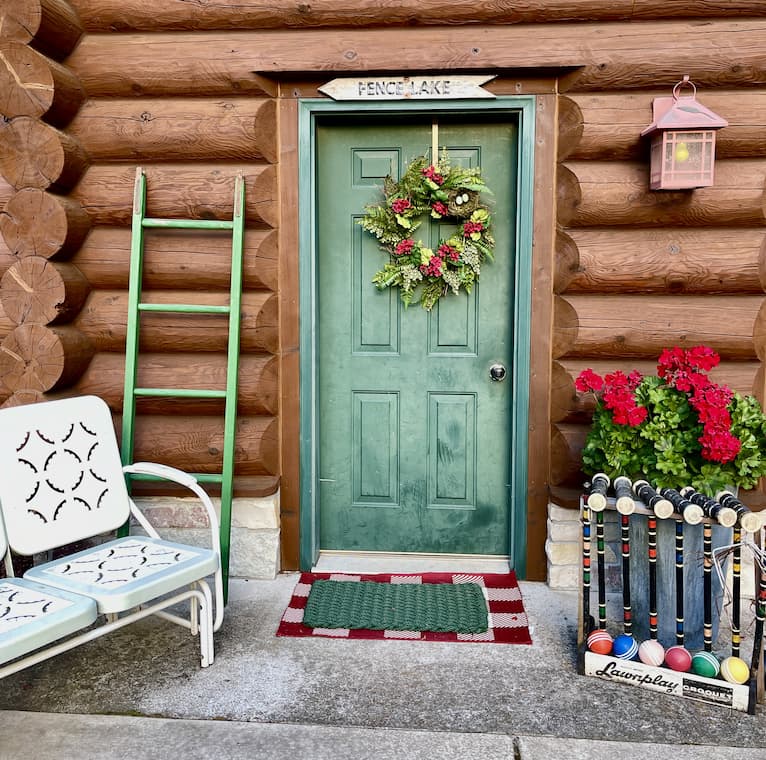 I love this saying and sign I saw at The Magnolia Silos and so agree!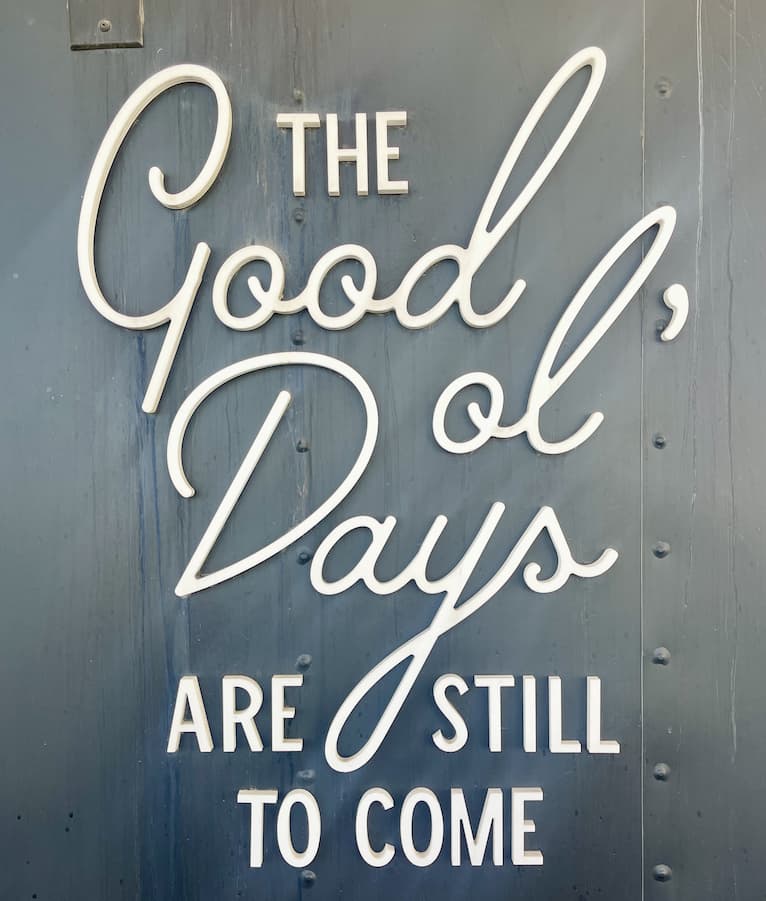 Flower Baskets
This metal table is even more inviting with throw pillow accents and a sweet basket of blooms.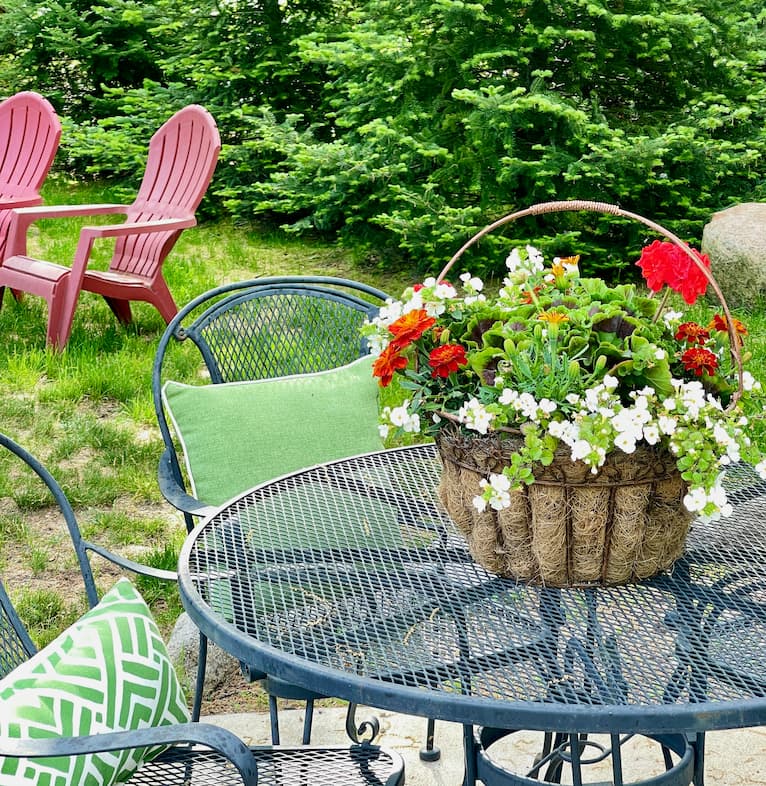 Ferns
Ferns are always a favorite on my Summer porch. And there's another nod to nostalgia with those old red waterskis.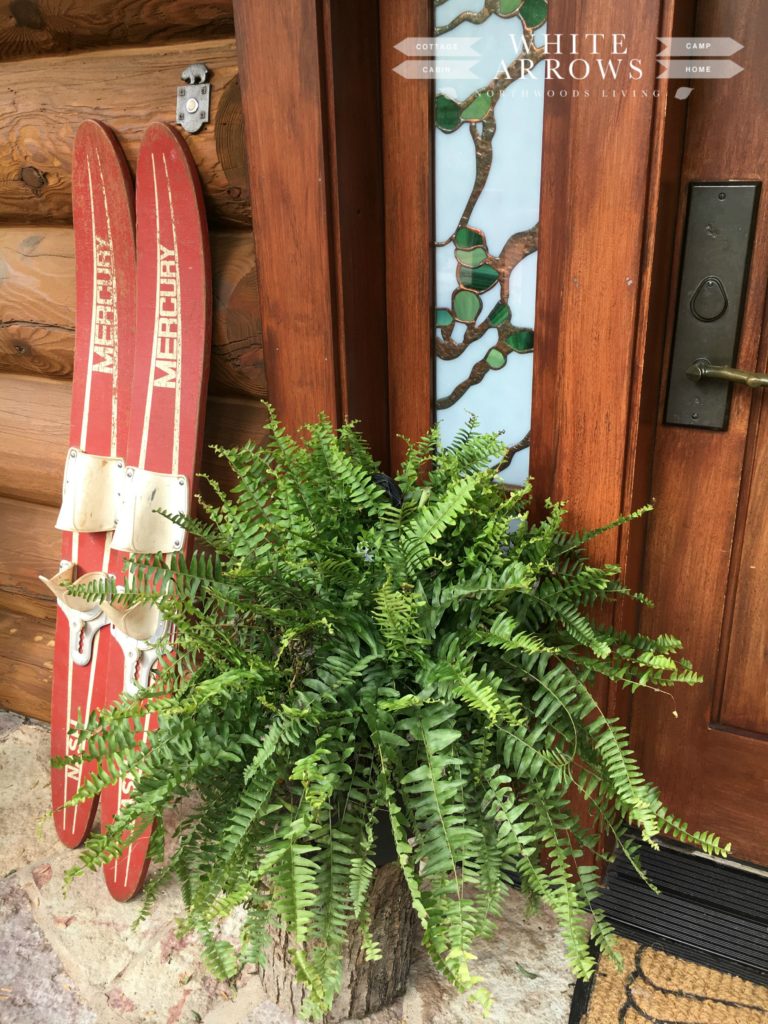 Geraniums
One of my favorite days is the day I bring home my geraniums from the garden center! We have them hanging around and in baskets.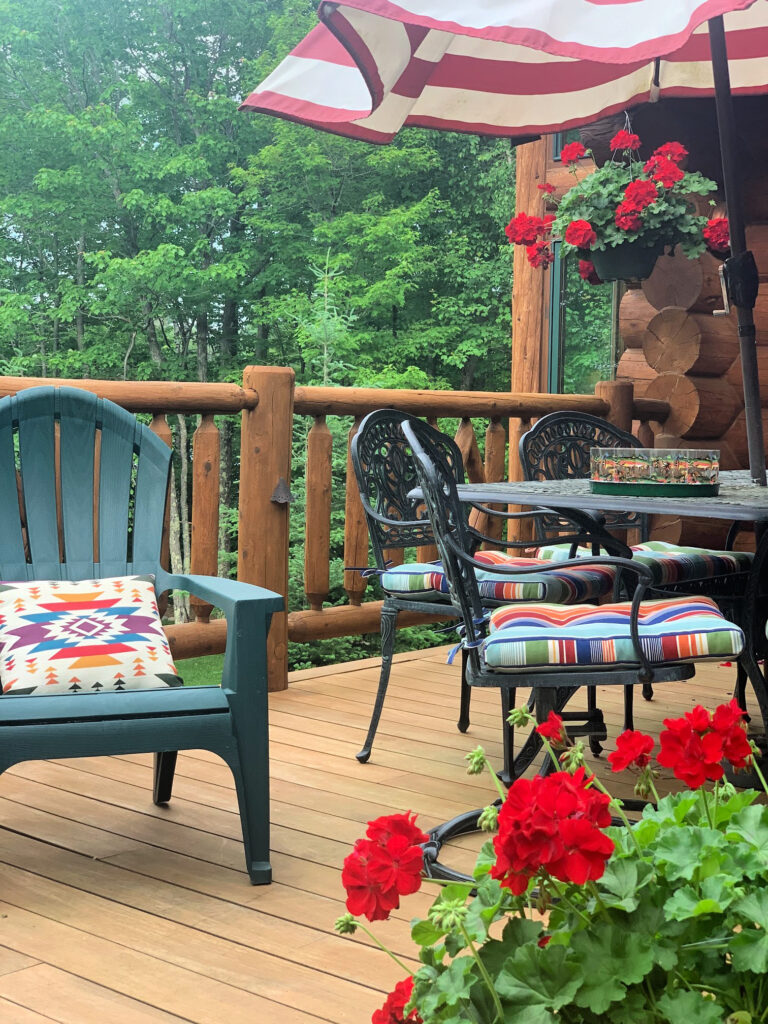 Porch Sitting
We truly enjoy all the time we get to spend in our outdoor spaces sharing a meal, conversation or a snack. The porches are also such a great spot to nap, read or sit and reflect.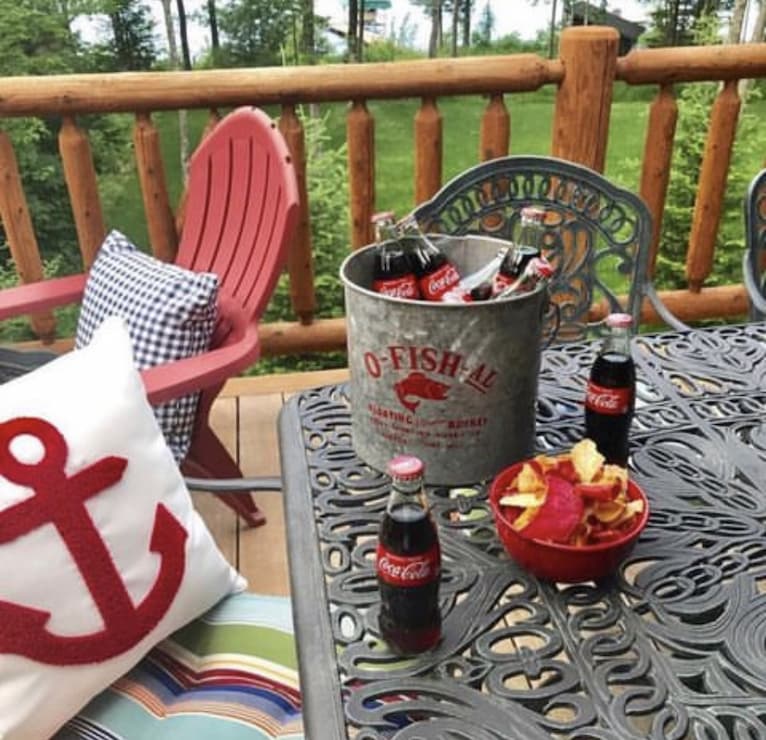 Americana
From Memorial Day to Labor Day you'll find all kinds of Americana decor in the cottage. Red, whites and blues join stars and stripes throughout.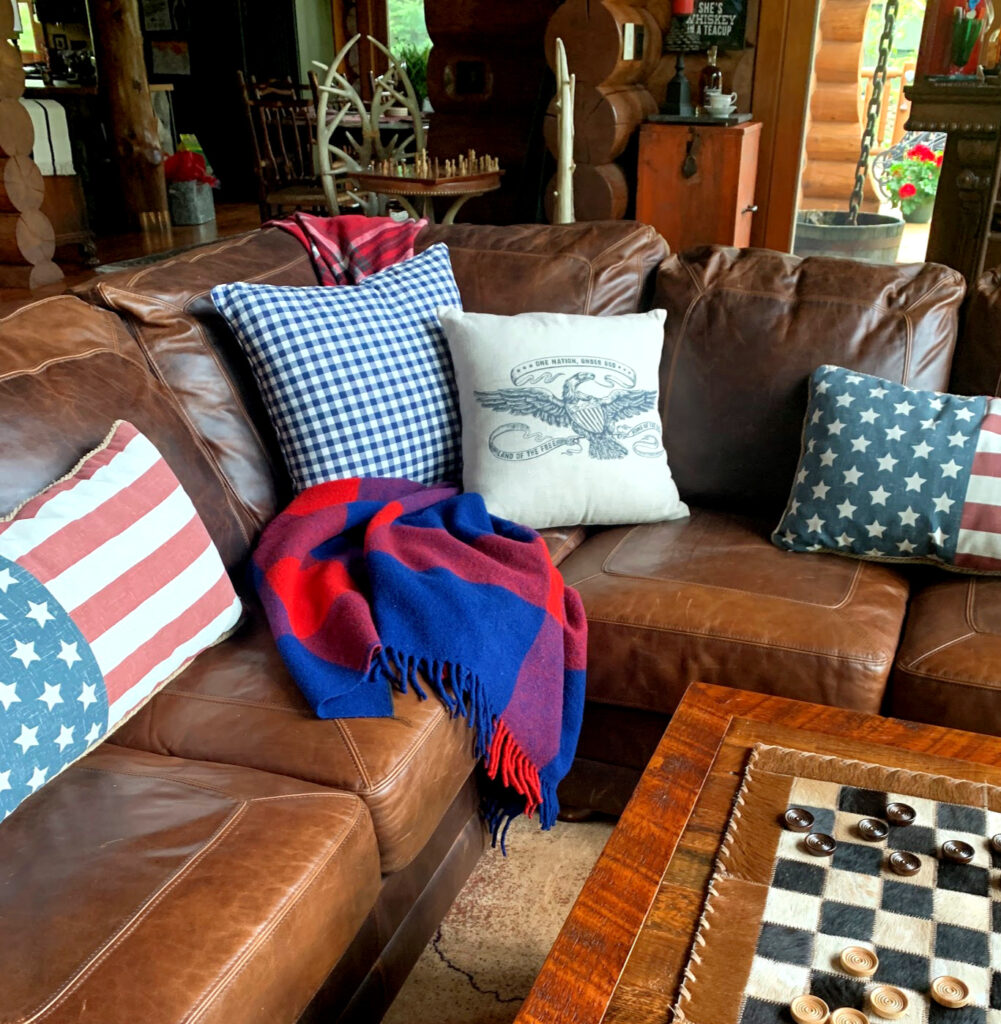 Old Dishes
I'm a dish collector and love pulling out favorites to set the table for family dinner or welcome over a friend.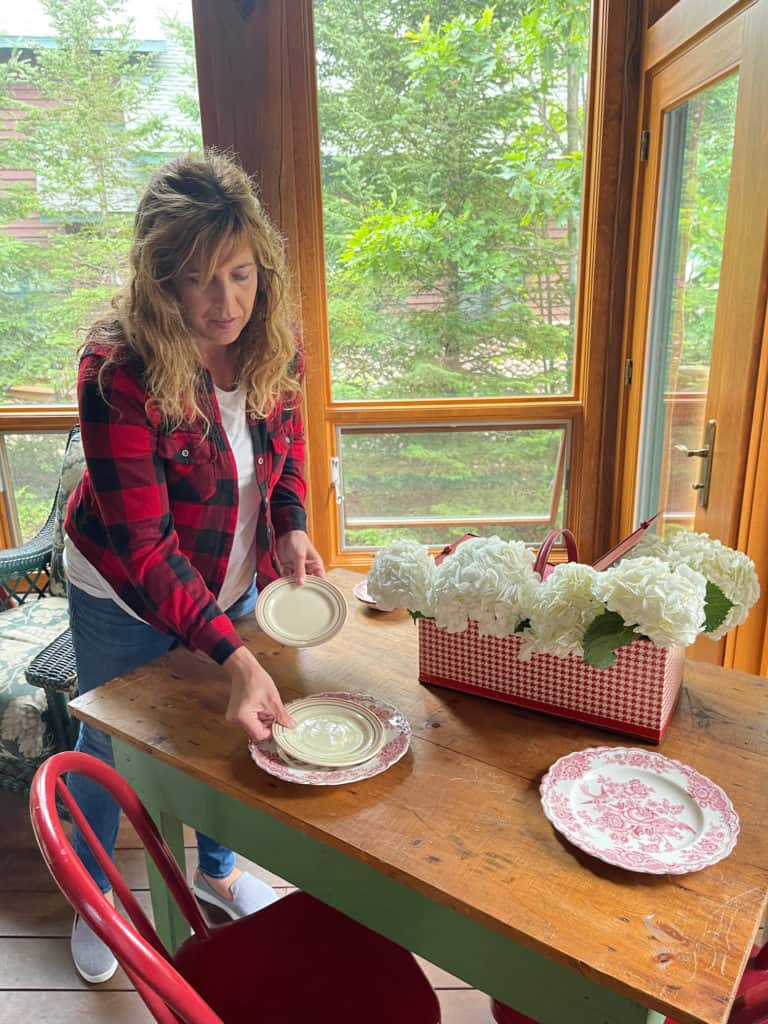 Needlepoint
Some of my most cherished cottage touches are those passed down to me like these napkins needlepointed by my grandmother.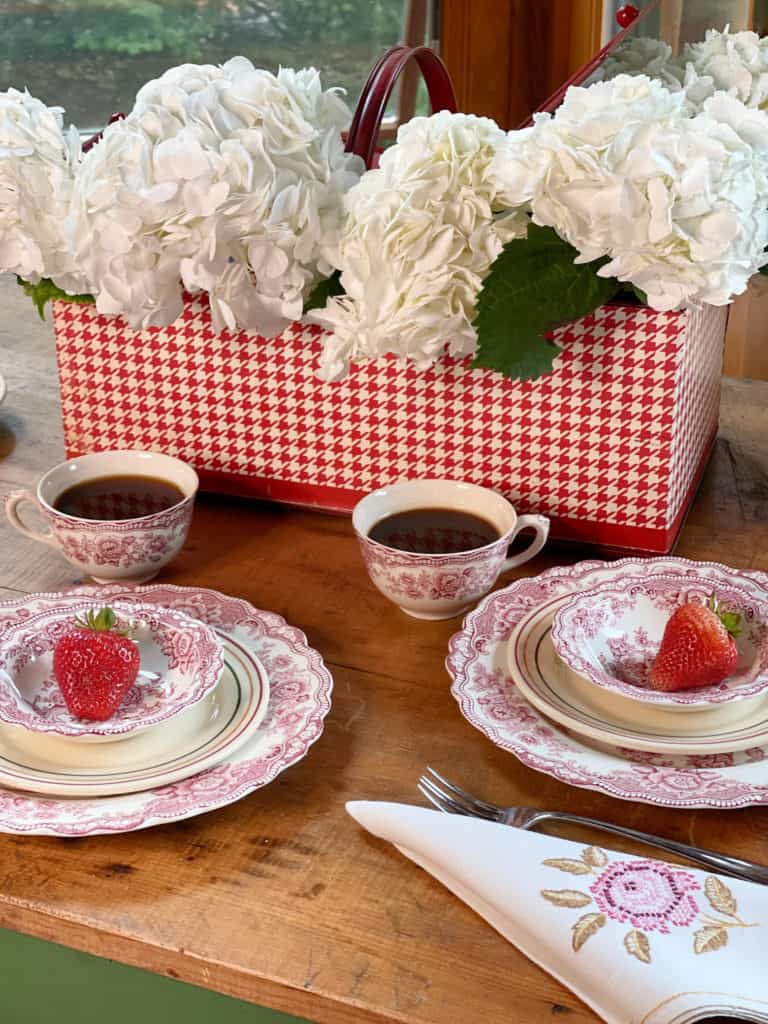 Thanks so much for visiting! Next up you are headed to my friend Libbie's at A Life Unfolding. One of the great joys of blogging is meeting so many wonderful, creative, talented ladies from all over the country. One of the great positives of technology.
But Libbie and I actually got to meet each other in person a few years ago at the Haven Conference in Atlanta. That's me on the left and Libbie on the right.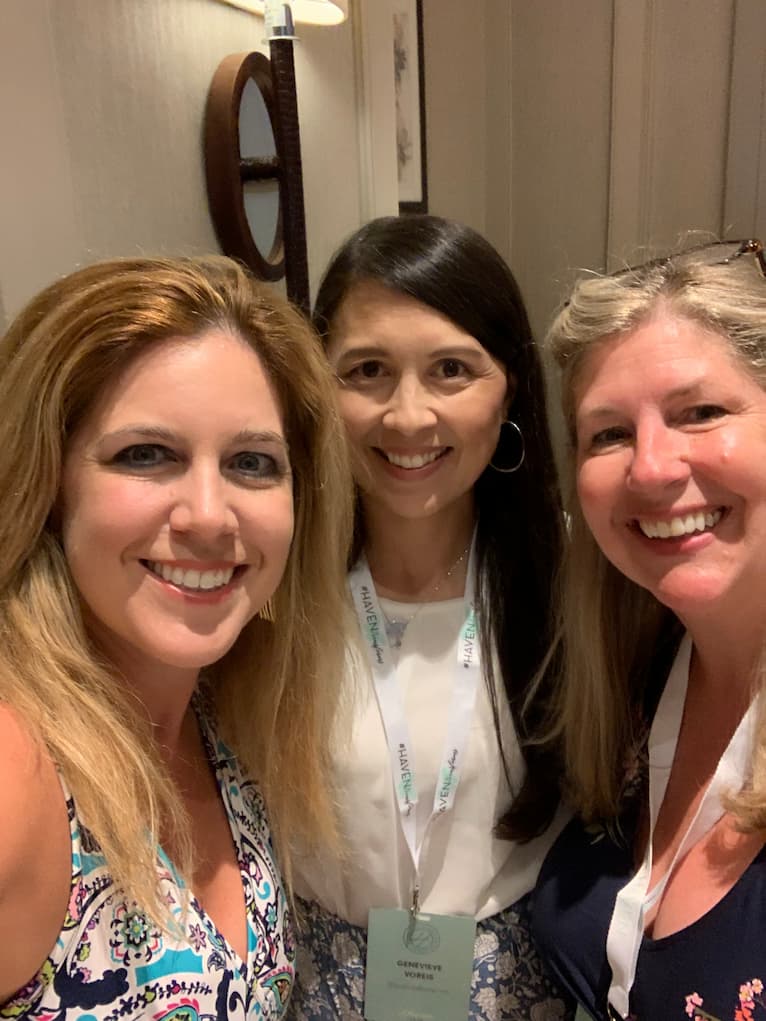 Take the Tour
Bloggers' Best Summer Home Tours
Monday's Tours


The Tattered Pew // Worthing Court // StoneGable
My Wee Abode // Southern Home and Hospitality // My Thrift Store Addiction
Tuesday's Tours


She Gave It a Go // Cottage In The Mitten // Eleanor Rose Home
Peacock Ridge Farm // Bricks n' Blooms // Cottage On Bunker Hill
Wednesday's Tours


White Arrows Home // A Life Unfolding // Simply2Moms
WM Design House // White Lilac Farmhouse
Thursday's Tours


The Ponds Farmhouse // Thistle Key Lane // Open Doors Open Hearts
Robyn's French Nest // Cloches and Lavender // DIY Beautify
Friday's Tours


Pasha Is Home // My Family Thyme
Midwest Life and Style // Amy Sadler Designs
FOLLOW ALONG
Instagram ~ Facebook ~ Pinterest ~ Twitter ~ YouTube ~ Tik Tok ~ Liketoknow.it