Smokey Bear is 75 years old this year! As a collector of vintage Smokey items, I style them on the bookshelves and the walls in the loft of our log cabin home.
Living in the woods of Northern Wisconsin, Smokey Bear graces signs along the roadsides giving warnings of fire danger levels. He's a daily figure in our lives.

Many of us have grown up with his books and listening to his commercials. He holds a special, nostalgic place in our hearts. I thought it would be fun to share Smokey facts in between the images of my collectables.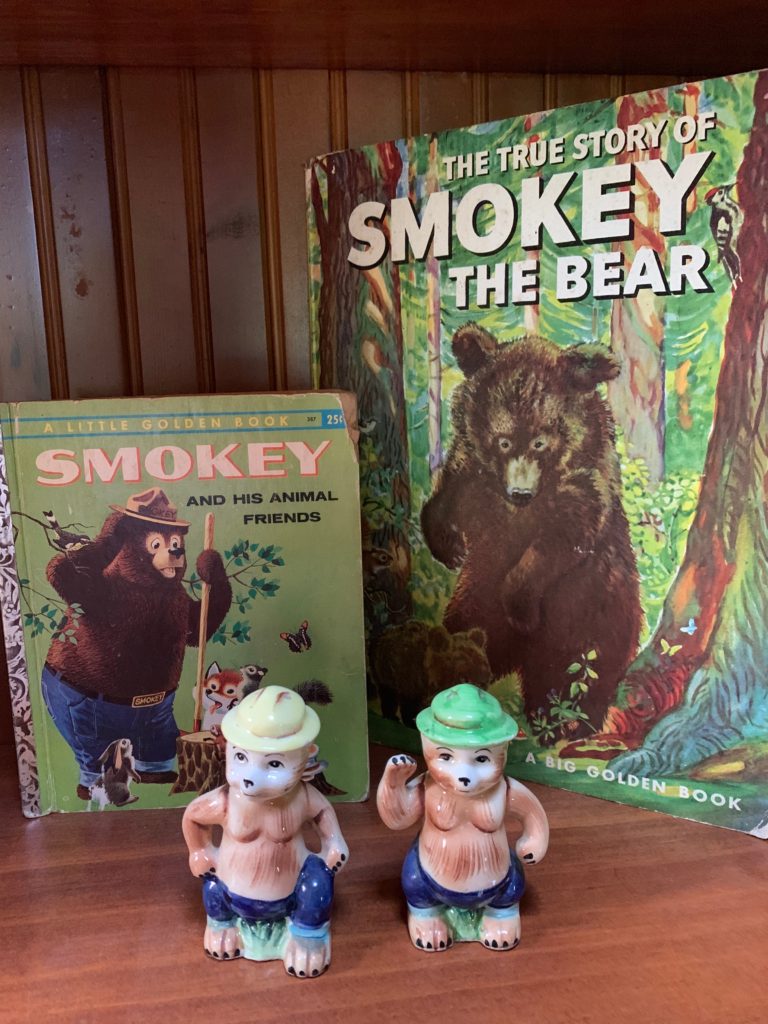 In 1944 Smokey Bear made his first appearance on a fire prevention poster as a public relations effort from the government wanting to protect the timber industry by educating the public.

In 1947 he was included on a U.S. and State Forest Service Stamp with the "only you" motto.

In 1950 Smokey aired his first radio commercials with celebrities like Roy Rogers and Bing Crosby. They were five minutes long! You can listen here. Smokey appeals to adults and to children.

Also in 1950, a bear cub was burned and found clinging to a charred tree in a forest fire in the Lincoln National Forest in Capitan, New Mexico. This cub became the living symbol of Smokey after being nursed back to health. He was sent to live at the National Zoo in Washington D.C.

In 1950 Smokey's first costume was created here in Wisconsin, in Mercer! It first appeared to the public at the Logging Congress parade on the 4th of July in Hayward, WI. It was made out of real bear hide!!
Below is my daughter with Smokey. When you meet Smokey in real life he doesn't speak, but on tv and commercials the current voice of Smokey is Sam Elliott.

In the 1960s, TV commercials featured Smokey and his message. Watch some here.
In 1965 Smokey got his own zip code because he was getting so much mail. You may still get a response when you send a letter there! Presidents are the only other independent zip codes. Smokey's is 20252.

My favorite Smokey poster is from 1974, the year I was born! Now it's extra special.

Smokey's educational posters are one of the most popular collectables. I have the butterflies, trees and animal prints. You can see all 15 in the collection here.

Smokey was named after "Smokey" Joe Martin, Assistant Fire Chief of New York City from 1915-1930.

Celebrating Smokey's birthday around the campfire with our "Drown and stir fire until embers are cold!" stir sticks designed by my friend Catherine, a Wildfire Prevention Specialist and special friend of Smokey's with the Wisconsin DNR. You can listen to Catherine share more about Smokey on this podcast. It's worth the listen! Find out the difference between good and bad fire.

There is more information on the Smokey Bear website for you, developed by the U.S. Forest Service, the Ad Council and The National Association of State Forestry. There are topics of prevention and fire science and links for kids and Educators.
Want to start your own collection? I find my Smokey memorabilia in local antique shops, at vintage markets and on Etsy.

Join Me as I share more inspiration with you each day on:
Instagram ~ Pinterest ~ Twitter ~ Facebook




I Shared at these Link Parties.