I am so excited to be part of the Fall Festival Blog Tour hosted by Kendra of Joy In Our Home! All week you will be treated to tours inside the gorgeous homes of 30 of my fellow bloggers as they share their Autumn decor ideas with you. Prepare to be inspired!
Yesterday five talented ladies shared their Fall Vignettes. Today I'm joining a group sharing porches. Tomorrow the tour continues with delicious fall recipes. Thursday there's Fall tablescape inspiration and Friday Autumn mantles. Find a full list of the week's schedule with links directly to each blog at the bottom of my post.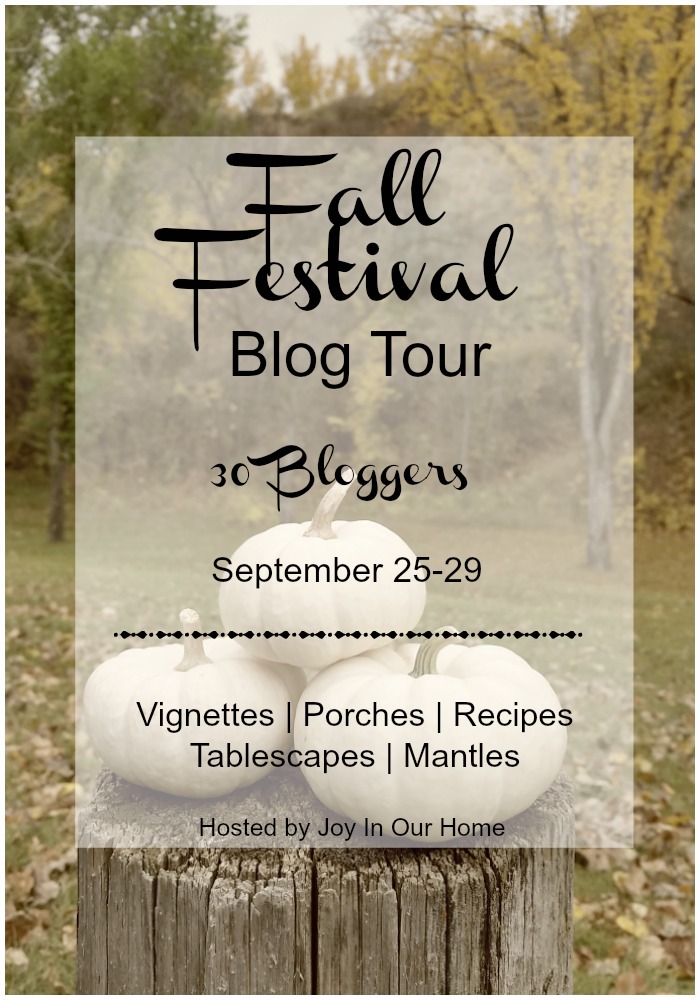 Cabins, cottages, camps and lake homes in The Northwoods of Wisconsin have names like the Loon's Nest, Trail's End, The Hideaway. And white arrow signs point the way to those destinations. Read more about how White Arrows Home got its name here.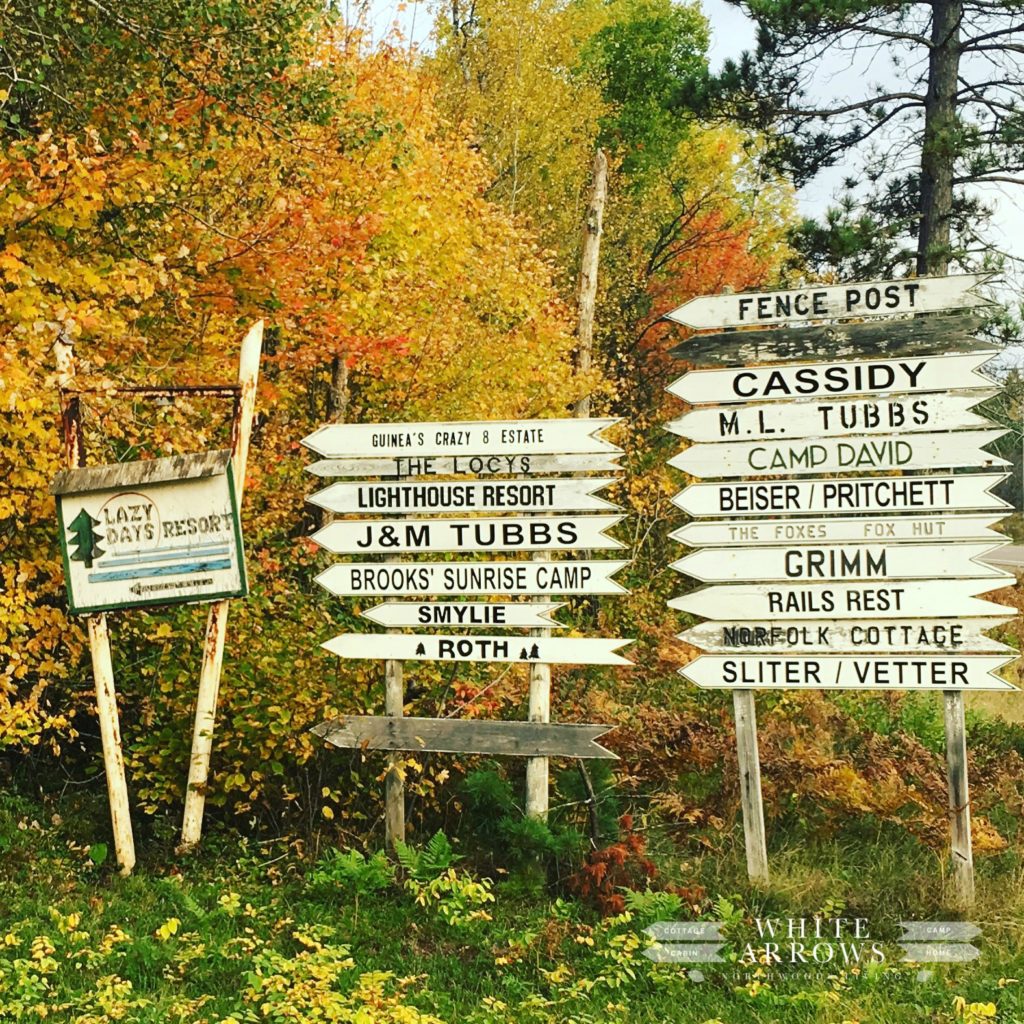 I'm excited to welcome you to Camp Paradise! Our cabin is named Camp Paradise because it sits on Paradise Bay. If you are coming here from Stacey's tour at Poofing the Pillows, welcome! I know you found lots of inspiration on her beautiful blog!
As guests pull into Camp Paradise they are greeted by welcoming porches at every building entrance. The Main House, the Guest Cottage and even the garage and side steps to the sun room get some special decor. They are also greeted by our welcoming committee, Honey and Scout! Our Great Pyrenees and Bernese Mountain dogs.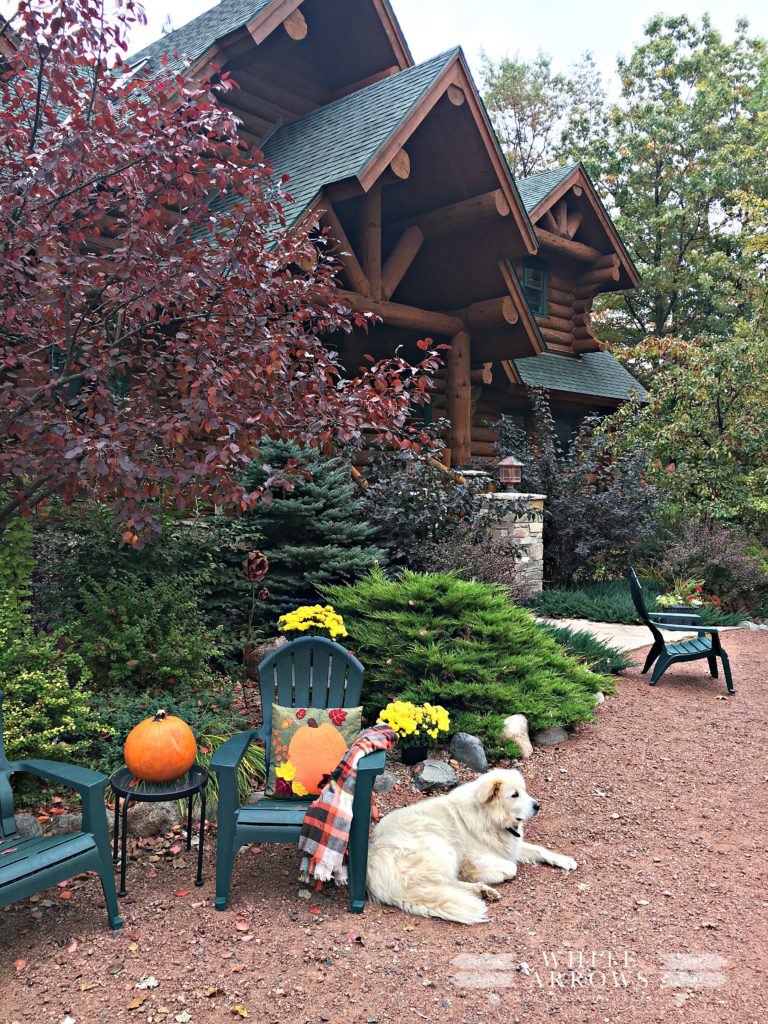 Affiliate Links are shared for your convenience. To see my full disclosure click here.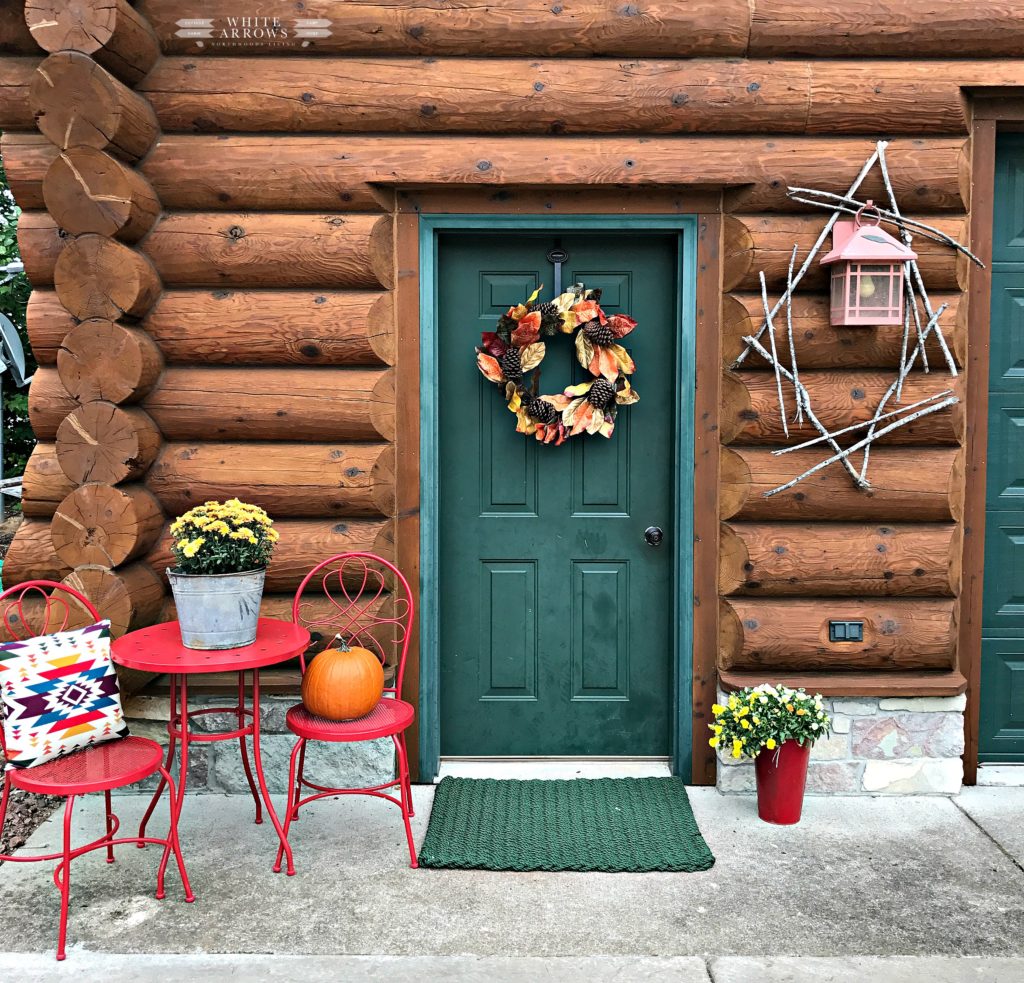 The garage's green door makes this colorful pinecone and magnolia wreath pop ! This simple wreath was a great find at Walmart. So was the red bistro table I found at the end of last season there for $30! As I was carrying it out to my car a man asked if he could buy it from me because his wife had been looking at it. I haven't regretted turning down his offer yet.
I love the red color and the size. It fits well so many places, but I'm loving it here by the garage this fall.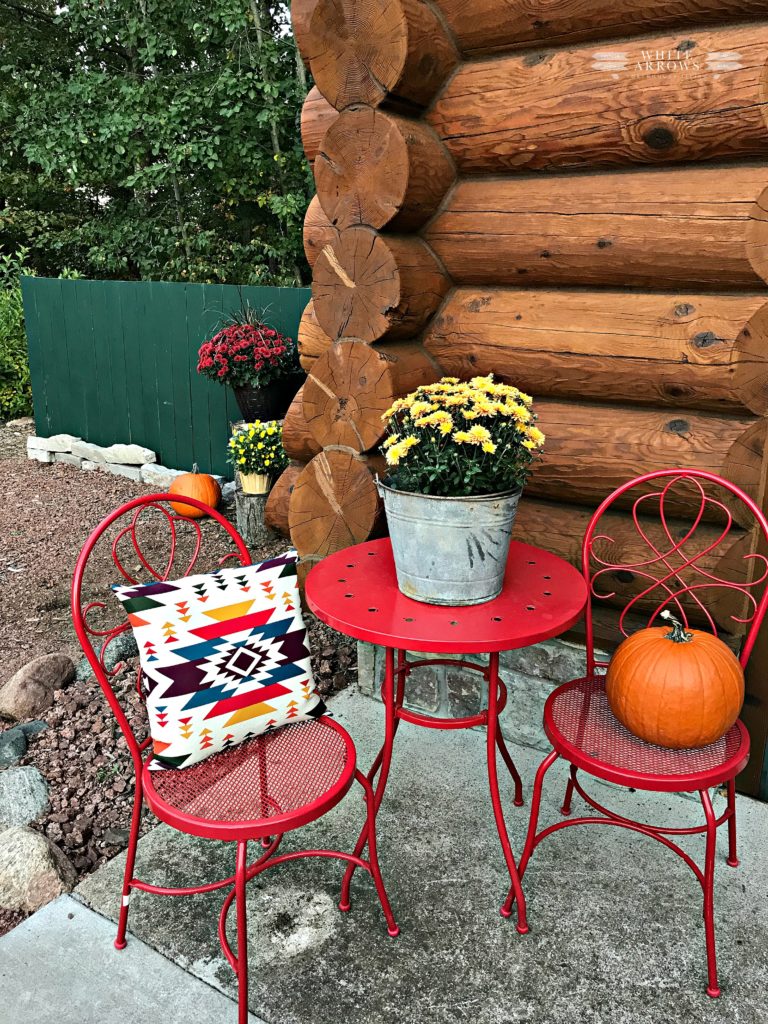 I love the pattern of my $5 throw pillows from Walmart. An old galvanized bucket makes a great pot for mums.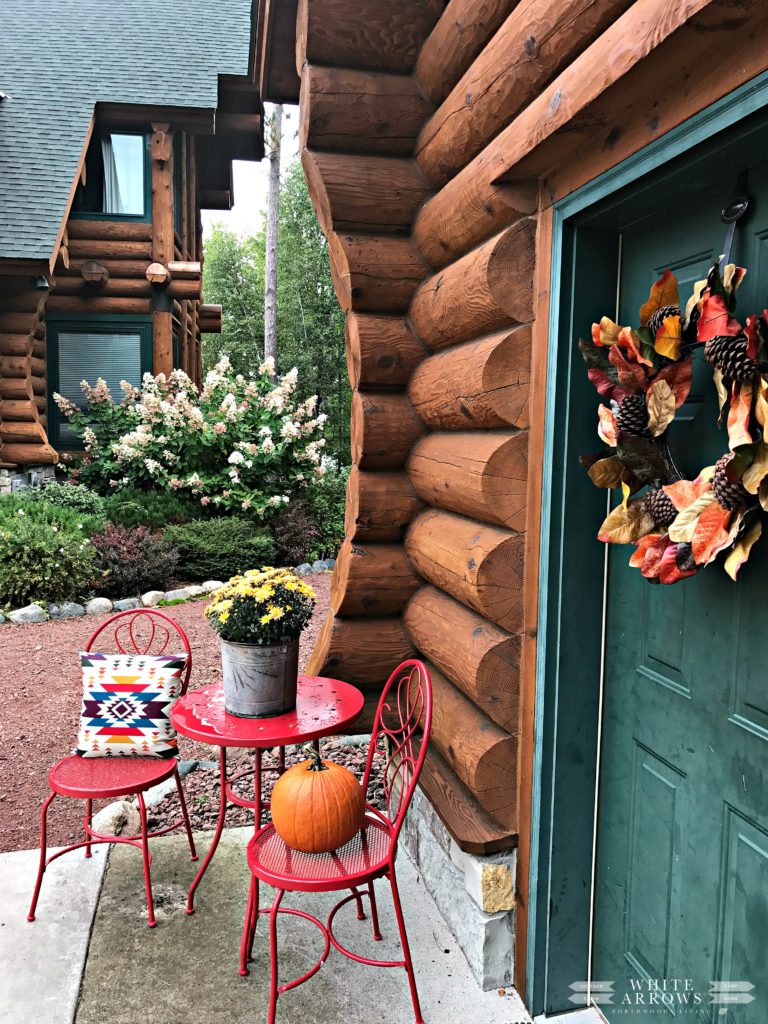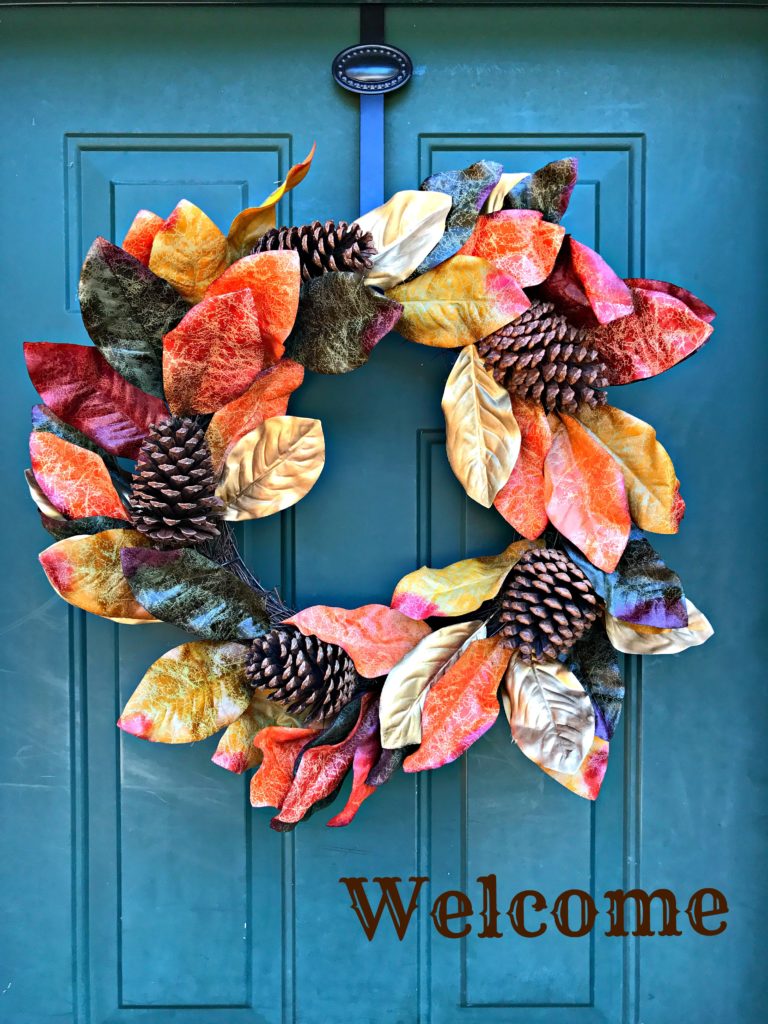 An angled shot of the cabin with the lake beyond shows the start of the changing leaves and dusty pinks of our hydrangeas in fall.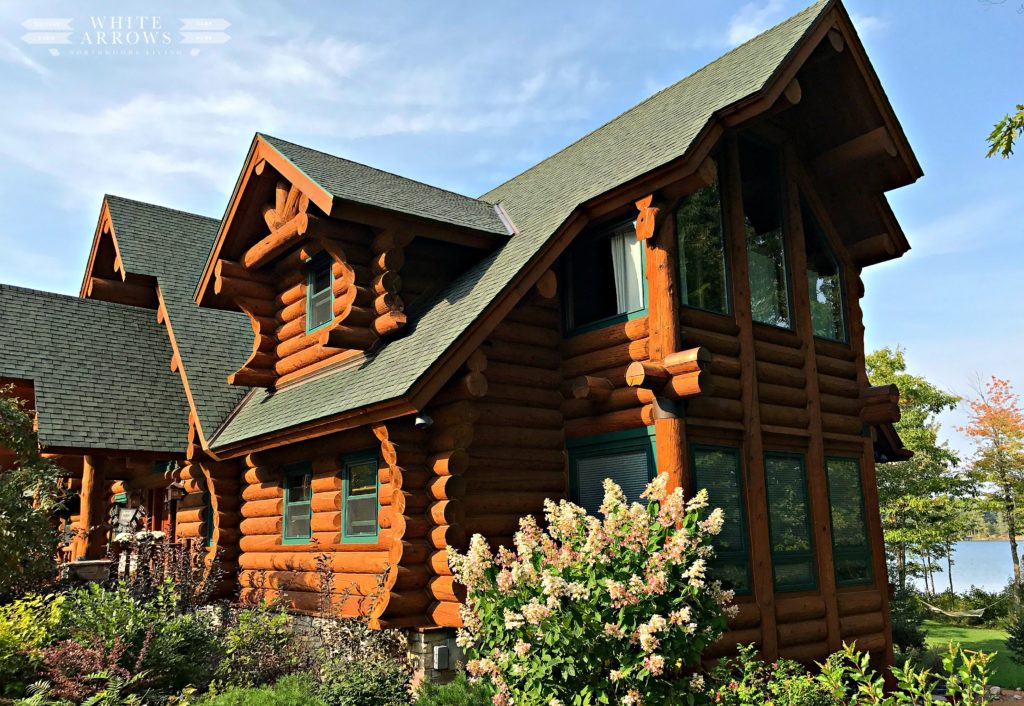 The decor for my front porch this year started with this gingham GATHER garland I found at Walmart that I couldn't wait to us. I moved two chairs from the back deck to the front porch. You can see the rest of this retro patio furniture style on the back deck here.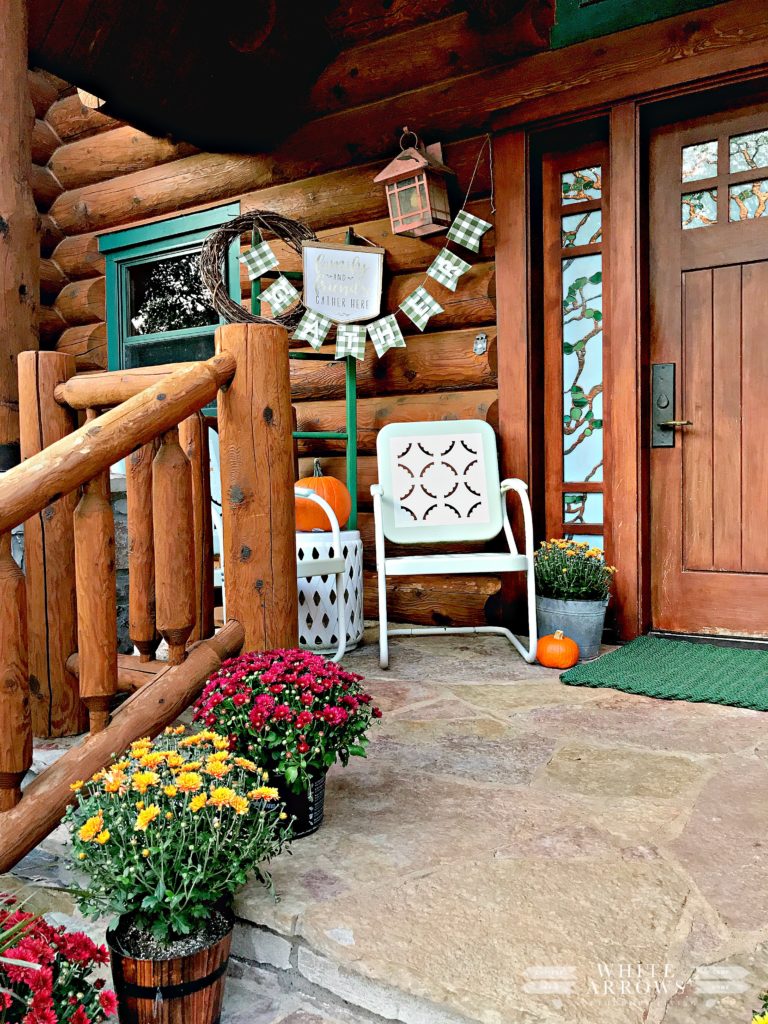 The Family and Friends Gather Here sign is from Walmart too.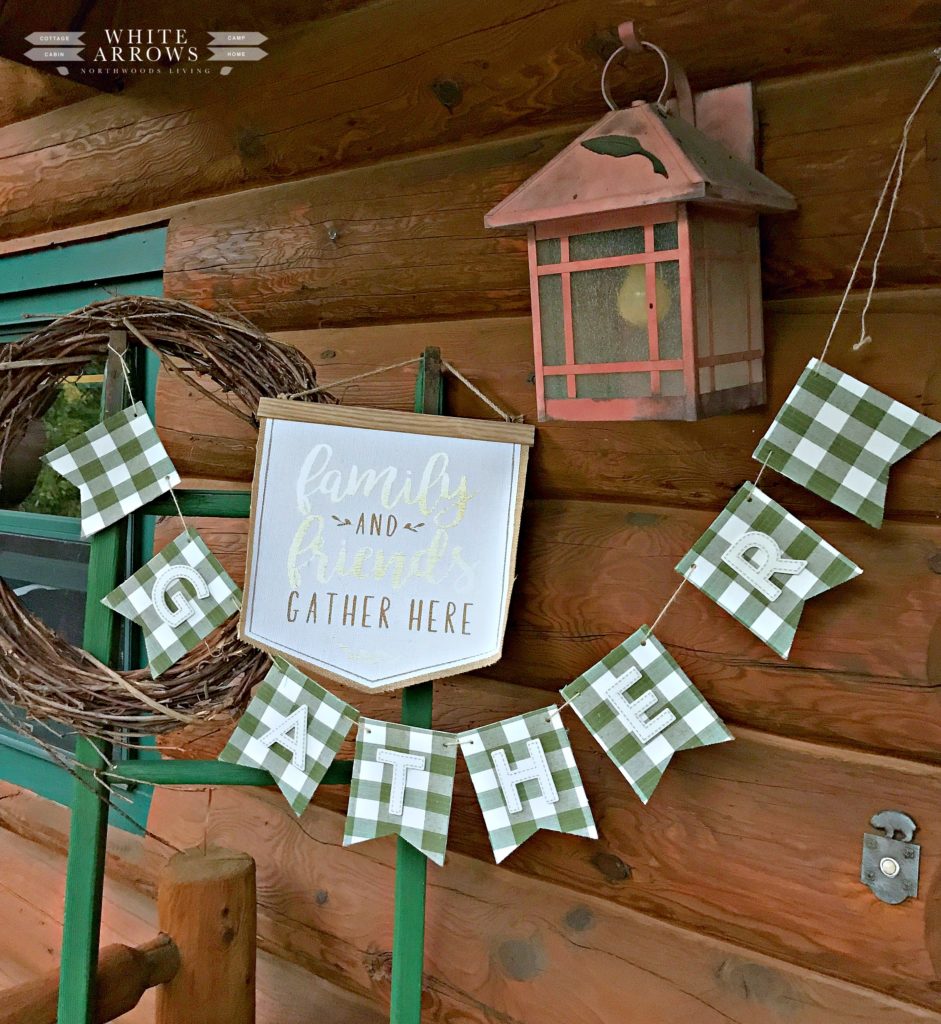 I couldn't resist the baskets of these sweet little pansies. This basket got bumped around a bit by our pups, a cute little pumpkin hides the flaw.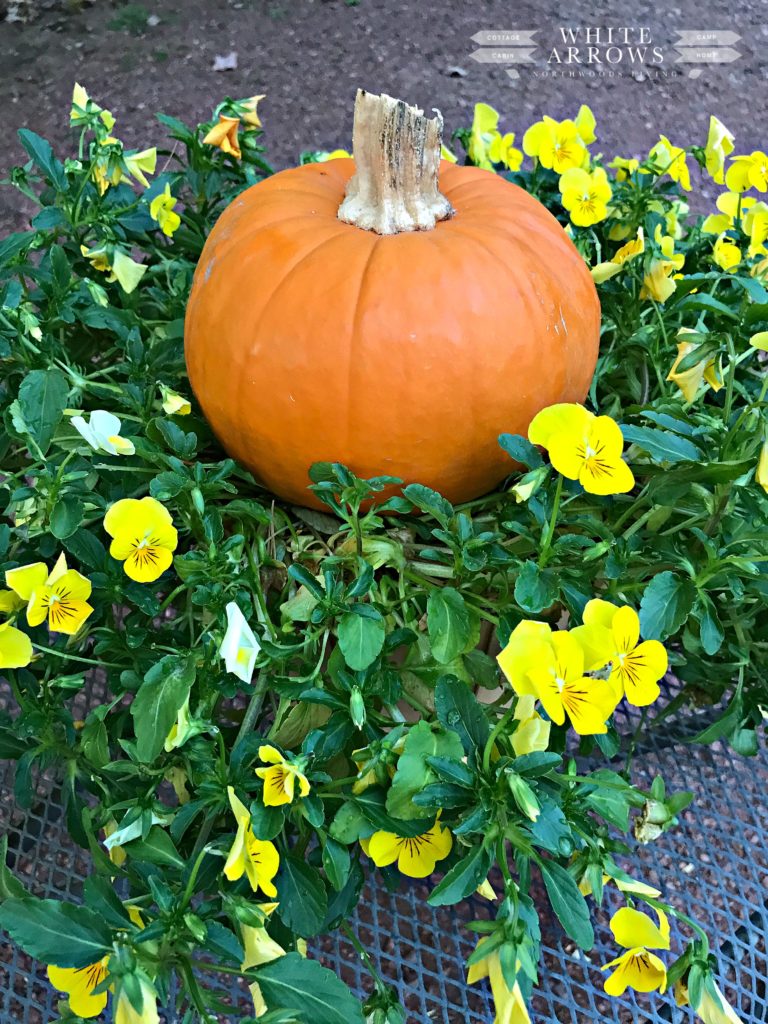 Mums line the way to the sunroom entrance. A favorite birch bark hanging basket is bursting with autumn color.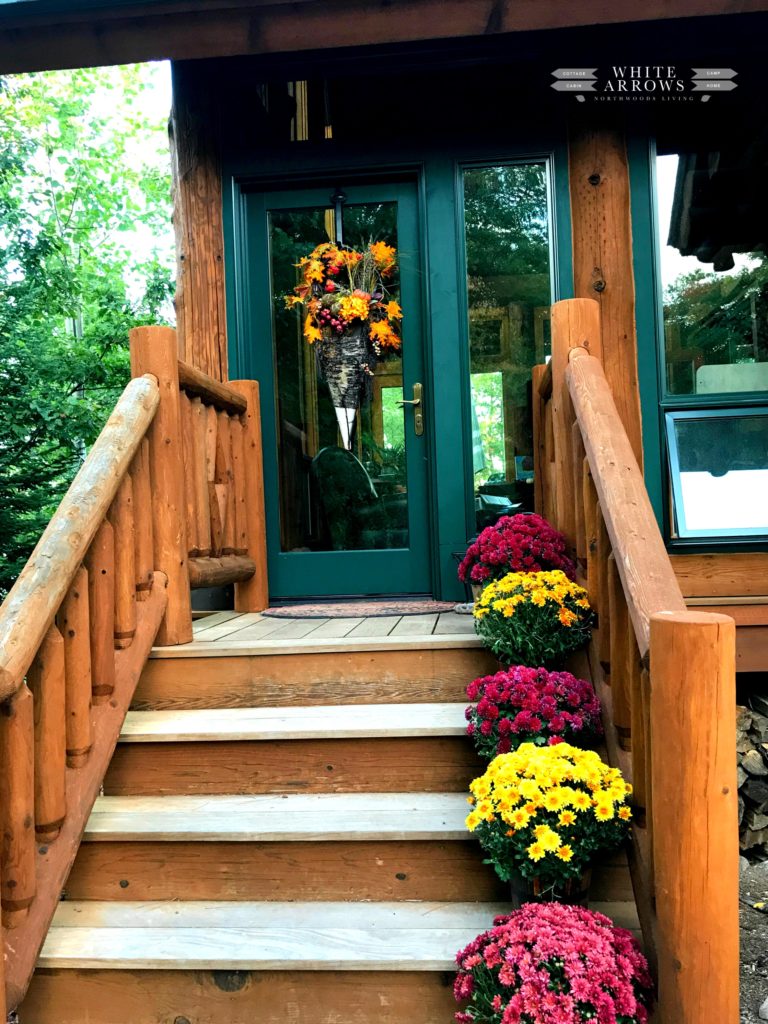 And over by the Guest Cottage a little more Autumn goodness. Cute Throw Pillows on the bench are surrounded by mums, one in a minnow bucket making it perfect for lake house decor. You can see the reflection of the main house in the window. We put a glass garage door on the guest house because our workout room is in that space and we wanted to be able to see outside during our workouts.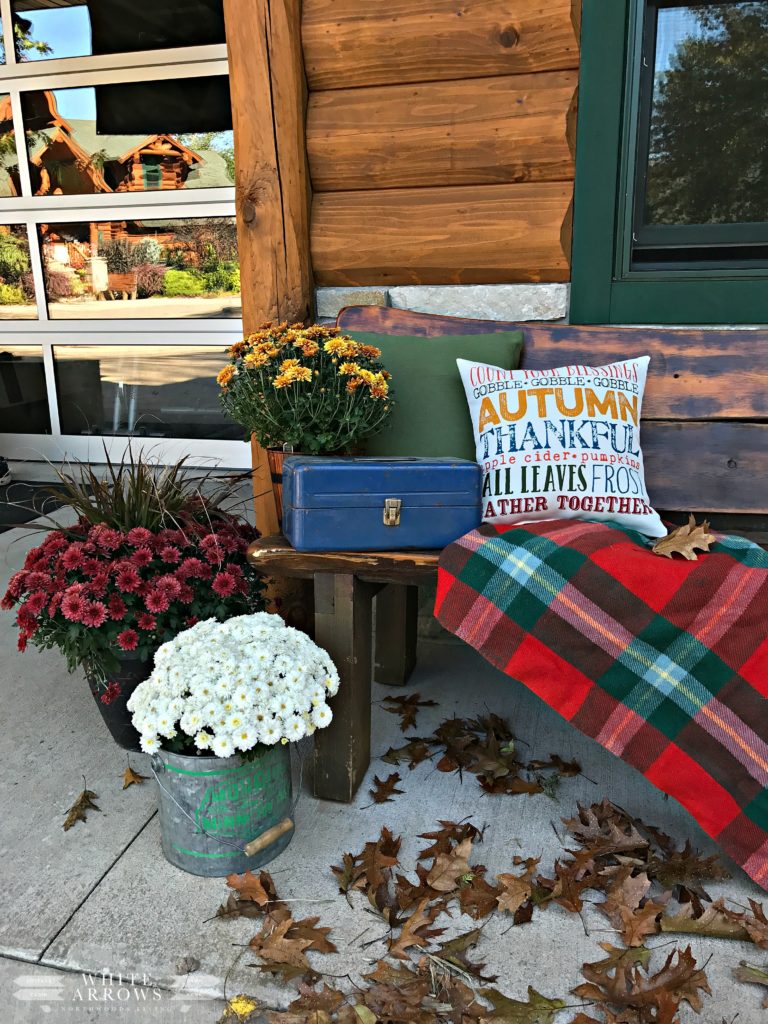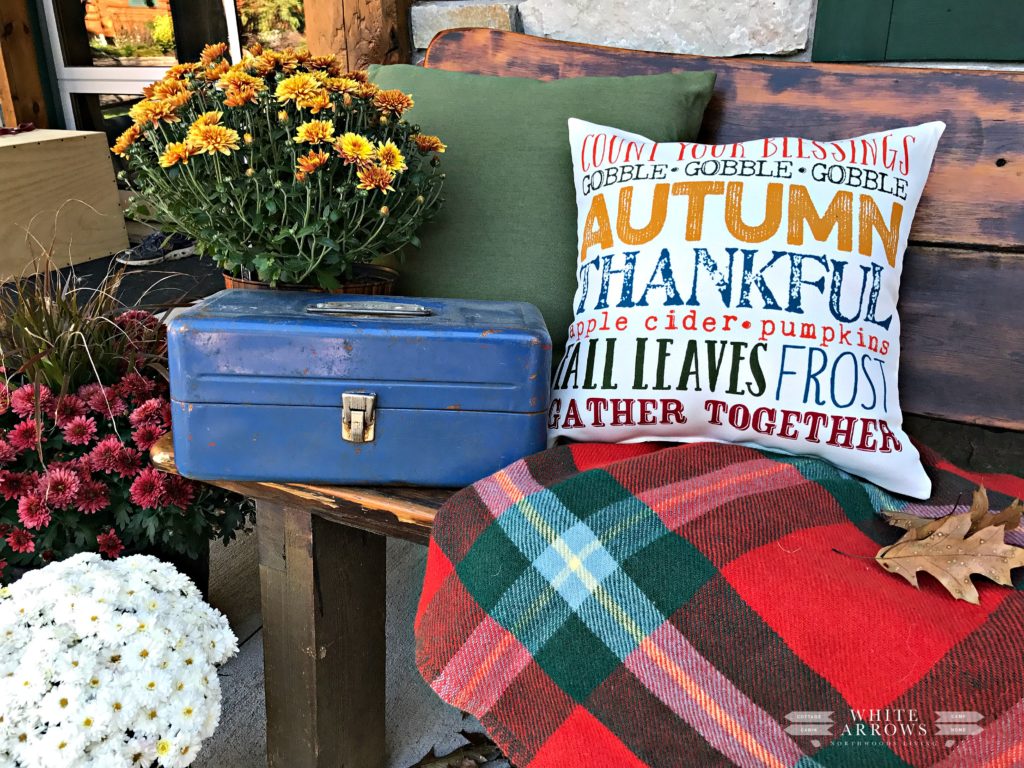 I'm so glad you came along on the tour. I'd love for you to leave a comment so we can connect!
Be sure to go back and visit any of the tours you've missed and continue to read each day's featured posts. All the links and the schedule are below. You can also bookmark this page so you can find it again easily. Another thank you to Kendra of Joy in Our Home for organizing this amazing tour! Next you will be heading to Chloe's beautiful home at Celebrate & Decorate for more fall porch inspiration! Wait until you see her gorgeous blue door! Have fun!
Shop the Look:
Affiliate Links are shared for your convenience. To see my full disclosure click here.
Vignettes on Monday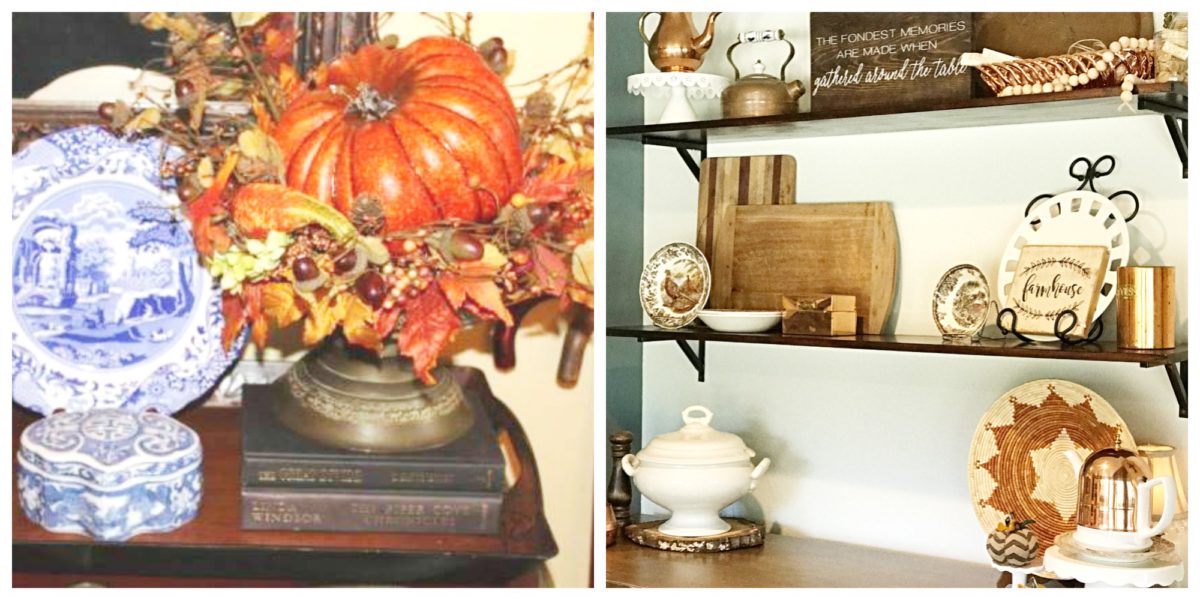 My Creative Days
Elizabeth Joan Designs
Noting Grace
2 Bees in a Pod
Belle Blue Interiors
Farmhouse On Elder Hill
Front Porches on Tuesday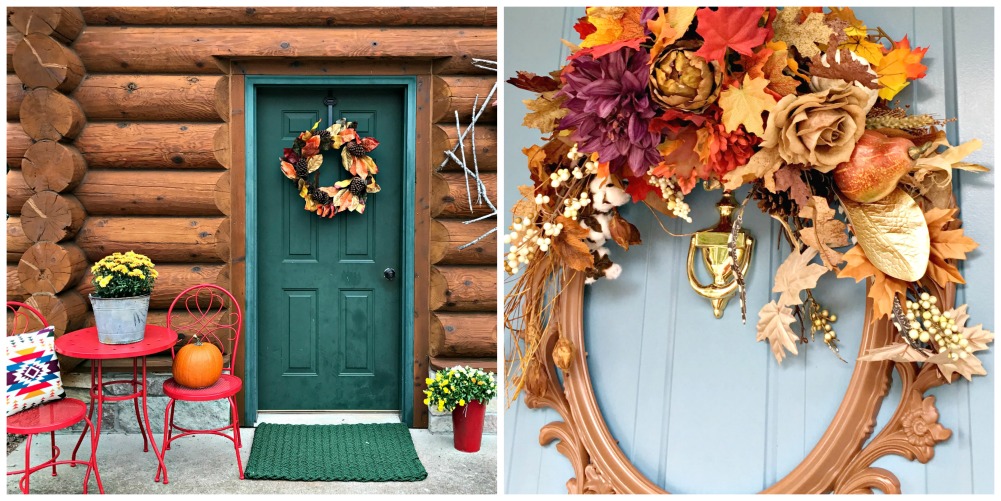 Little Brags
Life Love Larson
Hood Creek Log Cabin
Poofing the Pillows 
White Arrows Home
Celebrate & Decorate 
Fall Recipes on Wednesday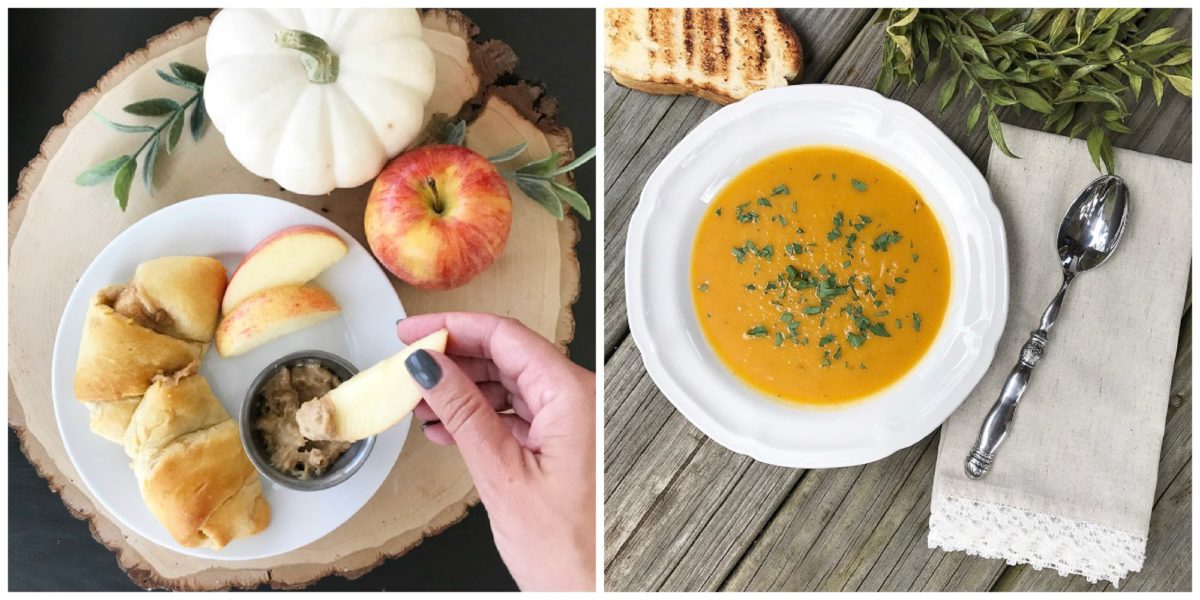 Joy In Our Home
With Two Spoons 
Honey n Hydrangea
Brooklyn Farm Girl
Crisp Collective
Calli Girl In A Southern World
Tablescapes on Thursday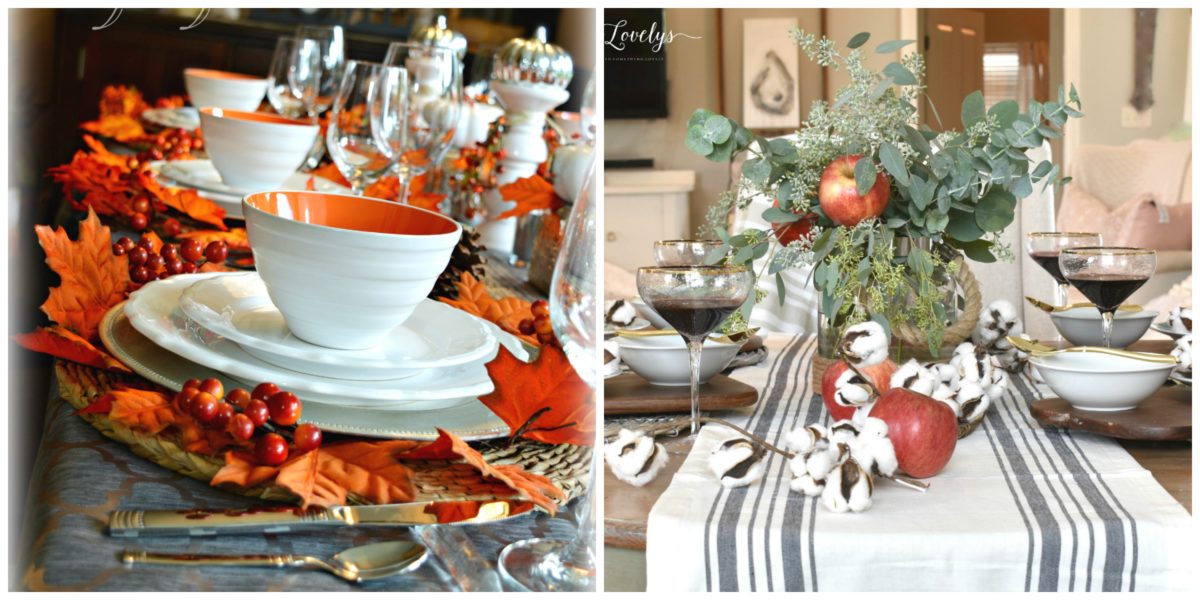 Repurpose and Upcycle
Timeless Creations
Kingsbury Brook Farm
Back to Blueberry Hill
Dining Delight
Lemons To Lovelys
Mantles on Friday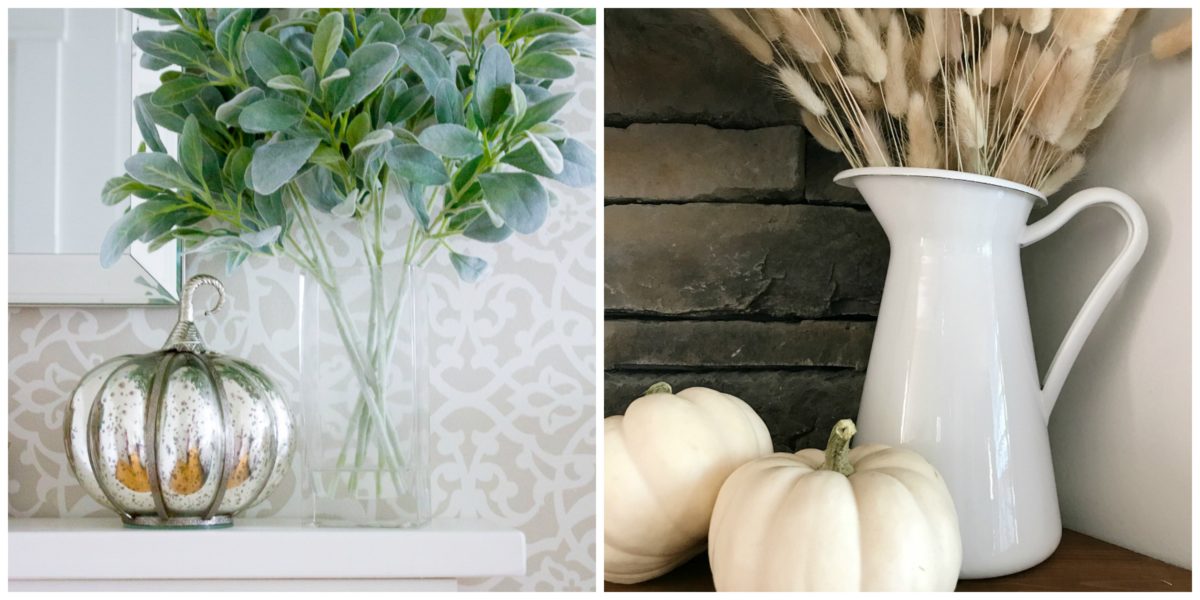 Anderson + Grant
Personally Andrea 
Beesnburlap 
The Mountain View Cottage
Making it in the Mountains
Lemons, Lavender & Laundry
Link Parties: