There are so many beautiful, quick and easy ways to decorate inside and outside your home with mums all season long in Fall.
I'm so excited to be participating in another Transitioning to Fall Blog Hop with several fellow home decor bloggers. Thank you so much to Amber of Follow the Yellow Brick Home for organizing this hop!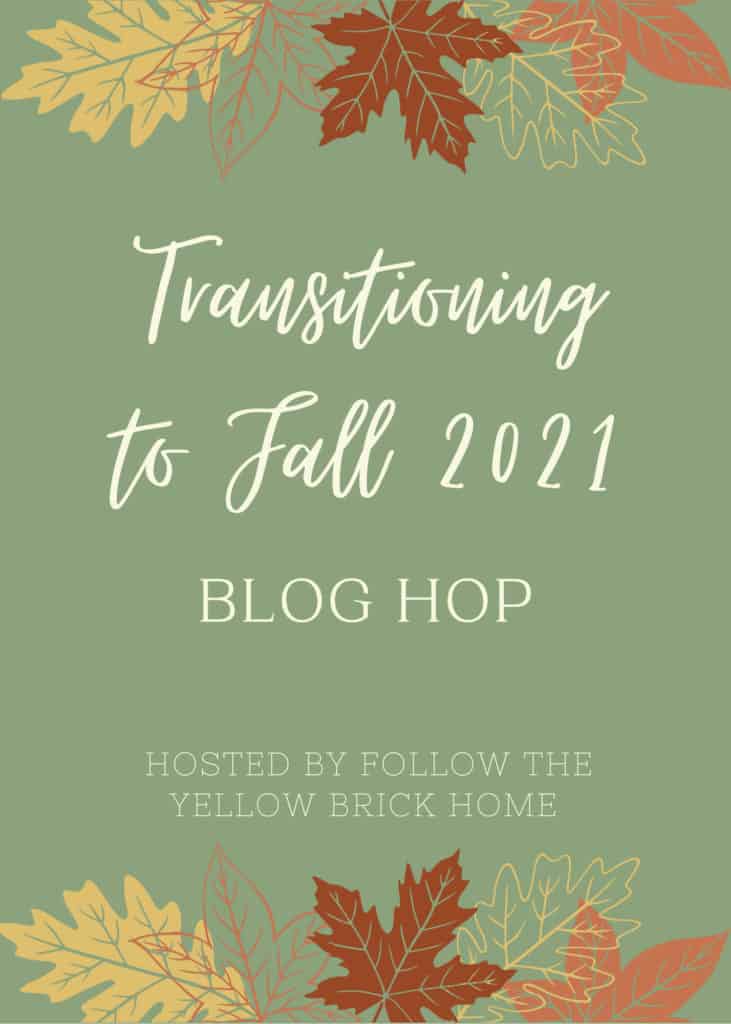 If you are coming over from My Thrift Store Addiction, welcome to White Arrows Home where I blog about life in my lakeside log cabin home way Up North in Wisconsin. Didn't you love Cecilia's decor? She's so inspiring!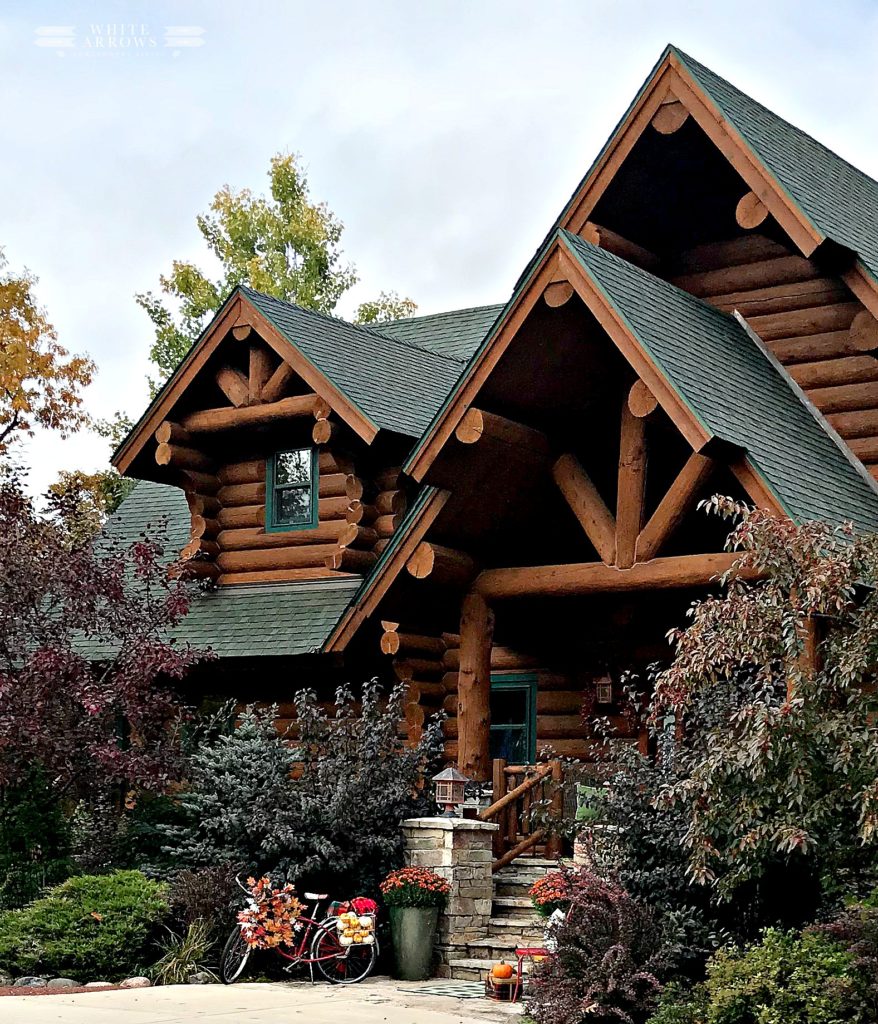 Where I live in The Northwoods of Wisconsin we have the most beautiful Fall Season. We are surrounded by forests so have lots of gorgeous color to enjoy.
This photo shows the colorful backdrop later in the Fall behind the nostalgic white arrow signs you see all around our area. The signs inspired my blog name.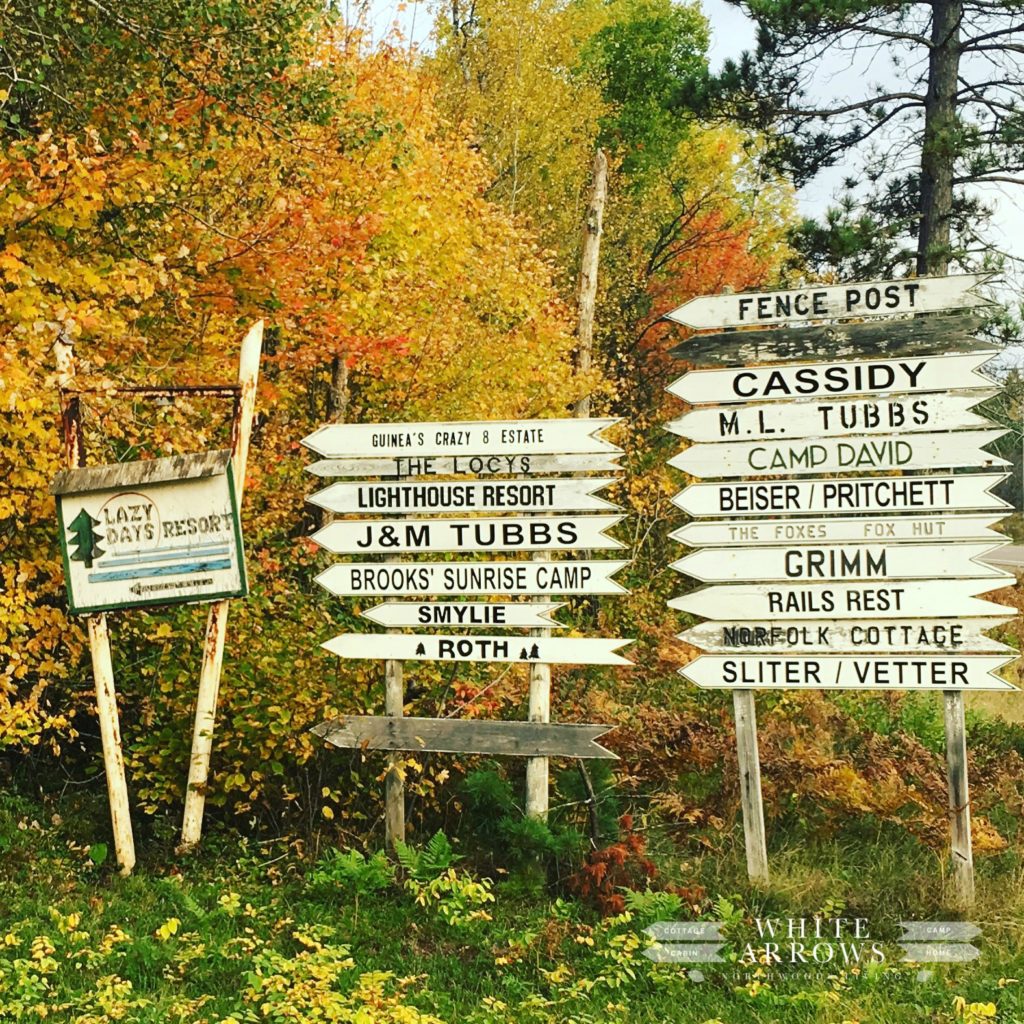 We also are surrounded by lakes and lake life. School doesn't start until right around Labor Day and we spend as much time relishing Summer as possible. There are many parts of the Summer that jump into celebrating Fall and decorating much sooner than we do.
One thing I do grab though when they start to show up at the greenhouses, in the stores and at the farmer's markets are mums. If I don't grab the pretty ones when I see them they will be gone.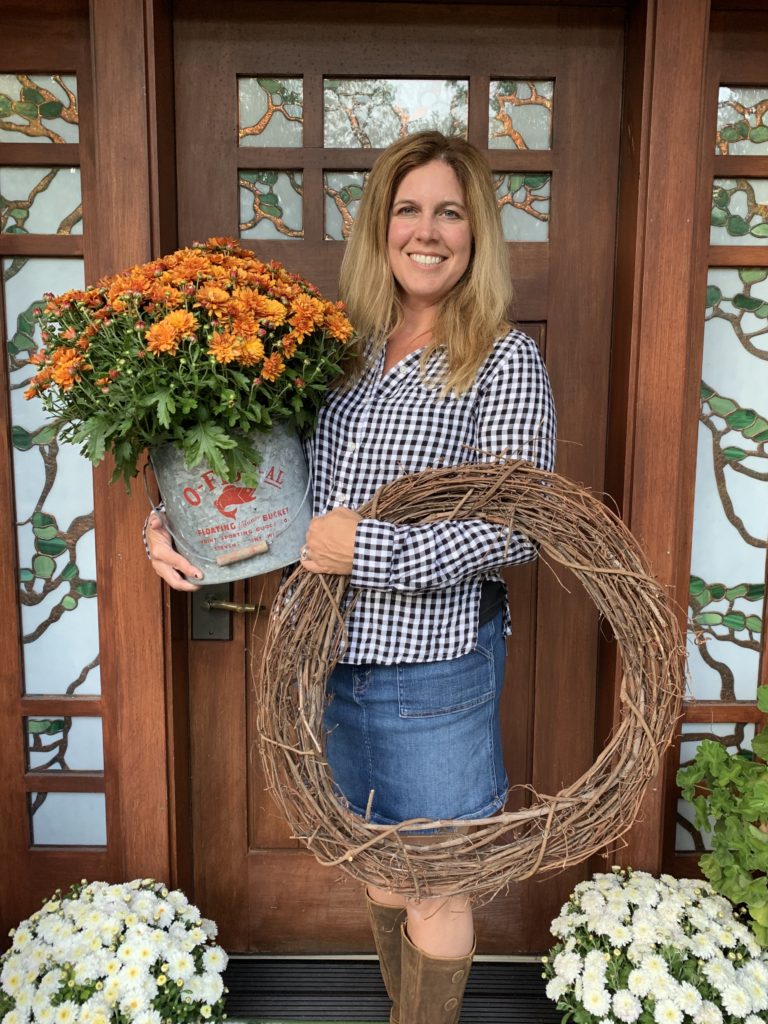 So even though I'm still about all my Americana and red, white and blue decor from Memorial Day to Labor Day, the mums start hanging out with the geraniums a bit in August.
Here are some fun and easy ways to decorate with mums.
I use minnow buckets as easy pots to set mums inside.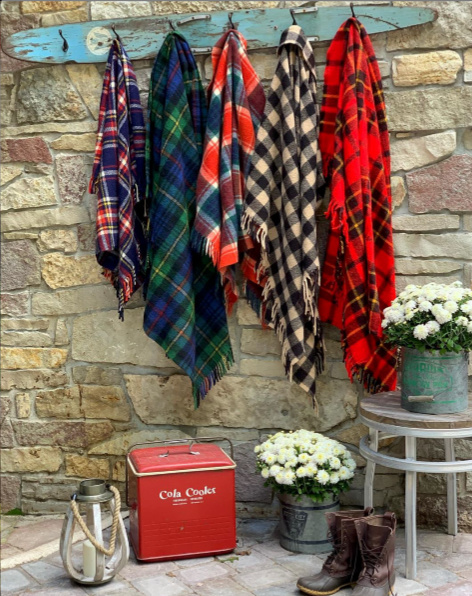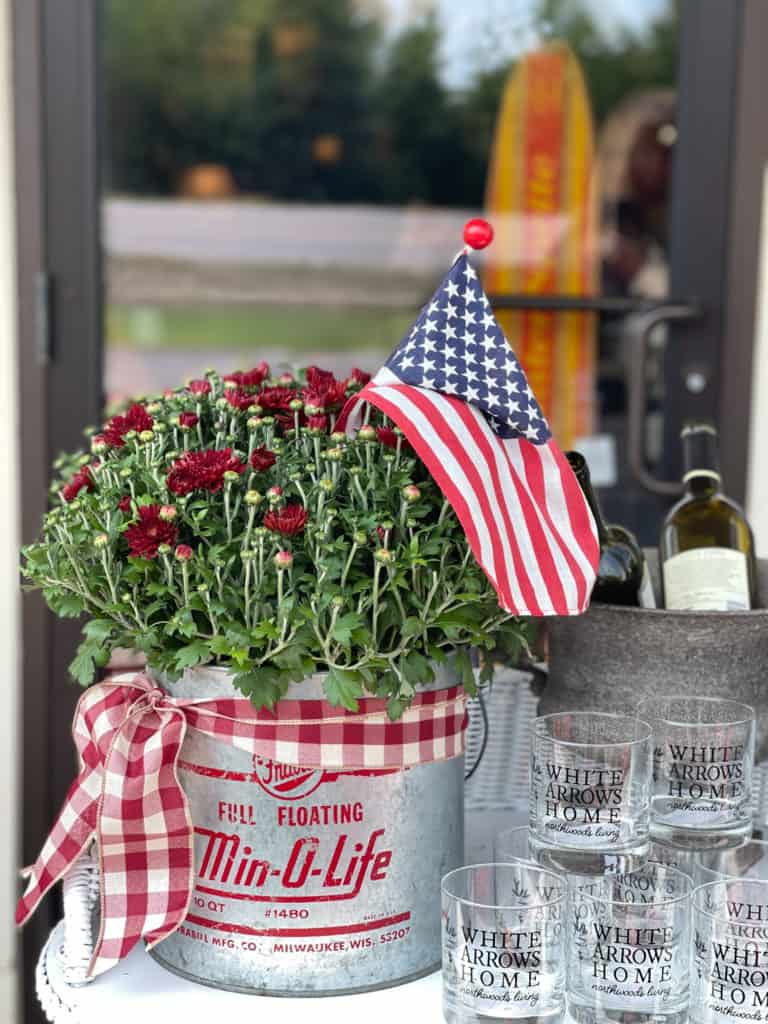 Little mums look so cute in the basket of a vintage bike in front of my shop.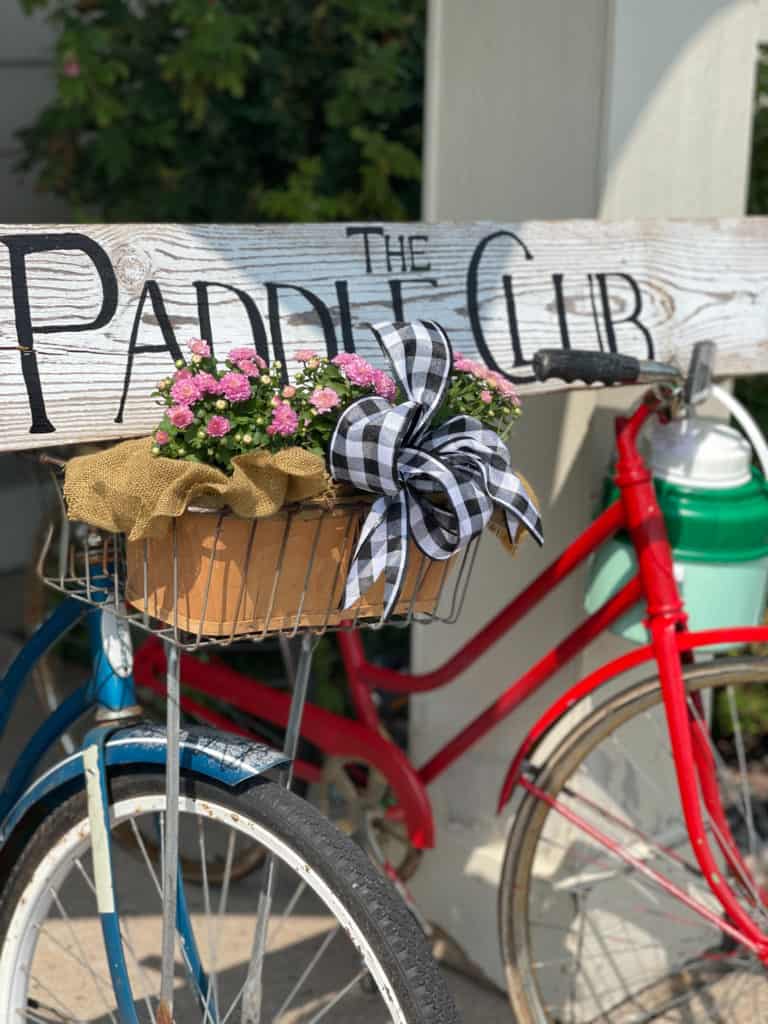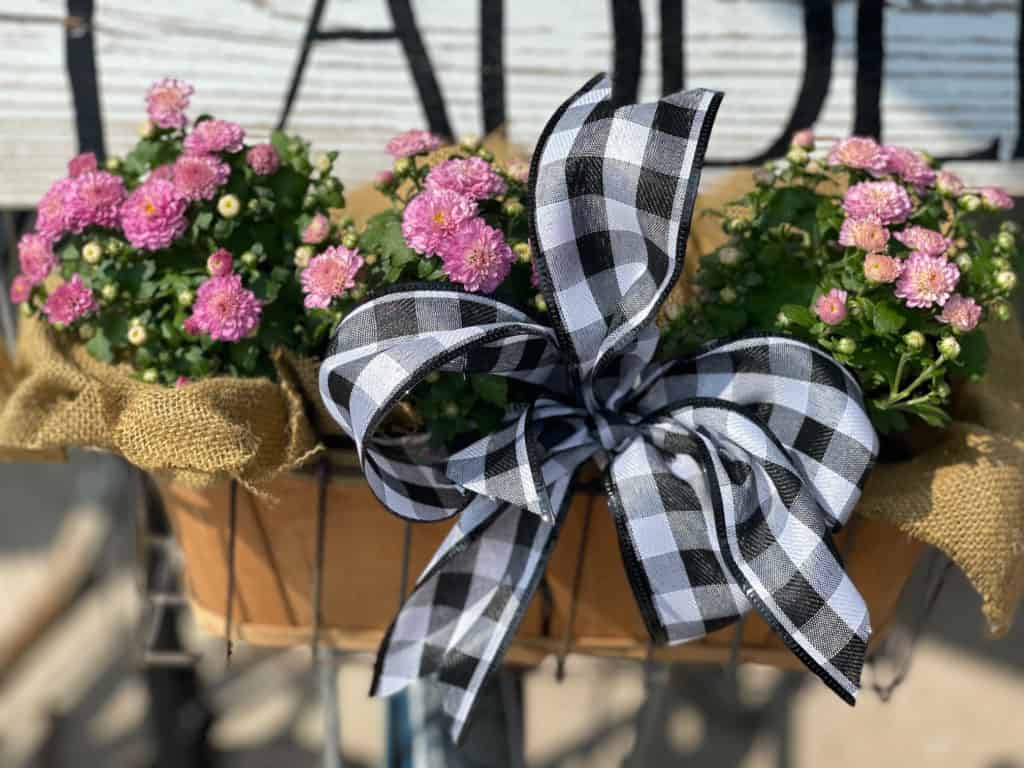 They are a fun addition to the back of a vintage toy truck.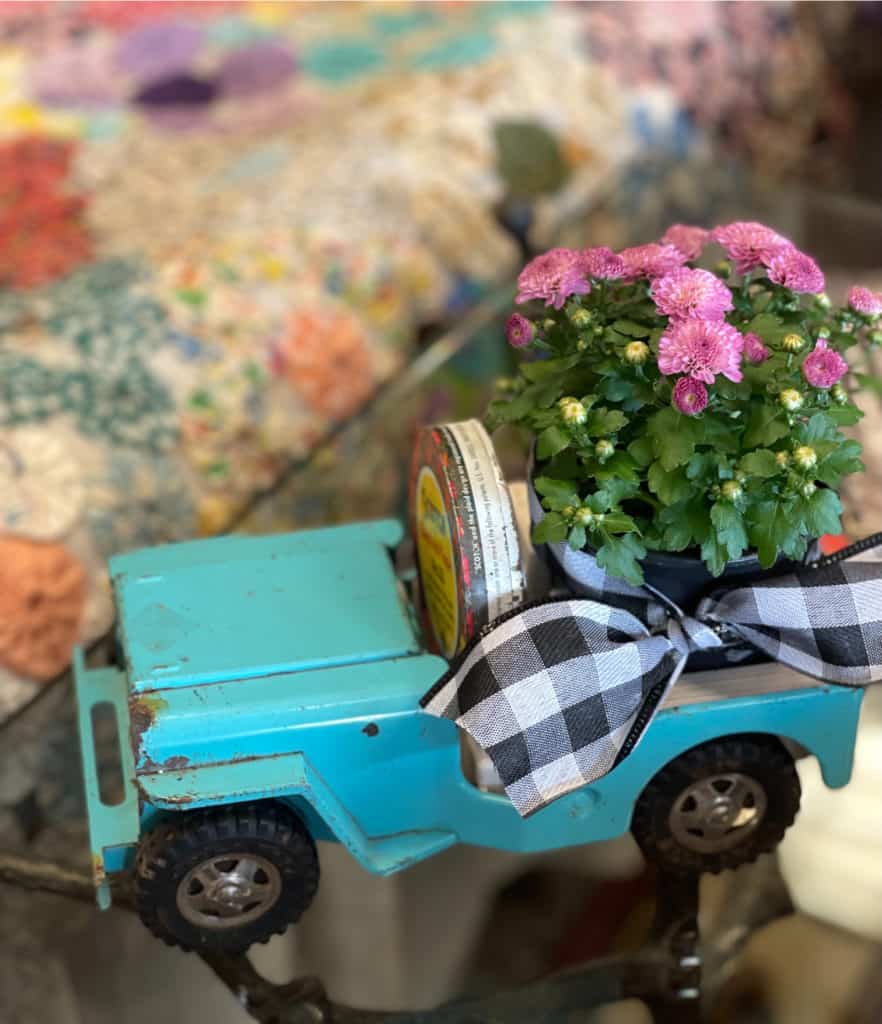 I'm all about inexpensive and easy DIY projects. I loved when my Shopkeep at White Arrows Home, Diana, grabbed plastic Halloween buckets and spray painted them gold for a more elegant twist. They make great planters.
And burlap is the perfect filler with mums.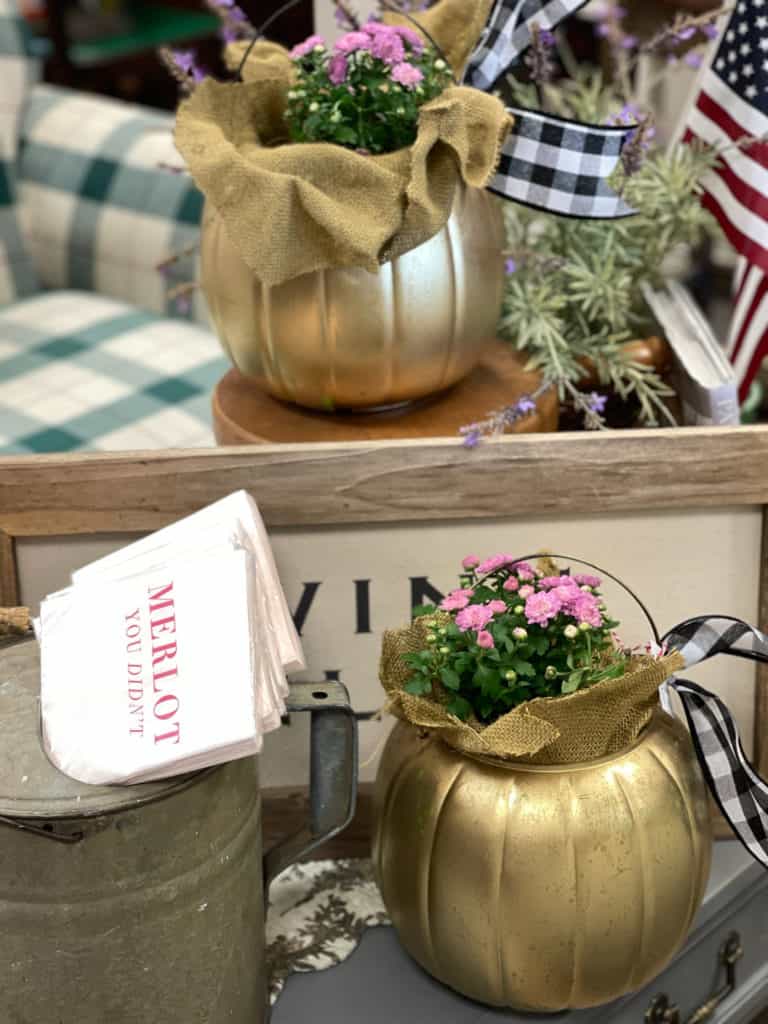 What a cute gift mums make when added to a basket for a friend! Find great gift ideas here.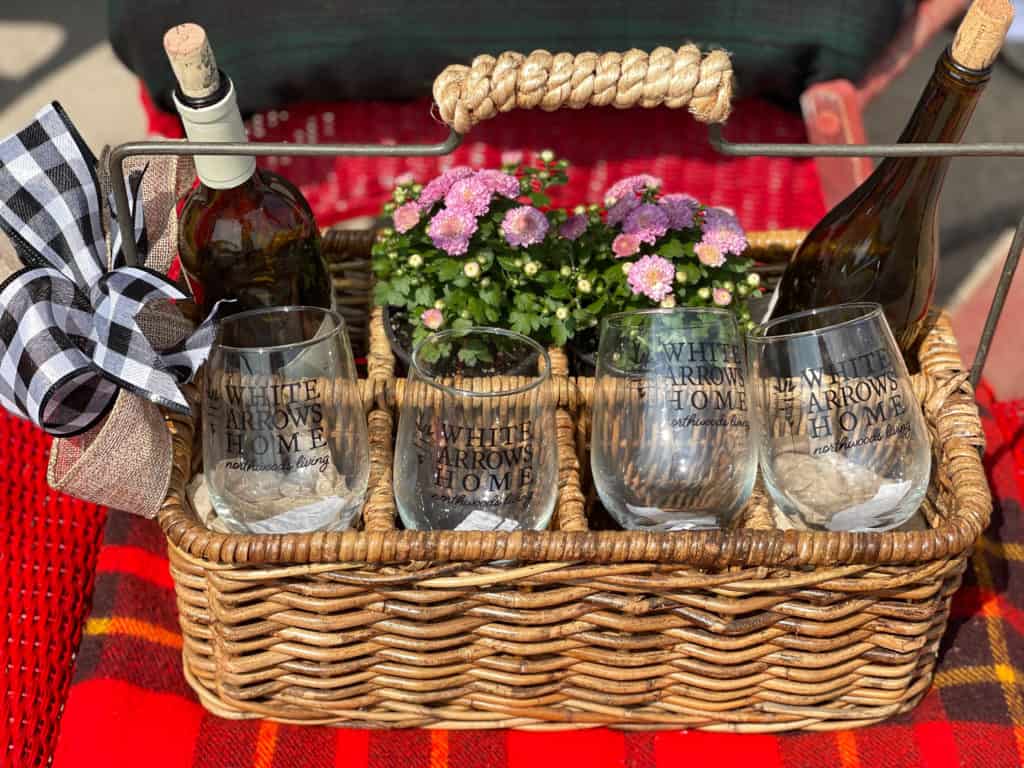 We love putting bouquets, plants and arrangements in creative vintage vessels! A mum in a bowling bag? Yes please! See more fun vintage floral arrangements in this post.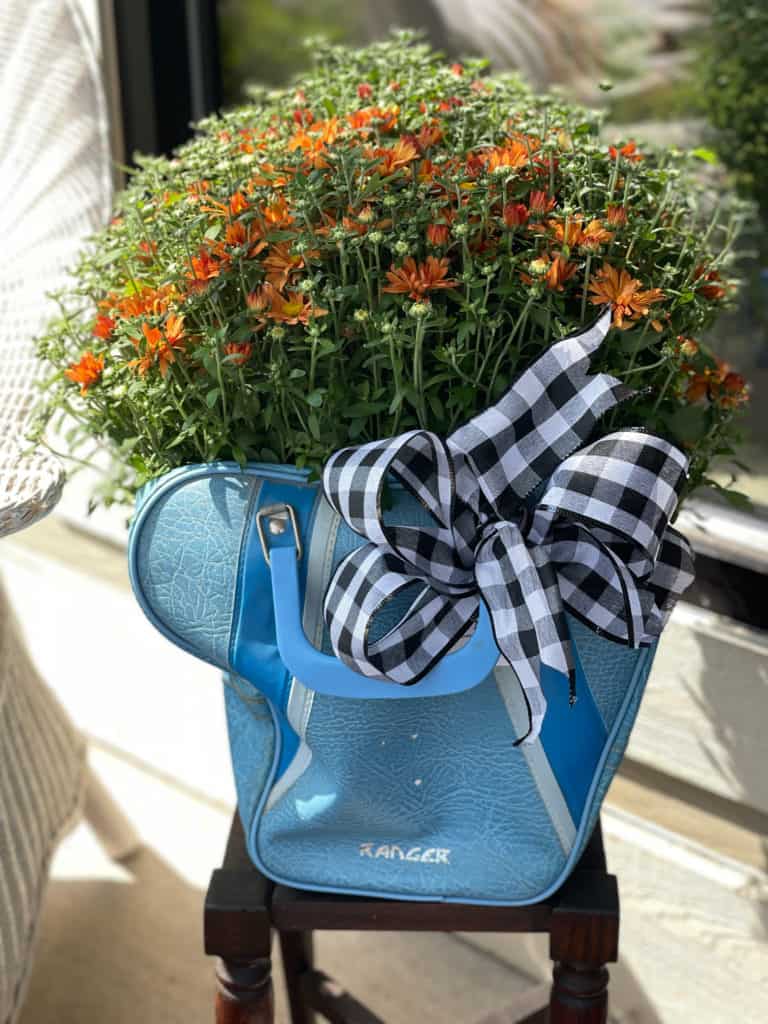 How sweet mums look on the kitchen counter in an old kettle.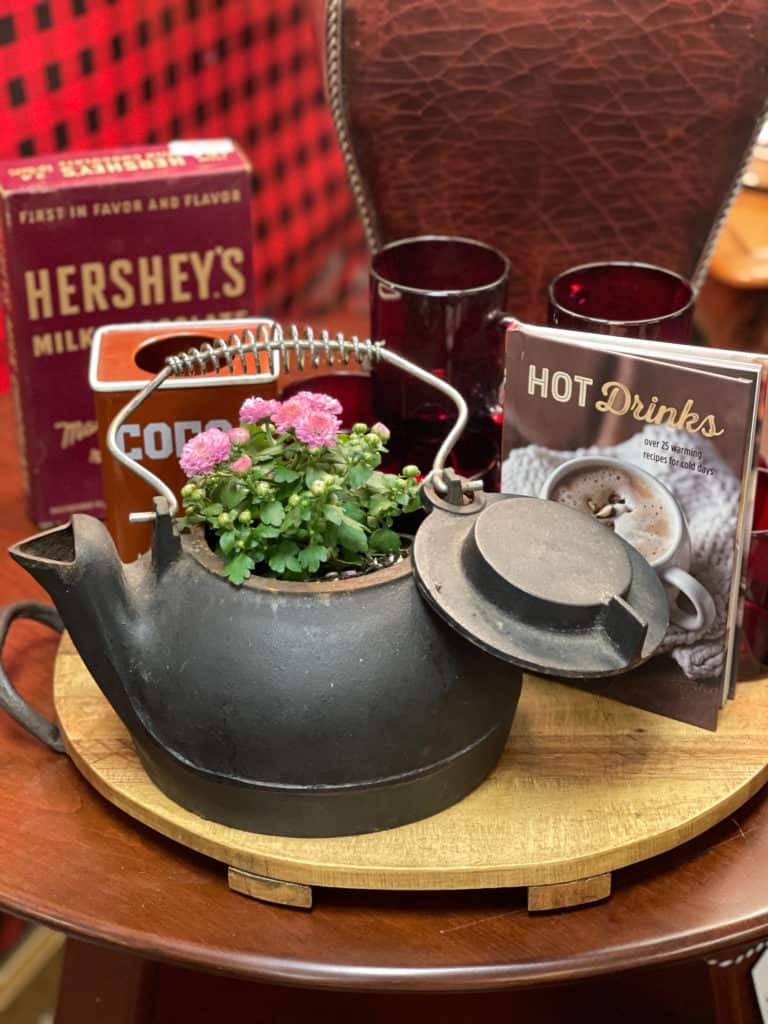 I don't have a favorite color mum. Do you have a favorite? I love them all. These burgandy ones look amazing with copper!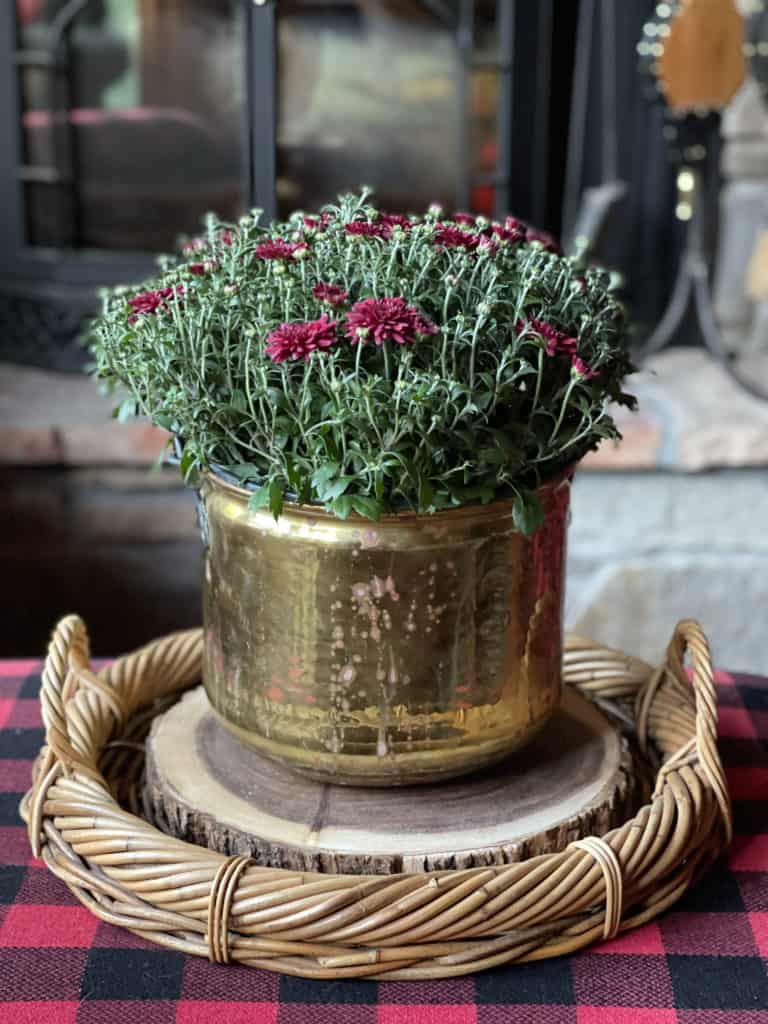 I addd mums to my tailgate party set up here.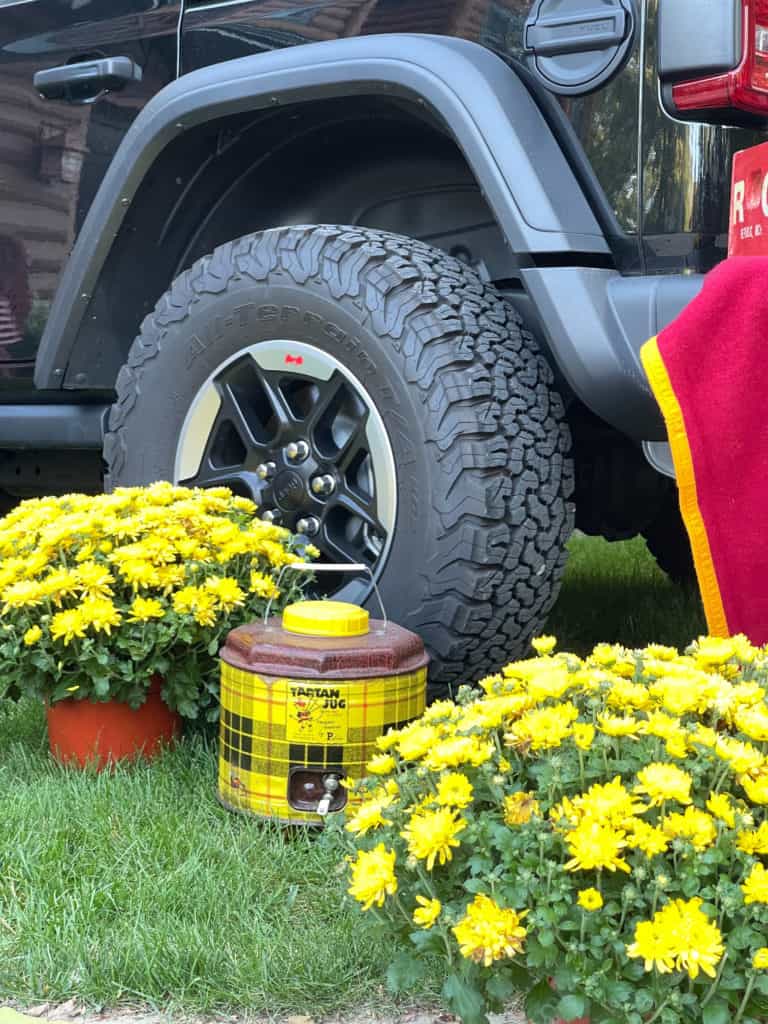 Thanks so much for joining me today! I hope you will subscribe and visit often!
Next up you are heading over to Michelle's. She writes one of my favorite blogs, Thistle Key Lane. You will be so inspired!
Take the Tour
FOLLOW WHITE ARROWS HOME


Instagram ~ Facebook ~ Pinterest ~ Twitter ~ YouTube ~ Tik Tok ~ Liketoknow.it