Football Season is even more fun with football and friends! I'm styling a festive tailgate party in honor of our favorite college football team.
I'm so excited to be joining some of my blogging friends for a Tailgating party hop. Each month the Virtual Dinner Club girls hosted by, Simply 2 Moms, get together and share a tablescape and recipe. This month, I get to be a guest host.
Find a list at the bottom of the post with links to all the inspiring posts.
If you are coming over from Rachel's North Carolina home, welcome to our lakeside log cabin home in The Northwoods of Wisconsin. I love Rachel's gorgeous home, property and blog On the Ponds.
I was so excited to be part of the group this month because it centers around our family's favorite sport, football! We love to watch football live during one of the games my boys play in or my husband coaches or watch on TV or The Packers at Lambeau Field.
My husband and I met at Coe College in Cedar Rapids, Iowa. He was a football player. I was a cheerleader.
Now our son, Barron, is there to play football too. This is a photo we took after he played in the All Star Wisconsin State Football Game this Summer.
Follow along on Instagram to see our Dinner Club reel where I borrowed Barron's jersey.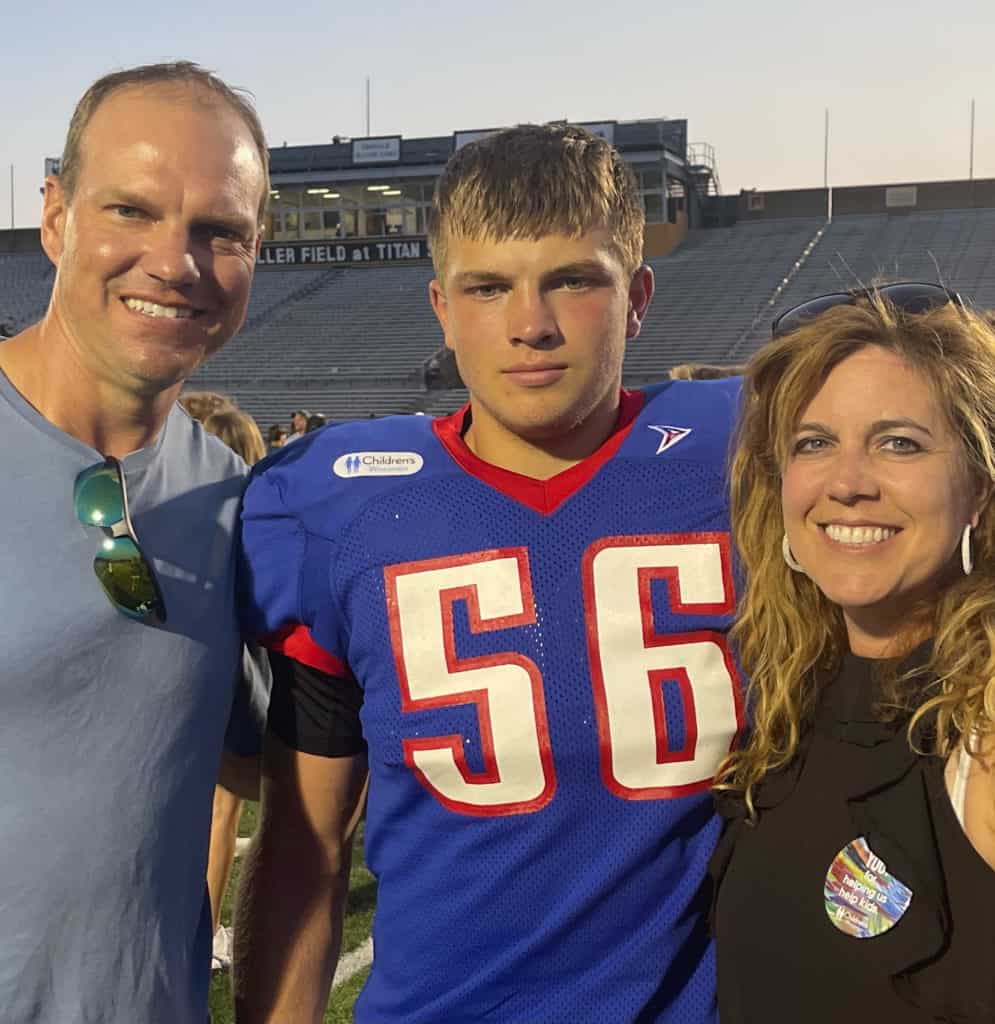 So I knew I wanted to set up a Coe College Tailgate.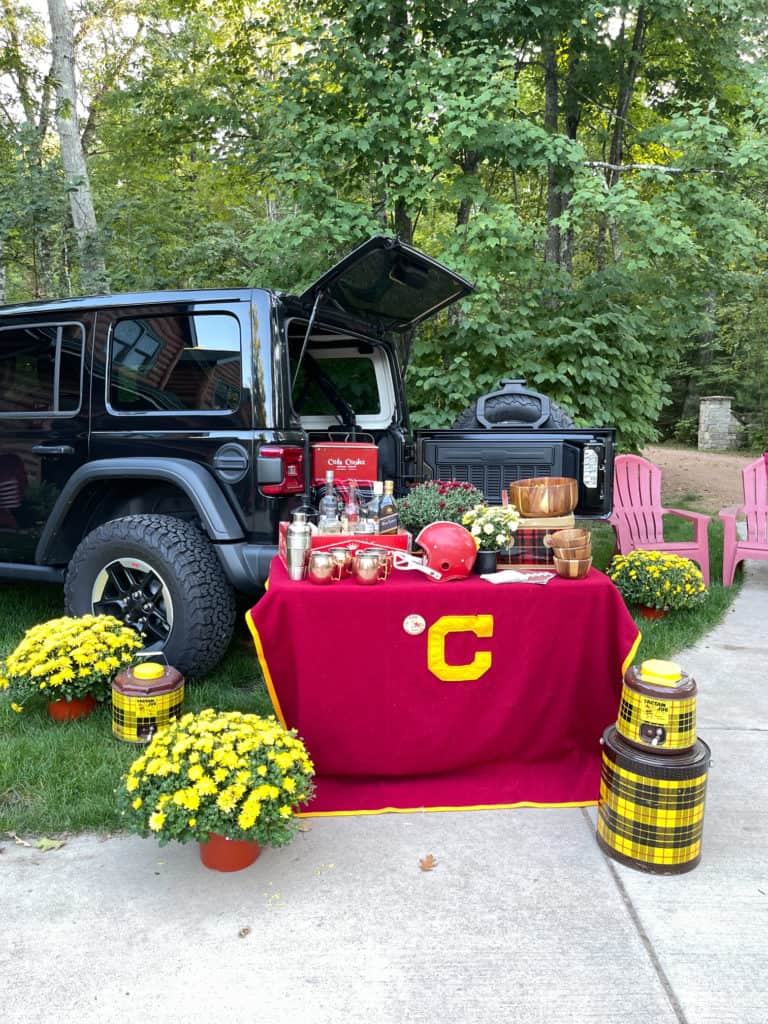 There's no alcohol in college football games, so we can enjoy some cocktails before the game. Copper mule mugs are perfect for the Fall setting.
I set up a self serve bar to keep things easy with a variety of favorite liquors and mixers and fill a cooler with ice.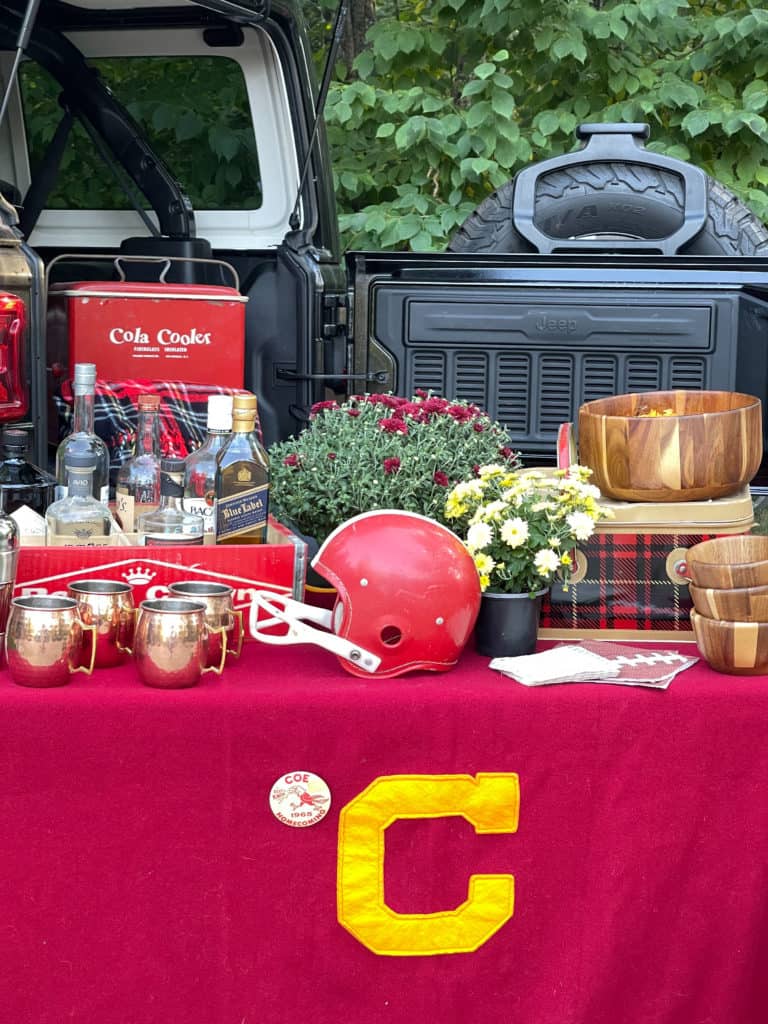 I filled in with mums in the school colors.
The little vintage football helmet was a find a few weeks ago when I was #thriftingwiththegals and visiting one our local weekly flea markets.
Have you been following along on Wednesdays for #thrifitingwiththegals on Instagram? We have so much fun sharing in our stories our shopping adventures to antique shops, thrift stores and vintage markets all around the country.

One of our favorite football foods, Buffalo Chicken Pasta Salad is an easy crowd pleaser to bring along. I'll be sharing the recipe later this week. I love serving it in my wooden bowls.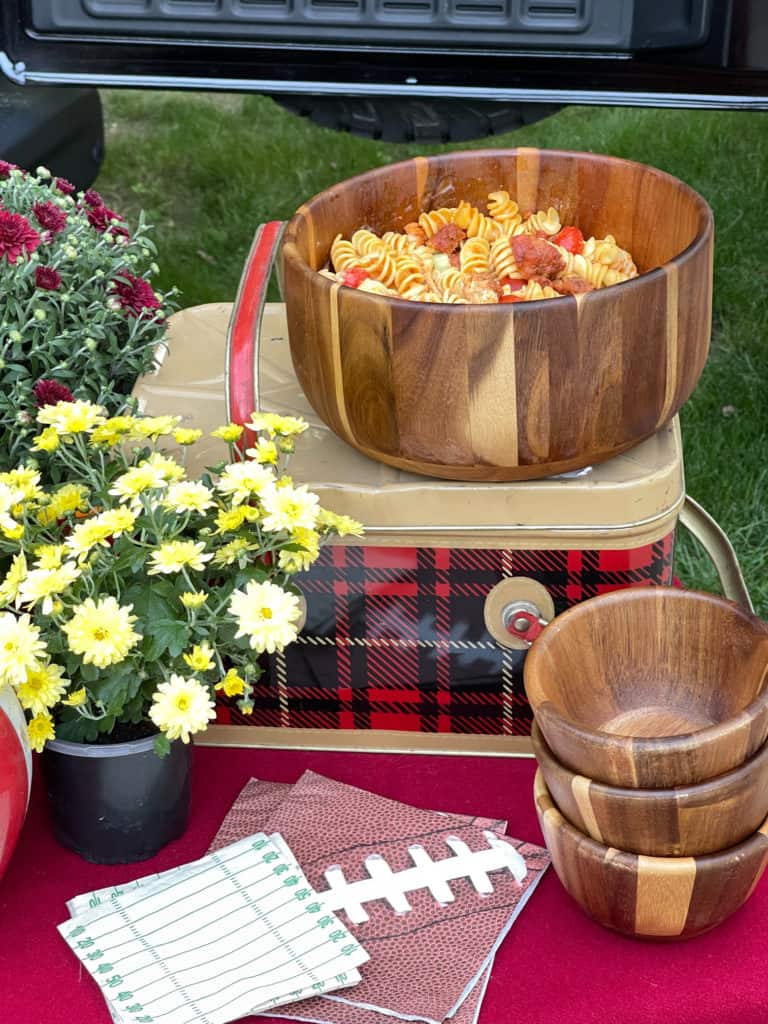 When you were a varsity athlete at our college, you became a member of The "C" Club and were awarded a blanket with a Gold C on it. This is my husband's blanket that I used as the tablecloth.
If you know a high schooler looking at colleges I highly recommend they add Coe College, in Cedar Rapids, Iowa to their list! I grew up in Texas and applied to colleges all around the country. When visiting the campuses of all these schools, Coe stood out and I instantly knew I belonged there! It was the friendliest place I had ever been! Everyone on the gorgeous red brick building campus said hello. I loved every minute I was there!

We have gone to every Coe Homecoming football game since my kids were born. It's one of our favorite annual traditions!
Coe College is a private liberal arts college with a lot to offer from amazing academic programs, athletics and clubs and organizations. It has a lot rich history and tradition. The Princeton Review rated Coe as #10 among private colleges for internships and #20 for best Alumni networking.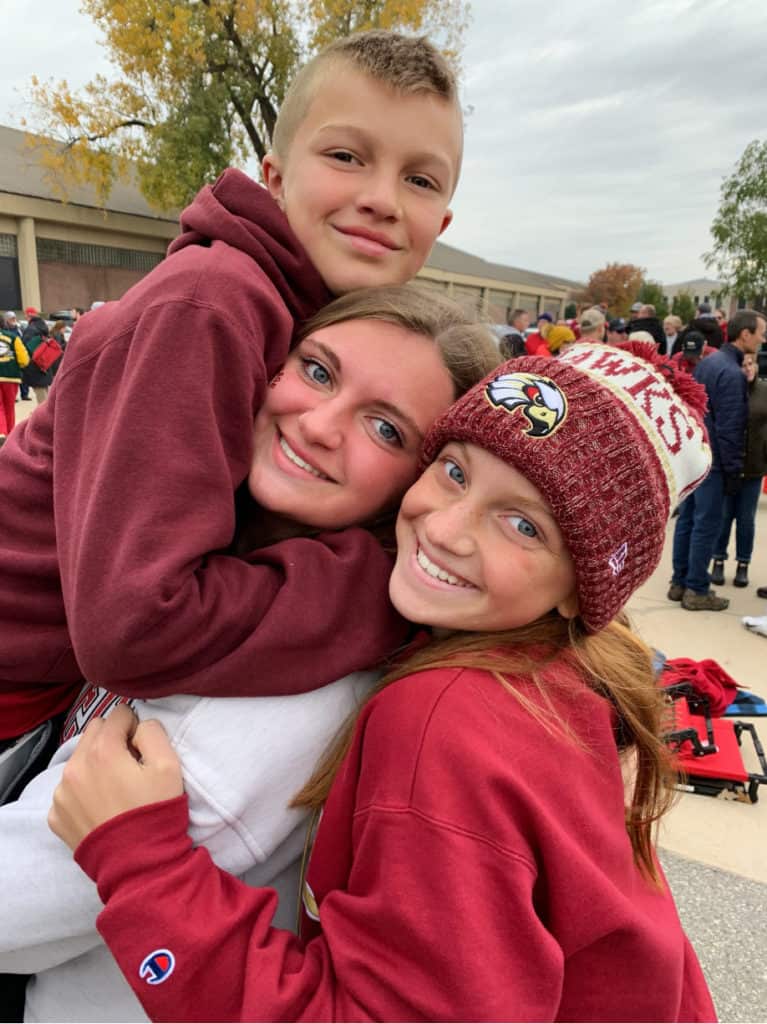 My daughter who goes to The University of Iowa, found this vintage Coe College Homecoming button at an antique shop in Cedar Rapids a few years ago.
Coe is located in Cedar Rapids, Iowa, a vibrant midwest city and perfect college town with lots of culture, entertainment, events and outdoor activities.

For the tailgate,I brought along several of my favorite vintage pieces like my collection of yellow tartan jugs and coolers.
For a while, and while my husband and I were at Coe, the school colors were red and gold (like Ronald McDonald red and yellow!) We didn't really think about it at the time, but a few years after we graduated the school went back to their original Crimson and Gold. I'm so glad they did, the colors are so classy!
Styling my tailgate with items in crimson and gold was easy and fun to "shop" my house for.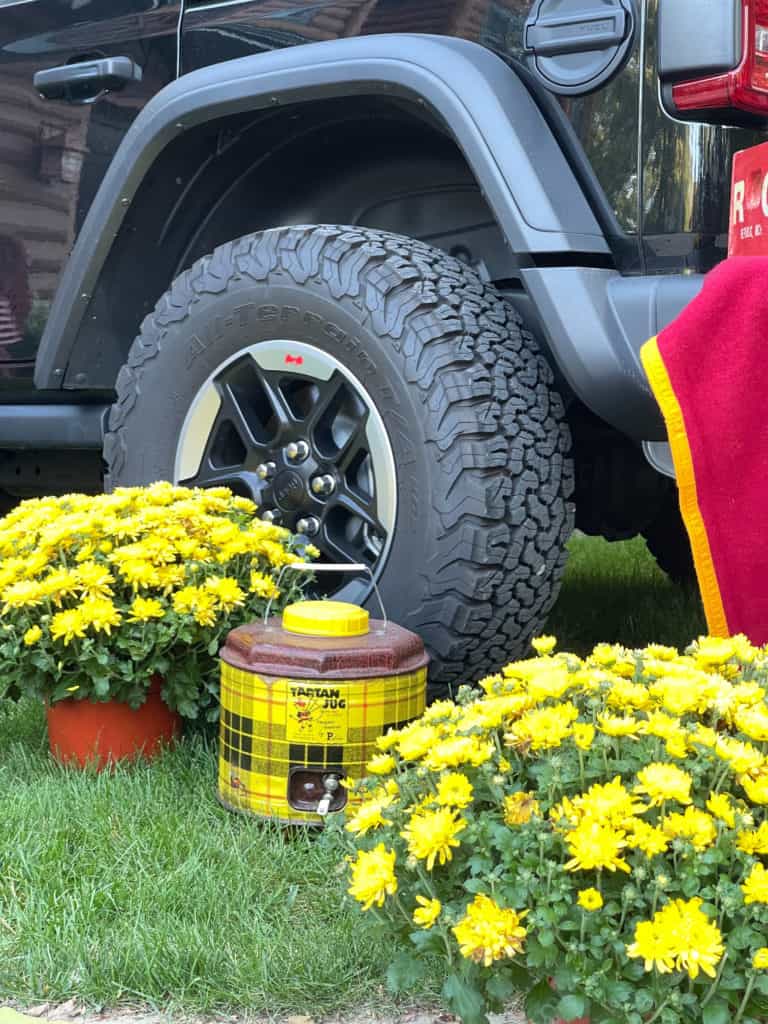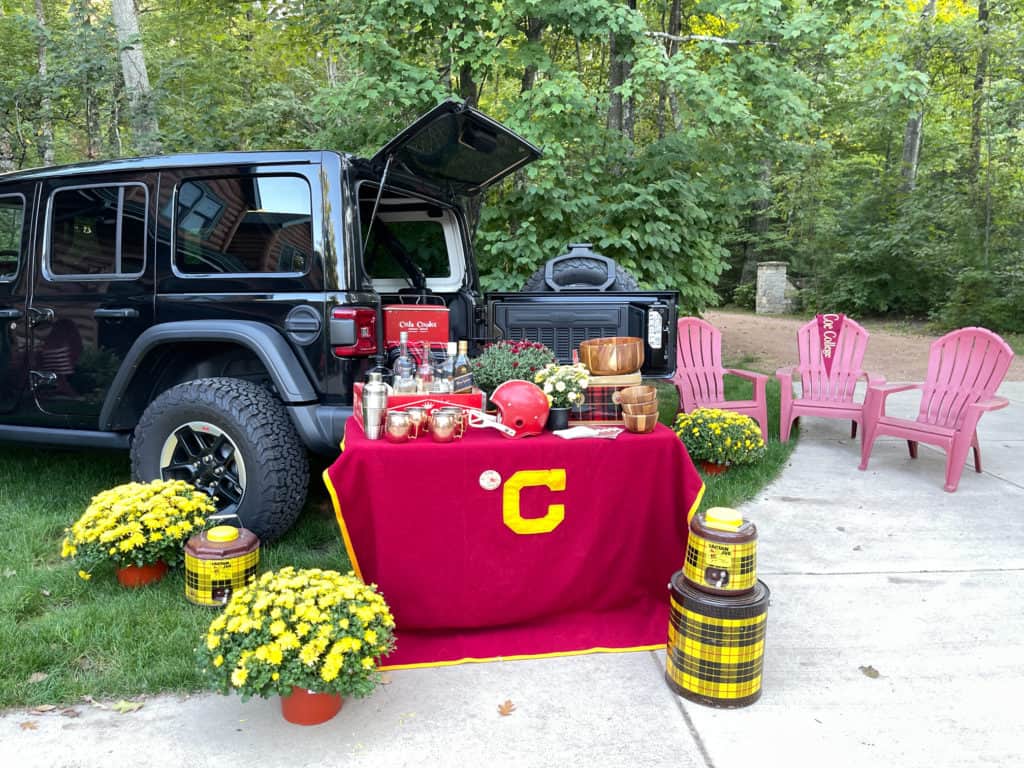 Next up on the tour is Michelle of Vintage Home Designs. Her tablescape is so awesome! I love her turf placemats!
Take the Tour
Bricks n' Blooms ~ On the Ponds ~ Vintage Home Designs ~ Midwest Life and Style ~ Simply 2 Moms ~ White Arrows Home
FOLLOW WHITE ARROWS HOME 


Instagram ~ Facebook ~ Pinterest ~ Twitter ~ YouTube ~ Tik Tok ~ Liketoknow.it