One of our favorite places to enjoy family time is down in our walk out basement.
We don't have a TV in our living room. We don't have TVs in our kids rooms. Our TV is in our basement family room. This was a decision my husband and I made to encourage family time. We enjoy watching sports and movies together in this cozy space curled into comfy couches and chairs.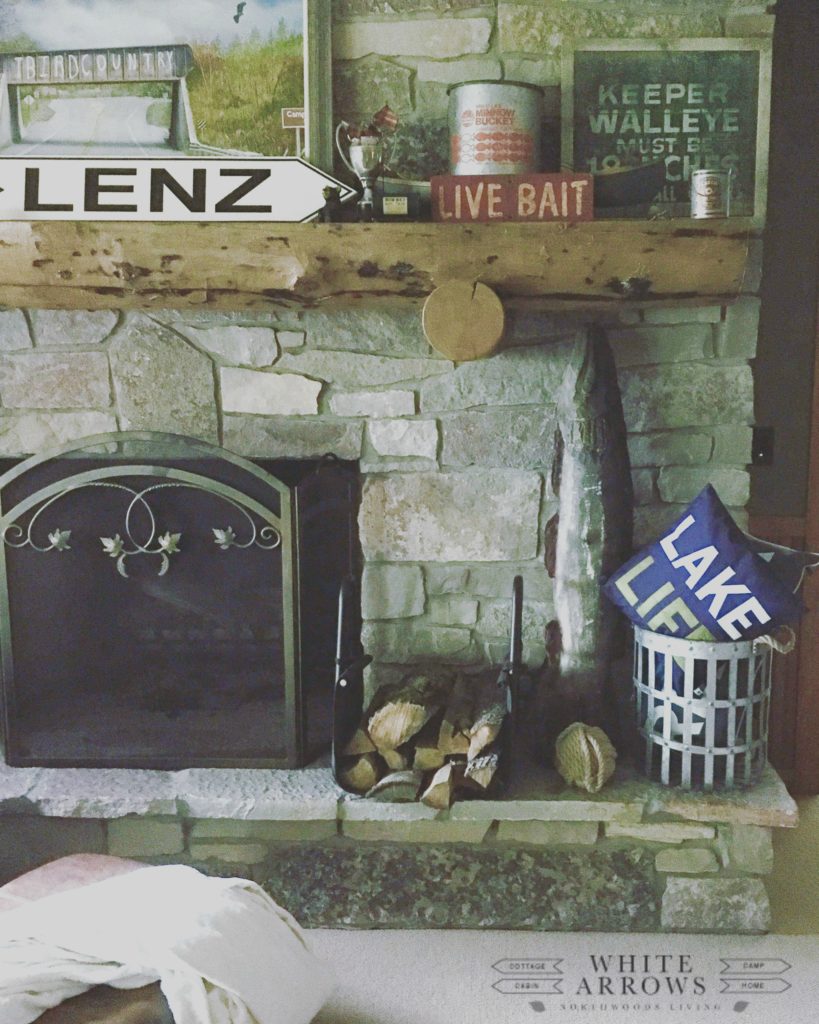 The white arrow above the mantle is the type that hang on signs around the area. They are what inspired my blog name, White Arrows Home. You can read more about the white arrows here. This arrow became decor when we accidentally ordered it too small for the road sign. LOL! Love that the mistake gave us this fun sign to use around the cabin. Here we used the sign in our Christmas Card.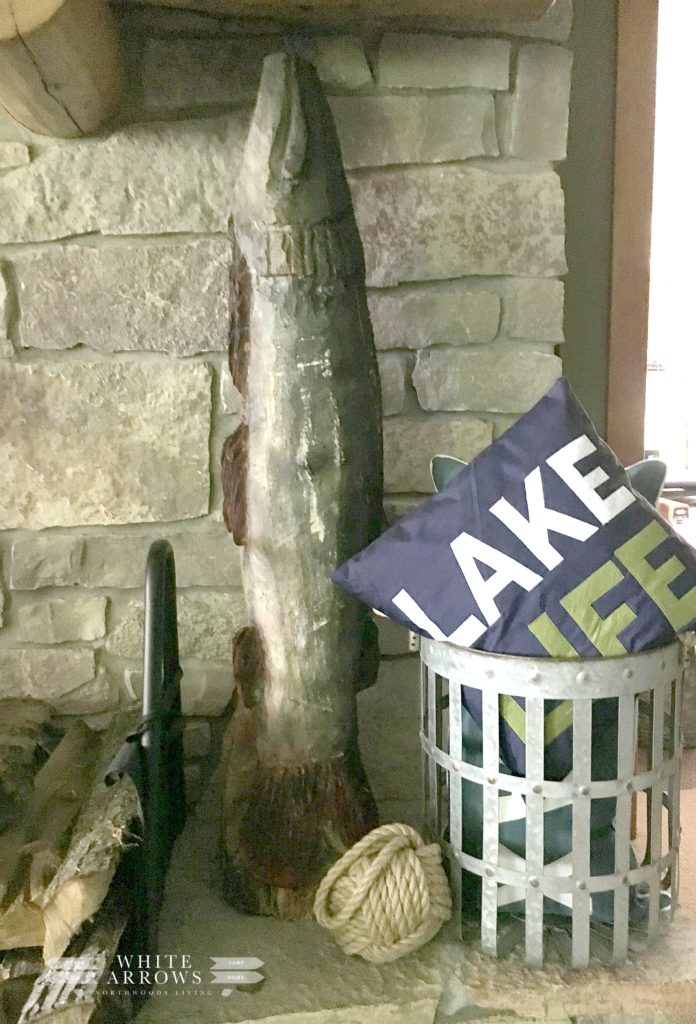 We found these carved Walleye at a local shop and thought they would add nice detail to the stone fireplace.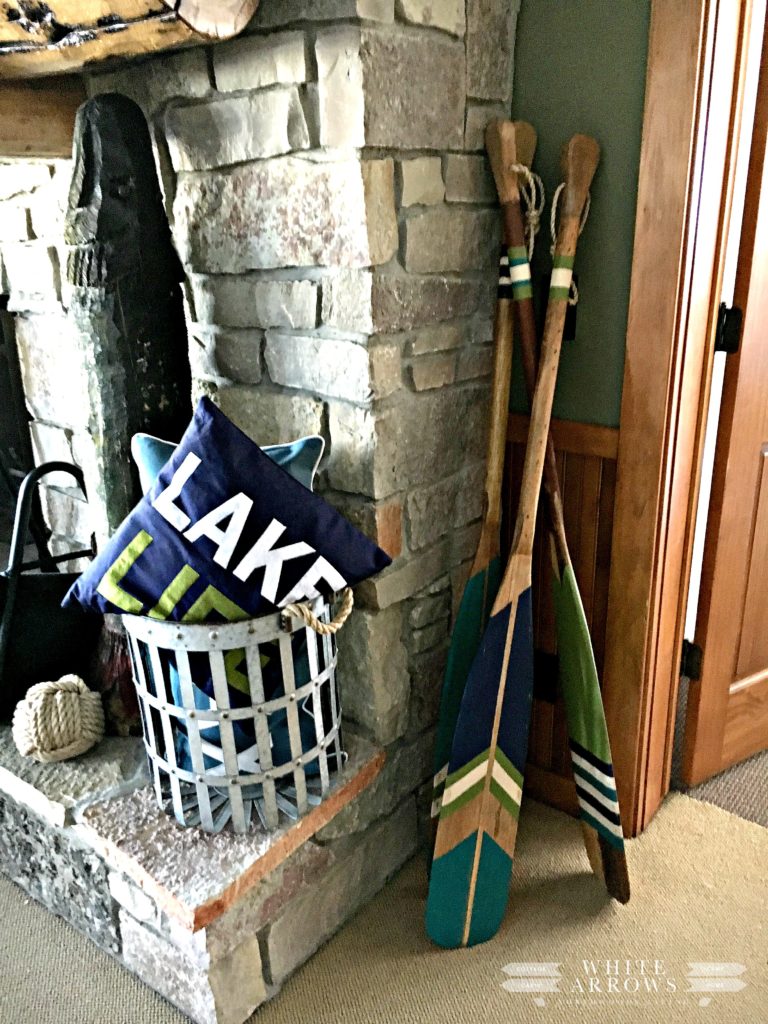 The painted paddles, I found at World Market.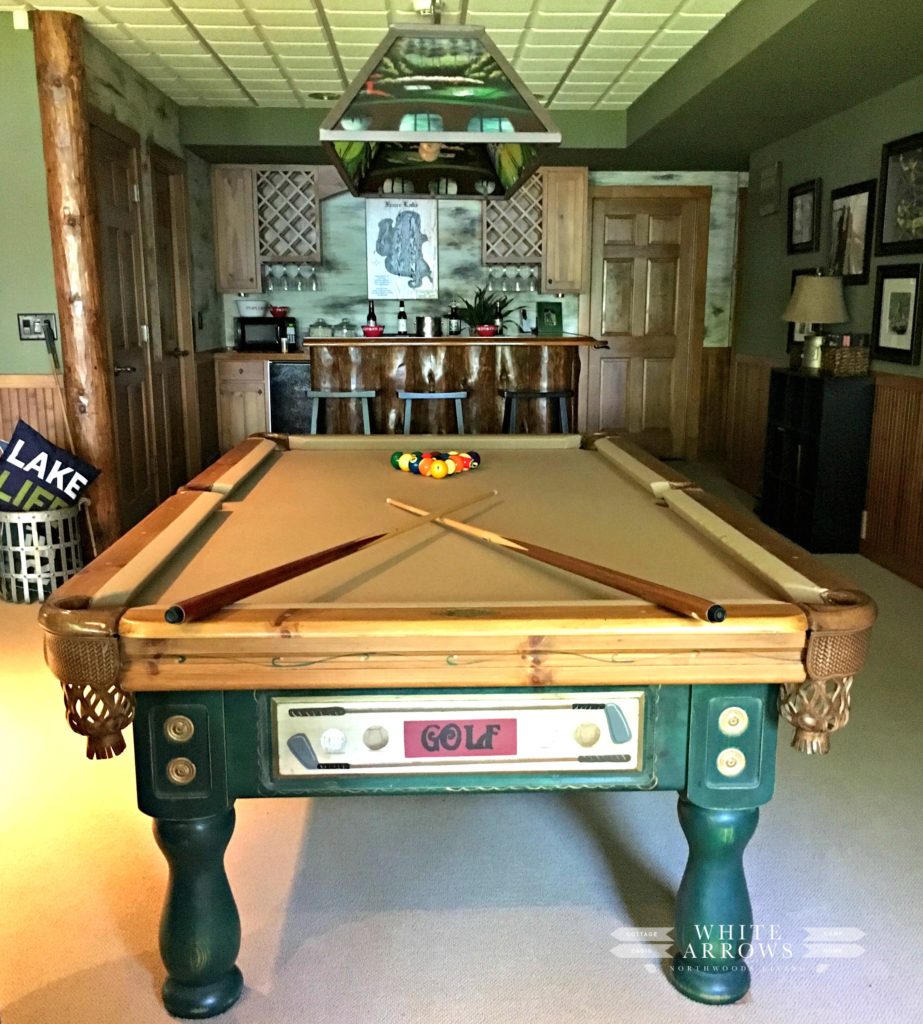 I'm not very good at pool, I kind of aim and fire and it will go where it goes. So I'm usually last to be picked for the team. LOL! The kids like to play and its a fun activity when they have friends over. My 8 year old is just starting to get to play with a stick. Before when he played he just rolled the balls with his hands, because we didn't want him to accidentally tear the felt.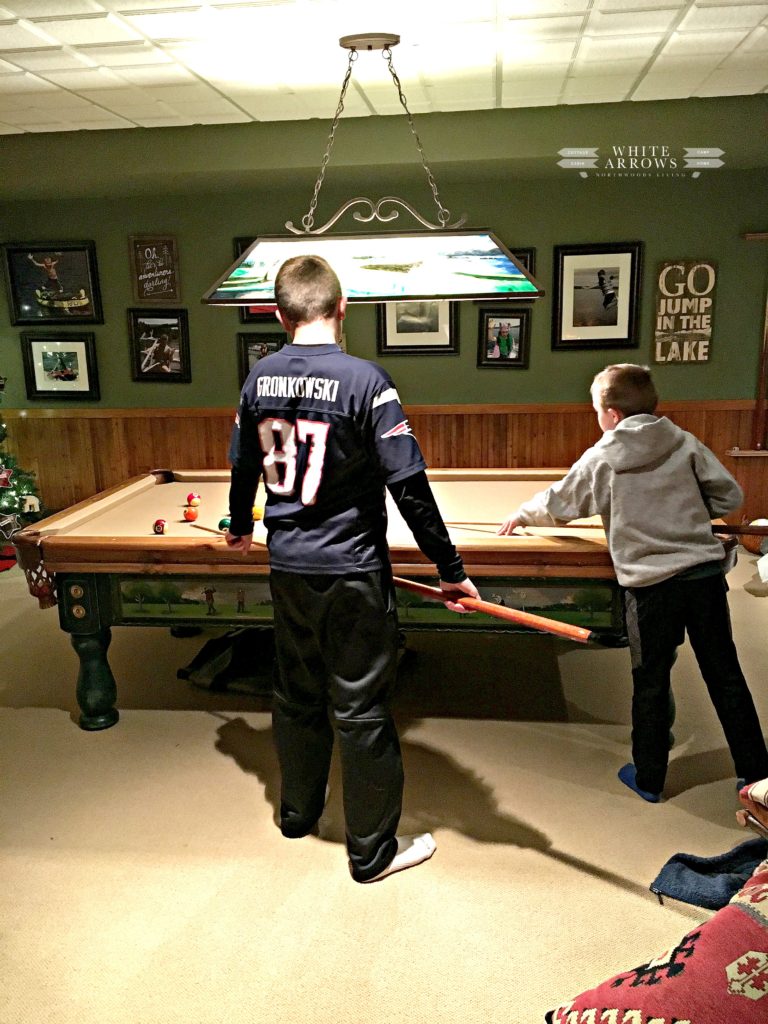 We have many favorite family movies. A handful of them are lake themed. Read about our favorite lake movies in this post.
I blew up favorite photos of the kids on the lake and put them in frames from Target and mixed in fun painted signs like "Go Jump in the Lake" to make our gallery wall.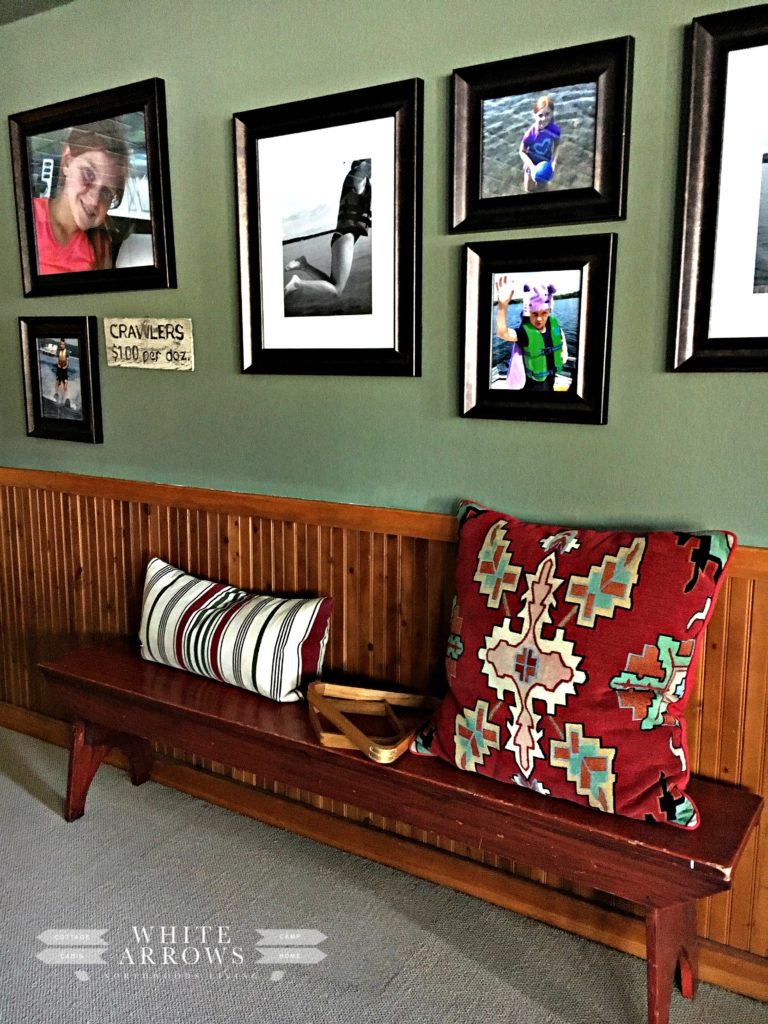 This red chippy bench I found at a local antique store, and it may be the most versatile piece in our home. I move it around often. Sometimes it's at home at the foot of our bed, sometimes along one side of the dining room table to help more people fit. Sometimes it is perfect in the entry way. Right now it's home is along the wall of the basement for pool game spectators.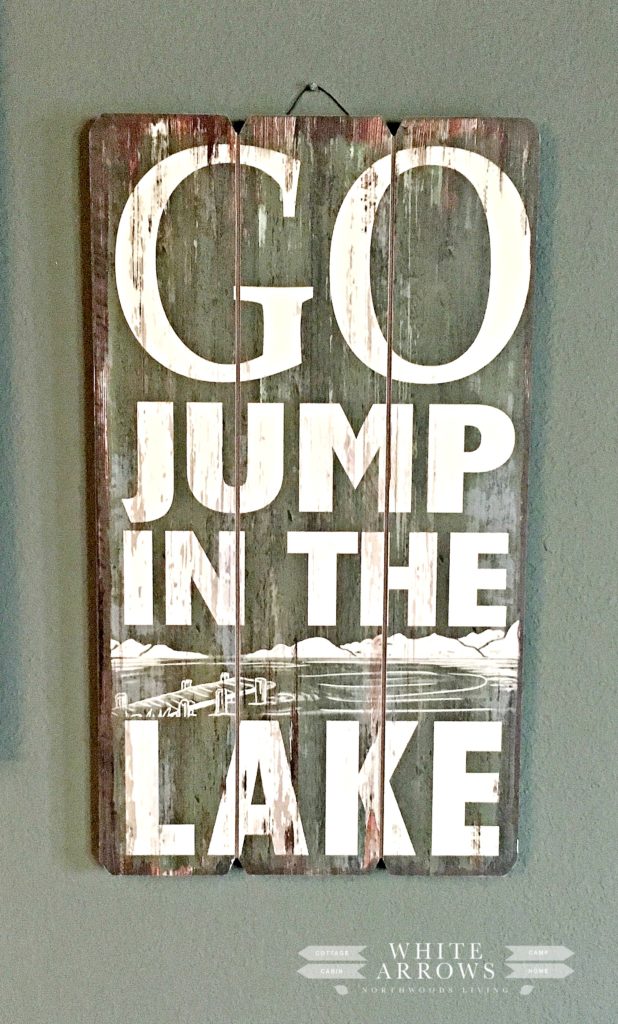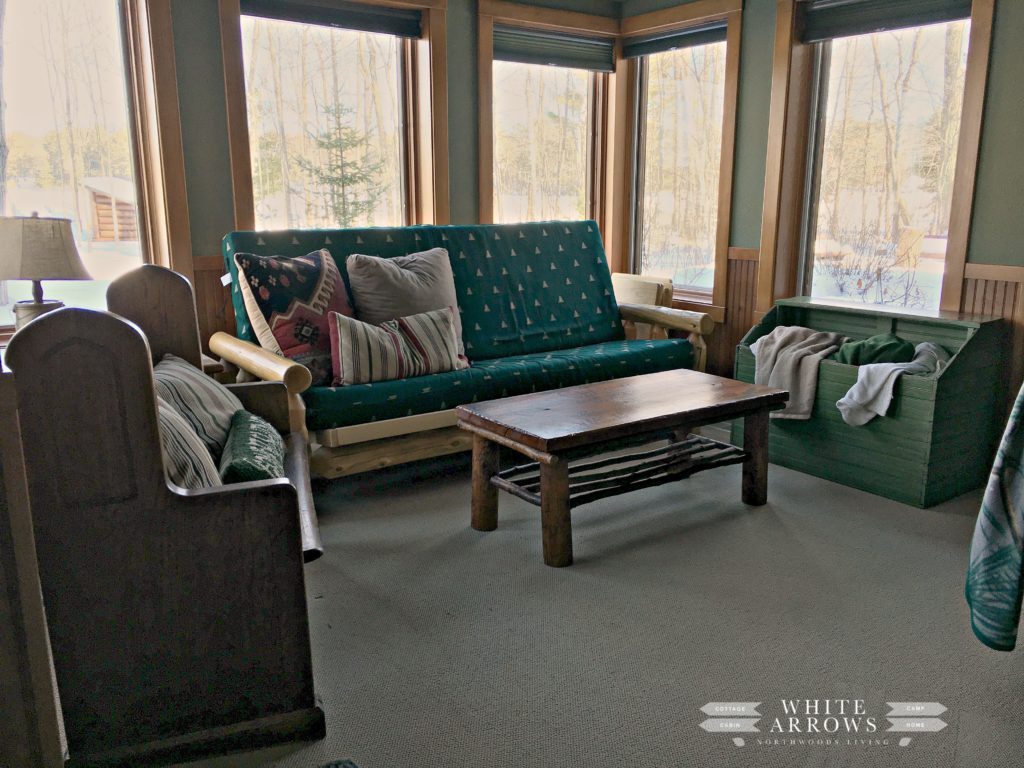 This back alcove of the basement is used as an overflow cozy gathering space. You sill have a great view of the TV from here and the futon pulls out to make an extra guest room space when needed. The little church pew was one of my first antique purchases when I was a teenager. This space also makes a great conversation area or game corner.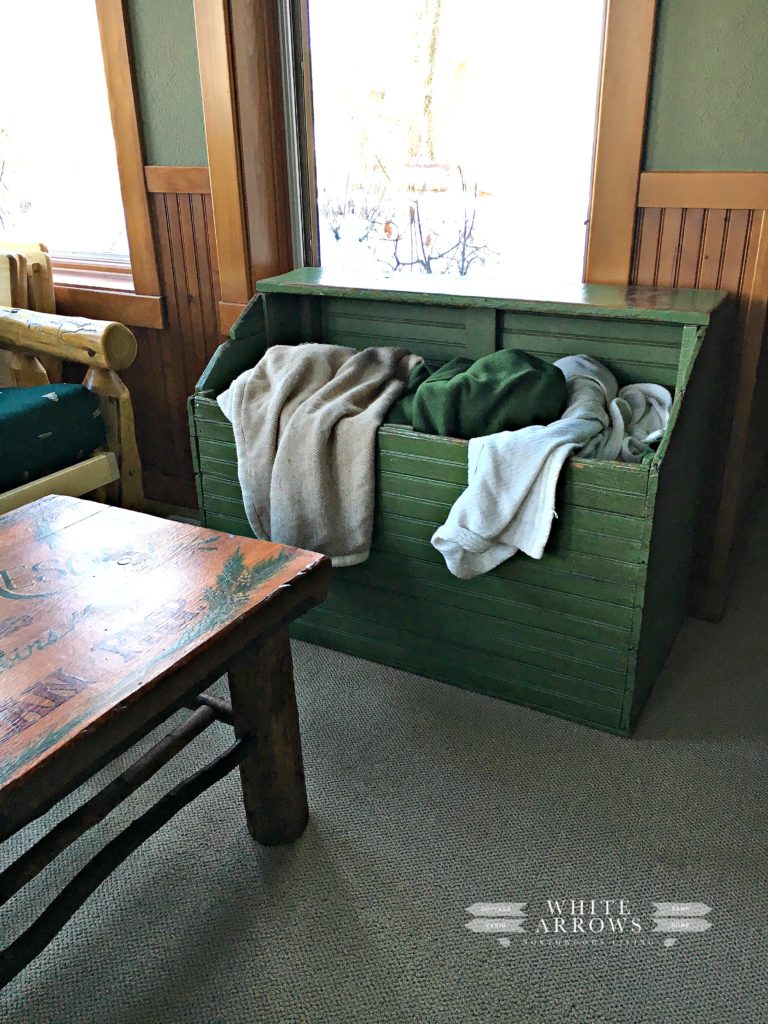 An old chippy woodbox is perfect for blanket storage. It probably sat filled with wood for the fire on the porch of a local cottage for many years, before making it's way indoors and for a new purpose in our cabin. I fell in love with it when I saw the color and knew it would be a great way to corral all the blankets that end up in a pile on the floor.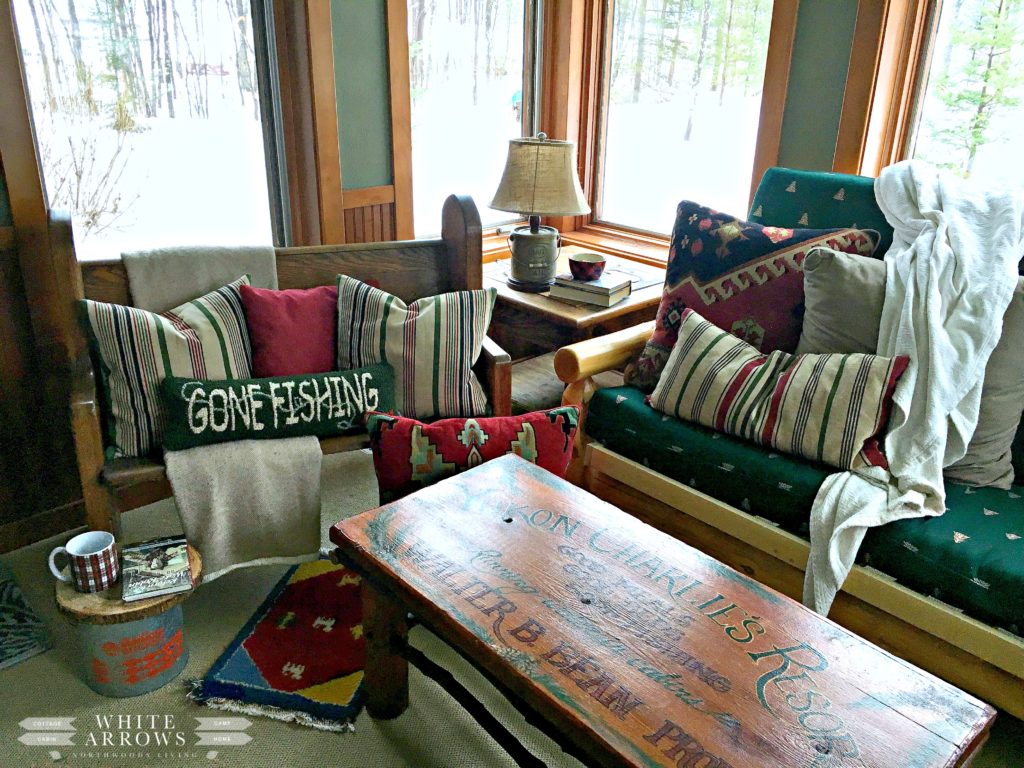 The big pillows usually get pulled off the couch and used for lounging on the floor in front of the TV. I love using vintage pieces like this minnow bucket as end tables. I added a wooden tray I found at Homegoods to give a surface for holding drinks. The cute Gone Fishing pillow is a Chandlers4Corners I found at To the Nines in Manitowish Waters.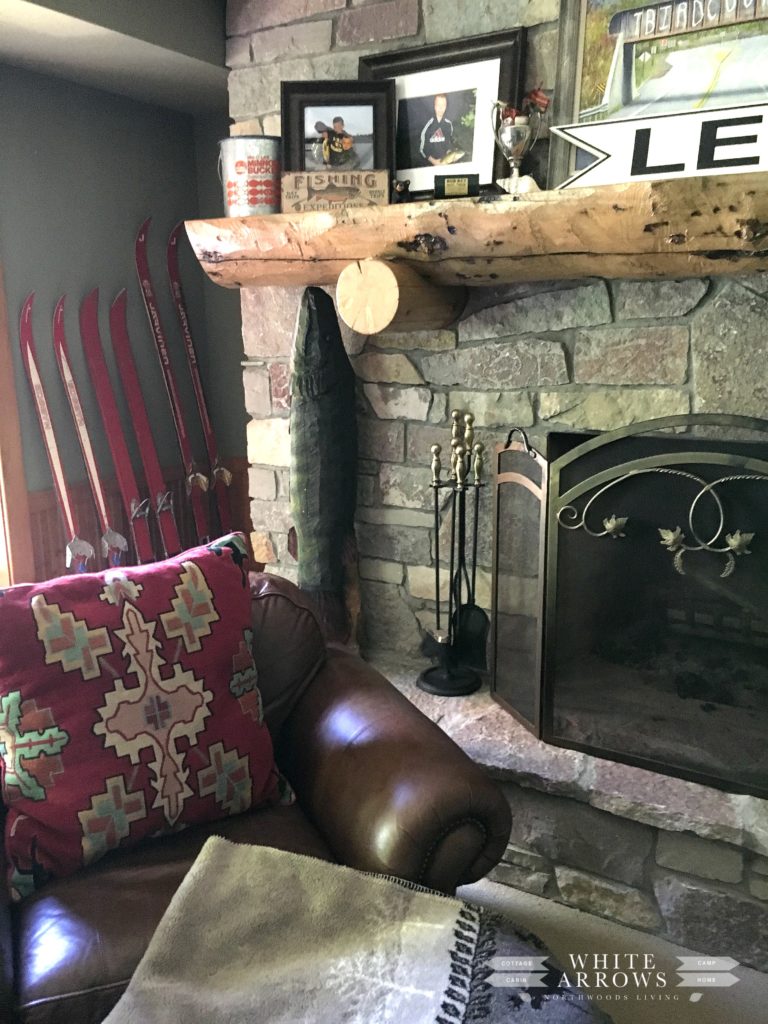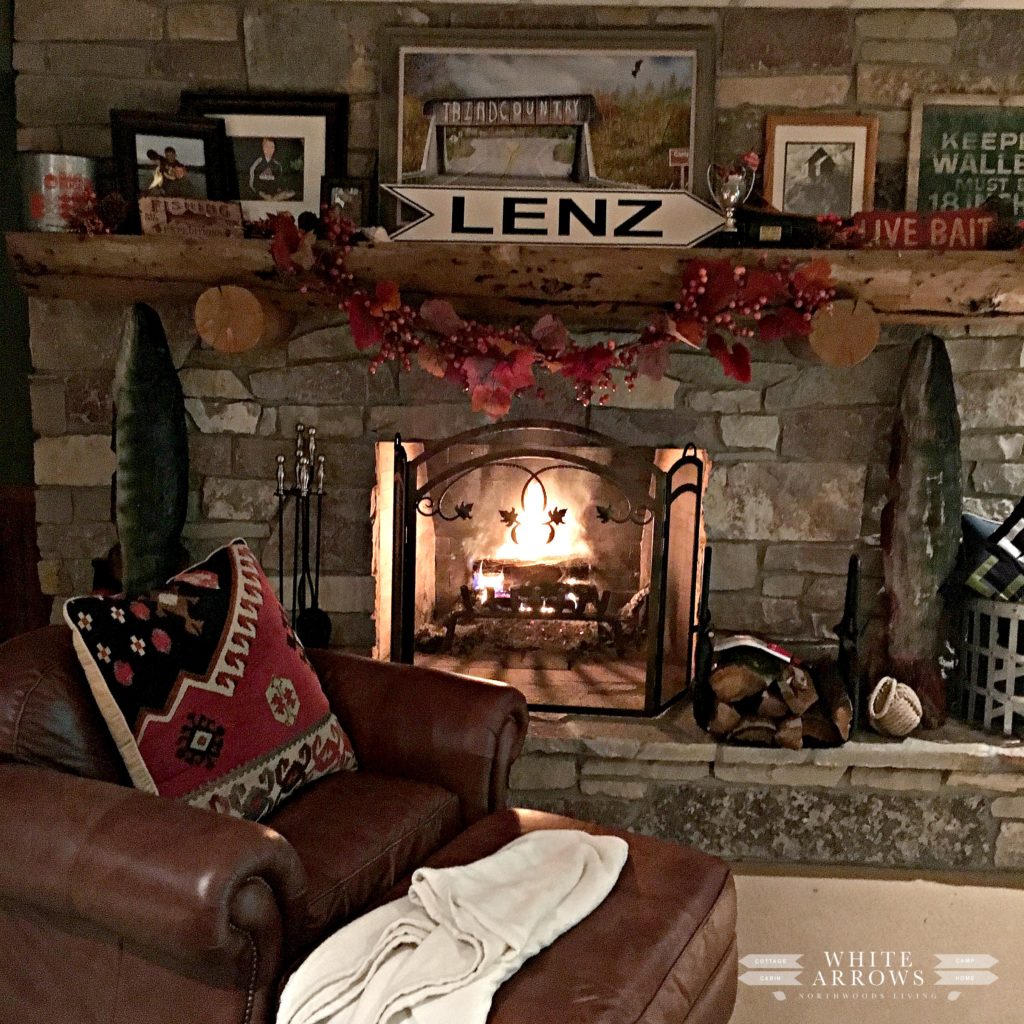 My favorite part of being in the basement is when there is a fire in the fireplace,  my family is gathered around me watching a movie or football game or watching them have fun together playing pool. Follow me on Instagram, Twitter and Facebook to see more of our daily life in the Northwoods.