It's still Summer, but it's fun to celebrate Christmas in July! Looking back at previous Holiday seasons helps me plan for the year ahead.
(Affiliate links are used for your convience. Read my full disclosure here.)
Have you been hot this Summer? We had several days of very hot weather and now the past few days have been chilly, almost Fall like. And that has got me thinking about Christmas, nostalgic for those past and excited to start dreaming up my decor for this year!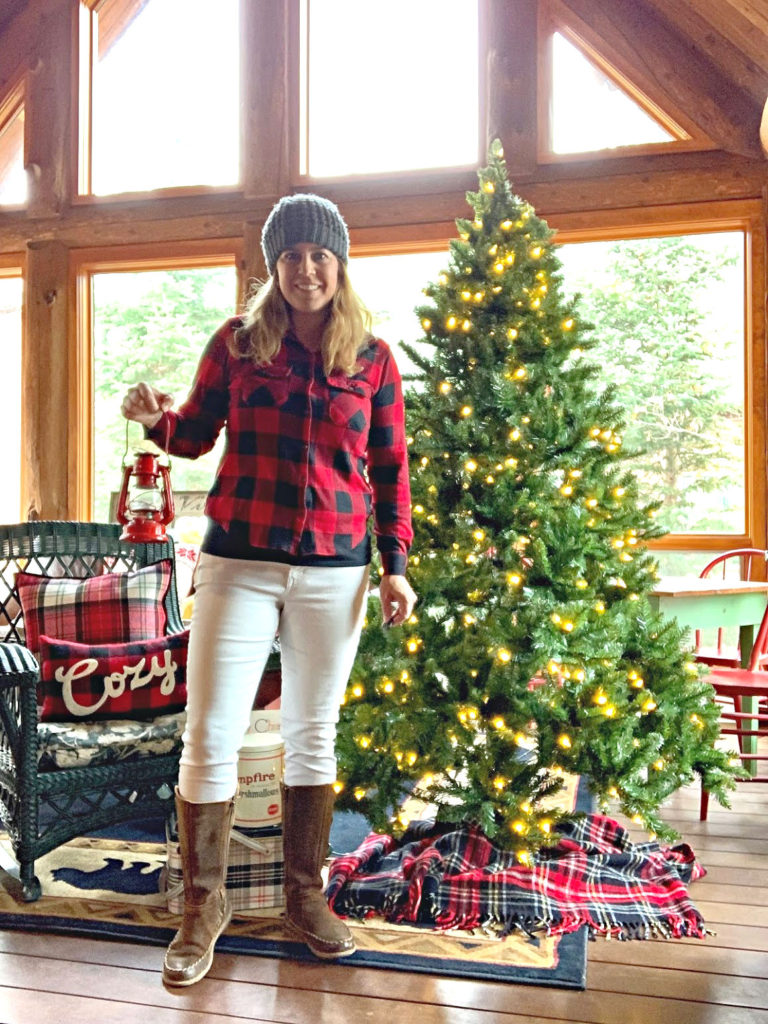 I was so excited when my friend Lindsey of Repurpose and Upcycle had the idea to do a Christmas in July blog tour with me and our friend Jen of Noting Grace. Thanks so much Lindsey!
Here are some highlights from past years. Each section has a bolded set of words that you can click on head to a blog post and see more of the details and inspiration. I hope you'll spend some time with me here going through the posts and feel so inspired by the end that you are humming Christmas Carols the rest of the day!
The Door
I had a lot of fun making different Holiday wreaths and sharing them in my post, 12 Beautiful Christmas Wreaths for your Front Door.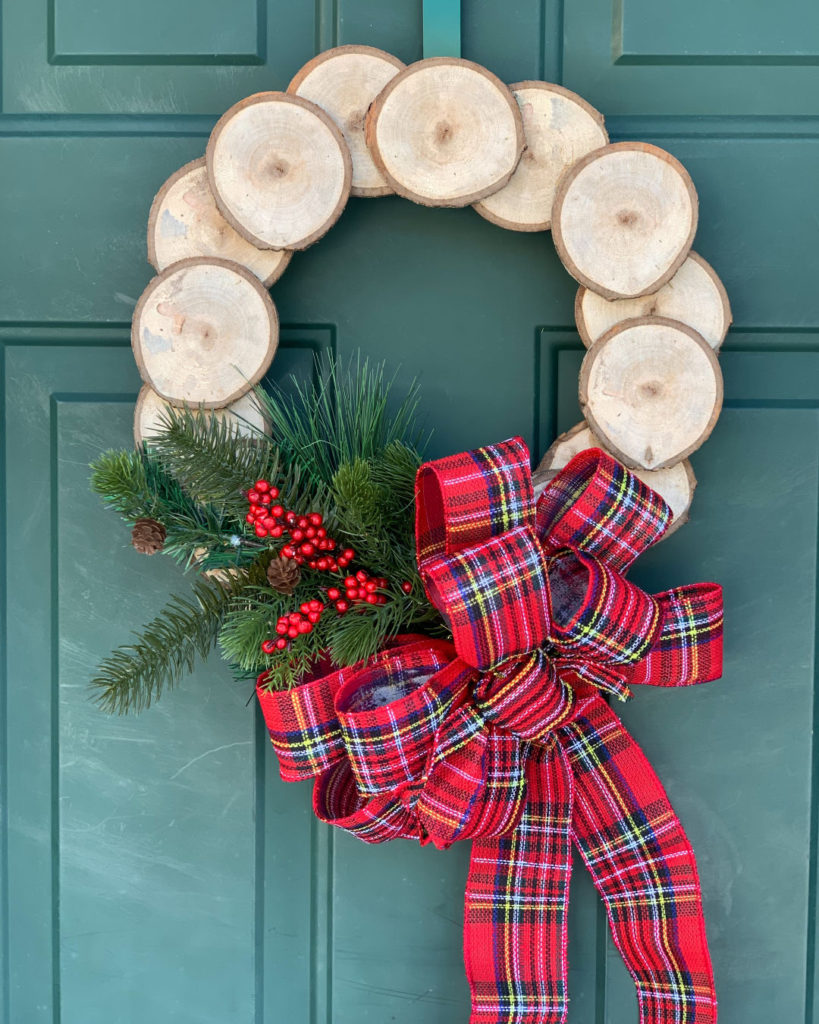 Get the Look


The Porch
One of my favorite places to decorate seasonally is my porch. I loved adding in birch and plaid accents last year. See more here.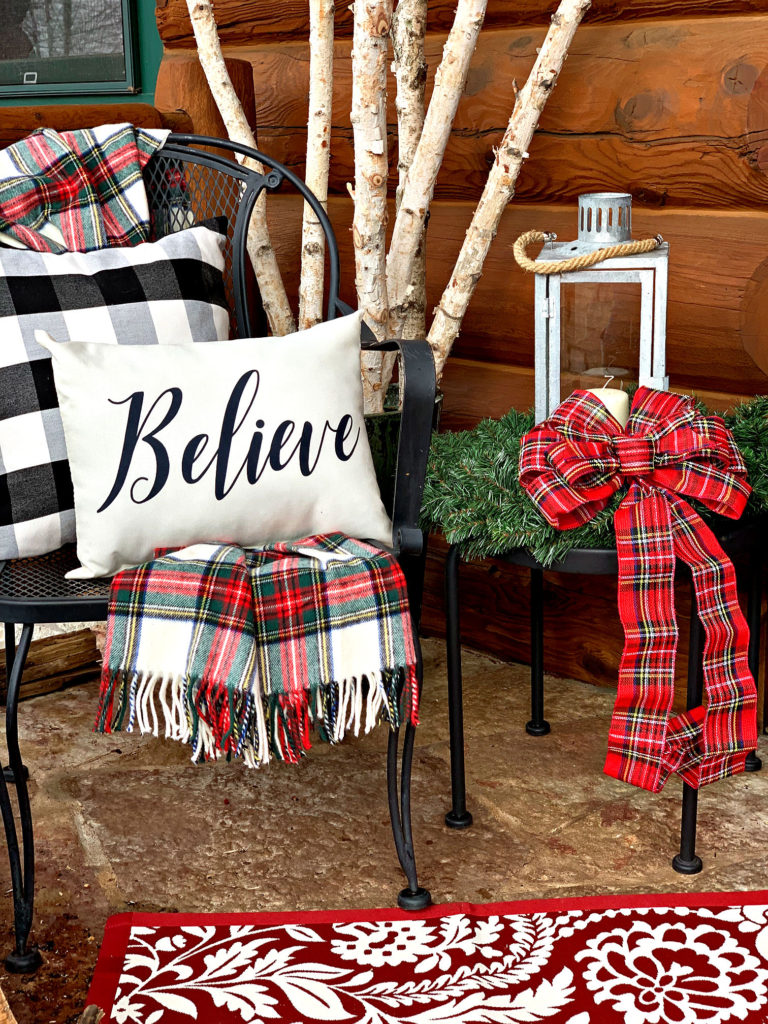 More Porch Inspiration
Two years ago I helped decorate for a Holiday Tour of Homes. It was so much fun! I loved every aspect of the experience and how it turned out. See more of the beautiful porch in this post.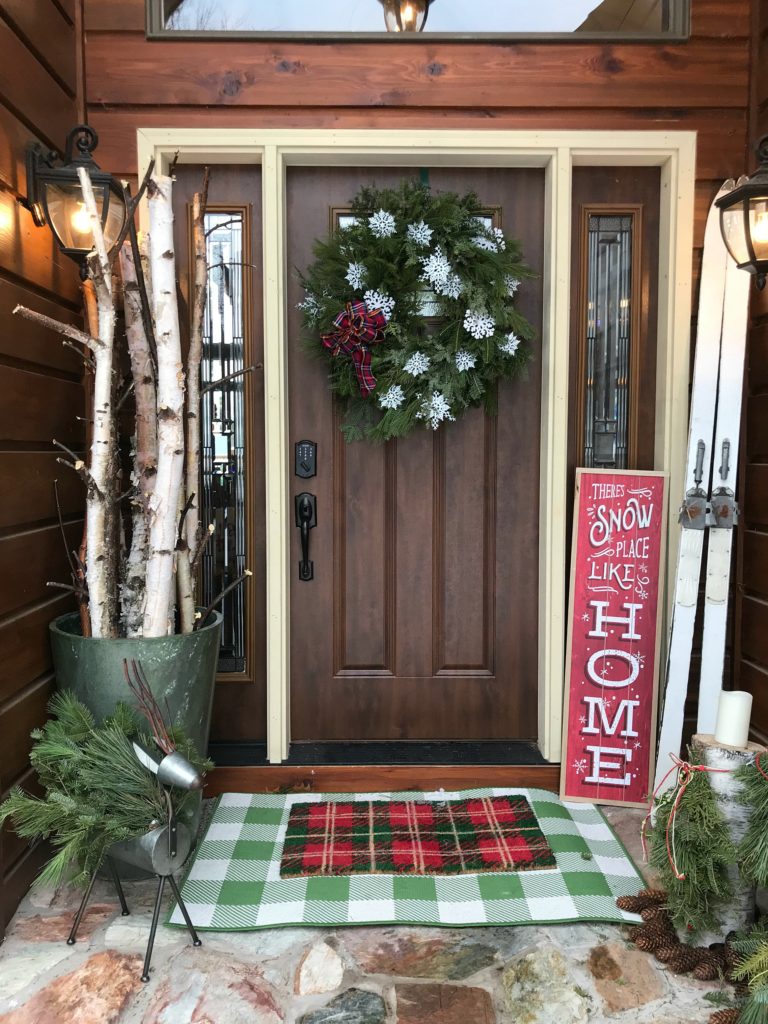 Get the Look


The Sunroom
Last year was the first year I put a tree in the Sunroom and it will become a tradition. We loved how it shined through the windows so that when you drive in at night it's' all lit up to see. One of my favorite things to do is use something special for a tree skirt. This red and white skirt is actually a bed coverlet, but I loved its pattern!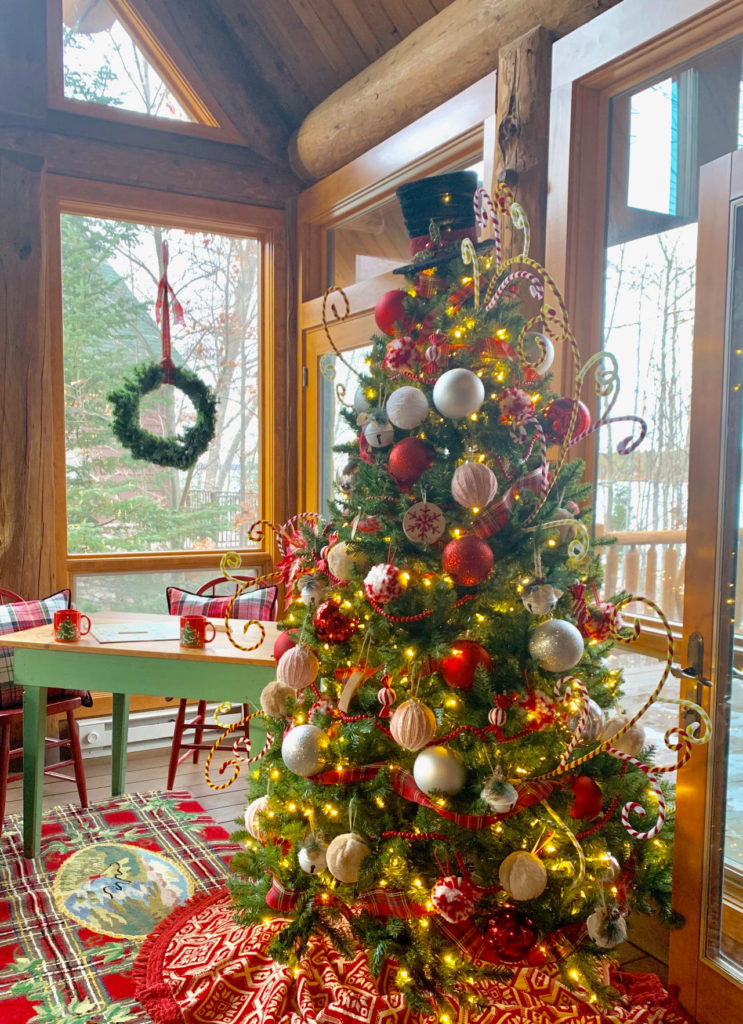 Get the Look
The Table
There have been so many fun ways I've decorated the table for the Holidays. One thing is consistent though, I always mix in some plaid, some vintage and some of my Spode Christmas Tree China. Last year the North Star Brewing Company box was my inspiration.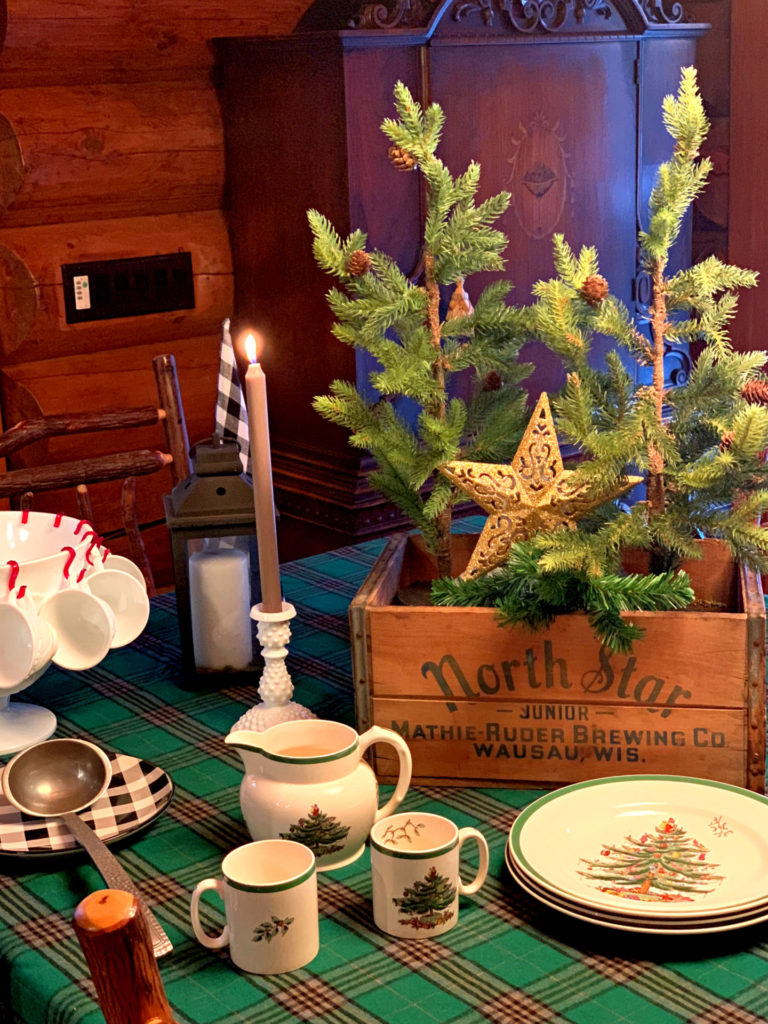 More Dining Room Inspiration
A favorite tablescape was when I lined up trees down the middle of the table.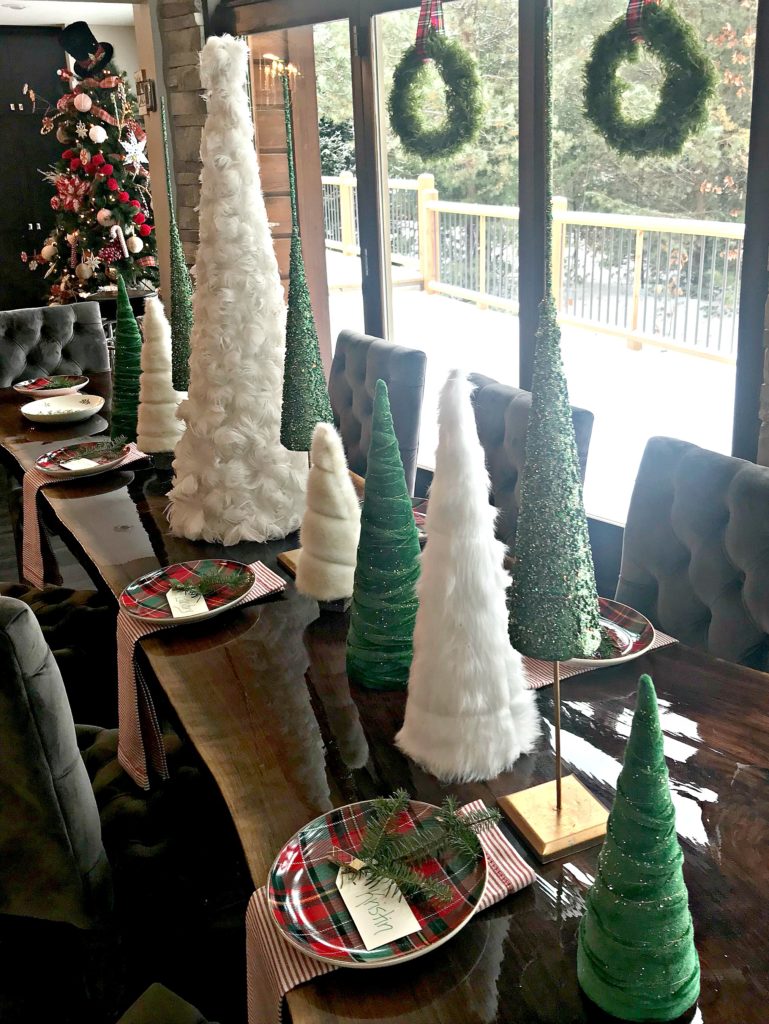 Get the Look


The Kitchen
Do you love to bake during the holidays? Does your family get together for big gatherings to make dozens of cookies? Or does your family love candies? I love swapping at cookie exchanges with friends! The red cookie cutters in the photo are vintage and the same kind we used to cut out dough when I was a little girl!
In the kitchen last year I filled a glass canister with candy ornaments. Our Santa cookie jar was a wedding gift. I had a bridal shower where everyone was given a month to get a gift for and my friend Melinda got December. Who knew back then that I would have four kids enjoying cookies from this jar! It was a fun idea for a shower!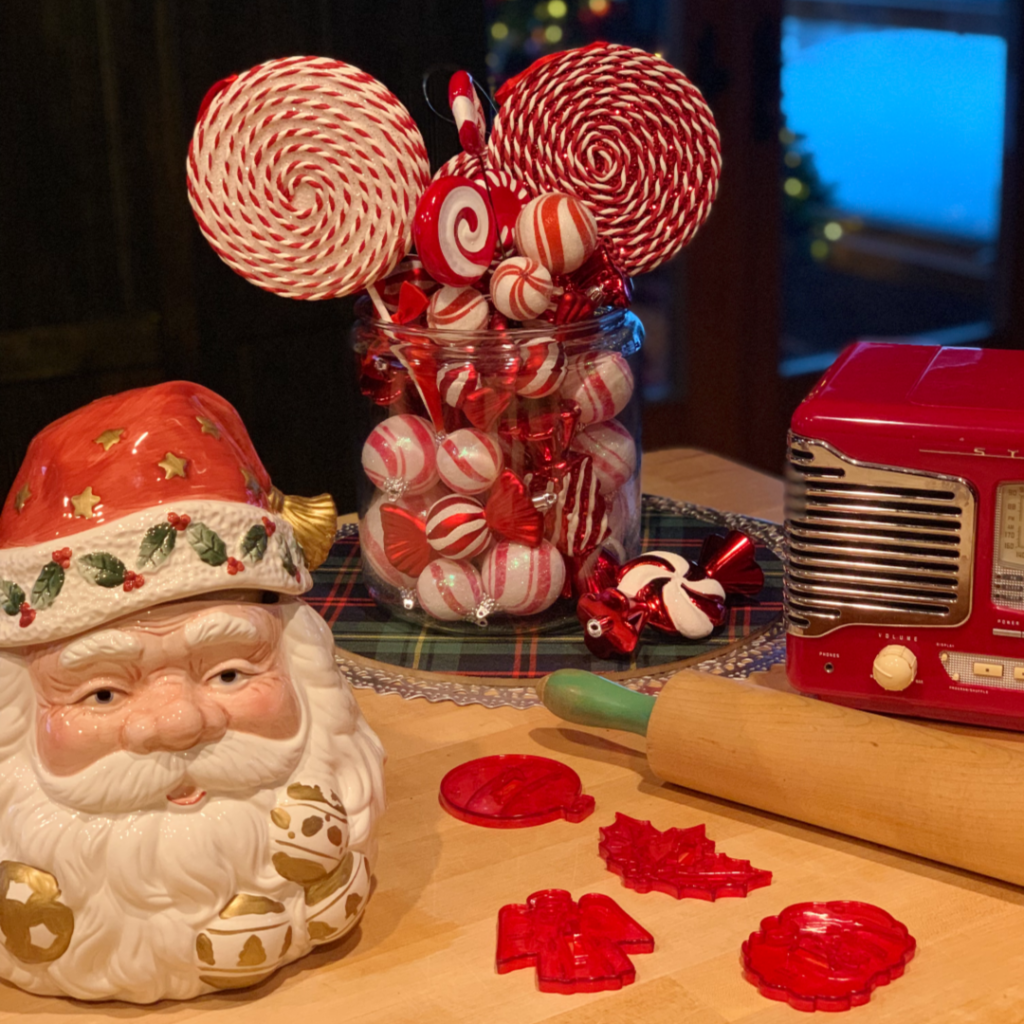 Get the Look


The Mantel
The mantel in the Great Room is so much fun to style. Last year I added shutters from an old cabin to give some height and interest with my mix of decorative fur, feather and sequin trees.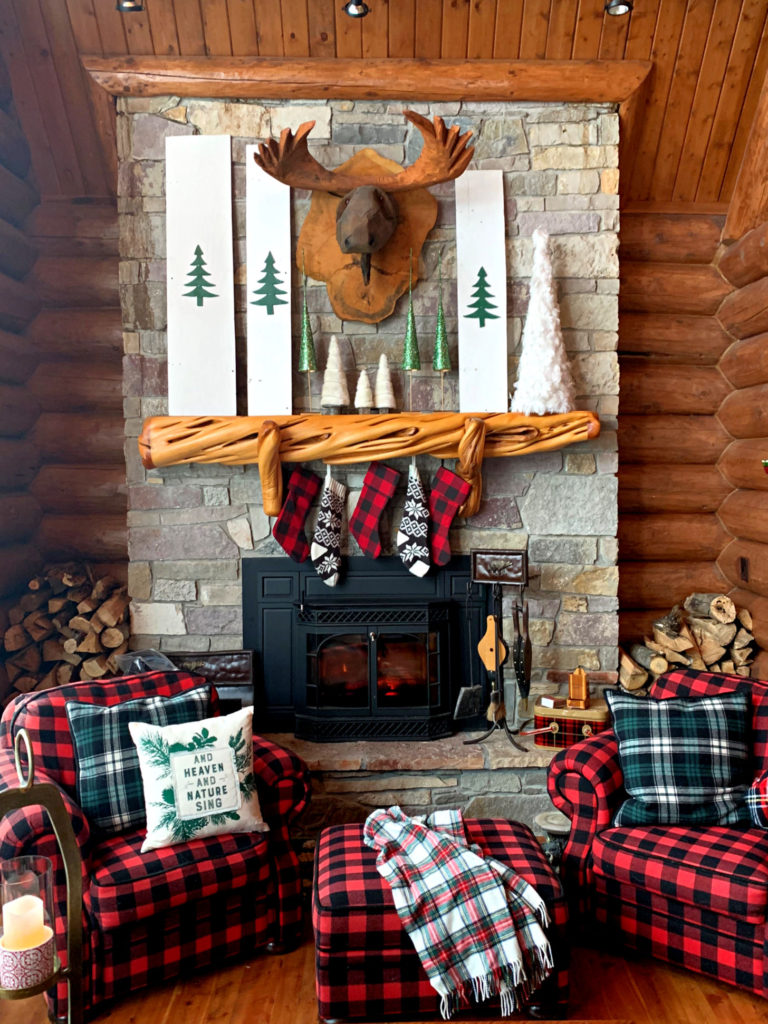 See More Living Room Inspiration
I loved the year too where I hung snowflakes between the stockings.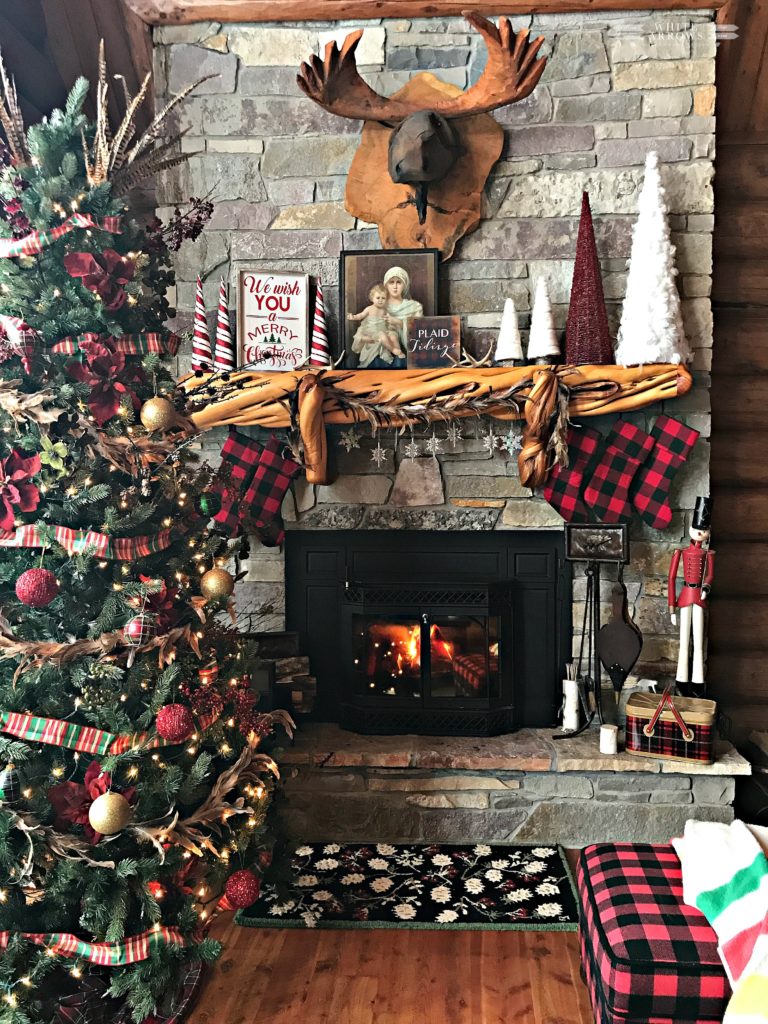 And I always love adding in my Madonna and Child. See more of this mantel here.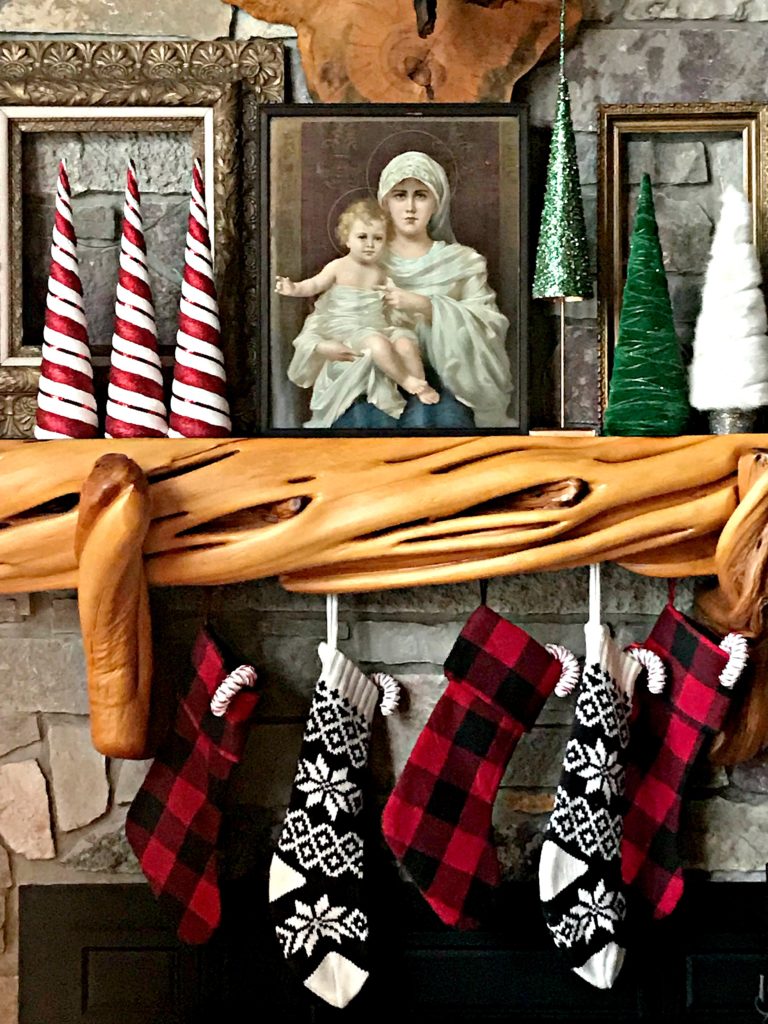 The Trees
I have a lot of fun styling our Christmas trees. I have a few each year. One to display all the treasured ornaments of my kids.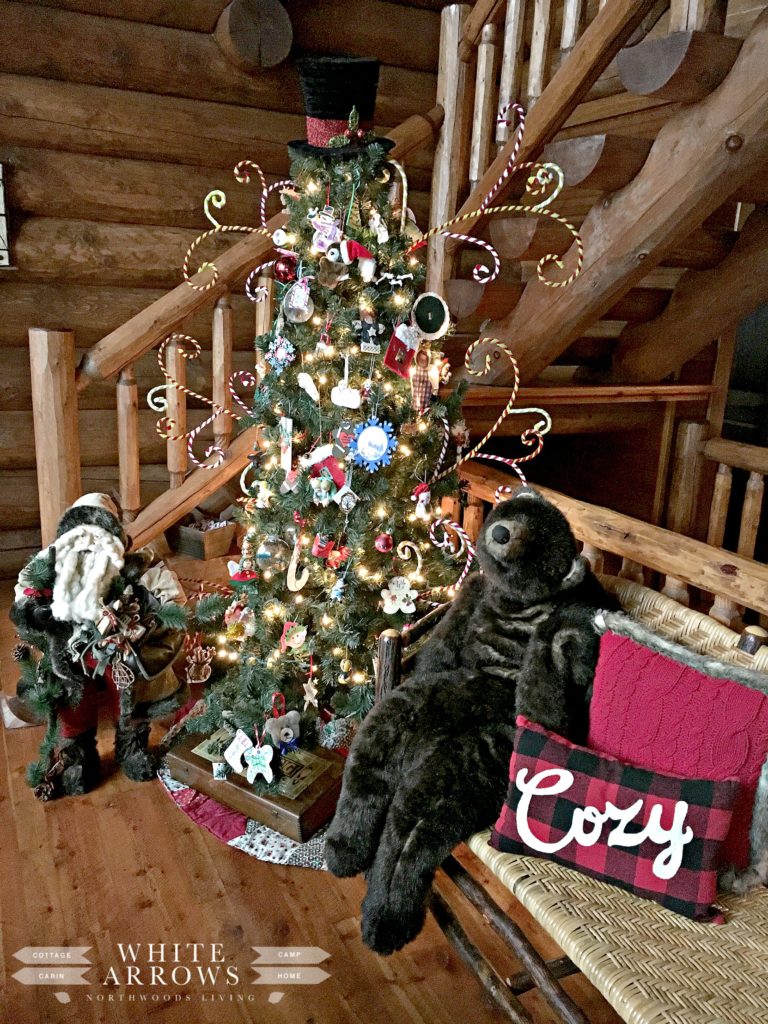 We have one to display all our Northwoods inspired ornaments.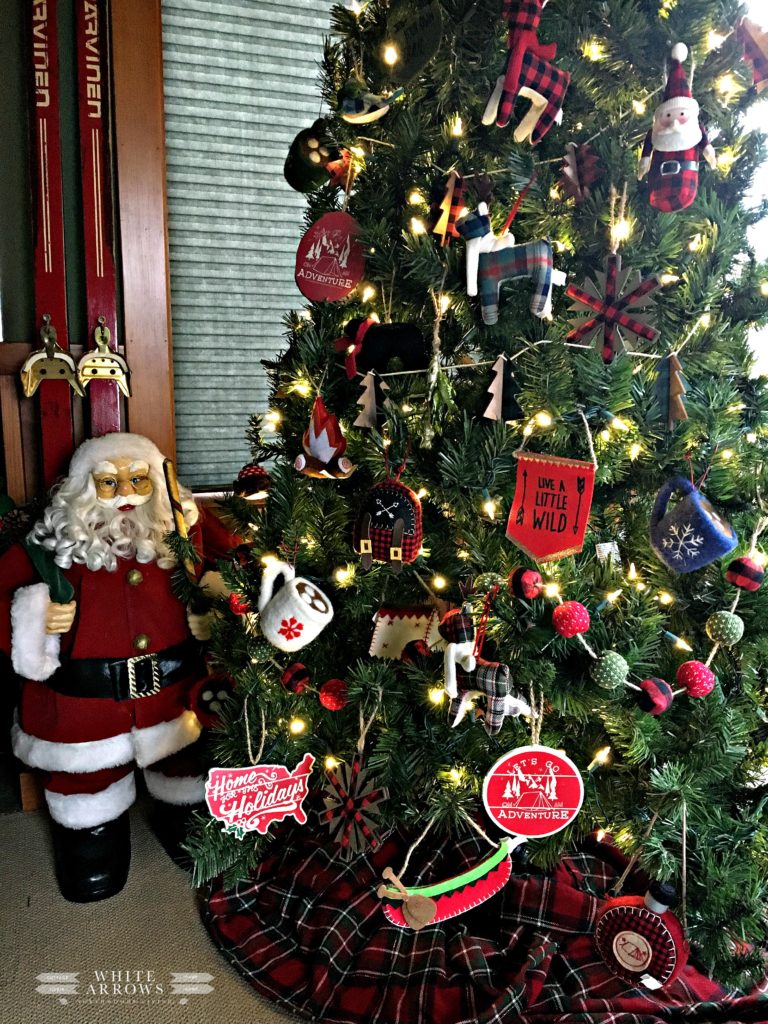 And another one that's my "big girl" tree, one just to be pretty.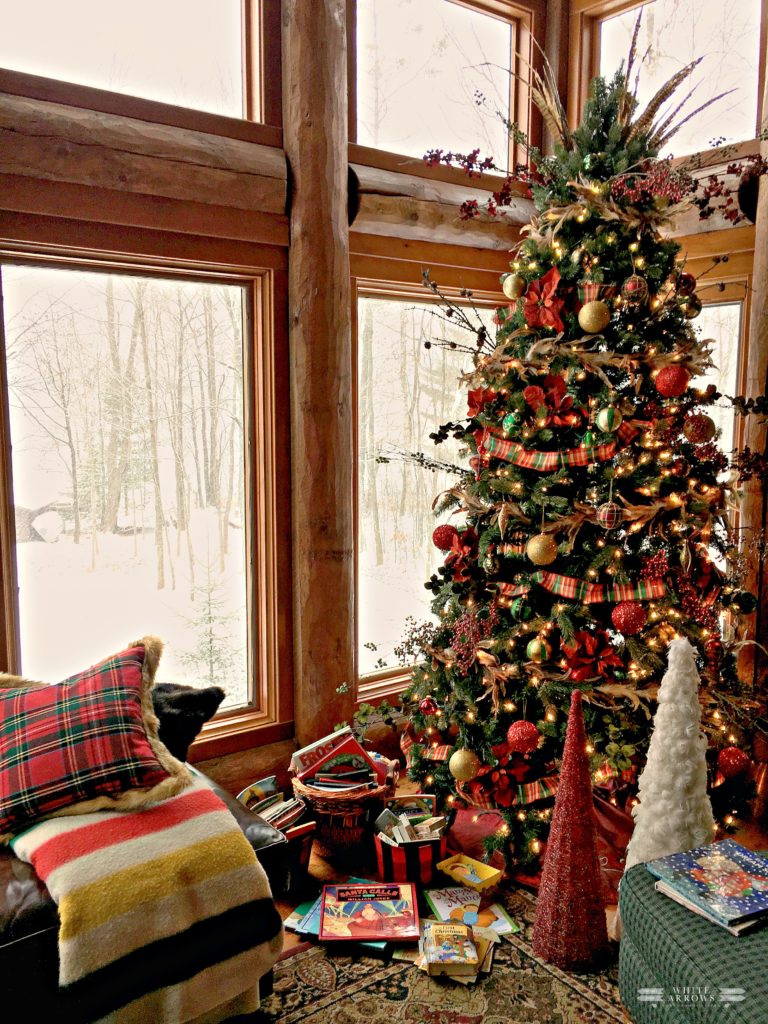 Get the Look


DIYs
It's so fun to do DIYs during the Holidays that can add to the decor. My crafts are easy and inexpensive while still being full of style like these bottle brush trees in vintage door knobs.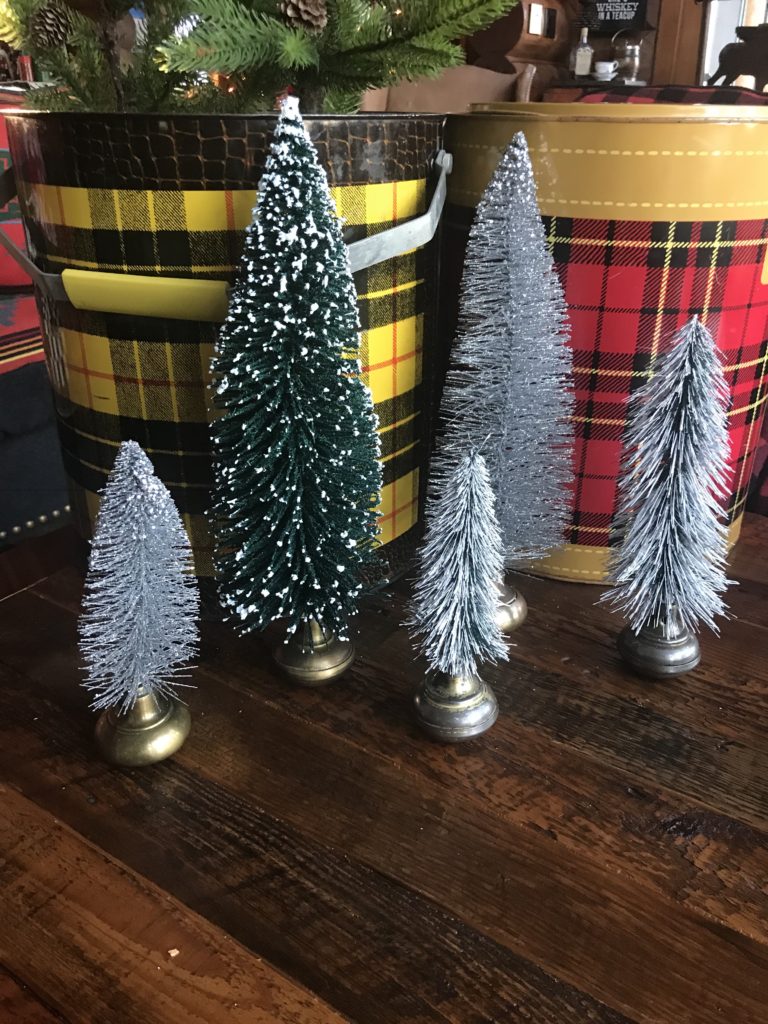 See More Christmas DIYs
I also loved making wreaths with items from The Dollar Tree. Each wreath only took minutes and cost under $5.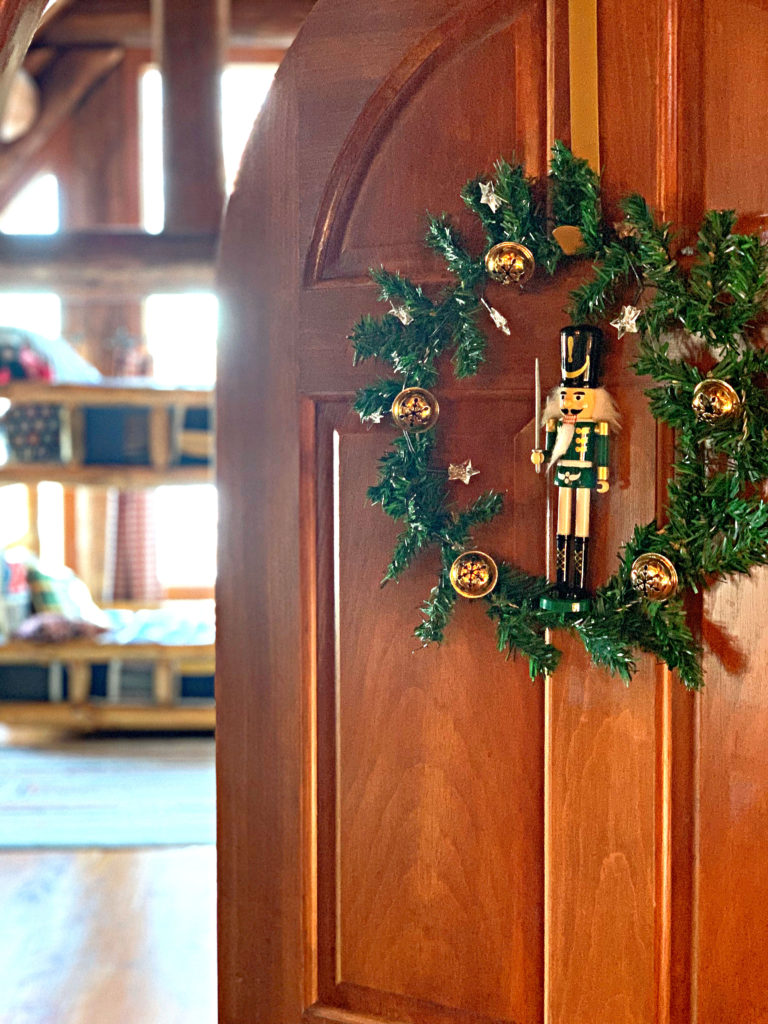 Get the Look


I'll be excited to share with you along the way as my Christmas ideas come together for this year. There are so many things that I have loved and will keep and there will be a few new things thrown in.
Take the Tour
Christmas in July Inspiration

Jen at Noting Grace shares a look back on her Christmas past with her beautiful past holiday decor.

Kristin at White Arrows Home shares her lovely rustic decor from Christmas' past.

Lindsey at Repurpose and Upcycle shares a fun Christmas in July post about past Christmas holiday decor and a few fun Christmas crafts.

FOLLOW WHITE ARROWS HOME


Instagram ~ Facebook ~ Pinterest ~ Twitter ~ YouTube