Christmas tree ideas for all around the house.
(Affiliate links are used for your convenience. Read my full disclosure here.)
I'm so excited to be joining some fun friends for a Christmas Tree blog hop hosted by my friend Stacy Ling of Bricks 'n Blooms. Find a full list of bloggers and links at the bottom of this post.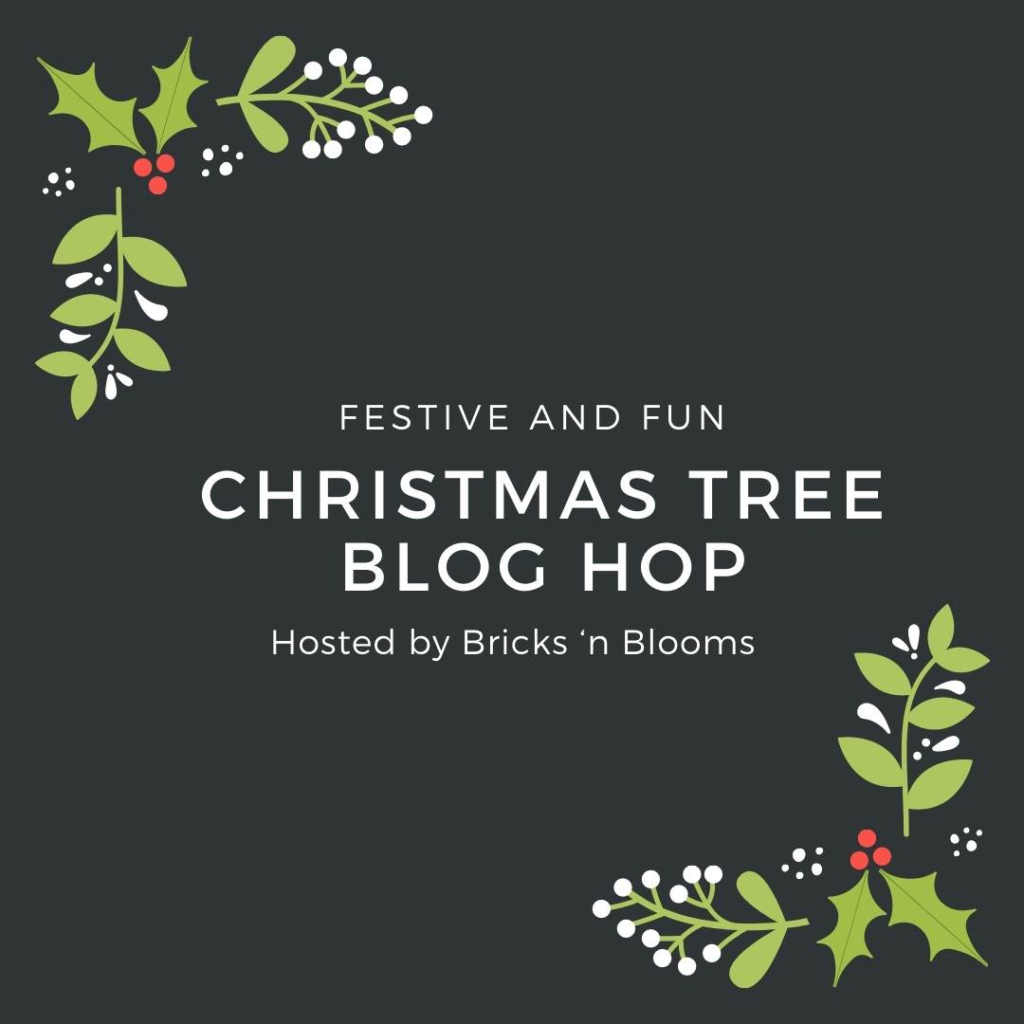 If you are coming over from Bricks 'n Blooms you have visited one of my favorite homes and blogs! You will want to keep following Stacy for inspiration all year long inside and outside of your home. She has gorgeous gardens!
So you were just in New Jersey and now you've traveled west to Wisconsin. I live in a log cabin home with lake views known as Camp Paradise in way Up North in The Northwoods.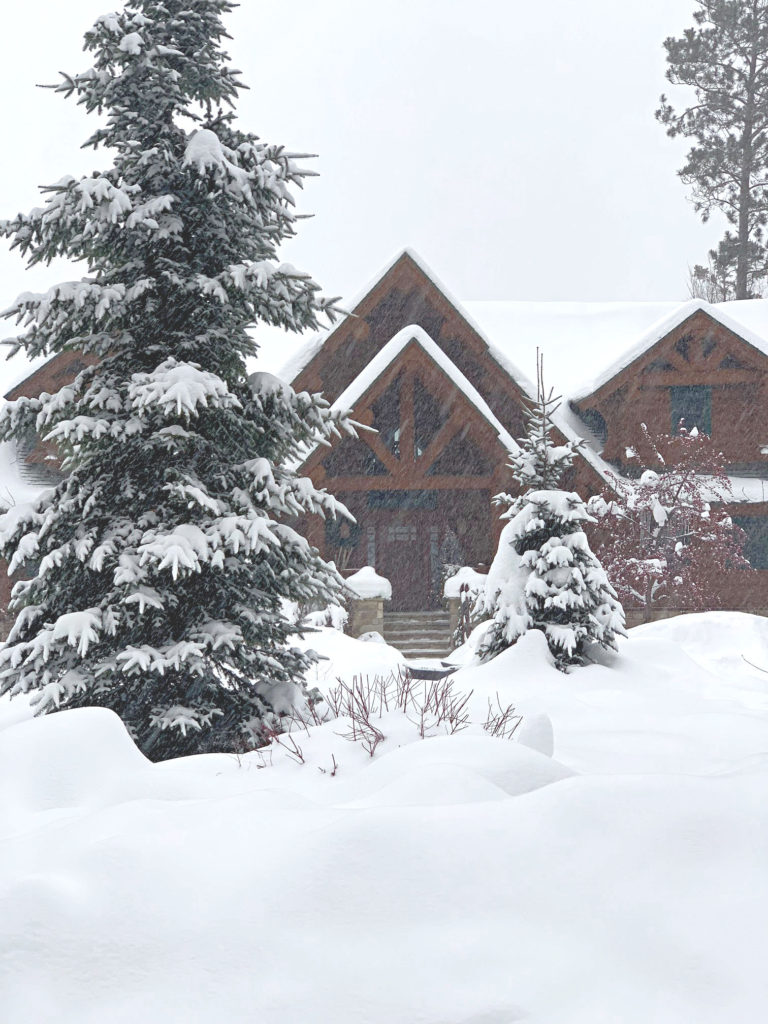 When I stopped to think about Christmas trees and writing this post I was amazed at how many trees I actually have around the cabin. Not all of them are tall and decorated with ornaments, some are simple and left undecorated. It was fun to look back through all the ways I've done trees.
In the Window
I love having a "grown up" tree. This tree is one where I just get to be creative with favorite colors and elements. I love adding plaid ribbon and pheasant feathers sticking out of the top. Sparkly gold and red ornaments and pine cone picks are some other favorite elements. 
Having the tree in front of the windows is really fun, because when we walk back up from ice skating out back on our frozen lake or ride in on our snowmobiles we can see the twinkling lights.
I Recommend: If you have a window in the front of your house to place your tree in front of, it's such a warm and welcoming sight to come home to the tree lights glowing out the window!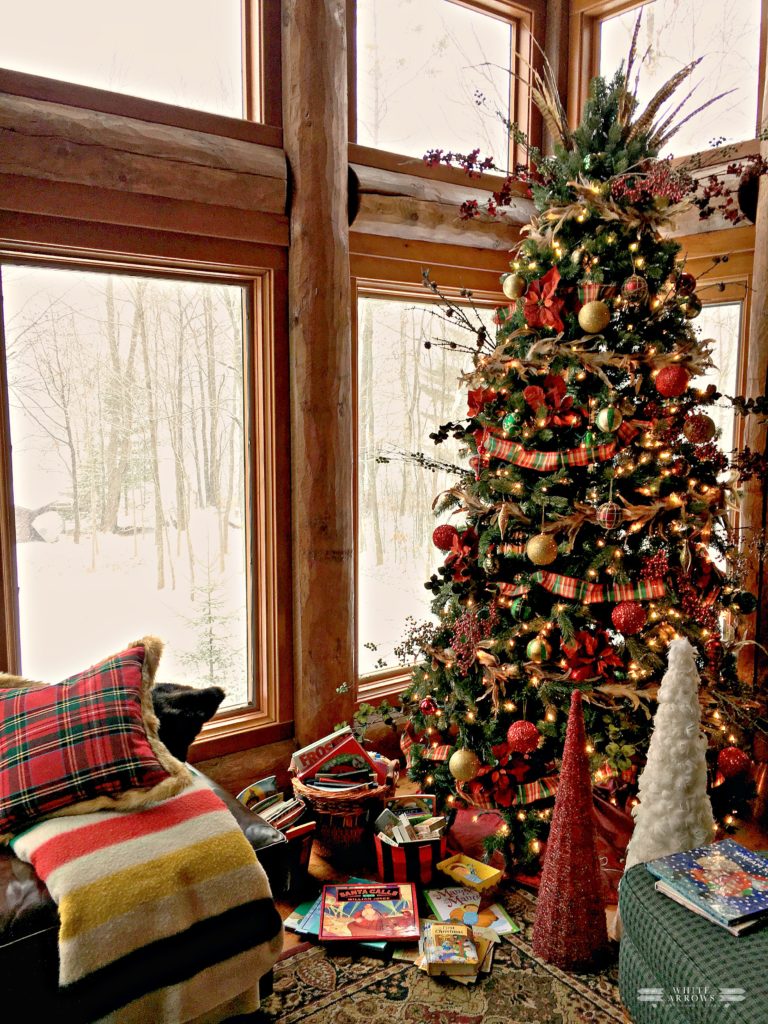 In the Sunroom
Our sunroom was originally a screened in porch. But, it could only be used a few weeks a year. All Spring and Early Summer it was full of pollen and from late Fall until early Spring it would fill with snow. So we decided to take out the screens and add big windows and some in floor heaters. We can now enjoy it anytime.
The sunroom is off our kitchen and dining room so it is wonderful to enjoy the twinkle lights and festiveness of a tree being in the sunroom.
This tree was given more whimsy than the more formal tree by the windows of the great room.
And I love using blankets, tablecloths, fabric… lots of different items as a tree skirt. This red and white fringed piece is actually a bed cover. I loved it's Fair Isle look.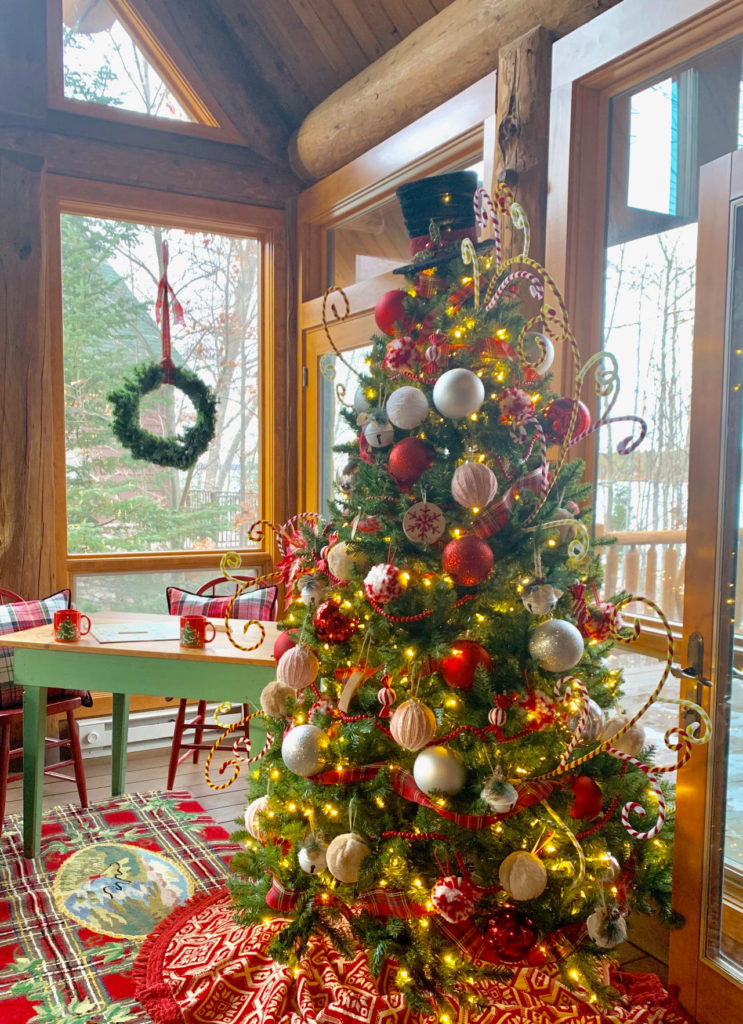 On the Coffee Table
I loved decorating this box to put on the coffee table. See more in this post. These little driftwood trees are just the perfect rustic touch.
I love mixing textures. The wood of these trees is a perfect contrast to the evergreen sprigs, pine cones and plaid fabric ornaments. These driftwood trees were a hot seller in my store, White Arrows Home, located here in our town.

On the Dining Room Table
I love to add a bit of height to my tablescapes and these trees from Hobby Lobby were perfect. They are whispy and not too dense so they don't feel like they block one side of the table or the other.
Combining new finds and vintage treasures is one of my favorite things all around my house and this tablescape with trees is a perfect example. I love using vintage items as containers for flowers, plants and Christmas Trees. A Christmas tree can look completely put together just by having a really special stand like this North Star beverage box.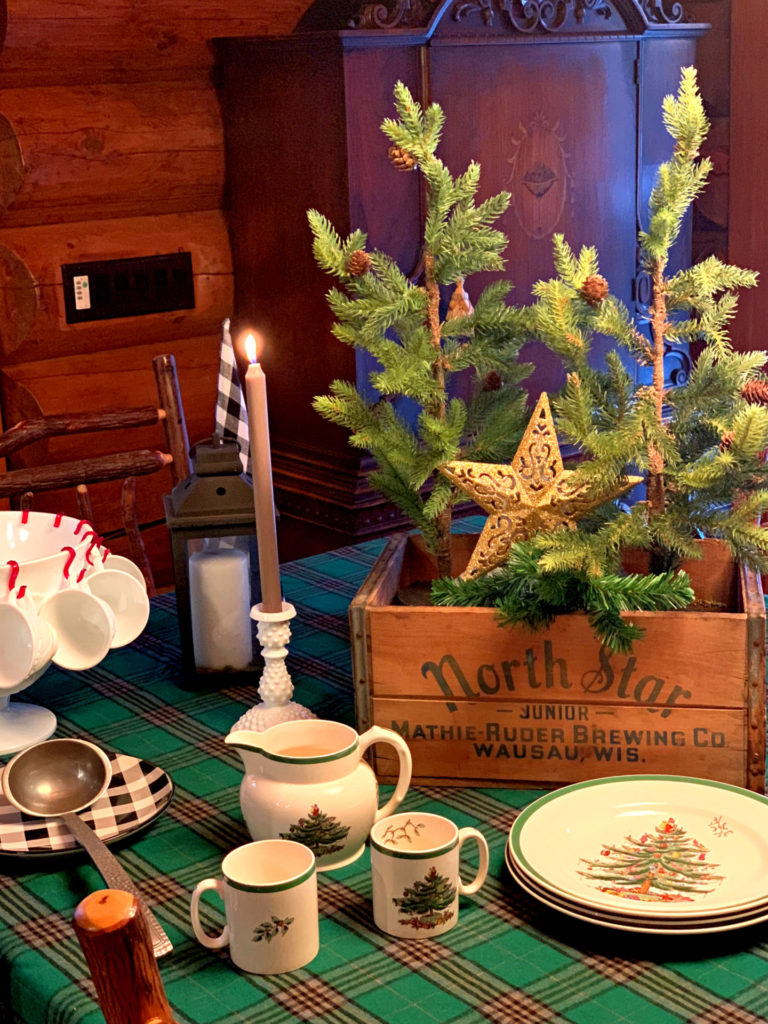 In the Basement Family Room
When my kids were littler they loved to sit and read Christmas books by the light of the tree. We have a wonderful collection of Christmas books that come out each year and the kids are so excited because they remember their favorites and can't wait to read them again.
This tree is full of Northwoods ornaments- woodland creatures, camping, fishing, felted hot chocolate cups and birch bark garland. I got lots of the ornaments over the years at Target. 
To fit the campy feel, I used a vintage wool camp blanket for a tree skirt and styled some coolers and jugs nearby.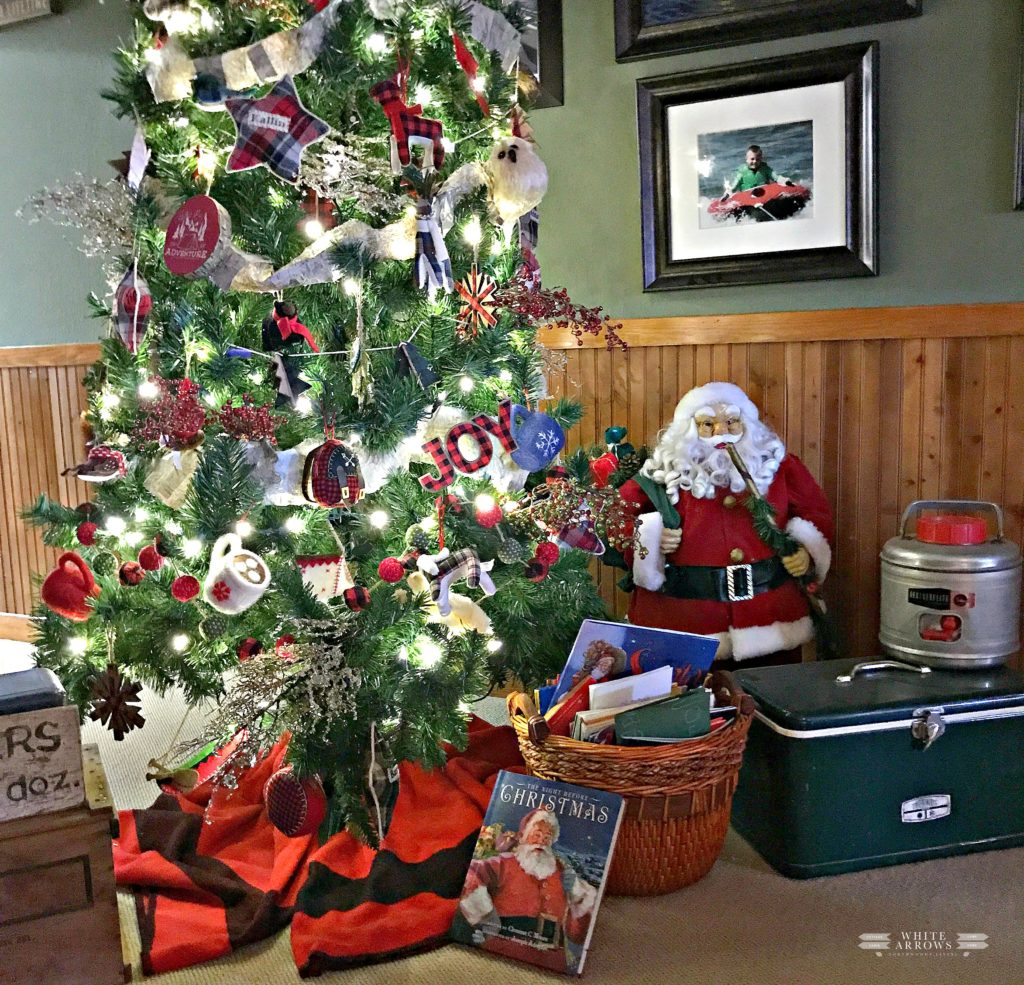 By the Stairs
In the corner of the stairs was a perfect spot for our family tree. I always have a tree just for the kids ornaments. It's my favorite. I love watching them unpack their ornaments and remember when they got them. Lots of them are handmade from elementary school years with their little faces on them.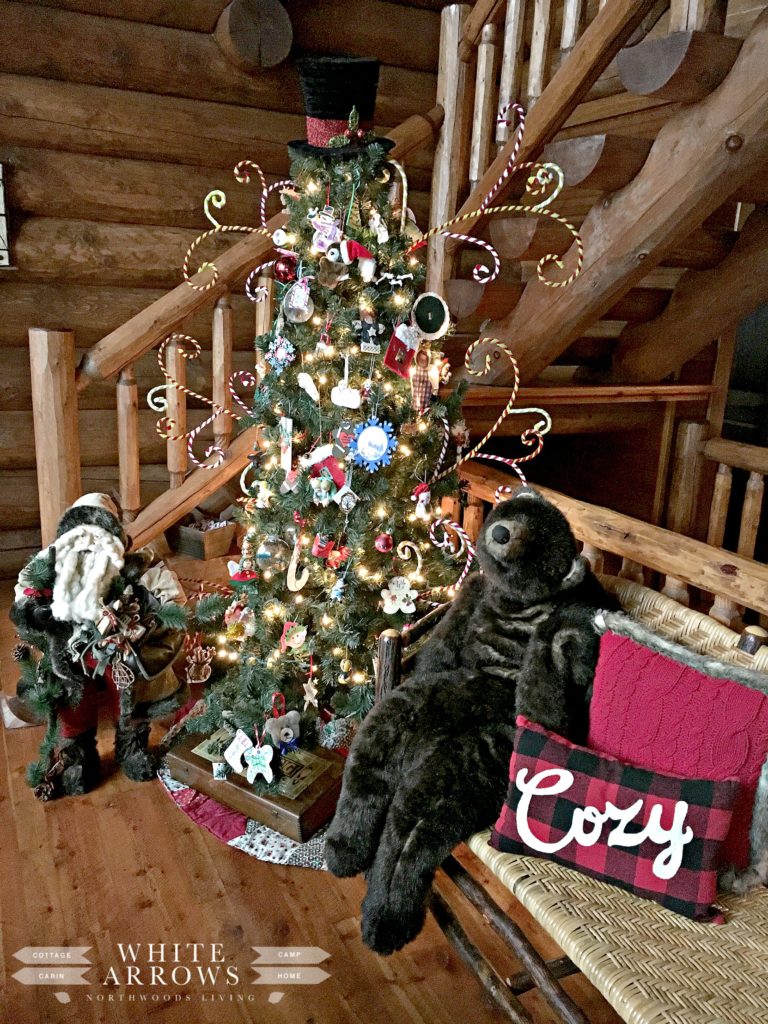 In the Great Room
I also love to put our "grown up" tree by the fireplace in The Great Room. It's so cozy to have the twinkle lights by the fireplace in the evenings.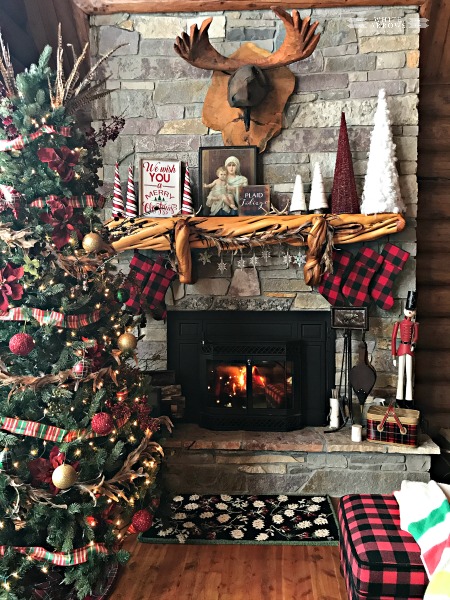 In the Mudroom
I added some of those same trees I used on the dining room table to a mudroom sink next to a Fresh Trees sign and a buffalo plaid coat. This was a favorite space when I decorated a home for a local Christmas Tour hosted by the Manitowish Waters Lady Lions.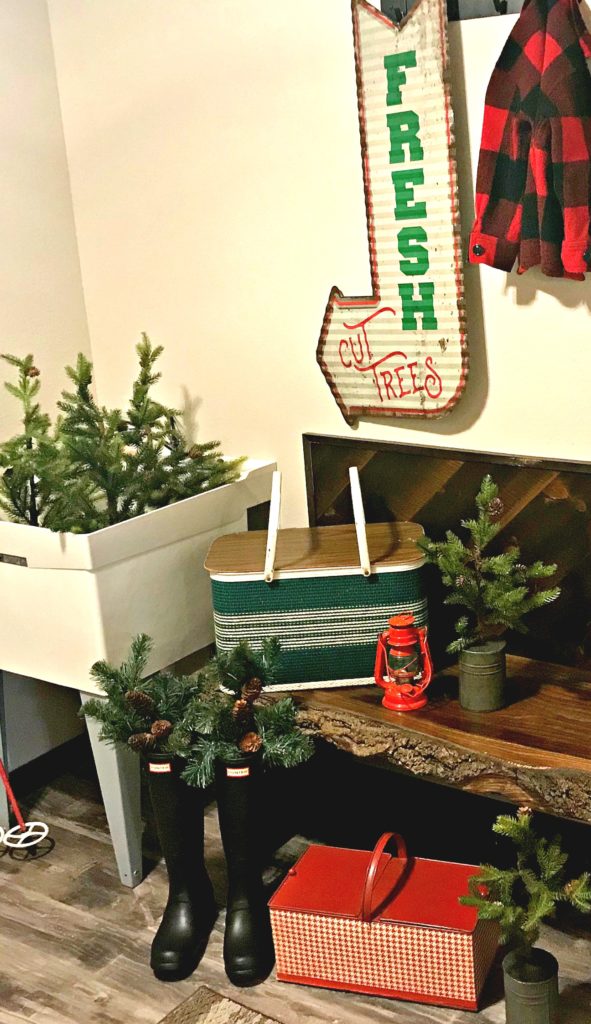 By the Fireplace
On that same tour I had fun thinking outside the box and I brought my Summer flower pots inside and added undecorated flocked trees inside of them. I absolutely love how it turned out. Truly magical!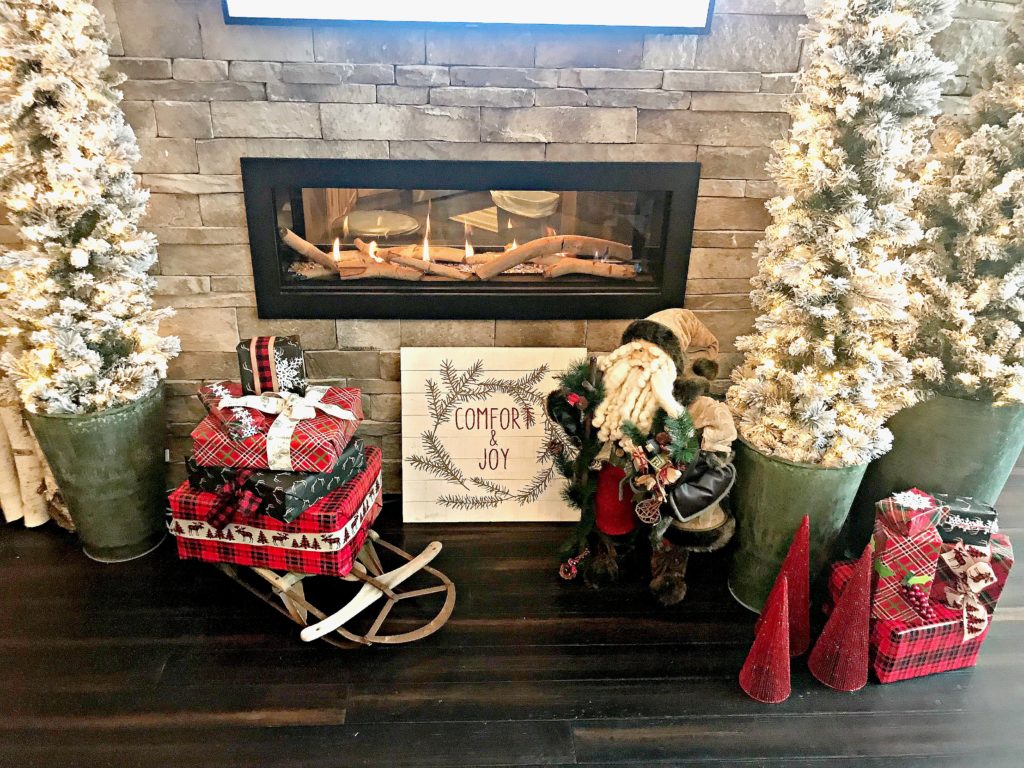 On the Porch
I even love to put Christmas trees on my front porch. At night when they are lit up they are like the welcoming committee when we get home after dark.
Our porch is covered so the tree did well all season out front. It matched the trees in the woods surrounding our cabin where we get a lot of snow each winter!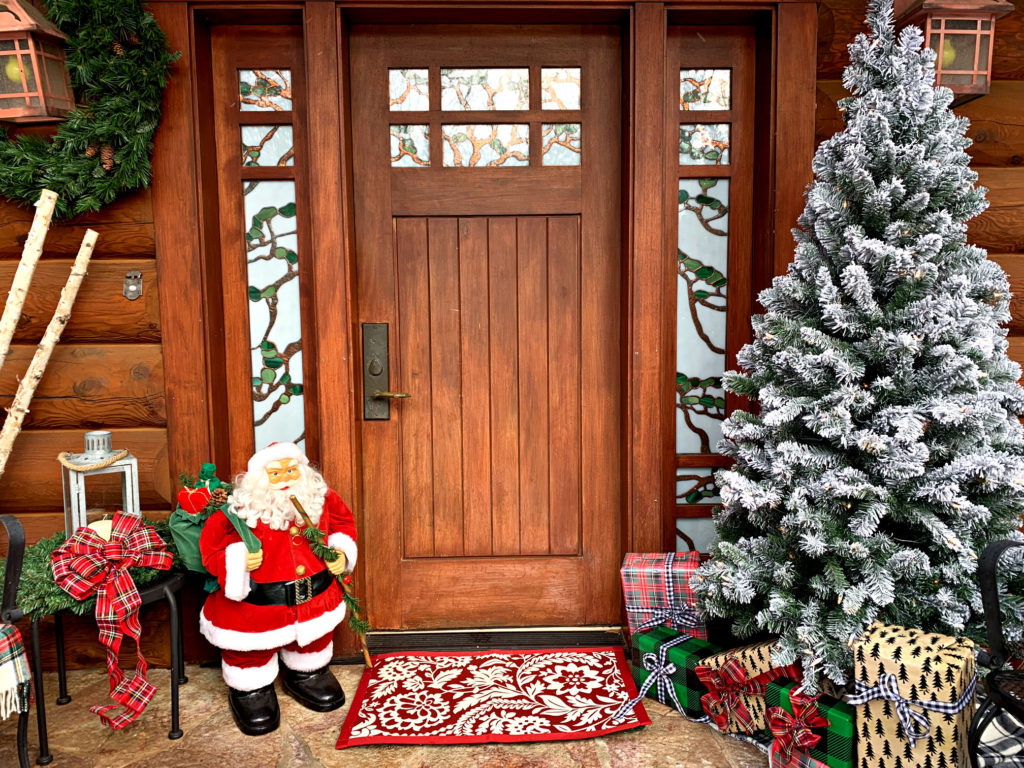 Thanks so much for visiting! I hope you have found some new ideas for adding trees in your home!
Next you are heading east again to another one of my favorite friends and homes in North Carolina, Rachel of The Ponds Farmhouse. Enjoy the inspiration there! She will be one to continue following for sure!
Wait Until You See These Amazing Christmas Tree Decorating Ideas!

Bricks 'n Blooms // White Arrows Home // The Ponds Farmhouse
My Thrift Store Addiction // Down Shiloh Road
Dabbling and Decorating // The Tattered Pew // J Dub By Design
Simply2Moms // Blue Sky at Home 

County Road 407 // Shiplap and Shells // Follow The Yellow Brick Home 
The Flowering Farmhouse // My Wee Abode // Calypso in the Country
Cottage on Bunker Hill // This is Simplicite
FOLLOW WHITE ARROWS HOME
Instagram ~ Facebook ~ Pinterest ~ Twitter ~ YouTube