Three simple and inexpensive DIY Christmas Lighting Projects to add festive touches to your decor this season.
(Affiliate links are used for your convience. Read my full disclosure here.)
I'm joining some friends today for our monthly DIY Blog Hop hosted by Grandma's House DIY and Chas of Chas' Crazy Creations. Each month we have a different theme and this month is lighting DIYs. You will find a variety of inspiring posts and all participants and links are listed at the bottom of my post so you won't miss any of the great ideas!

If you are new to White Arrows Home, welcome to our log cabin home in The Northwoods of Wisconsin where we are surrounded by woods and water. I'm so glad you are joining me today!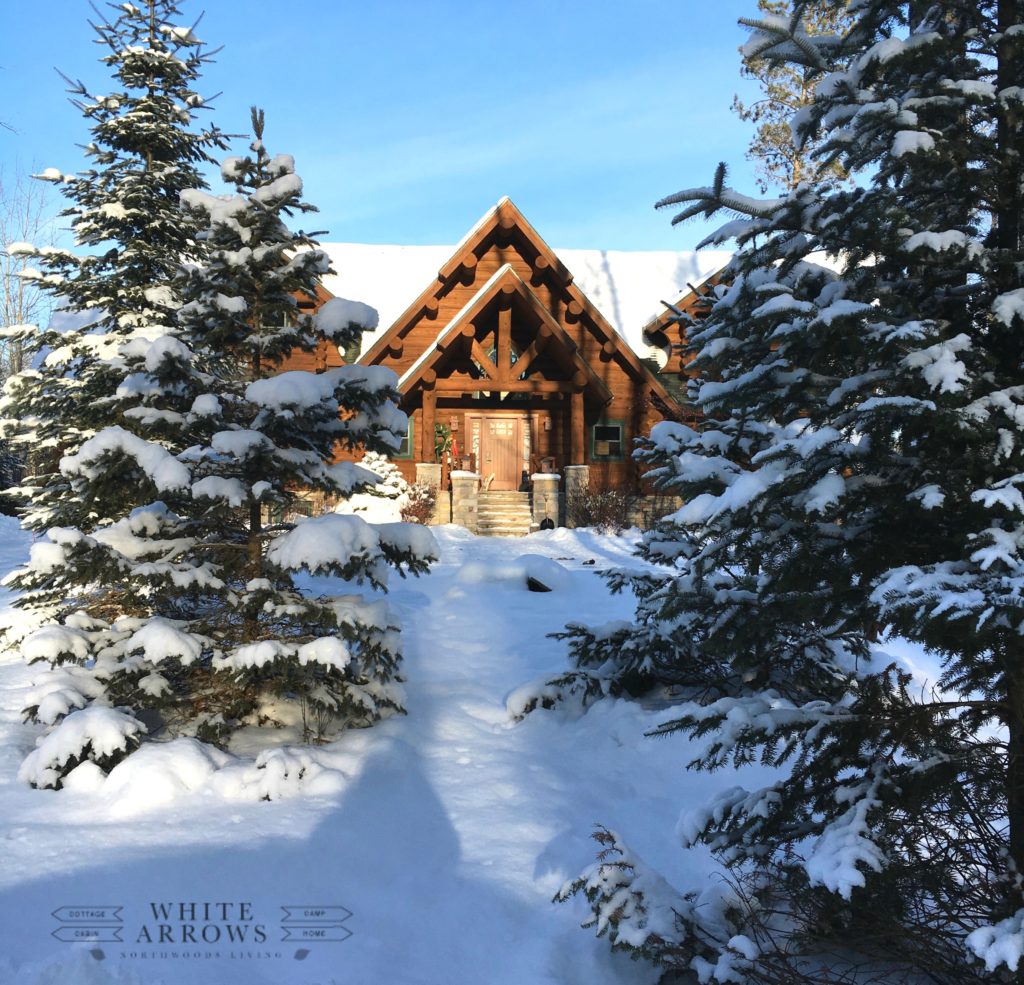 When I am crafting there are a few things that are priorities for me. Number One, that its simple. I don't like to have a lot of steps or too many materials. Number Two, it's quick and can be done in minutes if possible.
This month I had a few ideas on my list that were all about lighting and were a perfect fit for this months theme. Two use battery operated tea lights and one uses string lights.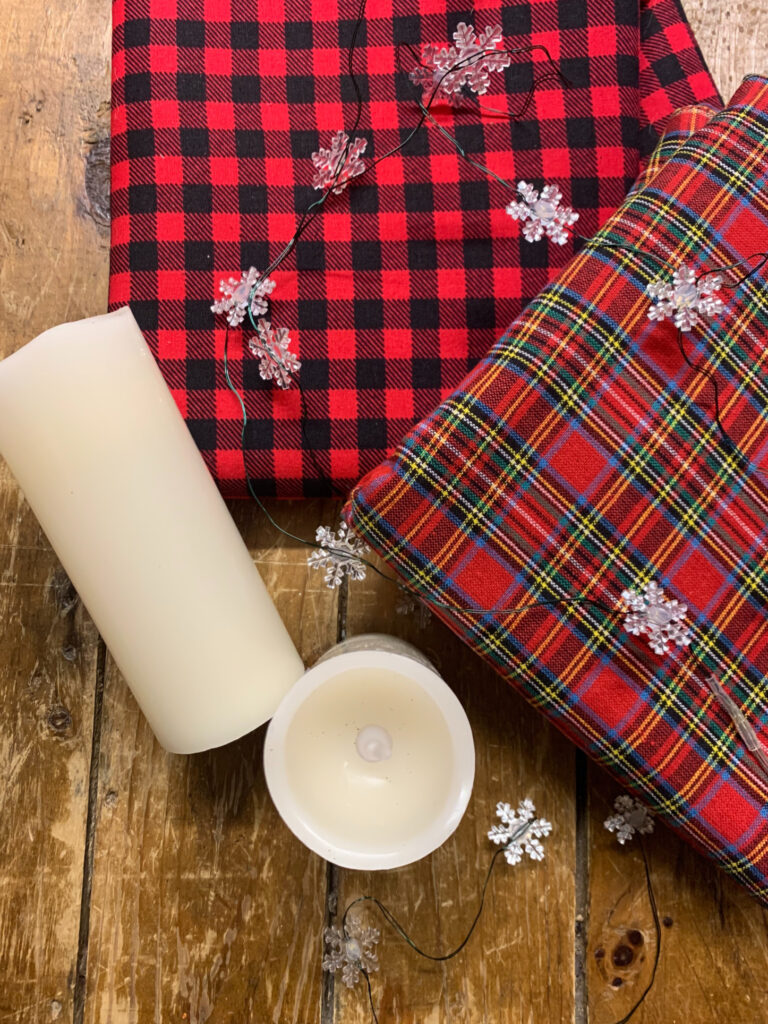 Project One
I had seen in catalogs and in favorite stores like Hobby Lobby cute fabric candles. I knew I could make those easily and with favorite fabrics of my own. Here's the short list of supplies: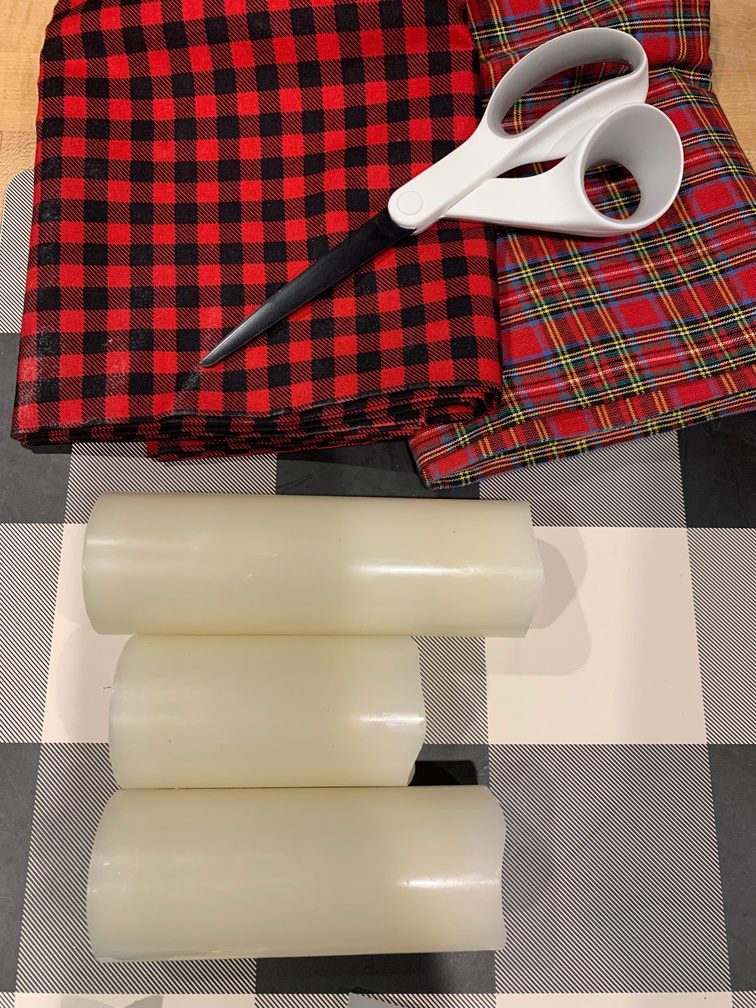 Three supplies! Actually only two and two tools. This is my kind of project. I simply cut fabric the length of the candle and enough to go around it. Then I glue gunned each end of the fabric and rolled the candles up. This project took only minutes to do!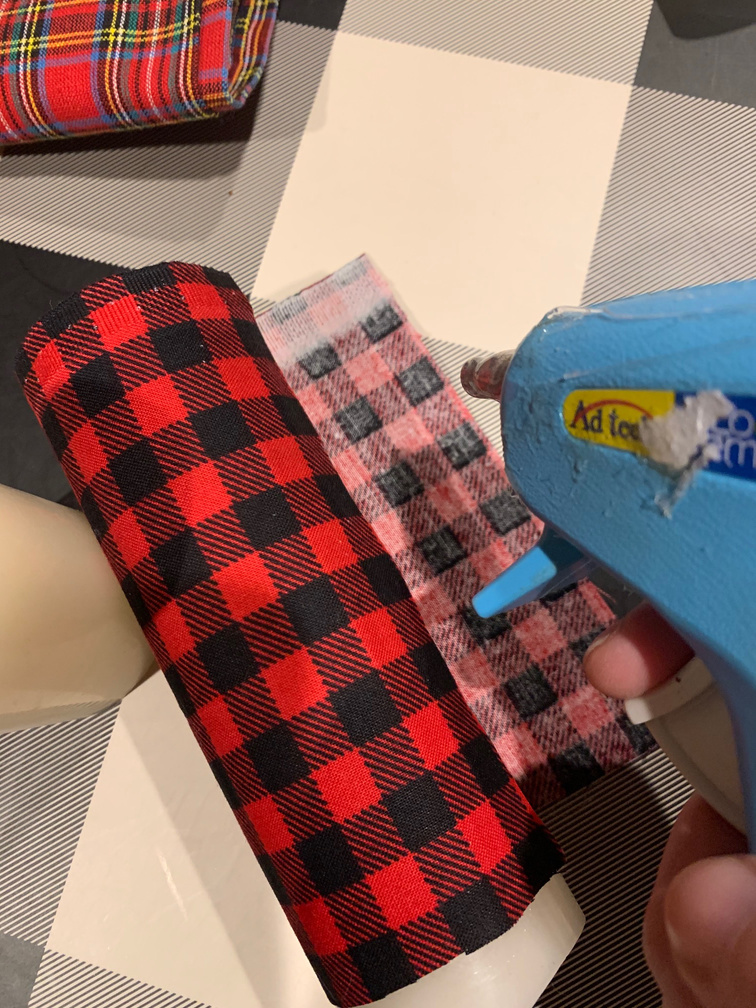 And I love the finished project! It would be easy to remove the fabric and change it up for different seasons and events too. But, this is a perfect edition to my Christmas decor.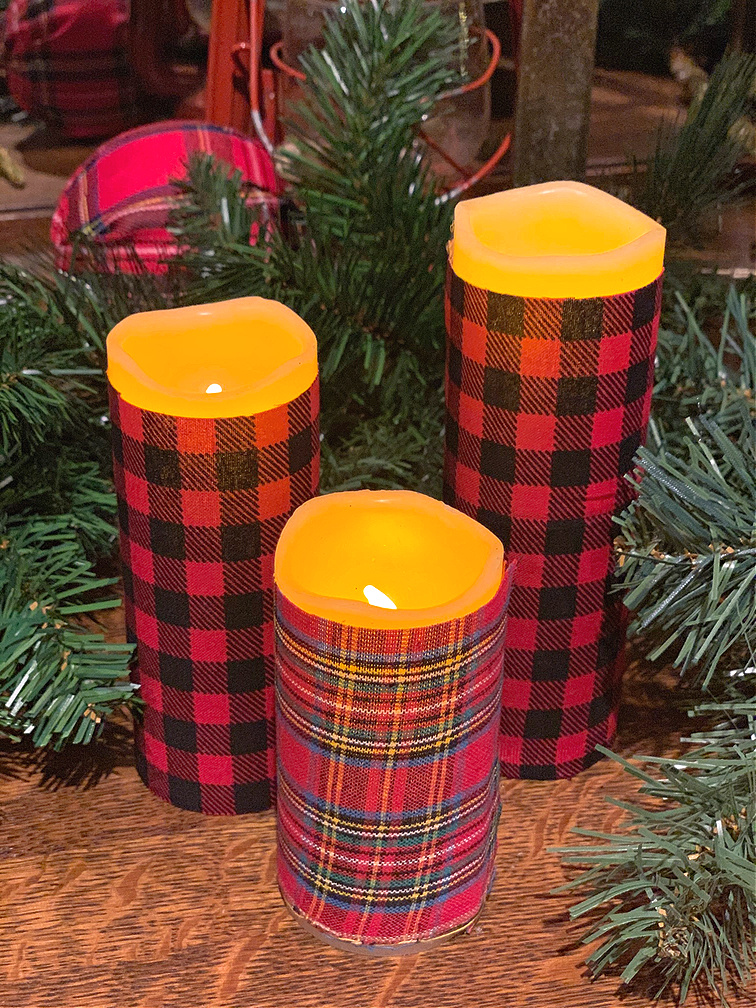 Project Two
This one is another project that took only minutes, had a short list of supplies and cost under $5! Here's what's needed:
I found some fuzzy socks at Dollar Tree and a vase and mason jar at home to use for this DIY. Dollar Tree has vases too to use if you don't already have jars or containers to use.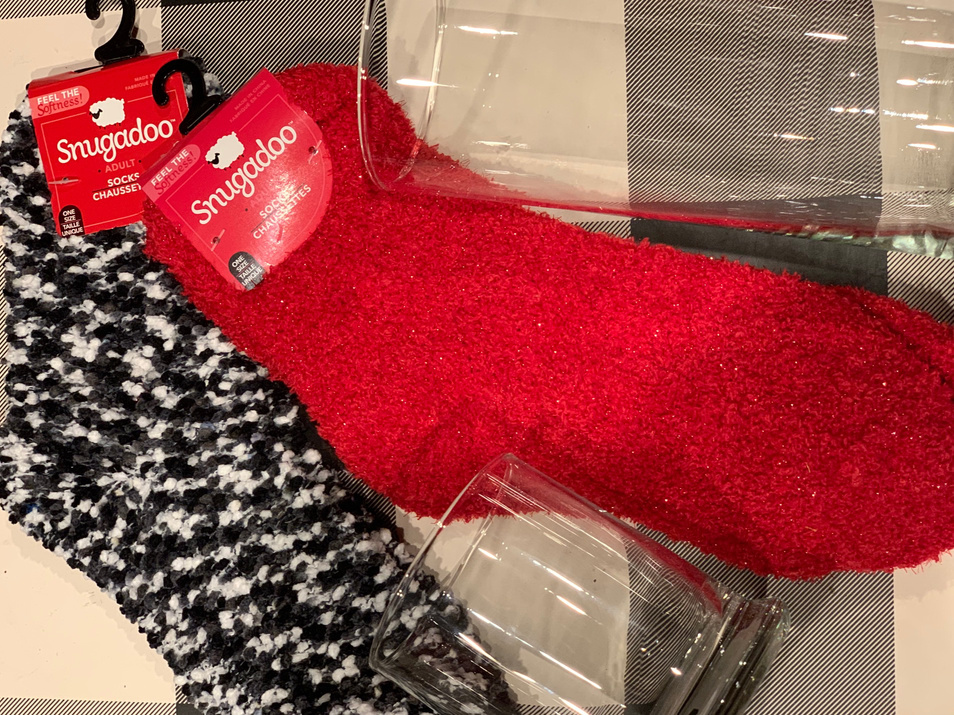 Then I simply cut the toes off the socks and pulled them over the jars.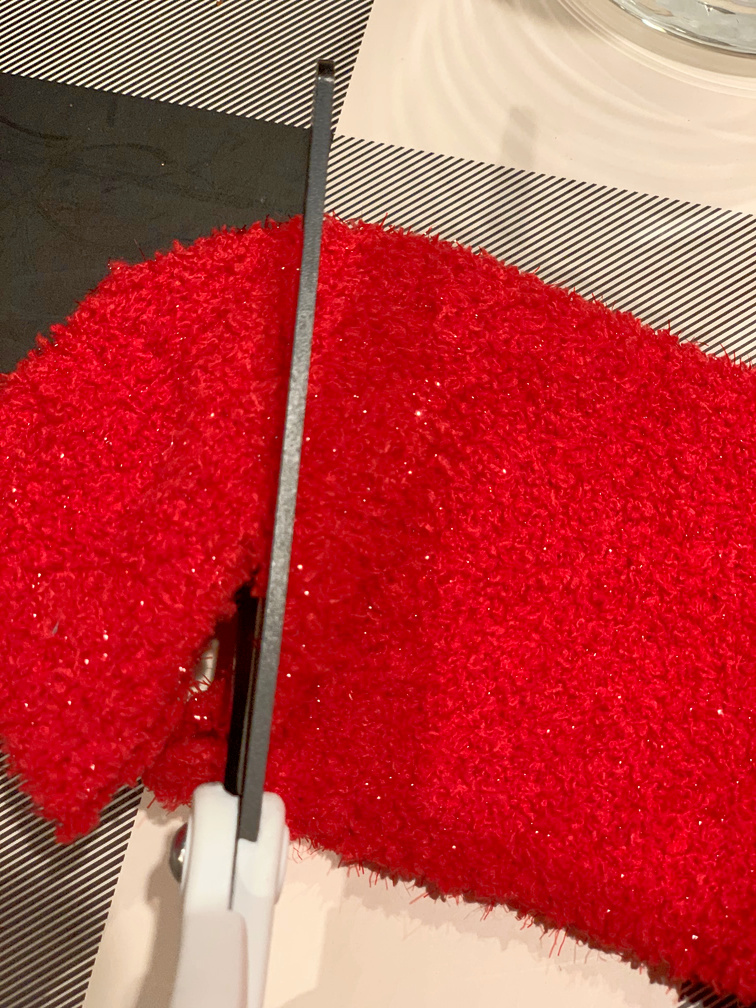 You could find the style that suits your decor. I'd love to do some too with old wool socks or plaid and argyle socks. You may be able to do this whole craft for free with what you have at home. I simply placed battery operated tea lights inside to give them a glow.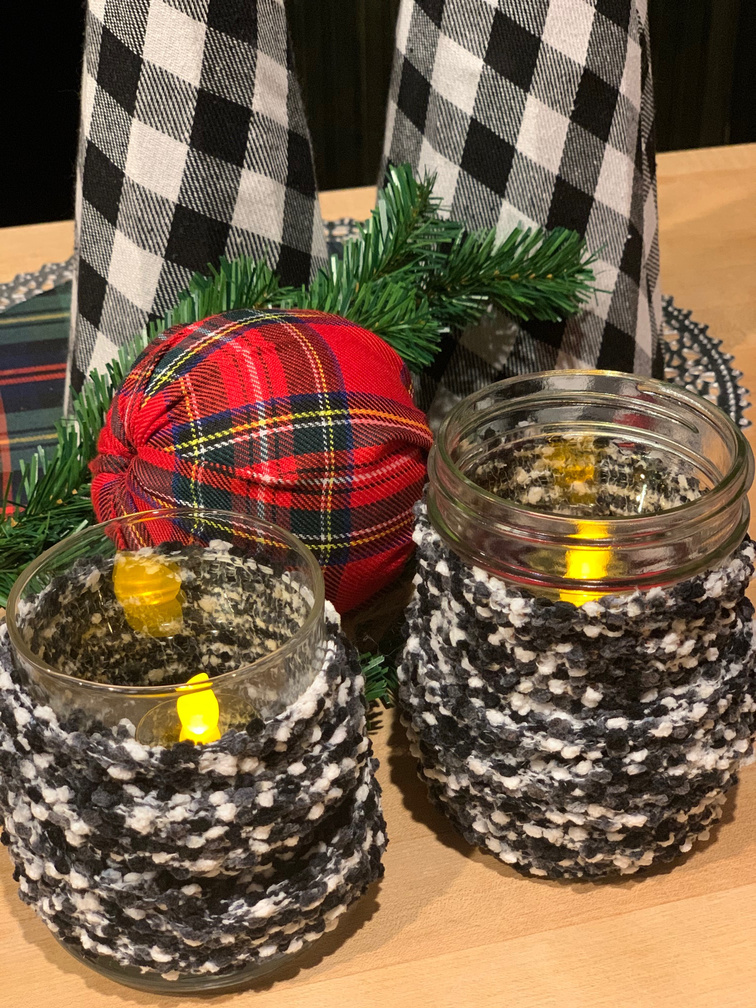 Project Three
This one is the most simple of all. I found the cutest battery operated snowflake and star lights at Dollar Tree and I knew they would be fun to add in somewhere this holiday. The supplies I used: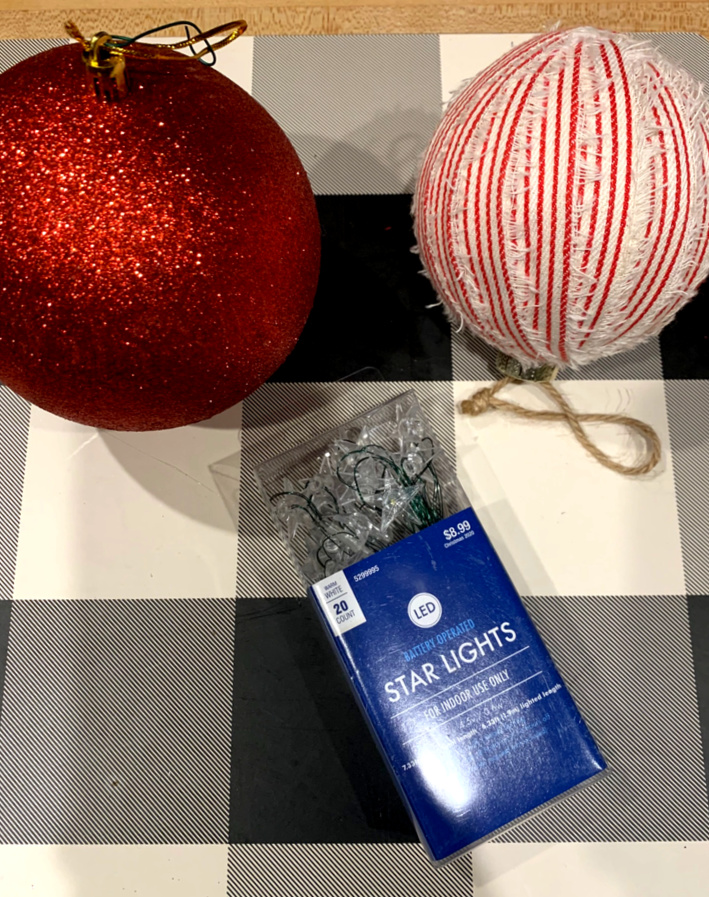 Then I simply wound them through a few ornaments inside a favorite vintage tin. To keep the ornaments on top I filled the bottom of the tin with fabric.You could use newspaper or anything you have around as filler. This took only minutes and $1 for the lights.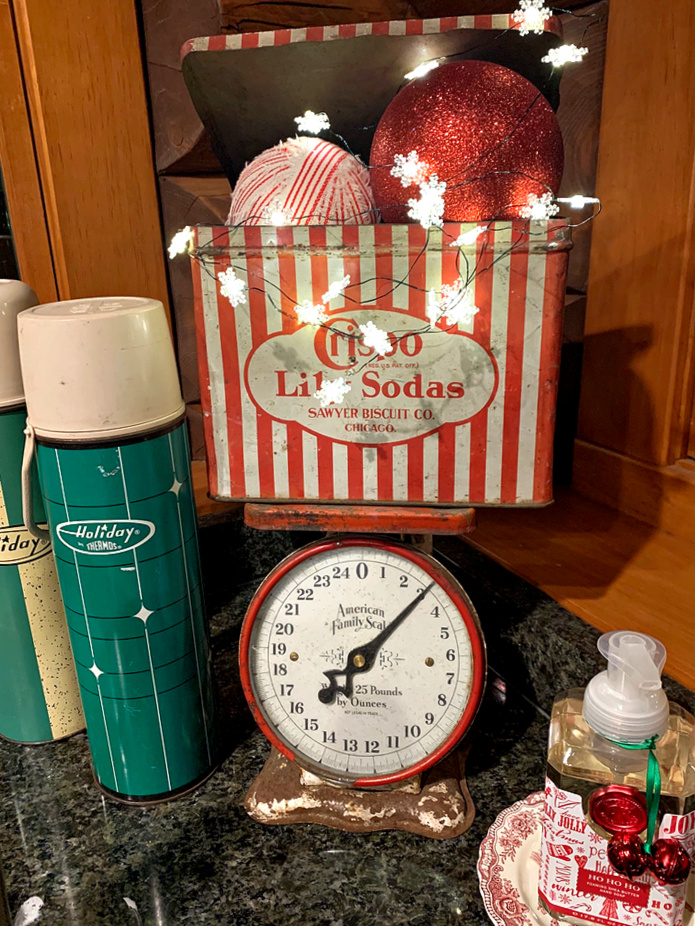 Thanks so much for joining me! I hope you will become a regular visitor of White Arrows Home. I'd love to have you Subscribe so you don't miss a post.
Get the Look


Now enjoy the lighting inspiration from my fellow bloggers.
TAKE THE TOUR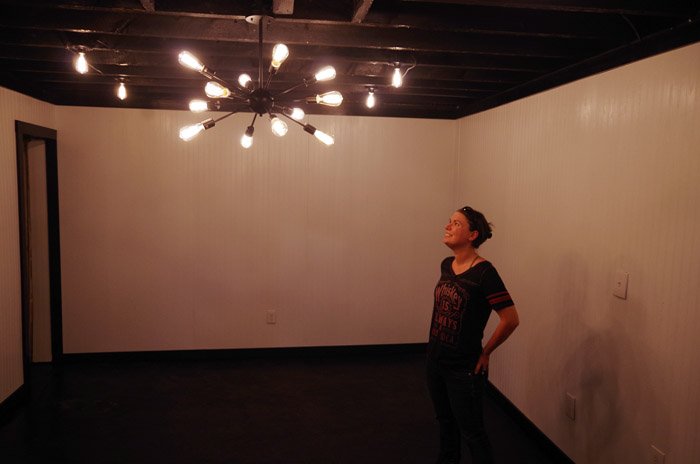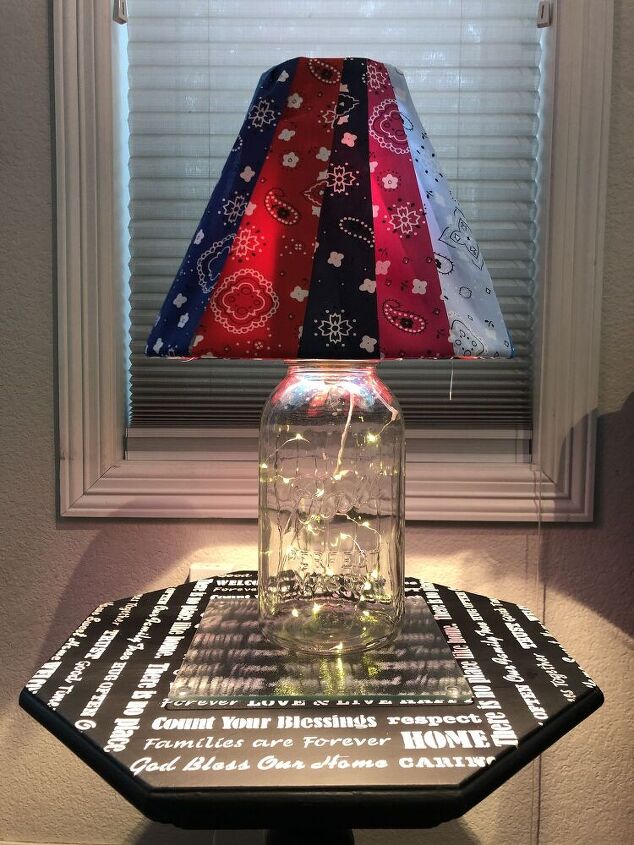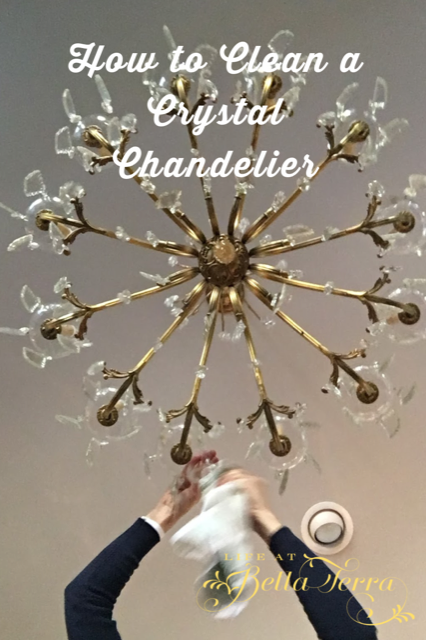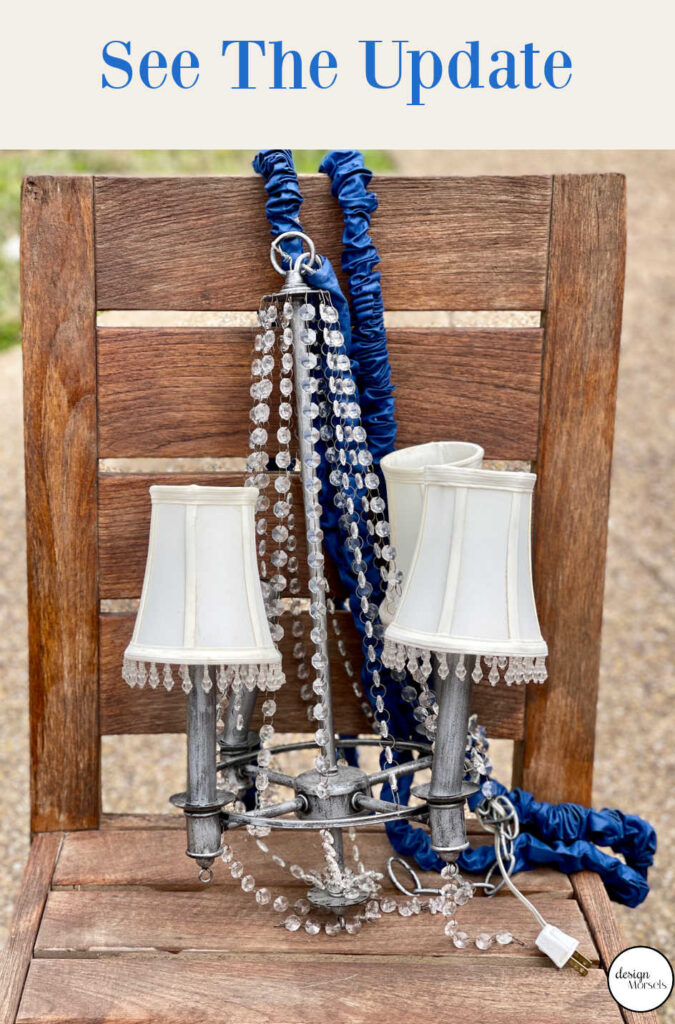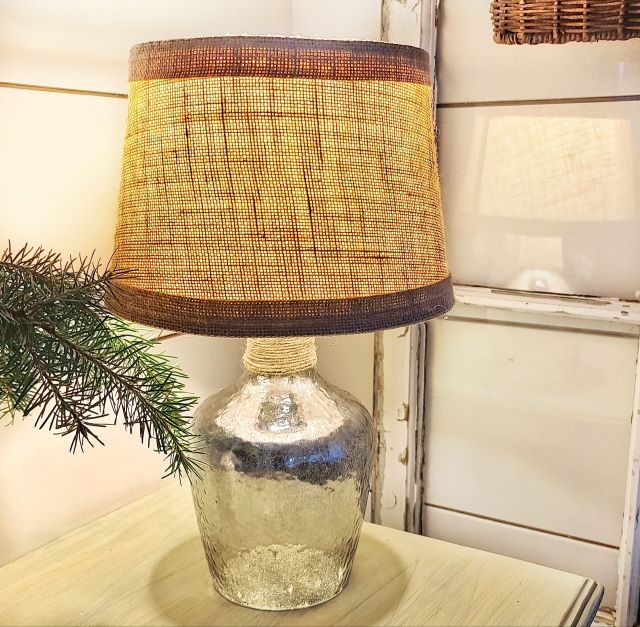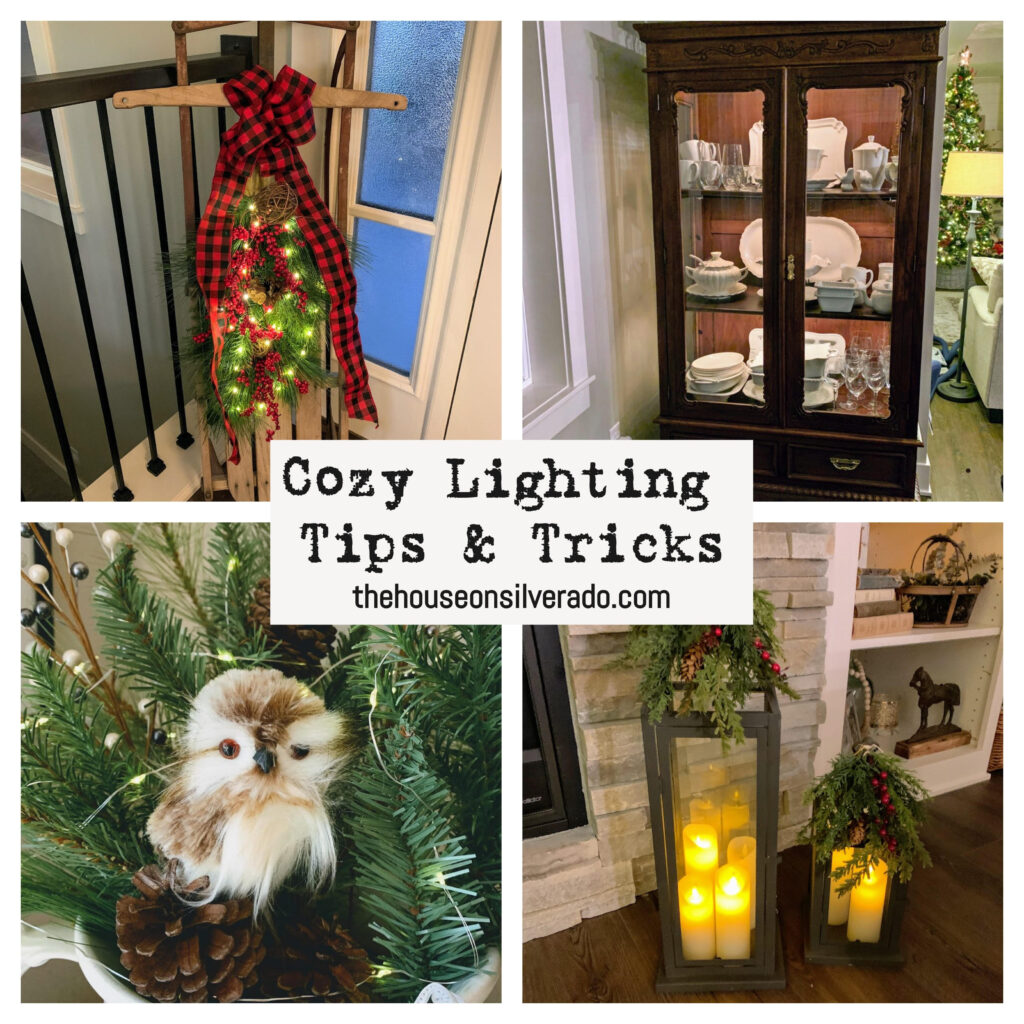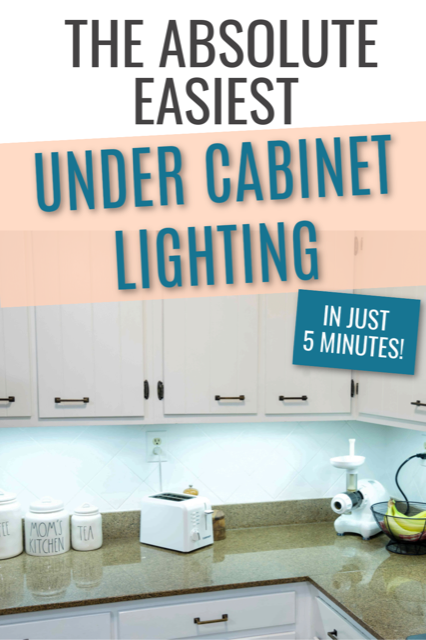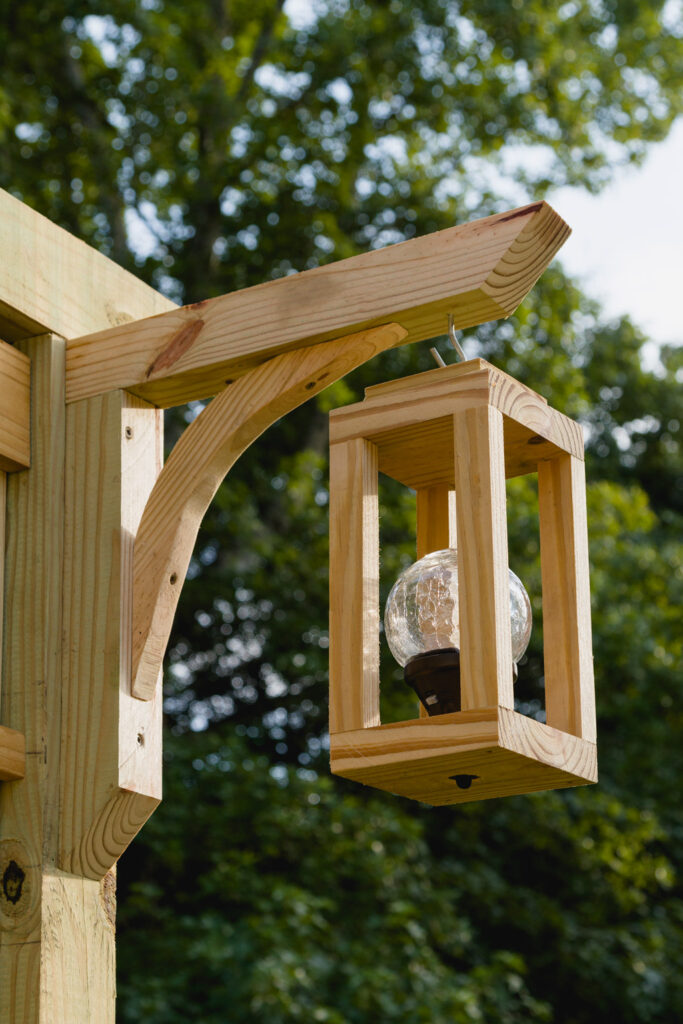 FOLLOW WHITE ARROWS HOME


Instagram ~ Facebook ~ Pinterest ~ Twitter ~ YouTube