Easy First Touches of Fall Decor help bring in the change of seasons after a beautiful Summer.
(Affiliate links are used for your convenience. Read my full disclosure here.)
Inspiration from 18 home decor bloggers fill this Early Fall Tour with tons of ideas for your own home as you begin to transition from Summer to Fall.
Thanks so much to Pasha of Pasha is Home for organizing and hosting this tour.
It's always an honor to be included with so many talented ladies.
If you are taking the tour in order, I'm kicking things off.
If you've started the tour on another blog then you may be finding me after visiting Amy Sadler Designs. Didn't you love her Fall wreath!
You can find the full list of links at the bottom of this post so you can follow along.
It's like going on a progressive dinner, just a virtual progressive tour as you click from link to link and blog to blog.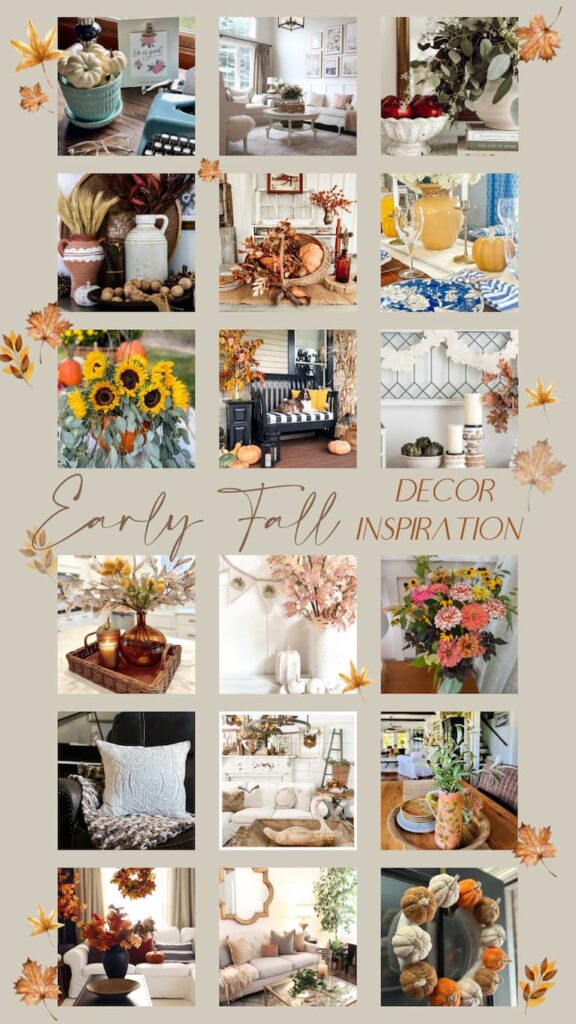 If you are new to my blog, welcome! I'm excited you are here.
I live way Up North in Wisconsin where Fall is Hallmark Movie beautiful watching the leaves change colors in the forests that surround our lakeside cabin home.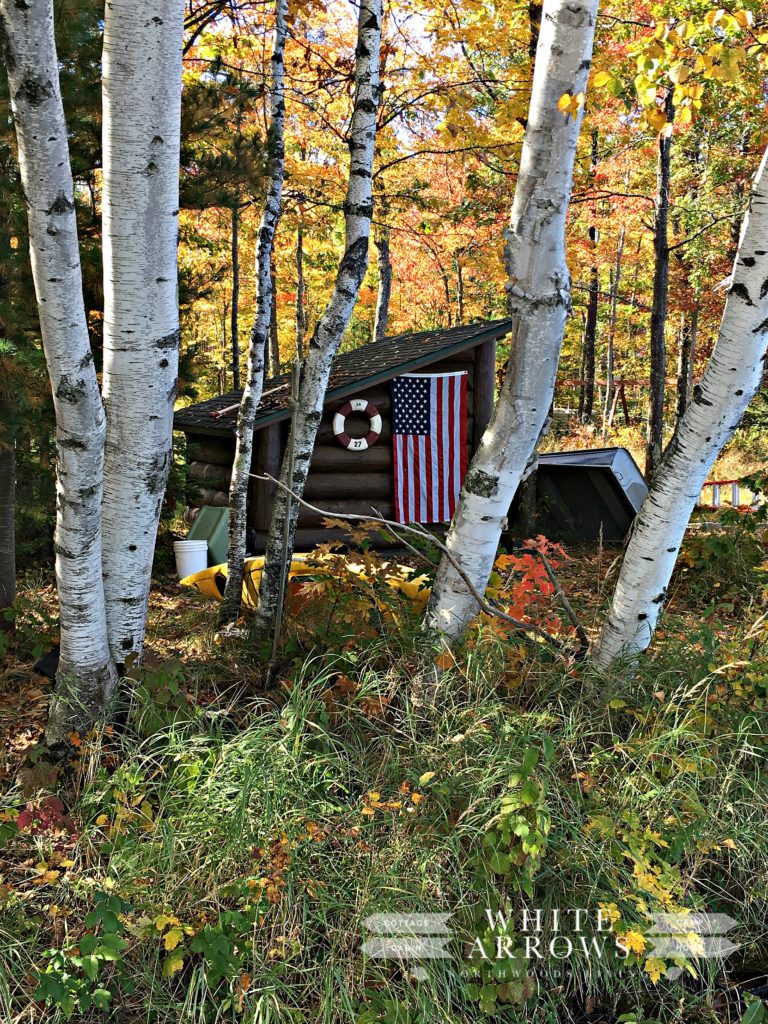 Here are some of my favorite ways to add easy first touches of Fall decor.
It's the little things that find their way out of my storage room first.
No big adjustments, just small hints that the seasons are changing.
I love Summer. I love Fall. I love all the seasons and want to fully live in each one and appreciate it.
So as I change between them I linger in the styling and decorating and enjoy the additions as they make their appearance.
The Breakfast Room
In the breakfast room I change out the napkins, placemats and to Fall colors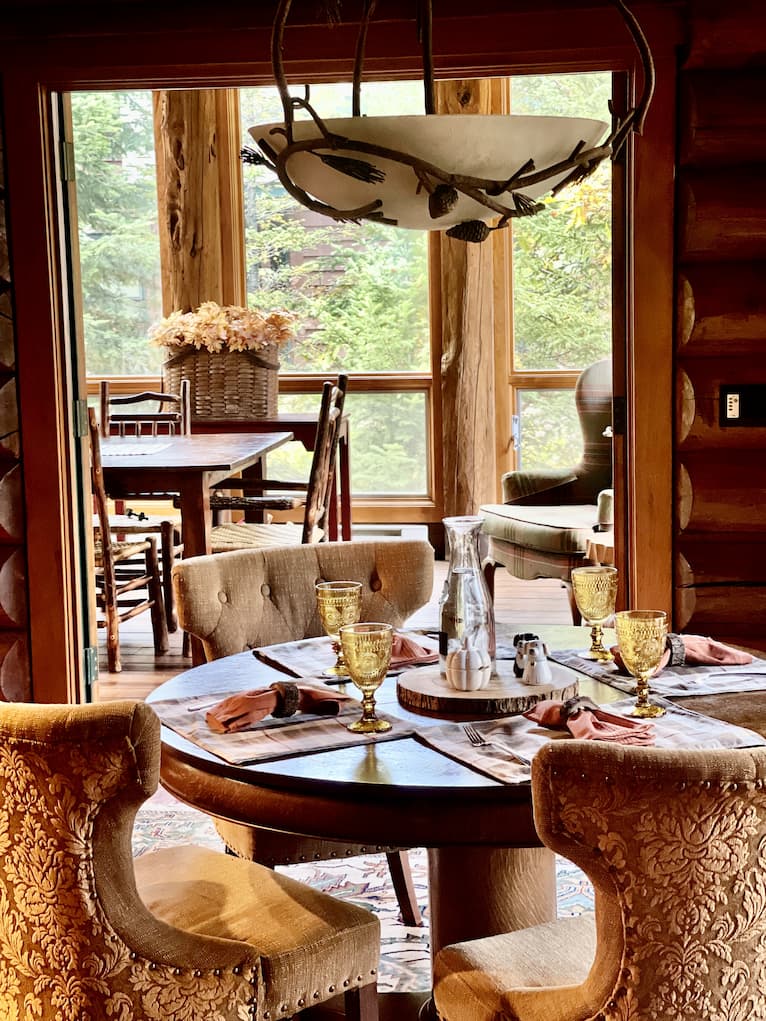 It takes just minutes to choose place settings from the armoire in colors, the oranges and golds that are beginning to appear right outside the windows on the trees.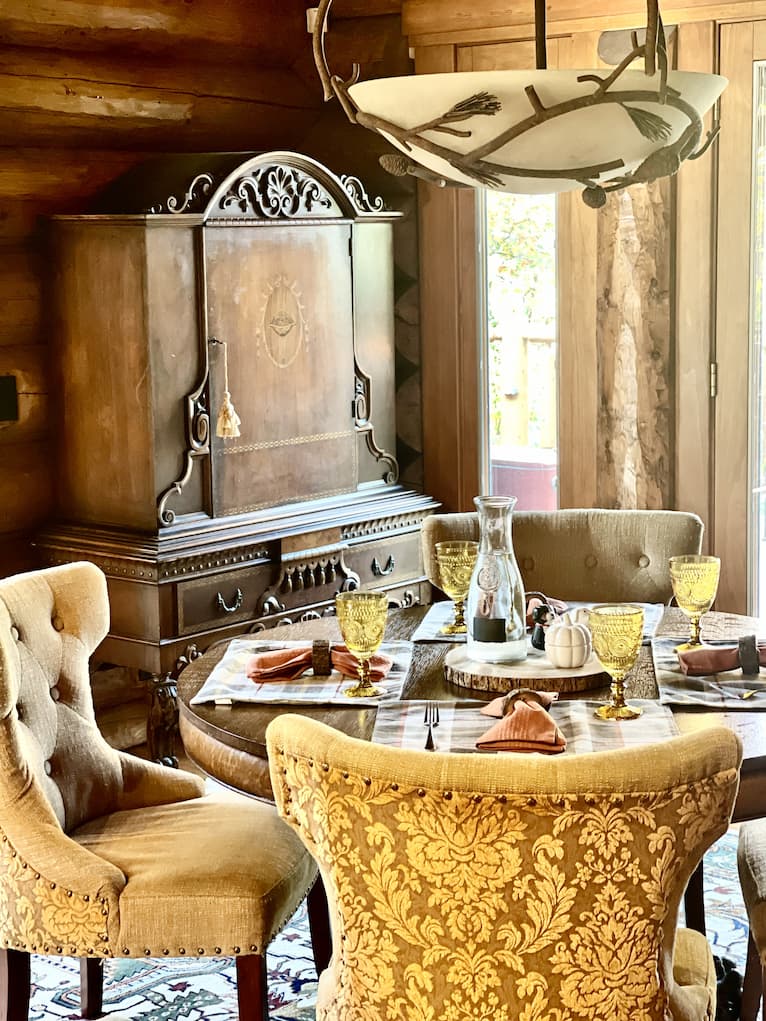 My Hawkeye basket full of red geraniums in Summer makes a quick costume switch to faux leaves.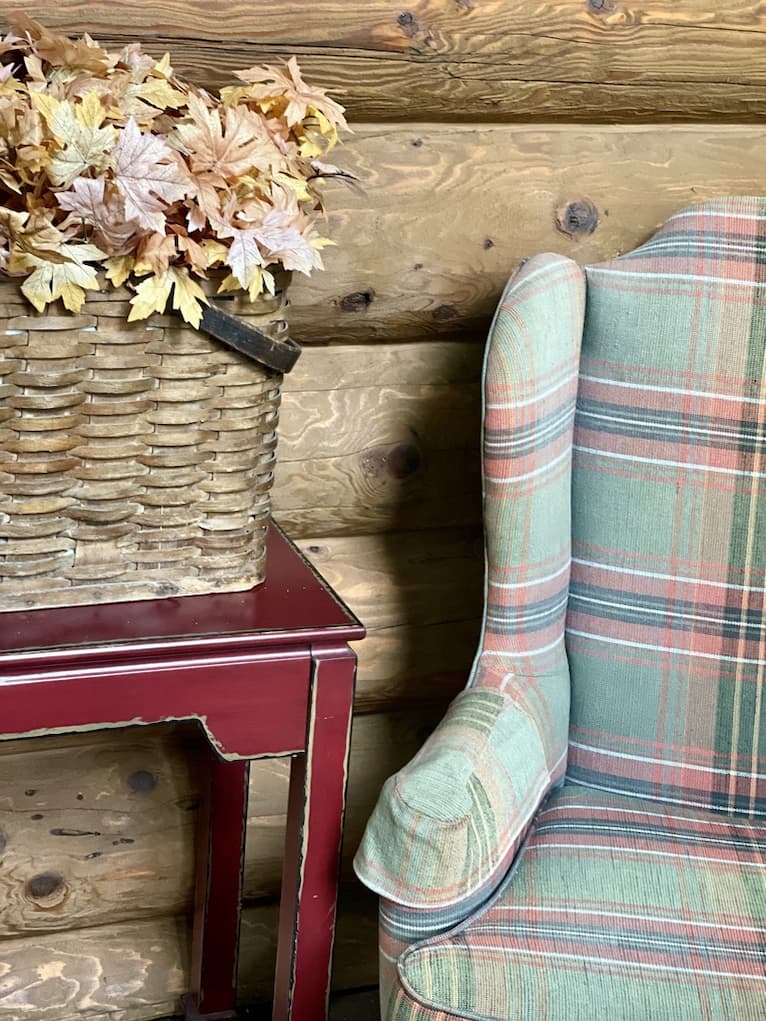 Little Pumpkins
I begin to place little faux pumpkins as fillers around the house.
A McCoy pot on my daughter's desk is so sweet with a variety of white ones.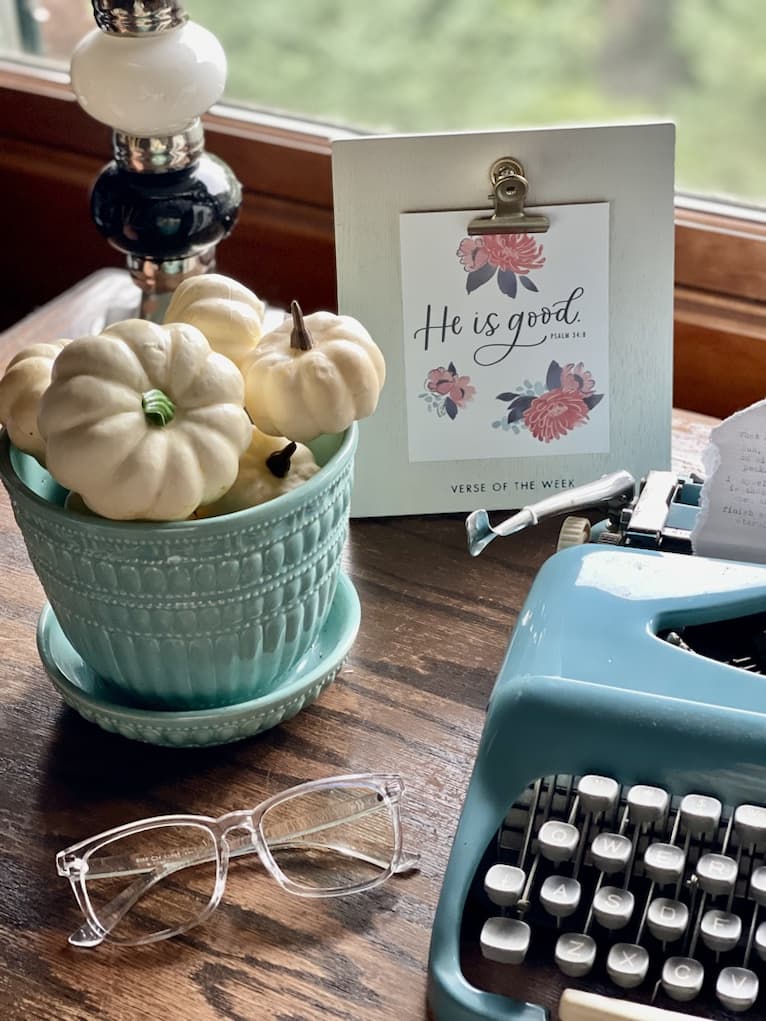 Wreath
One of the easiest decor changes is to swap out the Summer wreath for one perfect for Autumn.

Pillows & Blankets
My red, whites and blues from the past few months switch out for accents of browns, oranges and burgundies easily with pillow, throw blankets, a few blooms and pumpkins.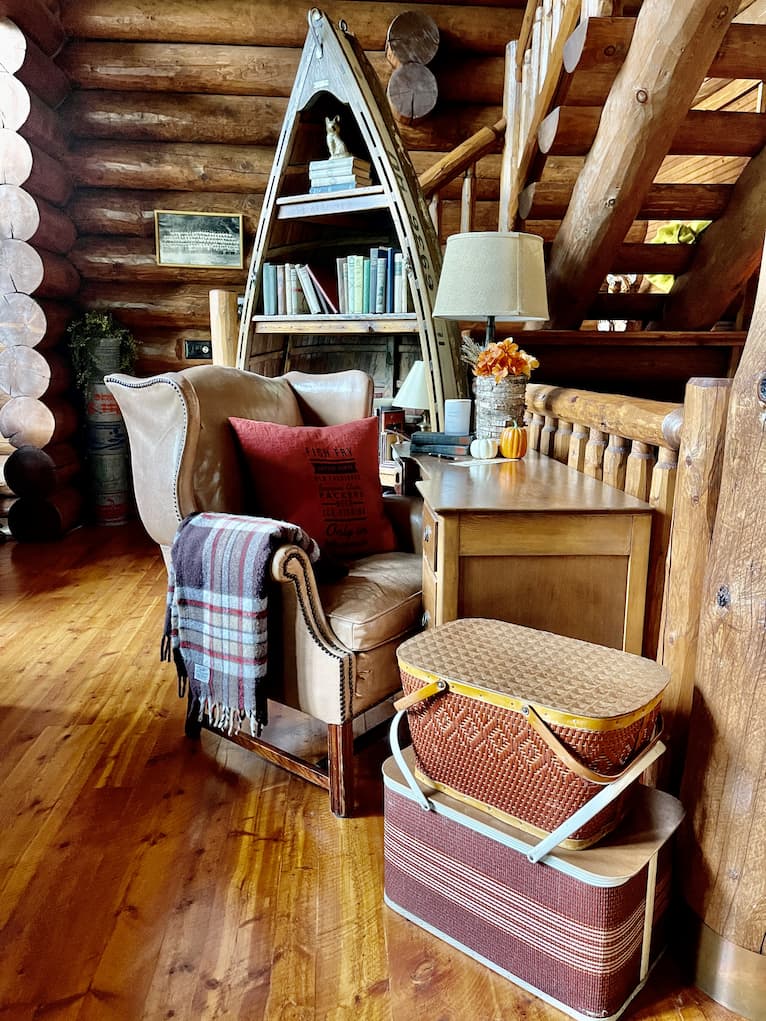 Thanks so much for joining me!
I hope you are feeling a little more inspired and less stressed with the season changing to keep your decor easy in Early Fall.
Next up, you are heading over to my friend at Willow Bloom Home. You will love her neutral and natural Fall decor!
Early Fall Inspiration From Fellow Bloggers
Take the Tour

Easy First Touches of Fall Decor // White Arrows Home
Neutral and Natural Fall Home Tour // Willow Bloom Home Blog
Simple and Charming Minimalist Fall Decor Ideas // Eleanor Rose Home
Fall Decorating on a Budget: Easy Ideas for a Cozy Home // Cottage on Bunker Hill

25 Creative Fall Decoration Table Ideas for Your Home // The Ponds Farmhouse
How to Create a Festive Fall Table Setting // Cottage in the Mitten
6 Easy and Affordable Fall Centerpieces That You Can Make Yourself // White Lilac Farmhouse
How to Make a Stunning DIY Faux Fall Tree That Looks Real // WM Design House

How To Make A Fall Book Page Leaf Garland // Midwest Life and Style
5 Ways To Cozy Up Your Kitchen This Fall // She Gave It A Go
Favorite Faux Fall Stems for Your Home this Year // Pasha is Home
Easy Fall Flower Arrangement // Sand Dollar Lane

Easy Fall Pumpkin Pillow Cover DIY Using A Vintage Chenille Bedspread // Southern Crush at Home
Simple Ideas for Decorating Fall Living Room Centerpieces // Robyn's French Nest
19 Easy Ways to Transition Your Home Decor From Summer To Fall // Shiplap and Shells

Early Fall Decorating // Paint Me Pink Blog
Transition Summer To Fall With Simple Changes // A Stroll Through Life
Easy Fall Wreath For Your Front Door // Amy Sadler
FOLLOW ALONG
Instagram ~ Facebook ~ Pinterest ~ Twitter ~ YouTube ~ Tik Tok ~ Liketoknow.it