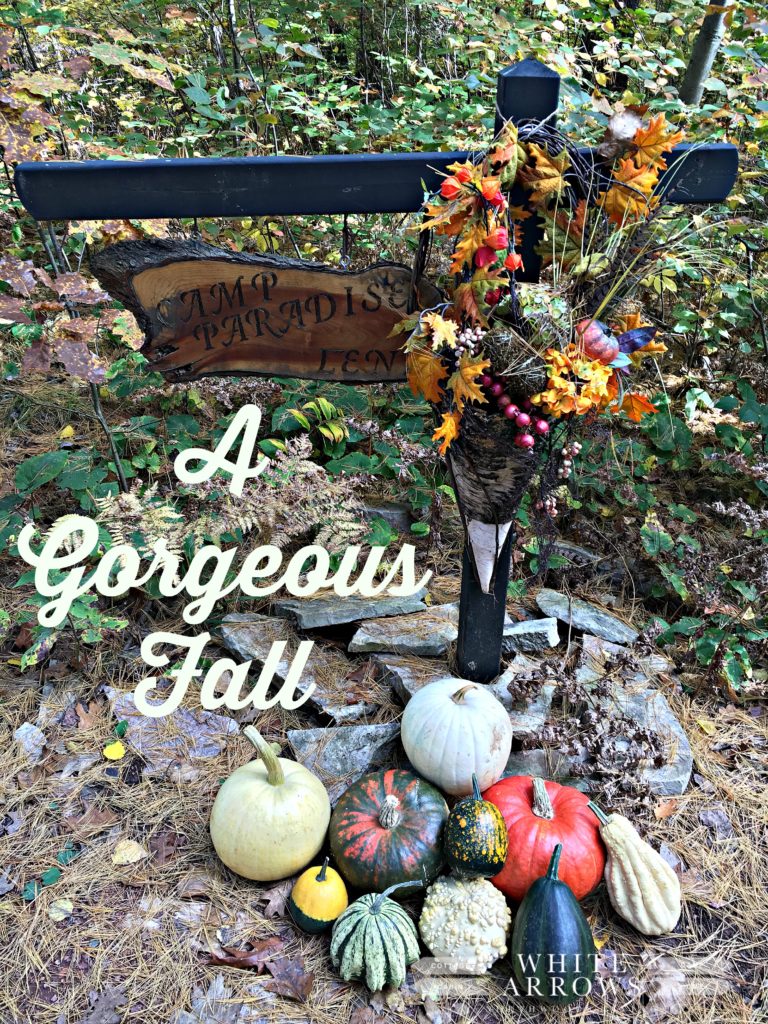 It has been a gorgeous fall in The Northwoods. The colors have seemed more vibrant and majestic, the leaf piles in the backyard seemed bigger. The pumpkins, mums and gourds came in even more creative shapes and colors it seemed this year.
Just follow the white arrows to see our outdoor spaces where we have been entertaining, relaxing and watching the leaves fall.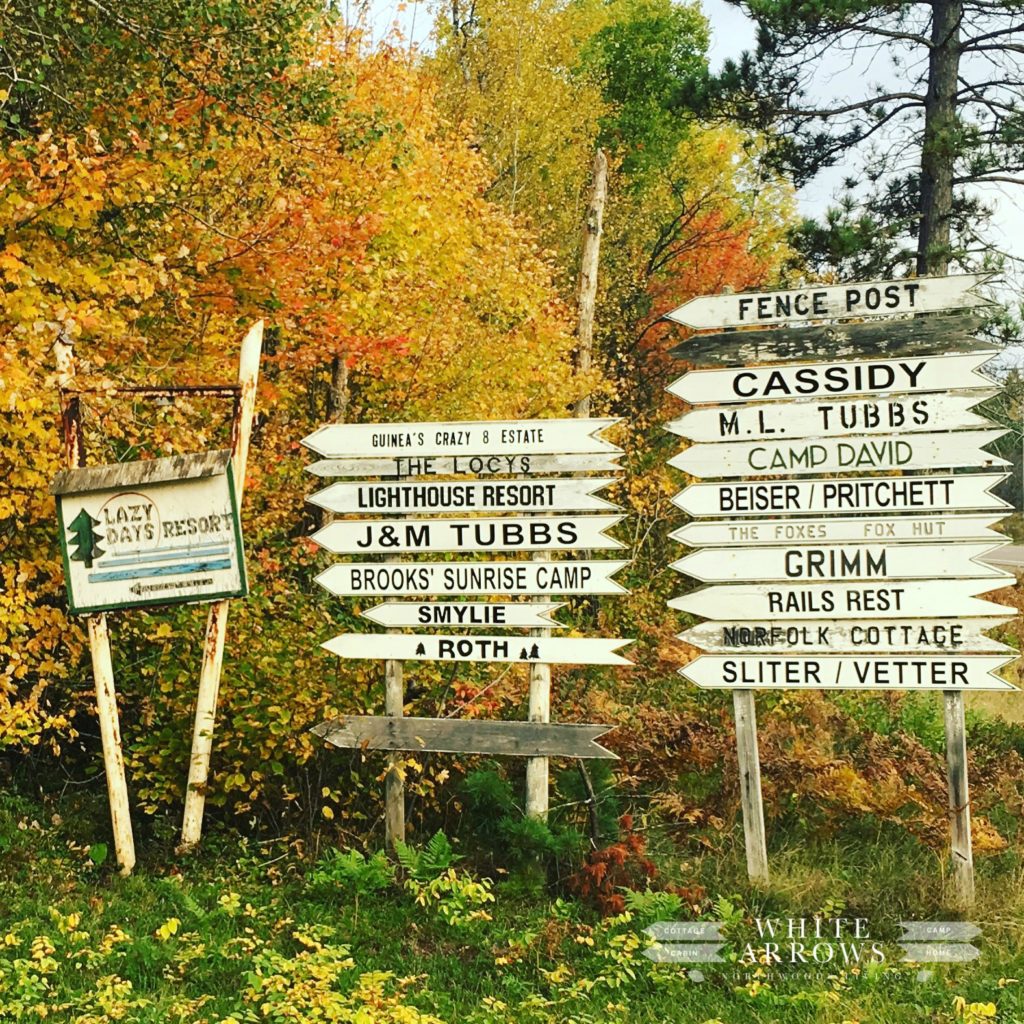 In every season the wreath on the door, the decor accents and the color and height of the landscape may all change, but Honey will always be there to greet you!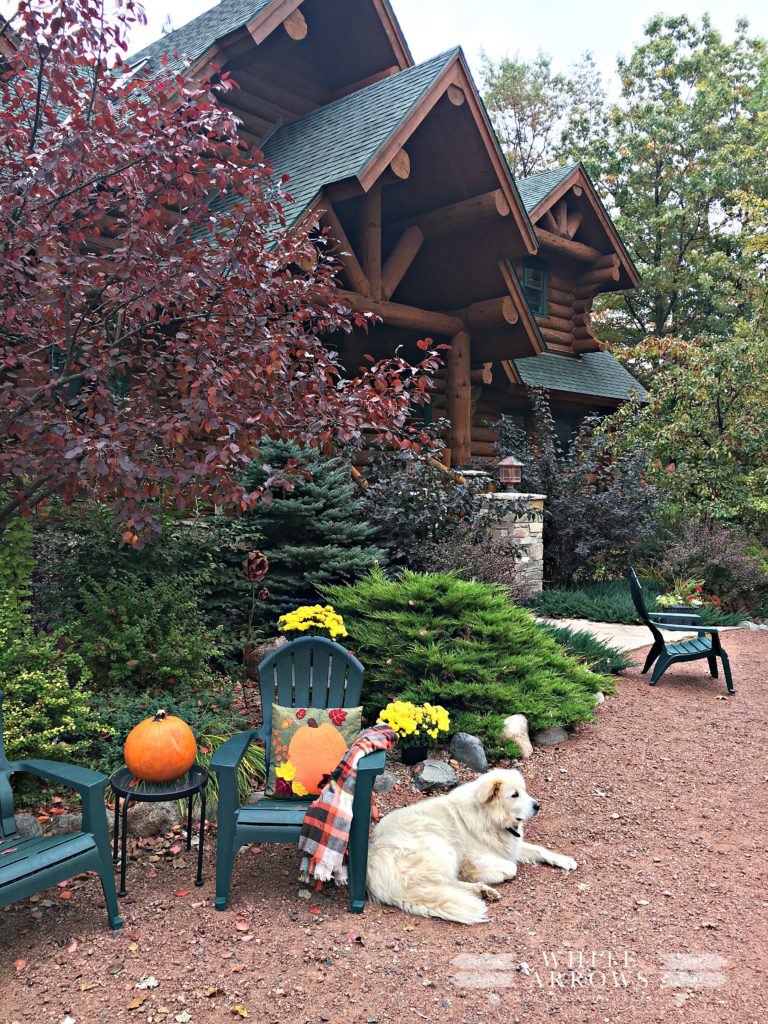 This year in early fall I was entranced by giant yellow mums in bushel baskets. I would drive past the market where they were for sale several times a day, dropping off and picking up kids and running errands. One day I couldn't resist anymore and stopped to bring them home. They were the starting point for my front porch styling. I decided to keep the yellow and add in green. I shopped around my house and pulled down my brown and green vintage picnic baskets,my tartan yellow cooler and two thermoses that are usually above the cabinets in the kitchen. I found this cute pillow at Michaels and the plaid throws are from my collection of vintage camp blankets. My #7 chippy oar is from a friend. She found it deserted in an old shed and because there are 7 people in our family she thought it belonged here.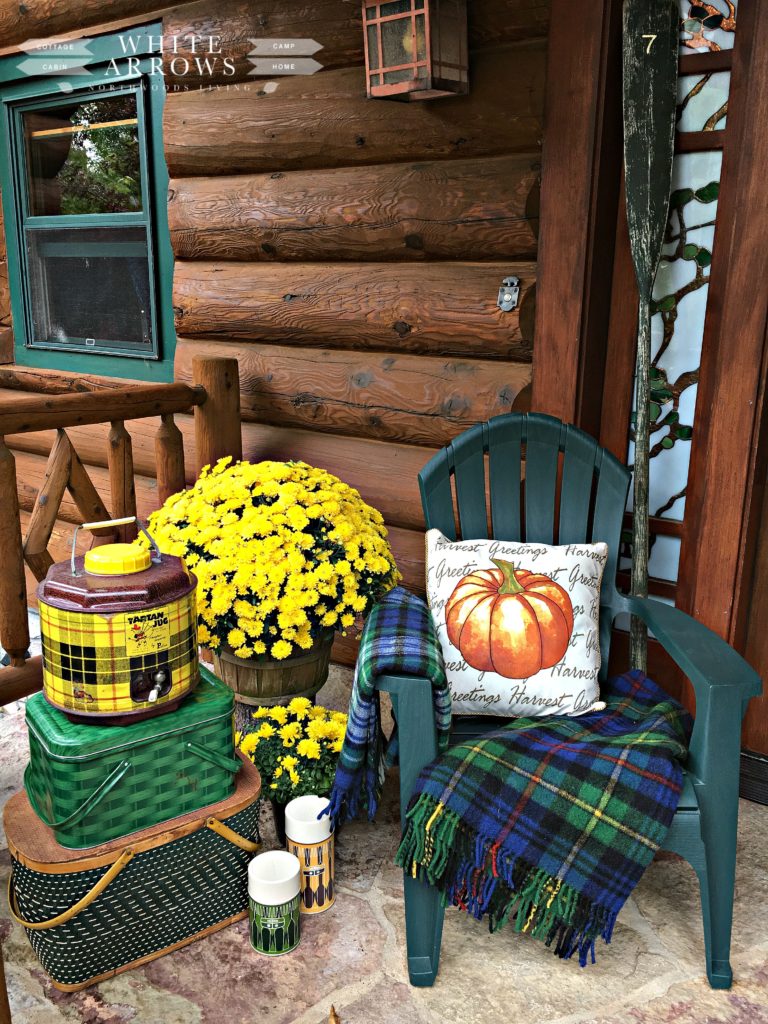 I decorated the garage with a wreath from Shopko. I just fell in love with its big oak leaves and acorns. One of my baskets of mums and some darling pumpkins on stumps from our woods help finish the decor. The throw is actually a scarf I had that I used to help pull together all the fall colors along with this pillow I found at a local hardware store.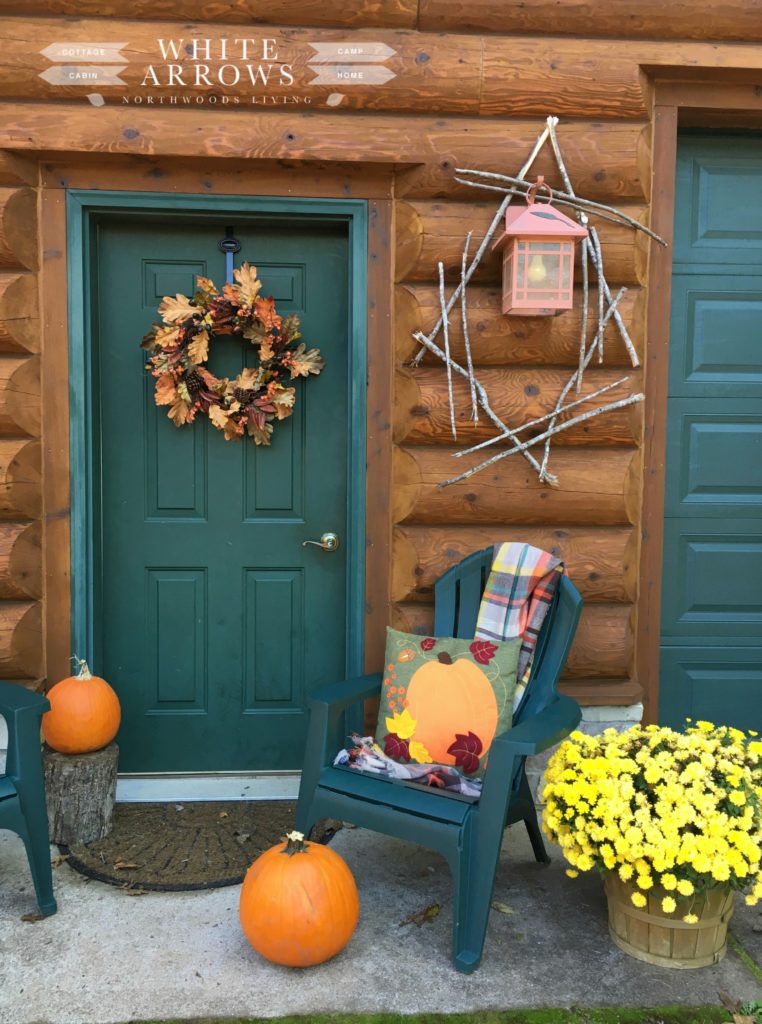 My rocking chairs usually sit on the Master bedroom porch, but I will be putting them away for the winter to protect them from the snow, so I gave them a short stop on the back porch where another one of my camp blankets is waiting to keep me warm. This cute needlepoint pillow is from a company I love called Chandler4Corners. A pumpkin is the perfect fit inside a fall wreath atop my garden stool from Walmart.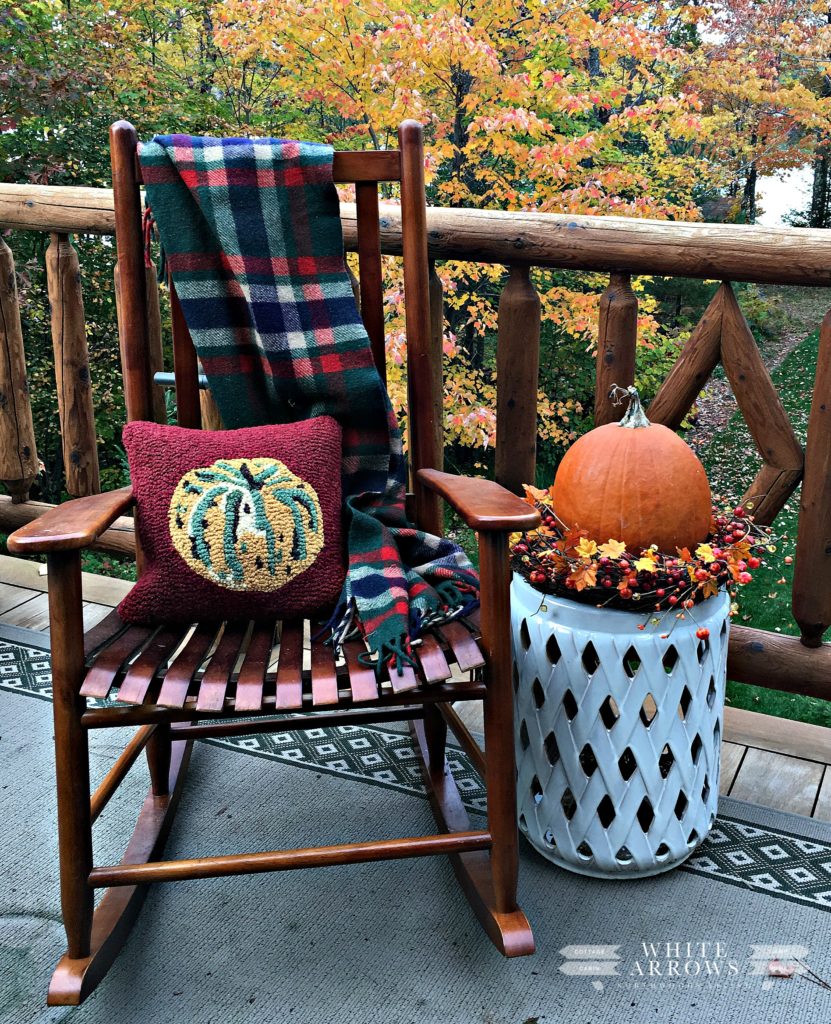 An old wooden ladder had been on my wish list and at the end of the summer I found the perfect one at a favorite antique shop. A friend's mom found this old chippy AV cart and thought of me! I was so excited to put it to use! Moscow Mules are a favorite cocktail at our house and I decided to try and make a fall themed Mule. I used a Carmel Apple flavored vodka. Here's my non scientific recipe: I fill a copper Mule cup full of ice. I count to 5 as I pour in the vodka (about 2 shots). Then I fill with glass with ginger beer, squeeze in half a lime and garnish with a slice of apple. Enjoy!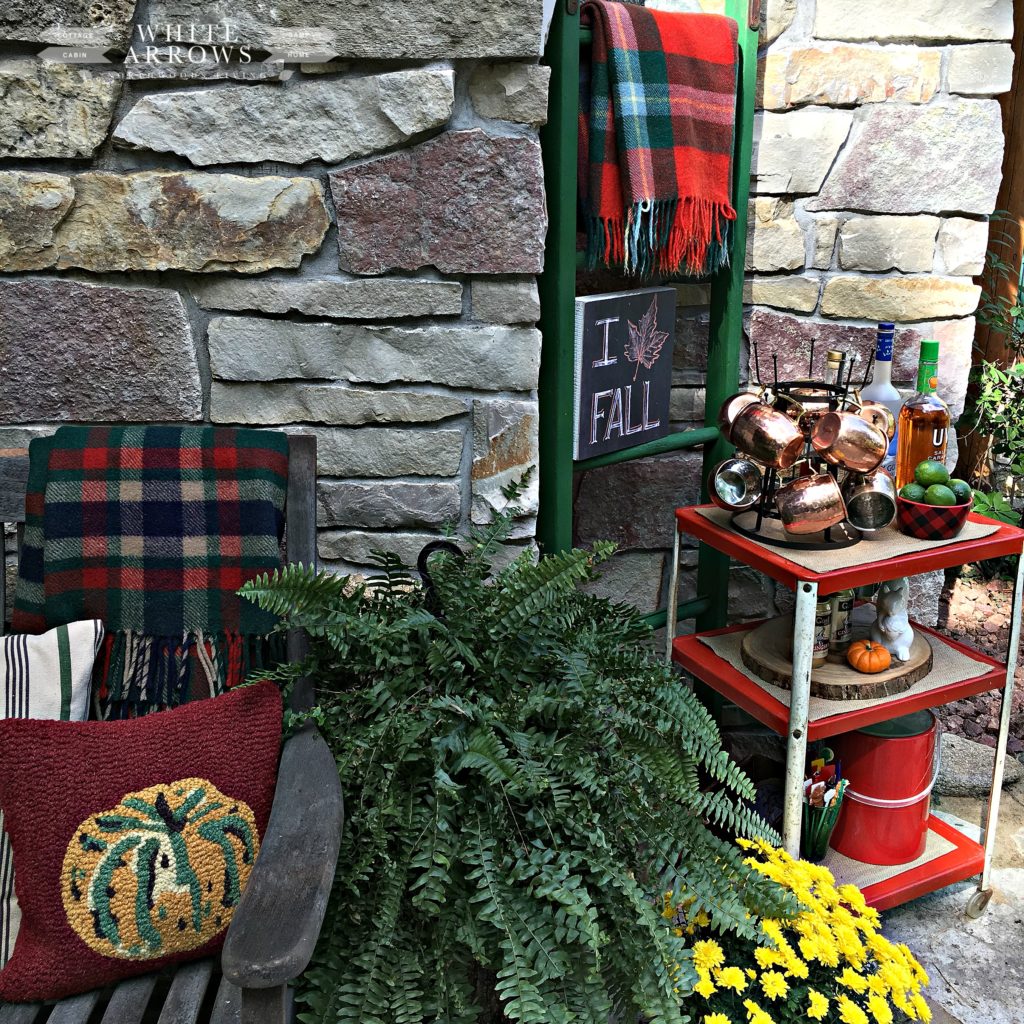 Down by the pier the birches glow against the background of the changing leaves.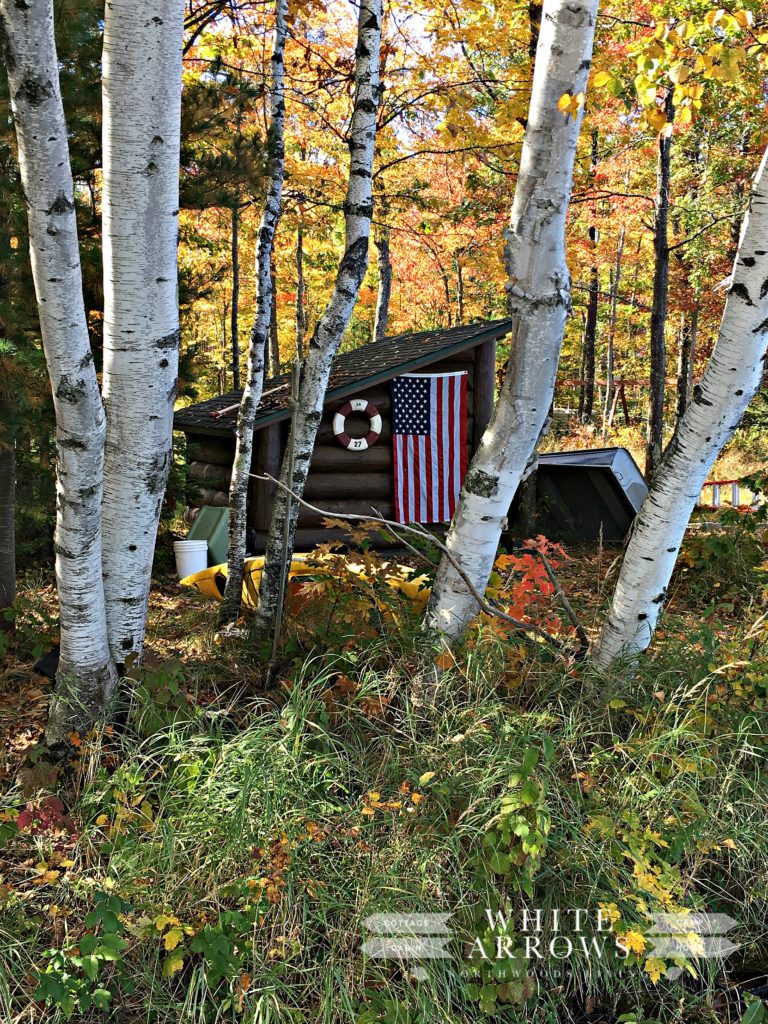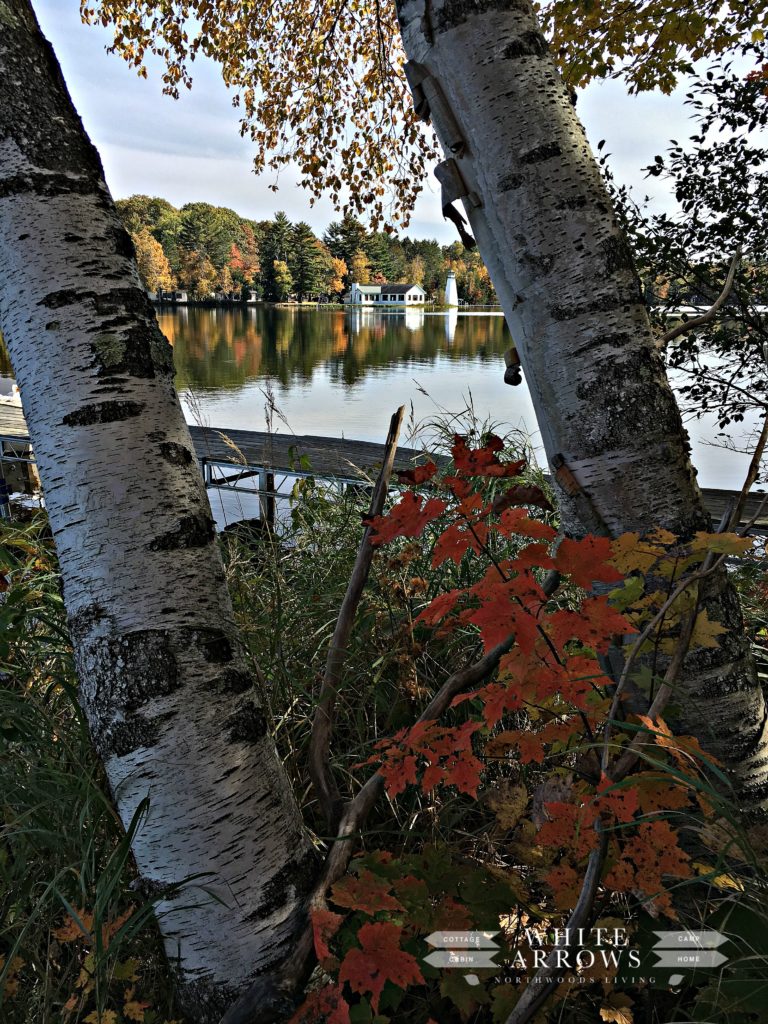 And now a cup of coffee in the afternoon on the porch with my favorite fall treat, gingersnaps. The last snips of the hydrangeas make a beautiful centerpiece in a simple vase.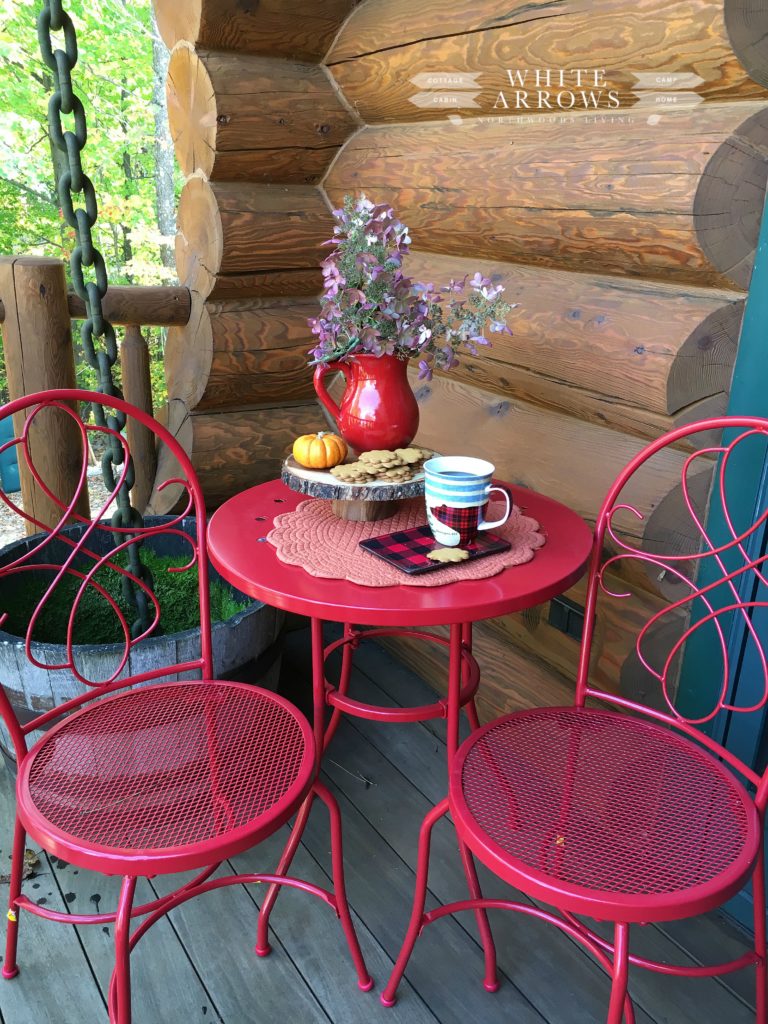 I hope that you are enjoying my fall tour. I would love to have you follow along with my blog by signing up on the side of the page! Tomorrow I will sharing our fall decor on the inside of the cabin. I also post daily to instagram where you can also follow along on my daily story for video and pictures of what I'm up do. Just click the Instagram link and you'll be taken right there. I hope wherever you are that you are having a glorious fall my friend!