One of the most enjoyable (and delicious) parts of the Autumn season as the temps get cooler, the air gets crisper, and the colors explode in the forest is gathering around the table to enjoy comforting favorite meals and treats.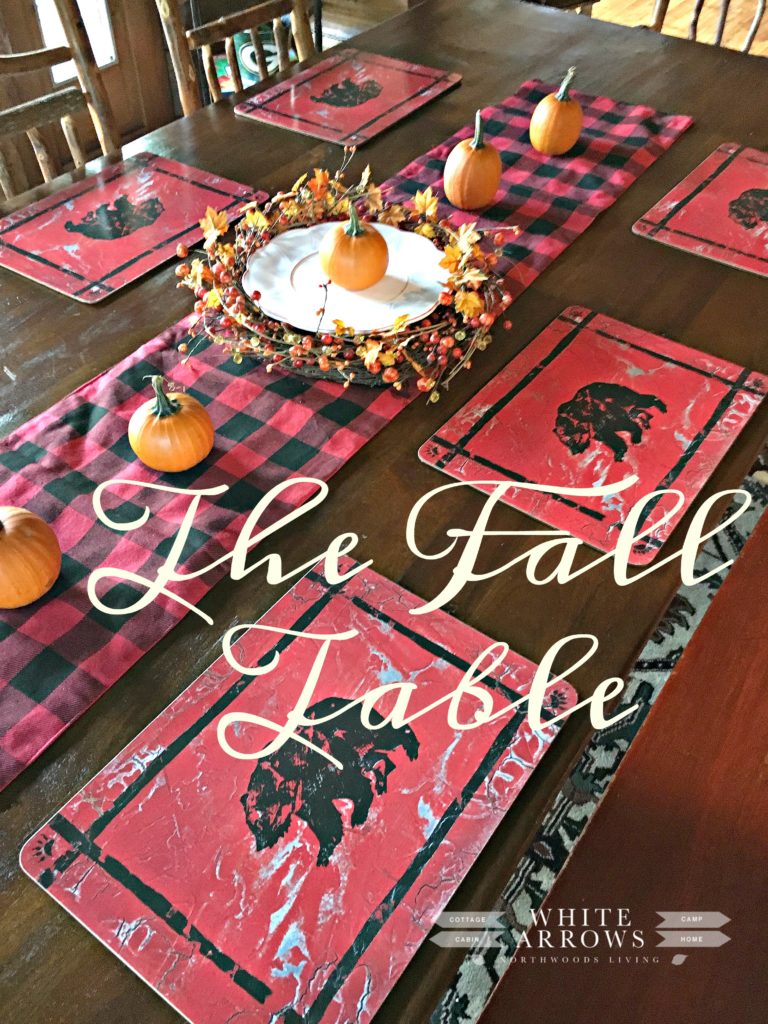 Early this season I couldn't get enough of orange pumpkins and buffalo plaid. This runner I found at Hobby Lobby was easy to decorate with just a few simple pumpkins and a wreath with a favorite red and white dish on top. (A friend brought cookies over one day and said the cookies were the kids and the dish was for me. Lucky me!!) The bear placemats are a favorite because they are easy to wipe off and use with lots of kids around the table.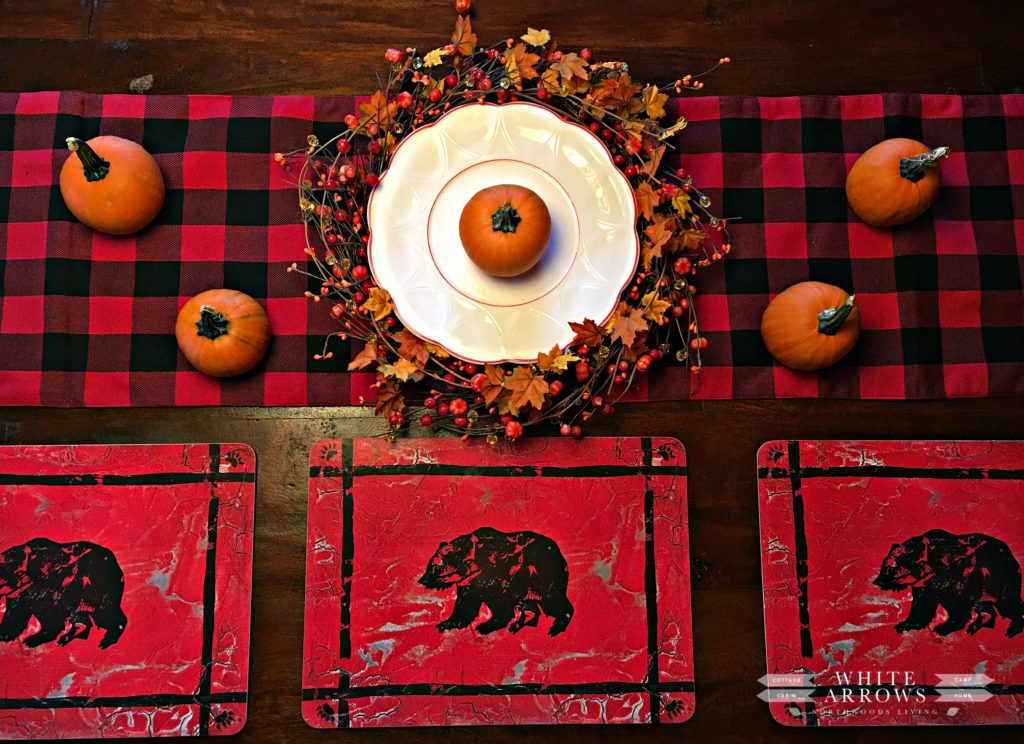 A cozy, rustic elegance is added to the dining room when wool throw blankets are added to the back of the chairs. My chargers are from Walmart and topped with my vintage brown and white transferware.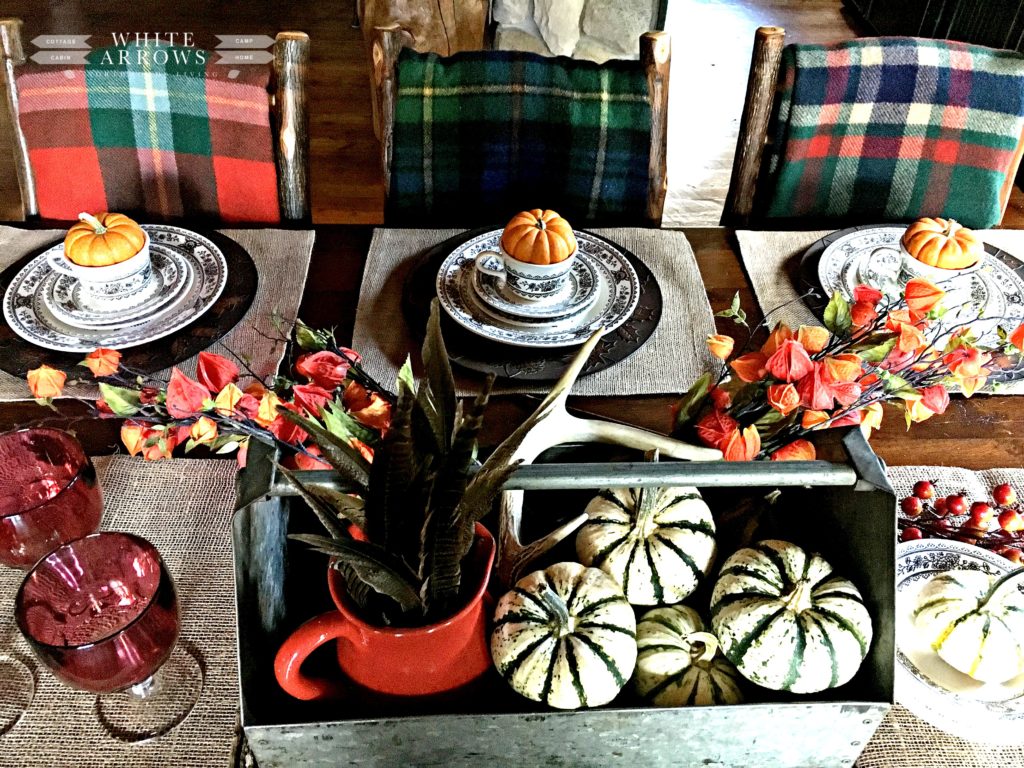 Textures are layered in with burlap placemats, faux branches and lots of natural elements: pheasant feathers, antlers and pumpkins.
What better way to enjoy the colors of Autumn than dining on the deck. I love to mix new and old, like using vintage chip tins for planters and this gorgeous vintage table linen with plaid napkins from Kohls and copper mugs from Pier1. My transferware makes another appearance and I used lanterns from the Summer thatI had found at Walmart.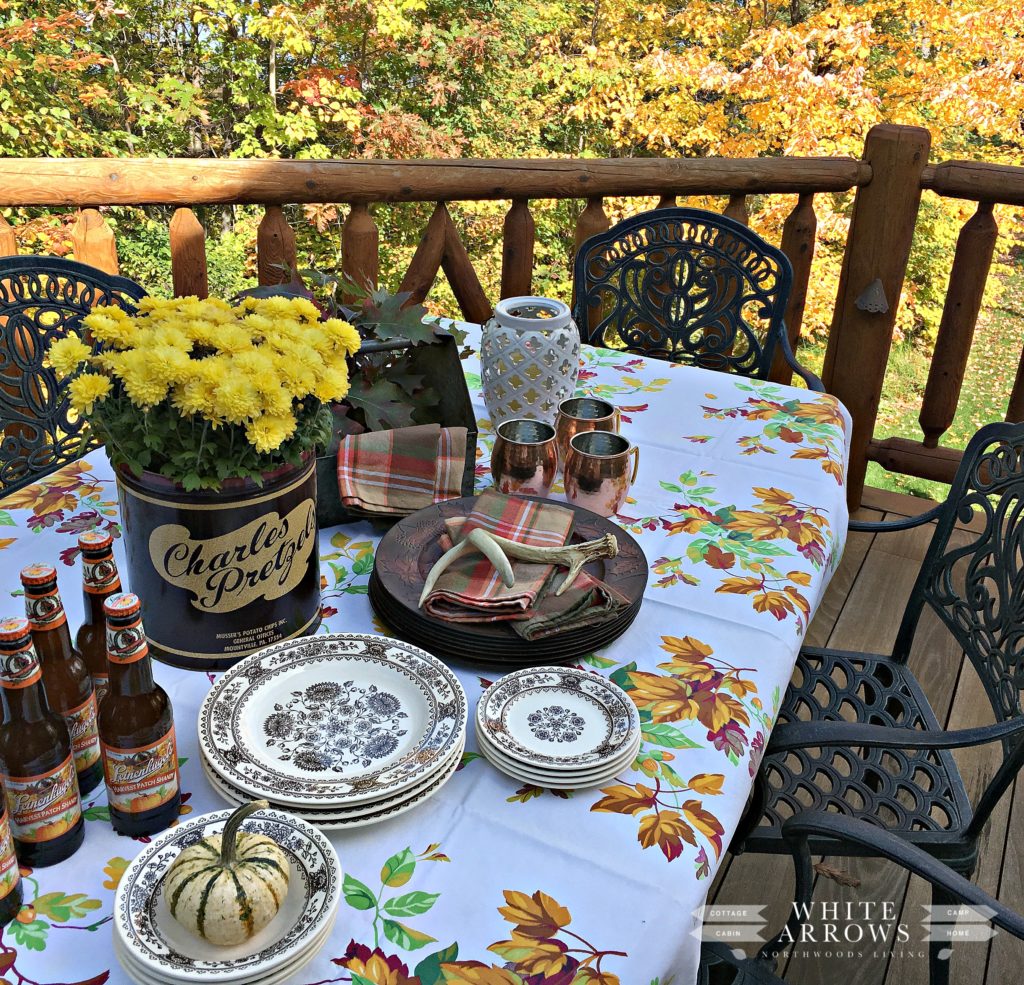 A vintage galvanized tool caddy filled with cut branches and seasonal Wisconsin beer is ready for guests.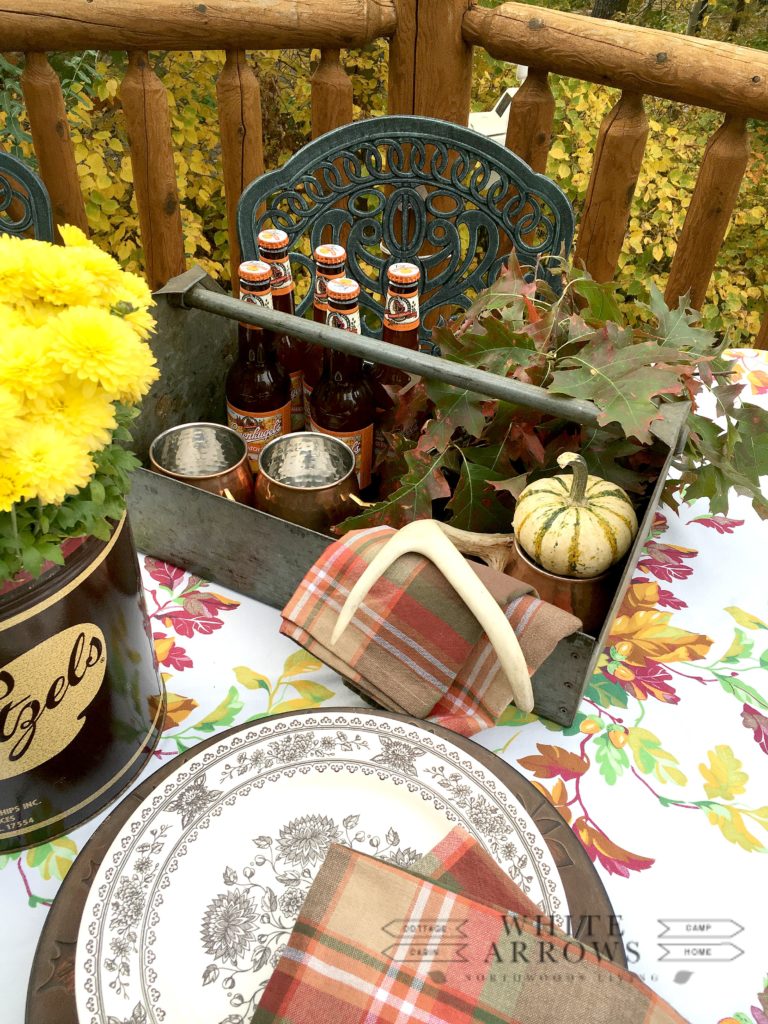 I love vintage dishes and know my cabinets only have room for so many, but when I ran across these out antiquing with my grandmother, mom and sister over Labor Day I knew they would be perfect in our cabin. And they are!
I found the cutest woodland creatures at Pier1, adorned with plaid touches like this chipmunk in his precious bow tie. They were the perfect way to bring the forest inside. Now if I can just keep him away from the cookies! 🙂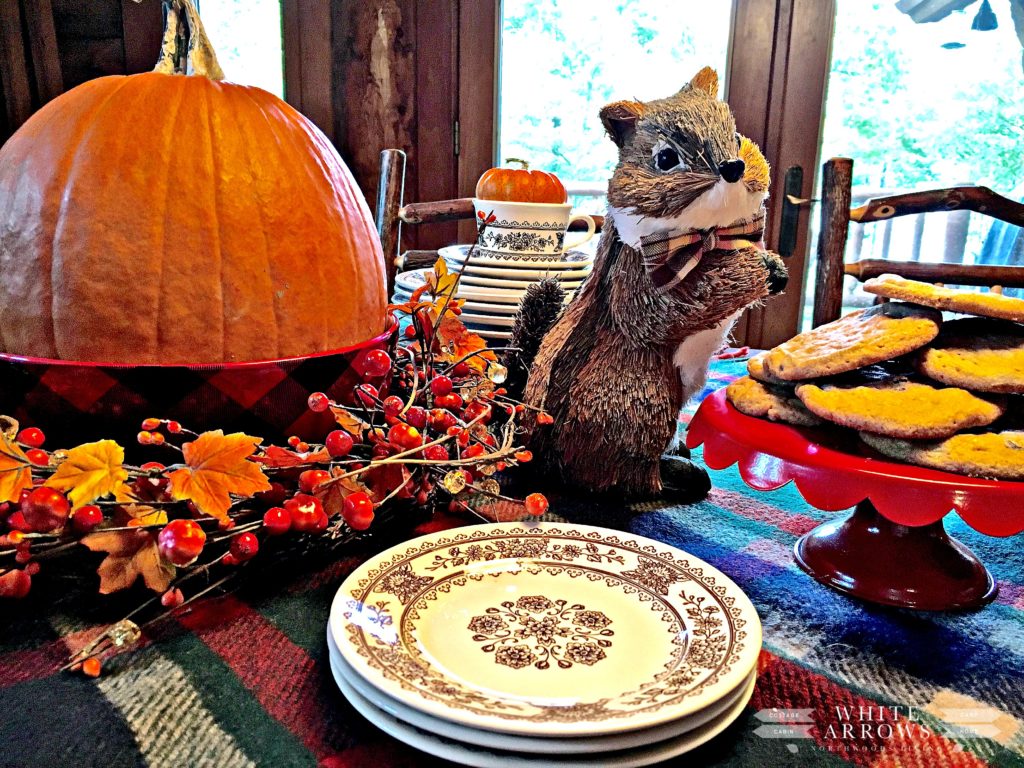 My favorite breakfast in the fall…leftover apple pie!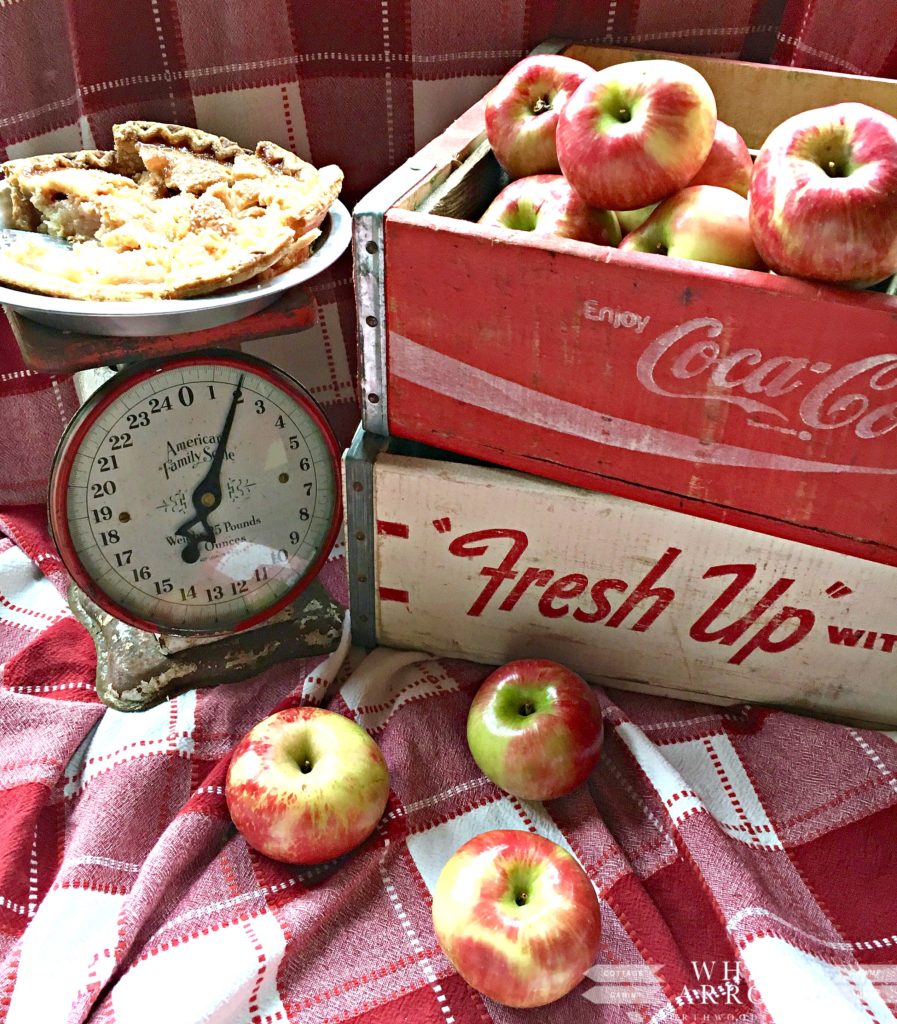 Mixing and matching dishes, glasses, placemats, napkins and seasonal decor from around the house is so much fun and gives each meal a special touch. To find more ideas for fall follow me on Pinterest. And  follow along for daily fun with me on Instagram.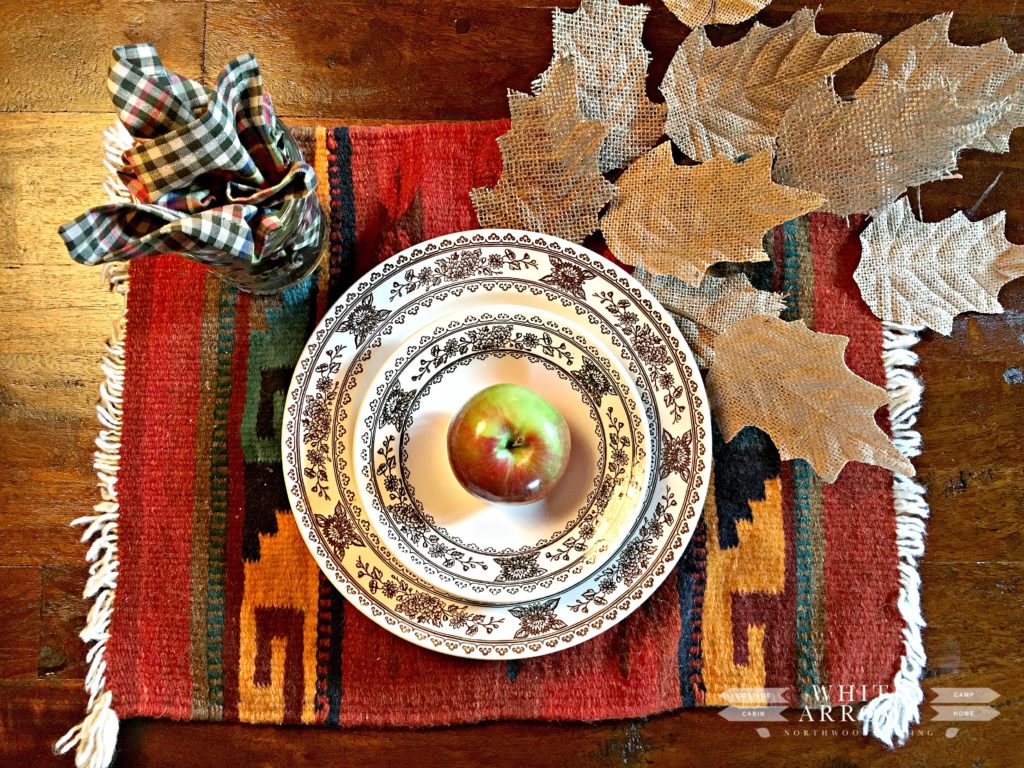 Sharing for: