A rustic Fall porch complete with a trellis tower full of pumpkins, a pumpkin patch and plenty of plaids, gives Kristin Lenz's lakeside cabin curb appeal.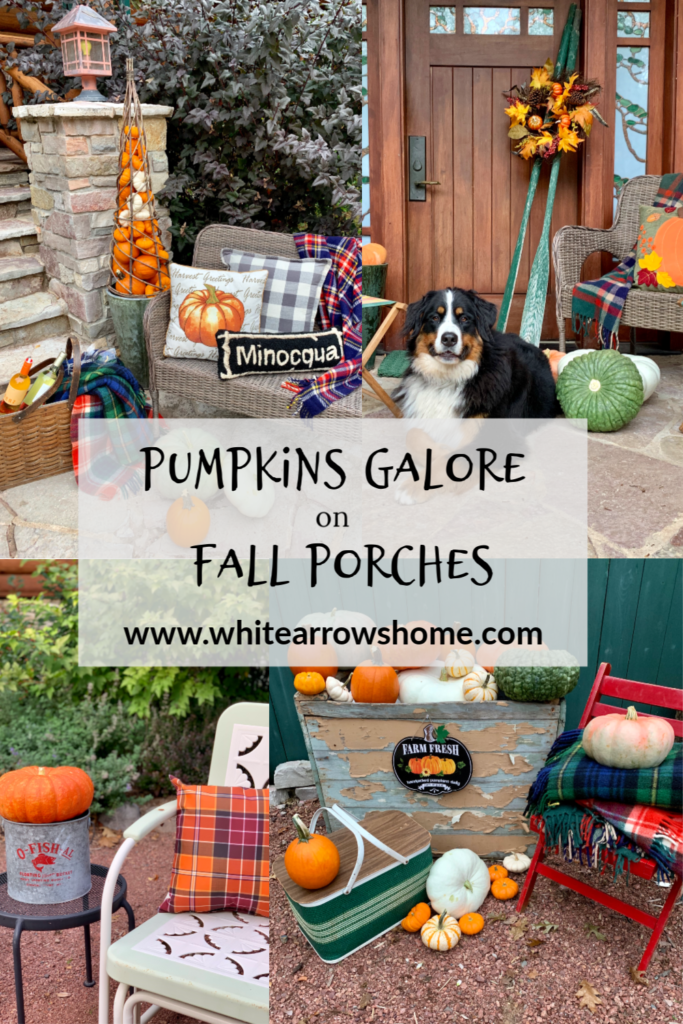 Thank you so much to my friend Amy of White Cottage Home for helping organize this Seasonal Porch Hop for Fall! You can find links to all the talented bloggers participating, in the Link boxes at the end of this post. I'm Kristin and I'm so glad you are here to see how my front porch area turned out this year!
(Affiliate Links are shared for your convenience, read my full disclosure here.)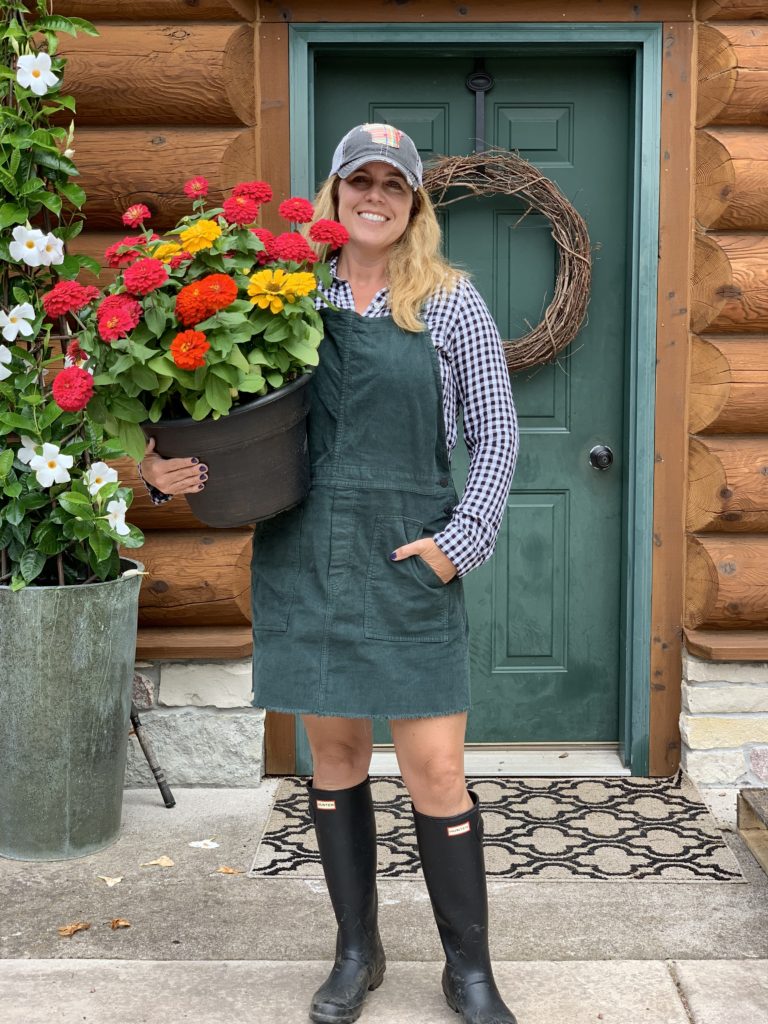 To all my followers, I so appreciate you taking time to stop by and read my posts! If you are new to White Arrows Home, welcome to our lakeside log cabin home in The Northwoods of Wisconsin. I hope you will become a regular visitor! Our property is called Camp Paradise and it's never a more fitting name than in the glorious Fall!


One of my "falling asleep ideas" last week was to fill my pot trellis with pumpkins. The Summer flowering vines had reached their peek and I was trying to think of what to fill them with for Fall. I love how it turned out! It took some work, but it turned out just like my vision!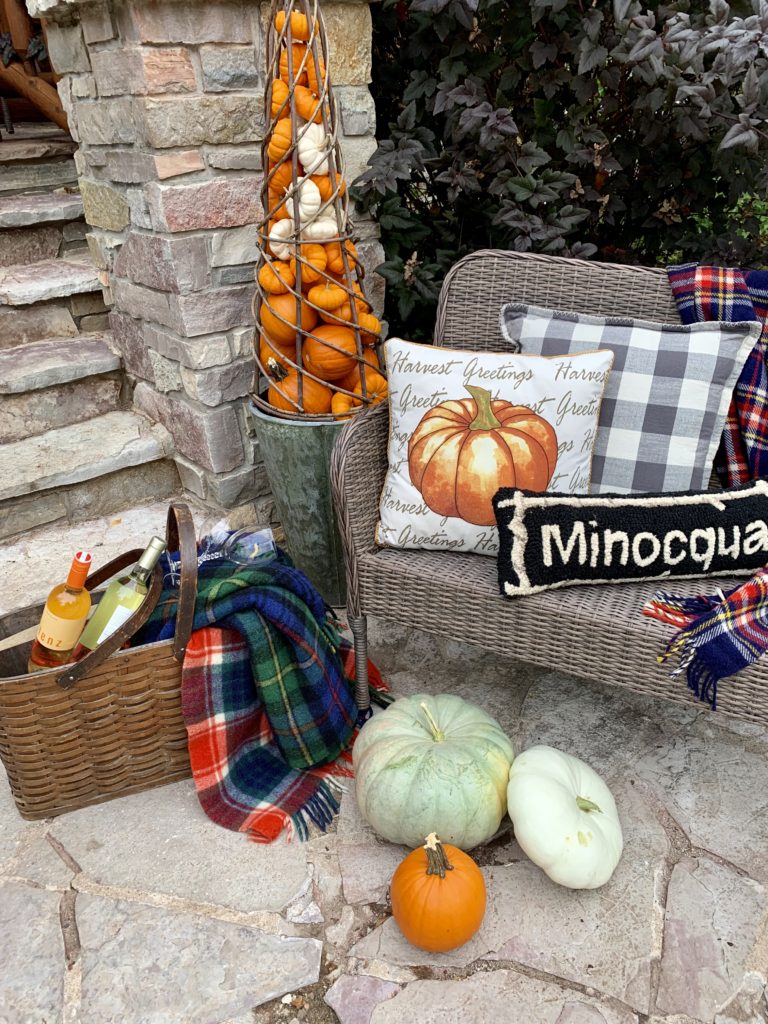 An antique Hawkeye basket is waiting to be wicked away to a Fall picnic. It's packed with old camp blankets, wine and glasses.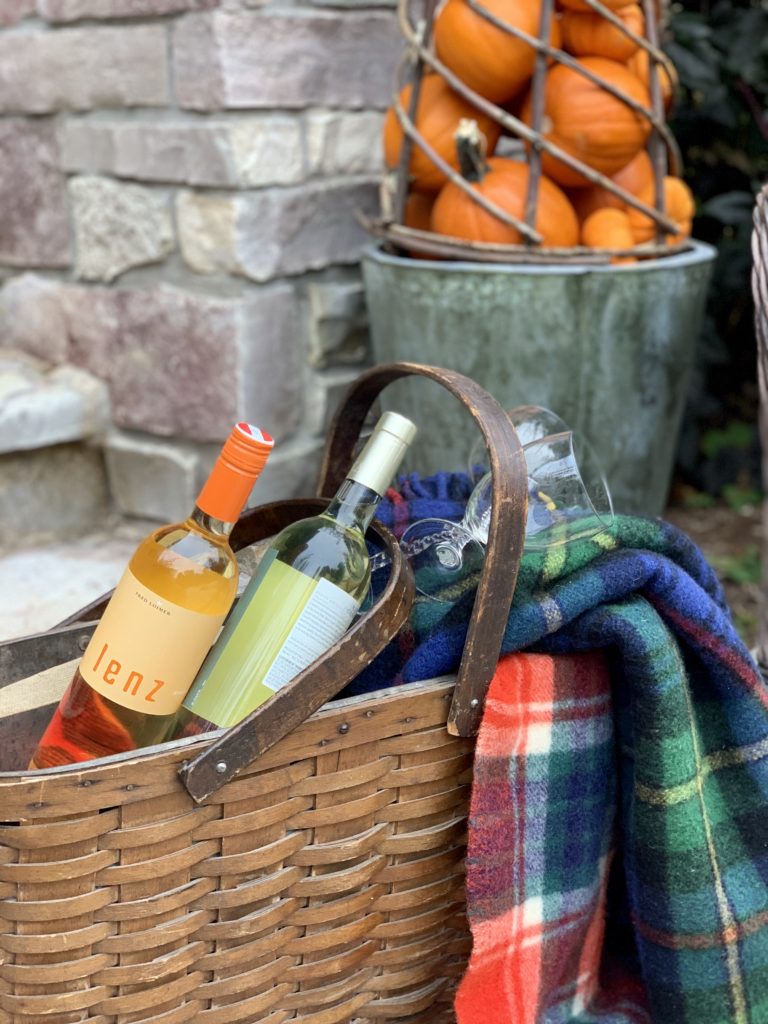 Five dollar plaid pillows from Walmart were my new find for this year. I loved the color combo and couldn't beat the price! A single pumpkin sits on a vintage minnow bucket. No watering required!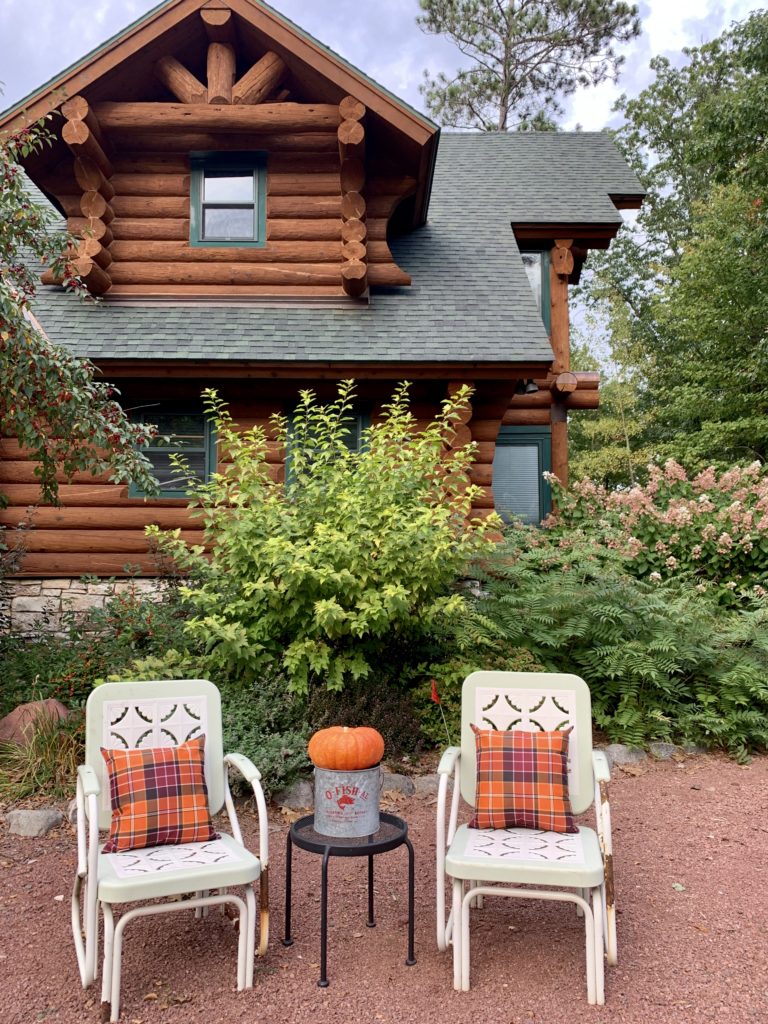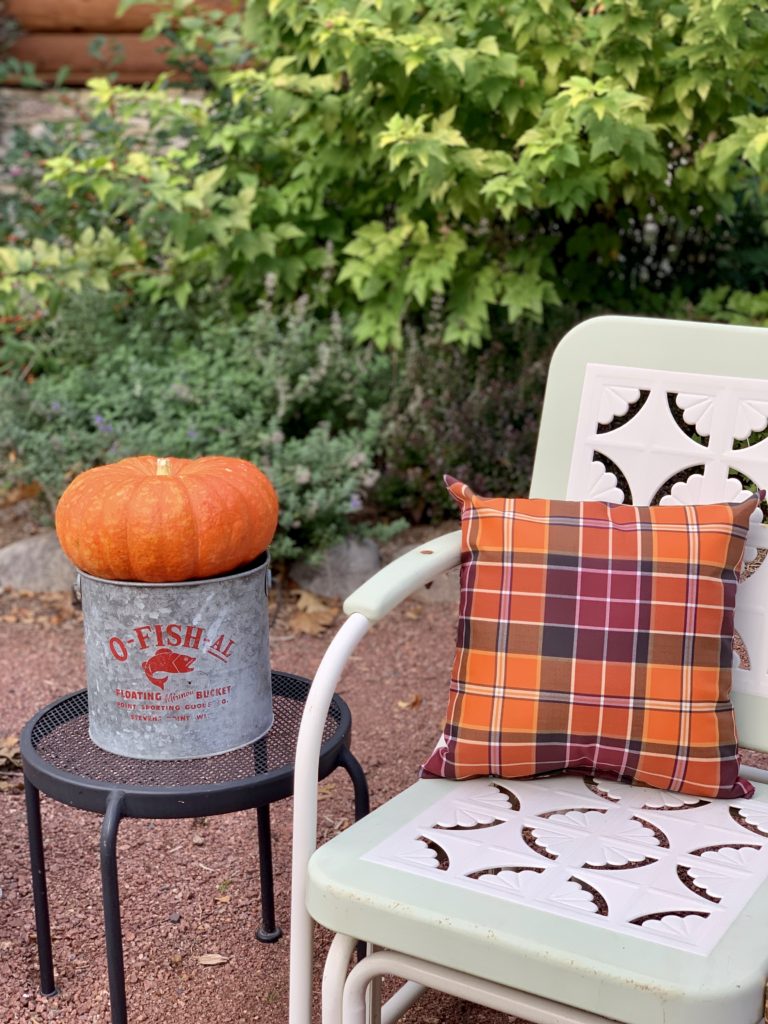 These are the climbing vines that filled my trellis pots this Summer, they grew so beautifully and kept constant white blooms, as some died and fell, new ones were ready to open. I was so pleased with how they did. The one by the garage is still going strong. The ones by the front porch steps were done, so I filled them with pumpkins as you saw in the earlier photo. All my pumpkins are from Walmart.
This wreath is a grapevine wreath I use often in different ways. I tied a simple ribbon on the bottom and tucked in some pheasant feathers, and faux flower sprigs.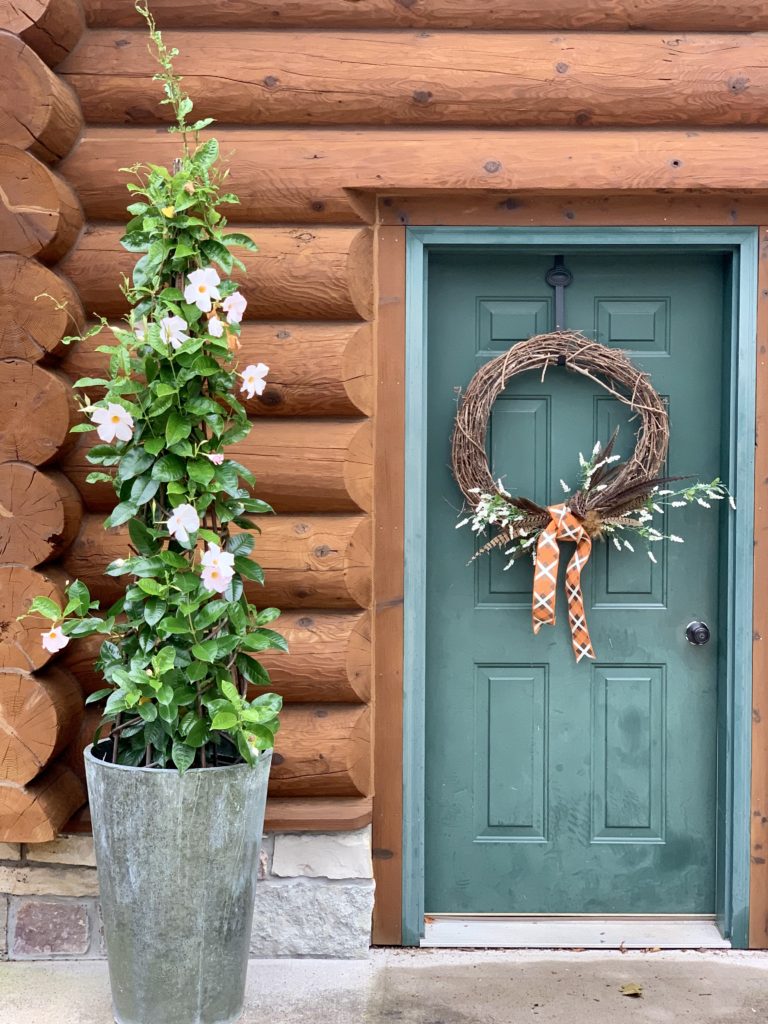 Our front porch is one of my favorite areas to decorate. I love accenting our beautiful stained glass windows that frame the door. A variety of seasonal pillows sits on a bench.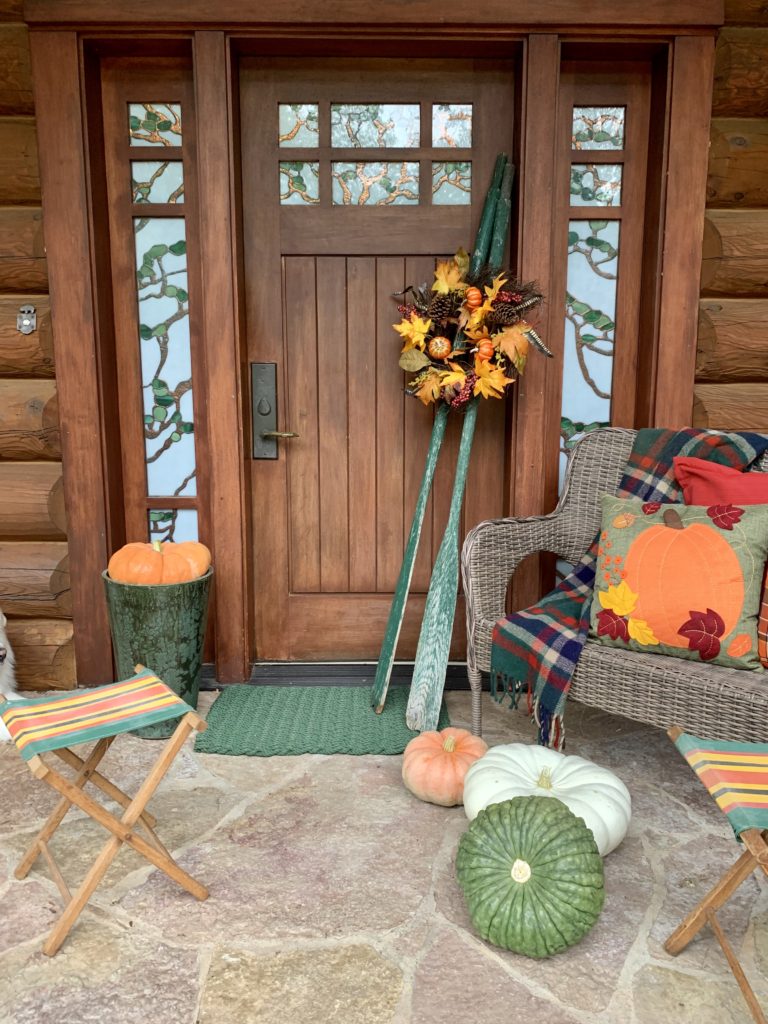 I brought the the plaid pillows up to this space to tie them in to the chairs out front. Because of the pillow colors, I decided to do oranges and burgundies and throw in some green.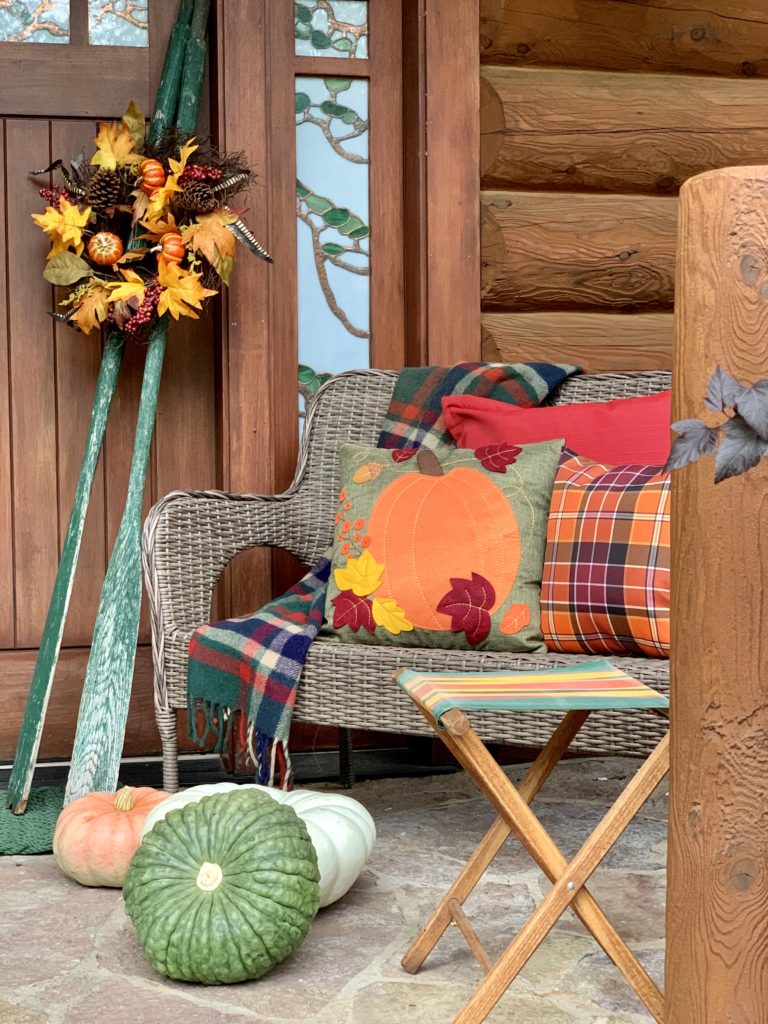 Scout, our three year old Bernese Mountain Dog loves to sit on the porch. She was helping out while I was styling. I kept waiting for her to look at the camera!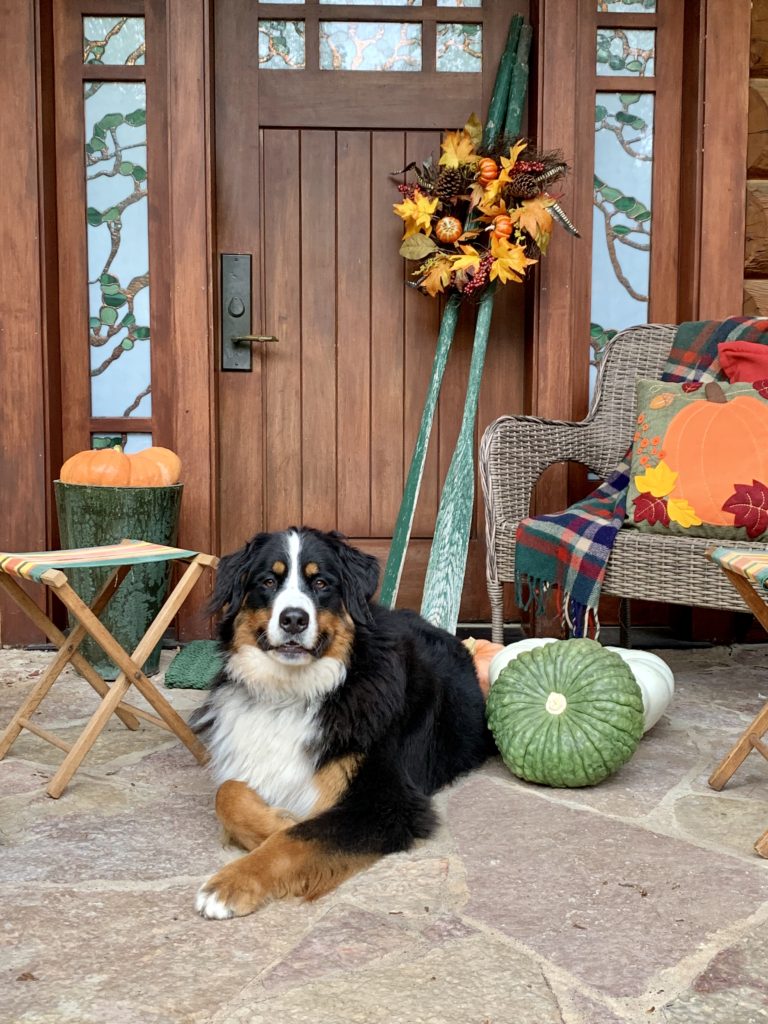 Scout says, "O.K. Mom, enough posing! Let me rest!"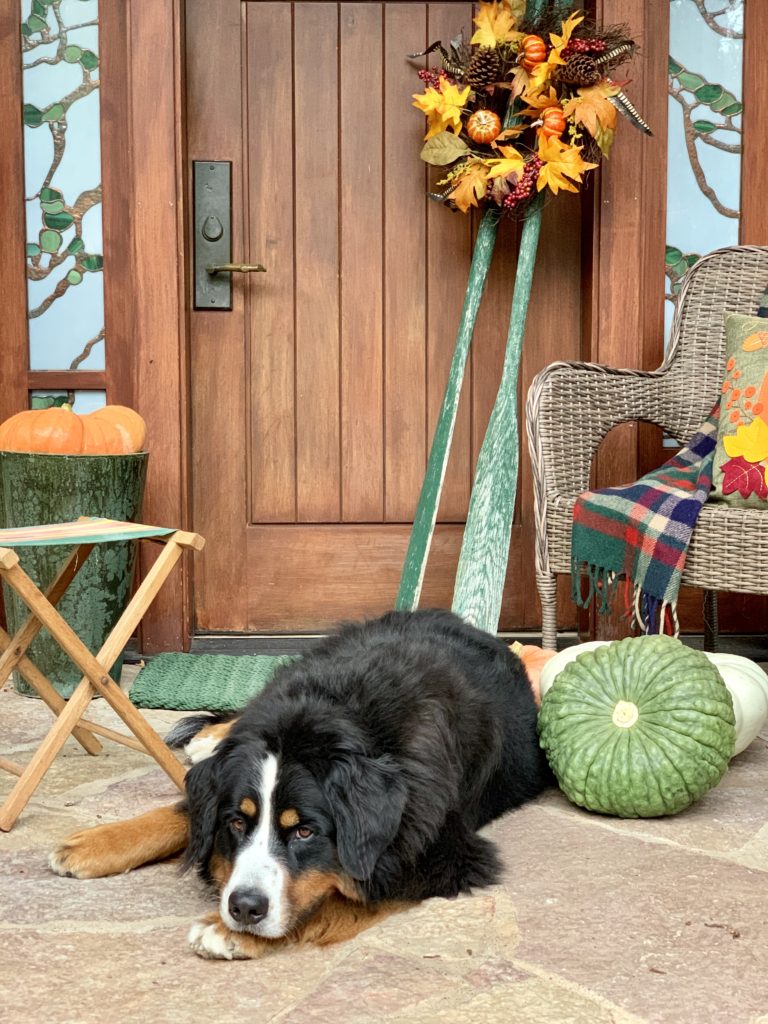 A wreath hangs from vintage green oars.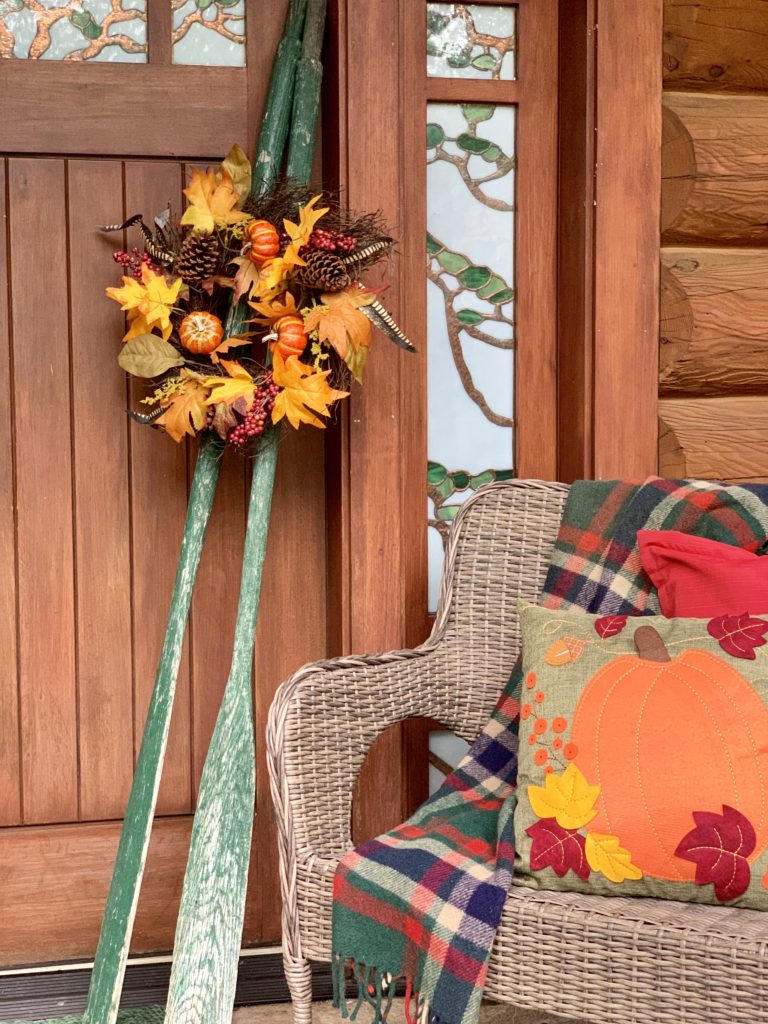 I always love to combine vintage and new pieces. My old camp stools are a fun way to tie in the colors and give some campy charm.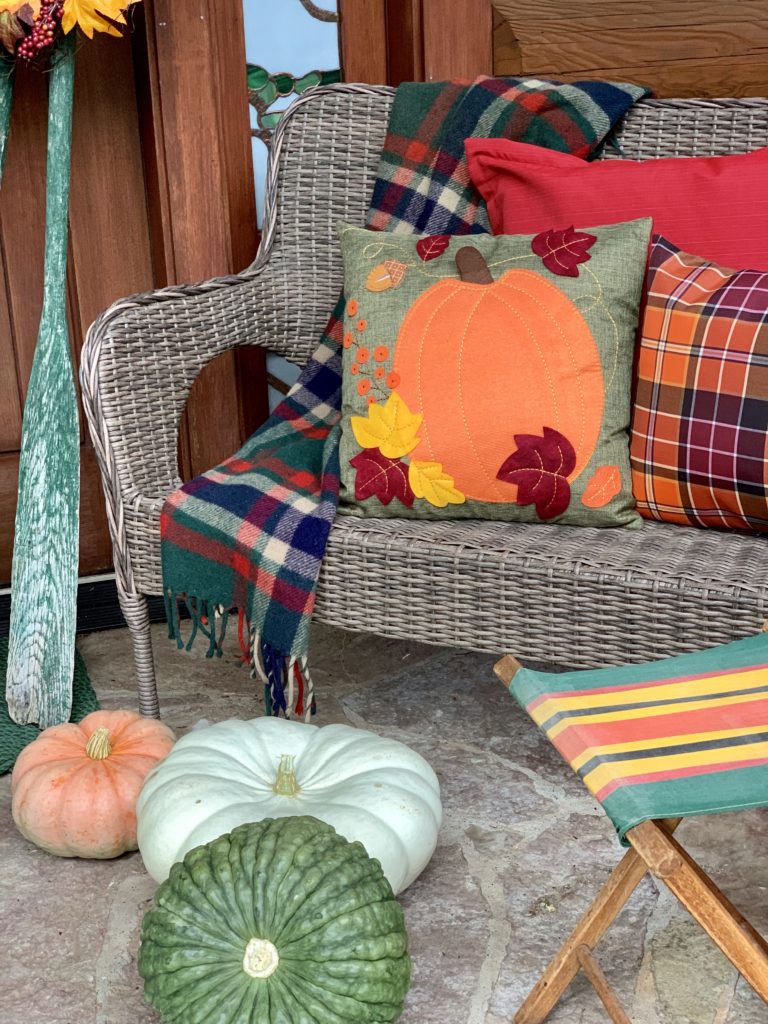 This chippy box was a gift from a friend and I have fun figuring out how to style it. I thought filling it with pumpkins would be fun this Fall!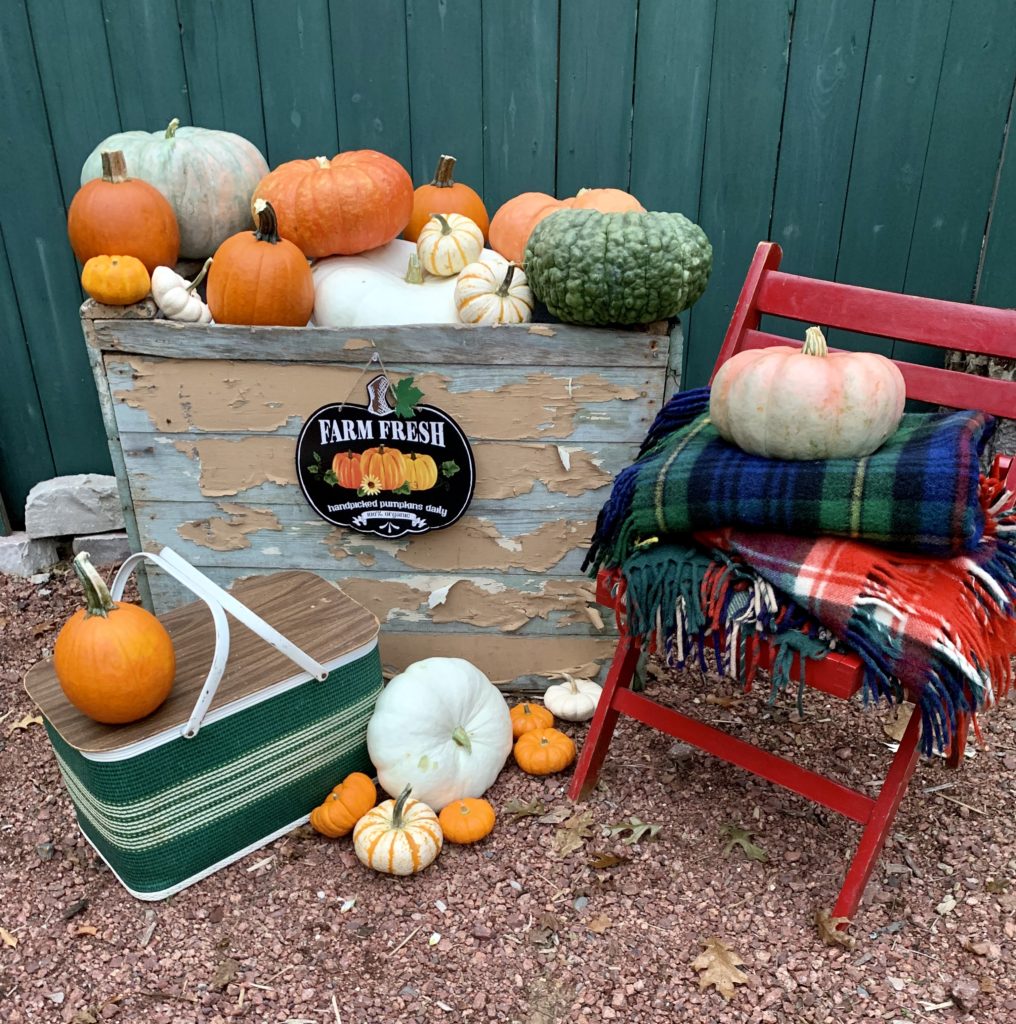 I found the perfect sign to hang on it at Dollar Tree! That means this cute thing was only $1.00!!!!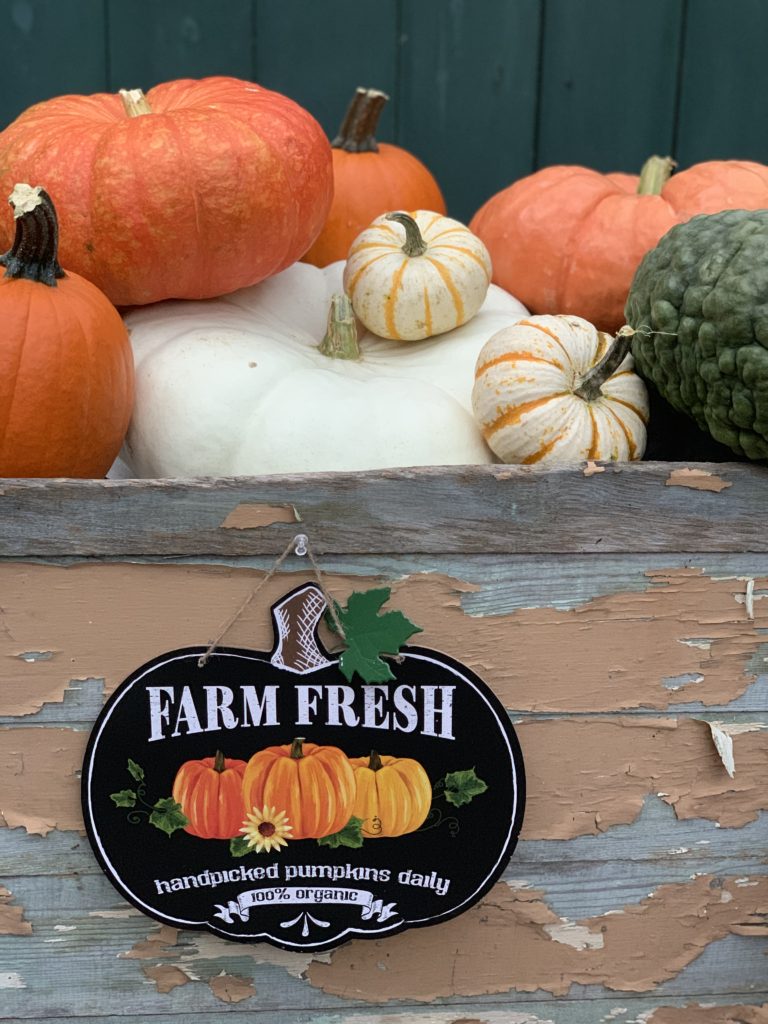 An old red folding chair holds a stack of plaid blankets with a pumpkin on top.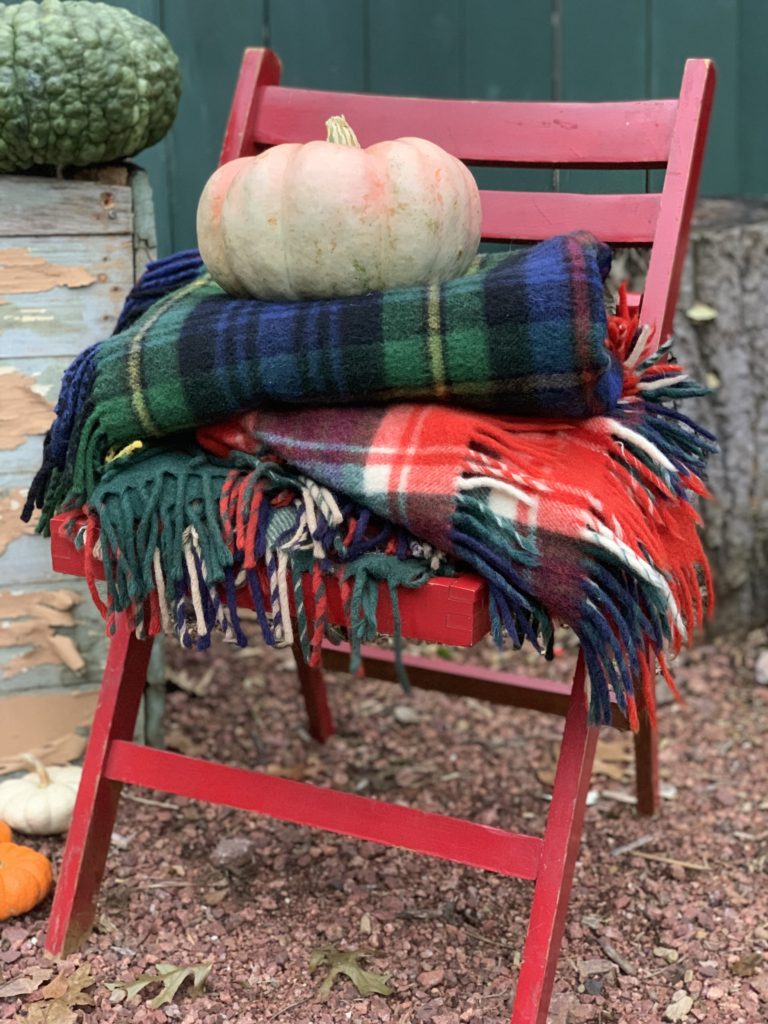 I collect vintage picnic baskets and this green and white one is a favorite!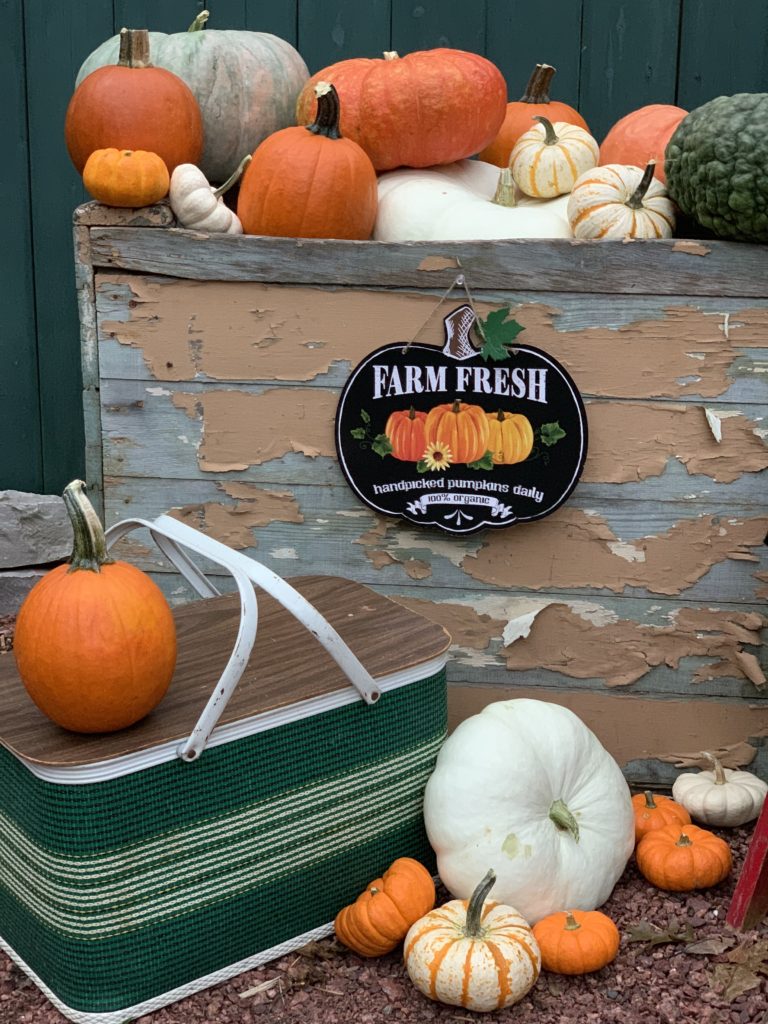 This was a fun, easy way to set up an outdoor vignette.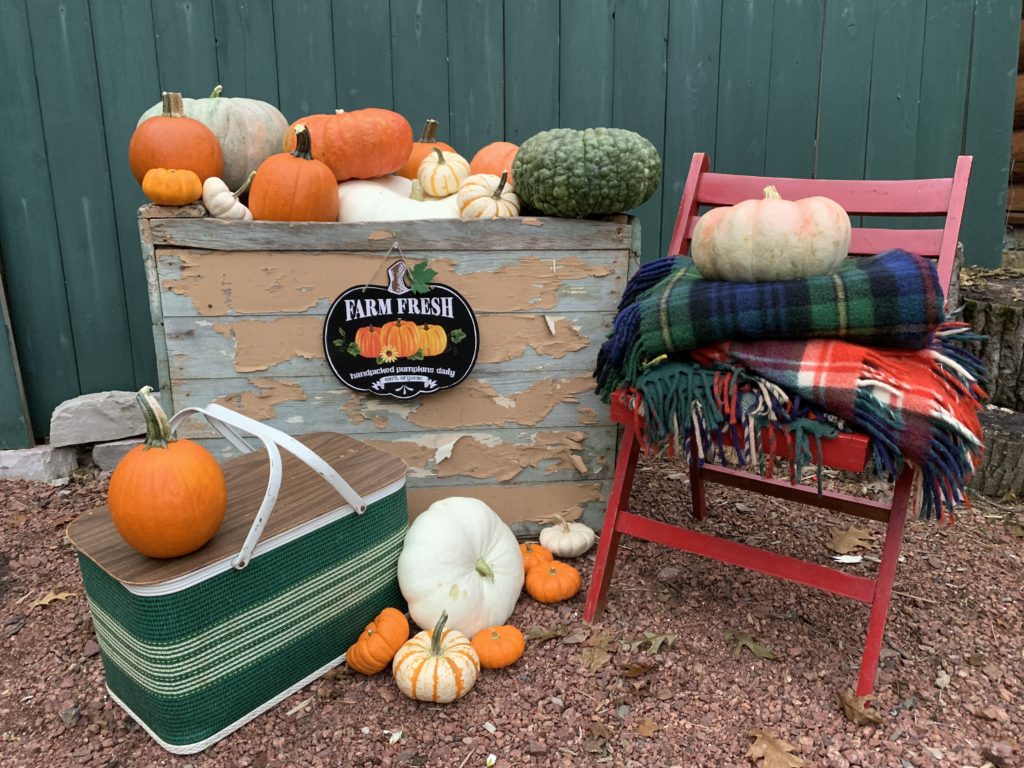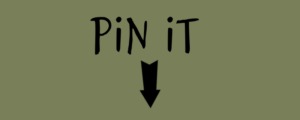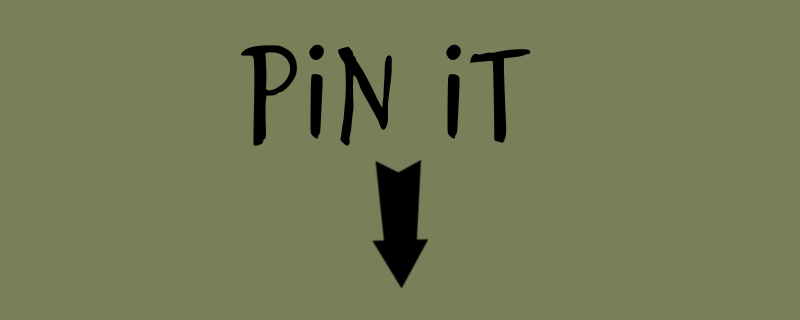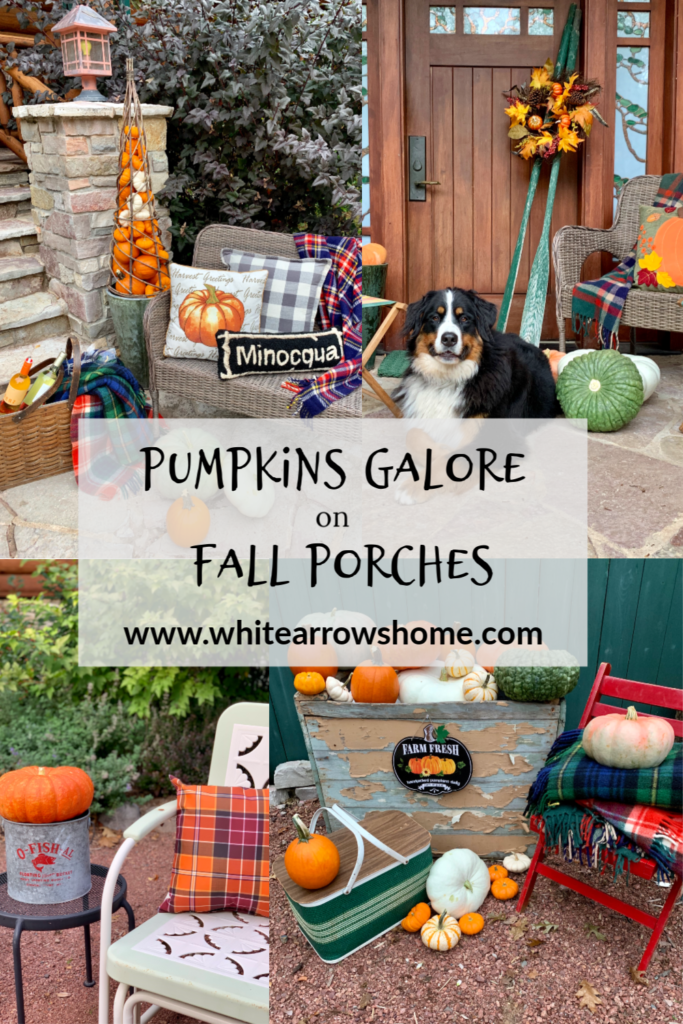 Join Me as I share more inspiration with you each day on:
Instagram ~ Pinterest ~ Twitter ~ Facebook




You are invited to the Inlinkz link party!