Rustic meets glamour in these bathrooms perfect for relaxing and self care.
Creating a relaxing bathroom retreat where the mood is peaceful, the decor is beautiful and you can feel like you can get away for a bit is essential.
(Affiliate links are used for your convenience. Read my full disclosure here.
In our Lakeside Log Cabin Home, Camp Paradise and Prairie House, Badger Hollow, I put thought into the bathrooms as much as I did the rest of the house.
I wanted to keep the look rustic while at the same time making them full of glamour, style and spa like touches.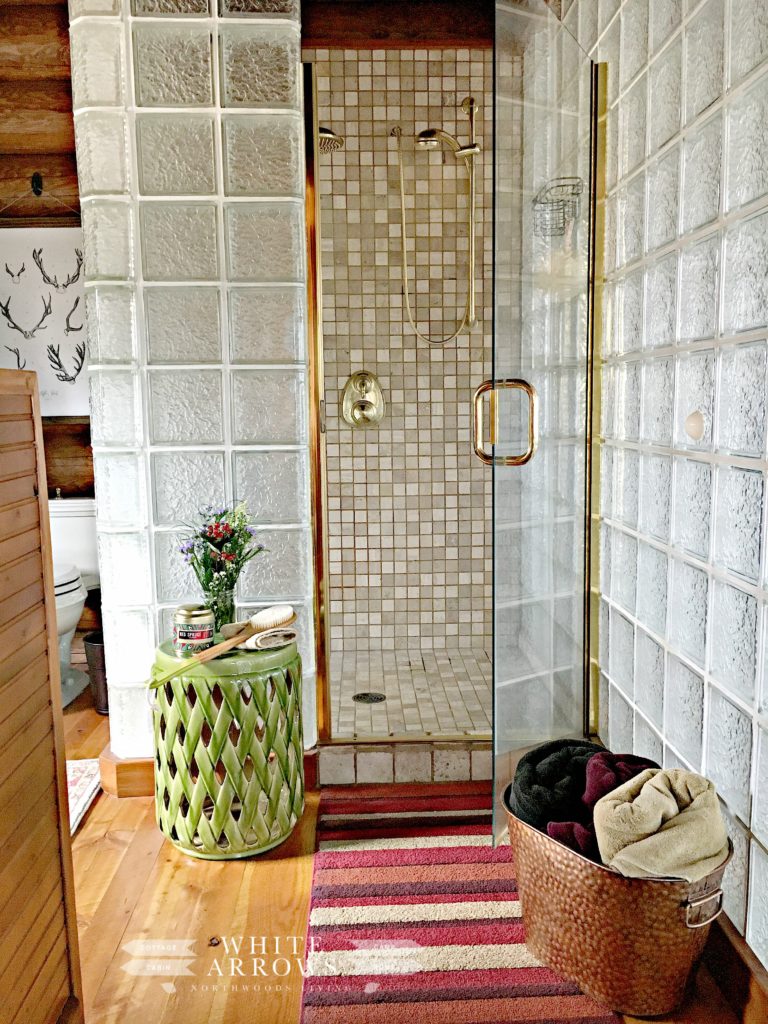 A garden stool can make a great table next to a tub or shower to hold extra items that can make shower time a bit more pampering: light a candle, use a poof, back brush or sponges, even a bouquet of flowers.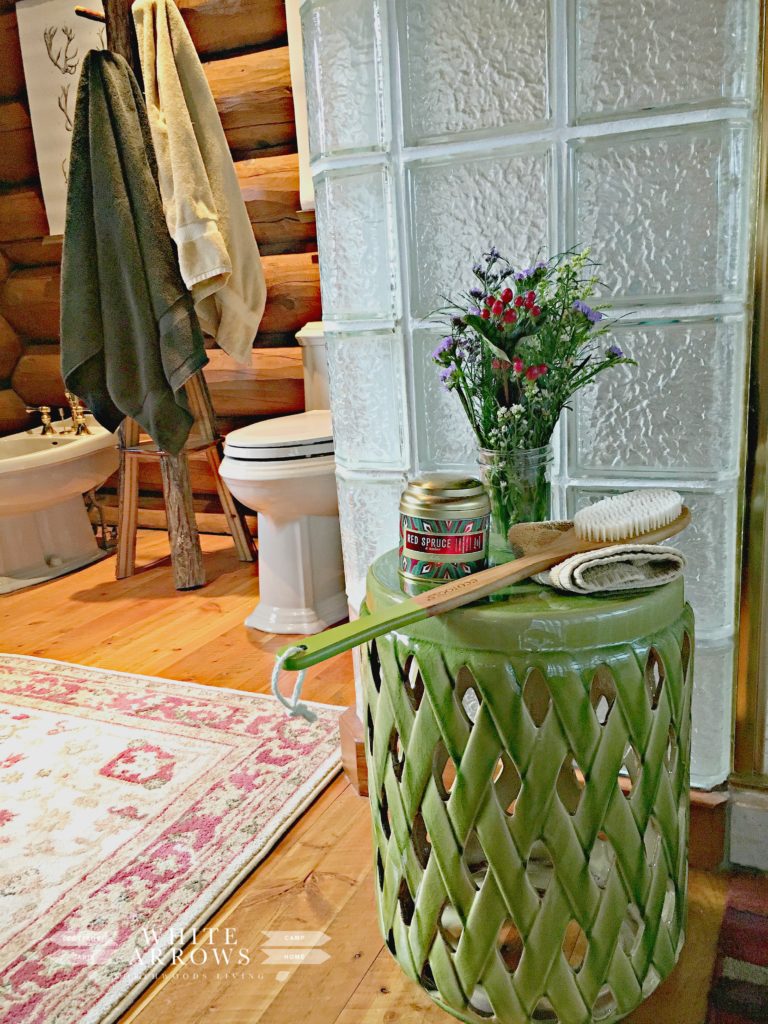 Robes are a must have and I keep a hook available to hold ours, they are a beautiful piece of decor when not being worn and a special item to put on before and after a shower, like a warm hug.
I always like to have greenery in the bathroom and plenty of candles too. You'll see that in each of my photos. The addition of a plant and a candle is easy, affordable and makes a quick upgrade to the space.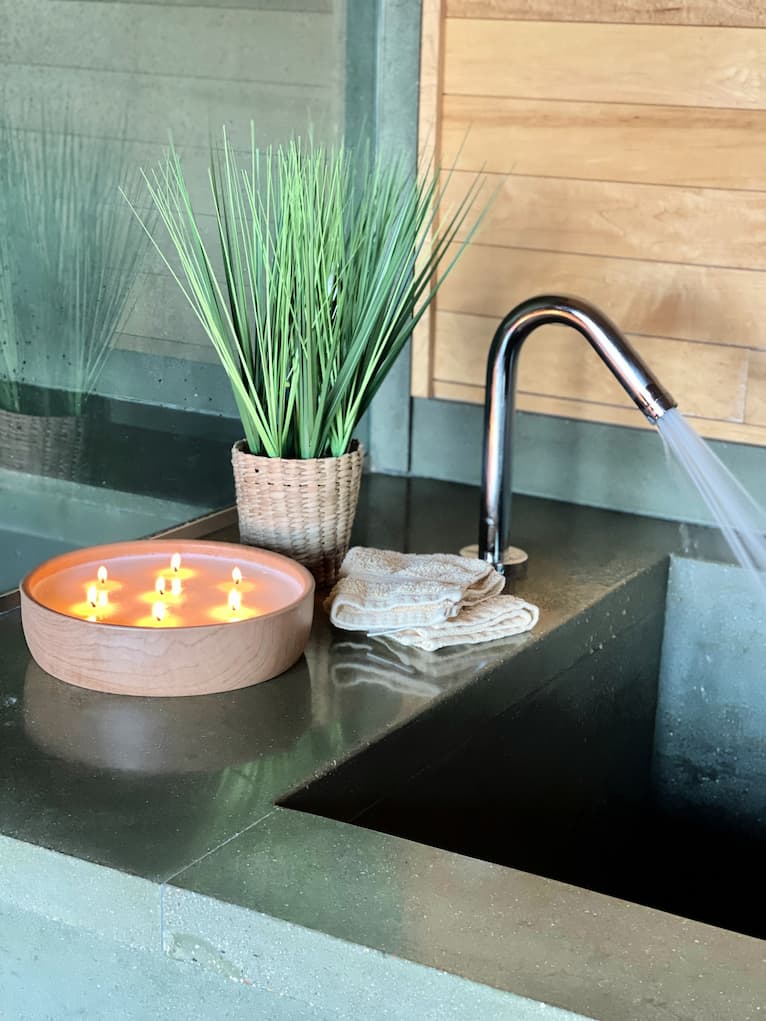 Succulents are a great option and easy to care for. It was an easy DIY to add some in a jar on top of white stones. The arrangement feels fresh and clean.
Choose scents in candles that are relaxing too. I love
Lavender
Orange
Eucalyptus
Lavender is relaxing. Eucalyptus smells clean and can increase focus and energy.

Having a lamp in the bathroom is a wonderful way to make it more relaxing. In the evenings I will often just have the lamp on when I shower or take a bath rather than the overhead lights.
I love to play music too, making playlists full of calming music.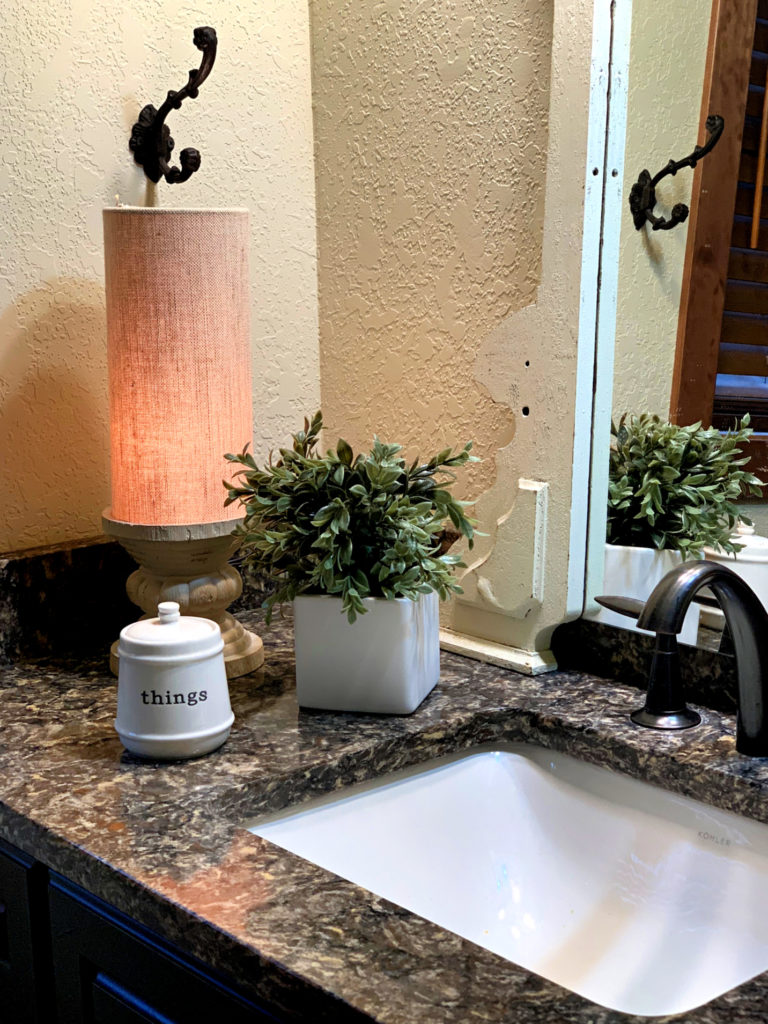 You may not even need to shop for anything new, but just shop your own home. Find:
a glass vase you can use to hold cotton balls
a pretty dish you can have by the sink to hold soap or your rings
a basket to fill with rolled up towels
Other items you need can be found even at the dollar store.
Want to get daily encouragement? SUBSCRIBE HERE so you don't miss any posts!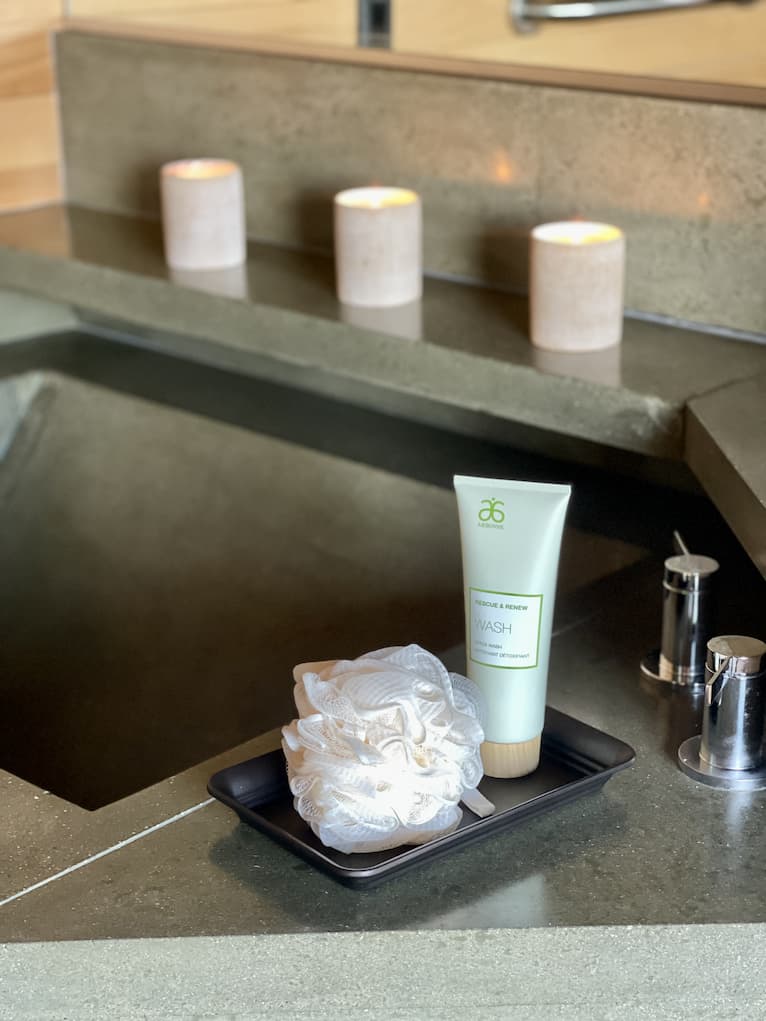 Use high quality towels. Keeping all white towels can make your bathroom feel like a spa or hotel, or choose a color that compliments your space.
Find bubble baths, shower gels and scrubs to love. I always love peeking at options to try at TJMaxx when I walk through. My favorites are this line and this one.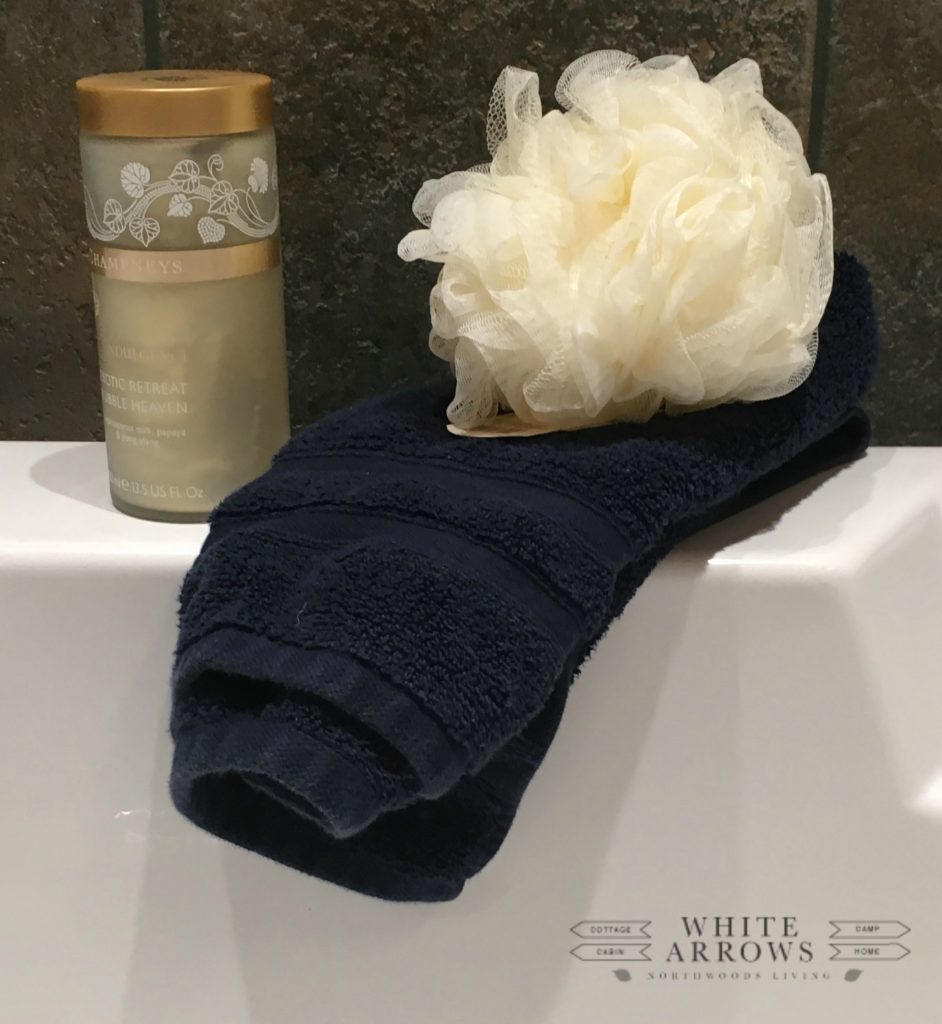 Keeping the bathroom decluttered while still keeping necessities out feels luxurious. It was an inexpensive upgrade to add clear vases and jars and fill them with q-tips, cotton balls and makeup pads.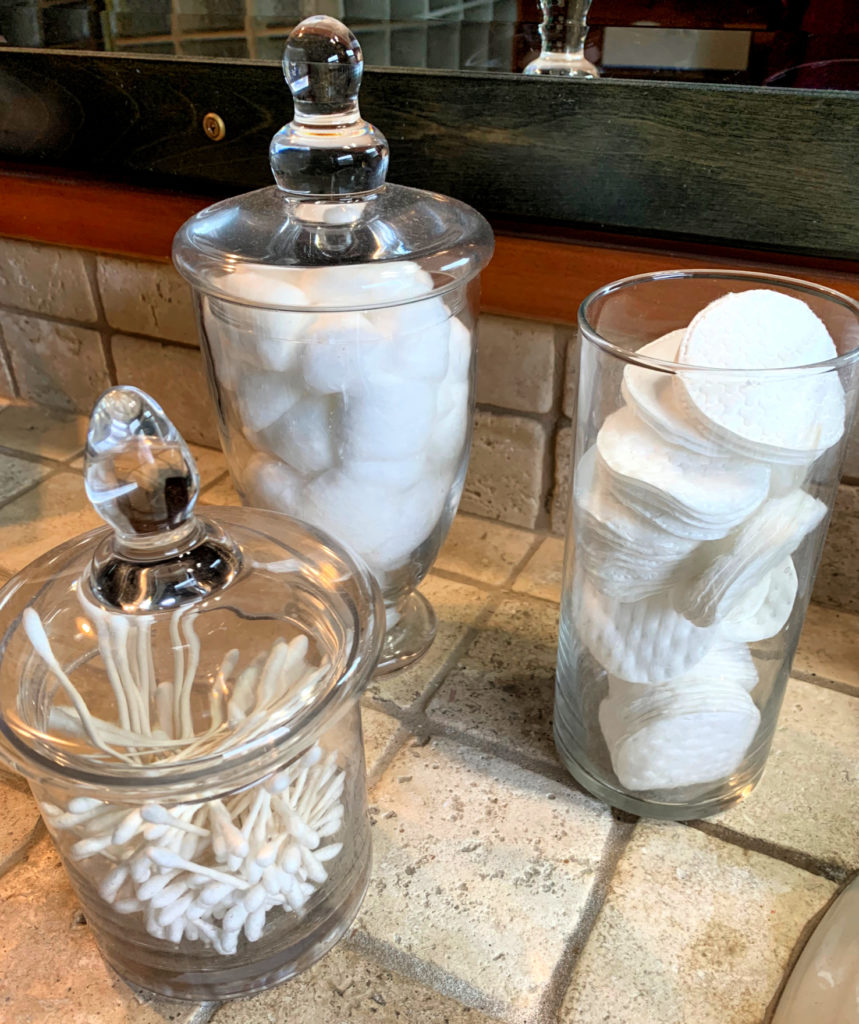 Find some of my favorite pieces of furniture and accessories when you head to my Like to Know It Page HERE. Shop my style and get the look finding similar products and inspiration. Follow along as I continue to add more and more to the site.



FOLLOW ALONG
Instagram ~ Facebook ~ Pinterest ~ Twitter ~ YouTube ~ Tik Tok ~ Liketoknow.it