I'm excited to be Linking up with Jennifer Rizzo for her Holiday Housework Link Party 2017 for a chance to featured on next year's Holiday Housewalk 2018!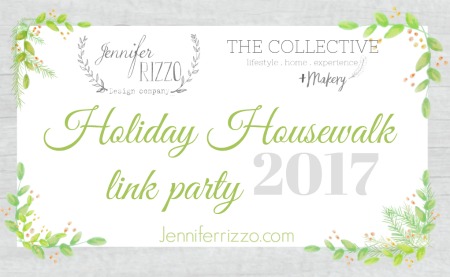 Happy Holidays and welcome to Camp Paradise! I'm so glad you found our lakeside cabin in The Northwoods of Wisconsin! If you are coming from Olivia's home (at Reinvented Collection) on the It's a Wonderful House Christmas Home Tour, it's the one time I can say "Welcome to the South!" Our home, here in Minocqua, is pretty far north, but Olivia's home in Alaska is even closer to the North Pole!
Are you still in awe over Olivia's decor? I know I always am! She is such an inspiration to me!
I'm so honored to participate in this tour with so many amazingly talented bloggers brought together by Olivia to share our Christmas Decor, opening our homes to help give you some inspiration for your own house this season. Thank you Olivia for including me!
I thought I'd give you a tour with my Christmas Trees as the guides. We have three main trees, each serving a special role and space in our traditions.

(Affiliate Links are shared for your convenience, read my full disclosure here.)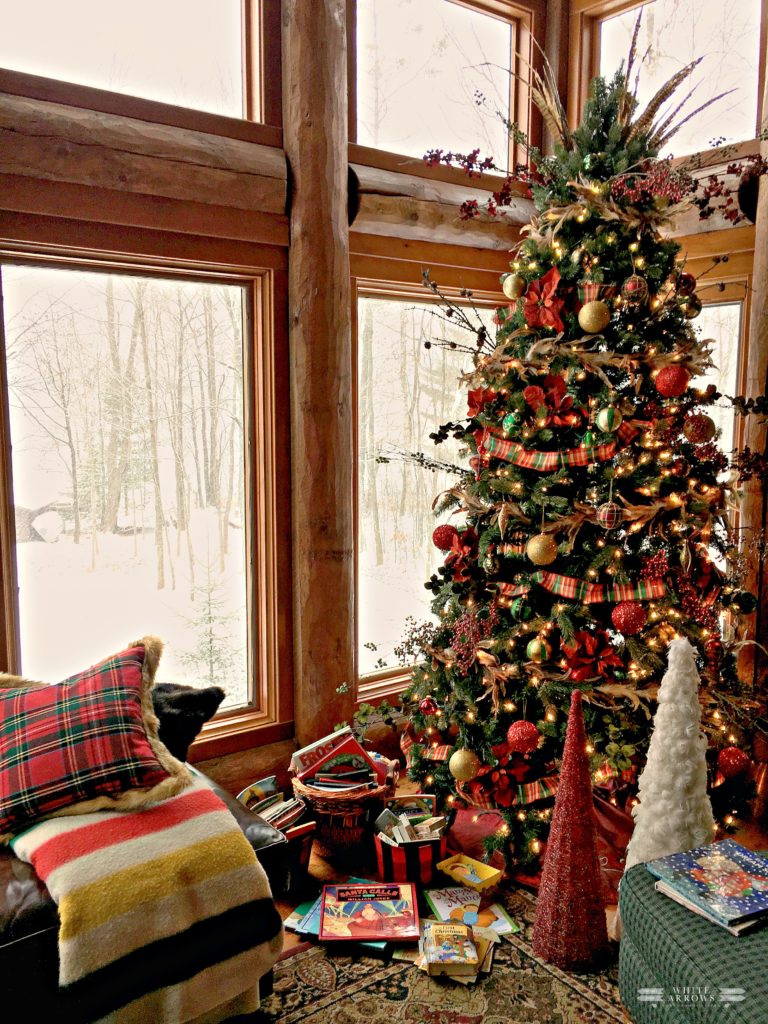 Our largest tree is a 12 foot faux balsam from the Martha Stewart Collection at Home Depot. 
We place this tree near the fireplace in front of the big windows. This way it's lights can be seen and enjoyed from outside as well.
All the ornaments, ribbon and fillers I bought maybe eight years ago and I am still in love with the entire tree! It's my "big girl" tree, my elegant tree for our great room that's full of big sparkly ornaments in gold and burgundy and a perfectly plaid ribbon. I usually prefer white lights on my indoor trees. The wonderful thing about this tree though is that I can change it from white lights to colored lights with just a step on a button.
My biggest secret to decorating a tree is a variety of spikes, sprays and large flowers like the poinsettias in this tree. Tucking these pieces in gives a 3D vision and fuller feel to your tree. I even like to use them to shoot out from the top of the tree.
I absolutely love adding in pinecones and feathers to my trees. My most special layer on this tree is my feather garland. It wraps around in layers between my plaid ribbon.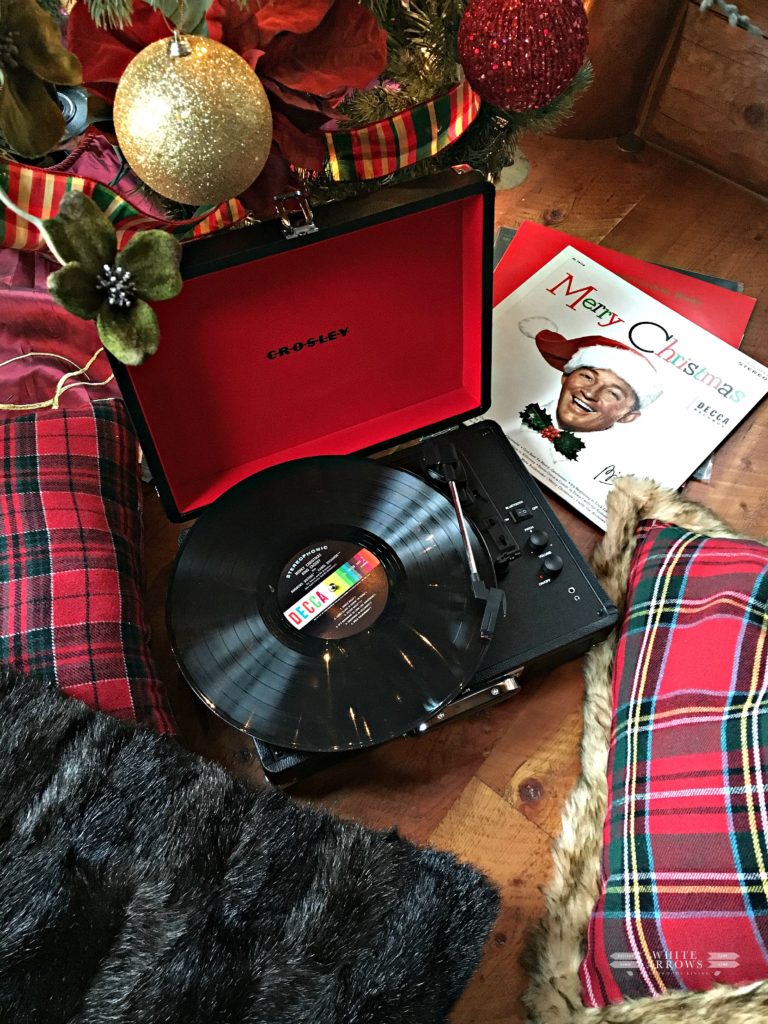 Playing Christmas music is even more fun with vintage records on a portable turntable. We can listen while cozy and enjoying the sparkling lights in the evenings. It's hard to go to bed each night in December because we don't want the special moments to end. It's so peaceful and magical.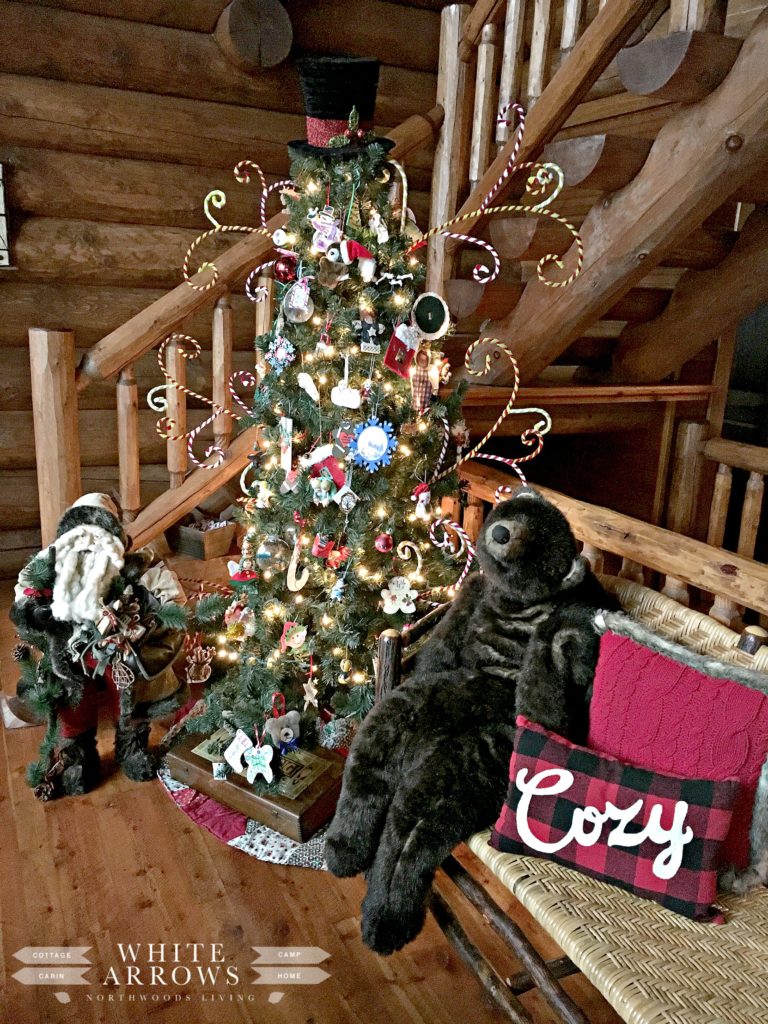 In a corner of the Great Room is the most special tree of all. This tree holds my kids ornaments. It's a collection of ornaments they have made since preschool, their handprints and photos. I store each of my five kids ornaments in their own box and it is so fun to watch them take them out and place them on the tree each year. They reminisce and tell stories about the ornaments as they put them on.
We have collected ornaments from our family travels too and I spread these ornaments between their boxes. These bring back wonderful memories as well!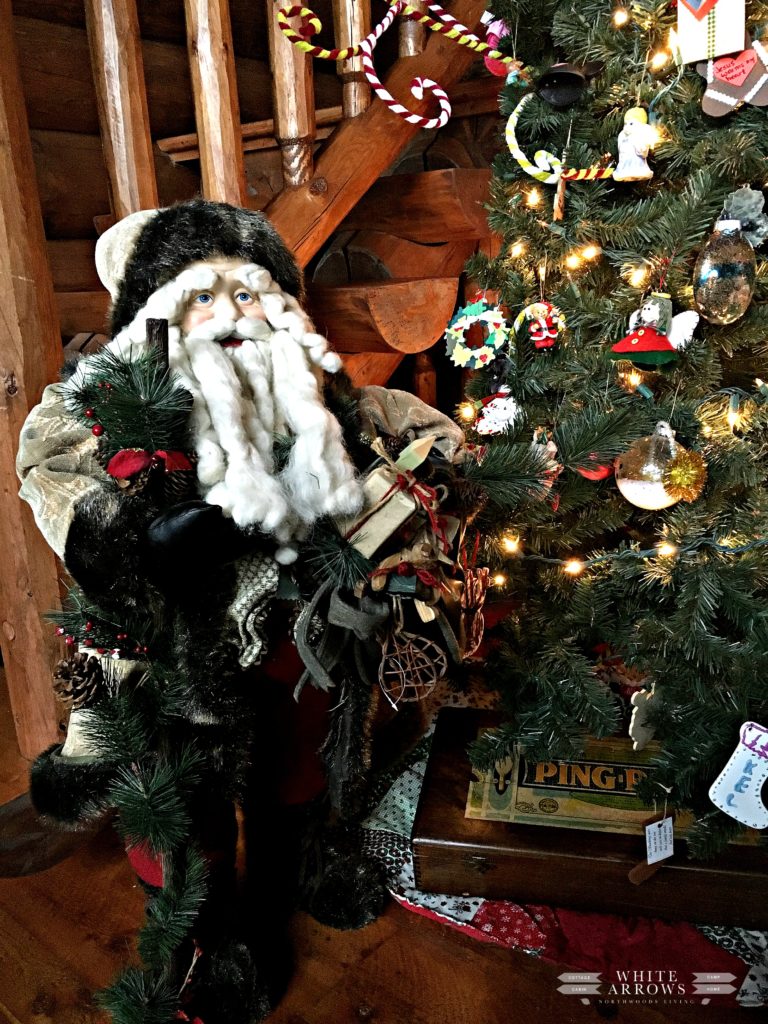 Our Northwoods Santa hangs out near this tree. A patchwork tree skirt quilted by my mother-in-law adds to the special nostalgia of this tree.
Topping off the kids' tree is a Frosty the Snowman style top hat. Curly-que sticks add to the festive fun.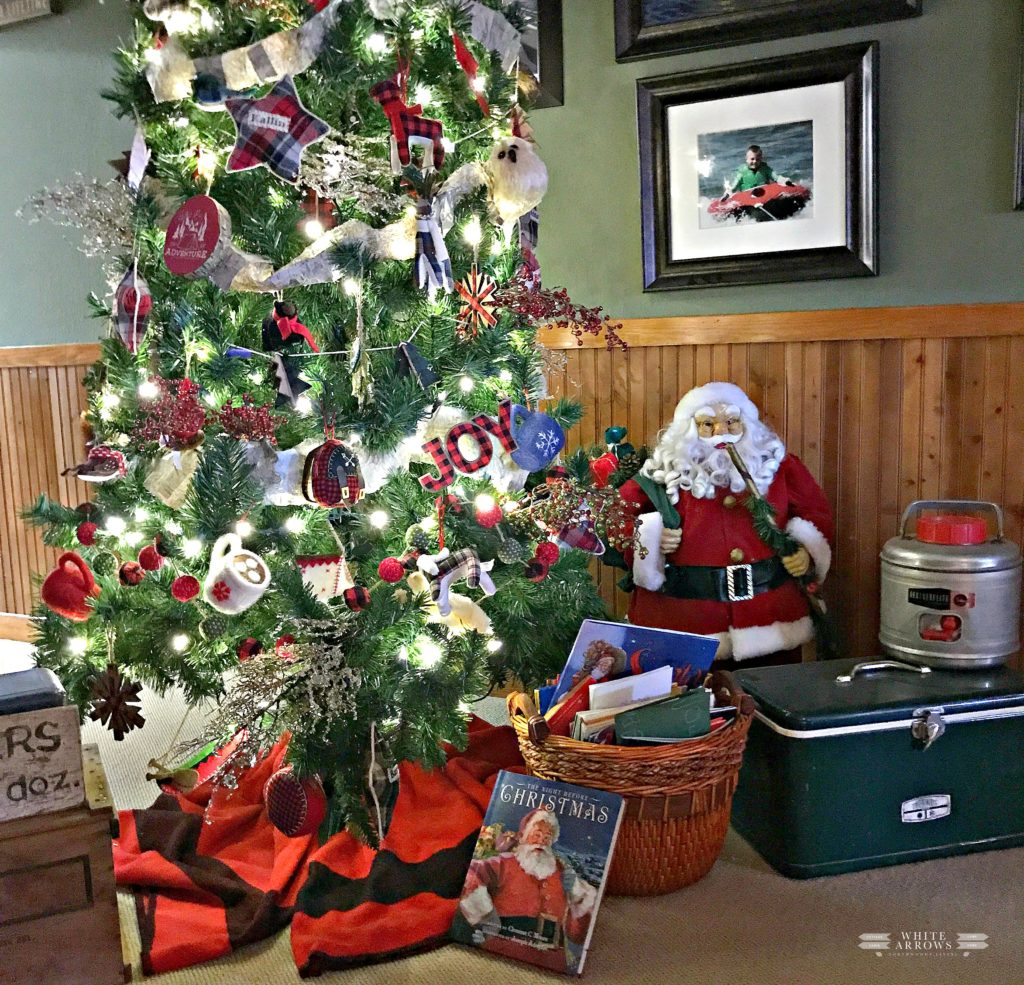 In the basement family room is our third tree. It came to life as I began to collect "Northwoods" ornaments.
It started the year we bought our cabin. I had each one of my kids choose a woodland animal ornament and found a birch bark garland. We added some sparkly snowflakes and sprays of sparkly, silver sequins. We had a winter woodland tree.
I added a wool camp blanket as a tree skirt and our traditional Santa with vintage coolers and thermos around the sides. Favorite Christmas books collected over the years are waiting under the tree to be enjoyed.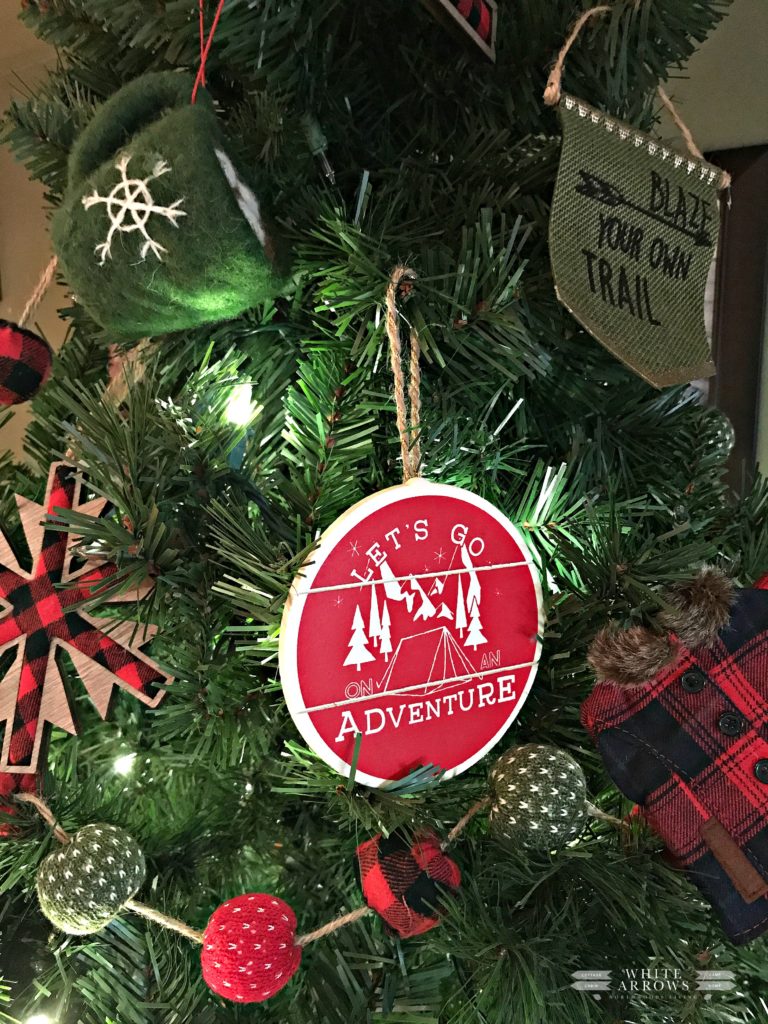 Last year on a holiday trip to Target I found these wonderful adventure/camp/cabin ornaments and garlands. Each and every ornament was meant to be in our home! There were felted mugs of hot cocoa complete with marshmallows, buffalo plaid ornaments galore and plush canoes, backpacks and tents. It's so fun because all these items that never go out of style for me are popular right now. I scooped them all up!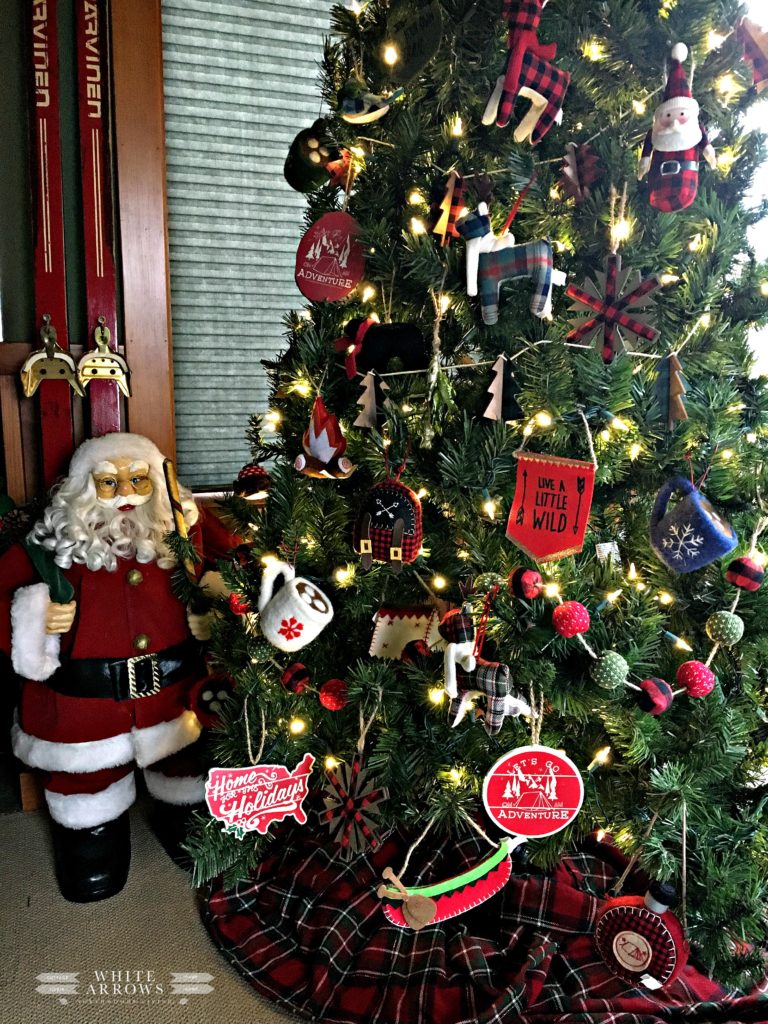 There are so many gorgeous homes on this tour! If you missed any posts thus far find them below and continue to follow along and be inspired this holiday season!
I am the last stop today on the Wednesday Tour, but we will see you tomorrow as we kick off Thursday with Our Crafty Mom.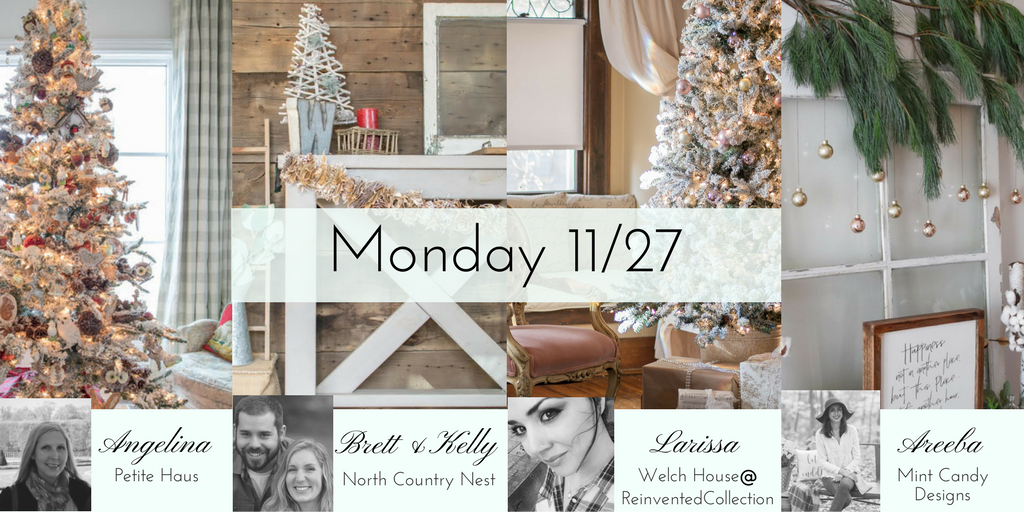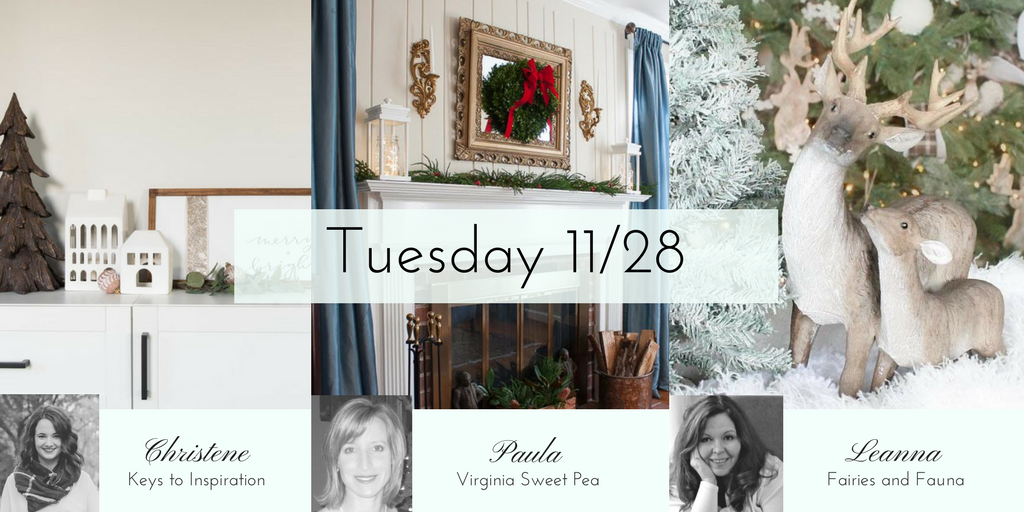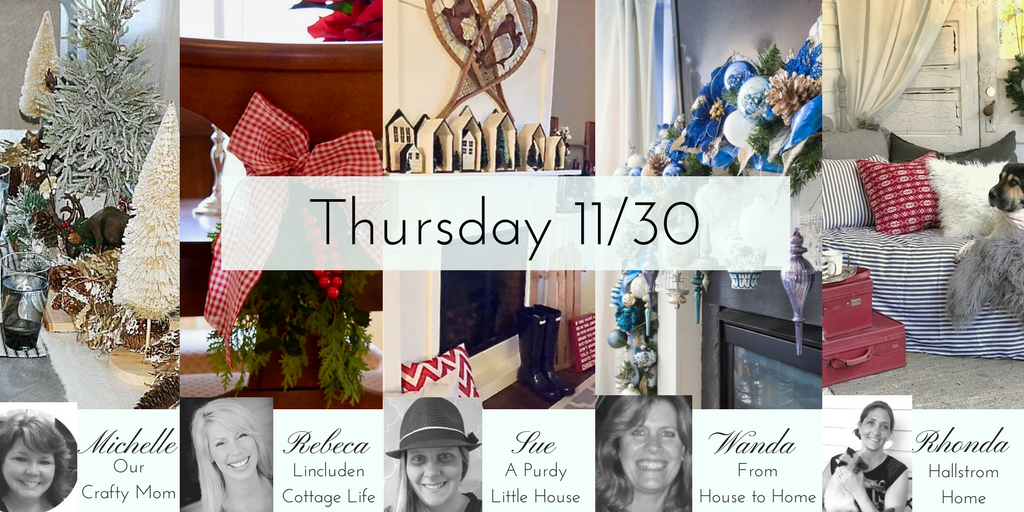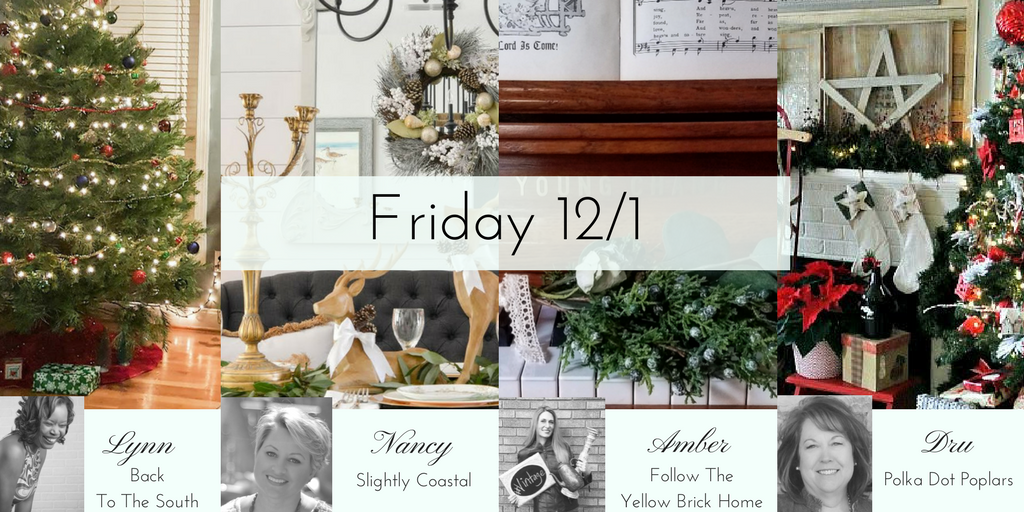 Wishing you a Merry Christmas!
​


(Affiliate Links are shared for your convenience, read my full disclosure here.) 
Get the Look
Shared at these Link Parties:
Home for Christmas Holiday Link Party