A Late Winter Tablescape perfect for cozy evenings as we wait for Spring.
One of my favorite parts about blogging is meeting people from around the World with similar interests. I've made so many friends I never would have met otherwise. Today I'm joining a group of these friends as we share table styling like my Late Winter Tablescape.
(Affiliate links are used for your convenience. Read my full disclosure here.)
Kim, Rachel, Ann, Stacy and me all live in different states and we have different styles of houses, but we still have so much in common! We love to collect antiques, especially those passed down in our families. We love to go thrifting and mix our vintage finds in with our new decor. We love to turn our houses into homes that are warm, welcoming and beautiful. Thank you so much to Rachel at The Ponds Farmhouse in NC for putting this tour together!
You will love taking this table tour today and visiting Washington, North Carolina, Wisconsin, New Jersey and Maine. Take a cross country journey all from the cozy comfort of your own home! Find links to each of my friends' posts at the bottom of mine.
If you are coming over from Ann at Dabbling & Decorating in Maine and are new to White Arrows Home, welcome! I'm so excited to have you visit. I hope you will join my community of amazing followers!


I live in a full log cabin on the shores of a lake in the Northwoods of Wisconsin. Our lake is frozen solid this time of year. Frozen enough that we can drive a truck on it! In the photo below where our truck is plowing an ice rink on the lake, in the Summer our boat sits there. I love sharing about our Northwoods life here on the blog and on my socials like Instagram.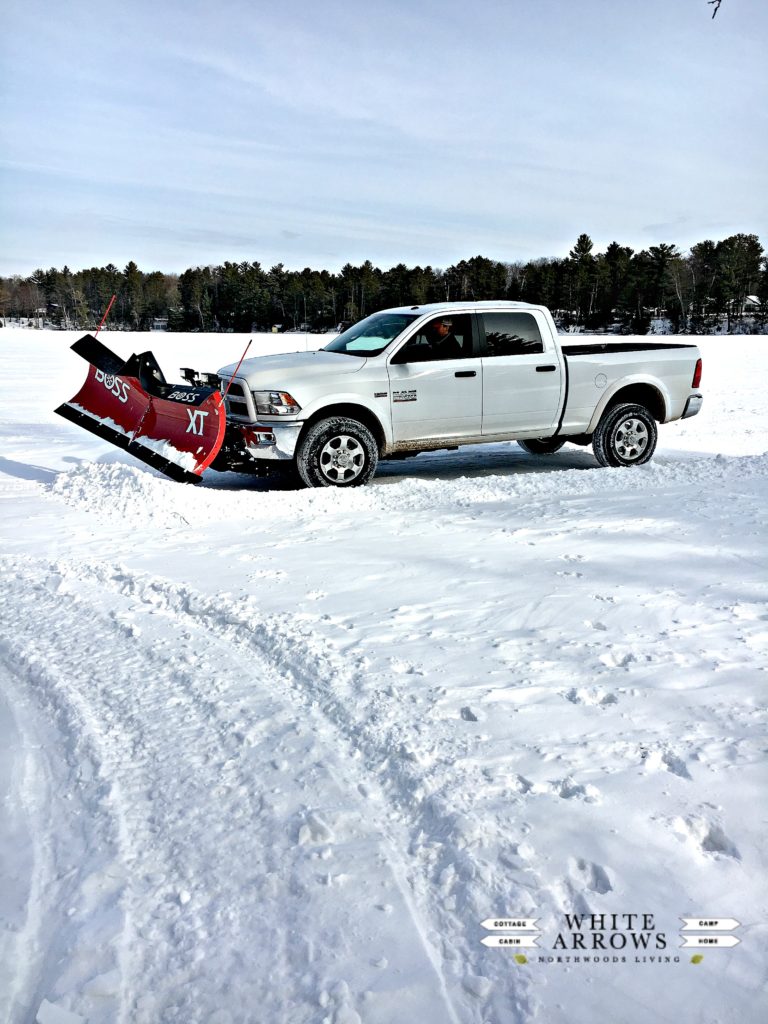 Today I'm so excited to share this special tablescape with all of you! Even though I have dreams of Spring, where I live we will have frozen lakes and snow possibly through April so we are still enjoying Winter. My table is set for a late Winter cozy gathering by the fire.
The table I styled today is not in our cabin, but at our Hunting House located in an area of Wisconsin known as The Driftless region. Our Hunting House is called Badger Hollow and is a prairie style home, like a Frank Lloyd Wright.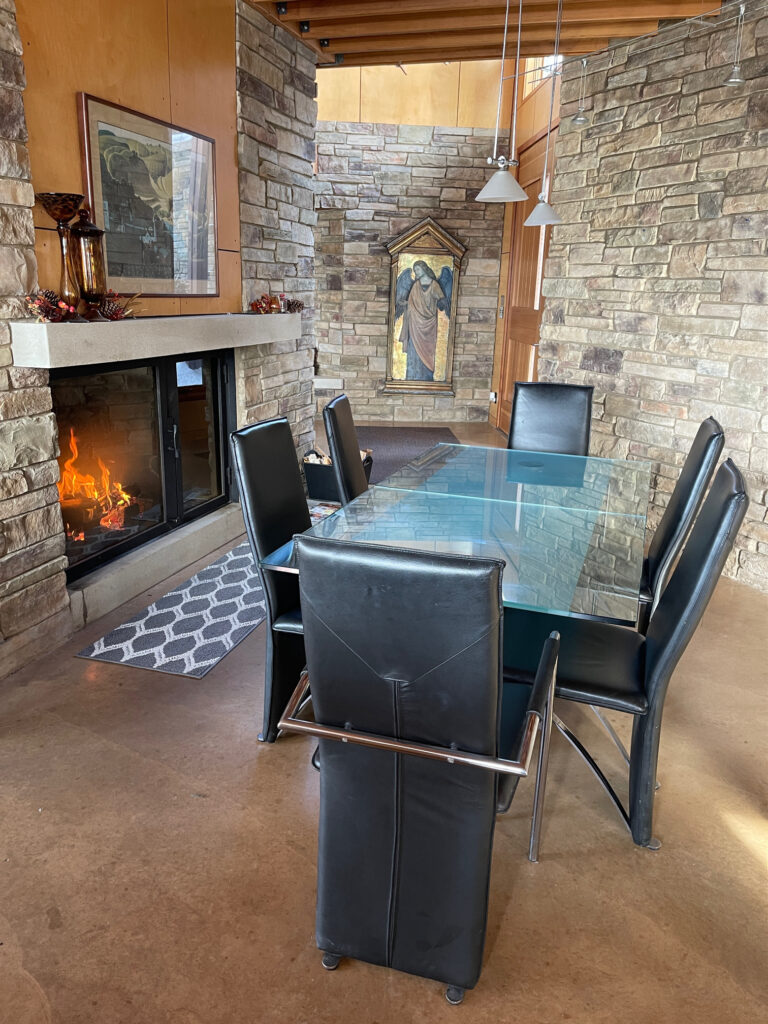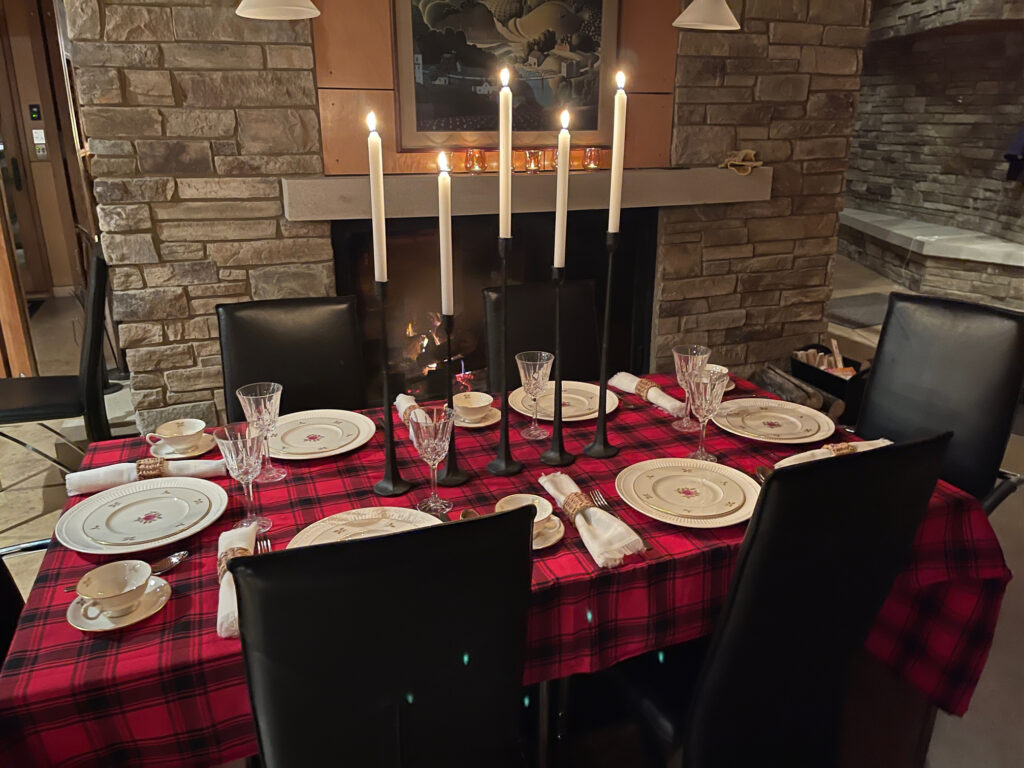 You will often find plaids in my decor and I started my table styling by choosing to use this red and black plaid tablecloth.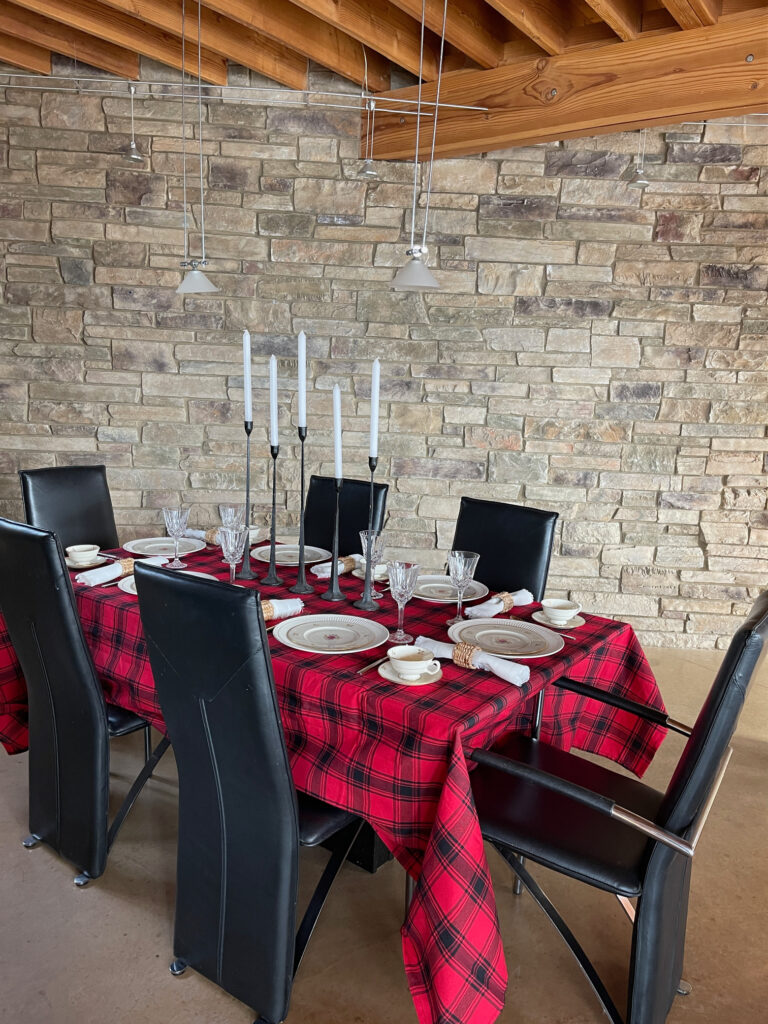 I thought about using chargers because I love them so much, but decided to let the plates pop on their own. The dinner plate on the bottom is Italian Countryside. It was my wedding China and I still adore it 22 years later! It goes with everything, it's classic and pretty!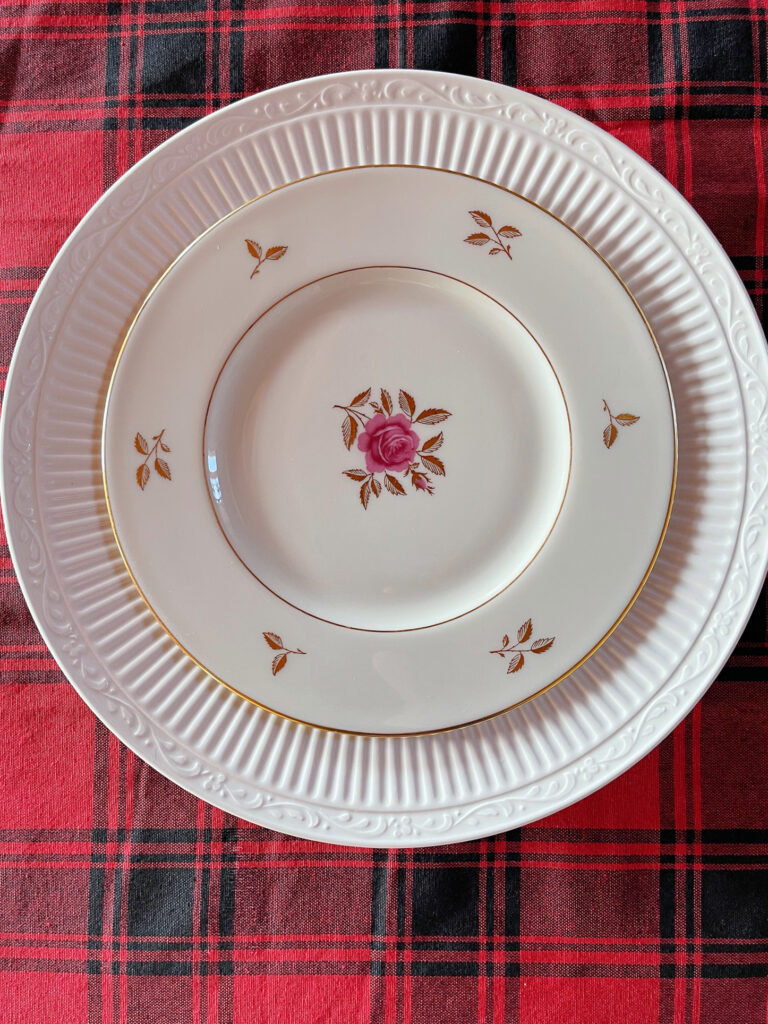 Next, I layered on a salad plate from my Grandmother's china. My mom's mom passed away when I was two. I don't remember her, but I treasure her China and other heirlooms that were passed down to me! I love pink and red together so I loved the touch of pink roses with the red tablecloth.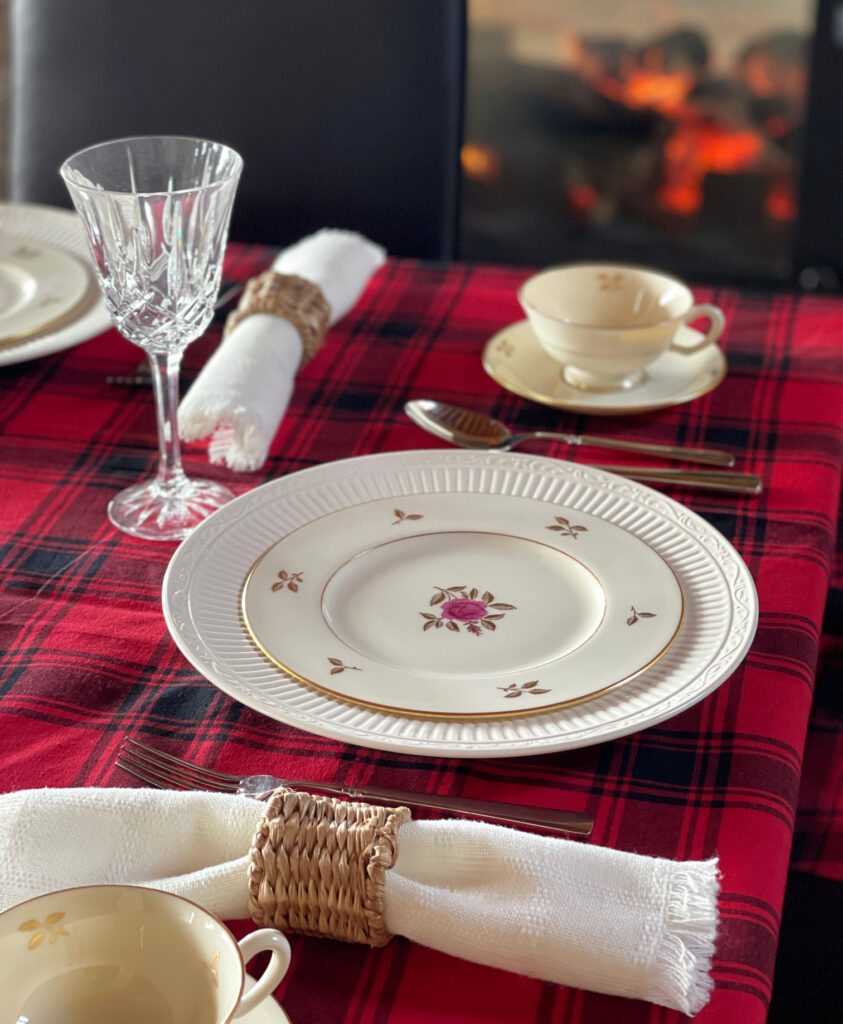 The napkins were passed down to me by my other Grandmother. My dad's mom I knew very well and spent so much time with growing up! She made these pretty napkins out of fabric and frayed the edges. I rolled them and slipped them in woven napkin rings. I like the pop of white and the natural element the rings bring.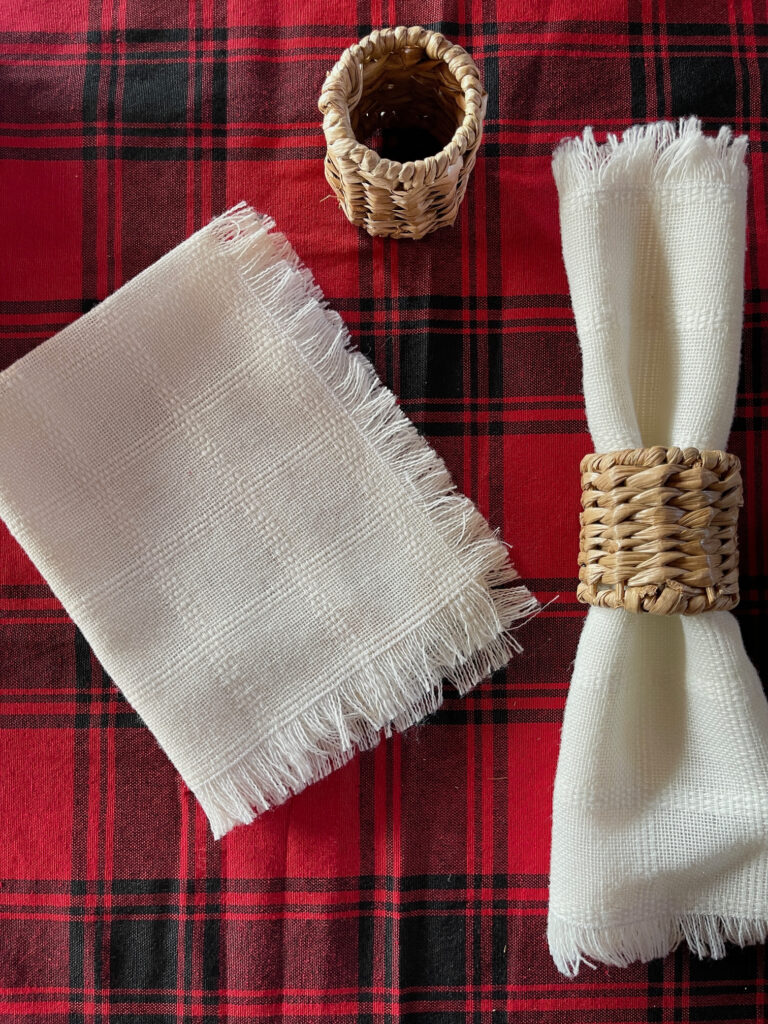 One of the challenges I gave myself with this table styling was to not buy anything, to use only what I had at home. Everything outside is covered in snow right now, so there was nothing to pick from outside. I decided to keep it simple and use these tall iron candleholders with white taper candles.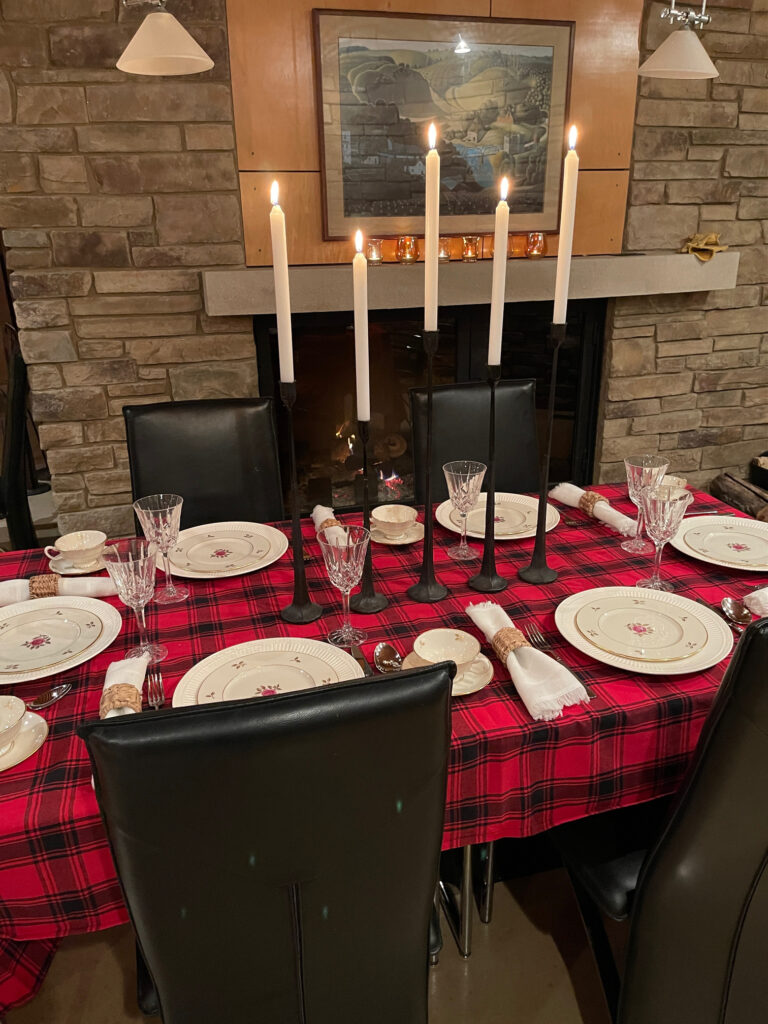 I set out teacups that matched my Grandmother's china and my Waterford wine goblets that were also wedding gifts.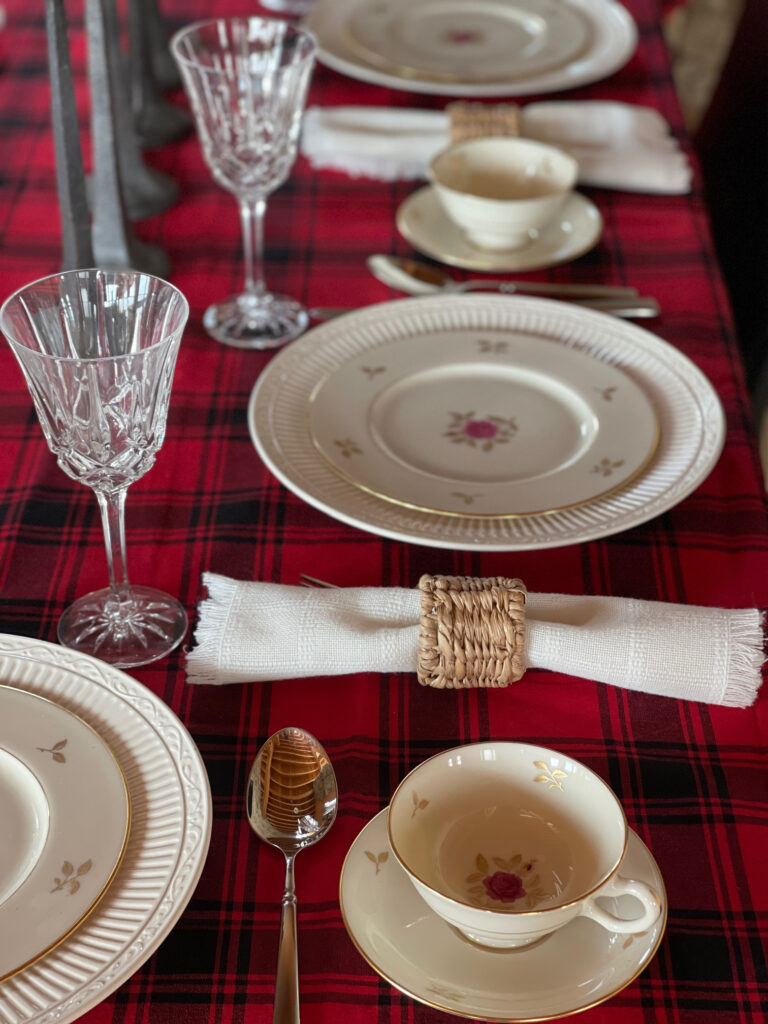 Thanks so much for coming to visit! Next up you are heading to Stacy Ling Bricks N Blooms in New Jersey.
Take the Tour
Stacy Ling Bricks N Blooms in New Jersey / Kim at Shiplap & Shells in Washington
Rachel at The Ponds Farmhouse in NC / Ann at Dabbling & Decorating in Maine
FOLLOW WHITE ARROWS HOME 


Instagram ~ Facebook ~ Pinterest ~ Twitter ~ YouTube