One of my favorite ways to decorate a lake home is Nautical Style. This style works so well with cottage decor. It can be styled for people who love vintage finds, only new or a mix of both. It works great in kid's bedrooms, playrooms or a mancave. It's a style that evokes happiness and adventure. Here are some ways to add Nautical Style to your home.
Red, White + Blue
One of the elements I like most is the use of the colors- red, white and blue together. These colors can be added simply with bedding, by painting a cabinet, or through accessories.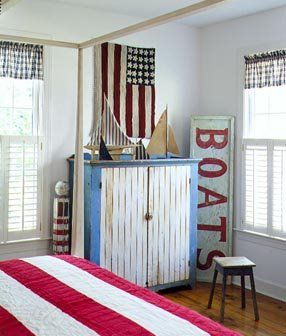 Source
Flags
Nautical flags make a wonderful statement piece framed or just hung on a wall. They can be authentic like the ones below or reproductions. Each nautical flag represents a letter of the alphabet, so you can even spell out a name or phrase with the flags you hang.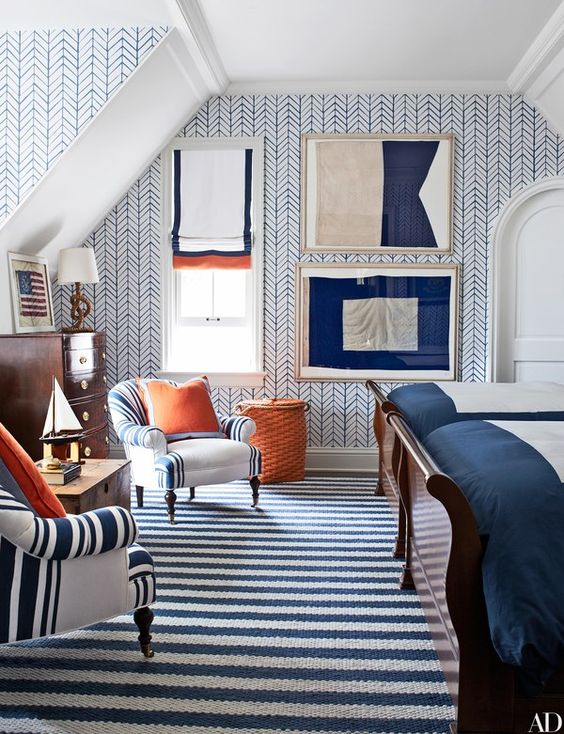 Tropical
Big leaves, pineapples and Tiki touches add a layer of fun to Nautical styled spaces.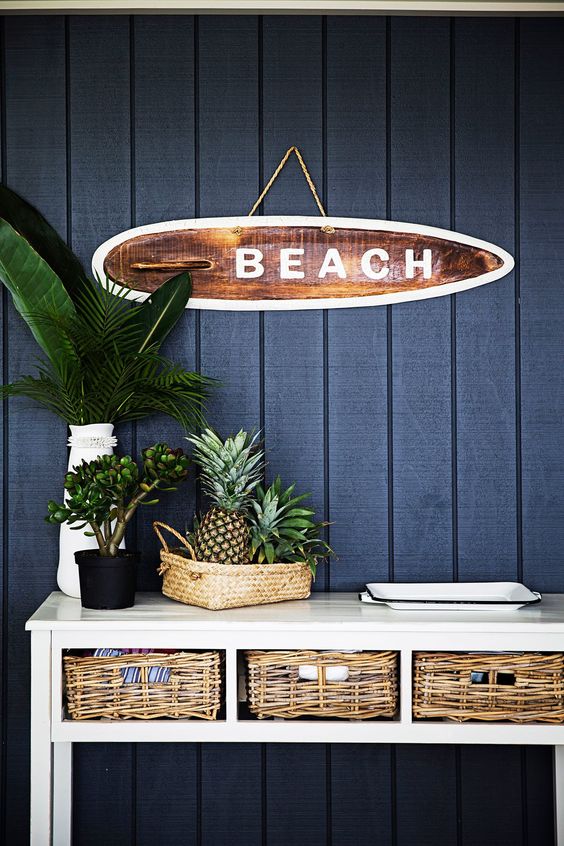 Stripes
Stripes are one of my favorite elements of Nautical Style. It can be used in wallpaper as shown in the photo below. Rugs, bedding and upholstery are also beautiful in stripes.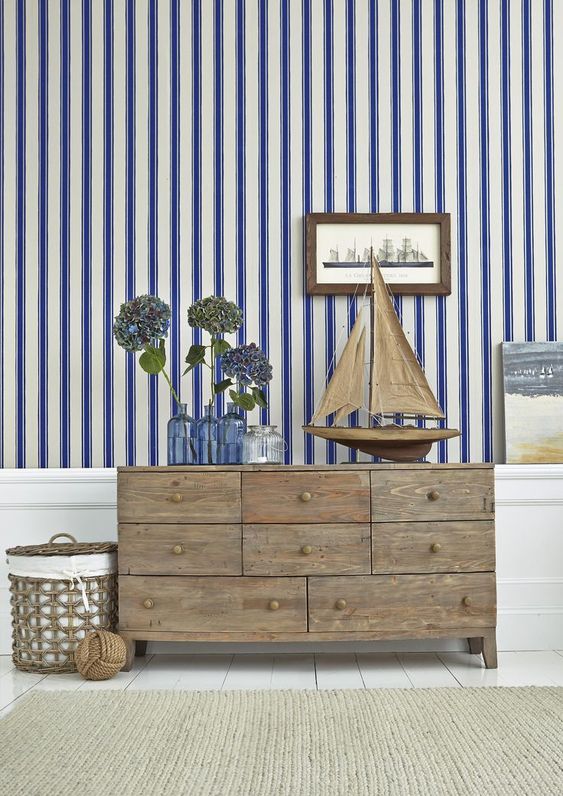 Water
Paintings of lakes or the ocean bring the outside in throughout a home.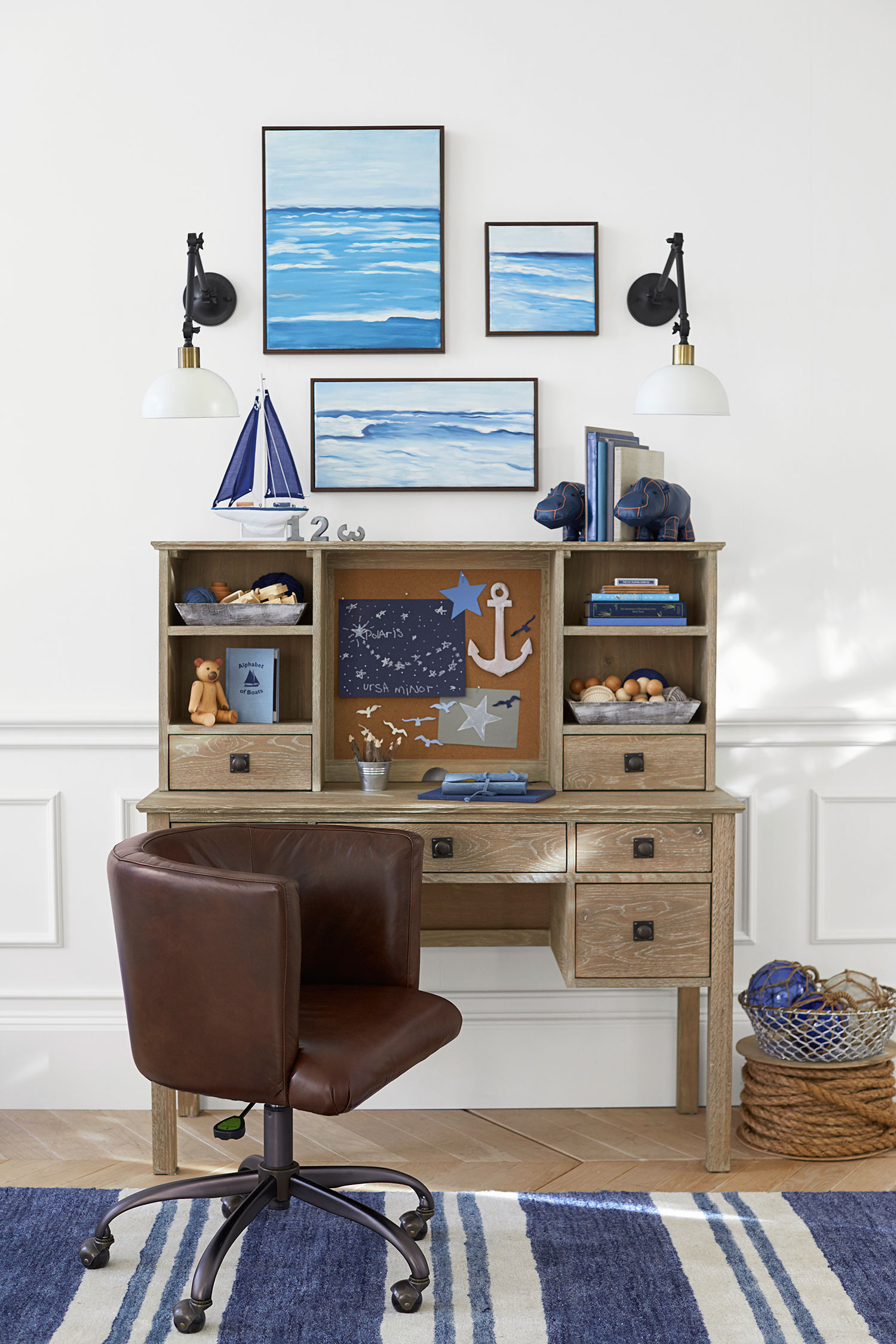 Oars
Antique oars leaning in a corner or hung on the wall are an easy way to decorate in this style.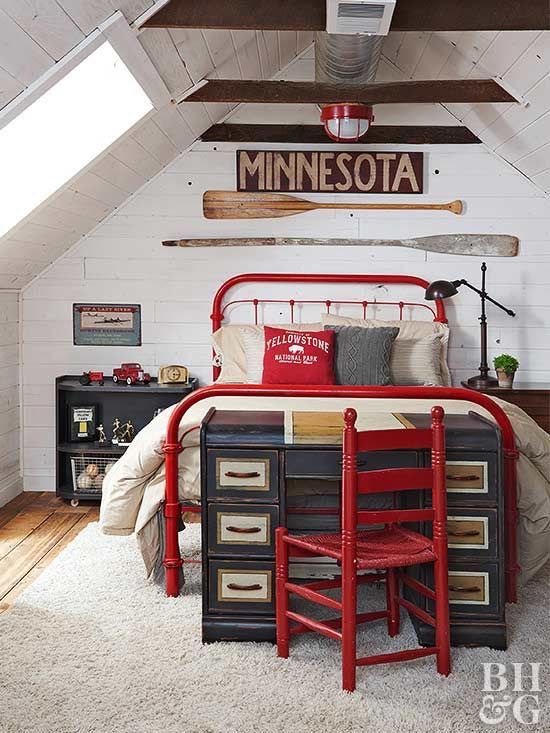 Rope
There are lots of creative and fun ways to use rope throughout your home. Below they used rope on the stairs. Find many other easy DIY ways to add rope on my  Nautical Decor Pinterest page.

Boats
Not only does the photo below have blue + white, stripes and sailing flags, it also has a boat. A boat hanging from the ceiling! It doesn't get any more Nautical than this! Stunning! Sailboats, rowboats, ships…any kind of boat added into the decor is perfect for this style.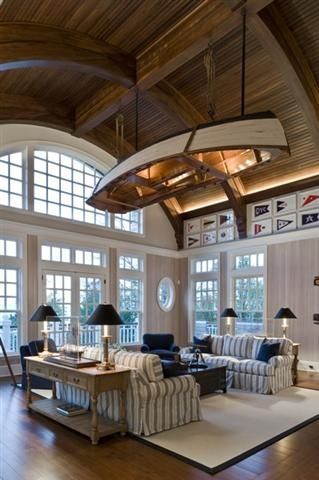 Blue + White
Using blue and white as the primary colors in a room is such a compliment to Nautical Style. Mix and match a variety of patterns on bedding, upholstery, rugs, throw pillows all in blues and whites.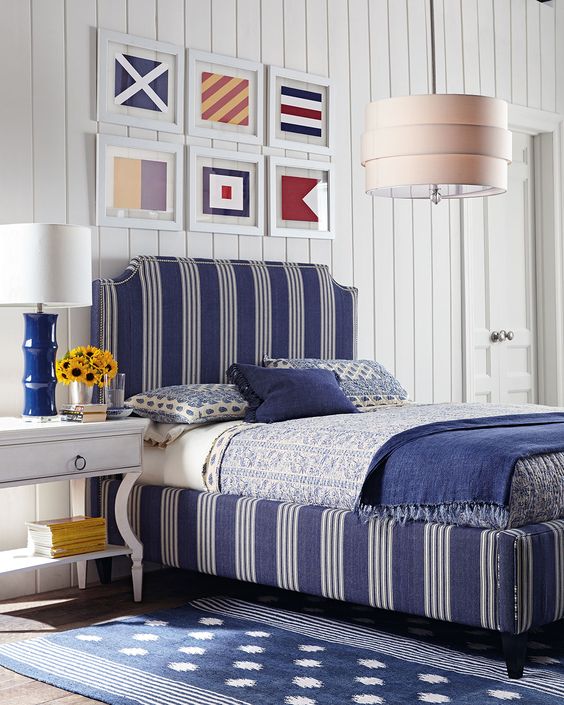 Cleats
Boat cleats are an inexpensive way to add this style to your home in creative ways. Below is one example where they were used for curtain tie backs. Again, you can find more ideas on my  Nautical Decor Pinterest page.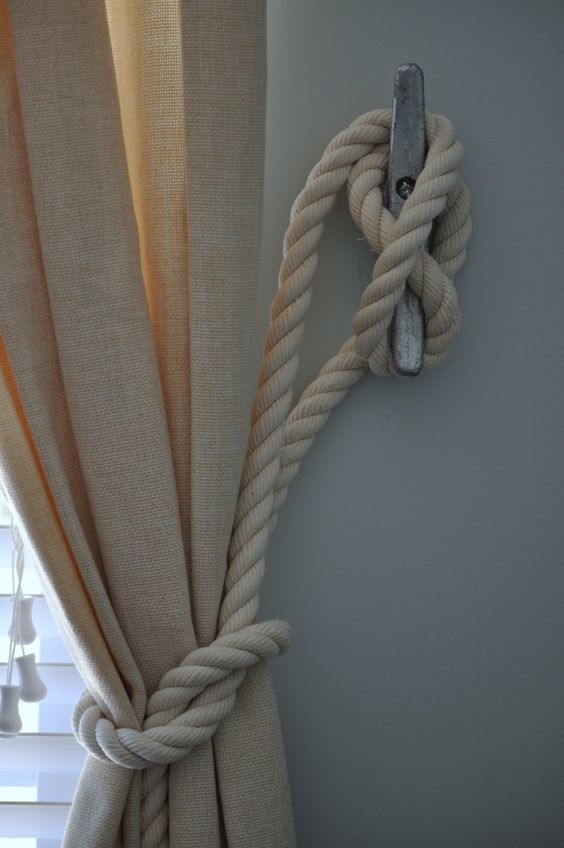 Wicker, Cane & Rattan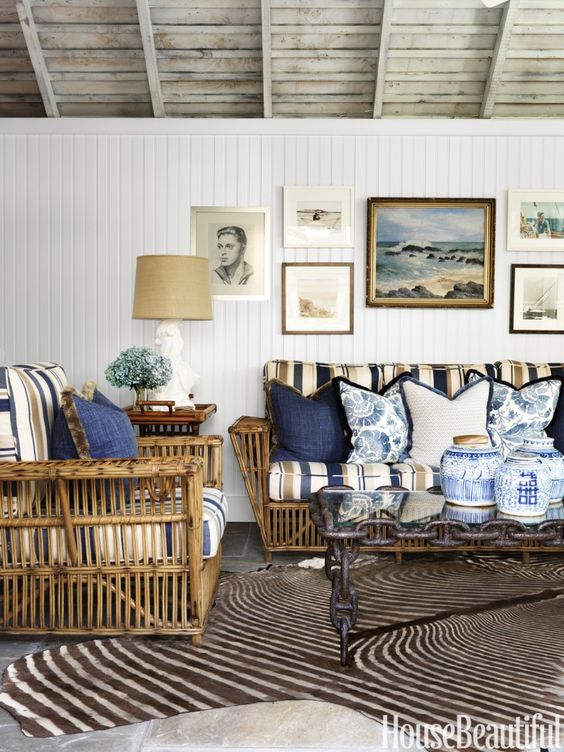 Madras
This fun plaid pattern speaks right to Nautical Style. The bright patterned pattern used most often for summer clothing looks great on quilts and curtains.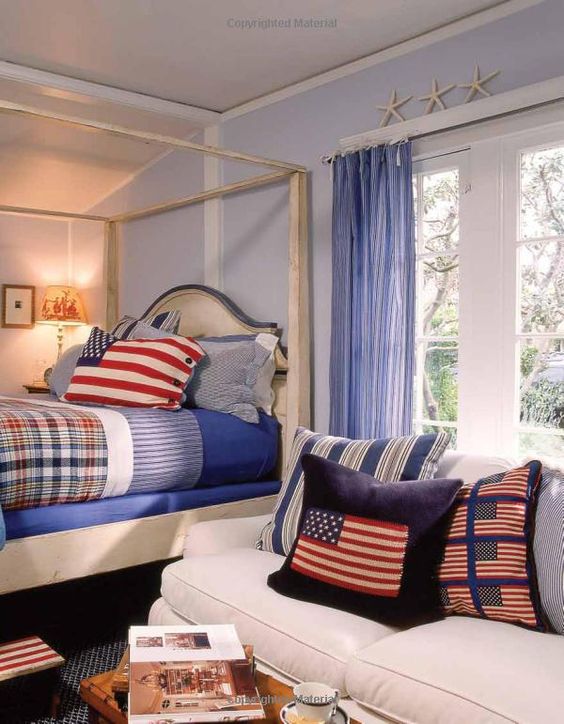 Shiplap
Shiplap has long been used for Nautical and coastal spaces. Below it is complimented by a beadboard ceiling and anchor hooks. The door, light and flooring are all so beautiful too!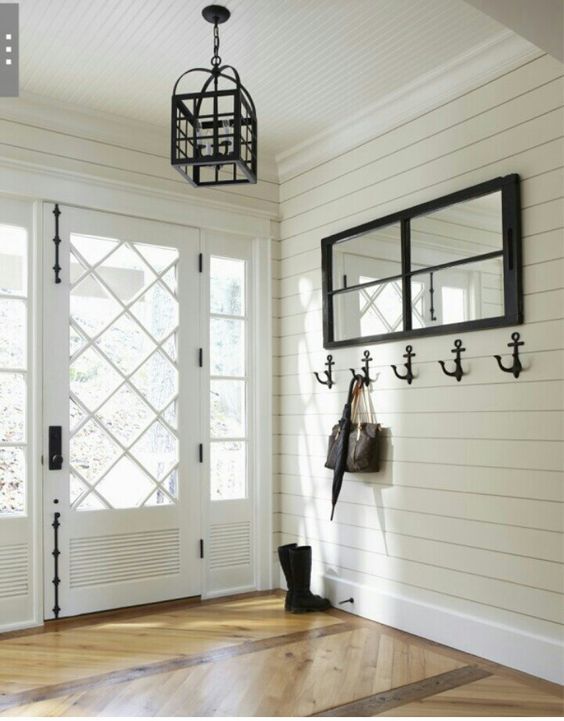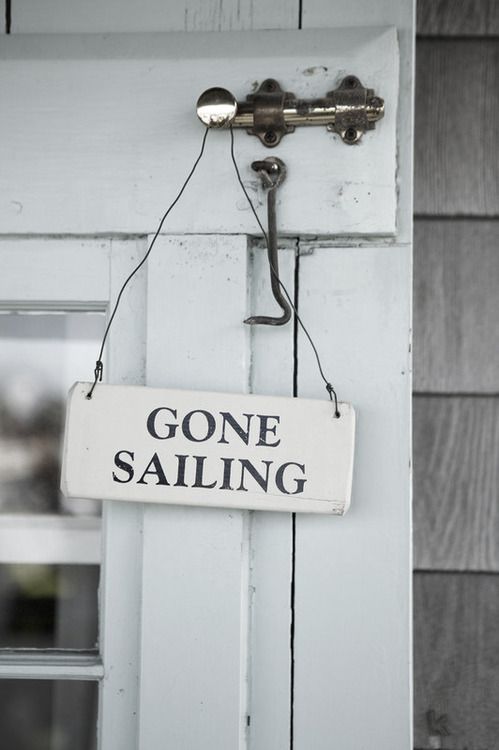 Find more of my favorite Nautical Style decor ideas on my Nautical Decor Pinterest page.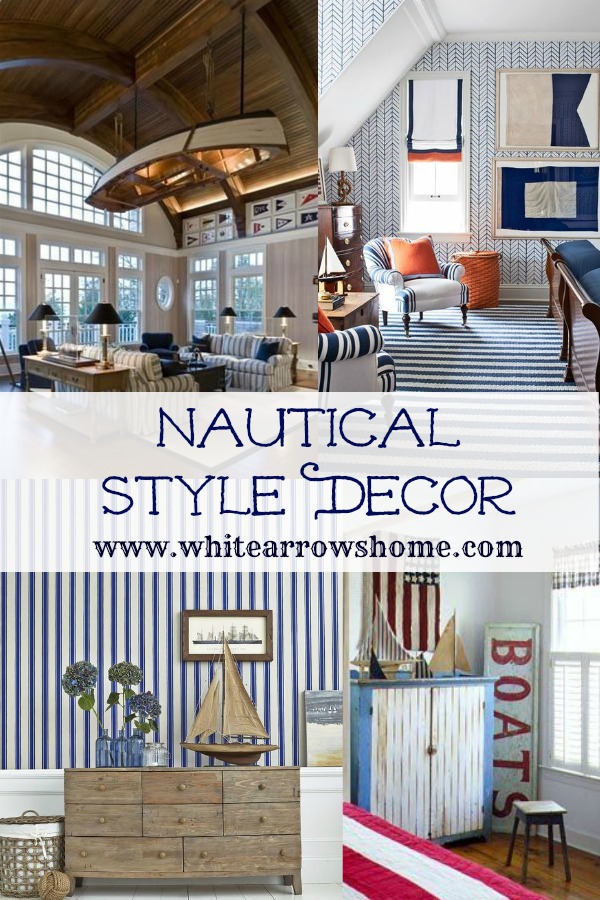 I will be excited to share more with you daily on:
Instagram ~ Pinterest ~ Twitter ~ Facebook
Get the Look