I am excited to be joining several amazing bloggers for a Transitioning from Summer to Fall Home Tour. Thank you so much to Amber of Follow the Yellow Brick Home for organizing all the inspiration! If you are joining me from The Tattered Pew I know you are still swooning over Kelly's style! I will be sharing with you how I have taken my Summer lakeside decor and given it early Fall Touches.

Fall in The Northwoods of Wisconsin is glorious! All the breathtaking colors, falling leaves and crisp temps make it a special time Up North. But Autumn doesn't come until September. The photo below is from mid October. Our Lakeland Area still fully embraces summer all the way through Labor Day Weekend. Even though our kids' have started their fall sports we don't start school until after the Holiday Weekend. There are still lots of boat days left in August!

So when deciding how I wanted to transition my decor from Summer to the late Summer/Early Fall of August and September I found inspiration by keeping some of my Summer decor and layering in some new accents.
(This post may contain affiliate links which won't change your price but will share some commission.)
Colors
I have been in love with my green gingham rug from Target this summer. It is so easy to keep clean! So I decided to keep this shade of kelly green as my foundation for my color scheme. I love how it goes with the hunter green of our trim. Two green oars usually lean to the corner by the garage door, but I decided to change it up and frame the door with them. A twiggy wreath with lime green roses hangs on the door. Vintage patio chairs hold the second part of my color palate. Black and White. I'm planning to use only white mums this year and picked up these two at the Farmer's Market. My gorgeous green pots are from Stoney Creek.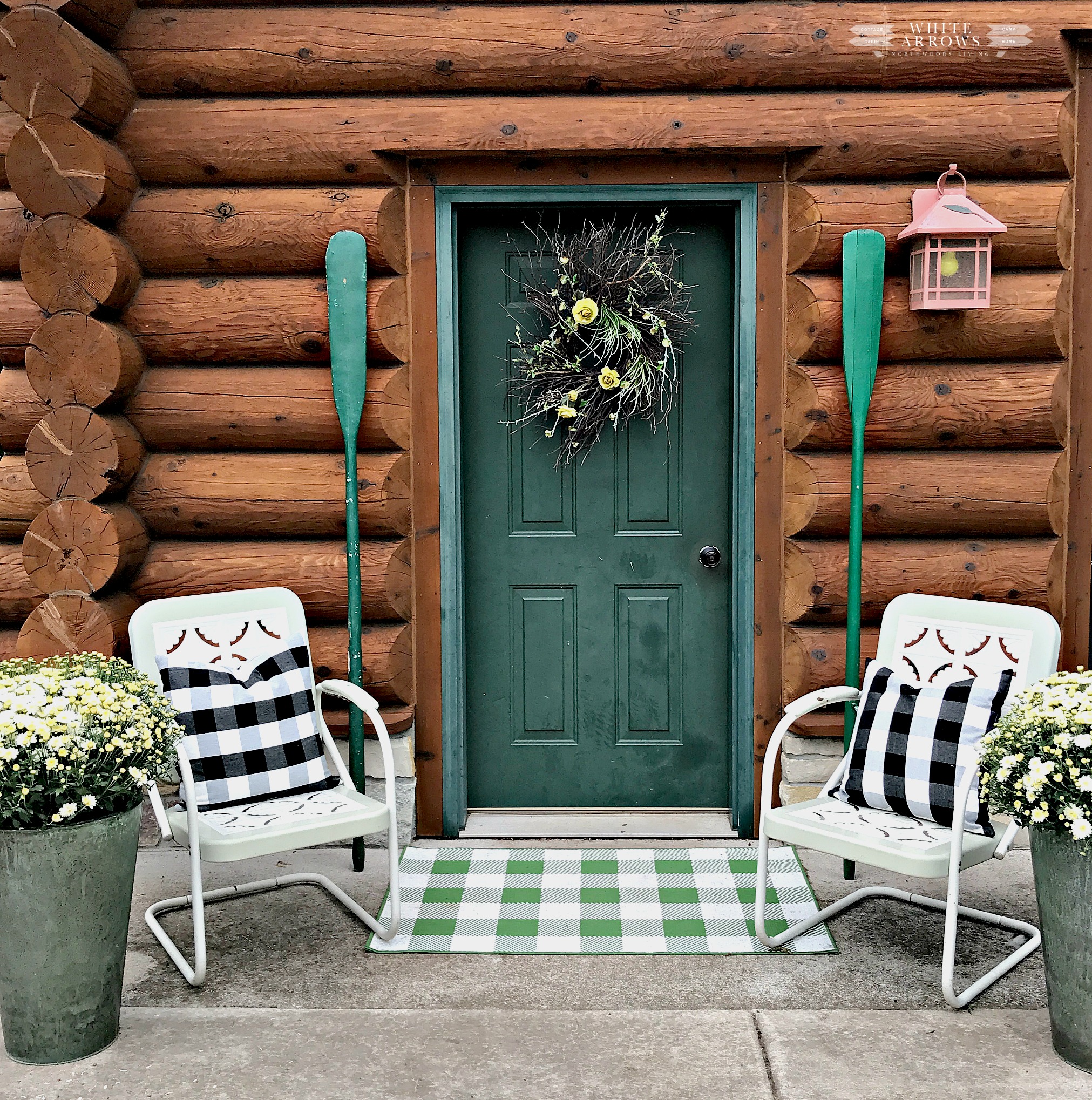 Here's a peek at my Summer porch with the same green rug. Mums replaced the red geraniums and the reds are now replaced with black and white buffalo plaid. To see more of my Summer Porch see this post.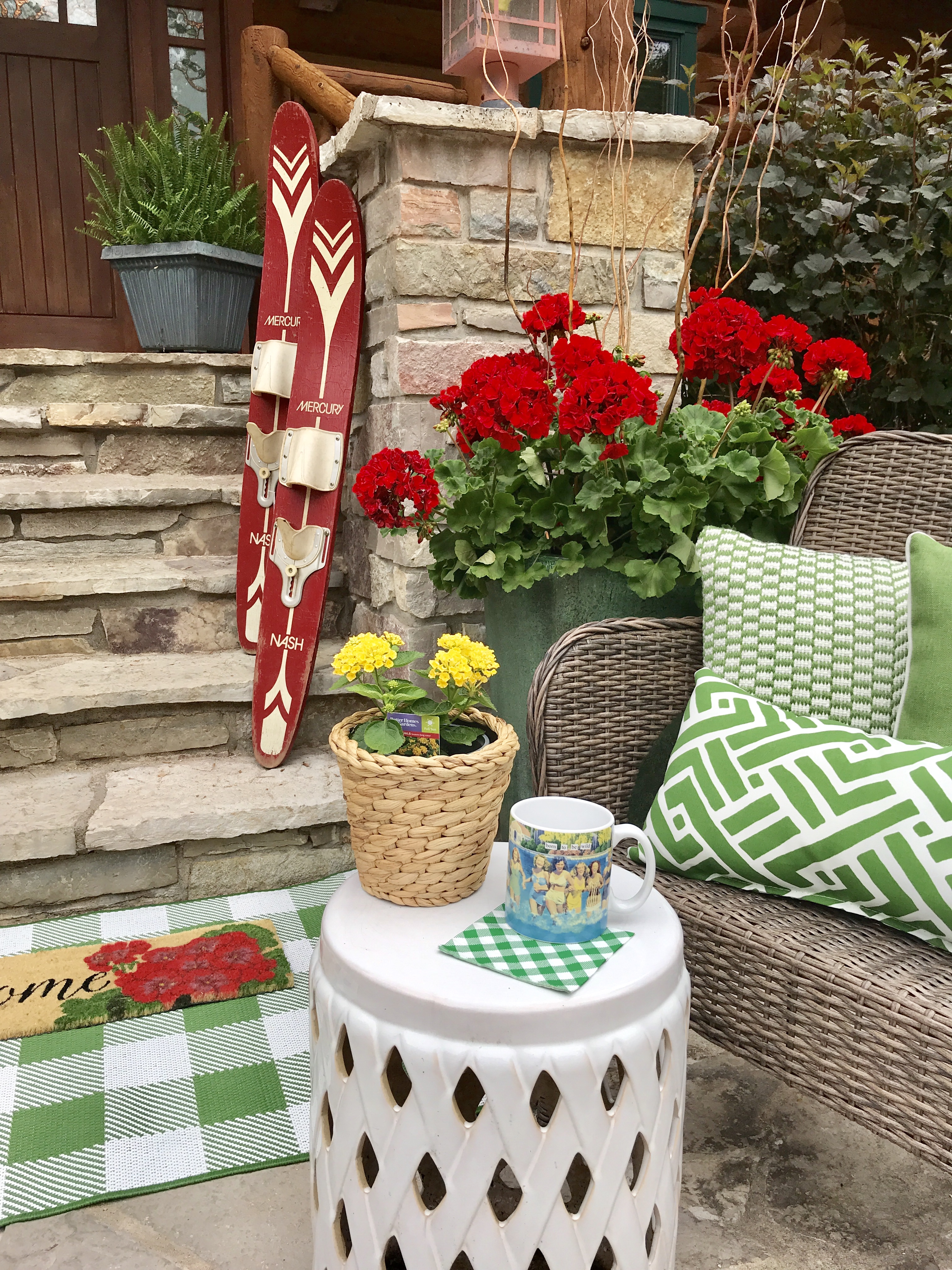 Apples
Last year while out Junkin' I found this old apple crate and loved it's peeling label. It has been waiting in storage to be used this fall. The colors of the label and Granny Smith apples helped inspire me to use this shade of green for Early Fall. My table runner is April Cornell found locally at Trig's.

Farmer's Market Flowers
A wicker bench holds a favorite green pillow from Target and a buffalo plaid pillow and throw. A bouquet from The Farmer's Market pops against the big white blossoms of our hydrangea. In another few weeks those white blooms will turn into their autumn pinks.


Copper
I love Copper all year long, but especially in the Fall and sipping ice cold drinks from them is a real treat!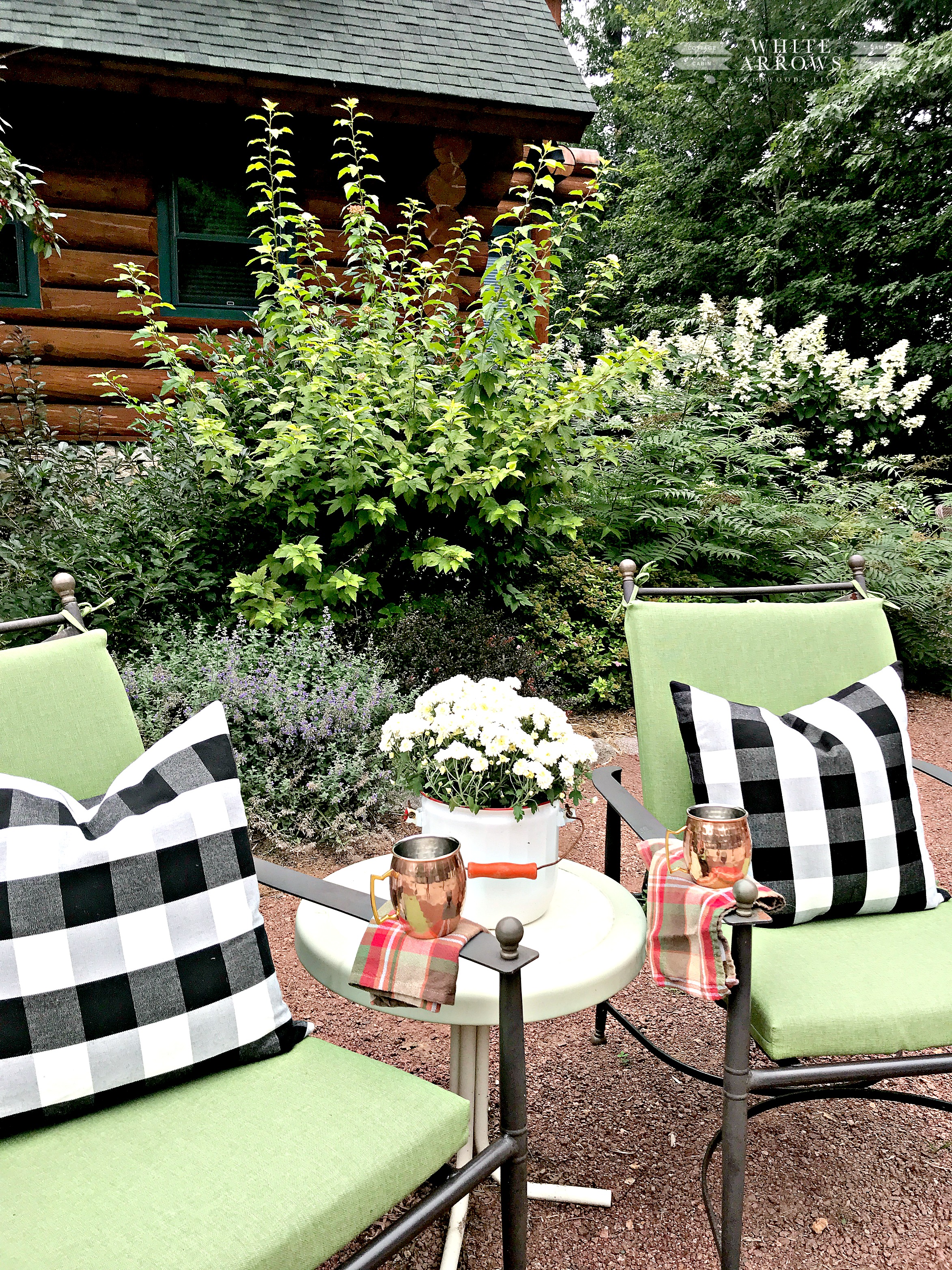 Mums
I love bringing home my first mums of the Fall! As I said this year I plan to do only white mums. Last year I did yellow and burgundy mums. You can see last year's fall decor here. This little red bistro table is one of my favorite pieces and right now it has found it's home on the path between our house and our neighbors. They say the path between two homes is never long, especially if your neighbor is a friend. And I am so lucky, because mine is one of the best!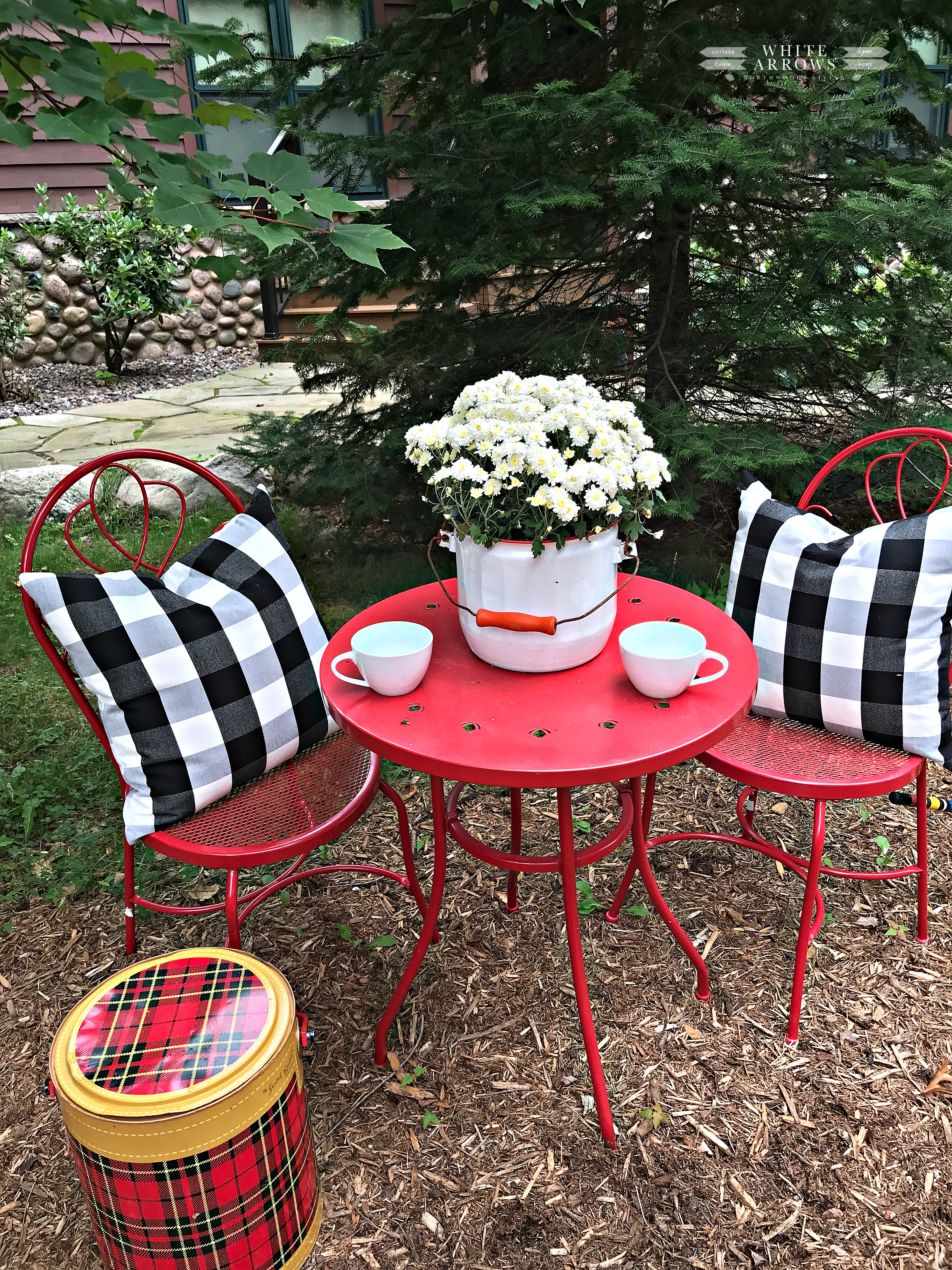 I love deciding to use one piece as a springboard for my decor like the green buffalo plaid rug was this year and see where it all ends up…with white mums, copper mugs, black and white buffalo plaid and Farmer's Market Flowers! I am just loving how it came together!
Thank you so much for coming along on my tour! I hope you have found some simple inspiration for your own Transition from Summer to Fall. Next up is my friend Cindy of Country Home 407. You will not want to miss her tour! I always leave Cindy's posts with a smile on my face! For a full list of links on the Tour ( you won't want to miss a single one!) see below. Happy Early Fall!