When Amber from the beautiful blog, Follow the Yellow Brick Home, asked if I would like to participate in a Garden Tour Blog Hop with a group of fellow vintage decor lovers, I was so excited. If you are coming over from The Painted Hinge, wasn't Michelle's tour beautiful? I am always so inspired by her posts. I thought this tour would be a great time to share my other happy place with you, Happy Trails. Happy Trails is my Mom and Dad's mountain home in Montana.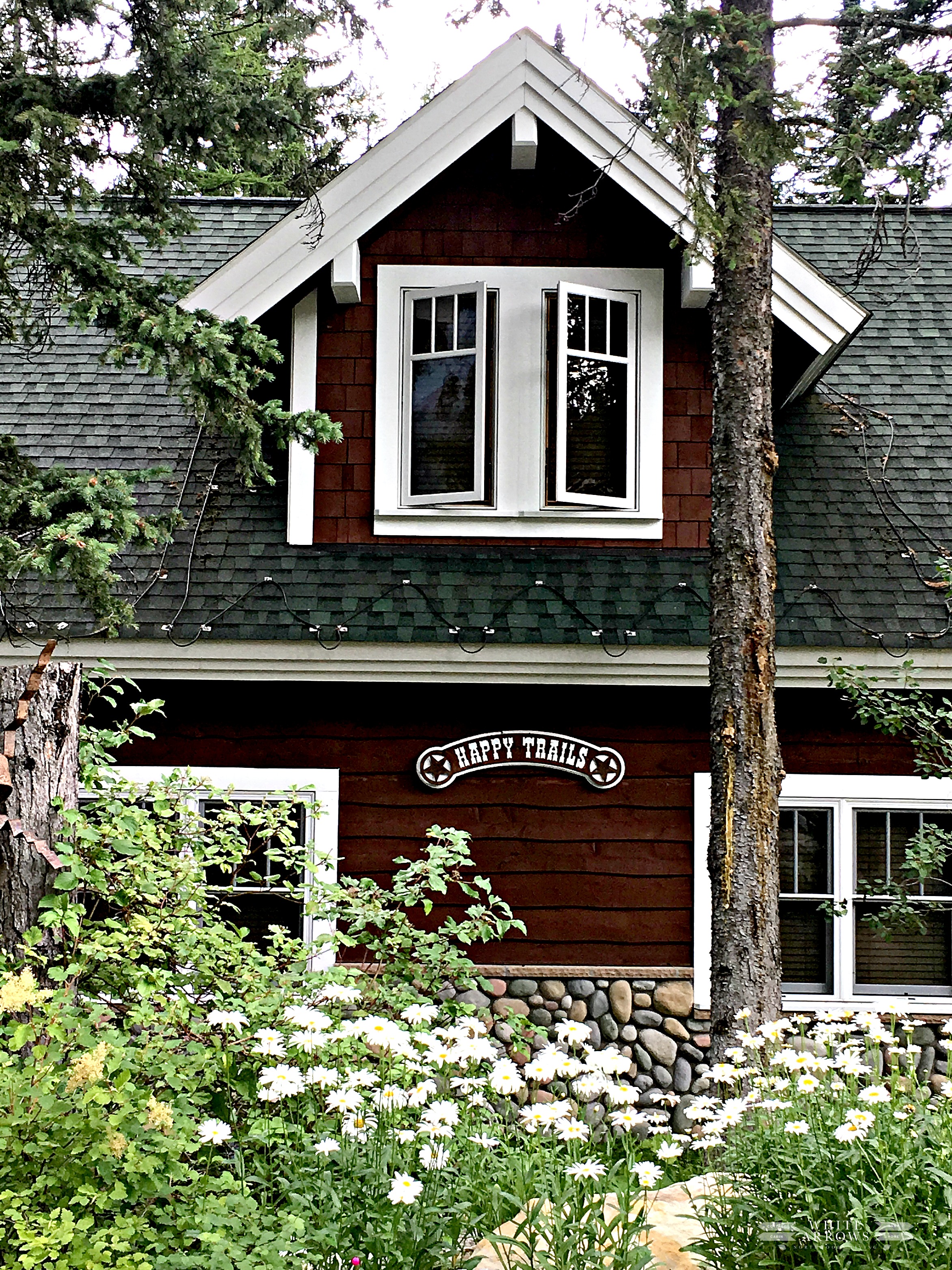 My Mom is who I get a great deal of my creativity from (my Dad's creative too). She's the most amazing hostess, cook, decorator and gardener. And her summer garden is full of vintage goodness. There are surprises everywhere you look and down each path you take.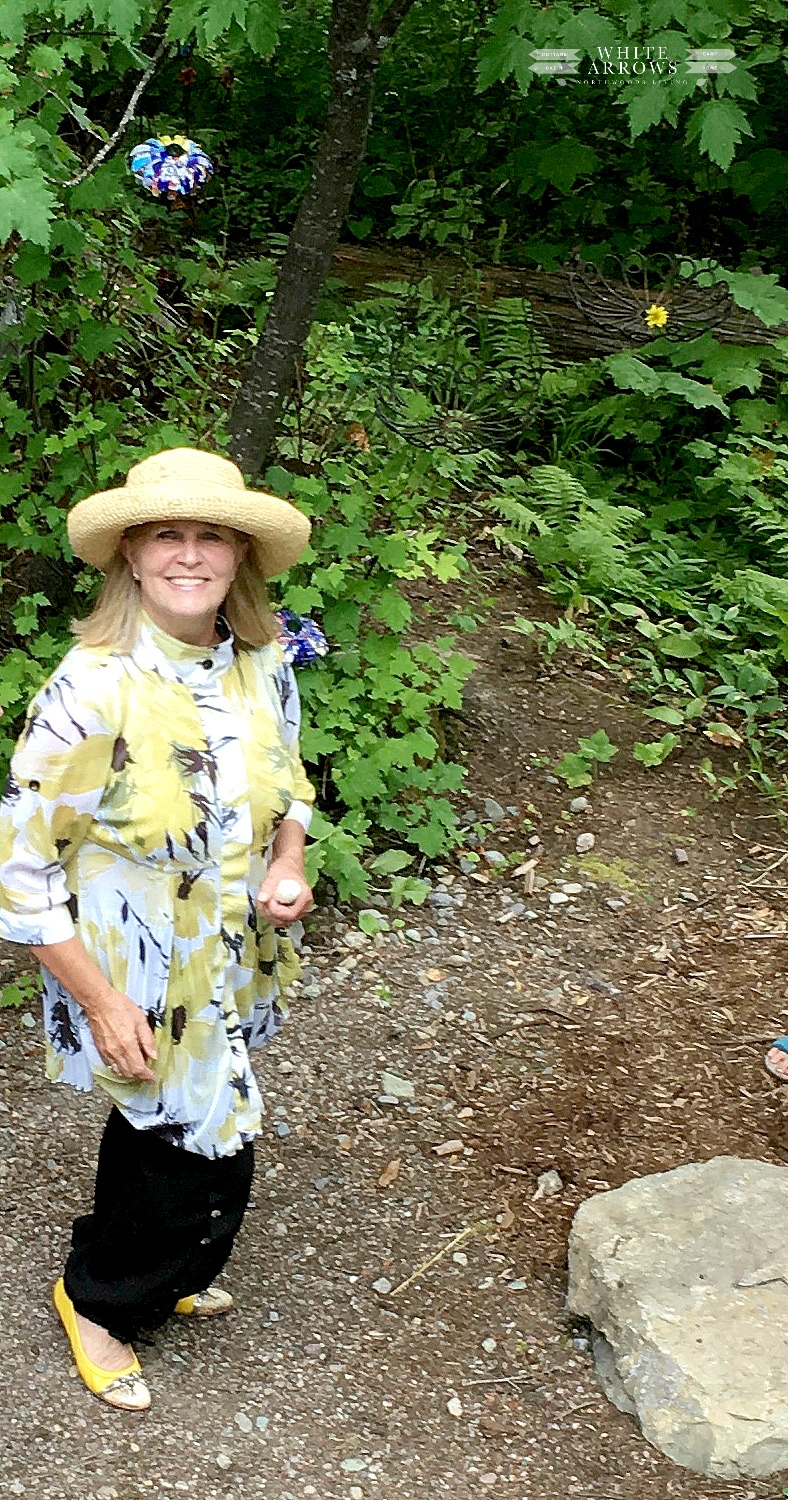 One of my favorite things she's done is taken mismatched, thrifted dishes and used them as a border in her garden just below the deck.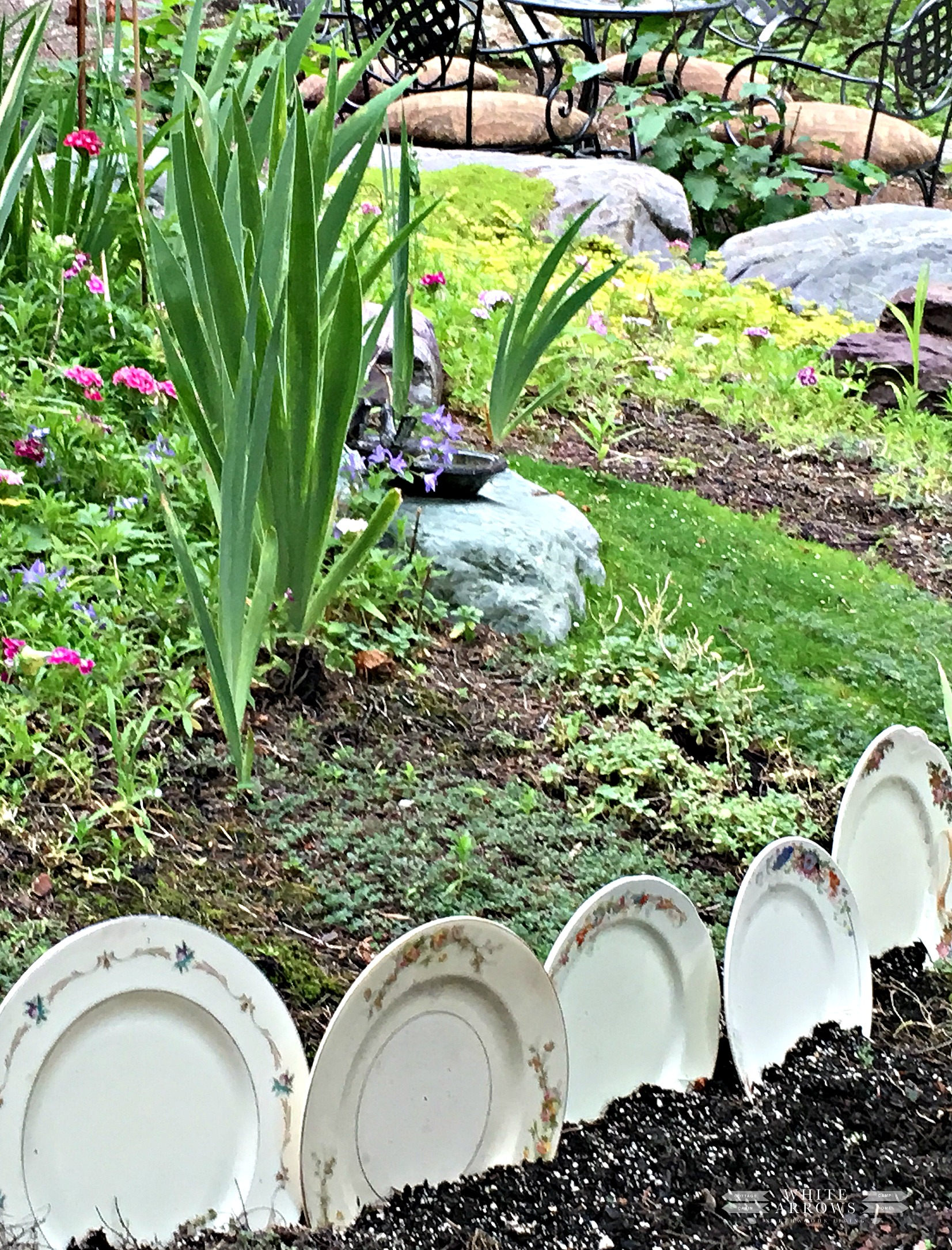 A sweet little bird bath sits on a boulder bordered on one side by bulbs and annuals and lush green moss on the other.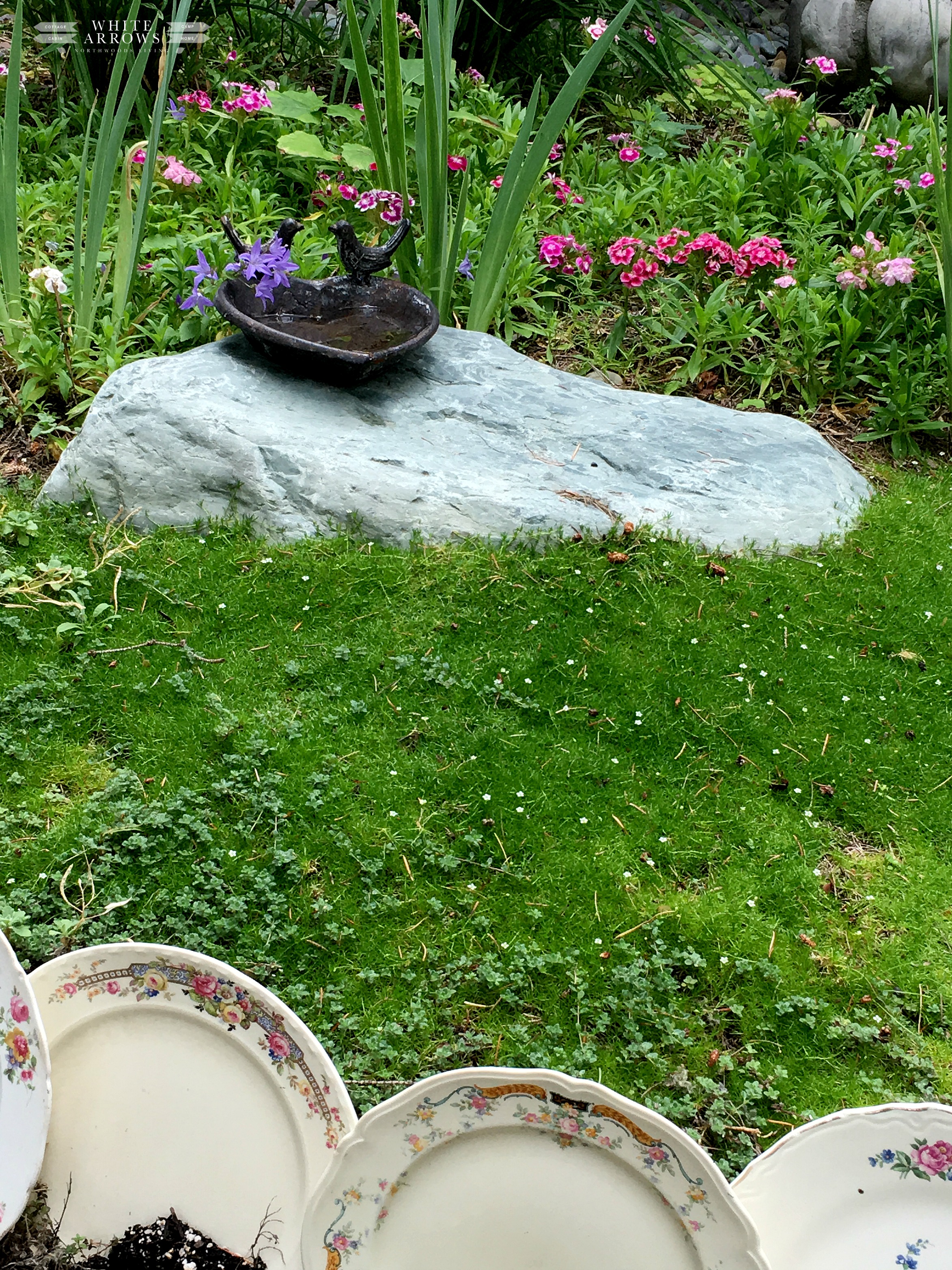 Across the creek there is a carved wooden bench to sit and listen to the brook gurgle past or a path to an enchanting spot for tea.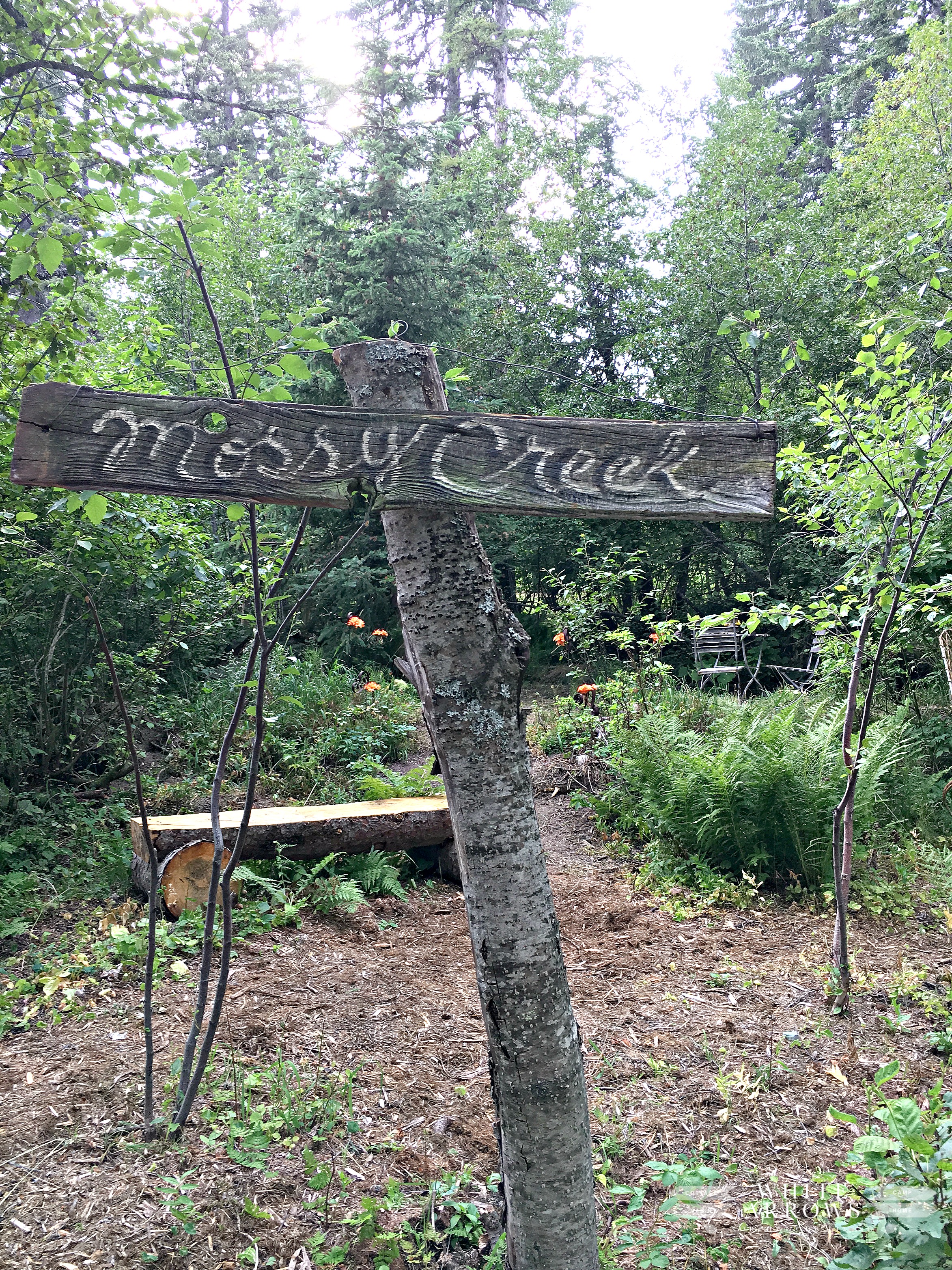 Rusted metal spikes hold pops of fresh orange flowers down the path.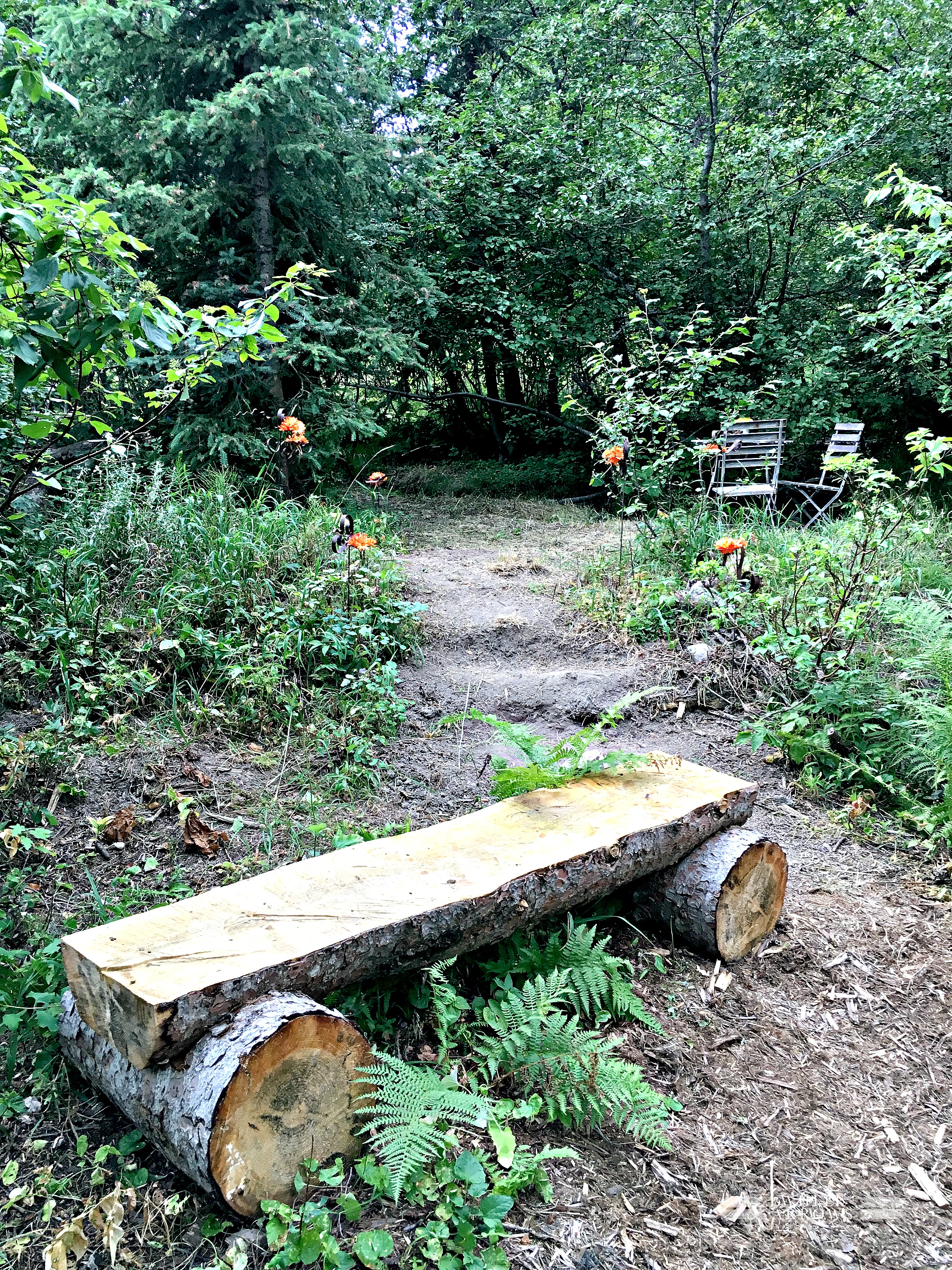 I love how she tucks her garden art into the natural foliage and forest. A bird house hangs inside an old frame.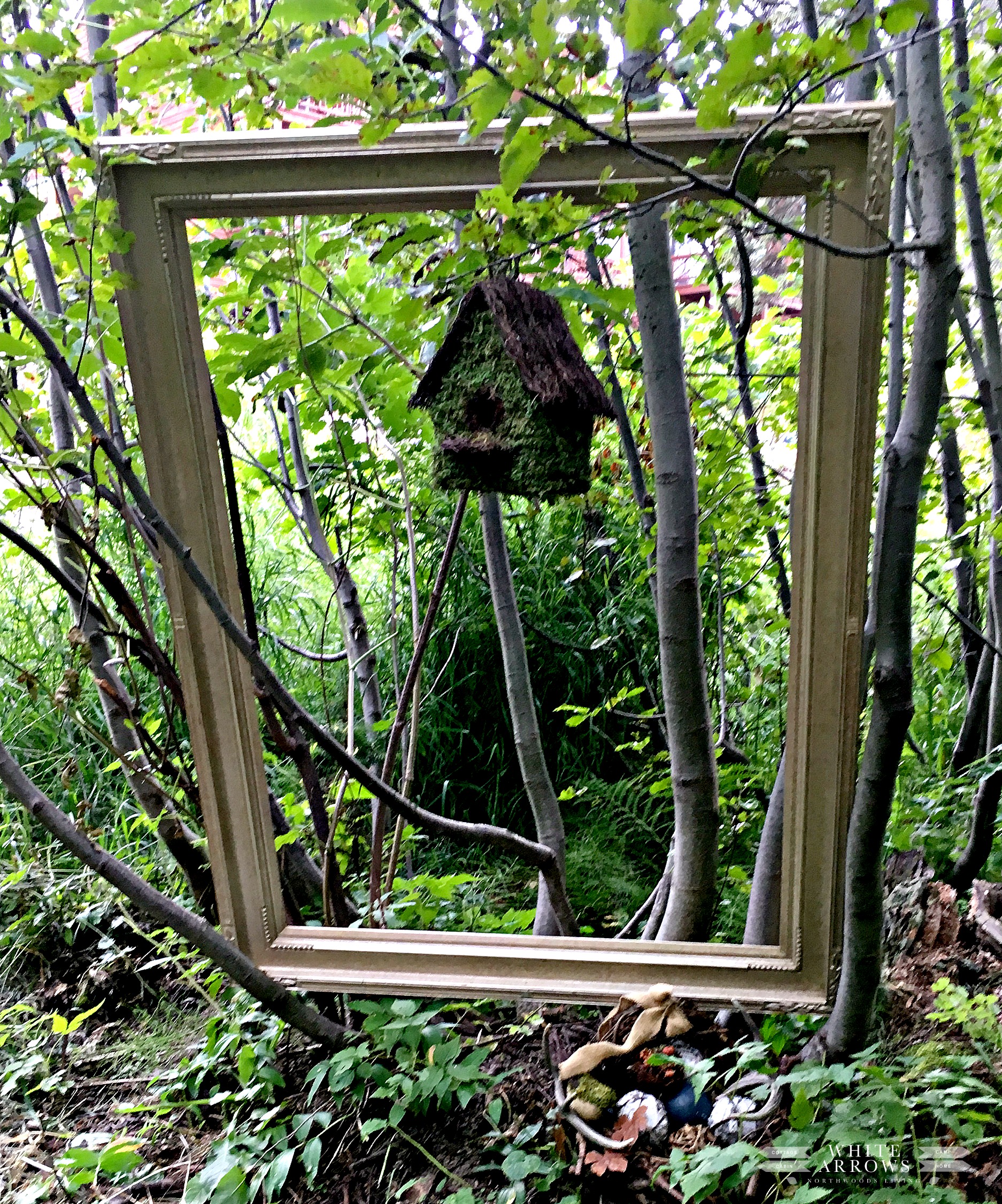 Want a quiet spot to sit and relax? Old tractor seats on top of a fallen log are the perfect spot!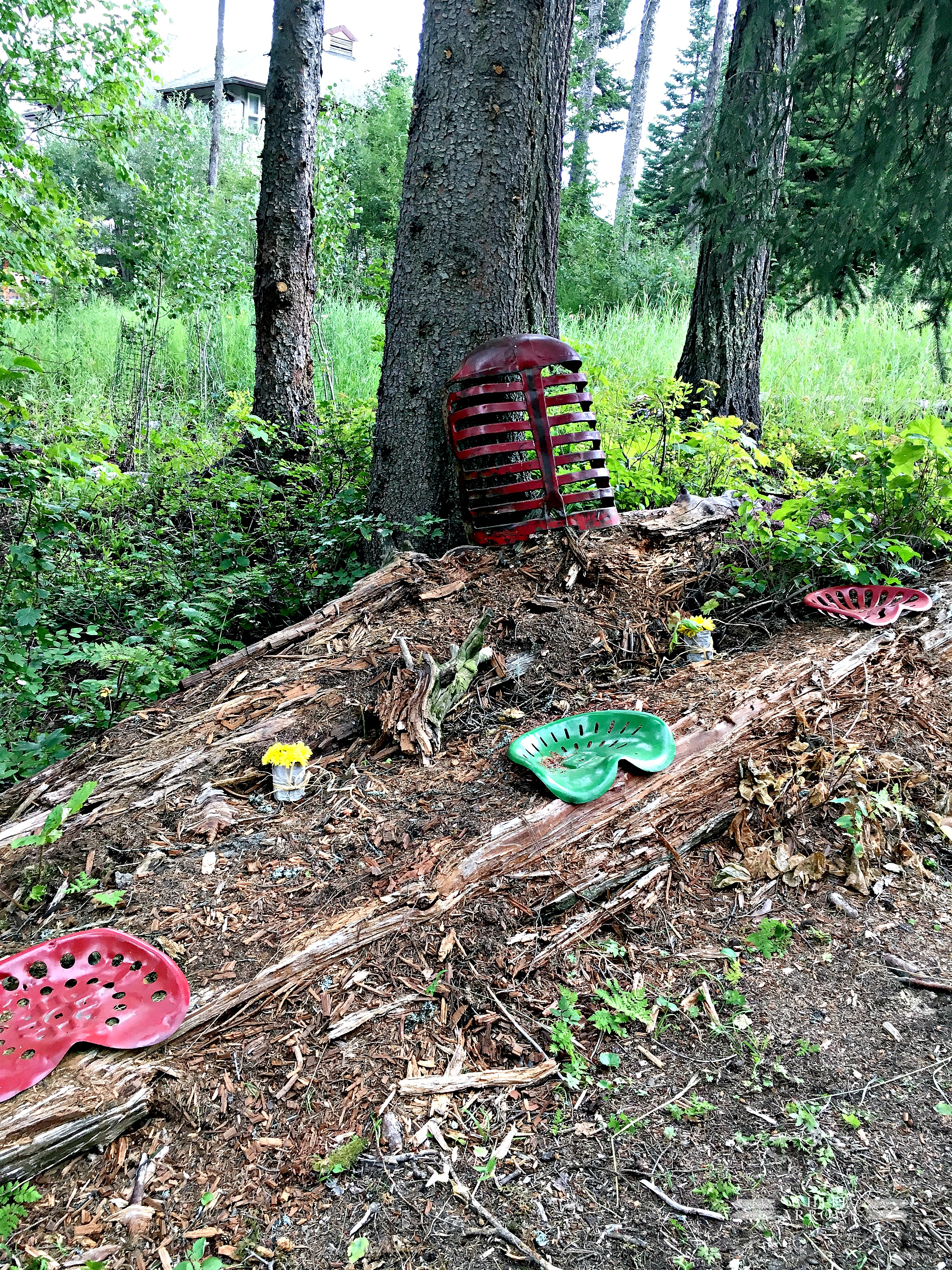 Rusty old pieces have been crafted into beautiful flowers.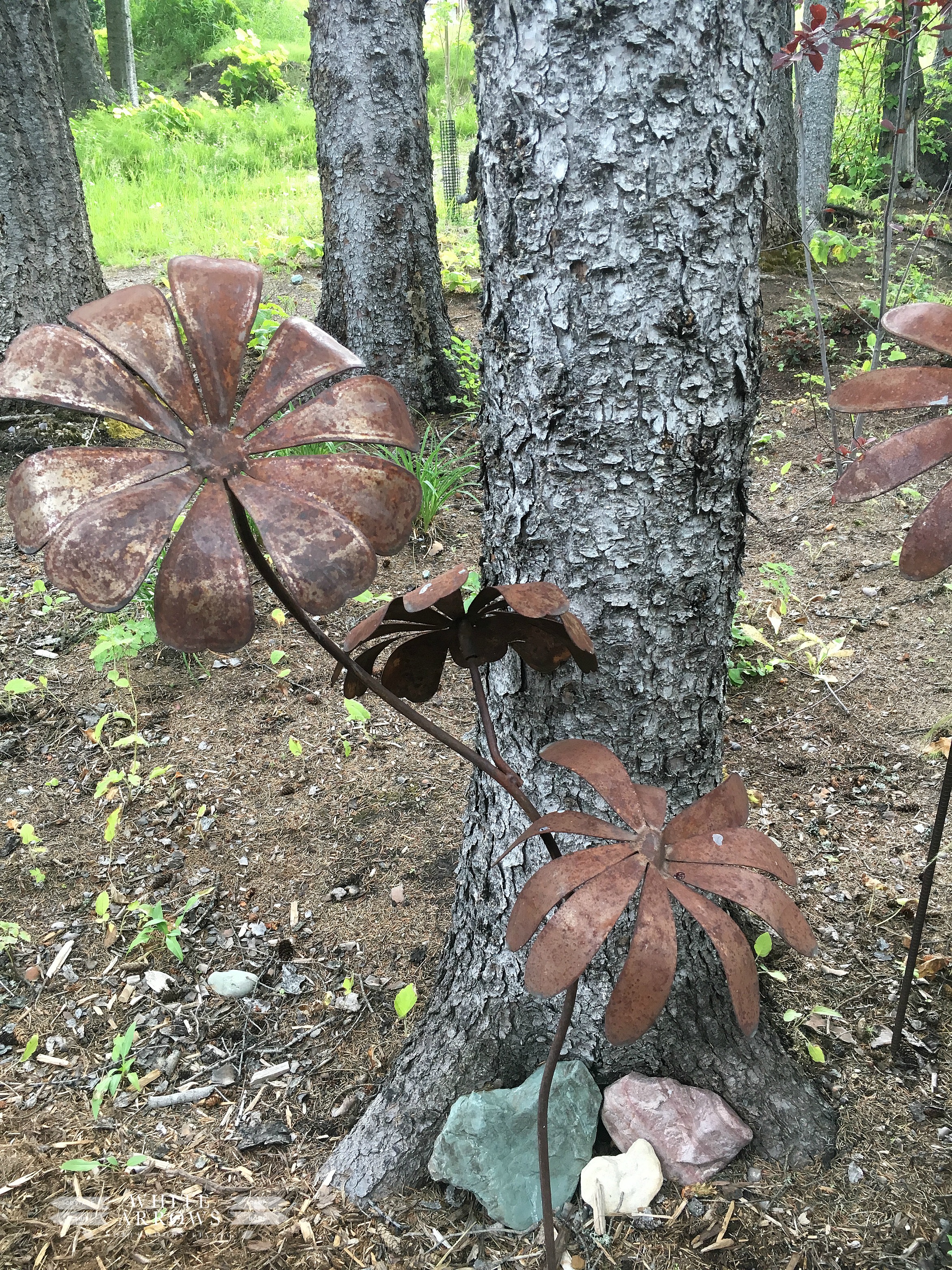 Below is a view looking back at the house from across the bridge.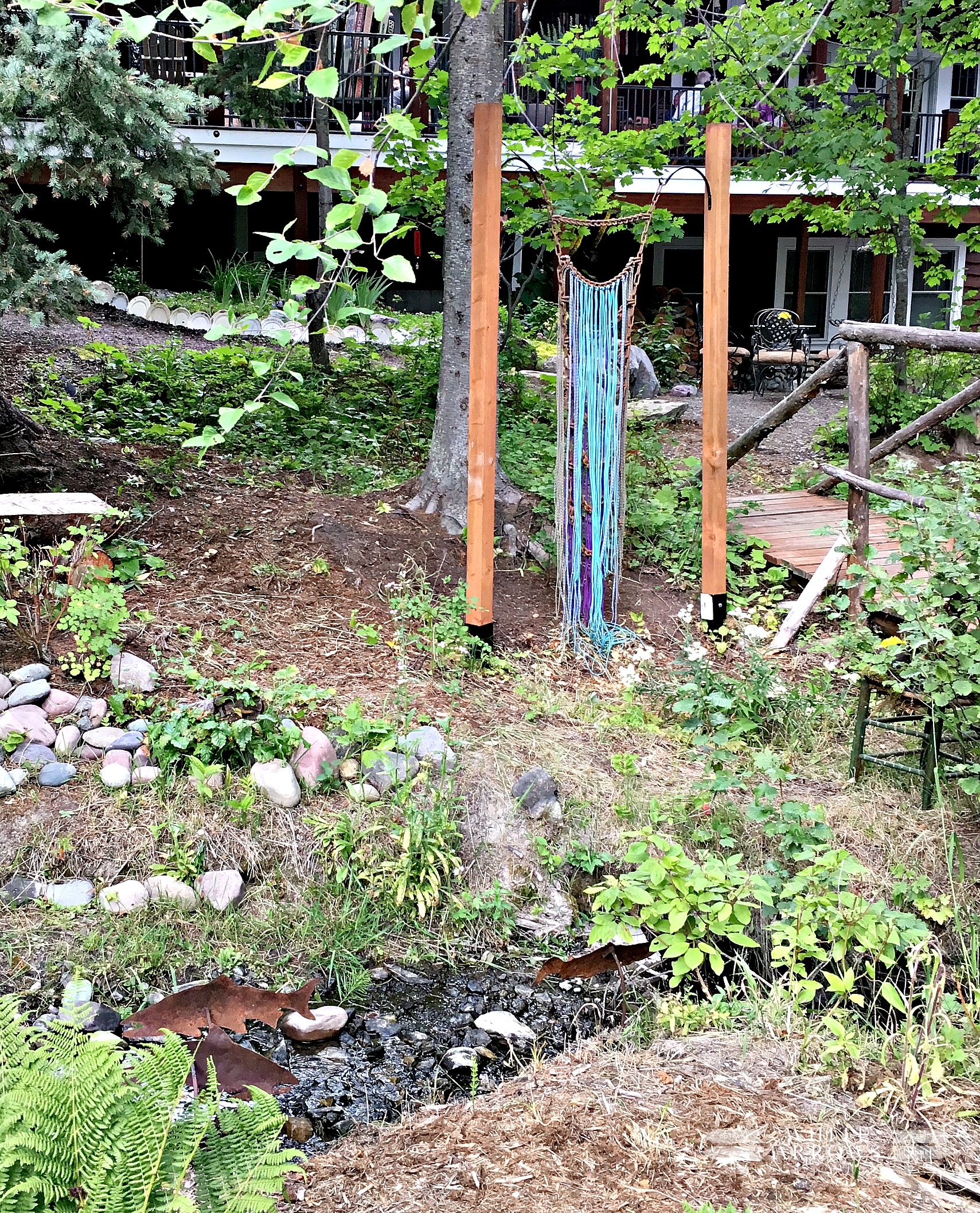 My mom made this beautiful and creative piece by hanging old chains from plant hangers and weaving bright colored cord through it.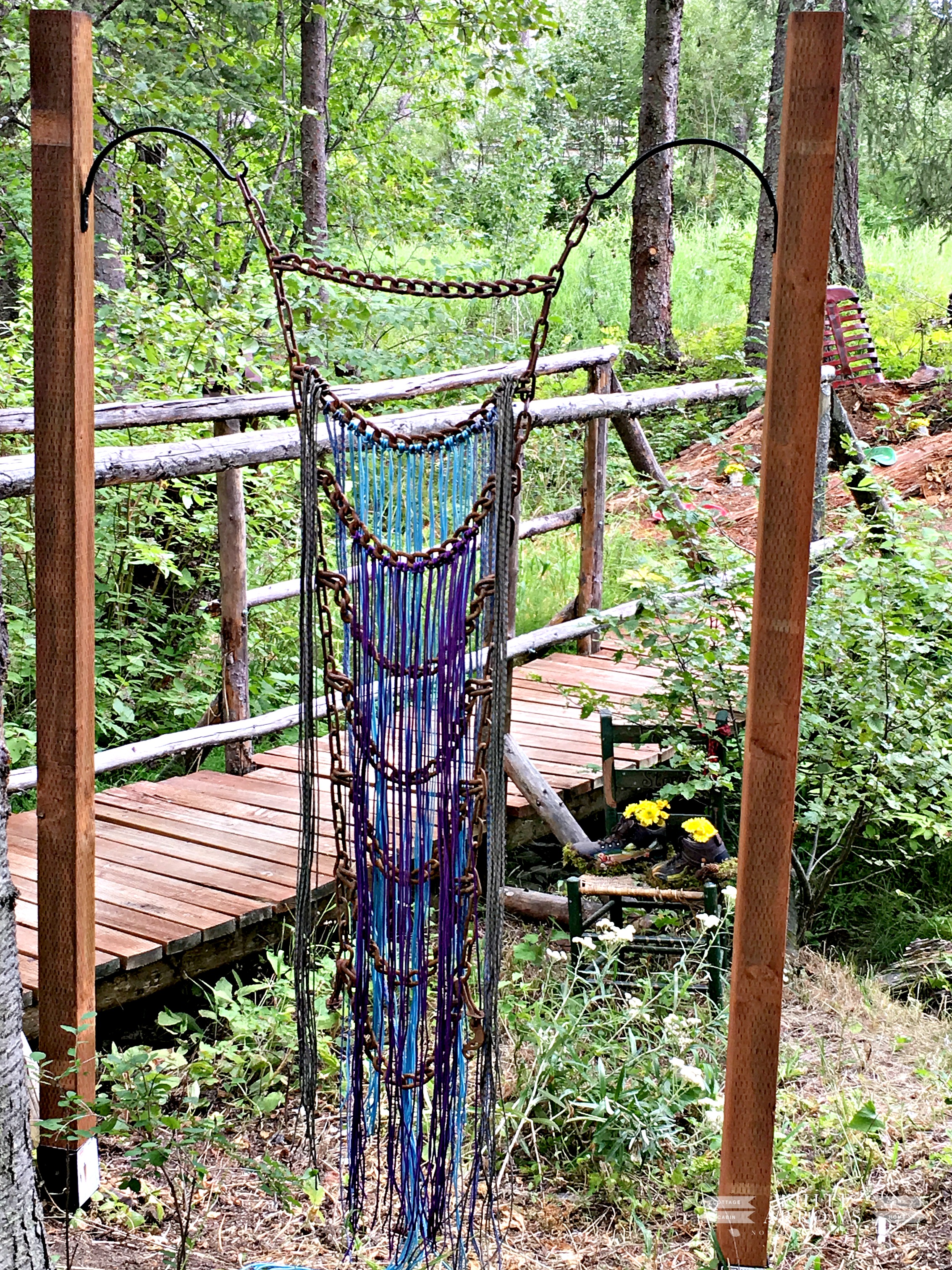 Metal fish swim in the creek.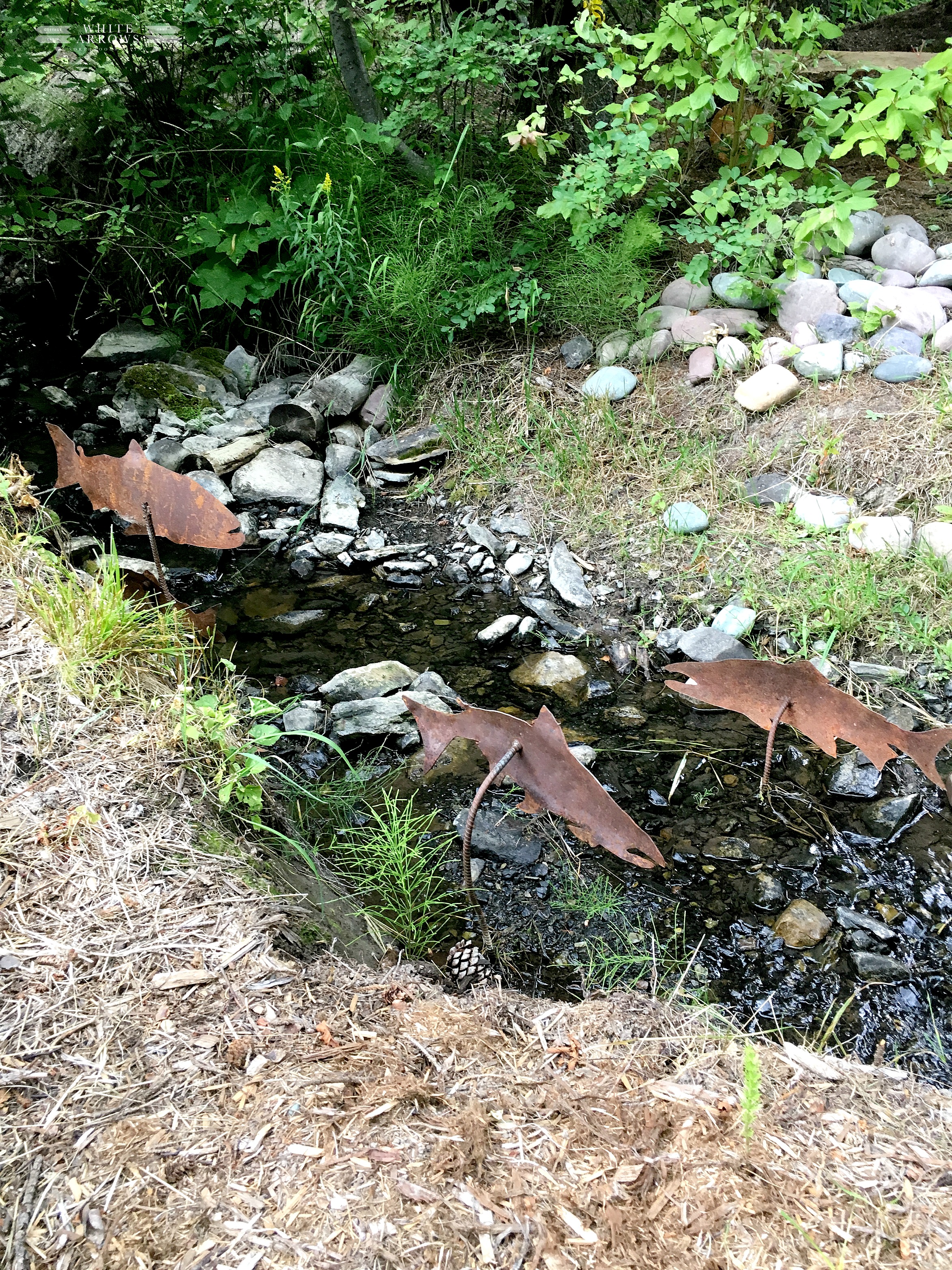 I love our home in Wisconsin and I also love being at my parent's place in Montana. This quote by John Steinbeck sums it up! Montana is so beautiful! I am so glad I got to share my mom's Vintage Garden with you!

Next on the tour is Cindy of  Country Road 407. Her tour and blog are beautiful! And thanks again to Amber Follow The Yellow Brick Home for organizing and including me!!
You can find more inspiration from the other amazing blogs participating in the tour below.


Follow The Yellow Brick Home | Panoply | Decor To Adore​​


My Thrift Store Addiction | Petite Haus | Poofing The Pillows


Art and Sand | Belle Bleu Interiors | Have A Daily Cup Of Mrs. Olson


The Painted Hinge | White Arrows Home | Country Road 407


Lora B. Create and Ponder | Beauty For Ashes
I'll be excited to share more inspiration with you each day on:
Instagram ~ Pinterest ~ Twitter ~ Facebook