See my plan for turning our lakeside guest room into a relaxing and welcoming space for family and friends with nautical touches, beautiful furniture and gorgeous accessories.
Typically celebrated every April and October, The One Room challenge™ (ORC) is in its 17th season! And I'm so excited to participate for the first time! This year with current situation, the ORC was moved to May. Thank you so much to founder Linda Weinstein and Official Media Partner Better Homes & Gardens! Find more information on all the amazing event sponsors here.

The ORC provides a platform for participants to transform one room within a supportive and enthusiastic community while all sharing the process on their Blogs or Instagram each week. The ORC is not a competition. It's simply a celebration of creativity, inspiration, and original ideas.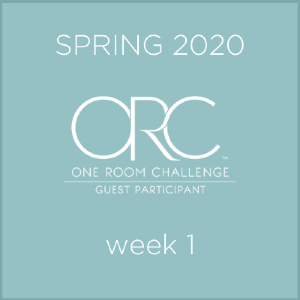 Twenty featured designers are selected each season to share and fellow bloggers and Instagramers are welcomed to link up and share their own room transformations each week. I'm honored to be one of those guest bloggers this year! All participants will document progress in a post each week.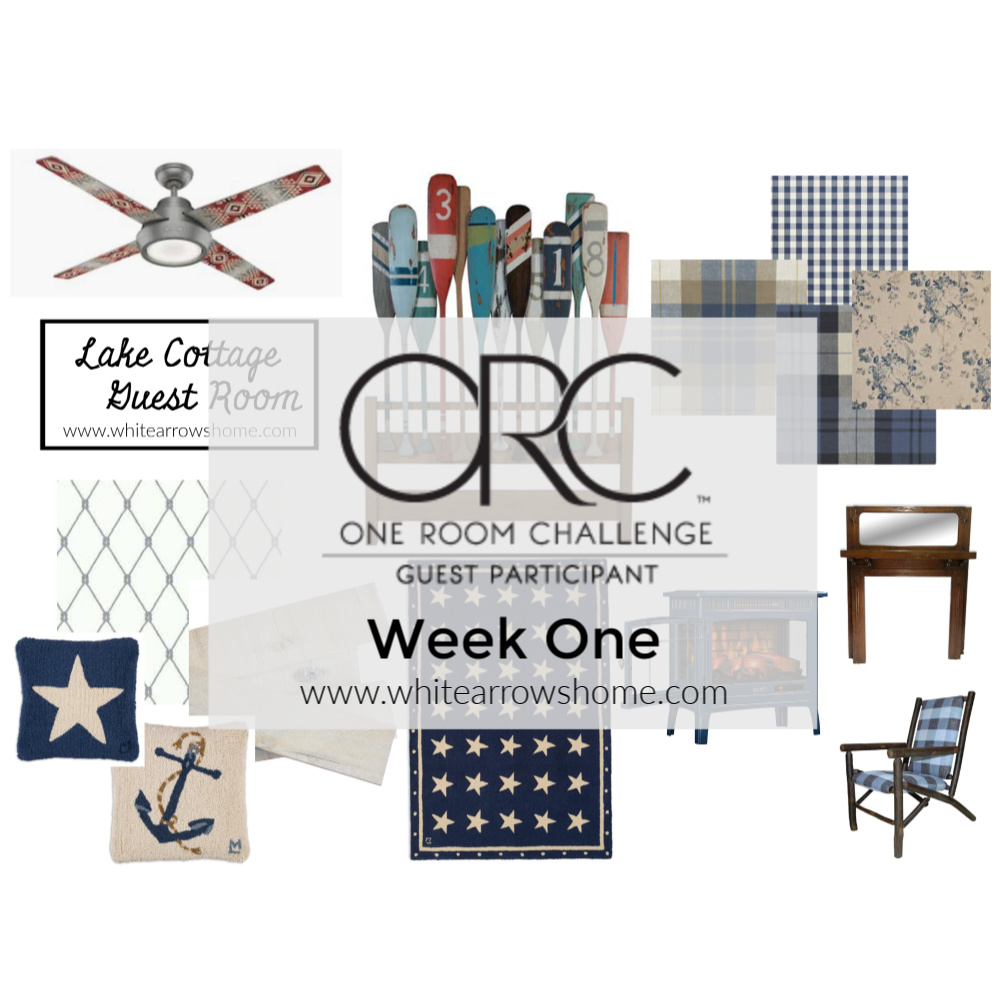 Welcome to Camp Paradise
For my loyal followers, I'm thrilled to share this room transformation with you! If you are a new visitor to White Arrows Home, I'm so glad you stopped by! I hope you find inspiration, not just from this post, but from all the posts on my blog and that you will become a regular. I love to share a warm and cozy mix of design and decor ideas, travel, DIYs, and personal journeys. I am inspired by our Northwoods lifestyle and love sharing with my local and national audience the joy found in discovering an authentic approach to life. You can follow more of my adventures and find encouragement on my Social Media Channels where I share every day.


Instagram ~ Facebook ~ Pinterest ~ Twitter ~ YouTube
Camp Paradise is our lakeside log cabin home in The Northwoods of Wisconsin where my family lives surrounded by pine and birch forests on the shores of a gin clear lake. White Arrow Signs point your way throughout our community. The nostalgic signs inspired my blog name.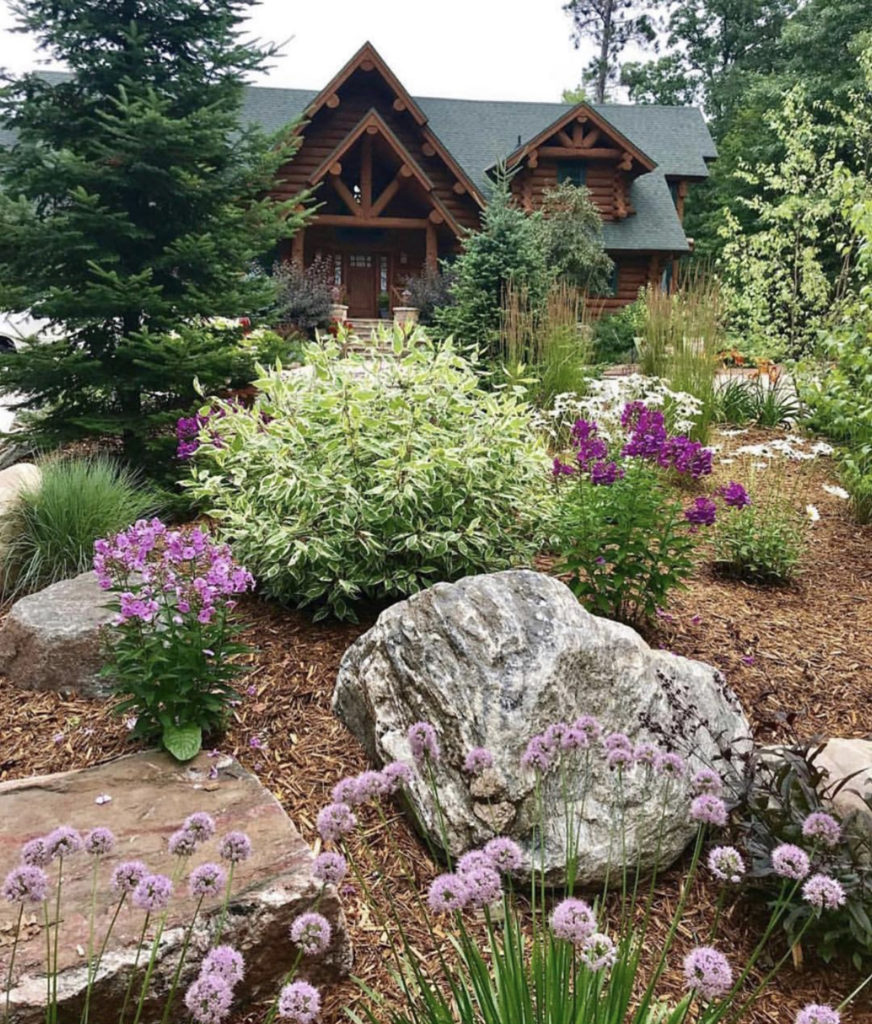 Almost ten years ago our family started the search for a vacation home "Up North". We fell in love with the Minocqua and Lakeland area and bought a full log home. After about a year and a half of never wanting to leave at the end of our weekends there, we decided to move to the lake full time. We've loved our bold move!
We added to our property with the addition of a guest cottage about three years ago. It's a welcoming and cozy small cottage for our family and friends that come to stay. We equipped it with only a wet bar, so all the meals are held in the big house. But three bedrooms, bathrooms and a family room give guests space to relax on their own when they need a nap, want to sleep in or get quiet for the night.
When my two teenagers got older they both moved out to The Cottage, leaving one room designated for guests.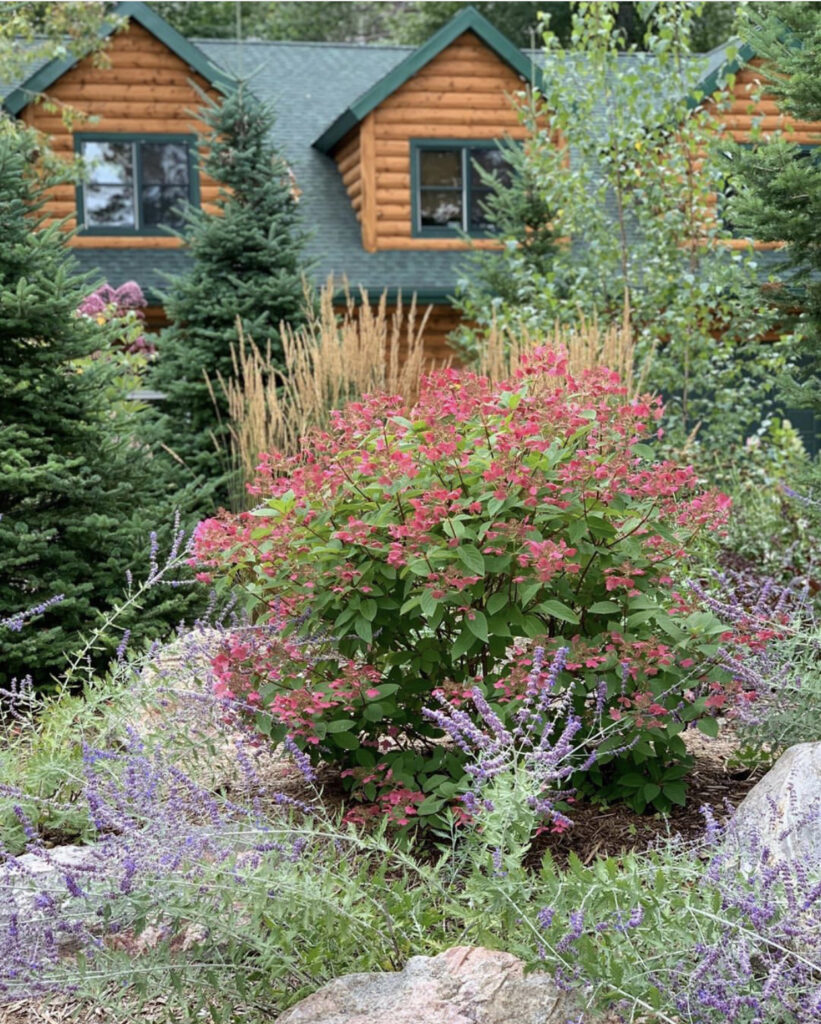 Guest Room Ideas
Our oldest just finished her sophomore year in college. We've been blessed to have her home for the past six weeks. Though it started with disappointment because she was scheduled to be in New Zealand in May, Prague for June and Amsterdam in July, we have turned it into positive time as a family.
Before we knew how times would change, months ago, I had begun dreaming up ideas for turning her room in The Cottage from a teenage girl's room into a guest room retreat. Here are some of the considerations I had while brainstorming and dreaming. I wanted the room to:
still reflect our daughter and be a space that felt like hers when she would come home to visit.
find inspiration from our lakeside location.
combine color and patterns and textures to make the room visually appealing.
blend well with the aesthetics in the rest of the guest house.
be comfortable and relaxing.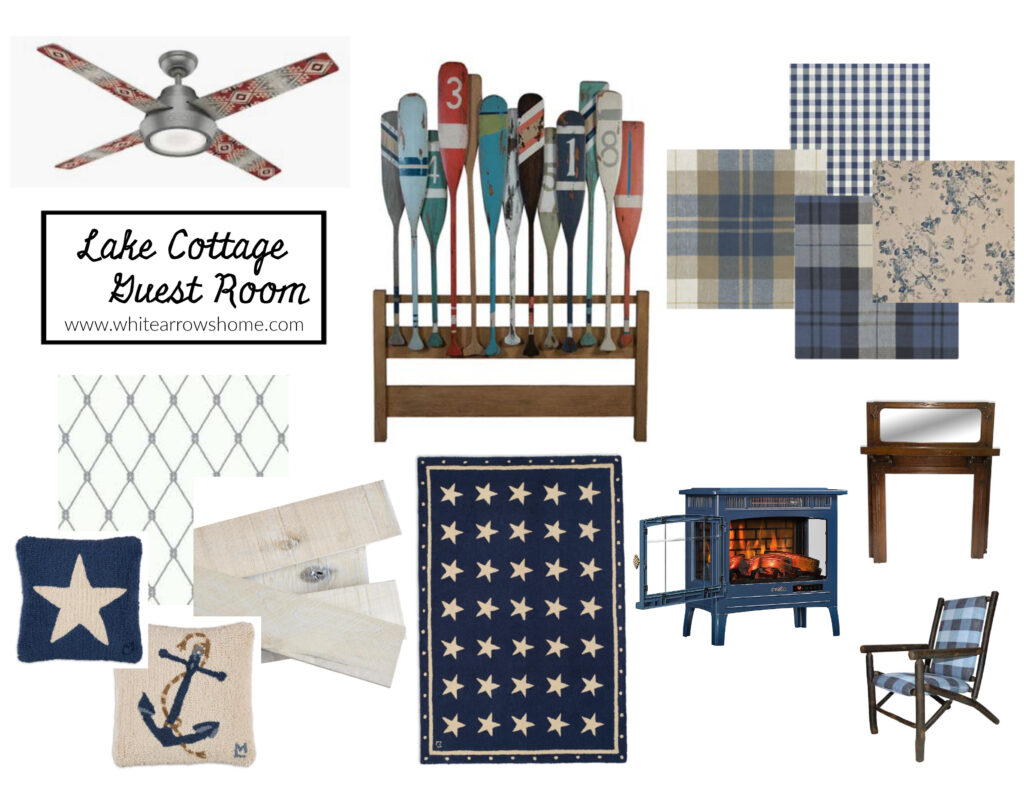 Guest Room Decor
To be comfortable and relaxing I wanted to have a beautiful bed with plush bedding. Good lighting would be important from a ceiling fixture and lamps for bedside reading. I wanted to add texture to the walls and some window treatments. Roughing It in Style, one of my sponsors, was so fun to work with to find the perfect bed and in designing drapes and valances!
I also wanted to find an amazing chair to read in. Another favorite company and sponsor, Old Hickory Furniture, had so many beautiful ones to choose from!
Before Photos
The room before the ORC was full of special treasures for a girl who loves travel and sports. My daughter is a German major with a passion for the outdoors, especially snow skiing and wake surfing. She loves the lake and mountains. I love that the room shows so much of her, but many of these momentos will go into her memory box to pull out when she wants to revisit the memories.
The vision is to turn this wall into a feature wall moving the dresser to a new location in the room. The dresser was passed down from my husband's family. I love incorporating antiques and vintage finds in my spaces, especially if they are family heirlooms.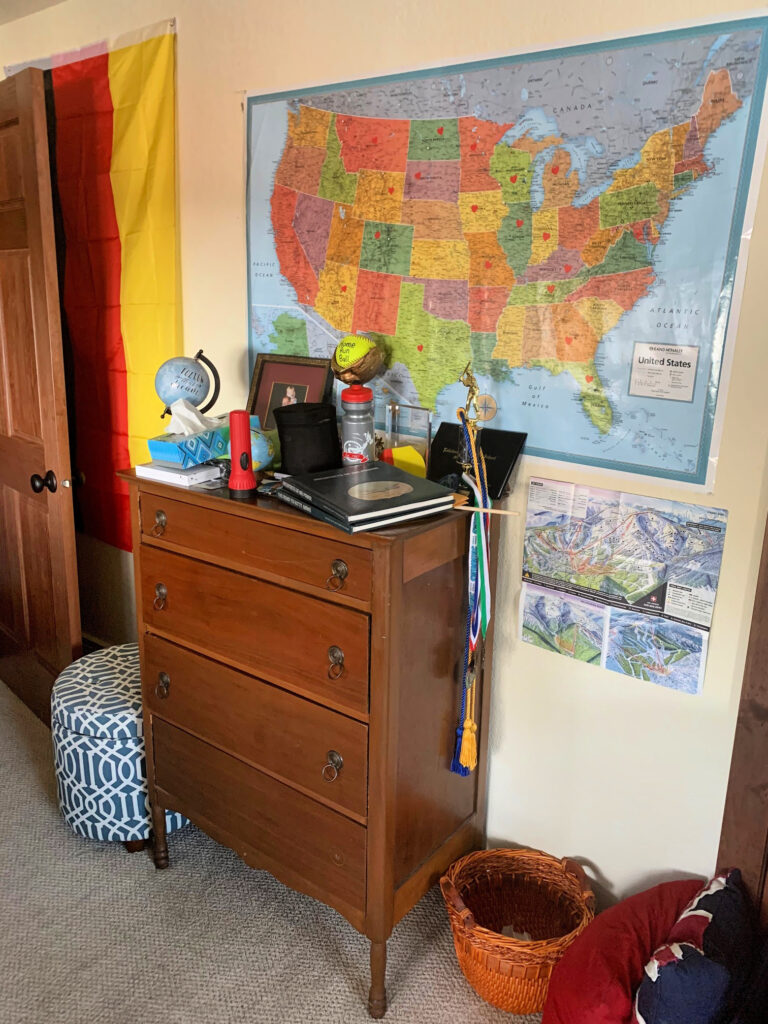 The vintage skis above the window may stay, find out in week 7! I do love the beautiful wood blinds and the privacy they provide, so I plan to leave them installed.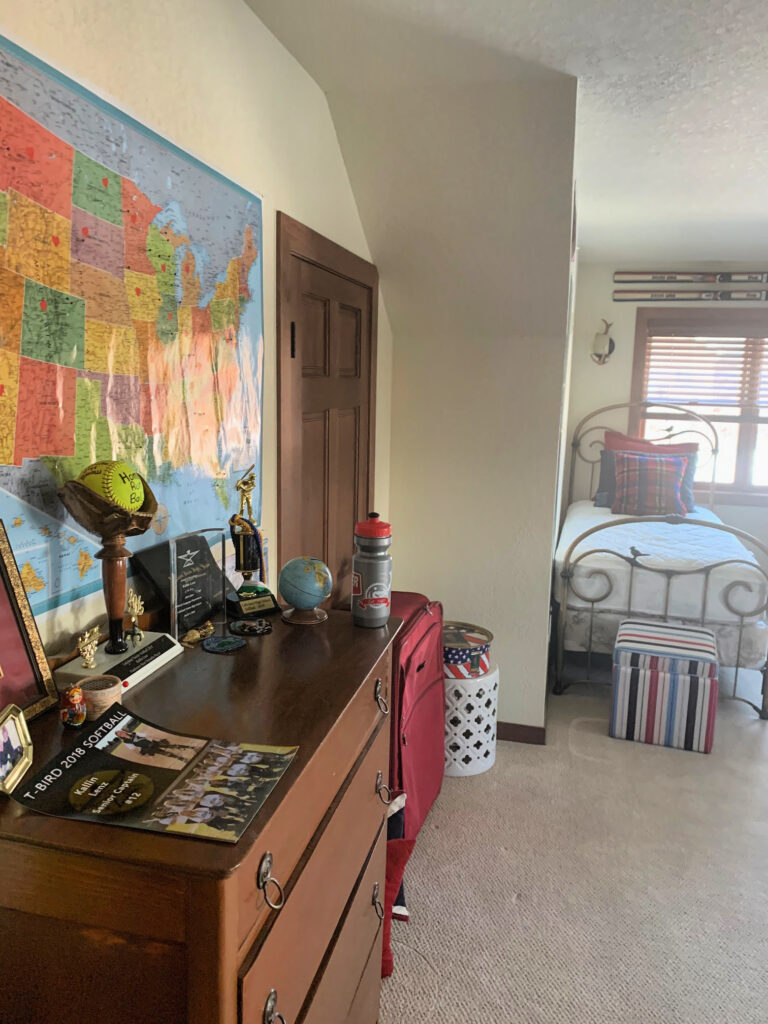 My daughter's thrifted table turned desk will go to her apartment next year. I love how she covered it with stickers from her travels. She'll be taking all her Olympic posters too. So the walls are now left blank and waiting for my new ideas.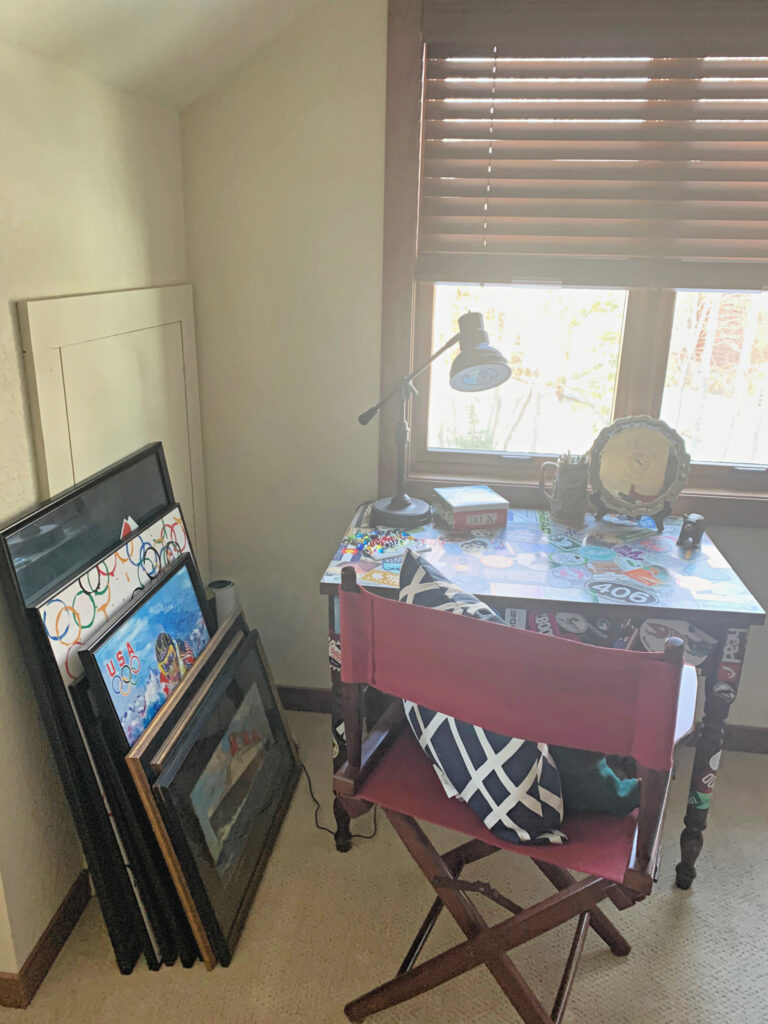 This blah ceiling fixture will be updated to a fun new ceiling fan light. See the details in week 3! When we built the guest house I kept myself to a tight budget and had certain elements I wanted to invest in (like plaid carpet in the gathering room!) and so kept to simple fixtures on the bedroom ceilings. I'm so excited to give this room an upgrade with the help of my sponsor, Hunter Fan Company.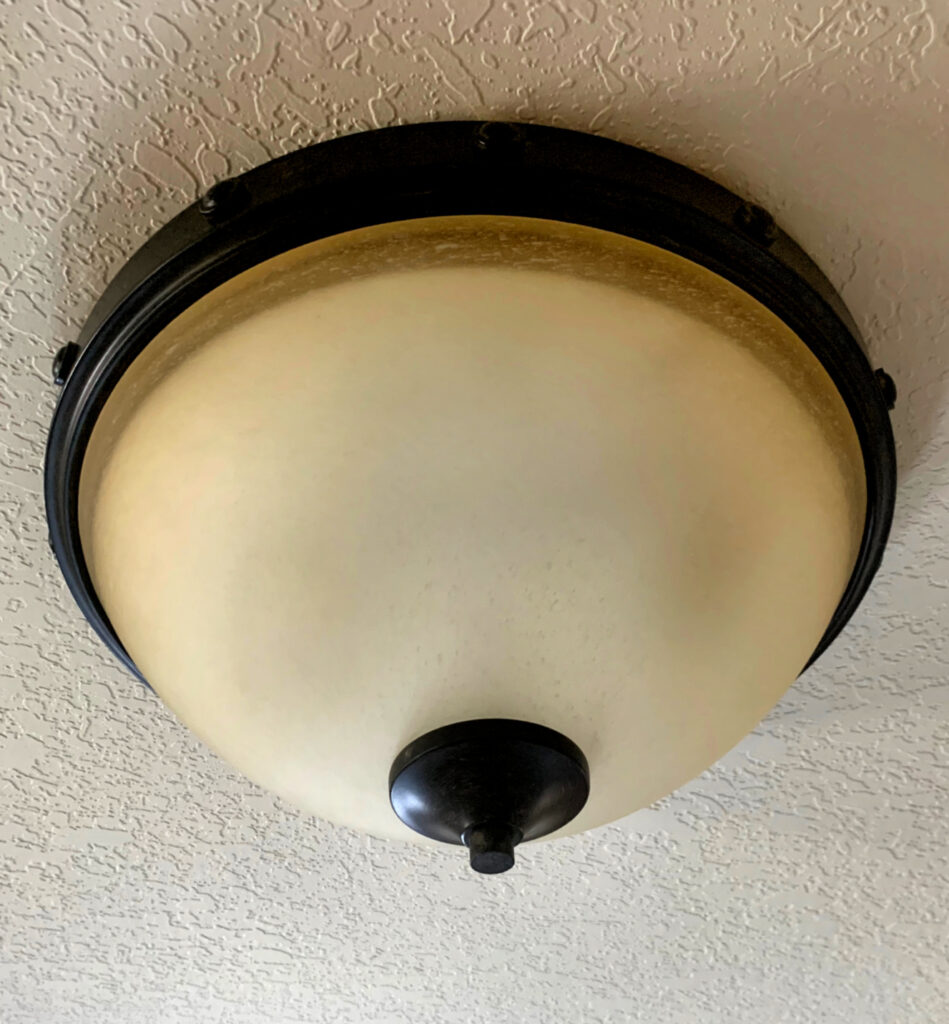 Guest Room Accessories
There are so many fun accessories to add to a nautical themed room keeping it classy and not making it kitschy so that it will fit in with the rest of our home. I can't wait to show them all to you over the next few weeks!! It's going to be something special! My sponsor Chandler 4 Corners helped me add some gorgeous touches!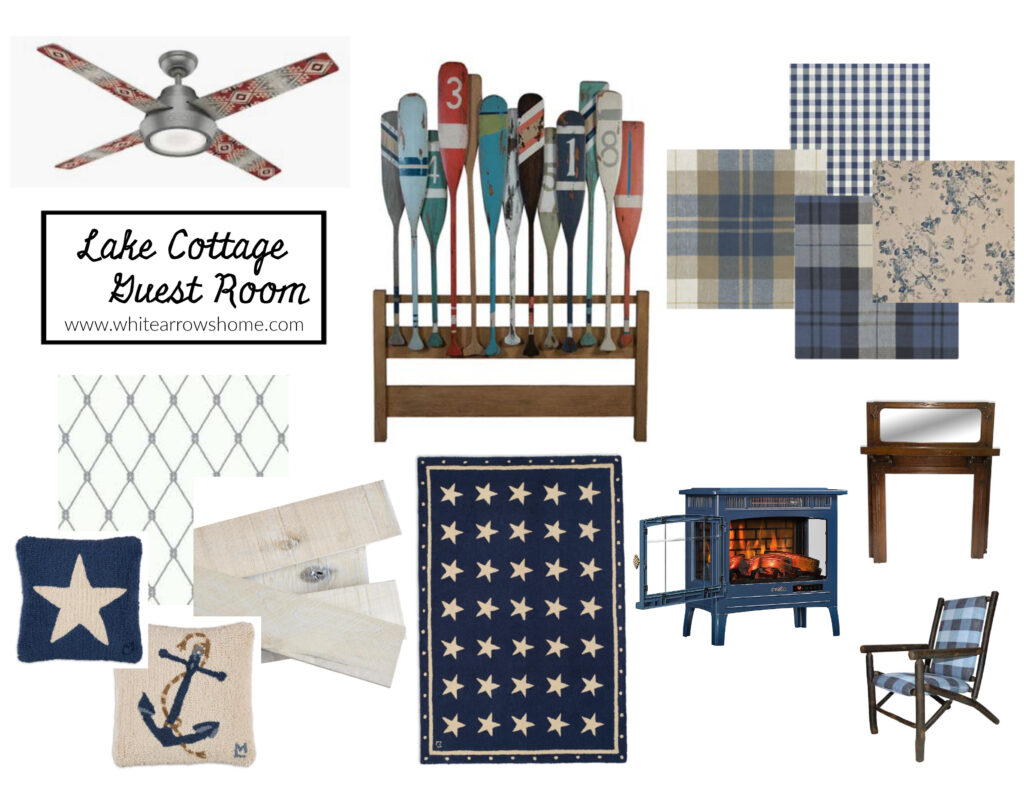 Thank You To My Sponsors!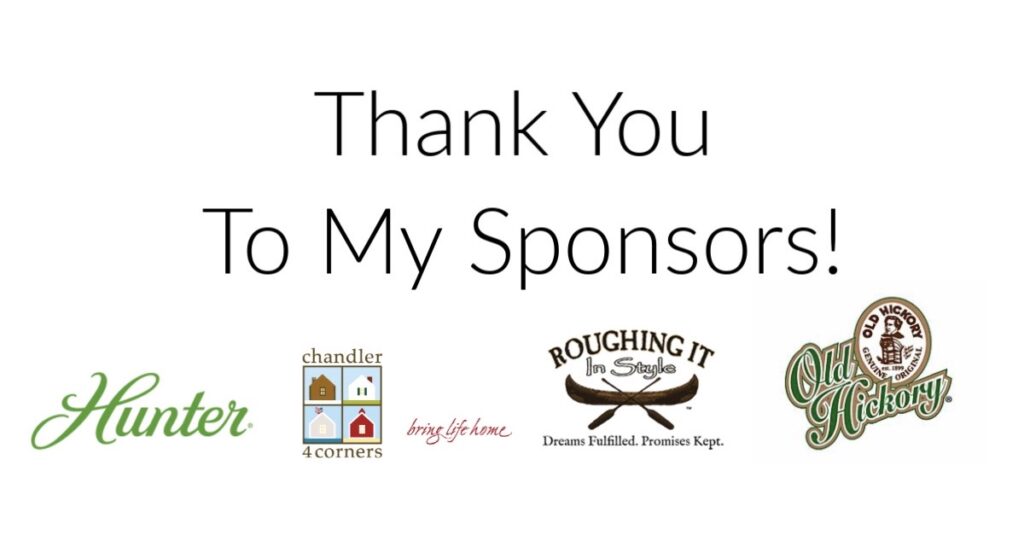 Be sure to visit the ORC blog and find links to visit more of the participants and find more inspiration for all the rooms in your home.
FOLLOW WHITE ARROWS HOME


Instagram ~ Facebook ~ Pinterest ~ Twitter ~ YouTube