Beautiful window treatments and an amazing bed made of paddles bring style to our Lake Cottage Guest Room renovation.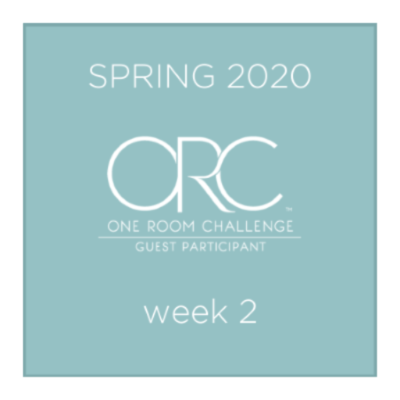 I'm so excited to be participating in the 17th season of  The One Room challenge™ (ORC)  as we redecorate my daughter's teenage bedroom into a guest room. Thank you so much to founder Linda Weinstein and Official Media Partner Better Homes & Gardens! Find more information on all the amazing event sponsors here.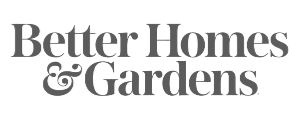 Last week I shared more about the ORC and my design board for this special room. Did you see my plan for the room? We want to transform my college daughter's bedroom into a space that welcomes her home and still fits her style while at the same time serving as a relaxing and comfortable guest room. And I am really excited to partner with a favorite company, Roughing It In Style, for this week's progress!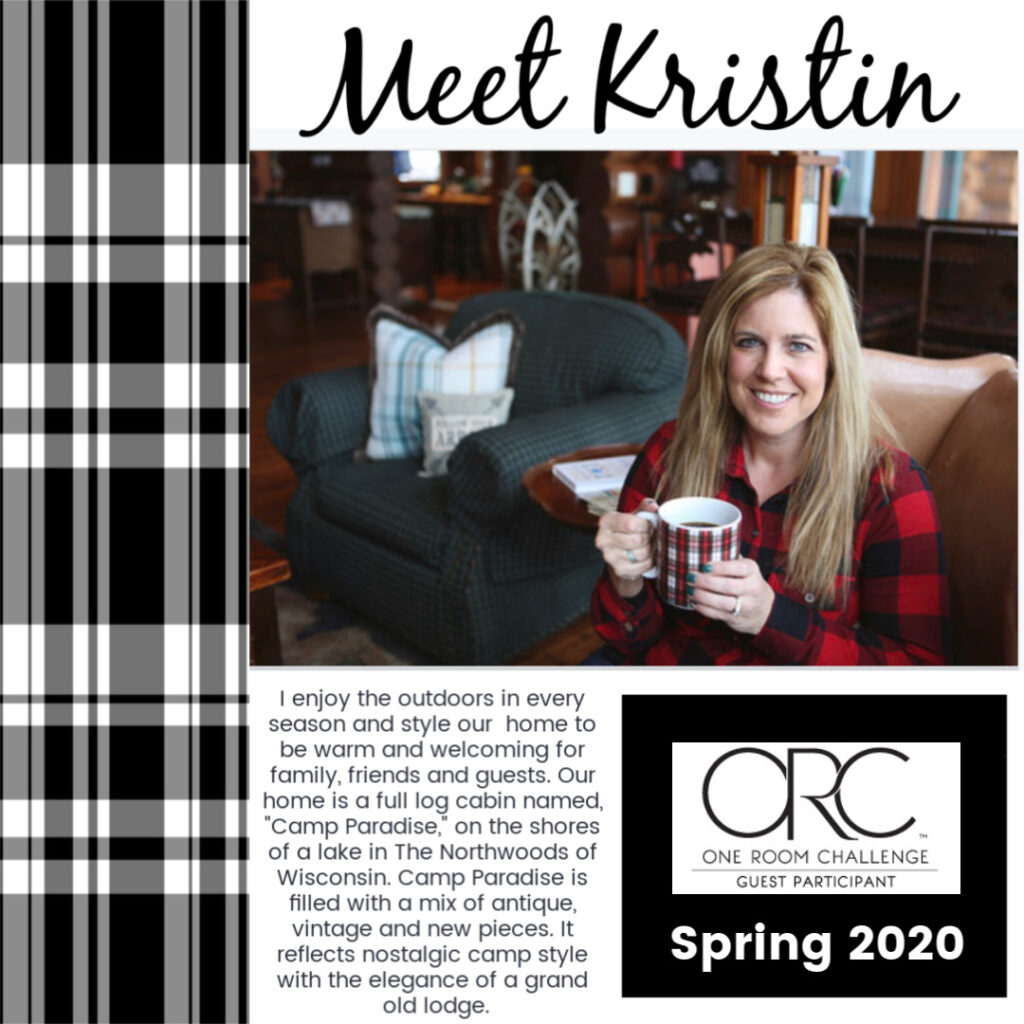 Meet Kristin
For my loyal followers, I'm thrilled to share this room transformation with you! If you are a new visitor to White Arrows Home, I'm so glad you are here as well, and I'm excited for you to become a regular! My hope is that you will find inspiration as I share a warm and cozy mix of design and decor ideas, DIYs, and encouragement from the backdrop of our lakeside log cabin in The Northwoods of Wisconsin. Find more of my adventures from life on the lake by following me on my Social Media Channels.


Instagram ~ Facebook ~ Pinterest ~ Twitter ~ YouTube
The Bed
The very first thing I knew I wanted in our Lake Cottage Guest Room was a nautical feel. I wanted color and pieces with character. This paddle bed was the perfect place to start. It was the springboard for all the rest of my ideas for the room.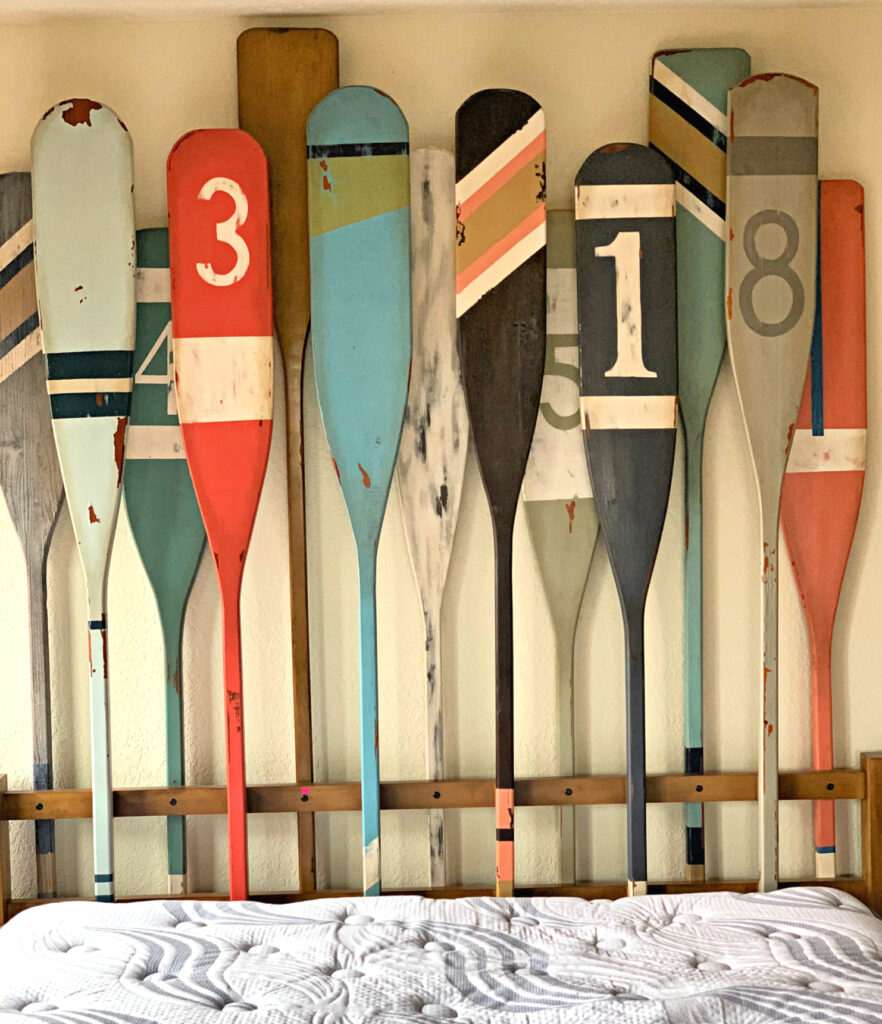 I found the bed at one of my favorite stores, Roughing It In Style (RIIS). RIIS has two locations, The Northwoods of Wisconsin and Fort Collins, Colorado. If you live nearby either of these locations, you will want to shop there often! If you are further away, they are still able to help you. RIIS just launched a new website that will provide on line shopping for all their beautiful furniture and accessories. Anything you see that you like, if you don't see it available on the website yet, give them a call from wherever you are.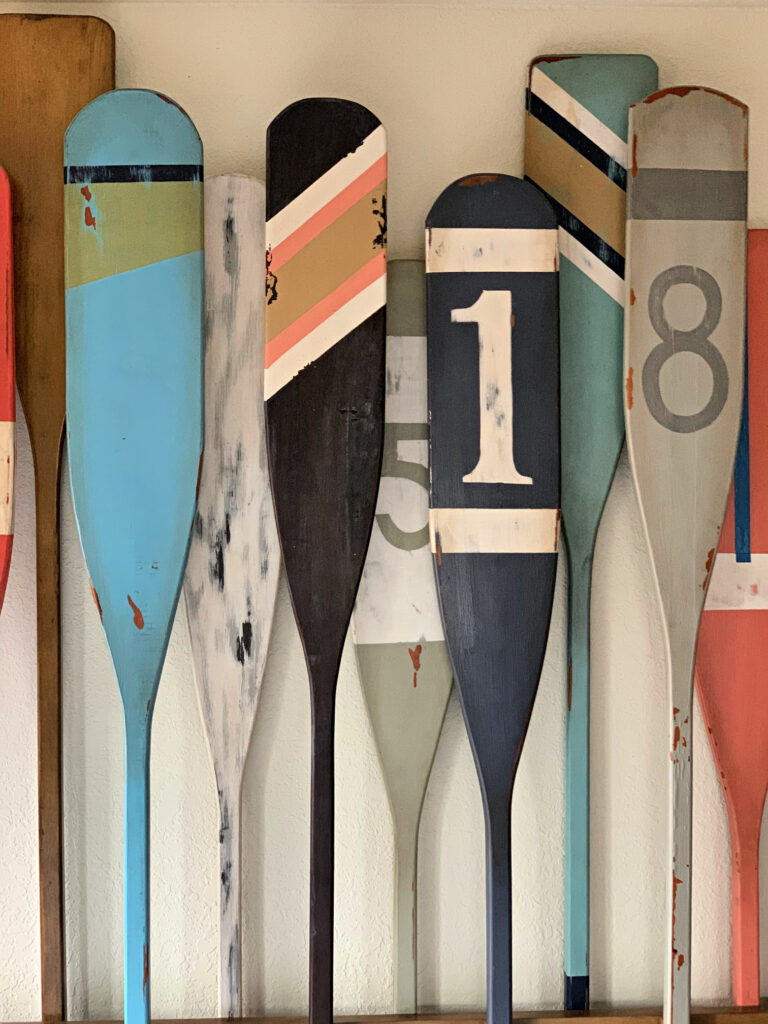 The footboard has paddles too.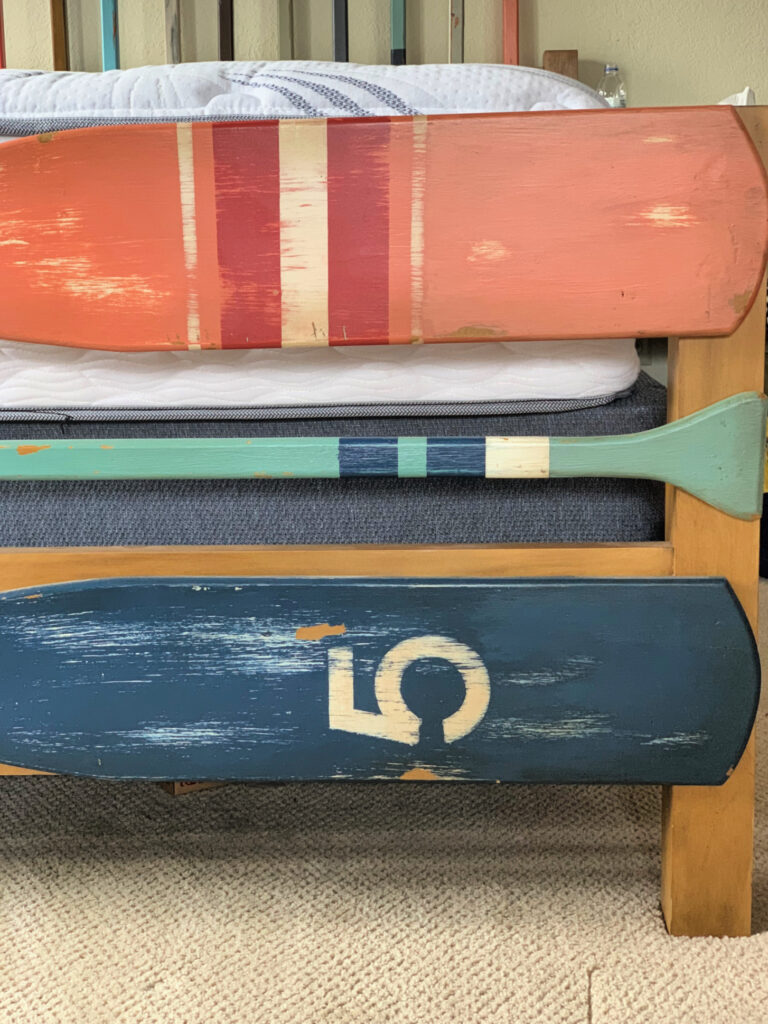 I'll be excited to share the bedding for the paddle bed in a few weeks. There were so many options and directions I could have gone with all the different colors the paddles provide. I love the staggered heights and designs on each paddle.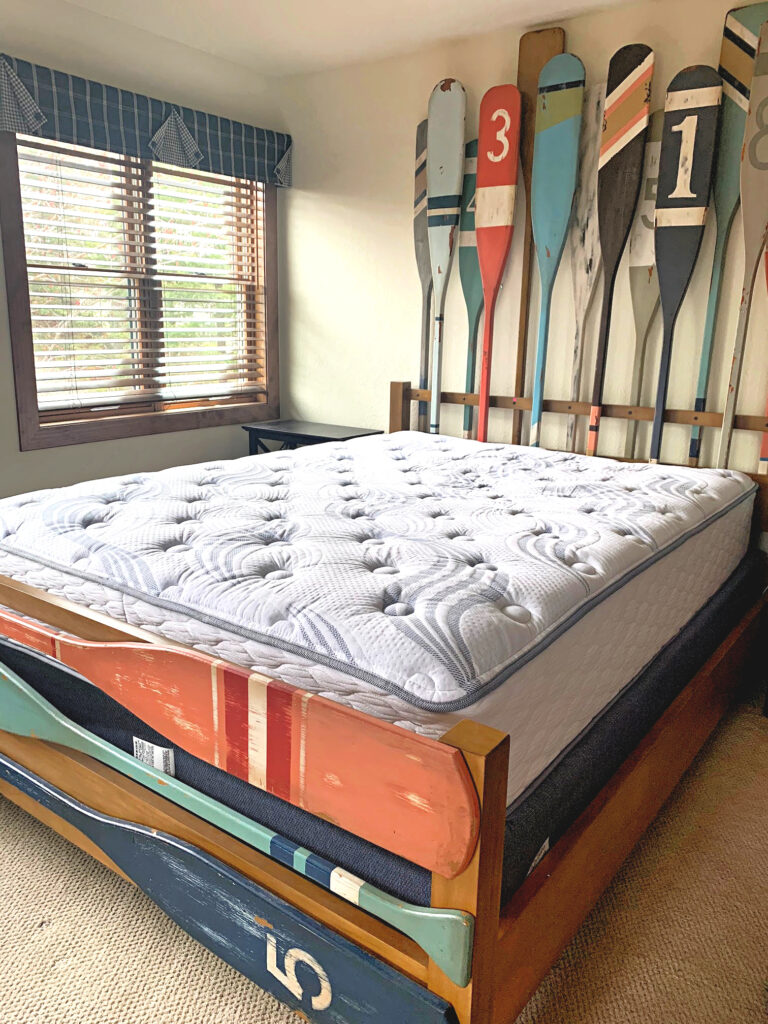 Curtains
When we built our guest house three years ago we put in beautiful wood blinds, knowing that some day I would want to add window treatments as well. RIIS was the first place I thought to go! I had one of their interior designers come over to help with with ideas and fabrics. One of my favorite things about RIIS is the people that work there. Everyone is so helpful, knowledgable and friendly. And their ideas are so inspired!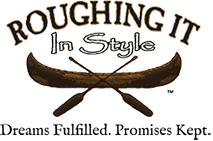 Valances
There are three windows in the room. Two along the East wall and one in the dormer. Laura had a great idea to do valances on the East wall windows and drapes in the dormer.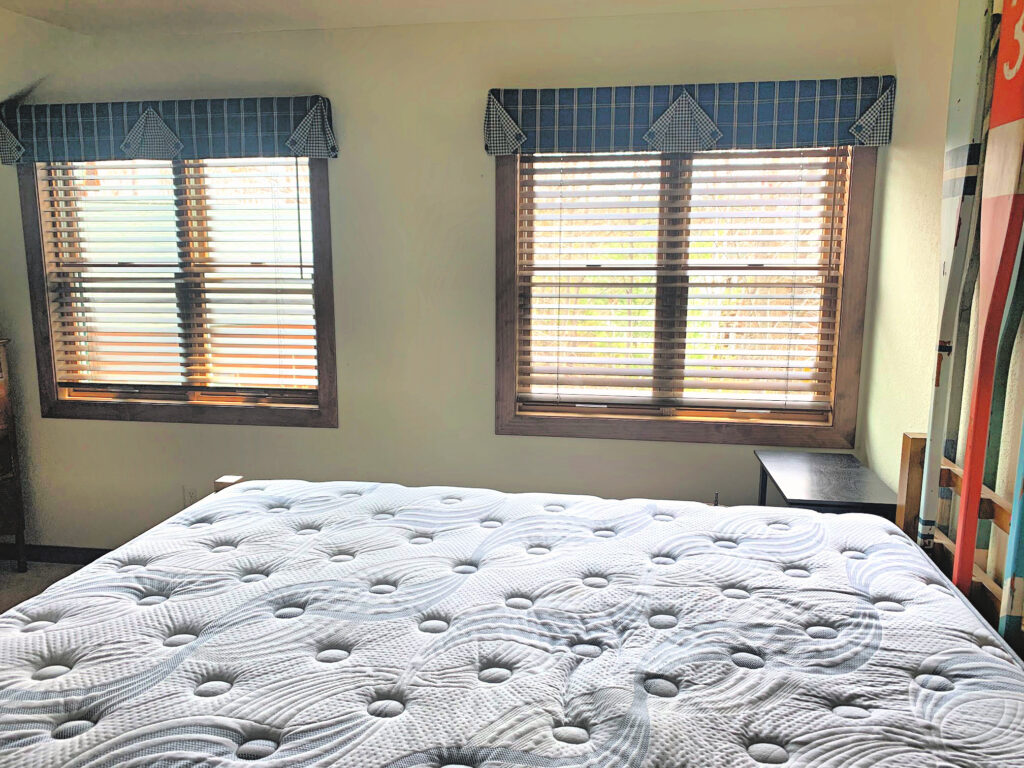 Brian and Kyle, RIIS movers, came along to help Laura with the install. We have purchased a lot of amazing pieces from RIIS over the years and Brian and Kyle are the best. They are so upbeat, positive and professional!

The design idea for the valances Laura had was so pretty. She used the same plaid that the drapes were made of and backed them with a blue and white gingham. Then in the middle of each valance the plaid was folded open and held back with buttons giving the under fabric a peek a boo spot.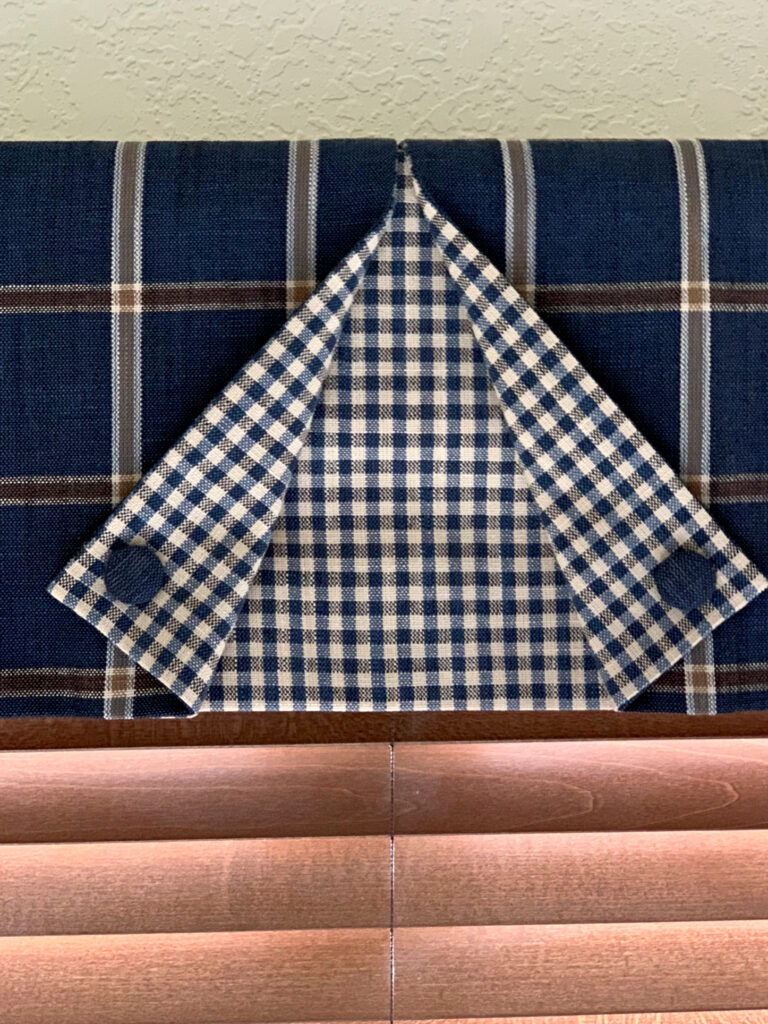 Each end of the valance was folded back as well and held with buttons.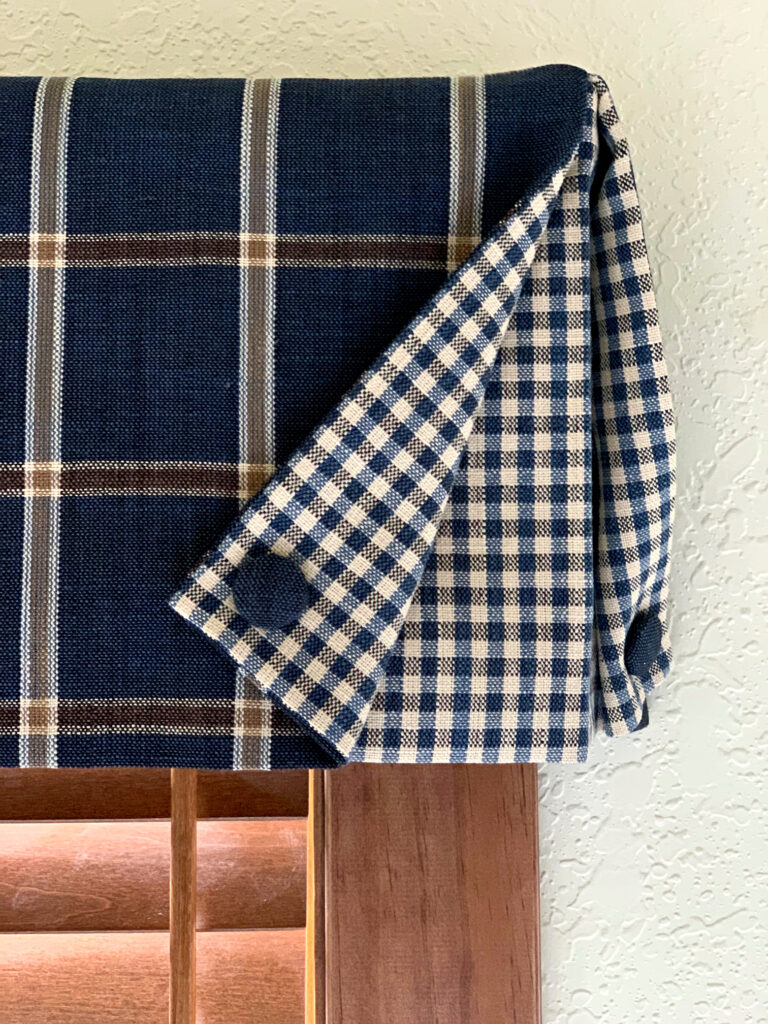 Drapes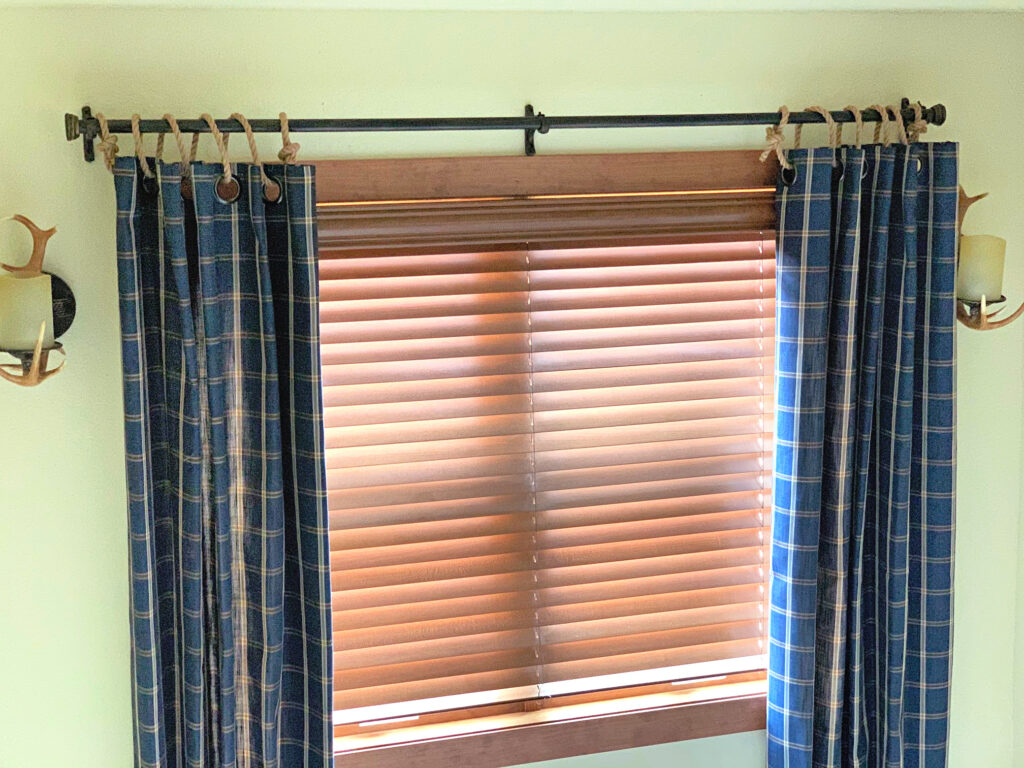 I showed Laura my inspiration board and we met at Roughing It to look through their amazing selection of fabrics. I loved this plaid right away.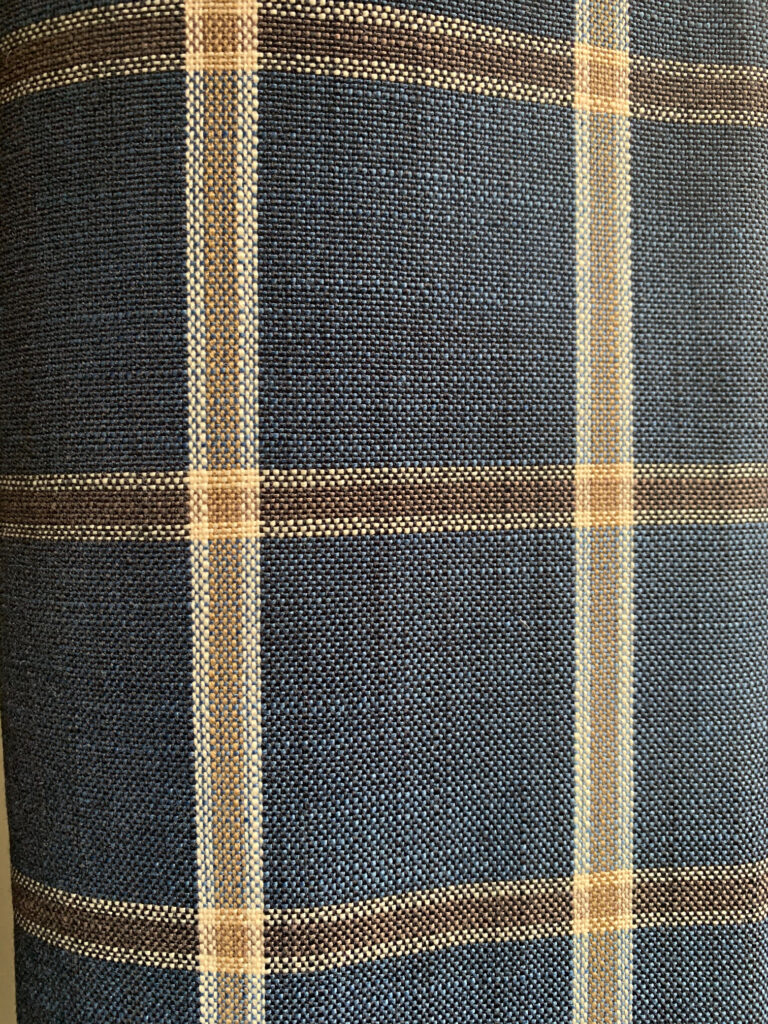 Laura came up with the amazing idea to give the curtains a nautical touch by hanging them with rope! She debated white or brown rope, and though either would have looked good, I'm glad she went with brown. The walls pull yellow in my photos, but they are a creamy off white and the white rope could have competed being a different tone.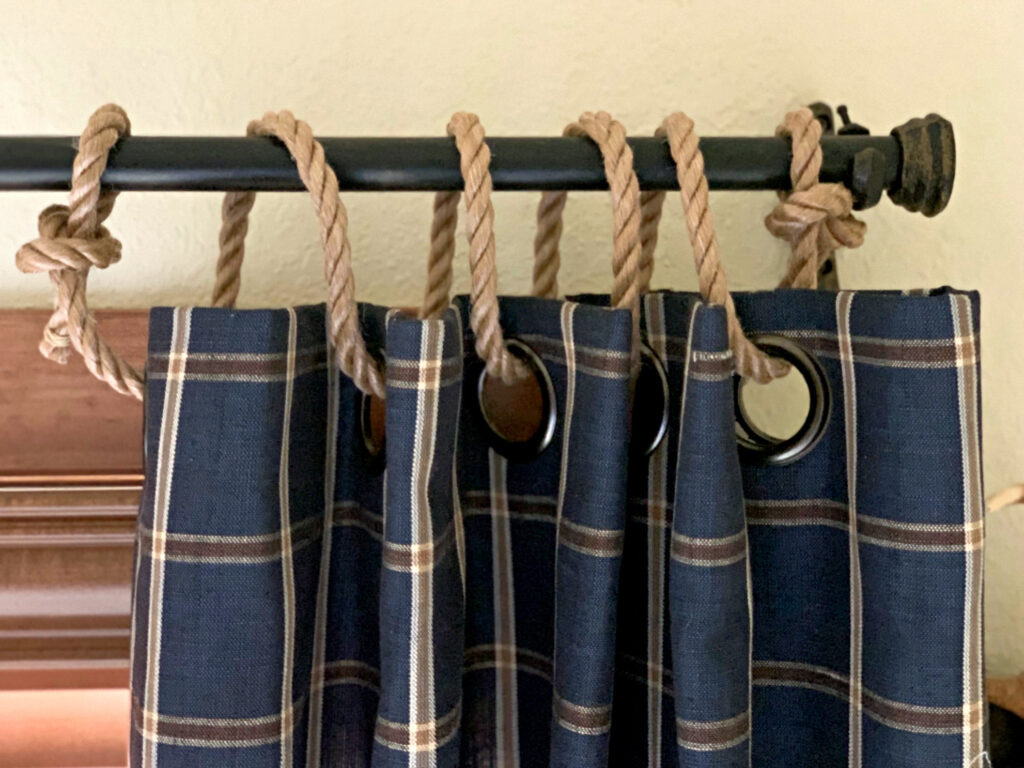 The brown stripes in the plaid work so well with the wood blinds! Brian and Kyle hung the drapes just where they hit the floor.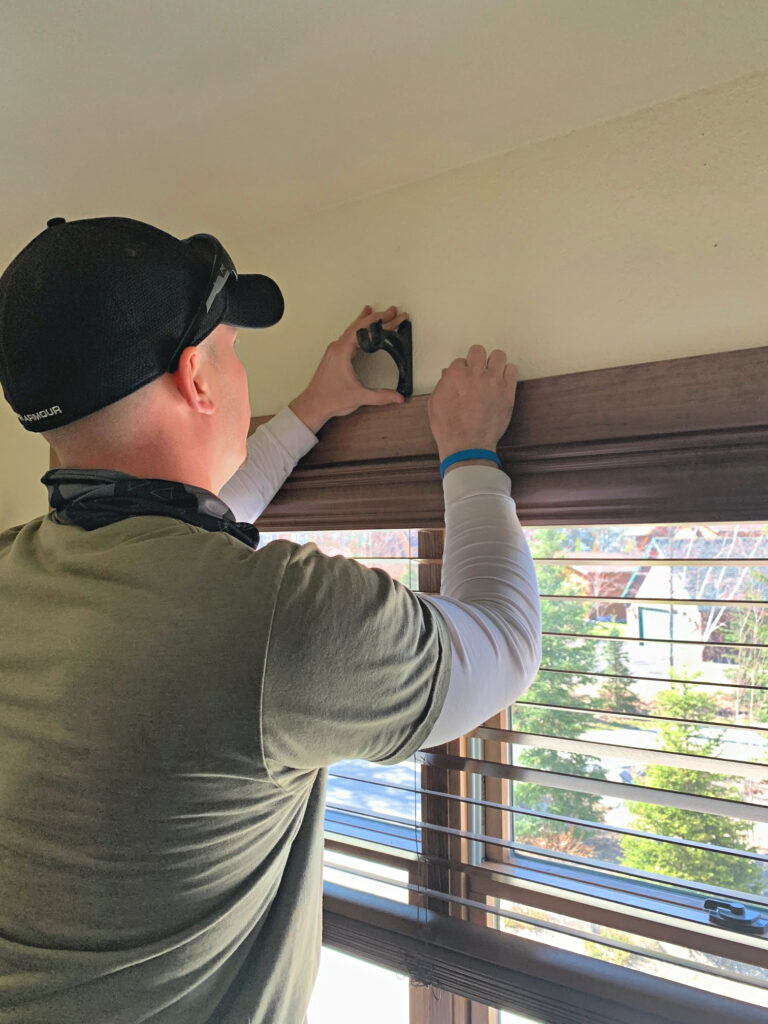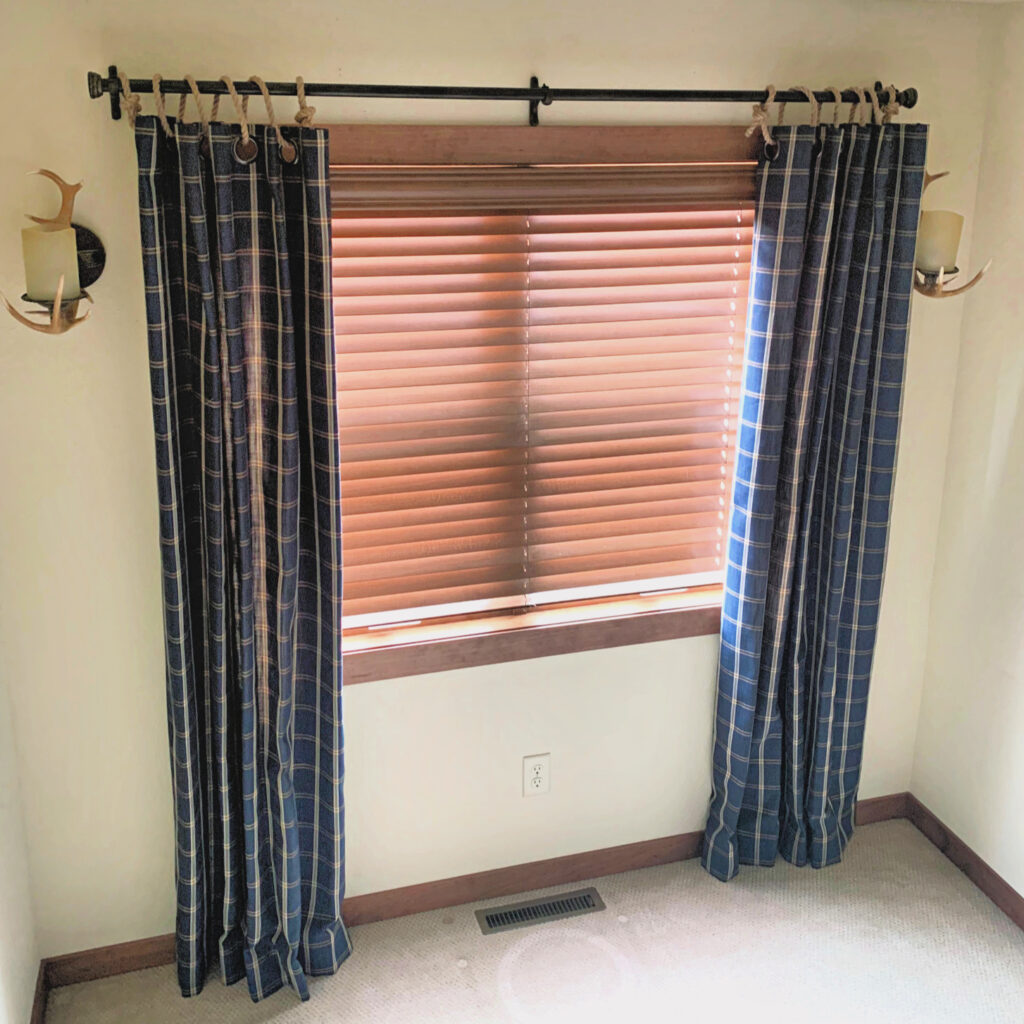 For the rods, I didn't want anything with decorative finials. I love these and how they let the curtains take centerstage while the rod is strong and simply classy in the background. I also love how the rustic feel and the brown in the drapes compliments the antler sconces.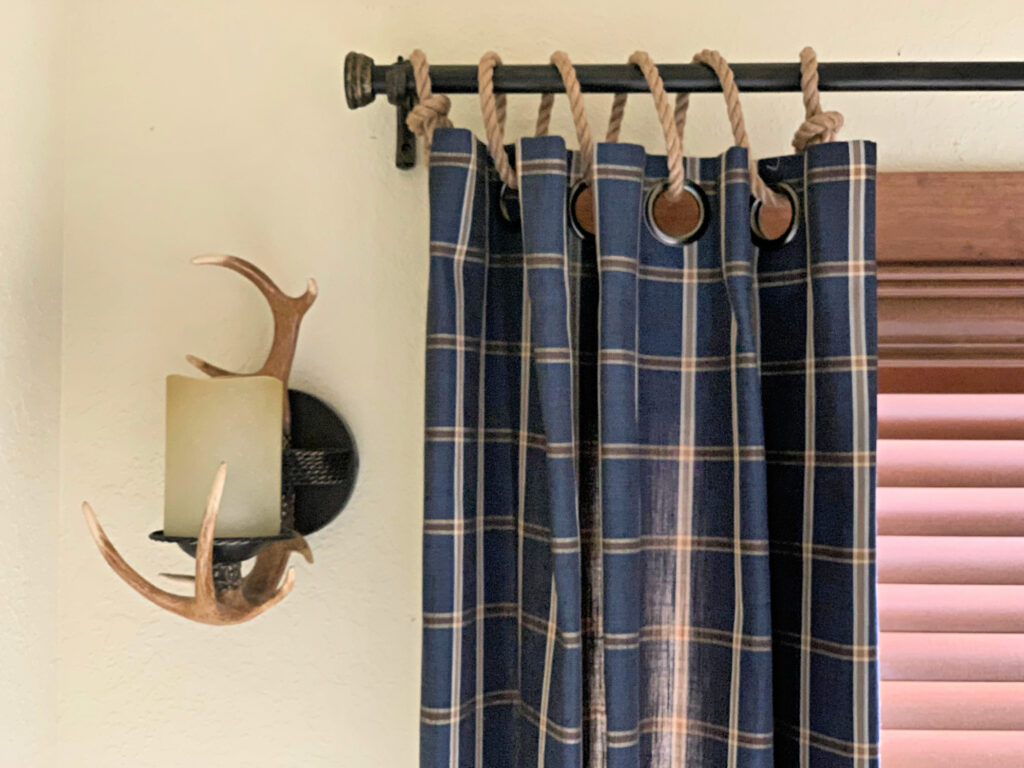 I'll be so excited to show you the full room reveal in a few weeks! Follow along each week as I keep revealing a bit more each Thursday! See more of my bed and window treatments from Roughing It In Style in the completed room.
THANK YOU TO MY SPONSORS!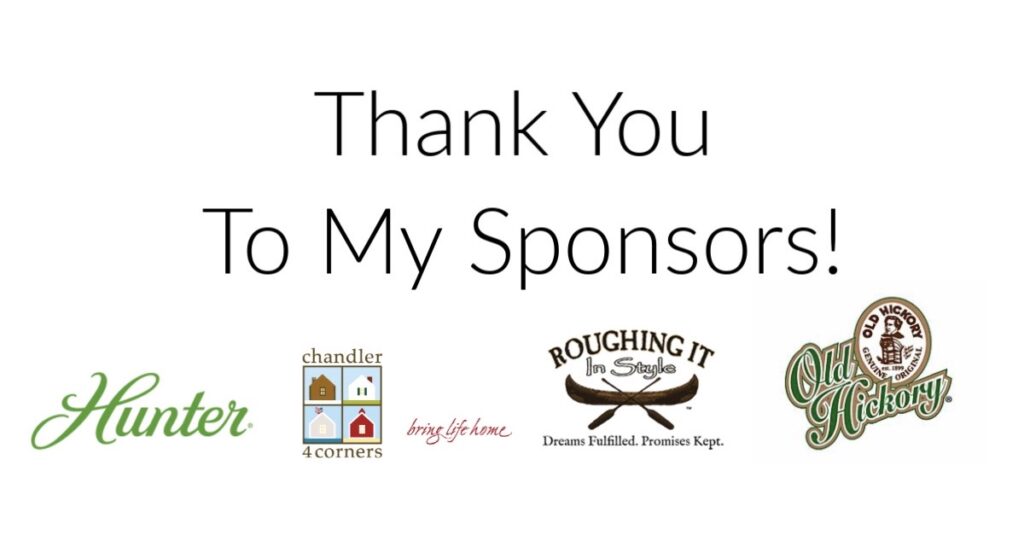 Be sure to visit the ORC blog and find links to visit all of the participants and find more inspiration for all the rooms in your home. 
FOLLOW WHITE ARROWS HOME


Instagram ~ Facebook ~ Pinterest ~ Twitter ~ YouTube