This is a sponsored post written by me on behalf of Hunter Fan Company. All opinions are 100% mine.
A new fan from Hunter Fan Company is giving our Lakeside Guest Bedroom a fresh and beautiful update as we participate in The One Room Challenge™.
I'm honored to be participating in The One Room Challenge™ 2020 with media sponsor Better Homes & Gardens. Thank you to Linda Weinstein for starting this amazing program and providing such a supportive and inspiring community! Canyonlands from Pendleton Collection by Hunter Fan Company.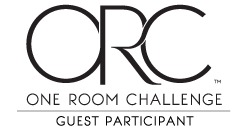 You can read about the vision for our Guest Room in my post from the One Room Challenge Week 1: The Plan.
For my dedicated followers, I am so excited to share the inspiration from this room with you! And if you are new to White Arrows Home, I'm so glad you stopped by Camp Paradise, our Lakeside Log Cabin, where we live full time. I hope you will become a regular here and on all my social media. You will find ways to sign up on the sidebar and at the bottom of this post.
Camp Paradise is our lakeside log cabin home in The Northwoods of Wisconsin where my family lives surrounded by pine and birch forests on the shores of a gin clear lake. White Arrow Signs point your way throughout our community. The nostalgic signs inspired my blog name.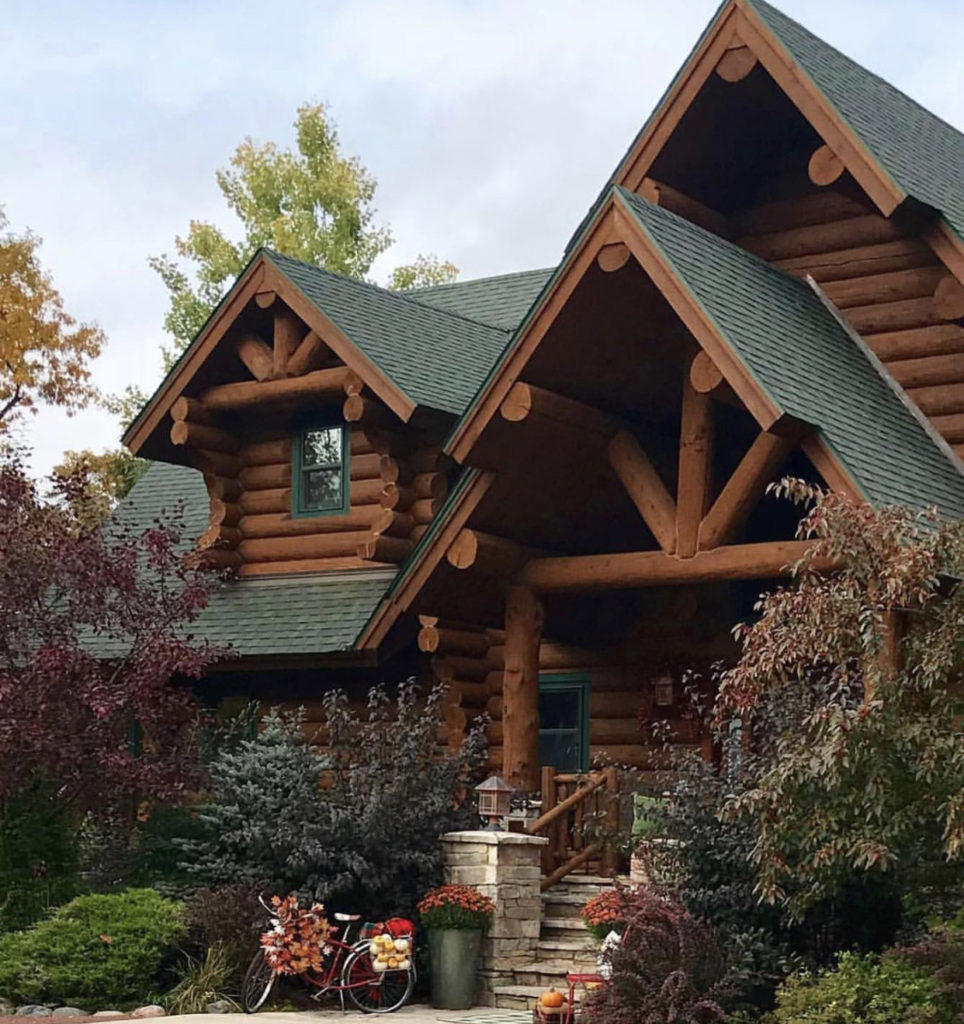 One of the first things I knew I wanted to update in our guest room was the light fixture. I wanted to add a ceiling fan light that would not only brighten the room with good lighting and cool the room on Summer nights, but add style and character. I'm excited to partner with Hunter Fan Company for my One Room Challenge transformation.


Last Summer, when I was at the Haven Conference for Bloggers, I visited the Hunter Fan Company booth and saw their beautiful new fans (launched January 2019) designed in collaboration with Pendleton Woolen Mills showcasing their Southwestern patterns. I knew instantly these fans were a must have for our lakeside log cabin home.
When Hunter, the leading manufacturer of ceiling fans combined forces with prominent textile brand, Pendleton they brought to the market a fan design that was at the same time modern and timeless. The Pendleton® Collection by Hunter® brings comfort in a bold and beautiful statement piece for all homes.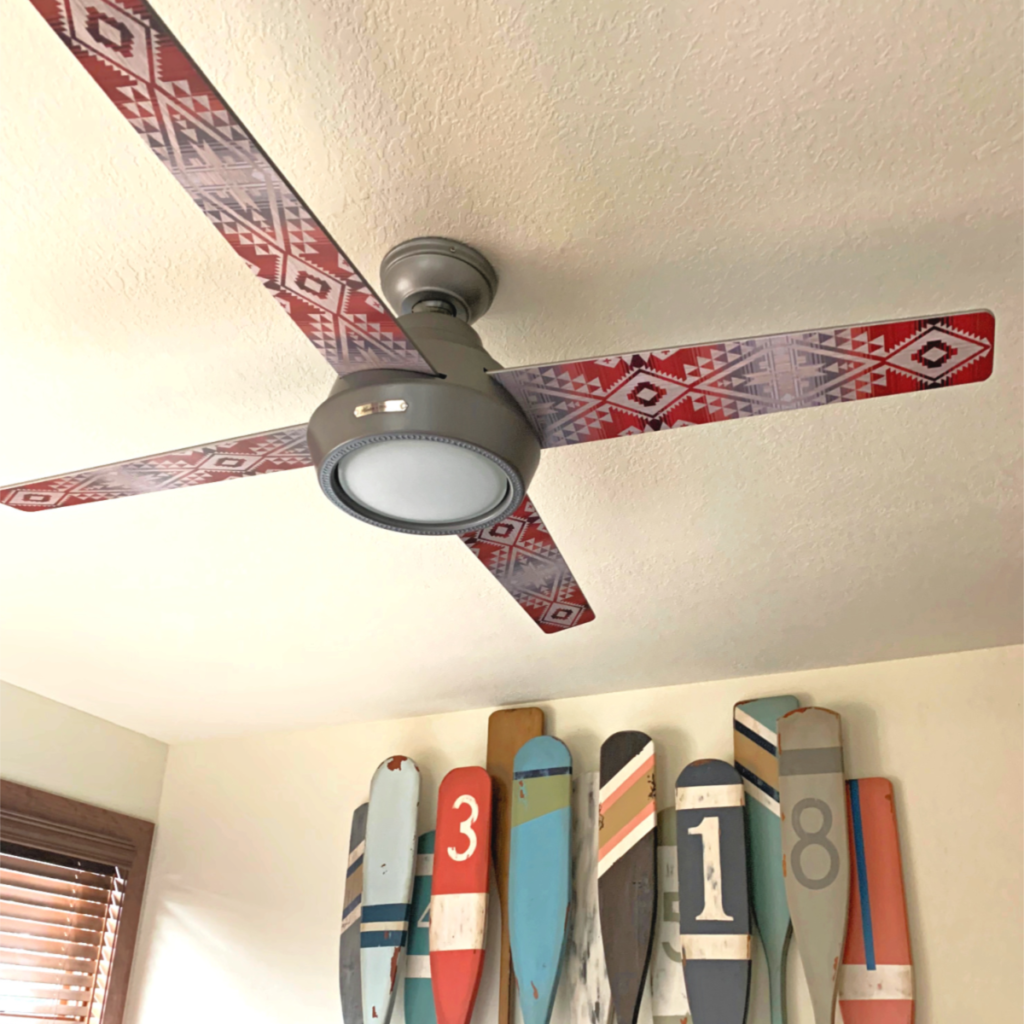 Quality
Both Hunter and Pendleton have a passion for quality and a century of design expertise. In our home, we share the same expectations for the furniture, accessories and fixtures we bring into it. I knew that the Canyonlands fan from the Pendleton Collection by Hunter would be a perfect accent in our lakeside guest room remodel.
Think of your ceiling as your fifth wall. It's important to consider what you accessorize the ceiling with, just as you do the other four walls to match your home's aesthetic. We spend a lot of time making sure all of the accessories in our bedrooms match, our ceiling fan shouldn't be any different. Finding the right finish or color scheme to compliment the space is a top priority of Hunter. They have hundreds of designs to match any taste or preference, which is why so many choose Hunter for their space.
The jumping of point for this guest bedroom was the colorful Oar headboard. I wanted a nautical touch for all the visitors who come to stay in our lakeside guest room. The rustic Pendleton blanket pattern in reds, blues and whites on this Hunter fan was the perfect fit.
We built our guest house three years ago and at the time we just put in simple flush mount lights. I have never been satisfied with the look. It's simple and well… boring!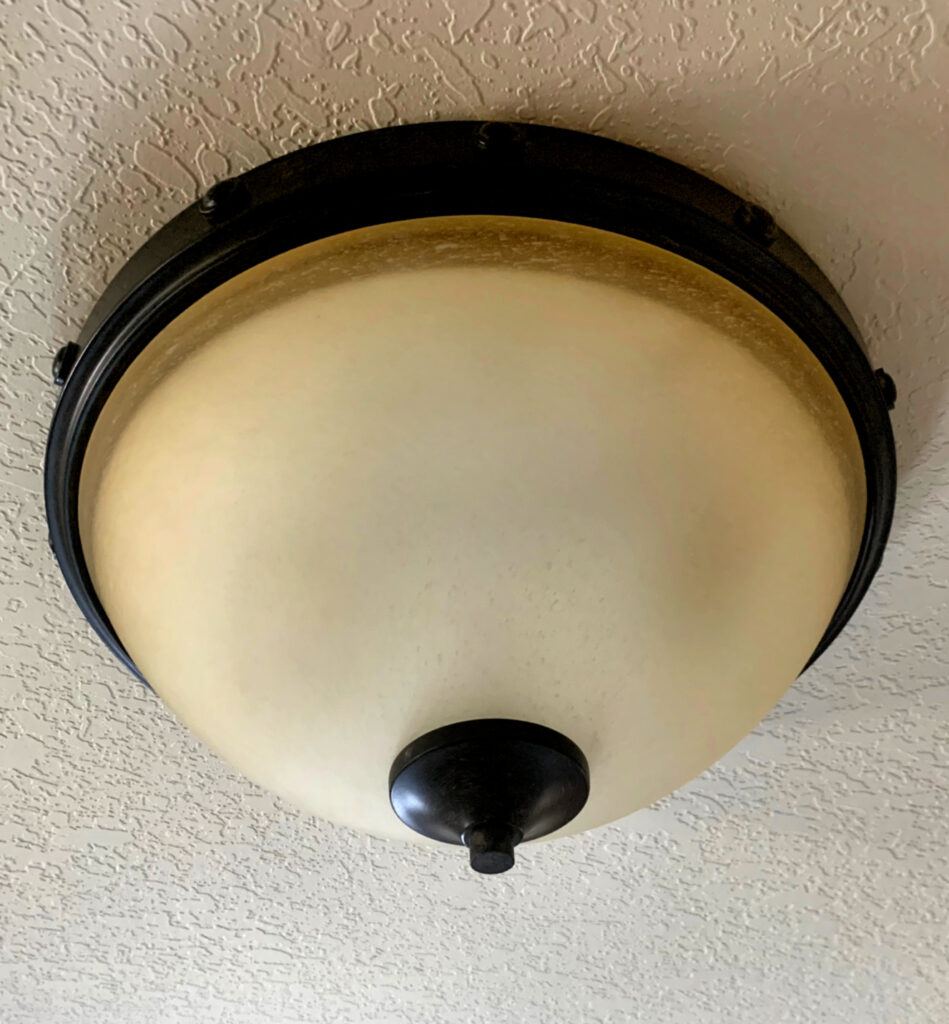 You can see in this room progress photo the barnwood wall being installed in the background. Stay tuned each week of The One Room Challenge as I unveil more and more of the room until the final room reveal. I will be posting each week until the Reveal on June 25. Subscribe below so each week my post is delivered to your inbox!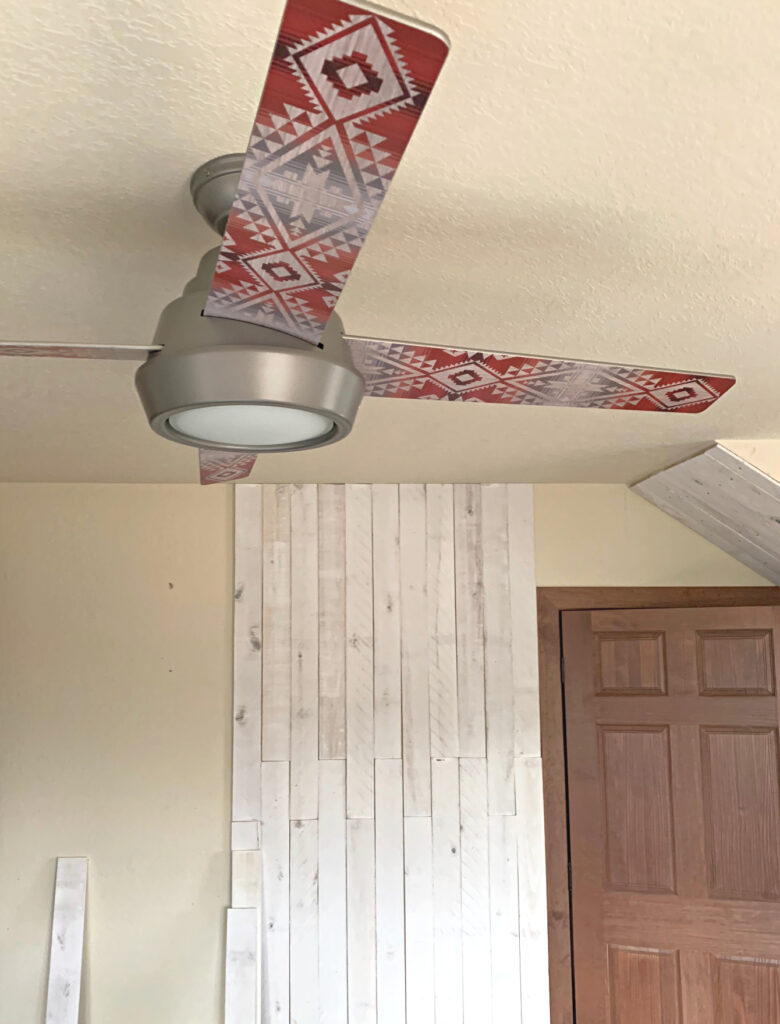 This series of fans showcase two body finishes in matte black and silver, and feature four different patterns on their reversible blades; Spider Rock, Canyonlands, Eagle Rock, and Pecos.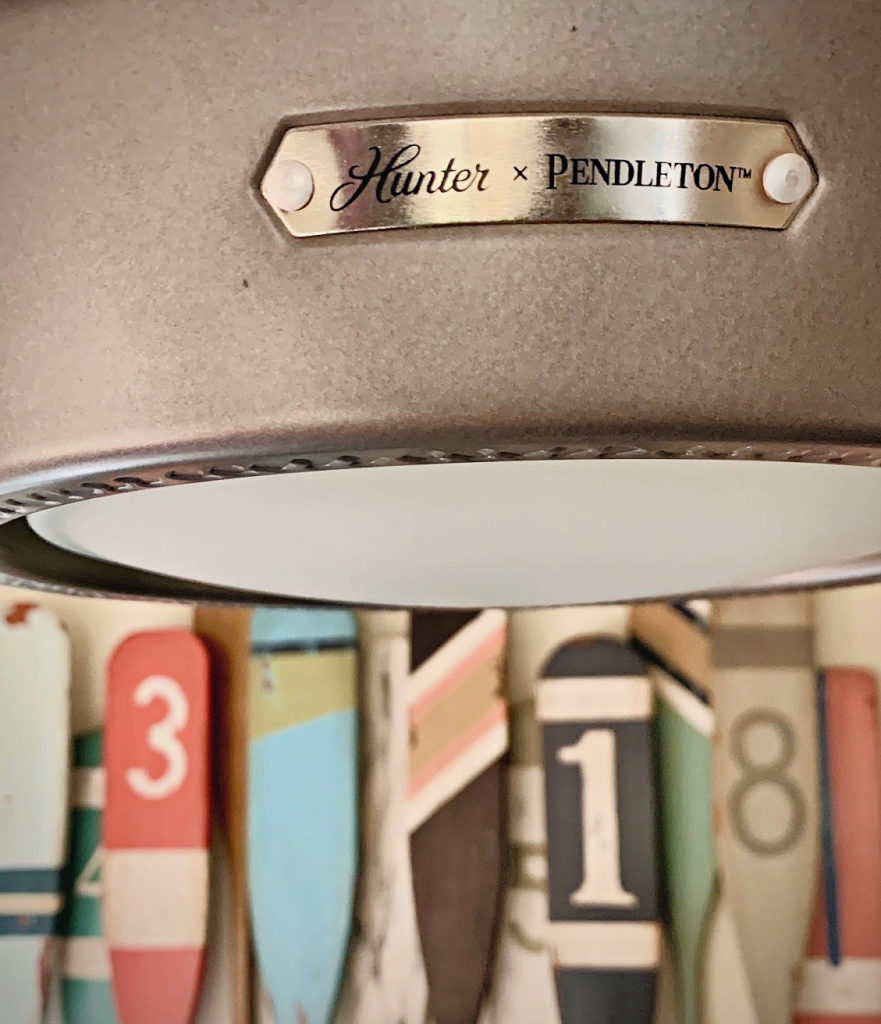 Innovation
The fans include an energy-efficient, integrated LED light kit with cased white glass. A WhisperWind motor gives reversible 3-speeds. Included is an easy to use handheld remote.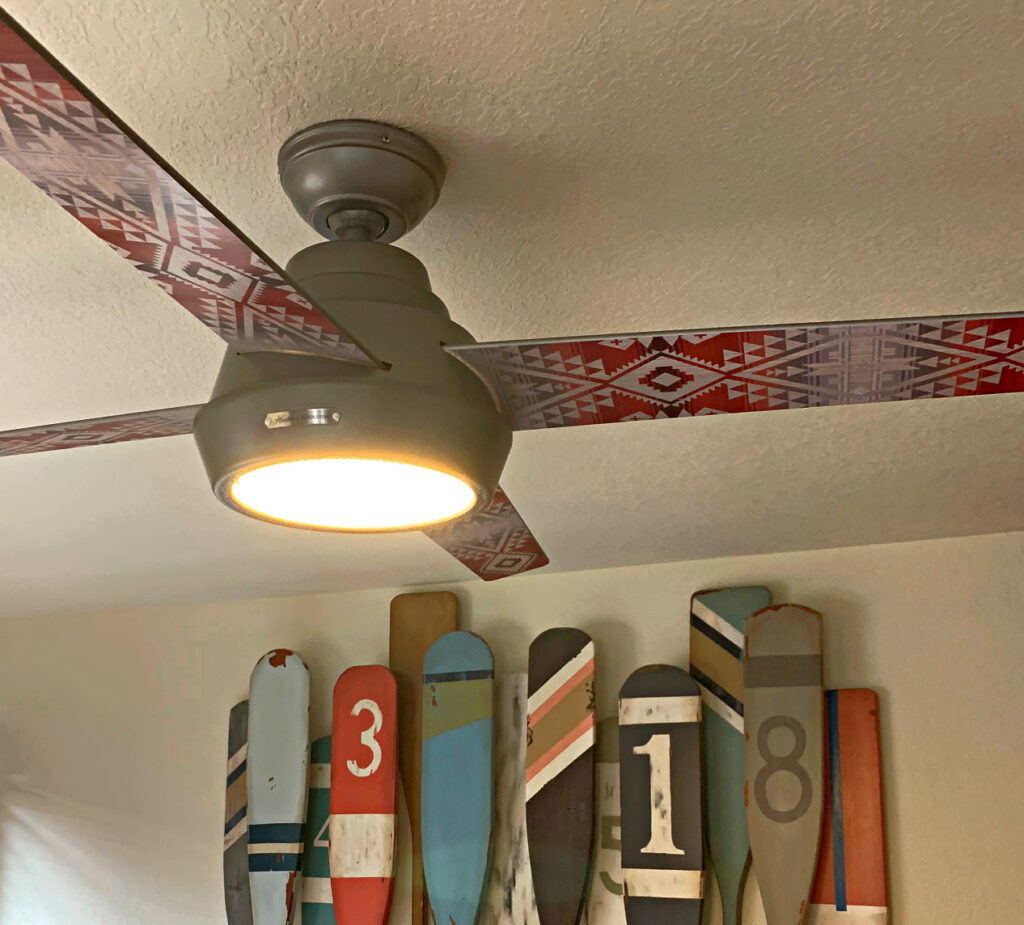 The Hunter and Pendleton design teams worked together to incorporate the Pendleton patterns while also allowing the custom wood grain finish to show through.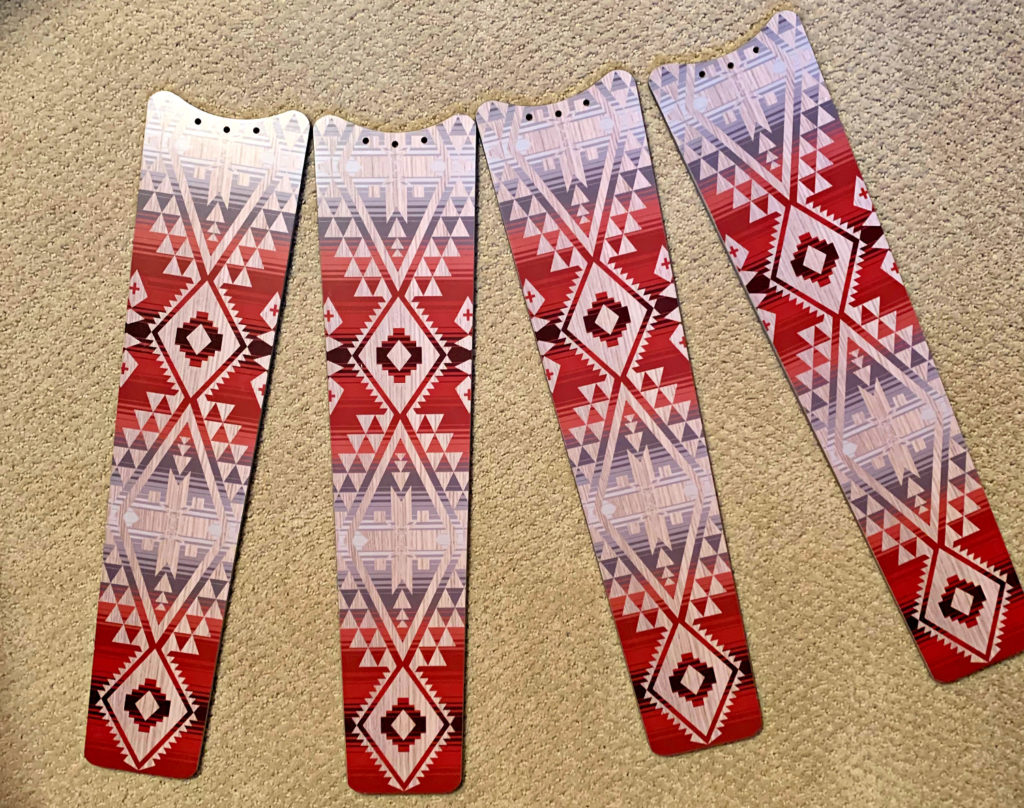 The reverse blades allow you to choose what matches your style best. The alternate side of the Canyonlands is called Pecos.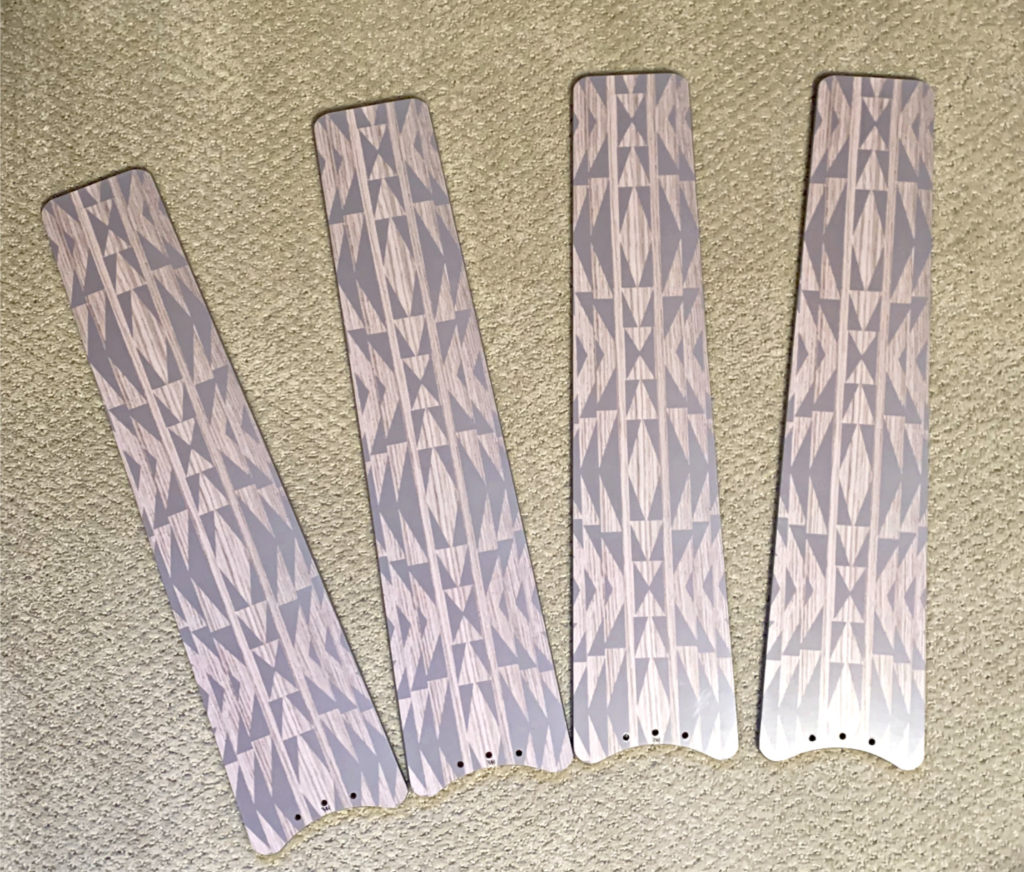 Beauty
I love both, but decided for the guest room right now to use the red, white and blue of the Canyonlands. My electrician showed me, as he was doing the install, how easy it would be to switch to the Pecos blue and white side if I changed my mind.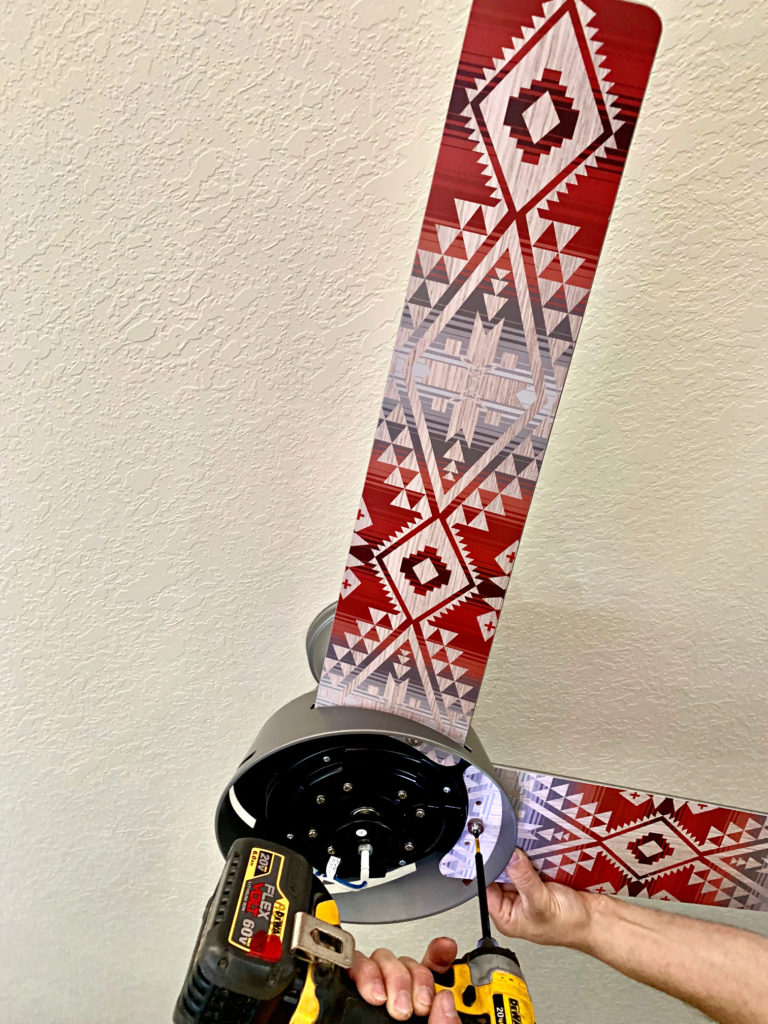 When choosing the fan for a bedroom space, it's important to think about the height of the ceiling. Our guest room does not have high ceilings. The Canyonlands fan from the Pendleton Collection by Huntercomes with several small sized rods that are perfect for lower ceilings and drop down rods ranging in size to fit high-ceiling spaces. The Installer can choose from a three-position mounting system allowing for standard, angled or low-ceiling mounting.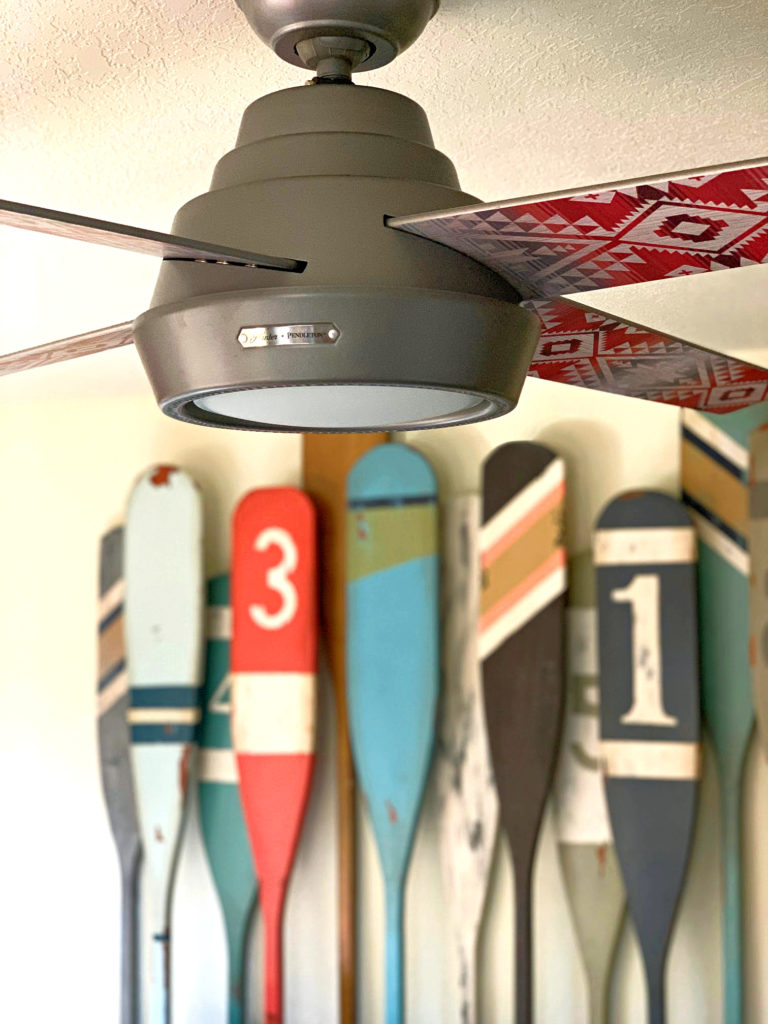 Comfort
Another thing that drew me to Hunter Fan Company is comfort! It is very important to us that our guests are able to relax and feel pampered while they visit. There is a saying that you never know how many friends you have until you buy a lake house! For all our family and friends that come to visit we want the guest room to be comfortable and welcoming.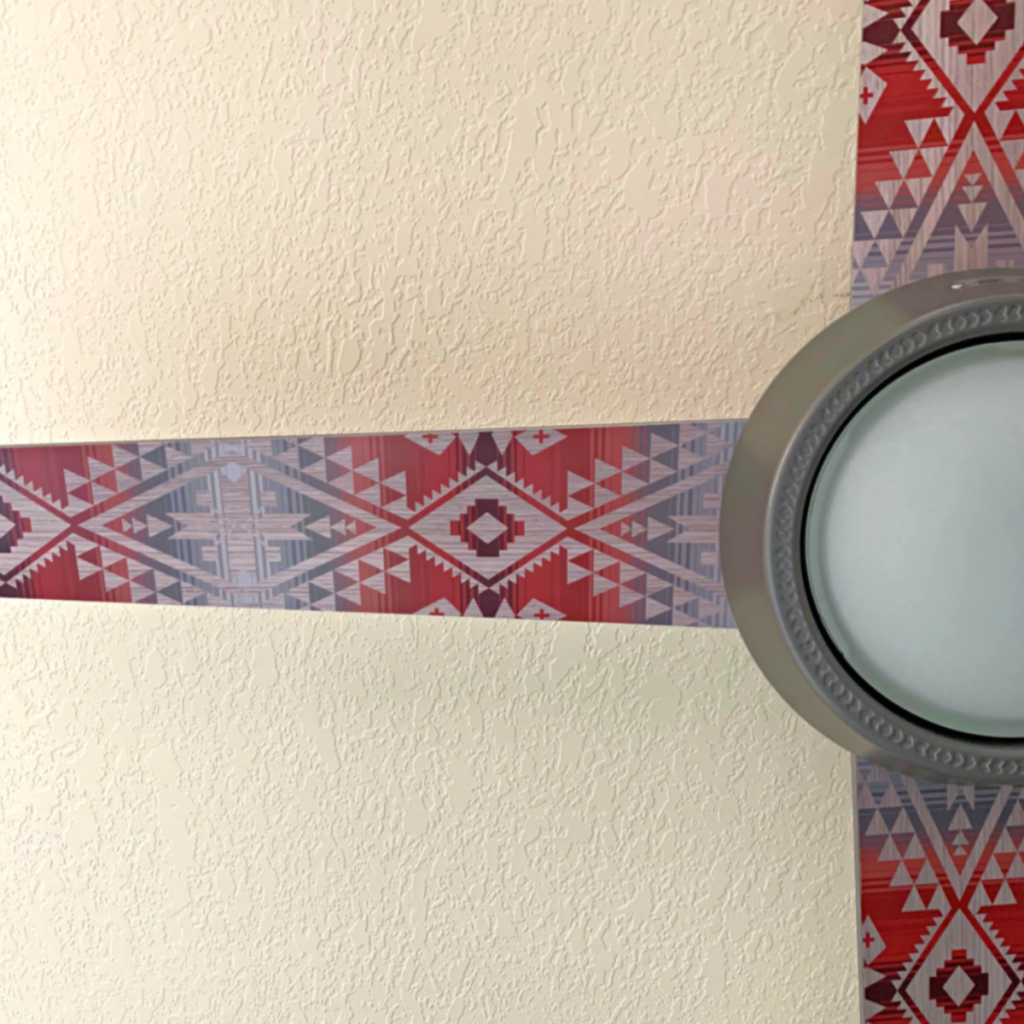 Hunter Fan Company's ceiling fans are Whisper Quiet and Wobble free and both are really important for a bedroom space. A creaking and wobbly fan can be a great disruption to the quiet needed for a good night sleep. Hunter's fans are all engineered with Whisper Wind technology that make them operate quietly. It also aids in providing great airflow and a comfortable air temperature.
One of the best parts of the Canyonlands fan from the Pendleton Collection by Hunter? The price! This line retails at $399.99.
Follow along each week as I share more details about our Lakeside log cabin guest room culminating in the final review on June 25. Subscribe by clicking the button below so you don't miss any of the posts in the series.


FOLLOW WHITE ARROWS HOME
Instagram ~ Facebook ~ Pinterest ~ Twitter ~ YouTube