There is a cozy corner at the bottom of our open log staircase that is constantly changing. I move different pieces of furniture in and out depending on the seasons, how we will be entertaining or just when I get in the mood for a new look.
I love taking these small spaces, the cozy corners of rooms, and using them to add changing decor when larger pieces of furniture like couches, armoires and beds tend to stay in their same places year round.

1. Add chairs, a table and a game to play.
2. Add visual interest.
3. Add a cozy sitting area for one.
4. Add two chairs for conversation.
5. Add seasonal decor.
 There may be corners in your home, whether in your living room, dining room or bedroom that would be fun to accent and make usable and pretty.
1. Add chairs, a table and a game to play.
In our cabin this antler table is what makes it's home in this cozy corner most often. Many an intense game of chess or checkers has been played here! All of my children play chess, but my husband and I still don't know how. One of the kids learned in school and taught the rest. (I'll add it to my bucket list!) Checkers is my husband's favorite game. When we adopted one of our sons (he was 11 at the time) from Ukraine and he couldn't speak English yet, checkers was an easy way for them to start connecting and spend time together. I bought this checker board on a trip to Spain from a craftsman in a corner shop. It was fascinating to watch him work and to now feel a connection to this piece bringing joy to my family.
Hint: Leave a game out and waiting for play or a puzzle started but waiting for someone to take a seat and keep working on it and family and guests will be drawn to participate.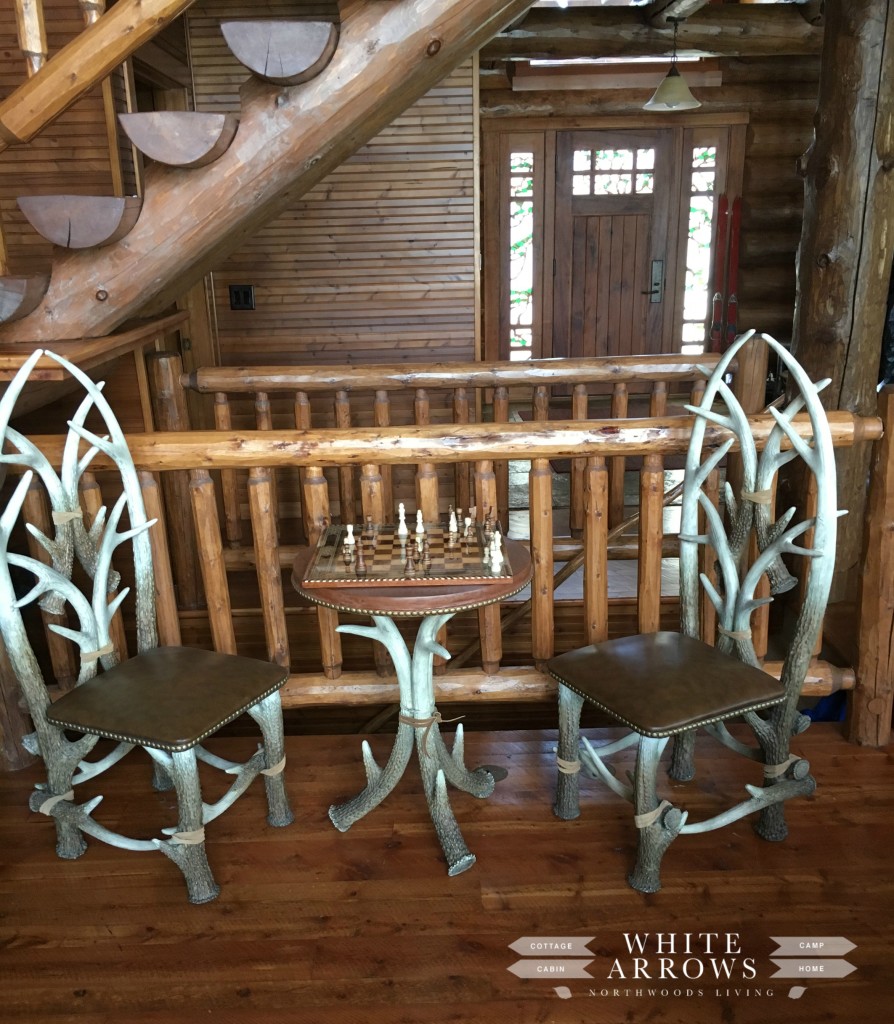 2. Add visual interest.
When I was craving some color this winter I used this cozy corner to add layers and interest with a Hudson Bay style blanket hanging from my chippy green ladder. I also brought over our hickory bench from the entry way and added several pillows in different patterns and textures. A pair of red skis from my vintage collection and a basket from Target full of blankets in fur, tweed and wool complete the look.
Hint: Vary heights, textures and add layers to add balance and visual appeal. This can be done simply with items like woven baskets, plants, stacks of books and pillows.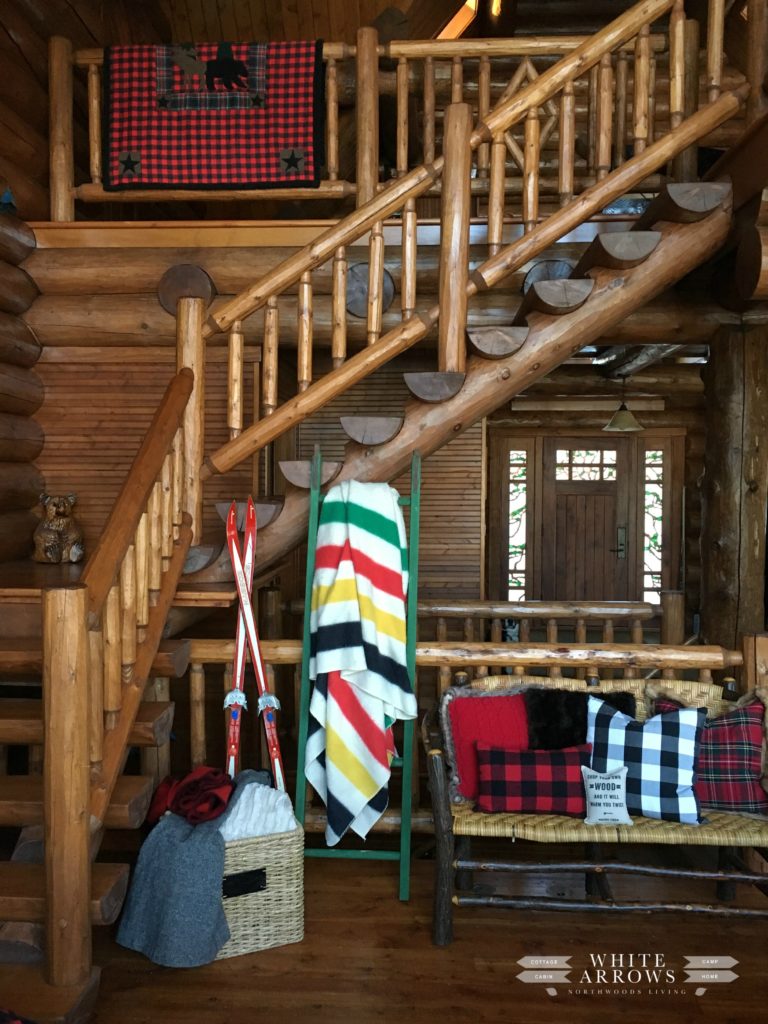 3. Add a sitting area for one.
When I decided to move the blanket ladder over by the fireplace, I changed the cozy corner up again by bringing one of our porch rockers out of winter storage and into the corner. I kept the basket full of blankets and just turned it so the red camp blanket spilled out the front. A little garden stool worked well as a side table. A white feather tree I usually use as Christmas decor filled the spot where I felt I needed just one more thing and something taller. I like to use pieces with varying heights like the ladder and skis in the photo above and the tall backed rocker and feather tree in the photo below.
The rocker, I found at Walmart , the black and white buffalo plaid pillow at Hobby Lobby and the Cozy pillow at Kohls. The feather tree was from T.J. Maxx.
Hint: Be sure to add a throw blanket, a table to place a cup on, a candle and a lamp for reading. I am a lover of lamp lit rooms, so keeping a lamp turned on in the corner is comforting and welcoming in the evenings.

4. Add two chairs for conversation.
I find that it works well to have smaller spaces for conversation, games or to sit alone and read within a larger room. Cozy corners are a great way to set up space for just that. Two chairs placed together with a table or ottoman between them make another wonderful spot for playing a game or having a chat. Below, I moved my two buffalo plaid chairs to the corner with a rustic end table between for a more cozy weekend checker/chess table space. The fur pillow and blanket are from Pier1.
Hint: Turn or angle chairs toward each other to encourage conversation.

5. Add seasonal decor.
The cozy corners make a great area for adding seasonal decor as well. I transformed the game table into a fall vignette with a pile of pumpkins on my World Market cake stand, vintage transferware teacups, napkins from Kohls and pillows from a local shop To the Nines.
Hint: Adding holiday decor can be as easy as adding a vase of flowers in seasonal colors on the table or a favorite figurine on a stack of books.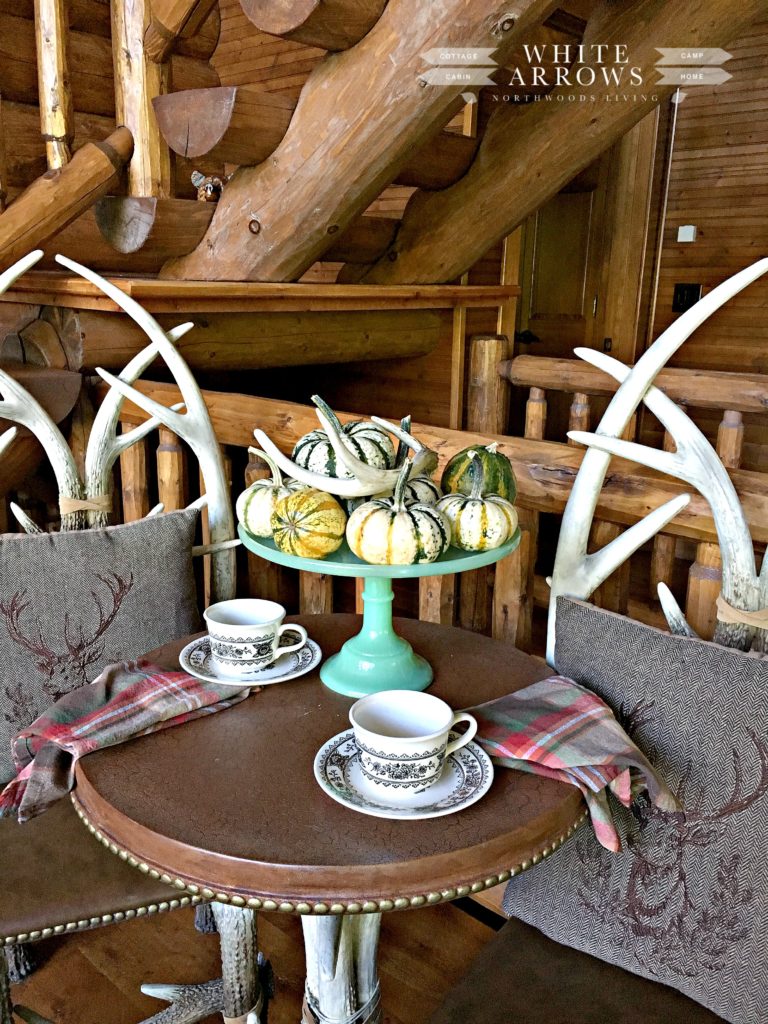 Over the Christmas holidays I put up a 7 foot tree from Walmart to showcase our family ornaments. A favorite Santa from TJ Maxx  enjoys the company of Big Bear. The cozy pillow from Kohls and red cable, fur-edged pillow from Homegoods make the Hickory bench cozy.

And now for spring, I have moved in my green wicker lounge chair in the cozy corner. I placed a lighter throw and a few favorite pillows on top. With a candle from Lora at Driftwood Decor and a lamp, the corner is ready for a reader with a cup of coffee.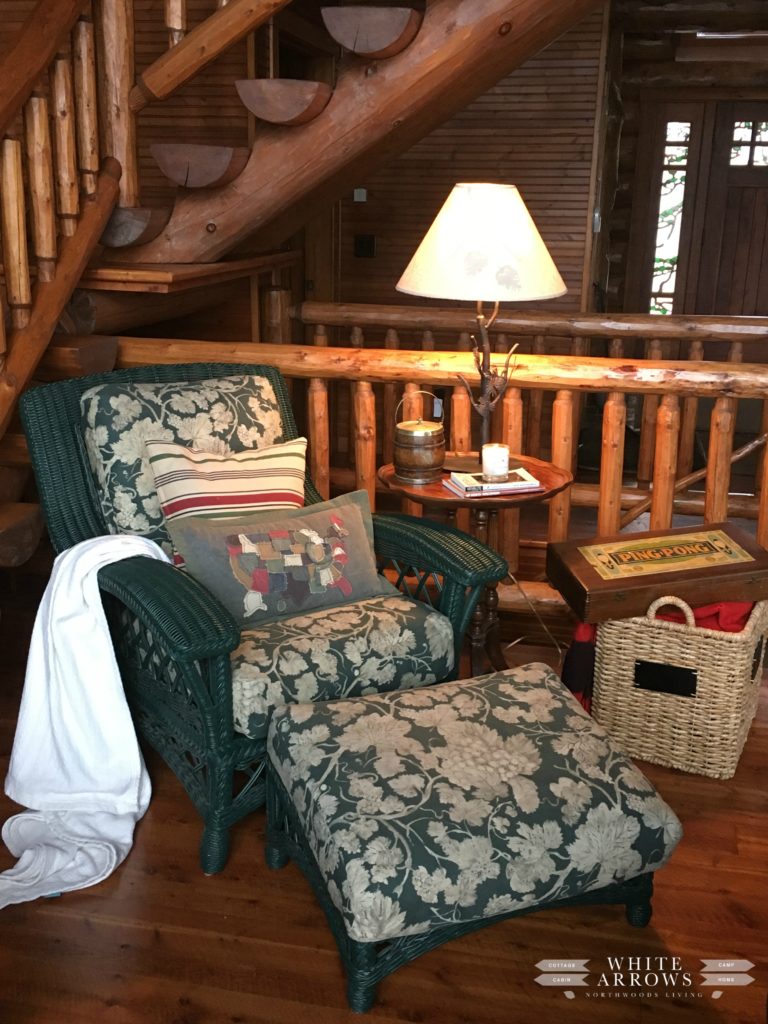 My many vintage pieces in this post have been collected over many years from antique shops, vintage fairs and flea markets. My buffalo check chairs are Woodland by Marshfield,  Many of my large rustic pieces are from local Minocqua shops like Roughing It In Style.
Stay tuned for how this cozy corner will end up being styled in the coming months for summer. Follow along by subscribing and an email of my new blog posts will be sent to your email inbox. You can also follow along on my other social media accounts on Pinterest, Facebook, Twitter and Instagram.
Thanks for visiting!