Vintage green pieces make a great way to brighten your spring decor. In April and May I like to add in lighter colors and many of my vintage pieces do just the trick. Not only is green one of my favorite colors, but after a long winter I am ready to see green grass and leaves on the trees. While I wait for the forest to green up outdoors, I'll bring more bright green inside.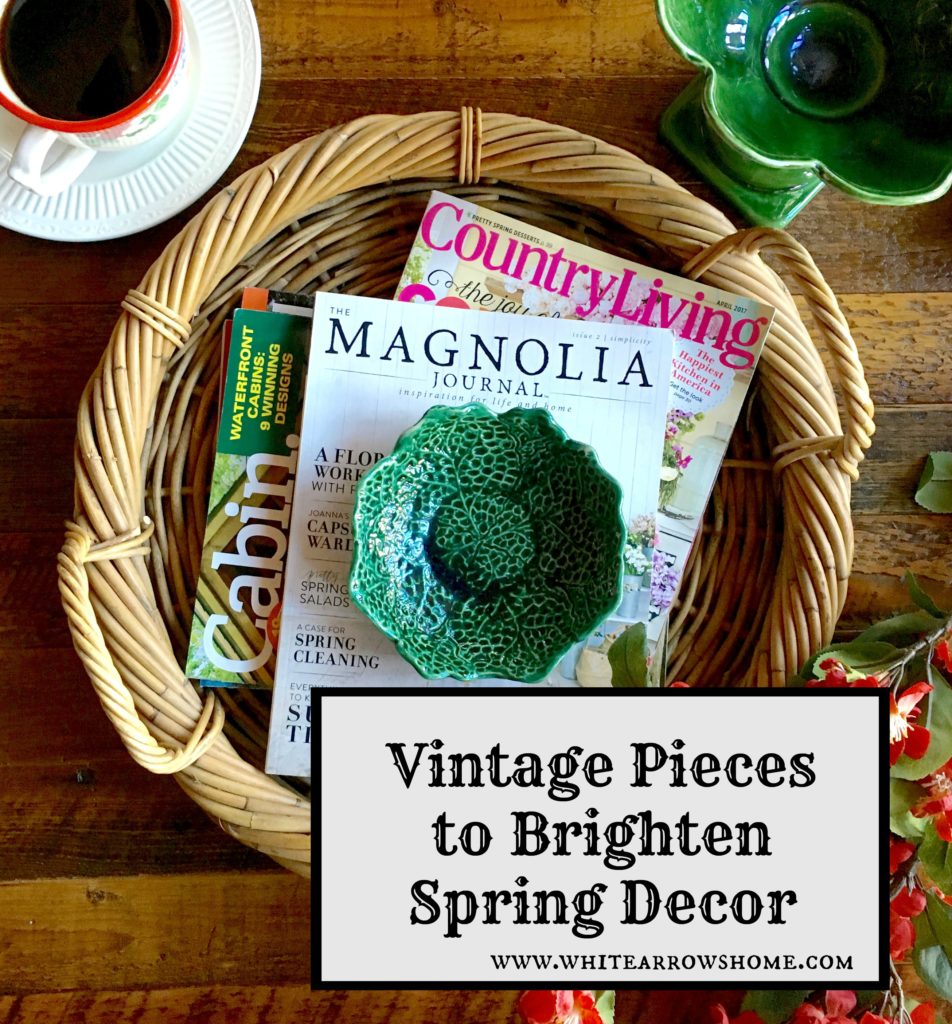 Spring Greens
This green Point Blanket I found at our local thrift shop. It fits my cabin style decor and brings in a bright spring color. Our evenings can still be cool this time of year and this blanket can take double duty to cuddle up under and for decoration.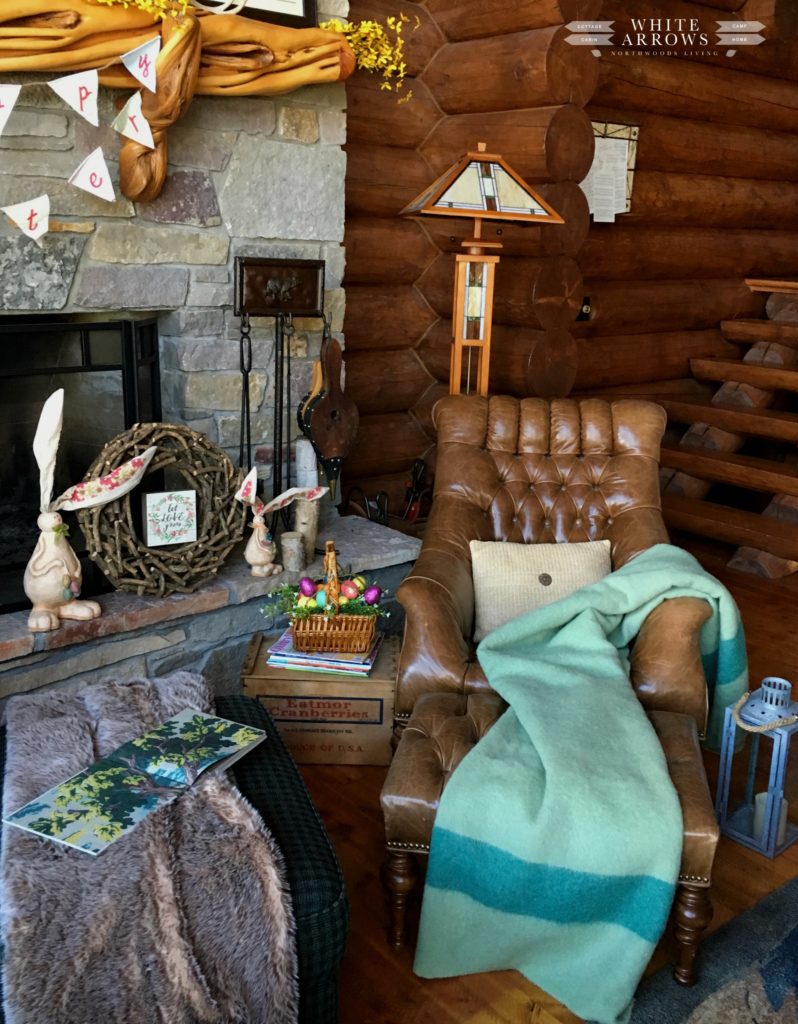 During the winter I had my red and black buffalo plaid chairs in front of the fire. You can see them here. A green checked club chair and leather, tufted chair moved to this space for spring.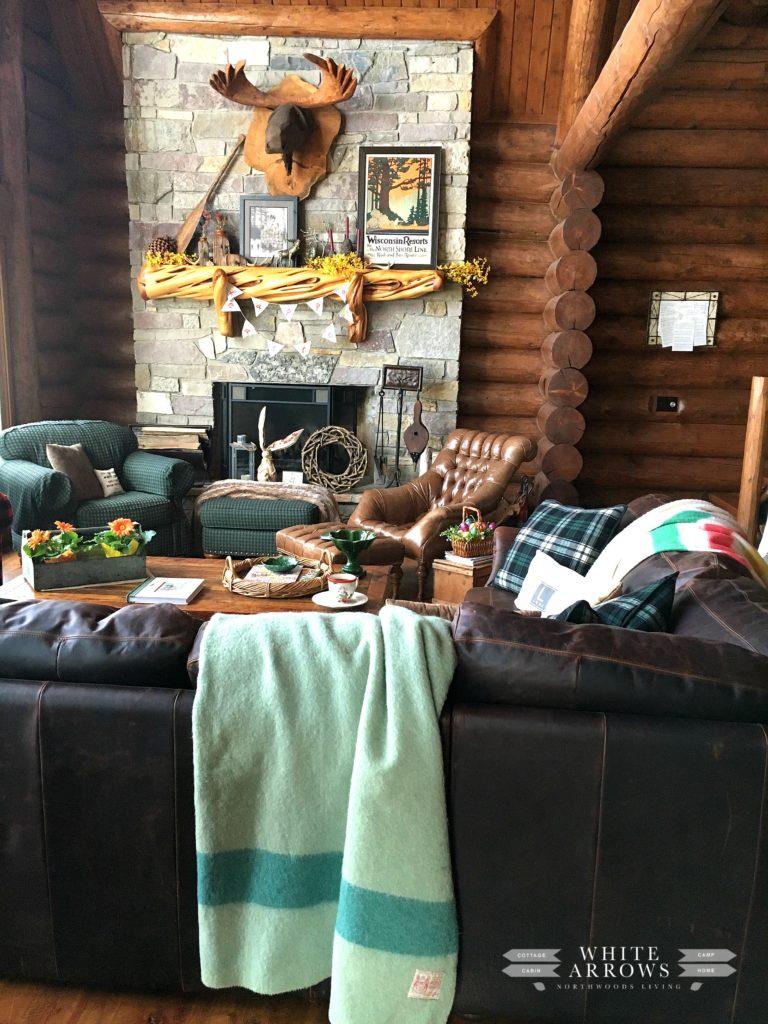 Vintage Finds
Probably one of my favorite pieces is this vintage green pedestal vase I picked up at an antique store years ago, drawn to its shape and color. It's been used it for flowers, to hold snacks during cocktail parties and to hold soaps in the guest bathroom.

Another favorite treasure is this green cabbage leaf dish is iconic of spring, fresh veggies and gardens. It can be used to hold dips on a veggie tray or left as decor on a stack of spring decor magazines.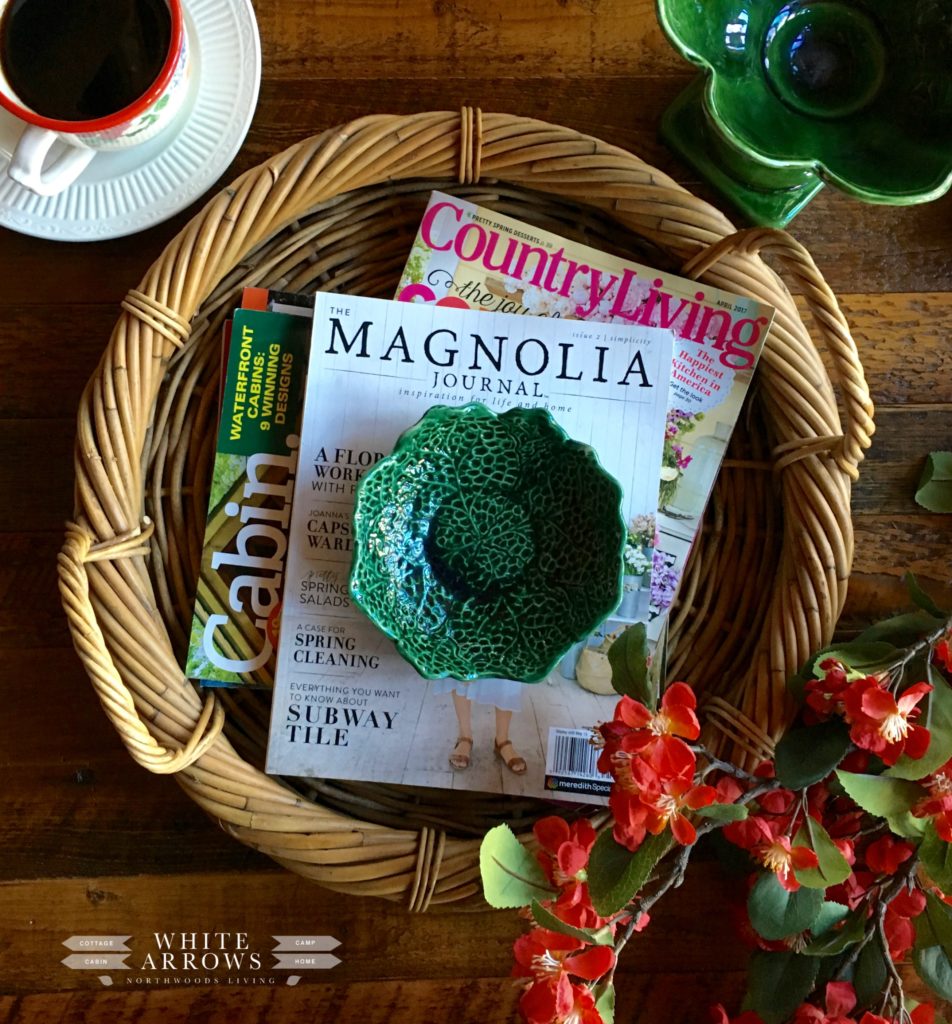 Thrifted Treasures
This coffee pot was another thrifted piece. I am always drawn to plaids and this green plaid was so original. With thrift store prices, it was an easy treasure to bring home.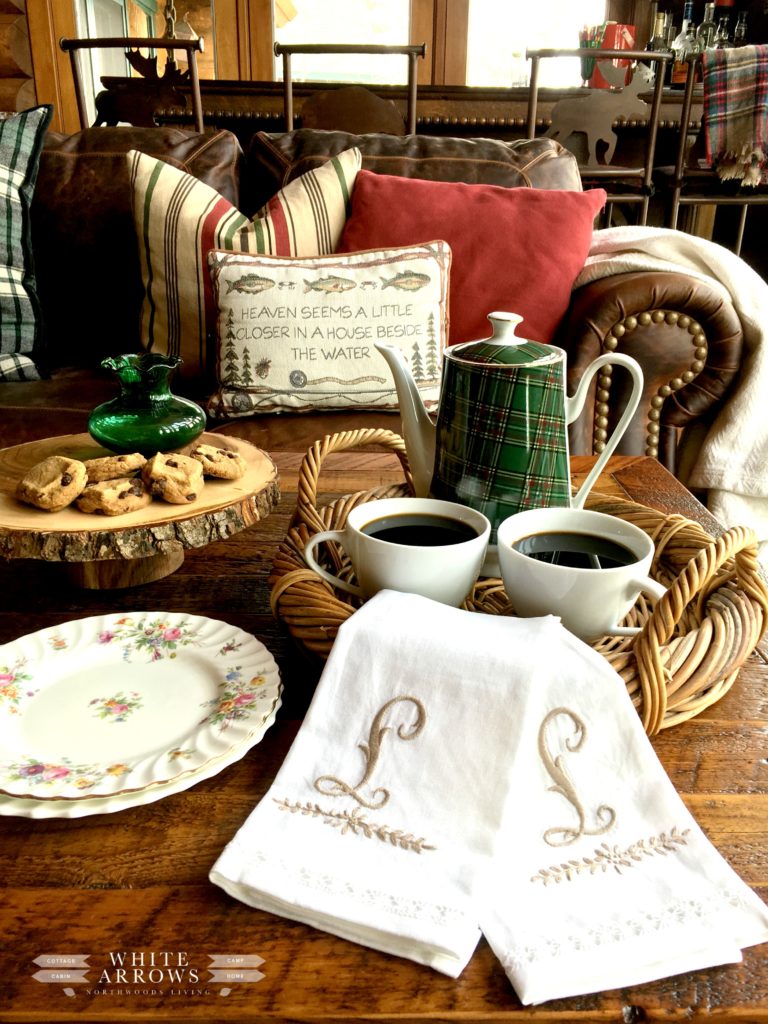 Favorite Collections
One collection I started in high school is my vintage, green glass vases. This spring I have them displayed in front of my sink along with a few pieces of milk glass.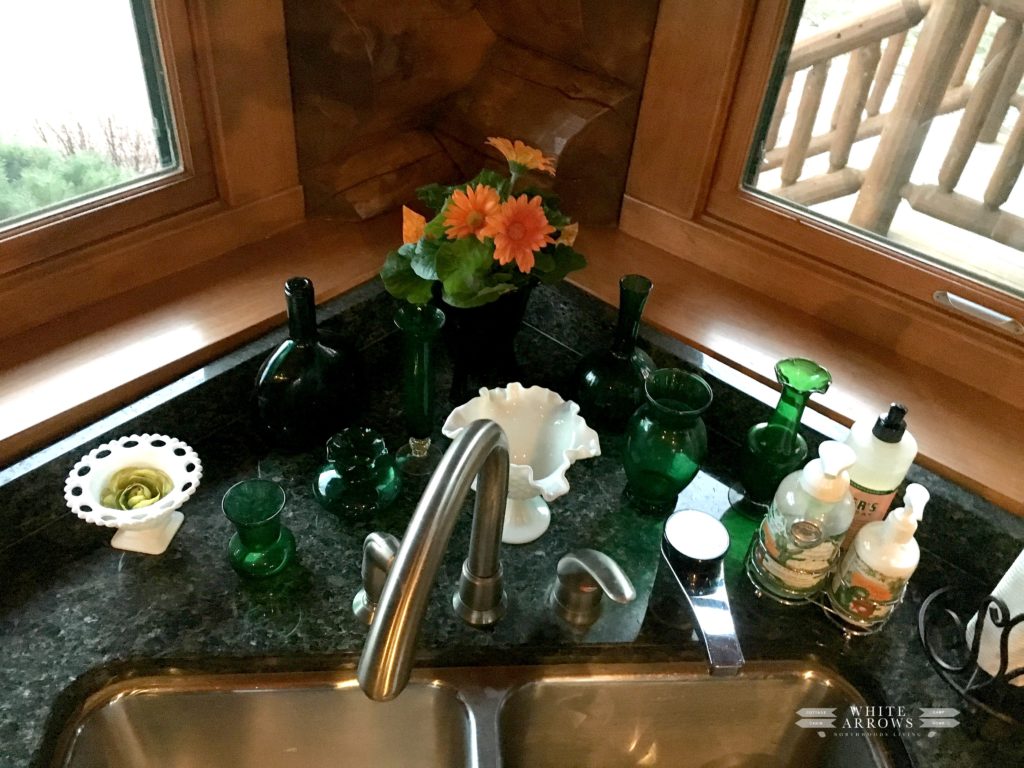 My winter hot chocolate bar transitioned into a lemonade bar in my spring decor. I pulled out some of my vintage thermos collection and used my green one to hold an assortment of pastel colored paper straws. This vintage metal green picnic basket holds flowers or can be open to hold treats. Guests can help themselves to treats and lemonade. Green glass tumblers with handpainted flowers came in their own handy drink caddy. I found them at an estate sale years ago. One of my favorite parts of collecting vintage pieces is picturing their past. These glasses must have entertained at many fun garden parties!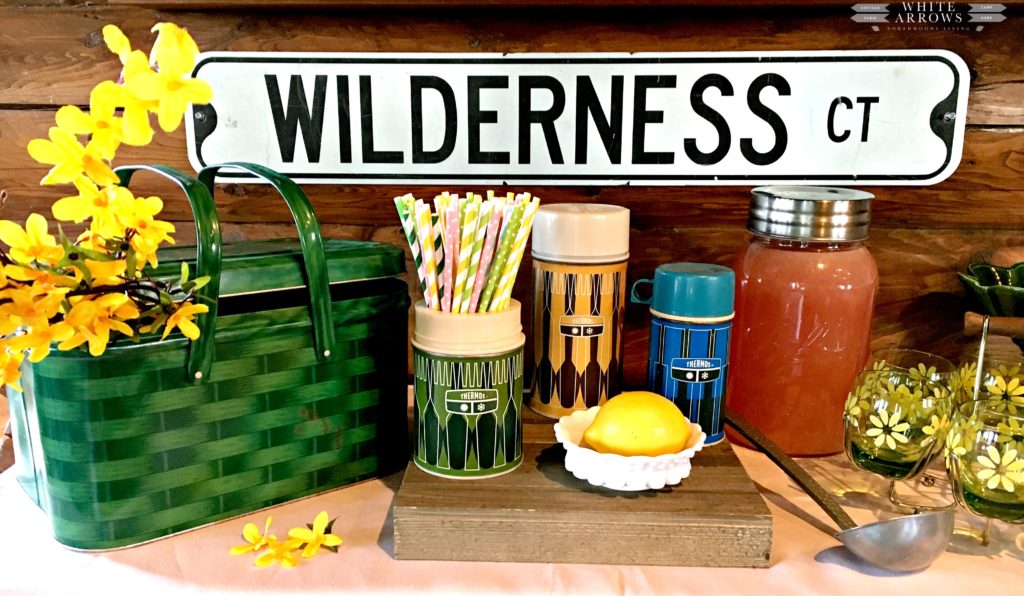 My chippy green ladder gets used in many places around the cabin and this spring it is on the front porch. It adds height and color and can also help hold my twig wreath.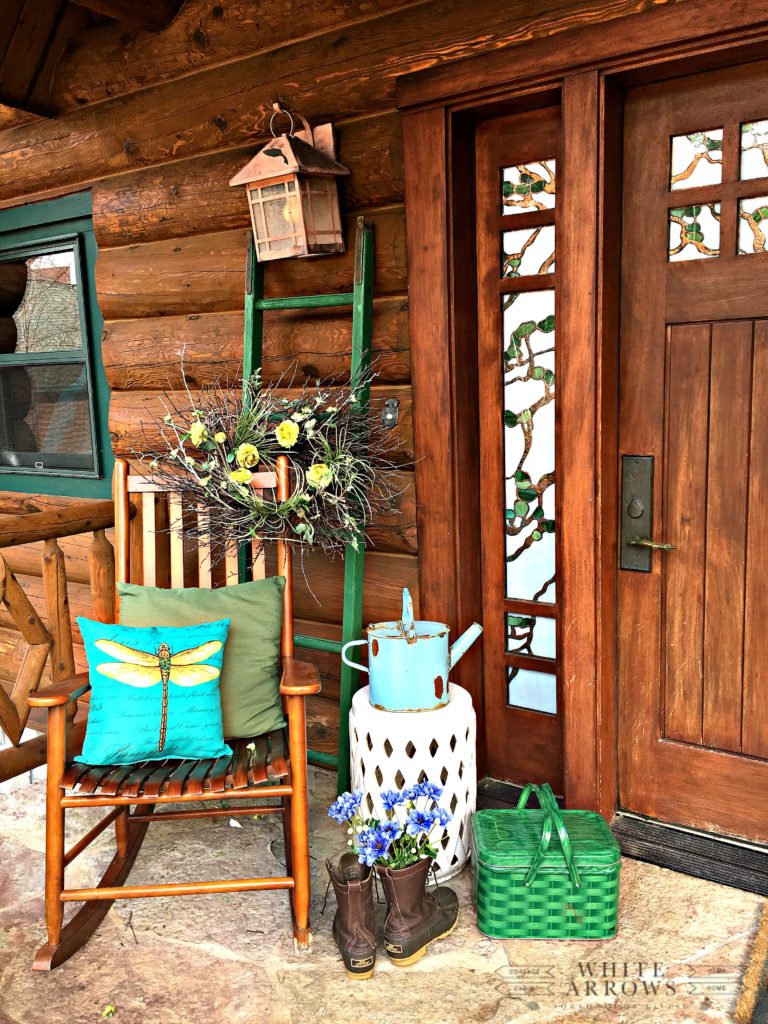 Spring decor on the porch is a welcome addition when the snow is all gone.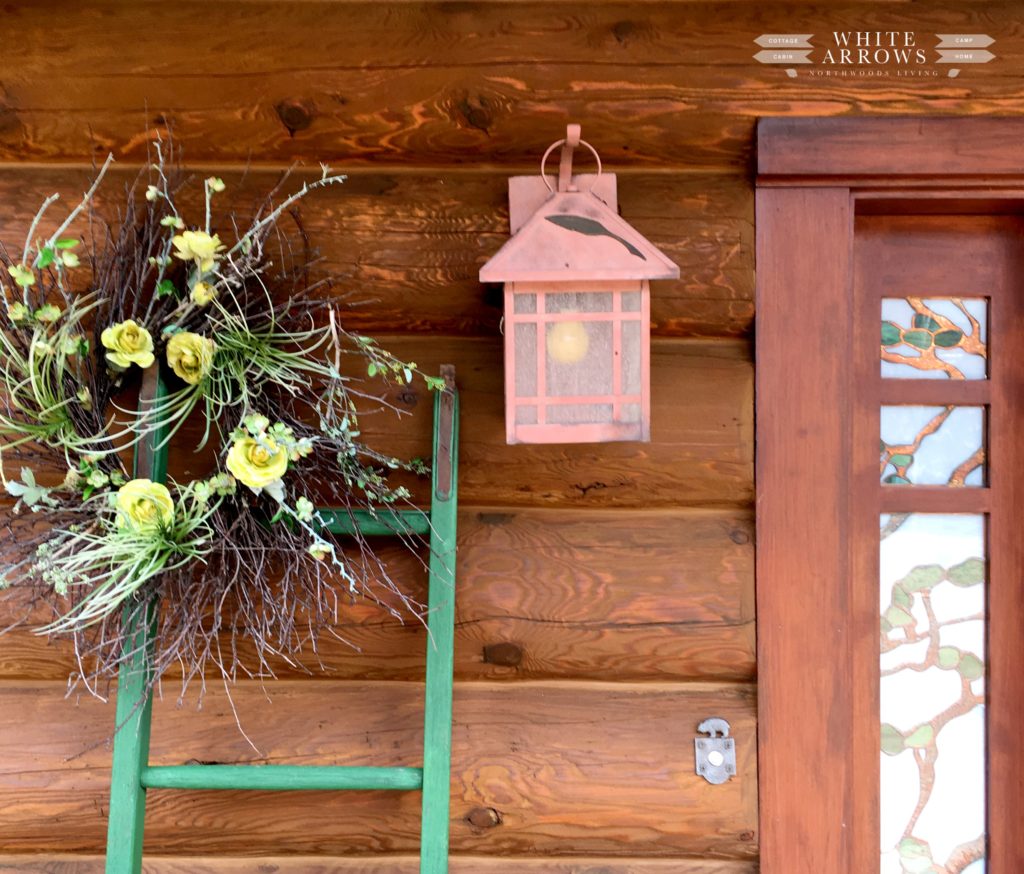 Forgotten Junk
To help decorate the garage I brought out my chippy green oar. A friend found it in an old boat house and passed it on to me. With seven people in my family, when she saw the number 7 and the color, she thought of me. (I have the best friends!)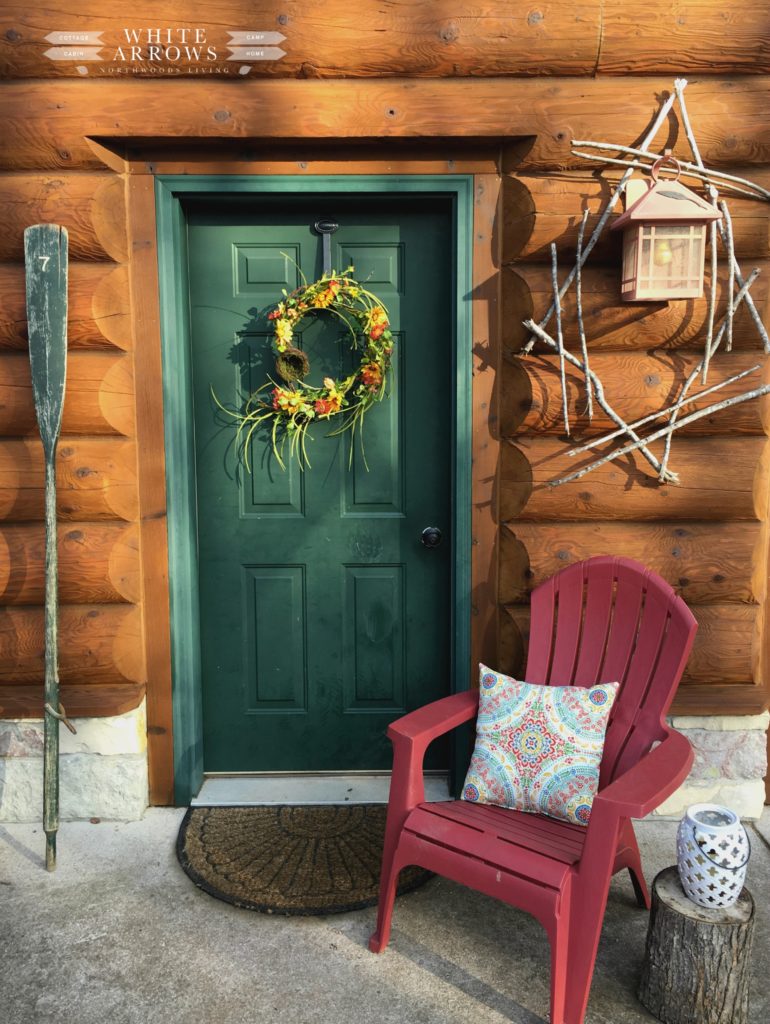 What is your favorite color to use in your spring decor? Follow along on my Instagram, Facebook and Twitter feeds to see how else I'm celebrating and decorating for the season.
Looking to find your own vintage treasures for spring decor? Visit:
thrift shops
flea markets
antique shops
search the classifieds for estate sales
make a day trip with your girlfriends to another community and shop antique and thrift shops
make a day trip with your girlfriends to an Antique Fair and Market
download the Etsy app on your phone and shop 24/7. You can find anything you are hunting for!
I would love for you subscribe to my weekly newsletter. Each week I'll send an email sharing about life in "My Neck of the Woods" with tips, products I love and the blog posts from the week. Subscribe in the sidebar of this page.