When the Christmas tree came down in January, I was trying to decide how to keep some of the winter magic of the holidays alive in the cabin. With still long hours of darkness, often gray days and sometimes temperatures that kept us cuddled up indoors, how could I layer my decor to compliment the season?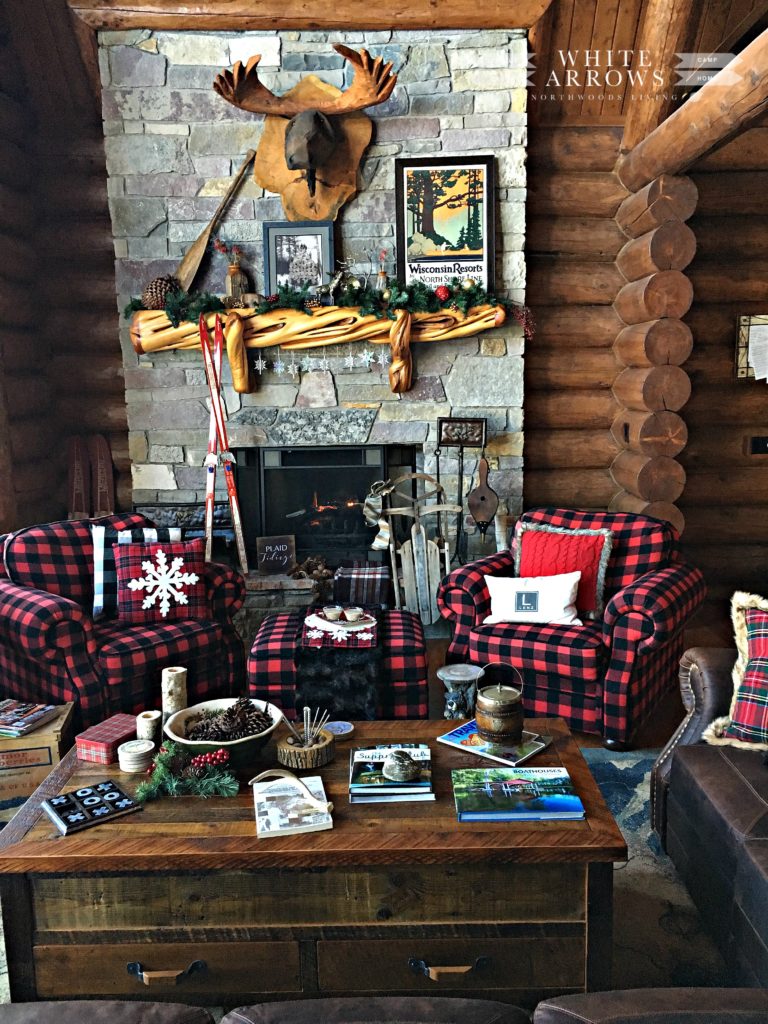 One of the things I did was leave up the greenery. I had used faux evergreens for the holidays, so there was no worry of dropping and dying needles. I took the Santa collection off the mantle and just left up the berries, lights and glittery ornaments in golds and deep reds.
It's always "Plaid Tidings" in our cabin so when I found this sign from The Bexley Boys I knew it would find it's way home here.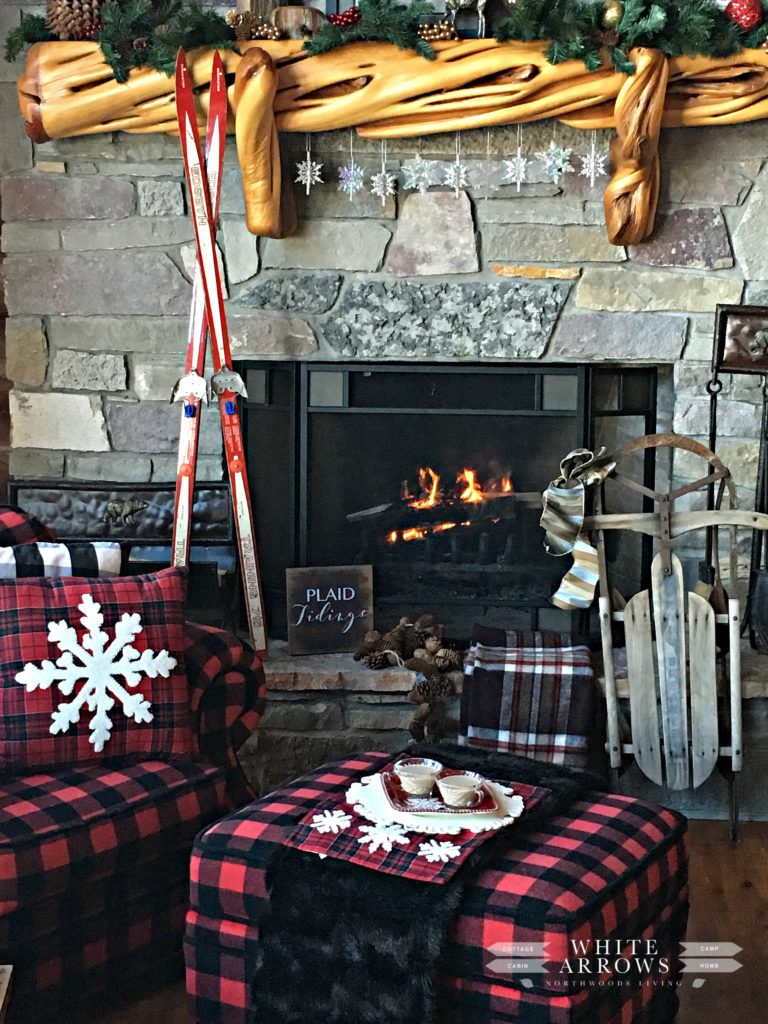 I also used fun throw pillows I had found at Kohls, Homegoods, and Hobby Lobby.  Plaids, cable knits, fur edges and snowflakes, all give winter cozy touches when placed on chairs and couches around the stone fireplace.
Vintage winter sports equipment like these skis and this sled from my collection give homage to some of our favorite Northwoods winter activities.
The old Cranberry box makes a great end table when turned upside down. I love using interesting vintage pieces in new ways like this.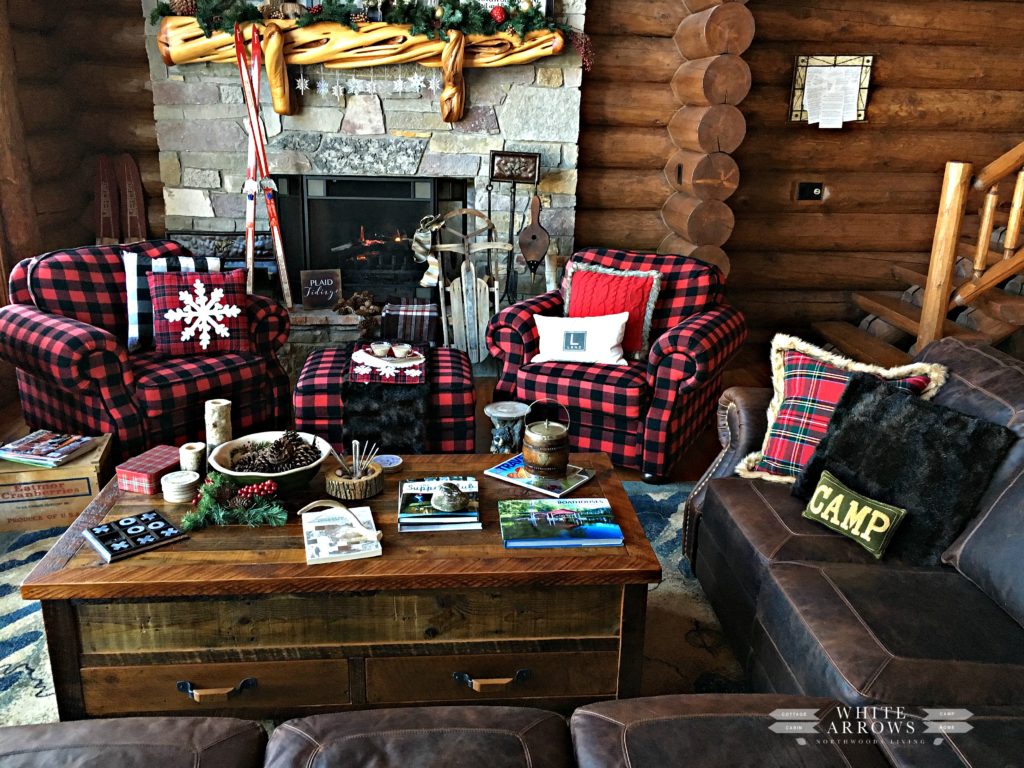 Our twisted wood mantle, affectionally called "the Breadstick" at our house, was easy to transform when I took snowflakes off the Christmas tree and instead of packing them away, just tacked them up with push pins on the backside of the mantle.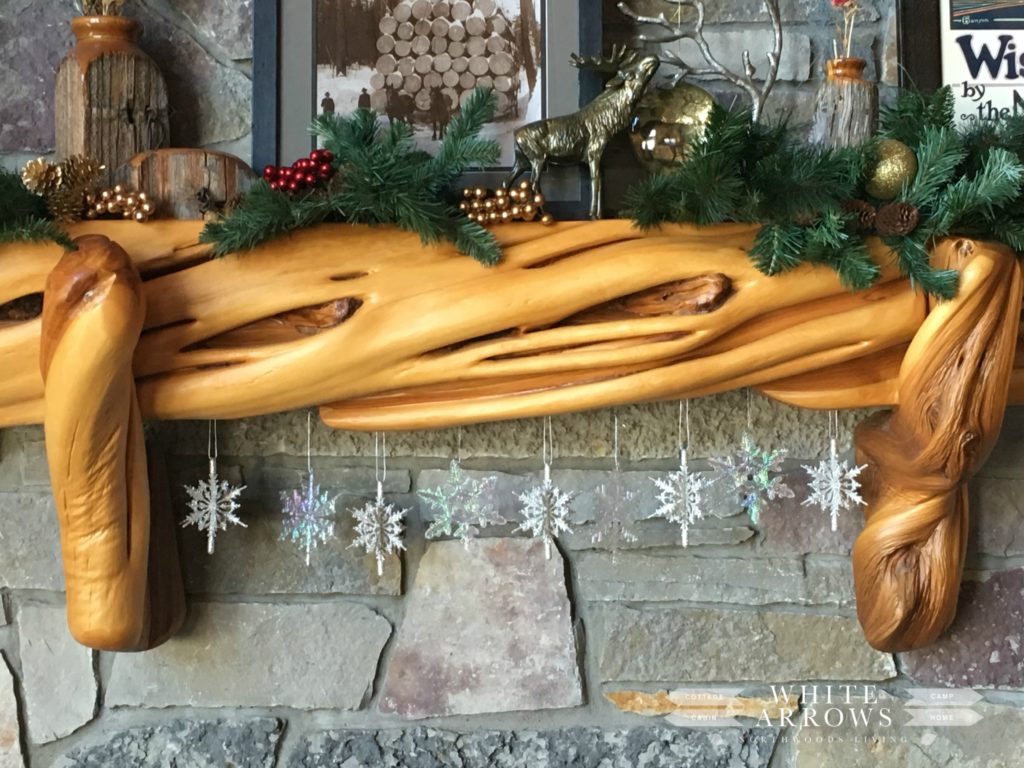 My husband and sons spend time in the summer and fall chopping wood from our trees that have fallen or were cleared for building. The girls help with the stacking and bringing wood in to fill the wood bins. My lumberjacks build a fire for me every evening and on the weekends all day long. There is nothing more cozy than the feel, sound, smell and sight a roaring fire and like this cute pillow says, "Chop your own wood and it will warm you twice!" I found this pillow at White's Mercantile on a trip to Nashville.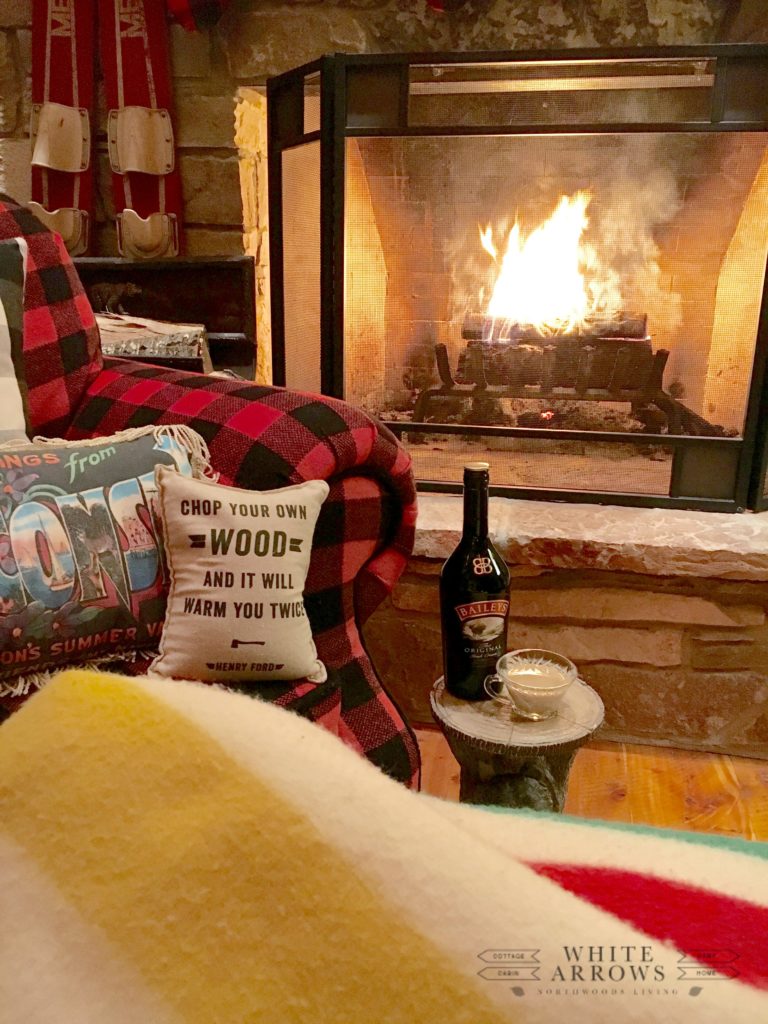 Styling the coffee table is easy when working in some of my treasures from antiquing like this wooden nutcracker bowl (just like I remember my grandparents having!), this tobacco jar, and footed milk glass dish alongside a bowl full of pinecones, antlers and stacks of coffee table books. These books share about the Northwoods tradition of Supper Clubs. You can read more about Supper Clubs in this post.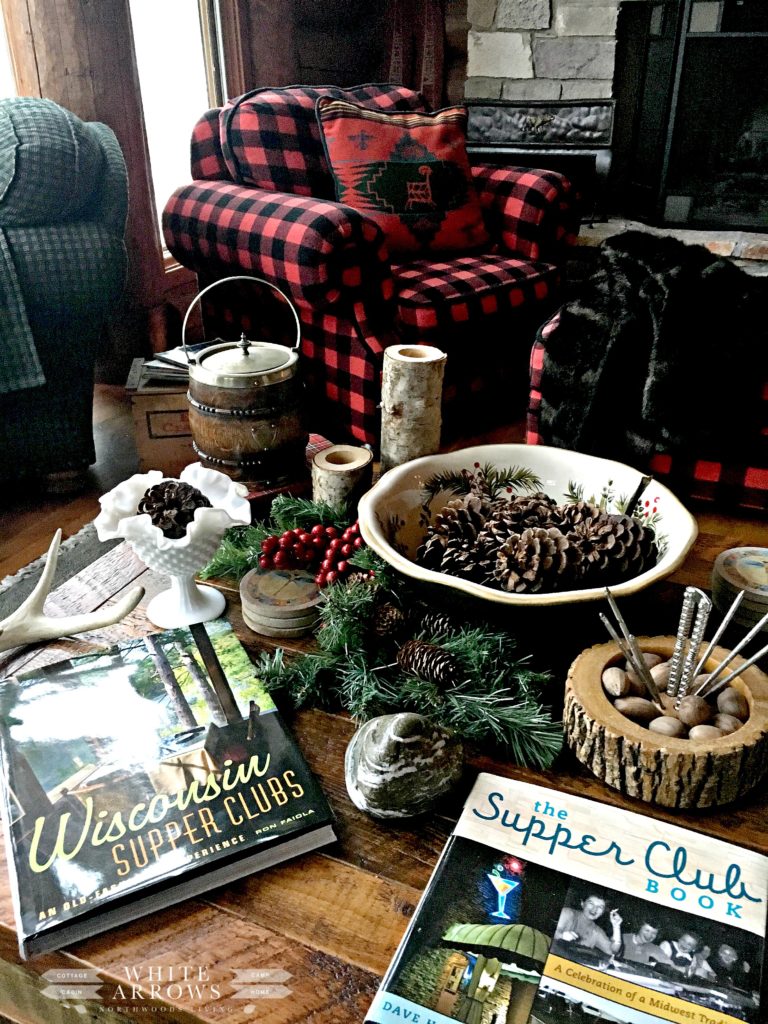 Our Bourbon brown leather sectional and this wonderful barn wood coffee table are from a local shop called Roughing it in Style. We always have wonderful service at Roughing It from first walking into their gorgeous showroom, all the way through delivery.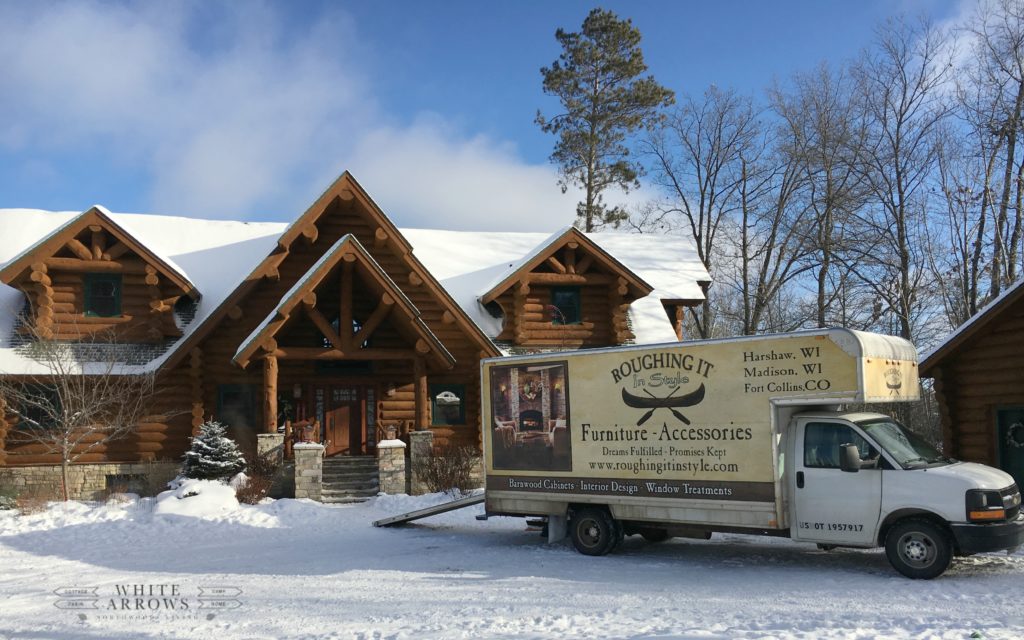 The coffee table is amazing, not just because it's so well made and attractive, but because of the drawers around it.  The drawers make it easy to stash away books and objects when clearing the top for restyling, or to make way for a board game or snacks for a party.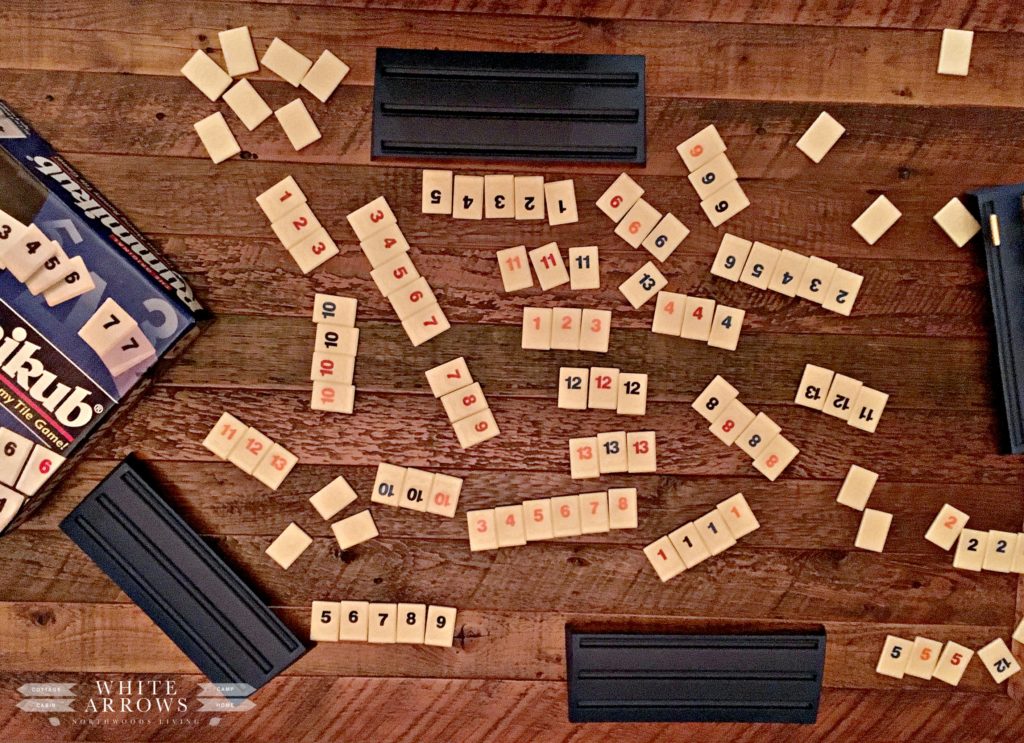 I often lay out a tray of munchies in the evening before dinner while we sit by the fire. And sometimes a tray of munchies like this will be our dinner if we've had brunch on the weekend and a late lunch.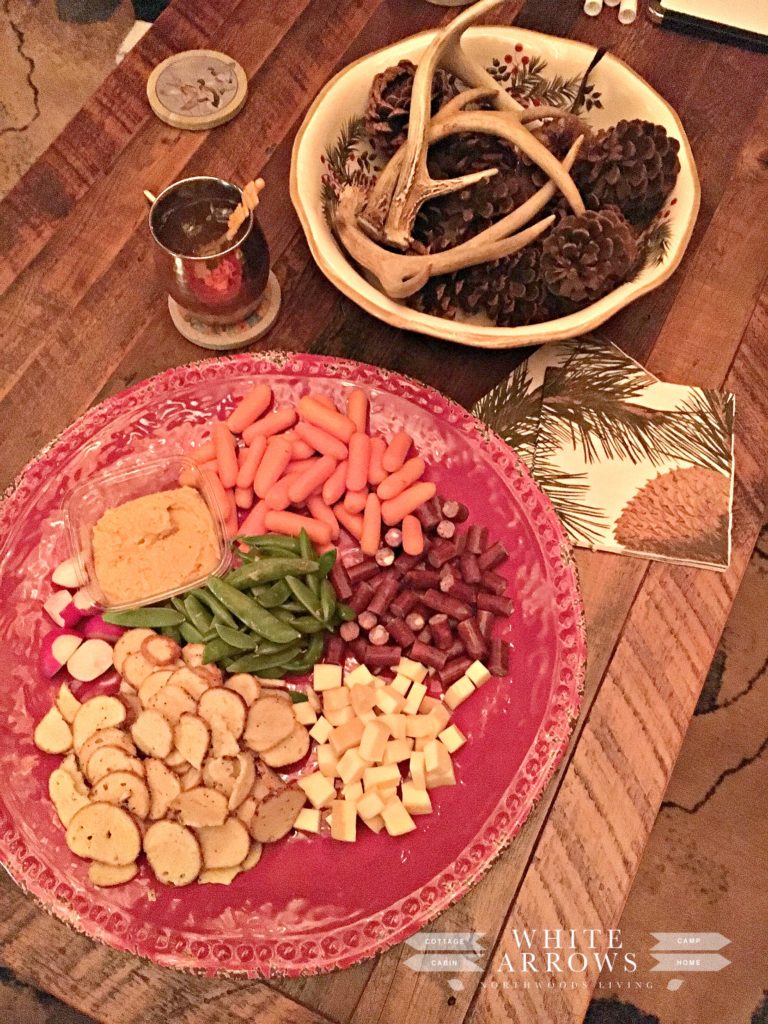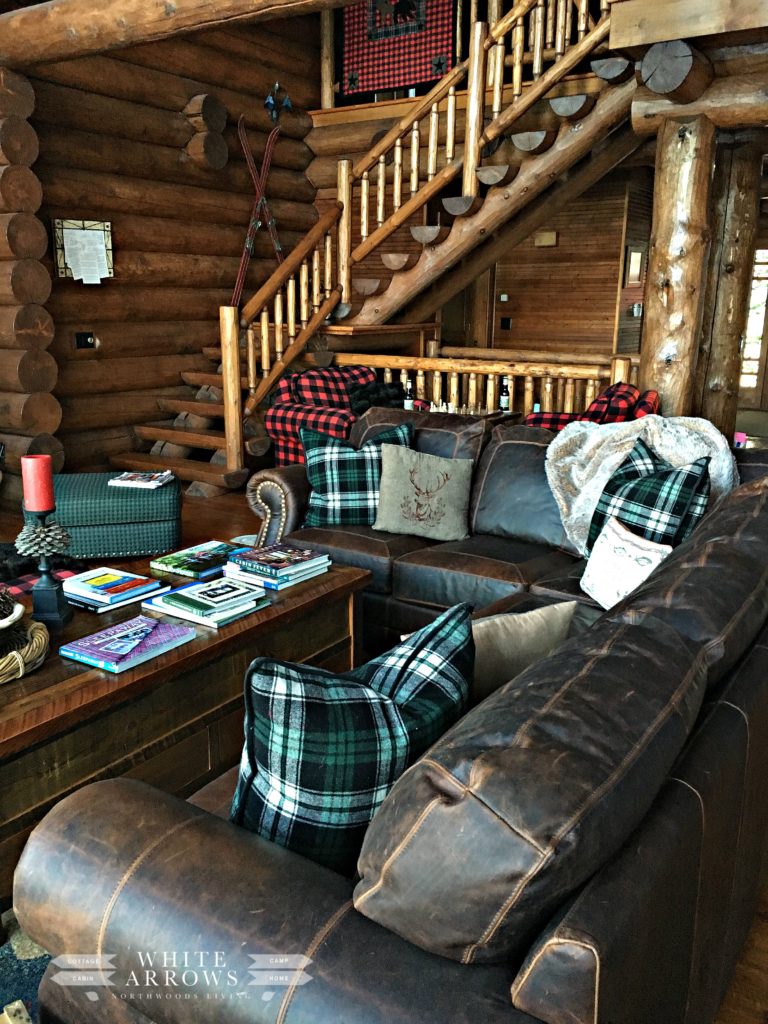 Winter decor continues to flow through the great room with these Ralph Lauren wool plaid pillows and fur throws laying across chairs and ottomans and backs of the furniture.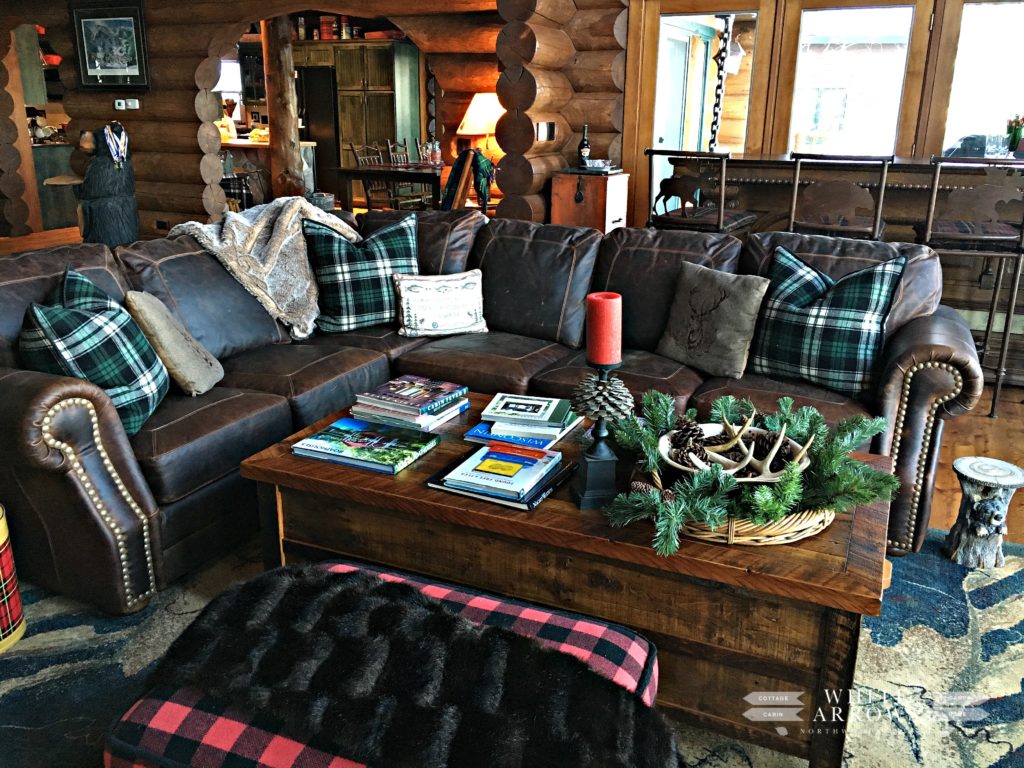 Coffee table books make great gifts or hostess thank yous. Friends and family love looking through them as they relax during their time here.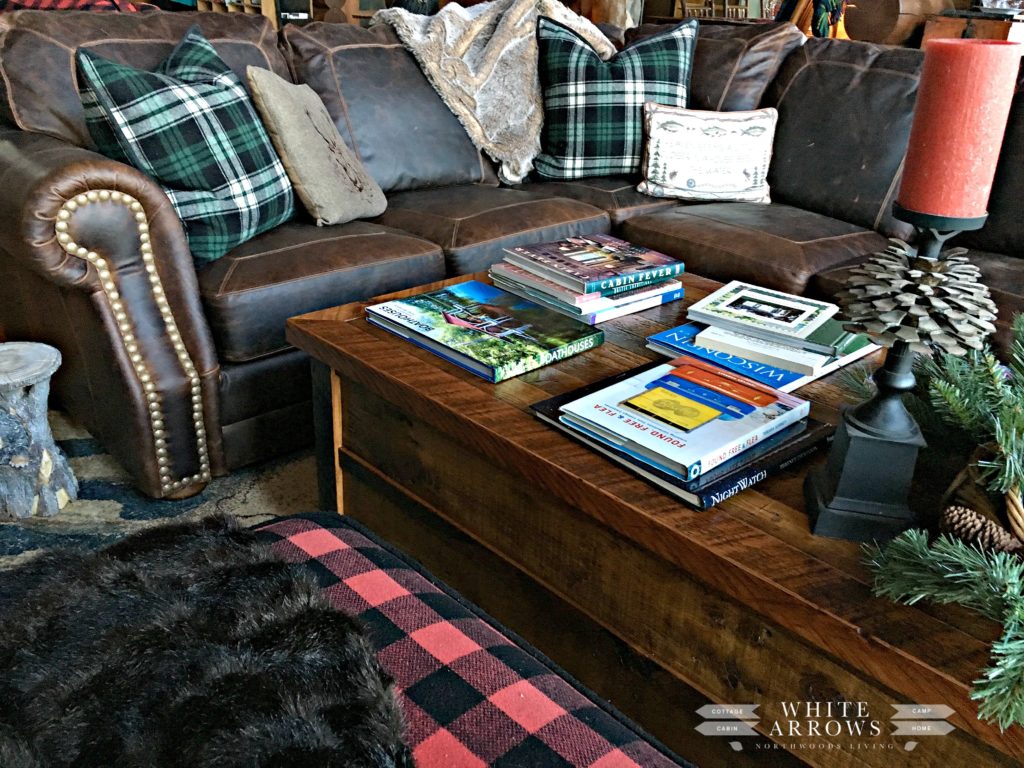 We think a lot about furniture placement around the cabin and how our family and guests can flow through the space. Making areas where people can gather in small groups, whether to play a game,  read, or having conversations is key, while still leaving chairs angled for bigger conversations around the leather sectional. Keeping spots for sitting near the fireplace is essential.  Guests over and over again will grab a blanket and move close to the roaring fire. We've even had friends become so comfortable they fall asleep relaxed and cozy.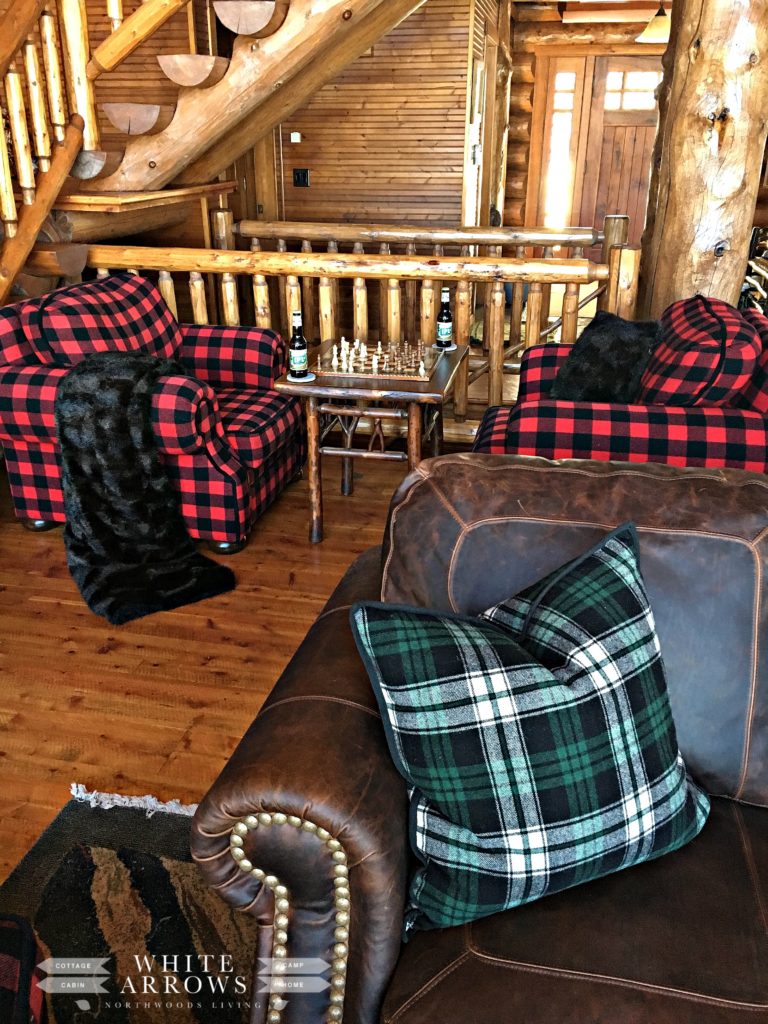 Our floor to ceiling windows are also considered when we arrange our furniture so that there are options to sit and look out at the view of the lake. When the snow is falling it's like being inside a giant snow globe and it's so peaceful to sit and watch the flakes fall.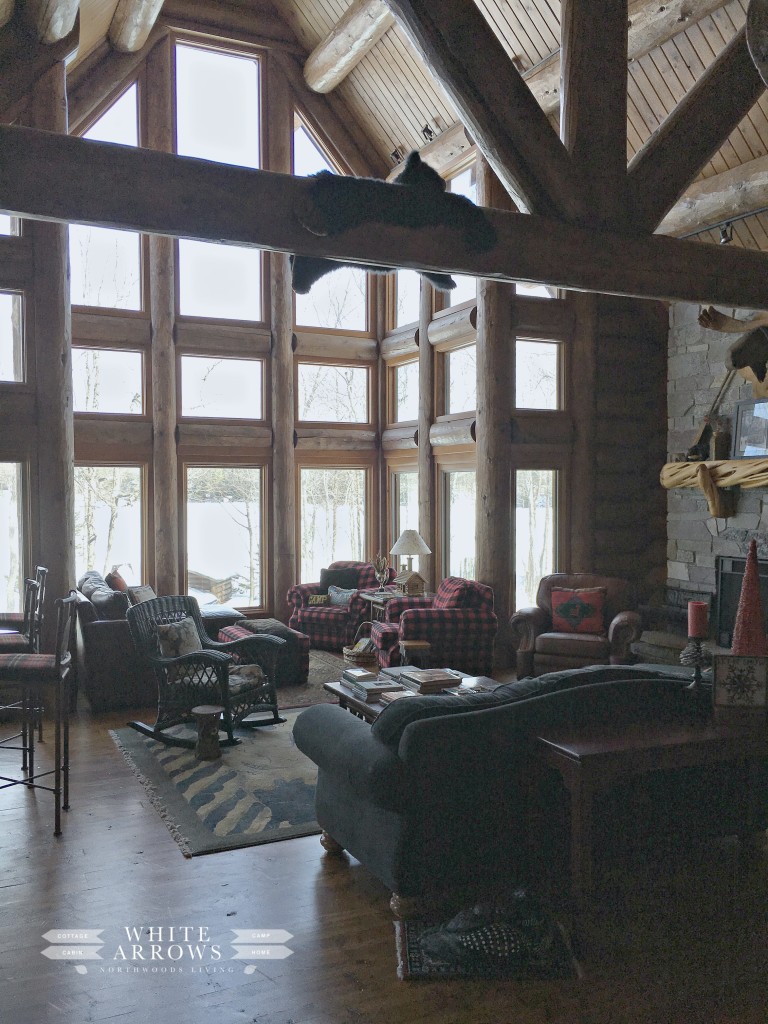 A look from outside the cabin at the great room windows, where inside we are cozy, happy and warm.